Marketing Plan Sample: A Guide to Scaling Your Business
A matryoshka doll, also known as a Russian nesting doll, is a set of wooden dolls of decreasing size placed one inside another. The true artistry in these dolls is seeing that with size scaling, there is no detail lost. It is a beautiful scaled version of the original doll.
Like these dolls,  a comprehensive marketing plan can be scaled from larger to smaller, more specific contexts without losing quality. The problem is, scaling comes with major challenges: coordinating different teams, managing priorities, resources and metrics in an effective way that is appropriate for the business size.
So, if it's your job to put together a marketing plan and you feel a bit overwhelmed, не беспокойся! (do not worry!). You can take most marketing plan samples and scale them to your specific business needs, audiences and strategies.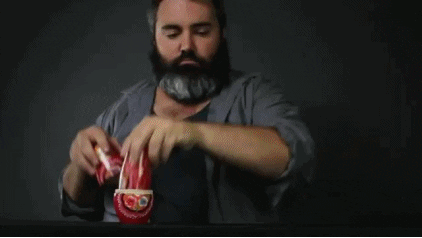 In this article, I will give you a detailed break down of a marketing plan sample I created that can inspire you to take a marketing plan template (ahem maybe even ours) and scale it to your business marketing efforts.
Now, let's stack, scale and get down to business!
Marketing Plan Sample
The scale of your marketing plan will greatly depend on the purpose or type of business it is for. A marketing plan will obviously be different for a local coffee shop than a thriving corporation like Coca-Cola. Regardless of the size or audience, a marketing plan should never lose detail and quality…just like the Russian nesting doll.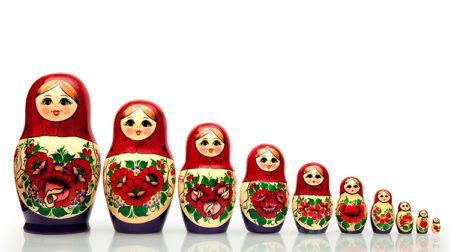 Keep in mind that everything should be customized for your business scale and marketing needs. Do not feel like there is a one size fits all approach! So, to help you see how to scale a marketing plan sample, let's give you an idea of the type of content you could include for businesses of all sizes!
Small Business: "FREE PEOPLE COFFEE & BAR: A PLACE TO BE HUMAN"
In this article, I have chosen to fill out our Disruptive Marketing Plan template for a made-up business I created called "Free People Coffee & Bar." I will walk you through the things I needed to think about when trying to build my new "social spot" up in the San Francisco area!
Executive Summary
Although this is a more formal part of your marketing plan template, this will be the "organizer" of the plan that summarizes your marketing plan.
Make sure each section has a clear heading that is easy to understand as well as a tight and precise description of what that section includes. At a glance, a reader should understand exactly what the section is about! In my example, you can see that I went through and create tight descriptions on what the sections will be about so people can flip through the marketing plan quickly.

You can create a list as I did above, or another option is to create a well thought out paragraph that envelops your marketing plan as a whole like below.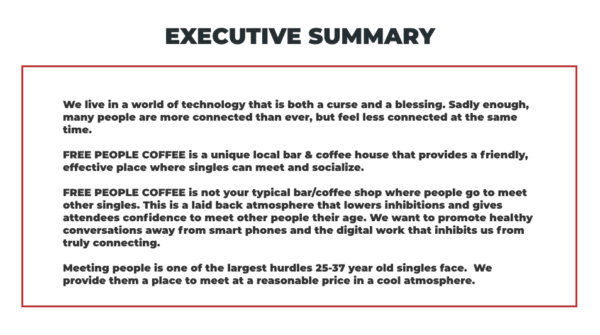 Products and Services
In this section, you will want to list the many values that you bring to your potential customers—whether it's products, services or experience. In my example, I wanted to think about how my products and atmosphere helped my potential customers have a different kind of social and dating scene.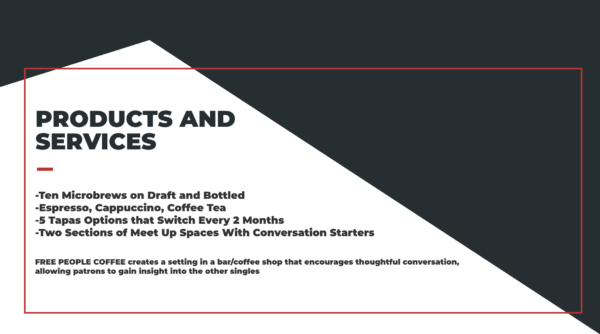 I will be offering quality beverages and small food items as well as social topic activities that allow people to meet in a different kind of way. This structure made popular from the game, VERTELLIS, will allow our potential customers to have a meaningful conversation with new people. In comparison to other bars, ours will allow singles to have a different type of experience to meet and talk to other singles in a softer-music, nicely-lit, socially-focused place.
Vision and Mission Statements
This is an important place for you to summarize and really hyper-focus what your business will change, do, or offer potential customers.
What is your business value?
If you can't explain in a few sentences why customers need your product, you do not have a value proposition. Without a need, there is no incentive for customers to pay.
So, ask yourself, what do you think of your current value proposition? Can your existing business model deliver? Do you have the right infrastructure in place and the appropriate resources for delivering the value proposition?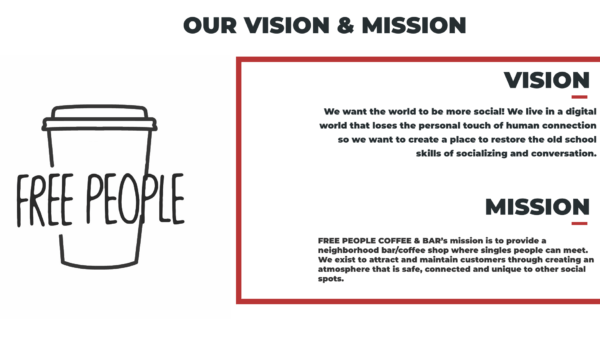 In my example, we specifically state our desire/vision to make our community more social. Our vision is to create a place where people can come to have a conversation and a place to facilitate that conversation.
The mission goes further into that statement on HOW we will do that. We will create a community bar and coffee shop that potential customers can come and enjoy a different type of bar scene. No more loud bars, dark rooms and shallow relationship building. FREE PEOPLE allows people to be human, connect and focus on experience supplemented with beverages and food. Like this, you need to think of a vision of WHAT and then move to the mission statement of HOW.
Research and Analysis
In this section, you'll want to report on a variety of market-related things that have an impact on your overall marketing plan.
Competition
Research competitors, then analyze the following:
Product attributes
Pricing
Marketing and promotion strategies
Distribution channel and method
Products or services offered
By doing this, you can "spy" on your competition, take notes on what they are doing with their marketing efforts and then engineer your efforts to be better! By getting an insight into your competitors, you can carve out a place for yourself in an industry because you took the time to be unique and look at things differently than what is being done.
In my example of FREE PEOPLE, I was able to research some of the hottest bars in the San Francisco area as well as single adult organizations that facilitate meetups.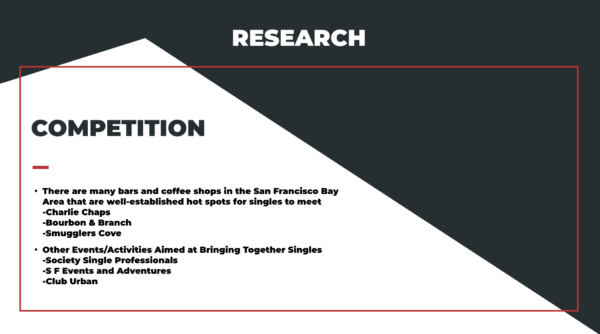 In your research, like mine, not only see who your competition is but look for ways they keep people coming back for more. For Charlie Chaps, it's a great stand up bar that has a lot of hot and funny talent coming in every week. For Bourbon and Branch, it is high-quality drinks at a reasonable price with a fantastic view of the city. You too can find patterns, methods and strategies your competition is doing and shape them to your own business.
Ask yourself the following questions:
Who are the types of people I want to target?
What keeps them coming back for more?
What factors do they have that create interests?
What is their price points?
What are their connections?
How do my competitors advertise to and connect with the community I want to target?
When you can pinpoint who your competition is and what makes them competitors, you can perfect their practices for your own or do something radically different to drive different types of traffic!
Competitive Advantage
So, taking the above competition analysis my coffee and bar house can offer a place for people to meet in a comfortable, person-meeting environment. The basic market need is a place where singles can meet new similar people.
FREE PEOPLE  uses a conversation system to enhance and facilitate singles meeting each other instead of getting muffled through simple bar scene tactics of dark rooms, loud music and structure not conducive to talking and meeting. We will also offer social community conversations where those who are politically, religiously or personally active can come and have community group discussions with local leaders.
We also offer people products they can take home to promote our social structure outside of our facility. We create question packs that allow buying customers to take this social structure we promote to their homes.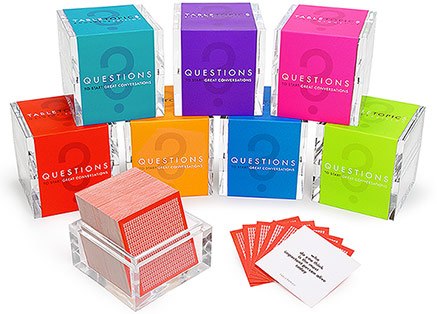 As a community coffee and bar house, it is our job to make our community a better place and to feel more connected. Collectively we offer:
Food quality: The preference for higher-quality ingredients is being reinforced as customers are being subjected to an increasing number of options. We keep it simple and always changing to maintain interest. We have also found a price point that is competitive with our competitors.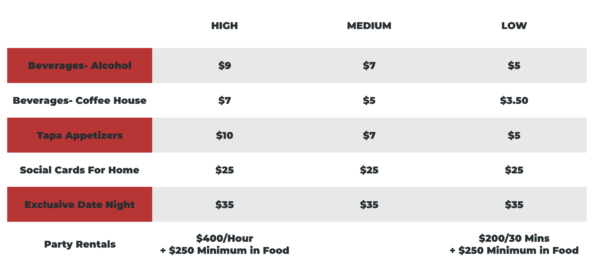 Quality conversation: Customers recognize that intellectual conversations can be had in bar settings and would prefer this over normal bar talk. They would also appreciate ways to take this experience home with products they can purchase.
Access to meeting people: People are tired of being single and are looking for ways to meet like-minded individuals.
By offering not only a place and product but a social change within how we meet others we can improve the happiness of our potential customers and community. We stand out as a different kind of place where people can be human and connect.
S.W.O.T
By looking into each of these sections for your business, you can create a plan on how you can differentiate your products or services and claim your unique position in the marketplace.
Strengths
When looking at your business strengths you want to list realistic advantages, strengths and positives you bring to the table. When you think about your value proposition this should come easy.
In my marketing plan sample, FREE PEOPLE speaks to the personal and emotional needs young single adults need in their lives: connection and interaction.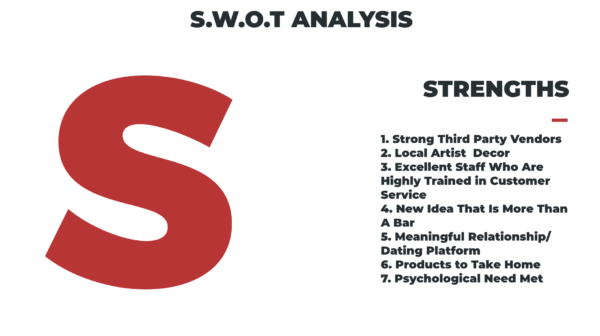 We as a bar and coffee house have strong third-party vendors that give us quality products to make our beverages and appetizers. With great culinary experiences, we have great local artists that help us create an aesthetic that promotes creativity, positivity and change. We also have high-quality staff that promotes healthy relationship building and great customer service.
From a business standpoint, we bring new ideas to the bar and social scene that promotes different types of connections that other bars do not. We promote personal conversations, invite meaningful community conversation events with the help of local leaders.
Weakness
When looking at business weaknesses look at your competition and see where you lack. Do not be too hard on yourself, but be honest with yourself. You cannot grow if you cannot see how you need to improve. When you take a look at weaknesses, this also helps you plan out ways to address and improve your business message.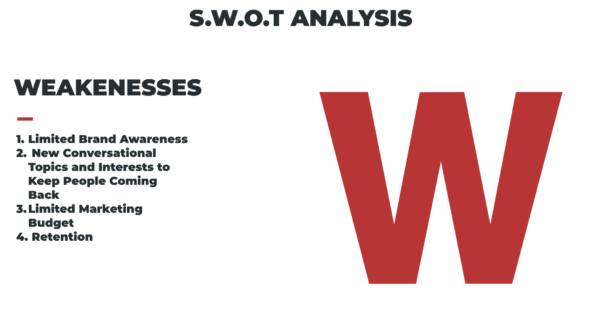 So, in my example, as a new coffee and bar house, we are obviously not as established as some of the known "hot spots" of the city. With that in mind, it also means we do not have as much of an income yet as compared to others for marketing and getting our name out there. This will require us to reach out and try to get influencer endorsement and other free promotions through local news, etc. This will help us draft our content to try and set us up as something new, exciting and something to experience.
Opportunities
I always love this part of a SWOT analysis because it is the most positive way to view your business growth. In this section, look for ways you can and will succeed as a business. Look at your market and how it is supposed to grow and how that will benefit your business. Look for ways you can undercut and improve what your competition is doing!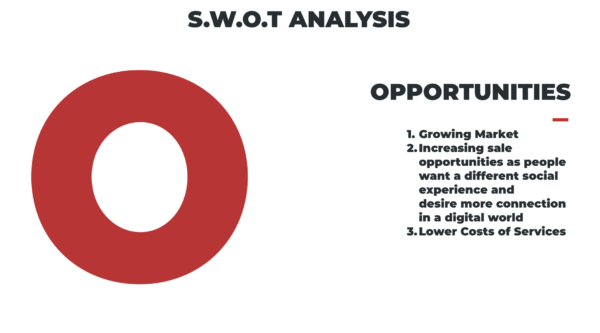 In my example, FREE PEOPLE has a good market to bank on as there are always single people. In fact, San Francisco was named the best city for singles in 2017. With that knowledge, we can monopolize on the sale and other opportunities to reach an ever-growing market of individuals.
Threats
Like anything in life, there is always opposition, so it would be smart to not only look at the opportunities but to also see realistic limitations to your business. Look for things that will affect your bottom line, limit your target audience or locational factors that can negatively affect your business.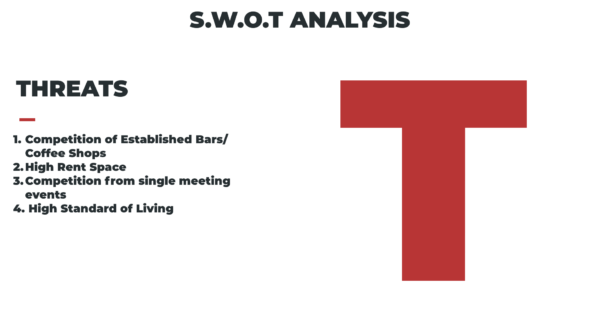 In my sample marketing plan, FREE PEOPLE has to compete with the already existing bars people know and love. It is our job to write content, advertise and communicate with the community about how our bar and coffee shop is a different type of experience.
When also looking at threats outside of competition, we also need to look at our target audience. Since we are a bar in one of the most expensive places in the United States, that might put a limitation on the younger end of our demographics to enjoy our services and products.
Customer Information: Audience, Persona and Lifecycle
The next thing you need to consider as you create your marketing plan is your customers. Who are you targeting? What are their passions, problems and pain points? What are the different types of customers that are worth your time?
In our example, FREE PEOPLE, targets young single adults ages 25-37, particularly women and socially active adults.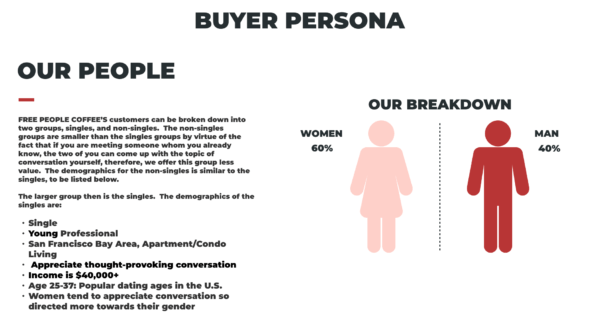 Single
Young Professional
San Francisco Bay Area, Apartment/Condo Living
Income $40,000+
Buyer Persona Profile Information
Values: Human connection, promoting positive social change, education, long-term dating
Problems: Has a hard time meeting like-minded and aged people, busy work schedules, wants long-term relationships, sick of the same old bar scenes, wants to create positive social change in communities
Interests: News and current events, socializing, arts and experiences, communication, gym, healthy lifestyle, Instagram and Facebook, traveling, education, dating sites and services, reading, religion and social issues
Once you know your customer's you can now look to how best reach them through meaningful marketing objectives.
Marketing Objectives
First, you need to set the stage for what you want to accomplish so you can decide on the marketing plan to supplement those goals. Do not rush or focus on execution before you define what success looks like for your business.
Marketing objectives are a brand's defined goals. They outline the intentions of the marketing team, specific numbers and provide clear actions to execute.
For example, here are a few possible goals you might have:
Introduce # of new products
Target a new customer persona
Extend/regain market
Build brand awareness
Develop brand loyalty
Grow market shares
Build industry authority
Boost sales
Enter into # long-term contracts
Improve delivery and customer service
Increase brand exposure and engagement on X.
However, these objectives are fairly broad. As a marketer, it is your job to figure out how to use marketing tactics to achieve them!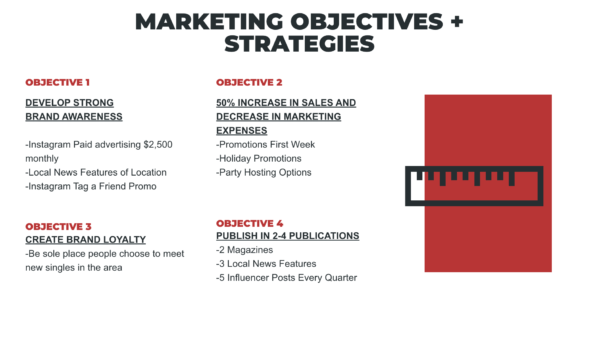 So, for FREE PEOPLE, I made four marketing objectives focused on revenue and exposure. From there, it is my job as the "marketer in charge" to figure out what tactics will help make those objectives happen! I created specific money amounts, platforms and numbers involved to reach the goals we set out as a starting business.
The top priority for FREE PEOPLE's exposure will be to communicate value to our target audience. This will be done through a variety of methods. The first method will be strategically placed advertisements.
One place that will be used for advertisements is social and local newspapers and magazines. This will be the main source of advertisements because the demographics match up between their audience and ours. We will also do advertisements with Instagram that will also partner influencers to promote us on that platform. Between paid ads and influencers we should be able to connect our business with young single adult locals.
At a later time, we also want to maximize email marketing for our restaurant/bar. We have to have an agile planning strategy, though, so we can't get too detailed right now. It's just something to keep in mind.
Another source of marketing will be through strategic partnerships with like companies like gyms that are typically full of single adults.
The last exposure marketing tactic we will promote is a grass-roots effort with "bring-a-friend" promotions that invite more people at a reduced cost to experience our business. This tactic will eventually promote brand loyalty is we create an experience people cannot ignore and find success with.
Create a Progressive Marketing Budget
Focus On What Historically Worked
Use Tactics that Allow Full Control/Customizability.
Don't Scale Until you Prove ROI
Cross-Channel to Double Dip
By following proven success and being smart with your marketing budget you can make money stretch further. Do not splurge because you want to get things up and running. Plan and you will be grateful you did!
So, for our example with FREE PEOPLE Coffee and Bar, I calculated that the business will need to make at least $40,500 a month in revenue to reach the break-even point. The first two months will be used to set up the physical location, hire personnel, establish vendor relationships and obtain an alcohol license. The third month will be the grand opening. Business during the second month will be understandably slow as a steady customer base takes time to build. This is the stage where the majority of our marketing budget will go.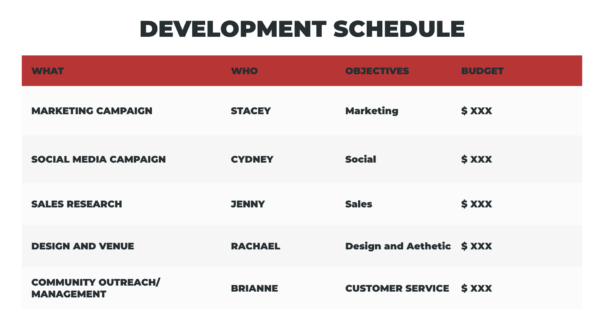 When you create a tentative financial forecast you will then need to carefully assign people to the detailed marketing campaigns and tasks. With their detail tasks be sure to include deadlines, budgets and expectations.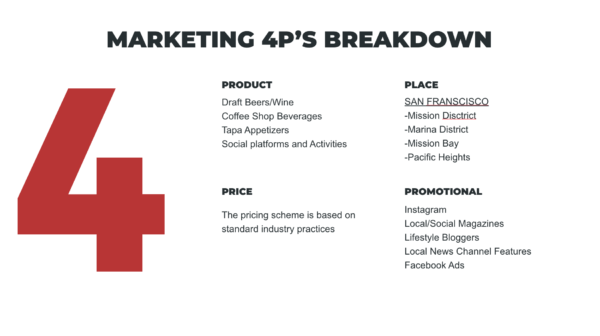 To break things down further you will want to map out detailed plans for sales funnel content. So, if I was to brainstorm content around my market research and target customers for FREE PEOPLE:
Awareness Stage
Guides: A Guide to Modern Conversation, Meeting Like Our Parent's Did
Blogs: 11 Ways to Meet Singles in San Francisco, Dating Statistics in the Bay Area, Say Goodbye to Dating Apps and Say Hello to Old School
Shopping/ Learning Stage
Video: CONNECT: A FREE PEOPLE EXPERIENCE, Dating Done Right: Meet FREE PEOPLE
Guides: How Successful Are My Tactics: Statistics on Dating Scene Tactics & Satisfaction
Decision Stage
Business Product Comparisons: Advertisement for Promotional Event Night (Change The Way You Meet)
Blog Content: Why We Need to FREE PEOPLE
Invite to Social Events: Bring a Friend Night, Community Talk, etc…
Retention Plan: Memberships, Discounts, Birthday Codes
Content not only attracts customers but it also provides SEO value. By creating consistent and quality content your business blog and website will gain more traffic. Google rewards quality stuff so why not attract some marketing help and new customers through Google?!
From there you will also need to consider your social media use, online marketing as well as your collaboration plans with other businesses/influencers.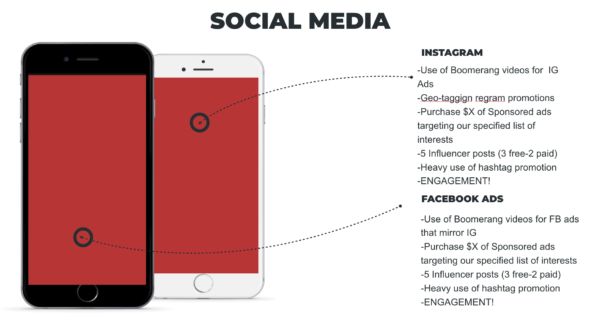 So, in FREE PEOPLE's example, I wanted to map out specific money amounts we would put towards sponsored ads on Instagram and Facebook. I also mapped out different types of content and creatives that work for our industry like videos, specifically boomerang. We would also want to make specific hashtags and specifics people can use so we can start building a network on these platforms.
When it came to collaborations with the gyms, it can be cross-promotional discounts! When looking for influencers we wanted to work with we would hyper-focus on ones with at least 20K followings, and topics that are of interest to us.  Specifically Allie.Eats would be a great example of an influencer we would want to pay or invite to experience our new bar as she focuses on bar/food scenes within the San Fransisco area. In return for her promoting our bar, we can give her free products, payment, etc which promotes a healthy and balanced relationship that can work in the future.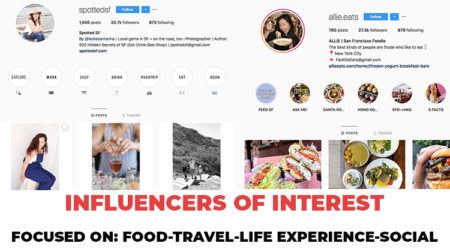 By detailing out these plans, you will be able to track your success and tweak the contracts and campaigns for results in the future.
Scaled and Measured: You Can Adapt
Companies are always looking for a new edge to capture mindshare and differentiate their solution within the marketplace and by creating a strong marketing plan you can do that!
Although the above sections are things you should include in your marketing plans, every marketing plan will be fluid and different. You will need to customize and scale every plan to your needs but also make it so it's a living document to adapt to market change.
It can truly be a labor of love, but once your marketing plan is complete it will be all worth it! You are well on your way to making your business a success because you did the hard work. You now have some mindset things to consider when filling out any marketing template or sample but if you are still feeling overwhelmed, reach out!
What do you consider when scaling a marketing plan sample? What are the bigger concerns of templates and using them for different types and sizes of businesses?
Leave a comment