Target Position Zero: Making the Most of Featured Snippets
In the past, the aim of SEO (with or without PPC) was always to reach the top position in the SERPs. In recent years, this has changed: now businesses want to reach position zero. But what exactly is position zero and why does it matter?
What is Position Zero?
Position zero is that snippet of information that appears at the top of SERPs. It is an outline of the most relevant result, often in list form.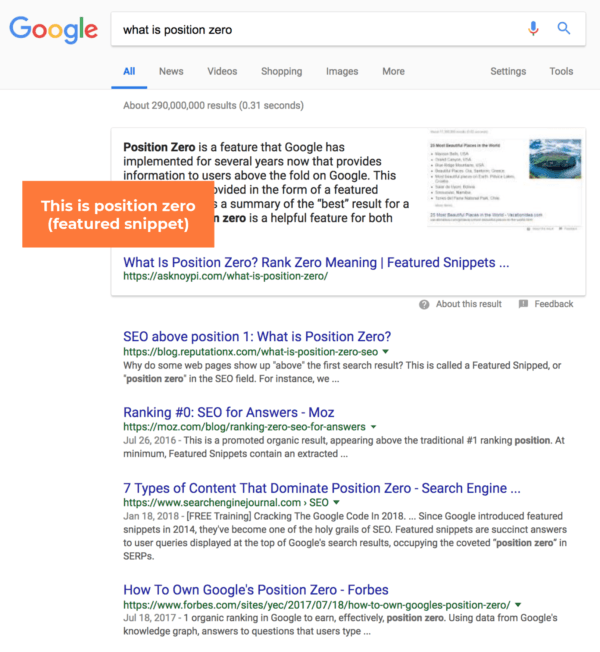 Position zero is also sometimes called a "featured snippet" or "rank zero." However, position zero is not the same as the answer box—which is an answer to a question (such as "what time is it in nyc") and does not contain a source link.
What Does SERP Stand For?
SERP stands for search engine results page. When you type a search query, you receive a unique SERP. The SERP will even be different from what another user typing the same search query receives. This is because search engines generate results based on factors like browsing history and location.
Why Brands Compete for Search Engine Rankings
Search engine rankings are what allow users to find content. To reach new users, brands need to rank. Plus, by ranking organically, there is no need to pay. As well as saving you money, this also allows you to gain more clicks. For instance, in October 2017, of every 10 searches 5.41 clicks went to organic results and only 0.28 to paid results.
Benefits of Position Zero
Position zero puts you above the first result, including above paid results. In addition, it gives users a better idea of what the page contains, encouraging them to click if the result is relevant.
Marketers have voiced concerns that appearing as a snippet could reduce their click-through rate (CTR). However, all evidence points to the contrary. For example, HubSpot measured results for one of their top ranking pages and found that when it moved from first place to position zero, CTR increased by more than 114%.
Even in the case that position zero does result in fewer clicks to a particular page, you will receive higher-quality traffic. Users will know exactly what to expect from your content, meaning those who click will be interested. This could well result in a lower bounce rate.
Advantages of the Top Three Positions
This is not to say that the top three positions don't have their share of advantages. They still have much higher CTRs than anything further down the page.
For instance, in May 2018, the first result had an average CTR of 28.5% on desktop and 22% on mobile. The second result had a CTR 14.1% and 13.6% and the third result 9.9% and 9.8%, respectively. By the fourth result, CTRs had dropped to 6.2% on desktop and 6.1% on mobile.
Downsides of Position Zero
Of course, position zero isn't completely free from downsides.
Your Efforts May Be Fruitless
It's a waste of time trying to reach position zero if you have no chance of getting there due to the type of content you are writing. In some cases, it may be possible to change the way you present information to help you page become a contender for position zero. On other occasions, this will simply be a waste of time.
Position Zero Results Change
You may succeed in reaching position zero for some users but not for others. However, this is true for all search result rankings, as Google looks at the users' previous activity, preferences, and behavior to determine positions to some extent.
Snippets Could Disappear
If you've been working in SEO for a while, you know that there's always a major change just around the corner. Sometimes, these updates even require you to adapt your entire strategy. Whereas it is true that position zero could go away or change significantly overnight, the same goes for any other aspect of search. Google's algorithm and its SERP features are always evolving. Part of having a good SEO strategy is the willingness and capability to adapt as necessary.
When to Aim for Position Zero
Even considering the potential negatives of position zero, it is clear that the benefits of position zero outweigh the downsides. In fact, many of the factors that seem negative on the surface are far from it in reality. Most of the time, aiming to reach position zero will be a good idea. The only exception is when you have content that would be impossible to present in snippet form.
How to Get to Position Zero
Of course, getting to position zero isn't as simple as writing an article and waiting around for Google to pick it for featured snippet status. If you want to get to position zero, there are a few things you'll need to keep in mind.
Choose the Right Content
Only certain types of content are suitable for position zero. You should focus on pages that feature objective information about finances, times, and other numerical values. Processes, requirements and health topics also work. More recently, subjective queries leading to "best of" lists and reviews have also been appearing in position zero.
Research Keywords
Particular types of keywords rank best. Long-tail keywords of at least six words, especially high-volume terms, tend to be successful. They should feature a question word, a word that implies a question (like "does"), or an action word.
Enhance the Content
Once you've selected the right content and keyword, there are a few ways to prepare the page for position zero. First, make sure that the content provides a clear answer to the question. You should also repeat the question somewhere prominent on the page. Next, add more information to answer the question. Finally, ensure the page uses the correct code and tagging.
What We've Found
After applying the above tactics to our search engine optimization strategies, we found the following results for our clients:
Average rank change after one month is a 29.03% difference.
After three months, average rank change is a 36.41% difference.
After six months, it's a difference of 37.95% in positions.
Average tenure of our clients is 2.05 years.
It is worthwhile setting up as many top-ranking pages as possible to be eligible for position zero. For content that is inappropriate for a featured snippet, at a minimum you should attempt to rank in the top three results.
Conclusion
Position zero might seem like an odd goal, but with the introduction of the featured snippet, Google changed how SEO works. Now, if you really want to get the most out of your SEO efforts, you need to set your sights above position #1: you need to shoot for position 0.
What do you think of featured snippets? How have you seen them affect your SEO efforts? Any additional tips for getting your content to rank in position zero? Leave your thoughts in the comments.
Leave a comment