Storytelling: The Key to Effective Advertising
by Ana Gotter • August 22, 2017
Most people put a high priority on being logical about the decisions they make. However, unless you're actually a computer, the simple fact of the matter is: every human decision is influenced by emotion.
This is why stories sell.
Stories communicate messages in highly specific and emotionally impactful ways. They're memorable, and they give us something to identify with and hold on to. Statistics tell us what the reality is—stories tell us why it matters and why we need to care.
Storytelling is an essential part of any good marketing campaign and if you want to build your business, it's something you'll want to master (or hire someone to take over for you). With that in mind, let's take a close look at why you need brand storytelling and how to effectively use storytelling in marketing.
Why Brand Storytelling Matters
Which will you remember more: a chunk of statistics about how fast response times can save lives in the ER or the heart-wrenching article about a husband helplessly watching his wife become dangerously ill because the ER was understaffed and slow?
If you're like 99.999% of people, the story is what will resonate with you most. This is why brand storytelling matters so much: statistics validate your point, but the story is the point.
Telling the story of your brand will immediately help set you apart from your competition. Your story is what makes you different and it can help potential customers trust and become invested in you.
Storytelling, in some cases, will not increase increase conversions but can increase the value of the conversions. One study found that a painting became 11% more valuable when the artist's story was featured below it. Small businesses with ethnically-made, locally-sourced products can actually increase the perceived value of the products (and thus the average order price) by featuring their story.
What Kind of Stories are Most Effective in Marketing?
When it comes to storytelling in marketing, there are two big things you want to focus on: emotional impact and relatability. In other words, when you're telling your brand's story, you need to tell it in a way that will connect you with your target audience.
The more people connect with a story, the more they remember it, so creating connections with your stories will help create lasting bonds and loyalty between your customers and your business.
I once saw a brand story where the business owner described himself as being a "trust-fund brat who wanted to prove [he] could do it alone." This was not a brand message that won over customers in the largely middle-class audience he was targeting for home repairs. It wasn't relatable and there was nothing to emotionally connect to.
Instead, if he had focused on "I was raised in a family with entrepreneurial spirit, where I learned the meaning of hard work and I'm excited to apply that to my own business in my work on your home," that probably would have gone over a lot better.
In addition to choosing something more relatable (everyone believes they work hard, and many do), the "working hard to make your home what you want" angle can come in for that emotional appeal.
Above all else, storytelling in marketing can include the "what" and the "who," but it should always focus on the "why." That's the whole point—don't just give people the facts, give people something to invest in.
Specifics vs. Generalizations: Why Details Become Broad Appeal
When we say "choose a story that connects with your target audience," many businesses try to focus on the most generalized story possible to appeal to as large of an audience as possible. They may skip over details.
They'll say, for example, "I had a hard time finding a date I was excited about." Most people can relate to that, even if it's just remembering back to their dating days, but it doesn't really jump out at you.
Instead, saying "Every date I went on was a disaster. One guy didn't have a job, one clearly hadn't showered in three days, one insulted me, and one literally lived in his mom's basement" is full of extremely specific details, but somehow so much more relatable because of the details associated with the emotion.
A good writer knows that the more specific, detailed, and personalized a story is, the more it will appeal to larger groups of people. This seems counterintuitive, but it makes sense. Those details are where the life of the story is, and it's what makes your story real and relatable. It feels fleshed-out and alive. These extremely specific stories will resonate more, especially in the age when people crave authenticity.
There are two different videos on Upwork's YouTube channel that create a perfect real-life example of this. The first is brief and very briefly interviews several different business owners about how Upwork helped them. Their responses are all fairly generic:
Then, in another video, they have an entire video focusing on one CEO and his business, going over exactly how Upwork helped them scale when they lacked resources to do so internally. It addresses specific challenges that many SMBs will face at some point, making it more relatable and more persuasive:
Which one feel more relatable?
The Best Mediums for Storytelling in Marketing
If you use it right, storytelling can strengthen every campaign and social media effort. This includes videos, which are perhaps the most effective type of media for storytelling. Videos can easily be embedded and shared across any site or platform you have for your business.
Other types of media are also excellent platforms for storytelling, including blog posts, press releases, and even short social media posts. These social media posts can be run as ads, building valuable brand awareness in an authentic way.
The example below comes from a small gelato shop in Texas, whose brand story focuses on his childhood and early adulthood, which were spent learning to cook in Italy before he came to the U.S. to share his culinary masterpieces.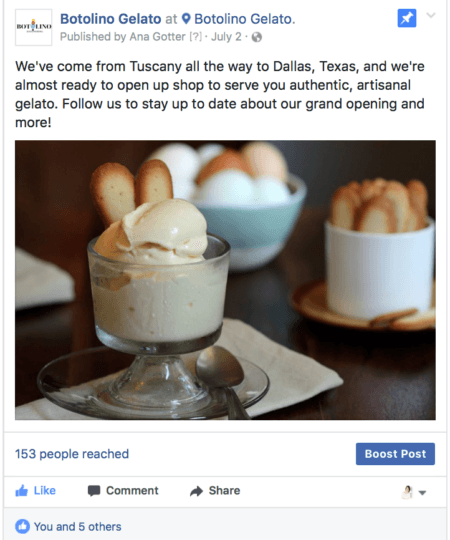 You can tell the story of your brand, your individual products, and your customers. Your brand's story isn't as simple as the mission statement that lives on your site; it should be something you're continually contributing to overtime.
Some Storytelling Examples
If you're feeling stumped on how to incorporate stories into your marketing strategy, we've compiled a few great examples of storytelling in marketing for inspiration.
The first is the Coca-Cola "Share a Coke" commercial currently airing. In this commercial, Coca-Cola took a simple idea that involved mass production masquerading as mass personalization and added storytelling to sodas with names on them to create an incredible campaign.
Here's a quick recap of how this storytelling strategy paid off for Coca-Cola:
The next is FitBit's YouTube channel video. It features a young girl narrating her mother's journey to "strange lands" (aka yoga studios and hills to hike on) in her journey of fitness. It's inspirational, and filtering the video through the daughter's lens adds an extra emotional touch.
If Fitbit had tried to advertise the same message "Fitbit will help you be more healthy" using statistics, this video would have been far less engaging and compelling.
Conclusion
Stories—particularly specific, highly detailed stories—are the best way to create emotional connections and long-lasting bonds with your target audience. They're memorable, and they're effective. Whether you're telling your brand's story through a video or a blog post or a quick social media post, storytelling can all make a difference in helping you build your business.
What do you think? How do you use storytelling in marketing? Is brand storytelling a central part of your strategy? Leave us a comment and let us know what you think!