Pay-Per-Click Budgets vs Bids: What's the Difference?
AdWords
•
Bing Ads
•
PPC
•
Ana Gotter
January 18, 2019
One thing I've noticed when creating PPC campaigns for clients is that money talk can get a little murky. If they've not familiar with Google Ads or other similar platforms, it's easy to get caught up trying to figure out where your money should go and why. As a result, the concepts of budgets and bids gets a little murky, too, leaving people confused about what exactly they're signing up for.
Understanding the difference between PPC bids and budgets is essential, because if there's any confusion, it could keep you from properly optimized campaigns.
We want your money to do as much for you as it can, we're going to go over the PPC budgets vs. bids so you can optimize your campaigns and get the most possible out of your ad spend.
Budgets vs Bids: What are They?
Budgets and bids both directly affect how much you're spending and what you're spending it on. The similarities really end there, however.
Your budget dictates how much you spend on a campaign overall. If you have a $2000 budget, that's all that Google Ads has to spend, whether it takes two hours or the full twenty-four.
https://giphy.com/gifs/bublywater-fail-neil-patrick-harris-4NkgsNvt3ixiG29gO6
Bidding, on the other hand, sets a limit on how much you're willing to spend on a single click on your ads, or other designated action like 1,000 views or a conversion. One specific click from one user, for example, might cost you $2.47 and you'll get the click if (amongst other factors) your bid is for at least that much.
Let's take a closer look at the importance of each one and how they will influence the success of your ad campaigns.
Budgets: The Breakdown
Your budget tells Google how much you can spend, and the most important way it affects your ad campaigns is that once the daily budget is, your campaign is done showing up for the day, too (unless you up the budget).

You set a budget for each individual campaign, and this is an enormous advantage because you can ensure that the most ad spend is going where it's needed. Instead of dividing your overall Google Ad budget evenly amongst all your campaigns, you might decide to have a higher budget for any of the following:
Campaigns that require higher bids but are most likely to convert, or those that have the most valuable keywords.
Ad campaigns that give you the best bang for your buck by yielding great results at a lower cost-per-click.
Campaigns that are promoting your "premium" goods or services, which often yield higher profit lines than your other standard offerings and are what you want to prioritize most.
It's important to remember that the results you get from your ads will absolutely be limited by your budget.
Bids: The Breakdown
Google Ads works on an auction system, which means that all else being equal, the highest bidder takes home the prize. And in this case, that prize is a lovely ad placement being displayed in the search results of keywords you've targeted. You only pay when someone clicks on your ad for search ads, not just when they actually see it.

When you're choosing your bid, you need to decide what a single clicks on a particular ad means to you. This can be complicated for several reasons, including the following:
You have to account for the fact that a number of users who click on your ad won't actually convert. This is just the reality of the situation, so while you might be paying $1 a click, if only 1/3 converts, you're paying $3 for a new customer or lead instead.
You aren't just looking at the immediate value of a conversion; you have to factor in the potential lifetime customer value, too. Look at a subscription clothing company; maybe that first sale with the intro discount only earns them $20, but the average customer keeps the every-other-month subscription for two years, resulting in a total of 12 purchases that yield $45 a piece. That's a huge difference, and those leads just became infinitely more worth it.
You want to outbid your competitors on high-value, high-intent searches so you can get that customer instead of them.
You have to determine what you're bidding on—optimizing for conversions may cost more than impressions, depending on your campaign.
You need to determine what you can afford to spend. If all these factors combined means that a single click is worth $3, you shouldn't be bidding $4 just because your competition is. There's no point spending money that doesn't benefit you.
Bidding is an important part of landing the placements you want, and therefore getting in front of the clients you're trying to reach. Don't overlook this.
I've got some good news though: just because you set a bid amount doesn't mean automatically pay the full amount unless you absolutely have to—you only have to pay one penny higher than your competitors. This means that if you bid $3 but the next highest bid is only $1.49, you're only paying $1.50. You should be ready to spend the full bid amount for planning purposes and to ensure you aren't incurring a loss of profit, but this can still work in your favor.
More good news: if your ad quality score is high, you'll likely see a lower CPC on your ads even if the bid is high.
How to Make Your Budget and Bids Work for You
Budgets and bids are looking at the money you're spending on your PPC ad campaigns in different ways, but they directly impact each other.
The bid you set, after all, will be an important factor in determining how much you get out of the budget you've set. An ad budget of $1000 will go a lot further with a bid that's $1.50 per click instead of one that's $3.50 per click.
Look at your overall goals and what you have available to spend, period. This is an important starting point. As you're doing keyword research, you'll be able to see the average bid per keyword so you can get a good feeling of a spending range you can expect to be in.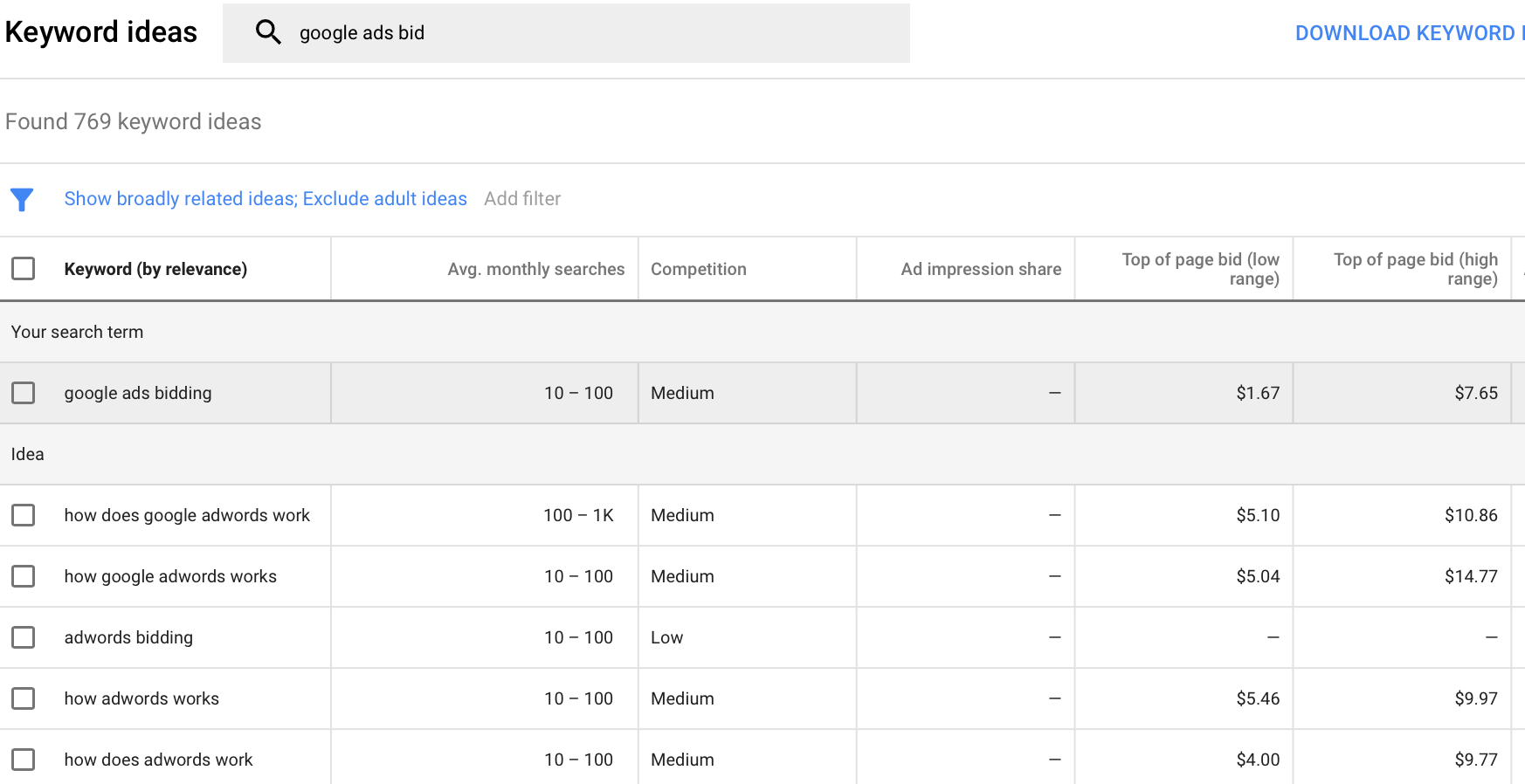 During this stage, you'll be able to assess a budget for different campaigns and they keywords they campaign and adjust specific budgets as needed to make sure they're well-allocated.
Conclusion
PPC budgets and bids are, in some ways, two sides to the same coin. They'll both affect the placements that you're getting but in different ways, so making sure that both are optimized to get you the most results possible is the way to go. This is easier with budget, which just takes into account what you can afford to spend on any given campaign, than with bidding, which can have several layers of strategy involved. When sitting down to plan your campaigns, take both into account and look at how your bids will affect your budget so you can plan accordingly.
Do you need help planning or optimizing your PPC budget or bid strategies? That's our jam. Get in touch with us here and learn more about how we can help you.
What do you think? Which do you focus on more—PPC bids or budgets? What has been your biggest obstacle at getting the right placements and conversions? Share your thoughts and questions in the comments below! 
Leave a comment