Dayparting for PPC campaigns: What it is and when to use It
by Ana Gotter • February 1, 2018
Everyone knows that time of day matters in advertising.
For example, we all know the importance of trying to post social media content at the right times of day. Doing so can put your content in front of your target audiences at the times when they're most active on each platform, which can get more comments, more shares, and (as a result of all of these factors combined) more reach.
Did you know that you can do the same thing for some of your ads? Several PPC platforms allow advertisers to utilize "dayparting," a strategy that helps you accomplish something similar with your paid advertising campaigns.
In this post, you're going to learn about dayparting for PPC campaigns, when to use it and how to set it up in both Google AdWords and Facebook Ads.
What is Dayparting?
Dayparting is the practice of only having your ad campaigns displayed at certain times of the day. The idea behind dayparting is to maximize the visibility and results of your ads.
If your target audience is most likely to click and/or purchase between 3 and 8pm, for example, showing your ads only during that time could help improve CTR and, as a result, your quality score.
Both Google AdWords and Facebook Ads allow advertisers to utilize dayparting on their ad campaigns.
Should I Use Dayparting?
Some brands will have audiences that are clearly most active on each platform at different times during the day or days of the week. This will vary from brand to brand, sometimes even within industries depending on your brand's exact specialty, products or services.
When I ran ad campaigns for a B2B business that targeted marketers, I found that they were (unsurprisingly) most active during traditional work hours with a surge of activity between 10AM and 12PM. They were not active on weekends.
For this brand, we were running Facebook Ad campaigns and Google AdWords campaigns. I utilized dayparting only on Facebook Ads, knowing that the marketers would most likely to pay attention to our ad during work hours and not in their personal hours.
That being said, I didn't set Google AdWords to dayparting, however, because if they were actively searching for solutions even in off-hours, we wanted to make sure they could find us.
I also worked with an Uber-type company that was geared at college students who needed safe rides at night and, unsurprisingly, we saw the most traffic and conversions happening between 8pm and 1AM every night. The heaviest traffic happened on Fridays and Saturdays, but the school was known for being a party school, so their audience was active every night of the week except Sunday.
Because this service was only open in the evenings, I used dayparting on Google AdWords to limit the number of irrelevant searches we'd show up in, because most people who were searching for rides on Google wanted one right then. I did not, however, use dayparting on Facebook Ads—we used this platform to generate awareness.
After a little tinkering and experimenting, both of these ad campaigns saw an increase in results after we started the dayparting.
Are There Any Drawbacks to Dayparting?
Dayparting won't work for every brand, or even every individual campaign. B2B brands don't automatically have audiences that are active from 9-5—those who are targeting small business owners or freelancers may find that their audiences are working at all hours of the day.
On that college ride share campaign I worked on, I took a gamble by using dayparting for the Google AdWords campaigns (though in the marketing world, we call this sort of thing "split testing"). There was a small population of students who we suspected would do research about ride options during the day, long before it was time to make the call.
I ultimately decided to try the dayparting strategy, though, because we were getting so many irrelevant hits during the day with students wanting rides right then and negative keywords could only help those campaigns so much. It was the right call for that particular business, but it might not be for another similar business.
There are also businesses who have a relatively steady mix of traffic.
For these businesses, dayparting can quickly isolate audience members if you're a general-interest brand that appeals to a large and diverse audience. A company selling affordable razors, for example, will appeal to college students, senior citizens and CEOs alike.
Dayparting can also drive up ad costs. Your audience's peak activity hours may be the same as general peak activity hours. If this is the case, competition in the ad space may go up during those times, increasing your CPC. You may start seeing increased ad costs overall, so for advertisers on a particularly tight budget, this is something to be conscious of.
How to Set Up Dayparting in Google AdWords
You set up dayparting in Google AdWords in campaign settings. Towards the very bottom of the campaign settings page, you'll see "Additional settings." Click on it.
More options will pop up. Close to the bottom and underneath the extensions you'll see "Ad schedule." Click on that.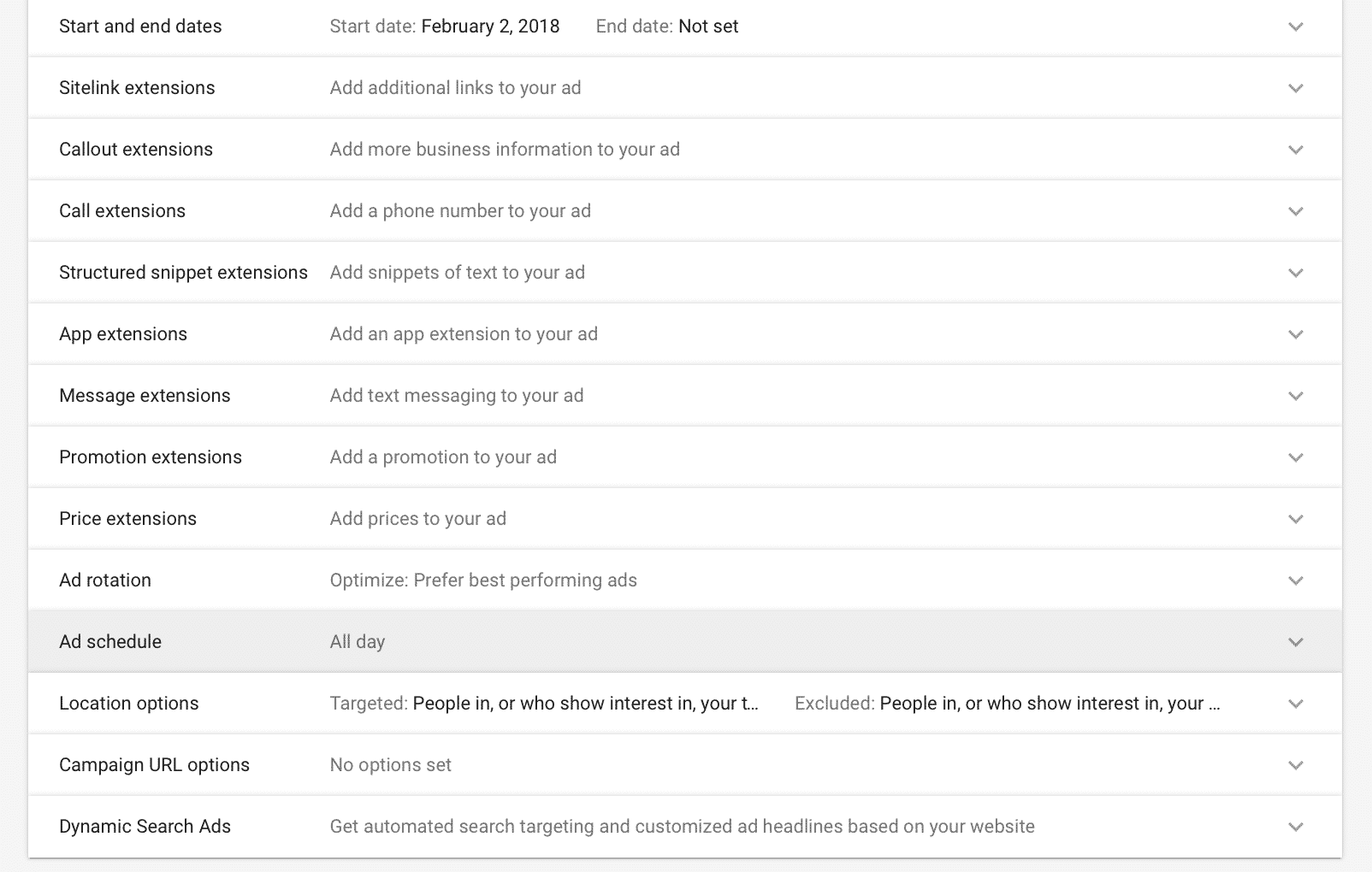 You'll then be able to choose the dates and times that you want your ad to run. Note that these will be in the advertiser's time zone.

How to Set Up Dayparting in Facebook Ads
You establish dayparting in Facebook Ads at the Ad Set level. When you click to "Budget and Scheduling," select "lifetime budget" and schedule a time frame that you want your ad to run.
Under "Optimization for Ad Delivery," which is found directly below this, select "run ads on a schedule." Click on the exact times and days that you want your ad to run.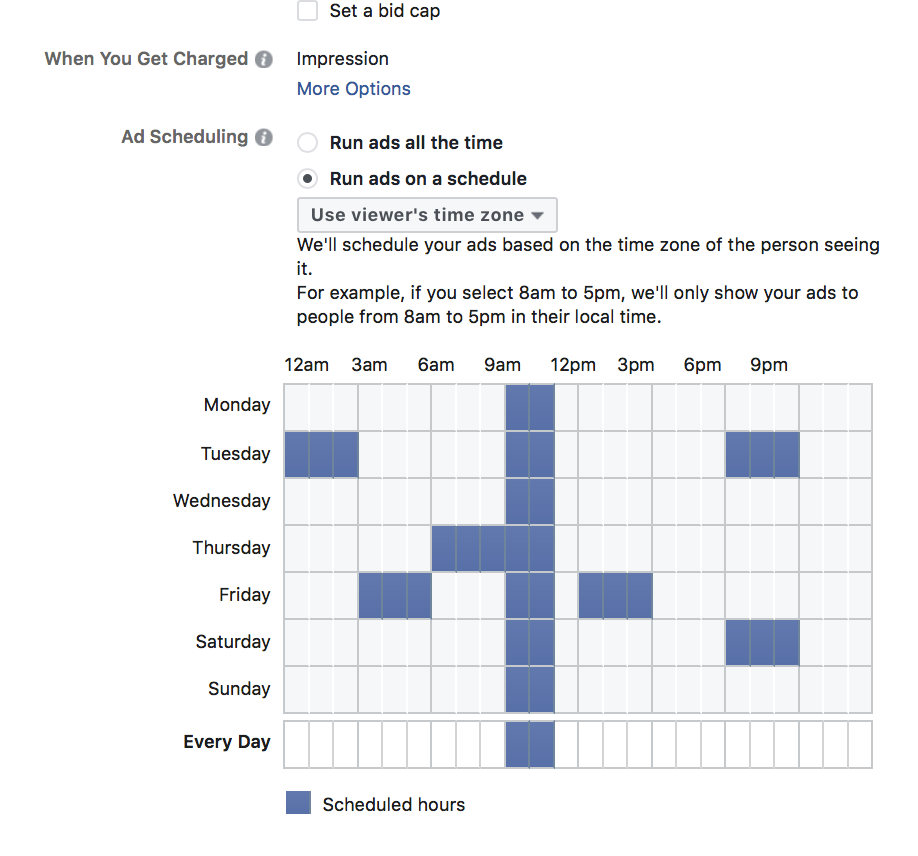 If you know you want your ad to run at the same time every day, you can use the "every day" feature to speed up this process. You can also choose to run the ads based on the viewer's time zone, or based on the ad account's time zone.
Final Thoughts
If you're able to hone in on peak hours that are most likely to get you clicks, dayparting is an effective strategy that you can use to increase the visibility of your ad.
By condensing the time frame your ad is shown to very specific, high-traffic hours, you can get more results without wasting ad spend on impressions or clicks that are unlikely to convert. Ultimately, this can be very good for your campaign.
Just remember to watch for increased ad costs, including CPCs. If your audience's peak hours are the same as everyone else's, ad costs may go up if other advertisers are trying the same strategy.
What do you think? Have you ever used dayparting in Google AdWords or Facebook Ads? Did it work for you? Share your thoughts, knowledge, and questions in the comments below!