What is Google AdWords and Why Do I Need It?
by Jacob Baadsgaard • January 1, 2018
Google AdWords…if you're like most business owners, the idea of running ads on Google is both tantalizing and terrifying. After all, if you do it right, AdWords could transform your business. But, if you do it wrong, you could spend thousands of dollars and get absolutely nothing for your trouble.
But neither the promises or the problems that come with Google AdWords really describe what this marketing platform is or how it works. In this post, we're not going to talk about how much money you could make or lose on AdWords. Instead, we're going to go back to the basics and explain what the platform is, how it can benefit you and how you can get started.
What is Google AdWords?
Google Adwords is a pay-per-click (PPC) advertising platform. Unlike other PPC platforms like Facebook, AdWords actually offers advertisers two basic ways to reach people: 1) through the Google Search Network and 2) through the Google Display Network.
While these approaches are functionally very different, they both use a PPC bidding system, where advertisers bid to have their ads shown to relevant audiences.
The Google Search Network allows you to show your ads to users who are actively searching for the keywords that you've selected. If you own a landscaping business, you bid to have your ad show up every time a user types in "Landscaper in Tallahassee."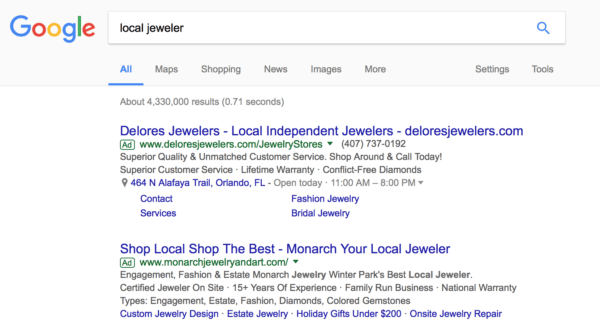 As you can probably imagine, these "text ads" are an excellent opportunity to capture users who are at the research and purchasing stages of the digital sales funnel. Text ads are marked with a small "Ad" tag next to the site URL.
The Google Display Network works differently. Instead of showing ads to users who are actively searching for a product or service online, "display ads" or "banner ads" are placed on websites you think your target will be on.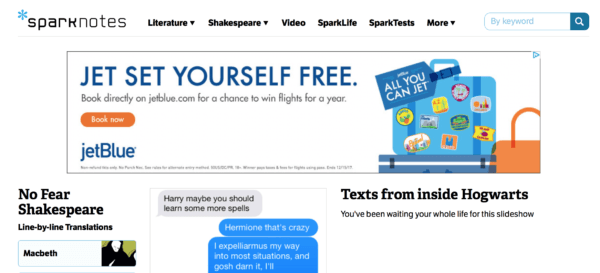 Since they aren't actively searching for what you have to sell, people are usually less likely to click on banner ads. That being said, sometimes people don't know what they want until they see it, so display ads can help you get in front of potential customers who might never find your company on their own.
Display ads also work well for re-engagement campaigns, where you show ads to people who have already visited your site in the hopes of getting them to come back again. This is called retargeting (for more info on retargeting, check out this article).
Should I Give Google AdWords a Try?
These days, there are a ton of PPC platforms to choose from. You have the Facebook and Instagram Ads platform, Twitter Ads, Pinterest Promoted Pins…the list goes on and on. In Fact, Google AdWords isn't even the only search engine ad platform—Bing Ads and Yahoo Search Ads are options, too!
However, despite all the competition, Google AdWords is still one of the best ways to reach your target audience.
Facebook Ads and other PPC platforms certainly can work and they can work exceptionally well. That being said, being able to reach customers who are searching for products, brands and content like yours (not an option with most social media PPC platforms) is an exceptional (and profitable) opportunity that shouldn't be underrated. It could provide you wit the chance to snatch up easy sales before your competitor does.
How to Create a Google AdWords Campaign
Once you've decided that you want to run Google AdWords campaigns, you need to dive in and start creating them. Click here to go to the AdWords site so you can get going. You'll be asked to create an account, which takes just a few minutes.
Once your account is up and running, you'll be able to create campaigns.
The first thing that you'll do is decide what type of campaign you want to create. You can choose from search ads, the display network, shopping ads (which will show your product to those searching), video ads (which will be displayed on YouTube and on sites online) and the universal app. For this tutorial, we'll create a traditional search ad.

Next, choose what specific goal you want to optimize for: website traffic, leads, or sales.


Once you do this, you'll choose how you're planning on accomplishing those goals—will it be through getting phone calls, app downloads, or site visits? You can select however many you like, then add in the details of what site, phone number, or app you want customers to visit.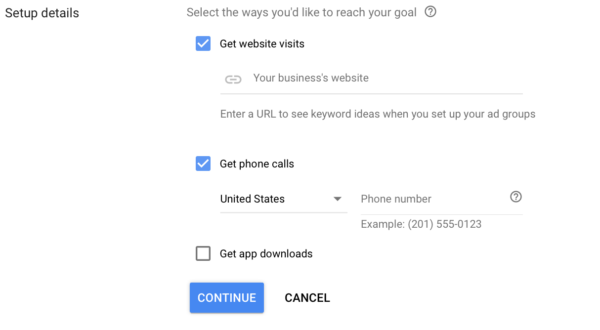 On the next screen, you'll name your campaign. You can also choose whether or not you'd also like to enable display ads.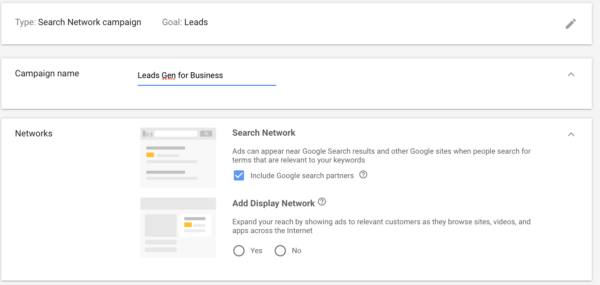 Next, add your location targeting. This will show your add only to people in certain locations, or to everyone but people in certain locations. You can choose countries, states, cities, and zip codes. Immediately after this, set which language your ad is written in.

In the next section, you can choose your bidding strategy. Manual CPC is the only option that gives you full control, though Google's other smart bidding strategies can be good for beginners.

Below this, set your daily budget, delivery method and start and end dates to your campaigns. Your delivery method determines how your ad spend is distributed.
If you choose "Standard", your ad spend will be delivered equally throughout the day. If you choose "accelerated", Google will go through your budget as quickly as possible.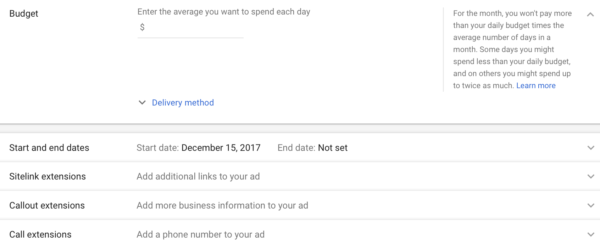 Underneath this, you can add AdWords extensions to provide more information to viewers (always a good idea, especially since it can increase the size of your text ad).
In the next section, you'll choose your keywords. Group similar keywords into a single ad group, but create multiple ad groups to showcase different products and services.
Finally, create your ad. You can enter in two headlines and a description, in addition to any ad extensions you choose earlier on (click here to read more about how to get the most out of your headlines and description).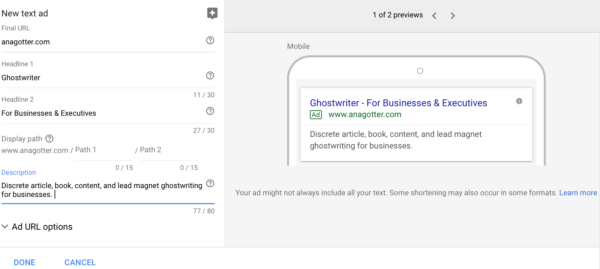 After this, submit your ad for review. You're officially done! All that's left to do is to monitor your ad once it starts.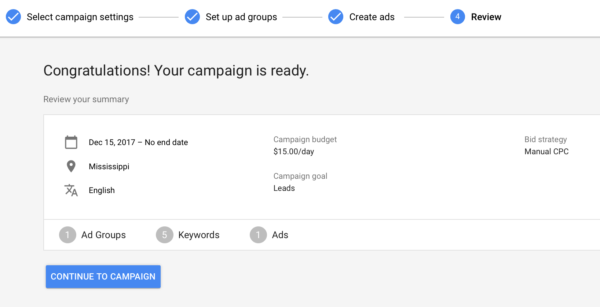 Isn't AdWords Expensive?
Yes, Google AdWords can be a little expensive, especially if you're in a highly competitive industry. That being said, a well-designed, optimized AdWords campaign is well worth the investment!
The key here is to put together a "well-designed, optimized AdWords campaign". If your AdWords campaigns are well-targeted, optimized correctly and have an appropriate CPC bid, you'll be able to show focused ads to responsive niches within your target audience, and you're close to guaranteed a positive ROI.
If the campaigns aren't properly optimized or targeted, however, you could end up spending a lot on clicks that never convert. This is where most businesses go wrong—they don't take the time to create campaigns that specifically target and attract the right people.
What you actually spend will depend on a lot of factors in the bidding system, including:
The specific keywords you choose
How much competition you have in the network (peak times of the year can cause big increases in cost)
What you're actually bidding
All that being said, while you do pay for every click on an AdWords ad, if you're making $5-10 or more for every dollar you spend on AdWords, that's a pretty good investment.
Conclusion
Google AdWords can be a big investment, both in time and money, but it's a good one. The search network can make sure your ads rank well in searches of users who are looking for brands like yours, and the display network can be used for re-engagement or discovery campaigns. Though the system can be complex, there's a lot to gain from using it, and it's entirely possible to run profitable campaigns with low CPCs even on the smallest of marketing budgets.
Need help getting started with Google AdWords campaigns for your business? Send us a message and see what we can do for you.
What do you think? Have you invested in Google AdWords? What challenges have you had with the platform? What types of content would you like to see on the subject? Leave us a comment and let us know!