How to Grow Your Ecommerce Business Using Chatbots
by Adam Enfroy • June 10, 2020
Chatbots are like the assistant you didn't know you needed.
Ecommerce businesses have small teams. 33% of startups are started with less than $5,000 in capital. With limited teams and resources, founders need to automate what they can.
Not to mention with current events, many companies have been forced to shift to remote work and virtual team setups while having to assess their processes for efficiency.
How does this relate to your customers? Well, for starters, shoppers browsing even the most-optimized sites can still struggle to find what they need.
With 98% of shoppers purchasing at least one item from an ecommerce site in the last year, there are a lot of people browsing the internet for products who might need help.
Chatbots can be easily added to an ecommerce site and cut down on the number of inquiries, complaints, and questions that a business receives each day.
In addition, businesses can add a chatbot to their site to perform a variety of actions that will lead to an increase in revenue. Some of the most common include
Answer questions.
Collect prospect information.
Book a meeting with customer support.
Promote your presence at events.
Direct customers to long-form content.
Provide inventory updates.
Connect with consumers.
Share user-generated content.
Deploy targeted messaging
To see how to use chatbots effectively, let's dive into the eight most popular ways businesses deploy one to grow their business.
1. Answer Questions
Customers and shoppers use chatbots to get their questions answered. Chatbots are a great way to showcase your company's efficient, helpful customer service.
Companies can add frequently asked questions to chatbots that will guide consumers to their answers by clicking a predetermined set of scenarios. For shoppers that have other questions, they can be routed to an employee.
2. Collect Prospect Information
Zoma, a mattress brand, uses a chatbot to collect customer information when their customer service team isn't available to answer the request after work hours.
In the corner of the screen, the chatbot pops up to let them know that the team is "sleeping," and asks for your information and message, so they can respond to it in the morning.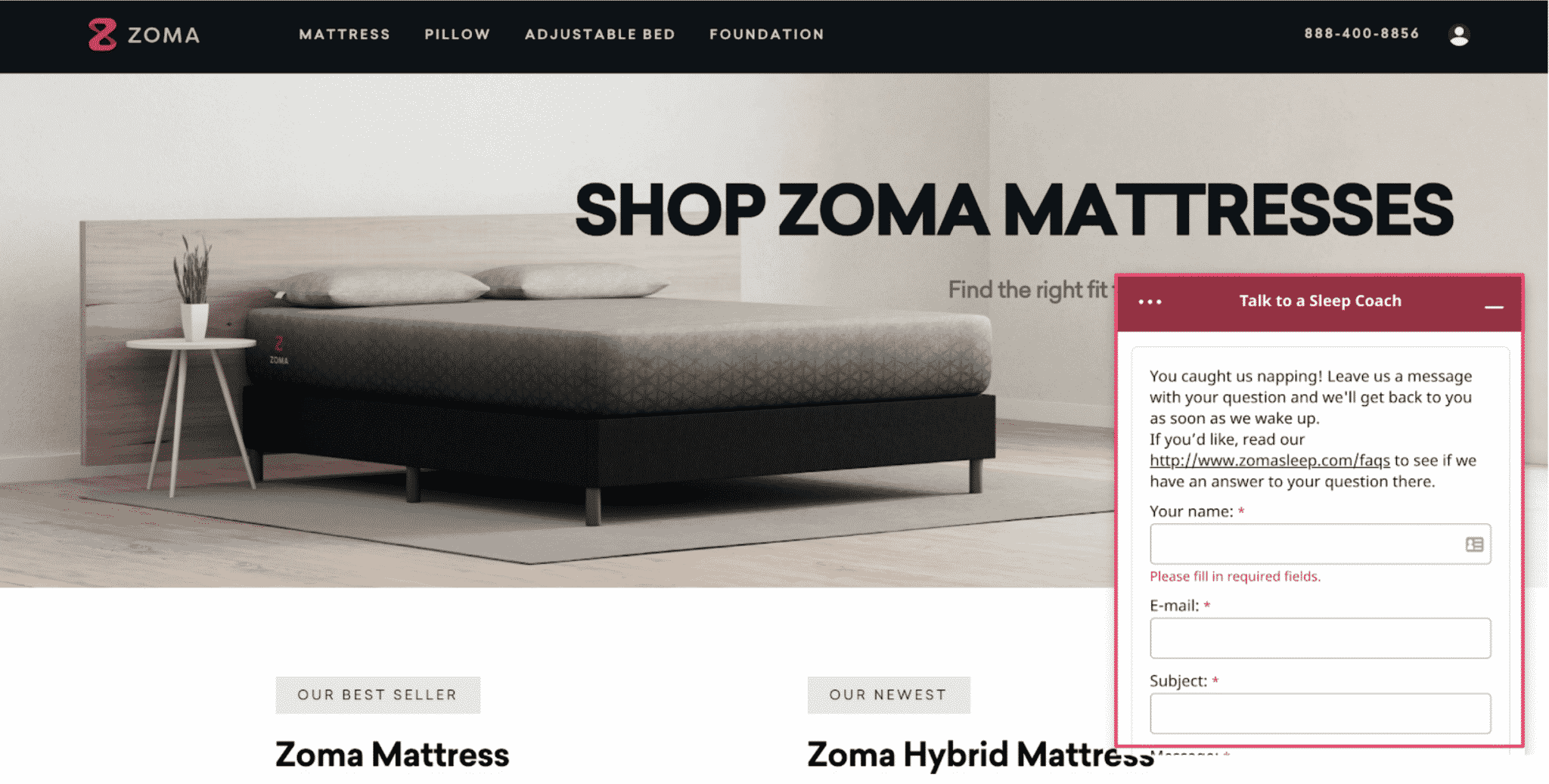 You can even add external forms into your chatbot with additional flexibility. This can automatically send the prospect data to your CRM or email management platform for segmentation and outreach.
Once the prospect data is captured, you can nurture them with email campaigns to move them through the buying process. By tracking open rates, you can discover what interests them and create more targeted segments of potential customers.
3.  Book a Meeting with Customer Support
If customer issues go beyond a helpdesk or simple email with a representative, perhaps a meeting or phone call is required to reach a satisfactory solution.
By using a meeting scheduler integration that automatically adds meetings to calendars, you can let your chatbot efficiently plan meetings with potential customers without lifting a finger.
These integrations are easy to establish with almost any chatbot platform, too.
With certain chatbot platforms, you can also add personalized touches to your chatbot. For example, check out how Loganix does this: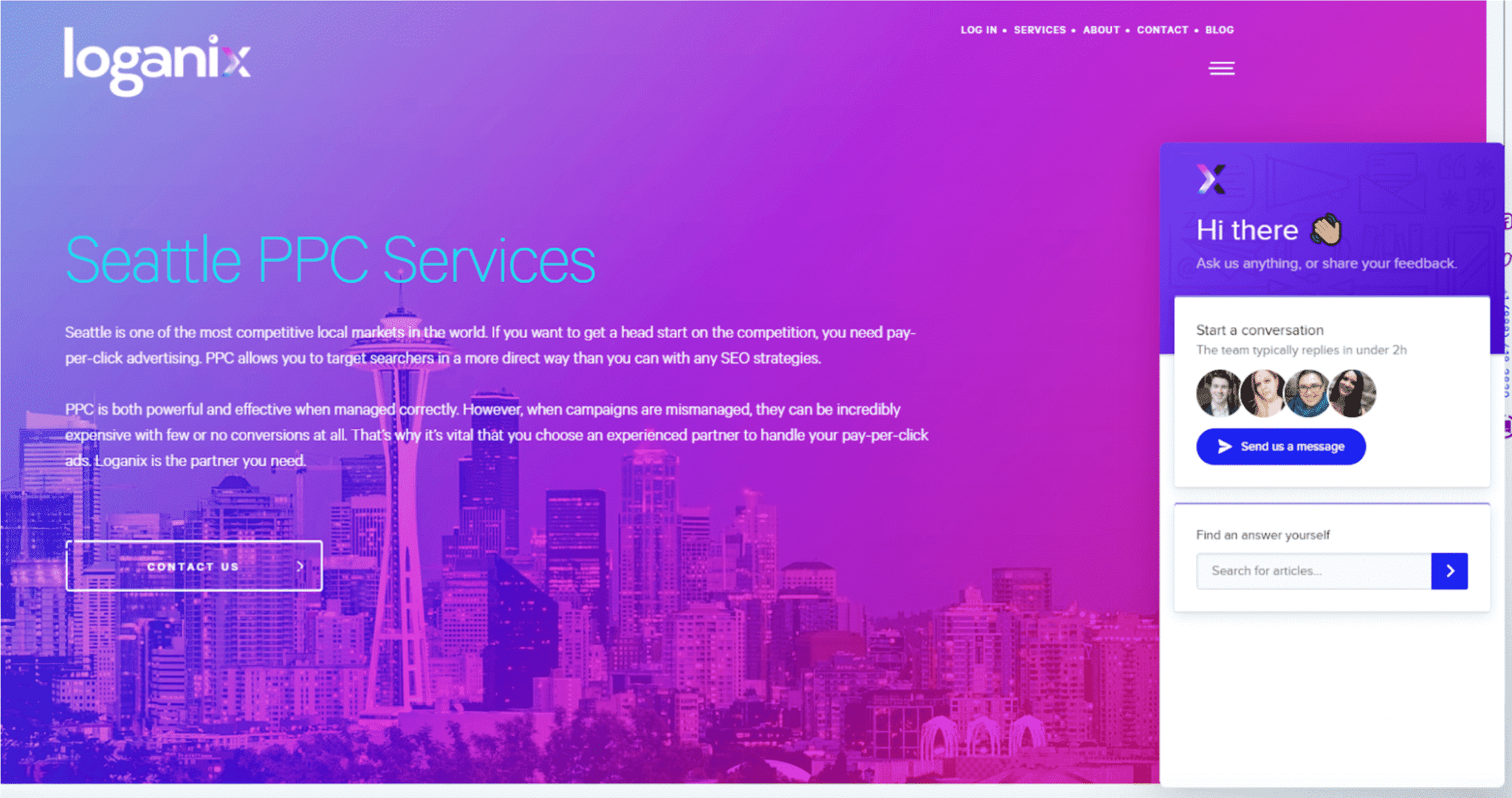 You can start a conversation with their chatbot, but it also shows the faces of their support team who are there to help if the chatbot can't answer all your questions.
Use your chatbot to better engage with customers and book meetings, too.
4. Promote Your Presence at Events.
Sometimes, it's easier to make the sale face-to-face. That's why you should use your chatbot to sell tickets to upcoming events or virtual conferences where your brand will be present.
If you're going to be sponsoring a sporting event or music festival, drive traffic to your activation with a notification in your chatbot to alert them about other ways to purchase your products.
5.  Direct Customers to Long-form Content.
Promote complementary content that is hosted on your website. If you've started a blog on your site, this can include articles hosted in your blog or your library of weekly podcasts related to your product or industry.
Long-form content is effective because it can dive into your products' use cases and showcase environments and scenarios when your product is needed. However, you need to actively promote this content in a variety of channels to ensure it is effectively reaching and resonating with your audience.
6.  Provide Inventory Updates.
Shoppers get aggravated when the item they're looking for is out of stock. They came all the way to your site, browsed your products and finally settled on one. Now, they're realizing it's unavailable.
Naturally, they will be frustrated and may voice their dissatisfaction with your chatbot. This is an opportunity to correct the issue and provide inventory status updates through your chatbot. You can alert them when the product will be back in stock and even collect their email through the chatbot to send them a link when it is available to buy.
7.  Connect with Consumers.
Chatbots are a great way to bring your brand to life. Unlike email, they enable real-time communication between your team and potential buyers. This is an opportunity to respond with gifs, high-quality images and a tone of voice that is consistent with your brand.
Don't have a graphic designer? That's no excuse to avoid making GIFs and graphics that will delight your customers in chat. There is easy-to-use photo editing software on the market that will enable you to make high-quality graphics with limited time.
8.  Share User-Generated Content.
If your customers are sharing photos and positive reviews about your content, a chatbot is another channel to amplify them. You can add customer reviews and photos to automatically be sent back to customers who ask about specs or uses for a specific product.
But how do you get this content in the first place? Engage with your social media followers or work with social influencers to try your product. The images and reviews from influencers can be repurposed and used as marketing assets in future campaigns.
9.  Deploy Targeted Messaging.
With paid media campaigns driving traffic to your website, you should have freelancers create custom landing pages highlighting different use cases that are applicable to your target audience.
Alternatively, you can have someone on your team choose a website builder like Wix or WordPress or an ecommerce platform that allow you to easily create landing pages using a variety of plugins and integrations.
On those landing pages, you can add a chatbot that is targeted to the specific audience you're reaching in your campaigns.
Use it to highlight use cases and answer questions related to that audience. In addition, you can even capture prospect information to make your paid ad campaigns more valuable.
Converting with Chatbots
Chatbots can make your business more accessible by opening the lines of real-time communication between your future customers and your team.
Top 10 Chatbot Builders to Check Out in 2020
By adding a chatbot to your site, you can help customers get their questions answered quickly, while sharing important product messaging for your brand.