The Ultimate Guide to Ecommerce SEO
by Ana Gotter • May 28, 2018
There are a lot of ways to get traffic to your ecommerce site. You've got AdWords and social media and email marketing and so much more. Most of these methods, however, require constant supervision, management and new content in order to generate new traffic.
The good news is, not all ecommerce marketing tactics take this level of investment.
Search engine optimization (SEO) doesn't require quite the same daily hands-on management that most other techniques do and it doesn't technically have to cost anything to implement.
That being said, I understand why a lot of ecommerce sites don't put a lot of stock into SEO. It can feel daunting trying to rank for top spots, especially when pitted against those large corporations. With users actively searching out products online before purchasing, however, if your site isn't optimized, you're guaranteed to lose the sale.
In this post, we'll take you step by step through the process of optimizing your site with ecommerce SEO.
Ecommerce SEO Tips
Before we get started, there are a few things I want to mention right away. First, you want to optimize both your main site pages alongside your individual product pages. This is incredibly important, but some ecommerce sites overlook it.
Your main site pages should be optimized for general keywords ("jewelry retailer" and "jewelry repair") while your product pages should be specific ("cushion cut engagement ring" and "rose gold garnet pendant"). This will help people find you no matter what they're looking for, and where in the buying cycle they are.
In addition, you can use your blog to target long-tail keywords that would help you connect with users in a different stage of the buying cycle. Tech sites could optimize for "iPhone vs. Samsung, which is better?" and fashion sites could target "what to wear with thigh-high boots."
Also, you'll want to remember to avoid keyword cannibalization, which is the practice of targeting the same keyword on multiple different pages. When you do this, you're effectively competing against yourself while taking away other keywords you could be ranking for.
Finally, you need to do more than target keywords and place them on your site. While that's perhaps the biggest controllable factor in SEO, there's a lot of other factors that come into play in how your site ranks. We go into these in this post.
Sound good? If you keep these big SEO pitfalls and strategies in mind during the rest of this post, you'll be well on your way to success!
Find the Right Keywords
Finding and then optimizing for the right keywords is obviously a central part of ecommerce SEO, so we're going to take a close look at each stage of keyword research and optimization.
Know Your Audience
Knowing your audience is a crucial part of keyword research, because it means understanding what they're searching for. Dialect, after all, is a big deal.
Are they searching for "bridal gown" instead of "wedding dress," or something else entirely? Identifying the specific language and phrases your audience uses to search for products will make all the difference in actually connecting with them.
Keyword research can help you determine how your audience searches for your products. Many tools will show you popular keyword suggestions that have more hits than the term you've chosen.
If you need some ideas, tools like SEMrush's Keyword Magic Tool can help fill in the gaps.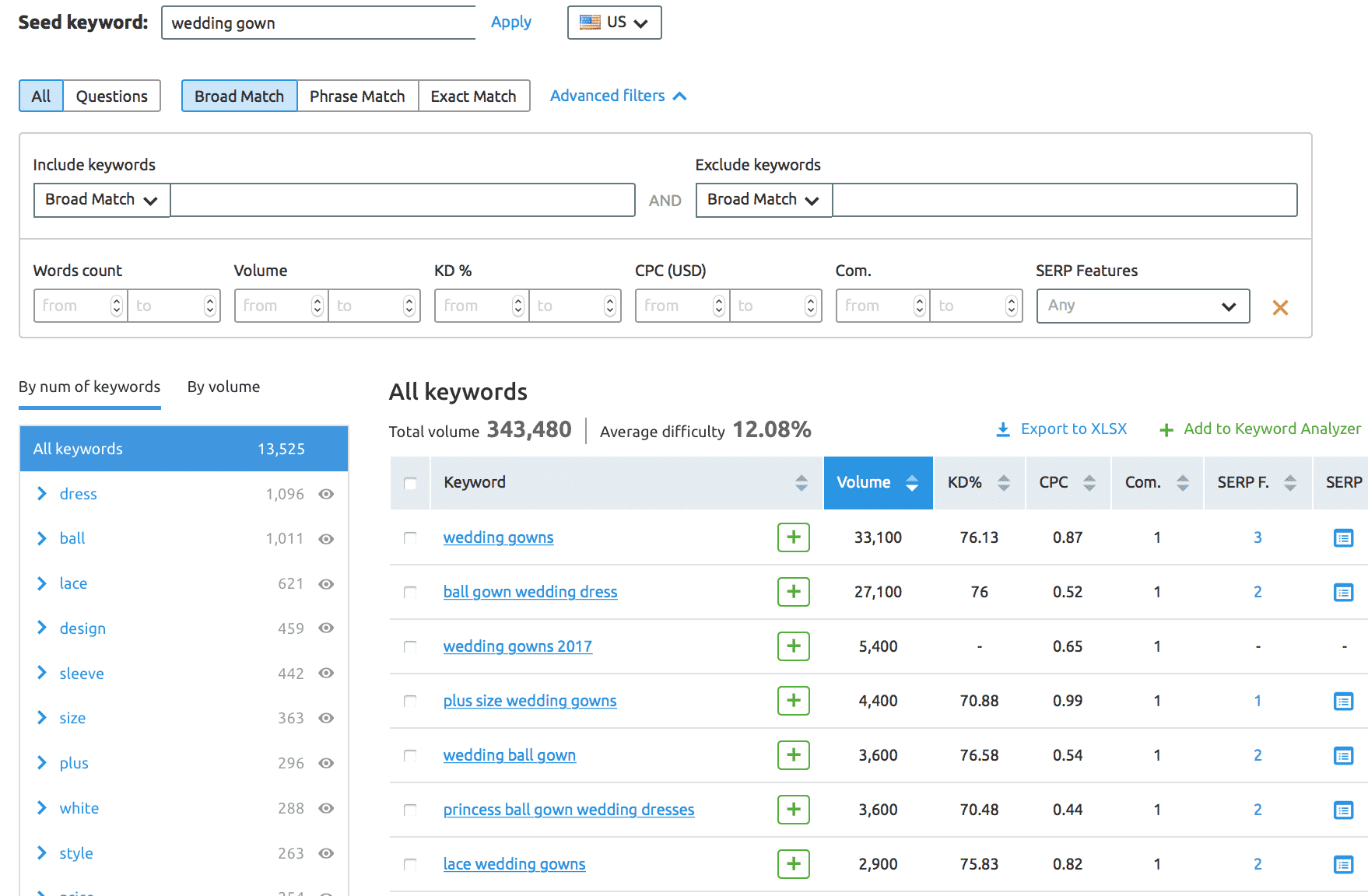 You can also reverse engineer the data you already have through Google Analytics by looking at what search queries people are currently using in order to find your business.

Do Individual Keyword Research for Each Page
Even though this can take a while, you'll want to do individual keyword research for each page on your site. That includes each product page. Look for the best terms to try to rank for and make sure that each product is targeting a different keyword.
During this stage, do competitor research, too. Use tools like SpyFu to see what your competition is ranking for and how you're holding up.

Take a look at the keywords your competitors are bidding on in Google AdWords, because these are likely their most high-value keywords. Do what you can to target those if you think you can rank for those keywords organically.
Optimize Your Site for Your Chosen Keywords
You'll need to optimize each individual page for the keywords you've chosen, giving your site and individual pages the best chance possible to rank well. The best ways to do that include:
Use plugins or native tools to set your targeted keyword. Where and how you do this exactly will depend on the CMS you're using, but most tools (like Shopify) will either let you natively set target keywords in a designated section of each page, or install tools like SEO Yoast for WordPress to help you do so.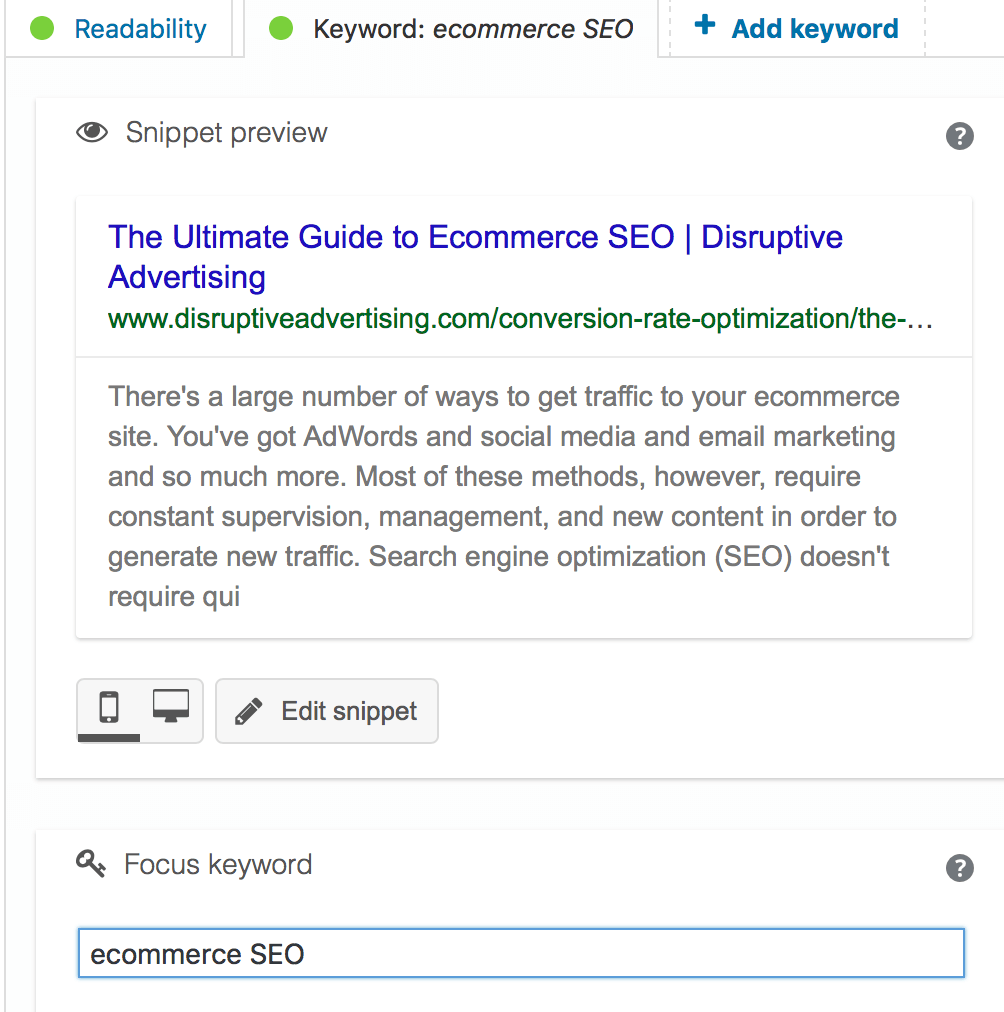 Consider keywords in text. Try to use your targeted keyword in the page's headline and in the product description. You can also try to place secondary keywords in your descriptions. Instead of just "professional camera lens," for example, you could also try to hit "most popular camera lens."
Add your keyword to image alt-tags. Most CMS systems—including Shopify, WordPress and Hubspot—allow you to enter in alt-tags for images. These tell Google and users browsing with screen readers what the image is and placing your keyword there can help you rank better for those searches.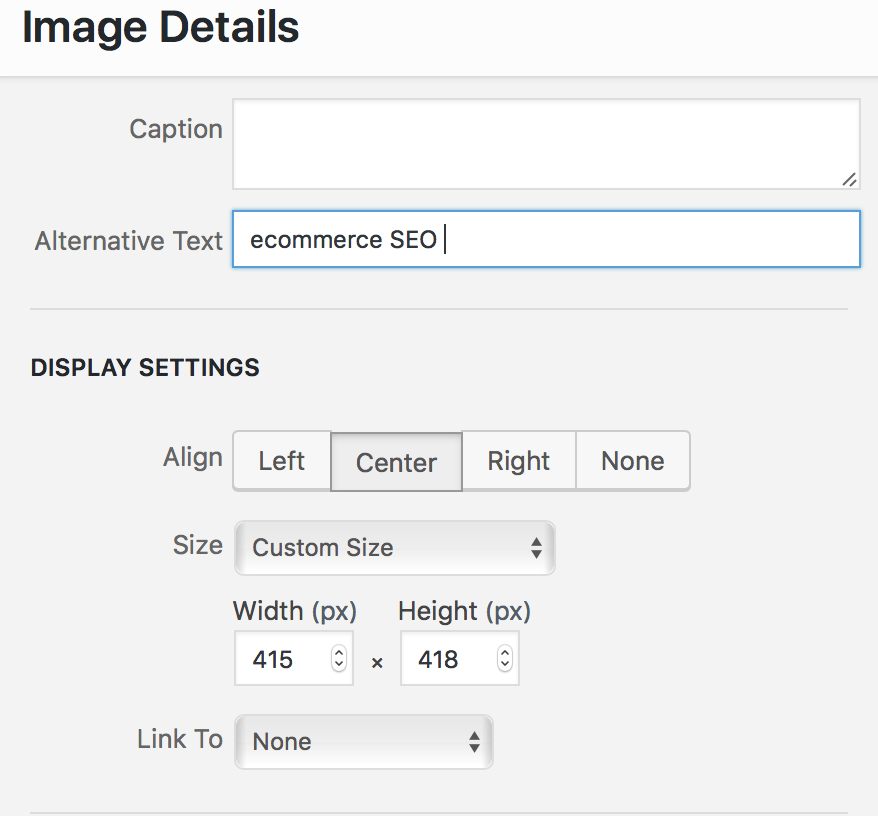 Look for Site Errors
Once you've got your keywords squared away, you need to take a look at the rest of the site.
I highly recommend either hiring an expert or using a tool like SEMrush's Site Audit feature to get a full and comprehensive report on what's happening with your site—including errors on the backend that could be hurting your ecommerce SEO ranking.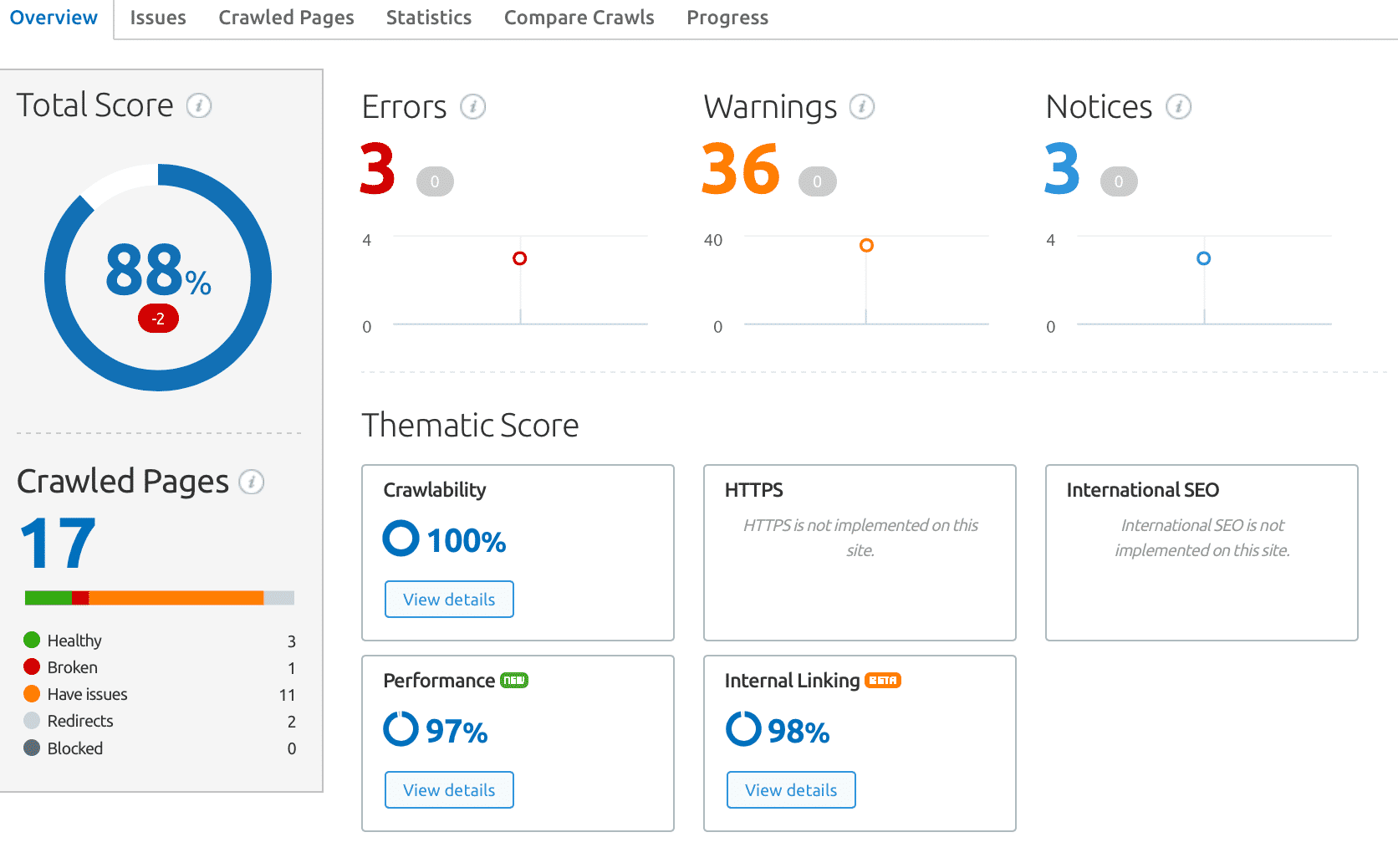 Examples of errors you may need to fix include:
Repetitive keywords
Overly large image files
Orphaned pages in sitemaps
Poor crawlability
Improve Site Loading Speed
Site loading speed is important for a number of reasons. Not only will users abandon ship if your site isn't loading within a measly three seconds, but Google also takes site speed into account. This may be partially due to the high bounce rates slow speeds cause, but there's definitive research showing correlations between slow loading speeds and lowered SERP rankings.
In addition to having a super fast desktop site, you'll also want to make sure your site performs well on mobile.
To ensure that your site is up to speed (literally), you can use tools like Pingdom to evaluate performance. If needed, go ahead and upgrade your ecommerce hosting plan to one with better performance and faster speeds.
Utilize Link Building
The tips we've looked at so far are entirely in your control. You can devote a day or so to sit down and tackle it right now and know that you've done everything in your power to improve your ranking in the SERPs.
When it comes to our last two tips, however, you can influence them, but not control them.
Link building is the first of those two tips. You want to not only link to high quality sites on your own where applicable (signaling to Google that you refer to well-trusted sites), but you want to obtain links from other sites, too. Your blog is a great place to accomplish both of these goals.
Get as many links to your site as possible from other high-quality sites. You can use guest posting to help with this and by providing valuable content people want to share on-site, too. Linking to high quality sites from your own can also bring you to their attention, increasing the likelihood they'll link back to you eventually.
You can also use internal links to your own content to keep users bouncing around your site. This reduces bounce rate, which can improve your SEO ranking.
You can monitor link building progress with a number of different tools. Because I'm a big SEMrush fan (if you couldn't tell), I personally recommend SEMrush's backlinks tool.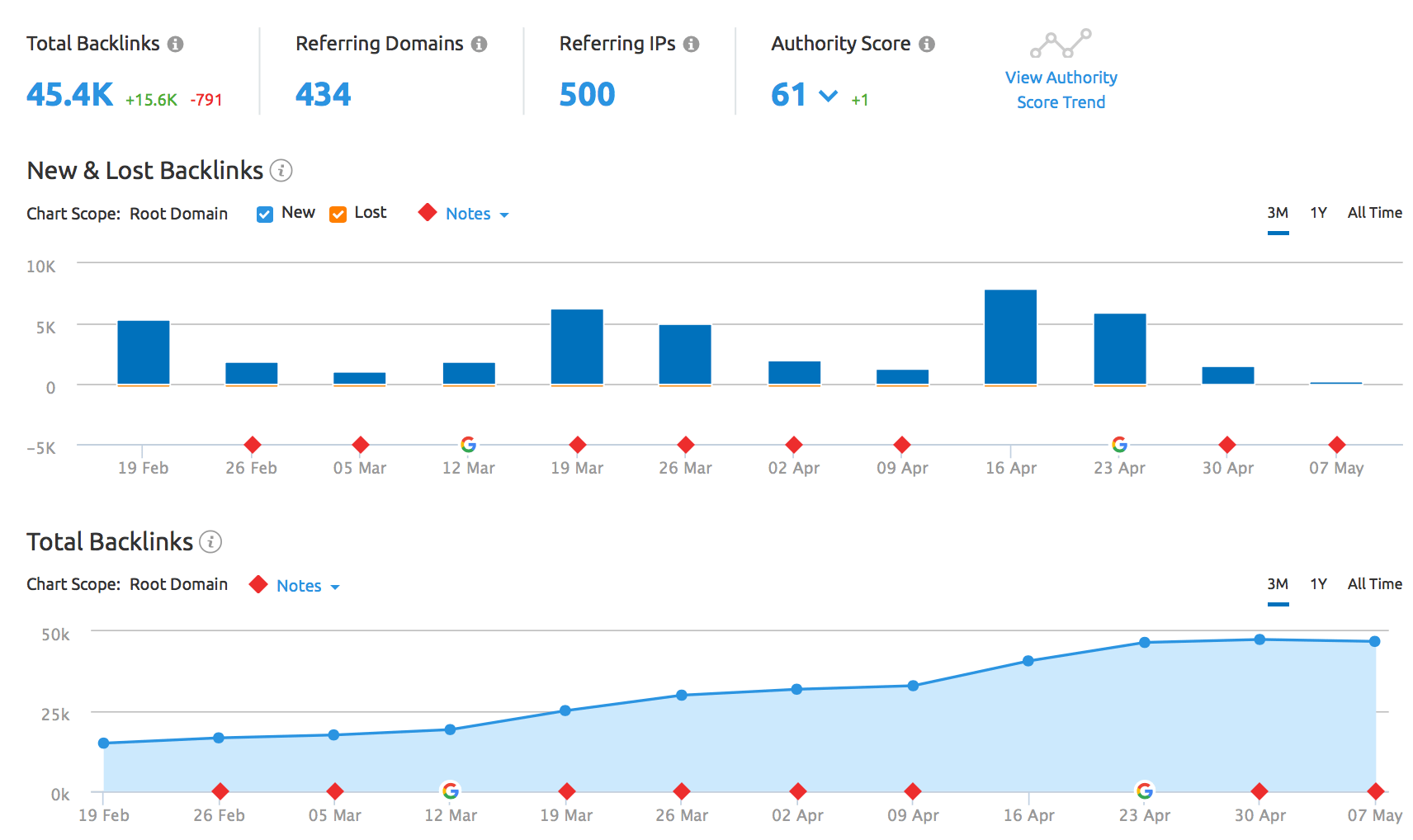 Need a little help with attracting links? Moz has an awesome and extensive guide on link building you can check out here.
Get More Customer Reviews
Customer reviews will undeniably help you sell more, so they should be a staple part of your site. In addition to being something customers want to see, reviews and testimonials are also something that Google likes to see, too.
Reviews, after all, are more text, and most review platforms now make sure their text is crawlable by Google. This gives you more room to hit keywords. Since more reviews means more fresh content, this is also a nice bonus that keeps Google happy.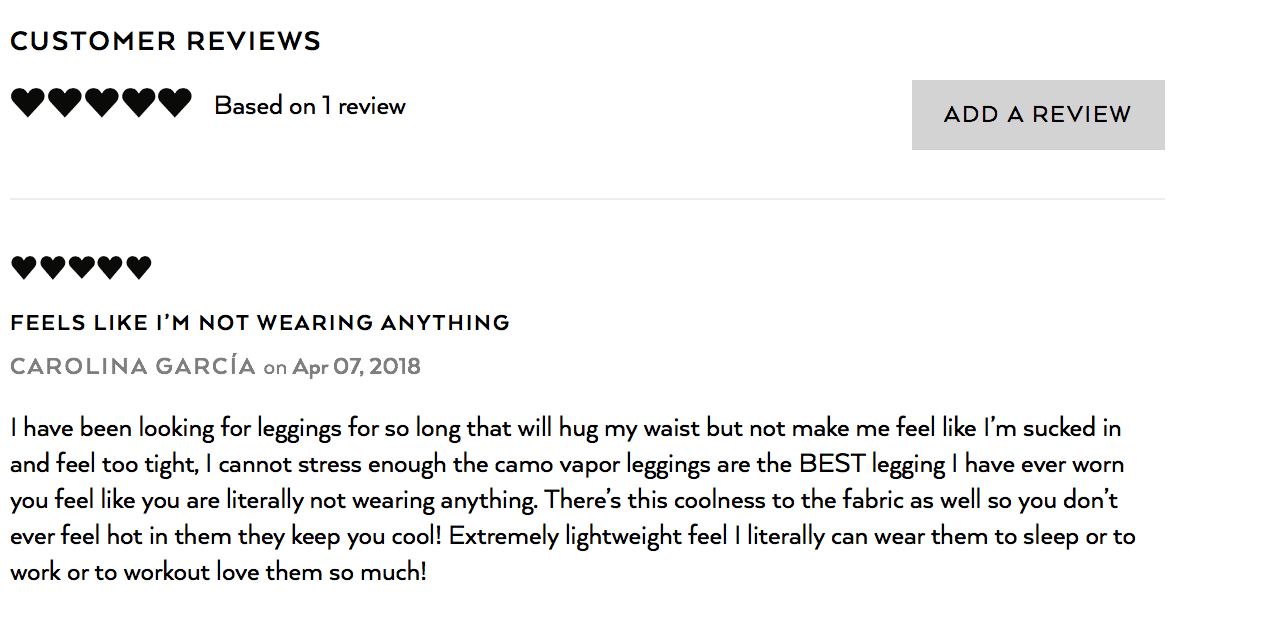 If you're looking for more techniques to generate customer reviews on your site, check out tools like Yotpo, which not only serve as a review-posting platform for your site, but will also automatically reach out to customers to ask for reviews.
Conclusion
There's a lot that goes into ecommerce SEO, and the sheer number of product pages makes it a challenge to keep up with the keyword research and execute it well.
Start by tackling the keyword research, optimizing each page correctly and individually, and then diligently making sure you're crossing off everything else on your ecommerce SEO checklist. There's a lot to be done if you're starting from scratch, but once you've got the basics covered, it's much easier to maintain moving forward, and you'll see the benefits for a long time to come.
Who do you think? How do you approach ecommerce SEO? Is your site optimized with all the tactics above? Share your thoughts, knowledge, and questions in the comments below!