7 Most User-Friendly Ecommerce Website Builder Options in 2018
by Ana Gotter • June 27, 2018
You're ready for a new ecommerce website. You know what kind of features you want it to have and you're ready to create it so you can start selling new products to your customers.
Before you start actually jumping in to the creation process, though, you need to choose what ecommerce website builder you want to use. This will have a huge impact on your experience (and your customers' experience!) moving forward, because it will typically determine what ecommerce platform your site operates on.
There are a lot of ecommerce website builders out there, and a lot of them are really good. Most of them, however, are not particularly easy to use,and nearly require expert experience to actually create a site with them.
In this post, we're going to look at 7 of the most user-friendly but still powerful ecommerce website builders available in 2018. These ecommerce website builders give you the ease of use you need without sacrificing quality or functionality.
1. Shopify
When it comes to ecommerce anything (hosting platform, ecommerce platform, and even ecommerce website builder), Shopify is pretty much always going to be my go-to recommendation.
It has a powerful combination of exceptionally easy-to-use interface and intuitive navigation alongside incredible customization options.
Not only can you create the site that you've visually envisioned in your wildest dreams in a short time span thanks to the thousands of themes (some free and some paid), you can also make sure that it has all those features that you want, too. Want to have UGC displays to help you sell? They've got that. Looking to have a tool that helps you with accounting? That's available, too.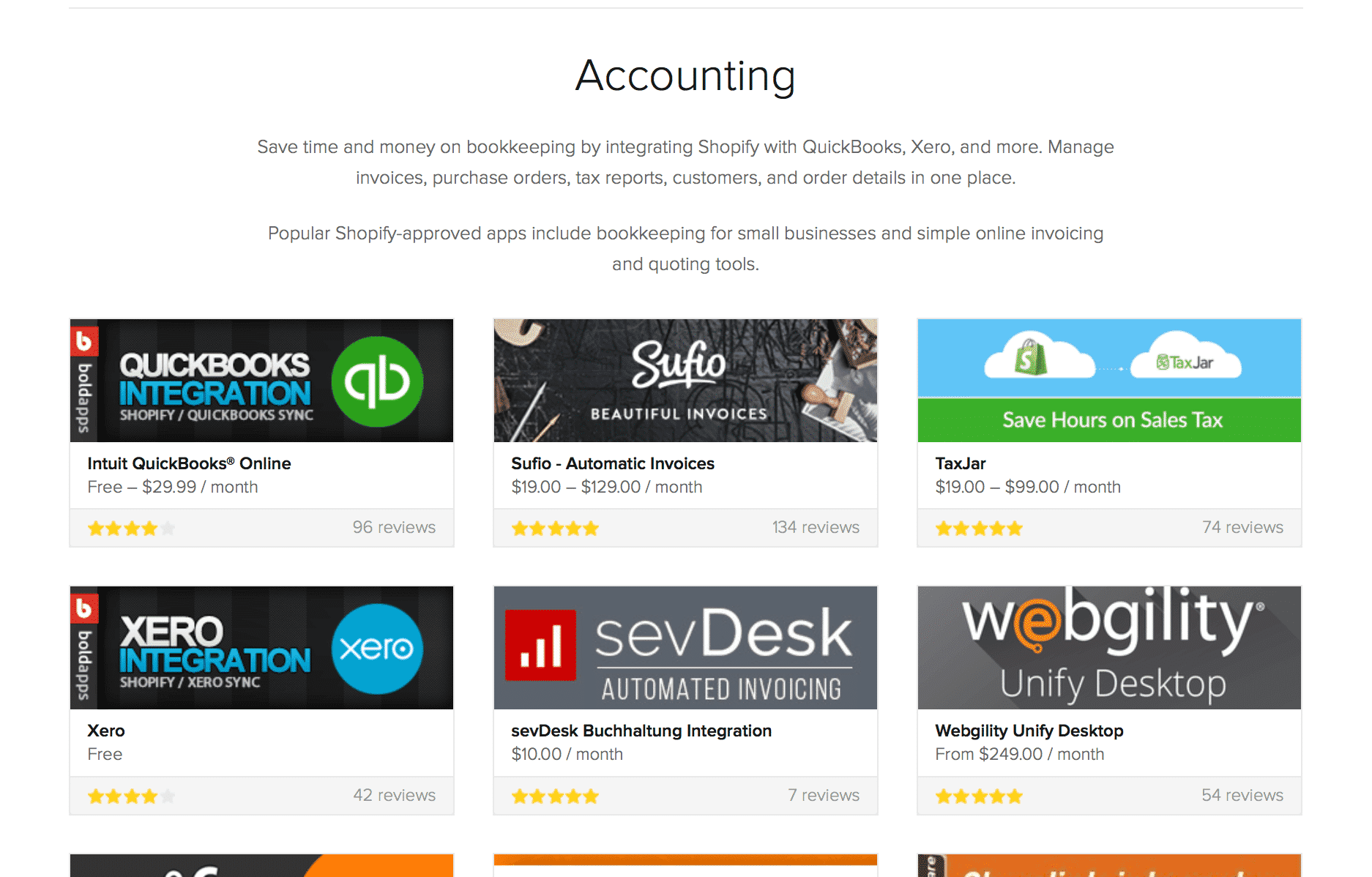 Shopify's layout is intuitive even for first time users with no design experience. You can add as many pages as you need and they even have built-in blogging capabilities.

The Page builders themselves are exceptionally easy to use and are particularly effective thanks to Shopify's built-in SEO features.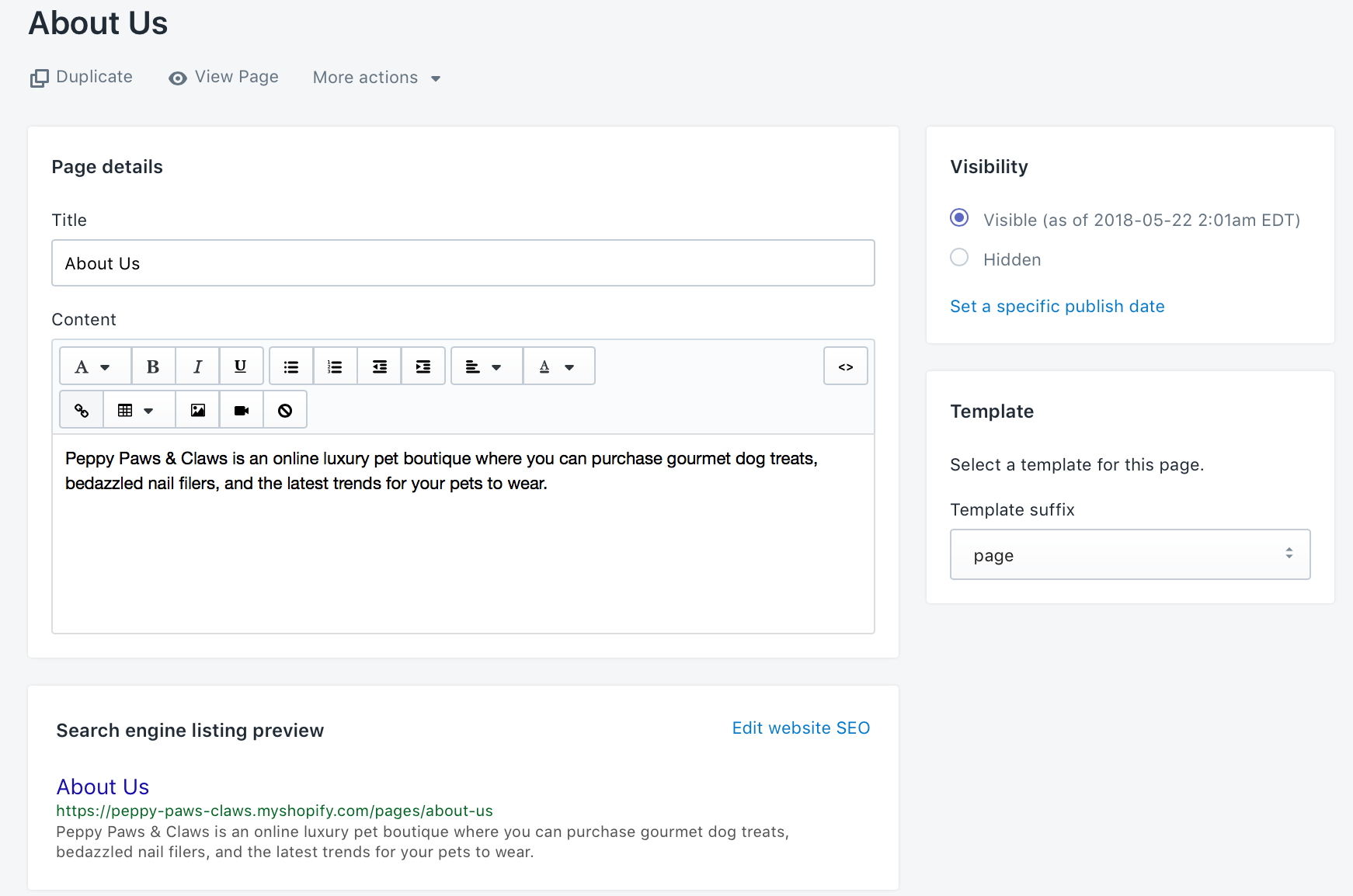 Product management and uploading is also simple, with a designated product section. You can set categories, sales prices, inventory stock, and so much more here without a lot of hassle.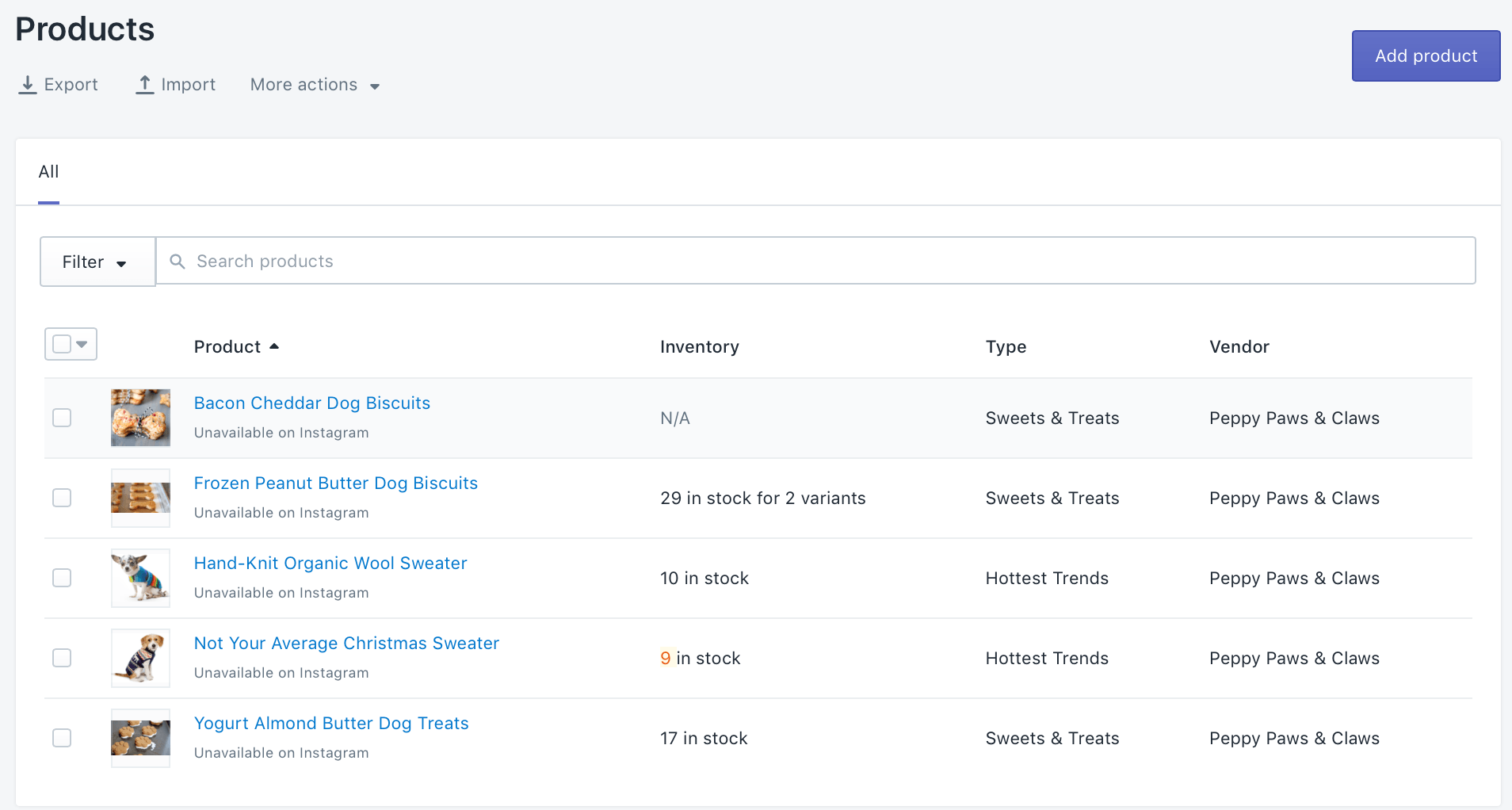 Shopify is not only a site builder but also an overall ecommerce management platform. You can host your site and purchase a domain directly through Shopify.
Shopify's base plans start at $29 a month, though you can upgrade to higher plans (up to $299 for the enterprise plans) and may end up spending more on paid themes and plugins. There are also transactional fees that can add up.
New to Shopify? You can check out our full tutorial here.
2. BigCommerce
BigCommerce is an excellent paid ecommerce website builder that works a lot like Shopify. So much so, in fact, we compared and contrasted the two here. It lets you build your ecommerce site quickly and effortlessly, with plenty of customization options and themes available to get you started quickly.
One big advantage to BigCommerce is that they have a lot of features built into the platform that you'd need to add to a Shopify store through apps if you wanted them, like their tax set up. That means these features are free and instantly accessible.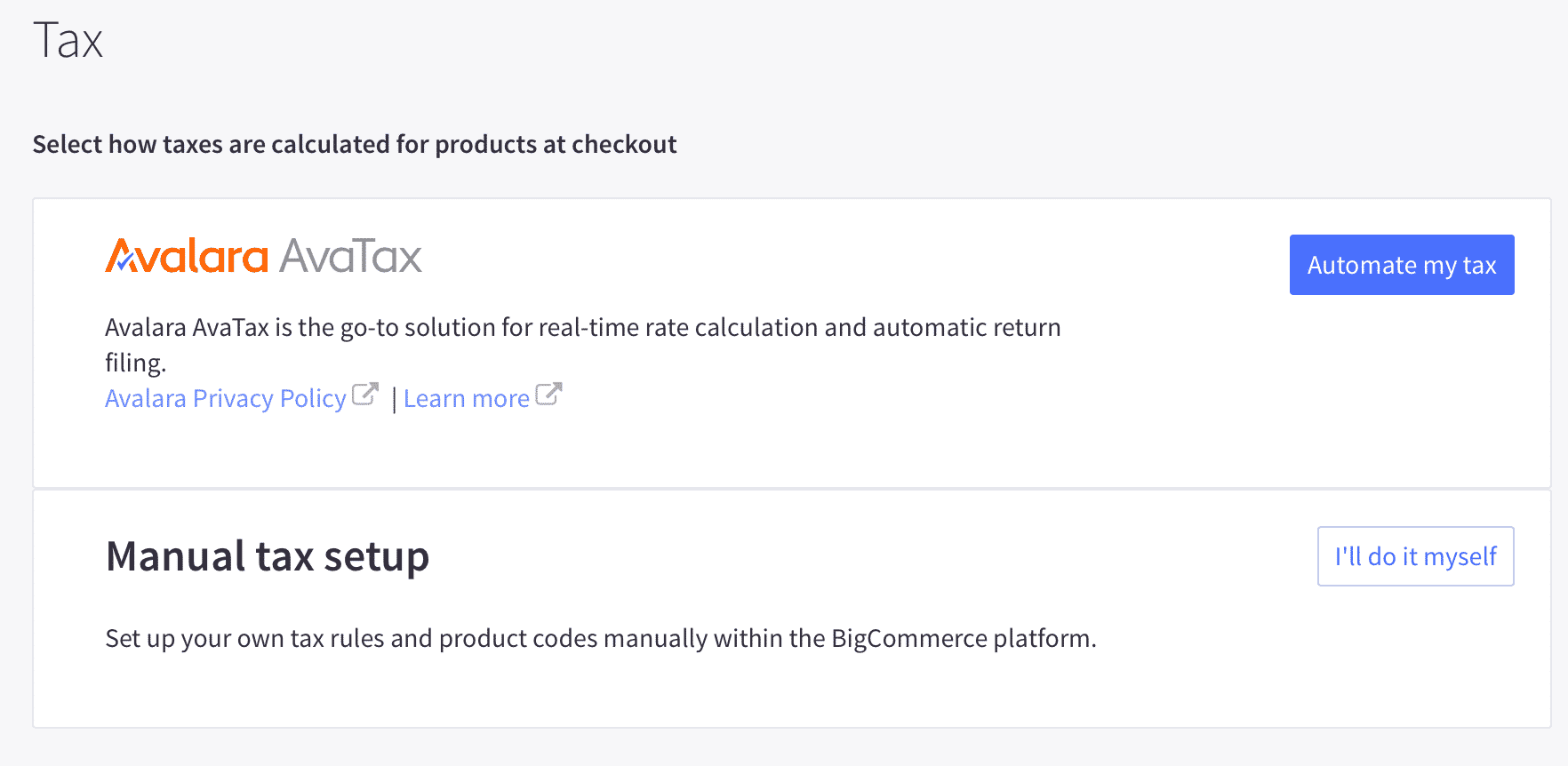 The interface, like Shopify's, is exceptionally intuitive. It's designed to take you step-by-step through online store creation. No essential features are buried away. This makes not only set up but long-term management easy, because everything is easily found from the left side navigation bar.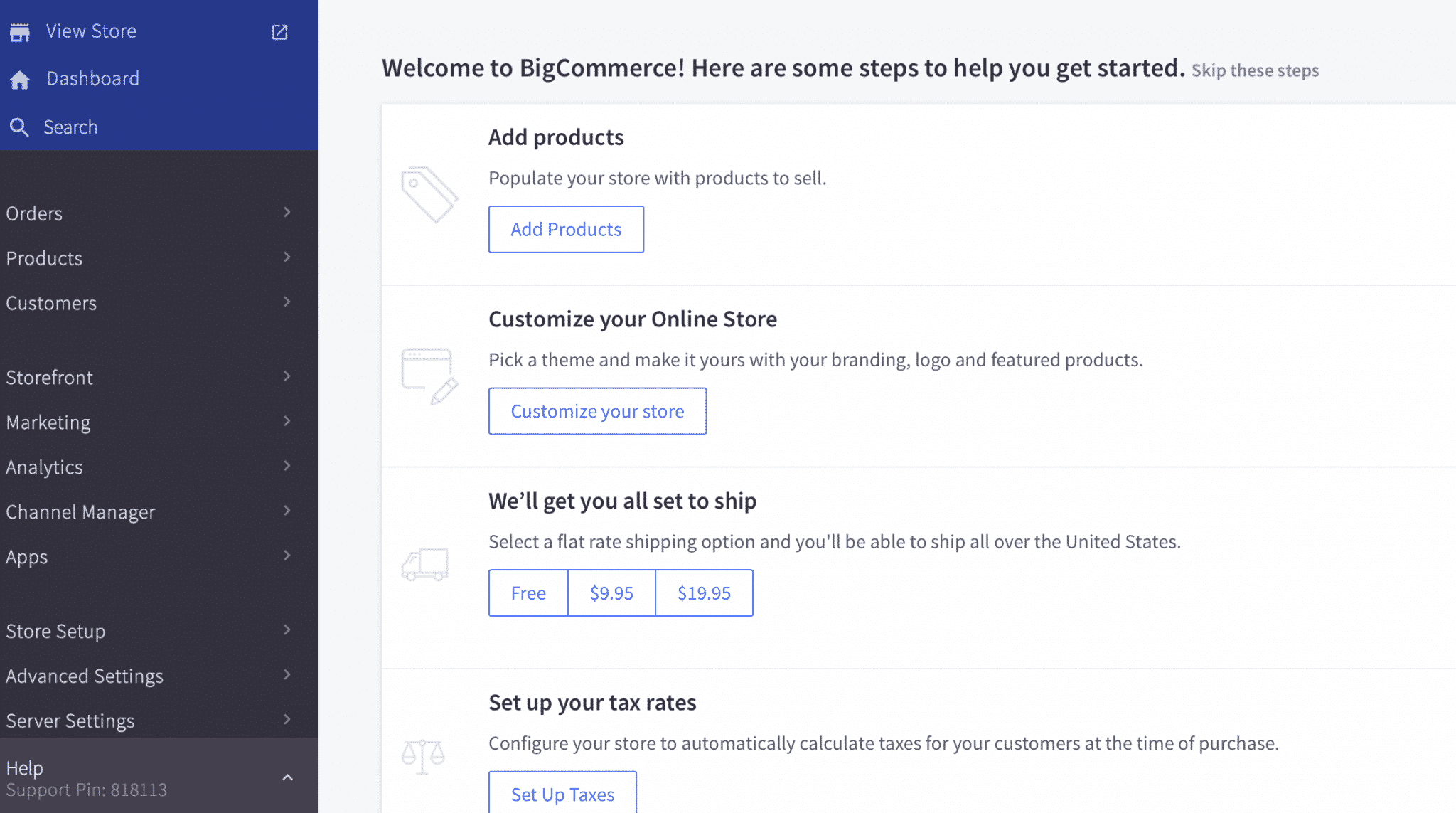 BigCommerce doesn't charge transaction rates, and it costs $29.95 per month.
3. Weebly
Weebly uses a drop-and-drop technology so layout design can be altered. Note that I say "altered" and not "customized," because actual customization is exceptionally difficult with Weebly, especially once you sign up. This puts a lot of pressure on choosing the right theme upfront—make sure that you find one that has all the features and the design layout that you want.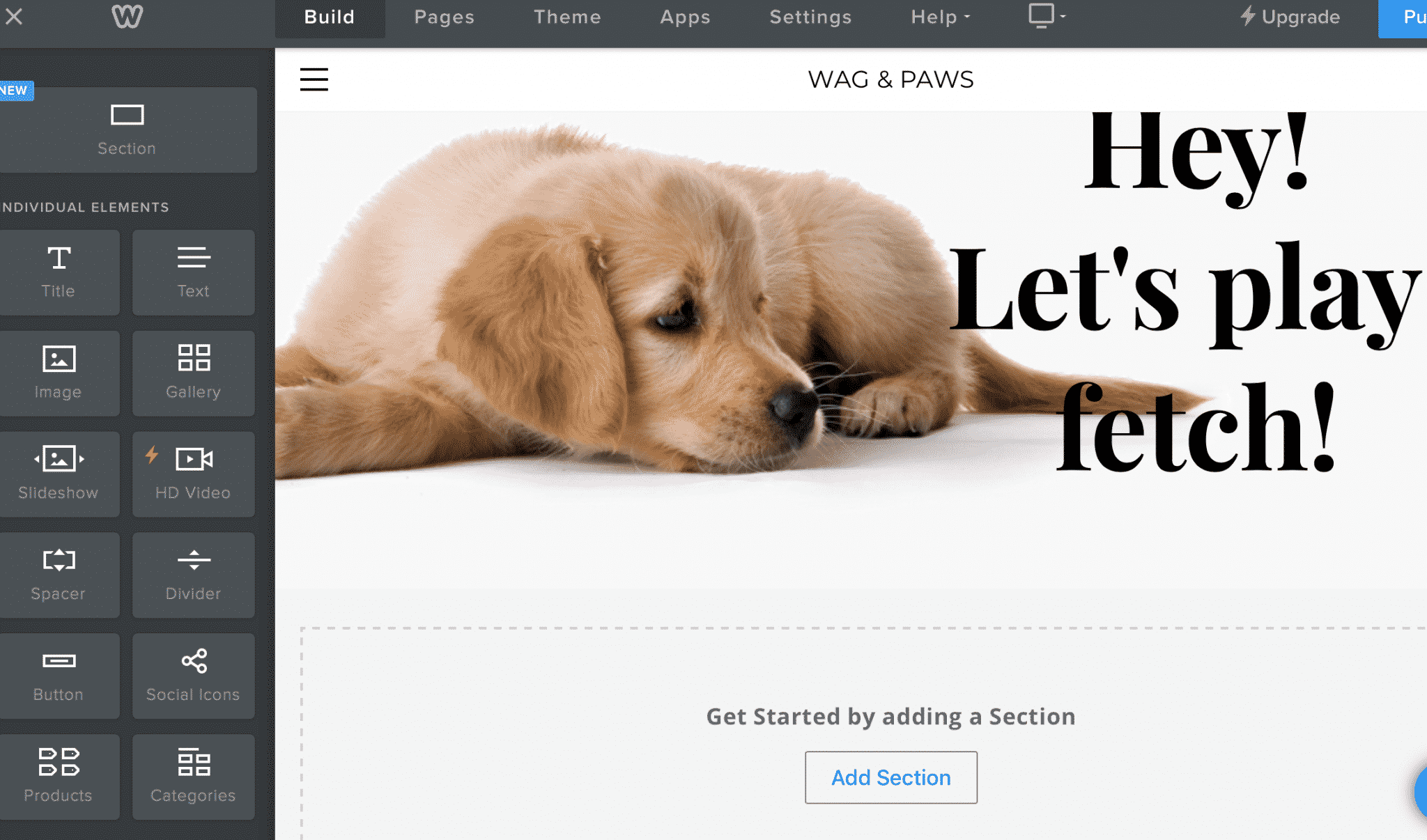 A great thing about Weebly is that there are a lot of great features available on their product pages. Their standard templates let you upload multiple images or videos of a single product and cool sales features that let you discount based on what's already in a user's cart.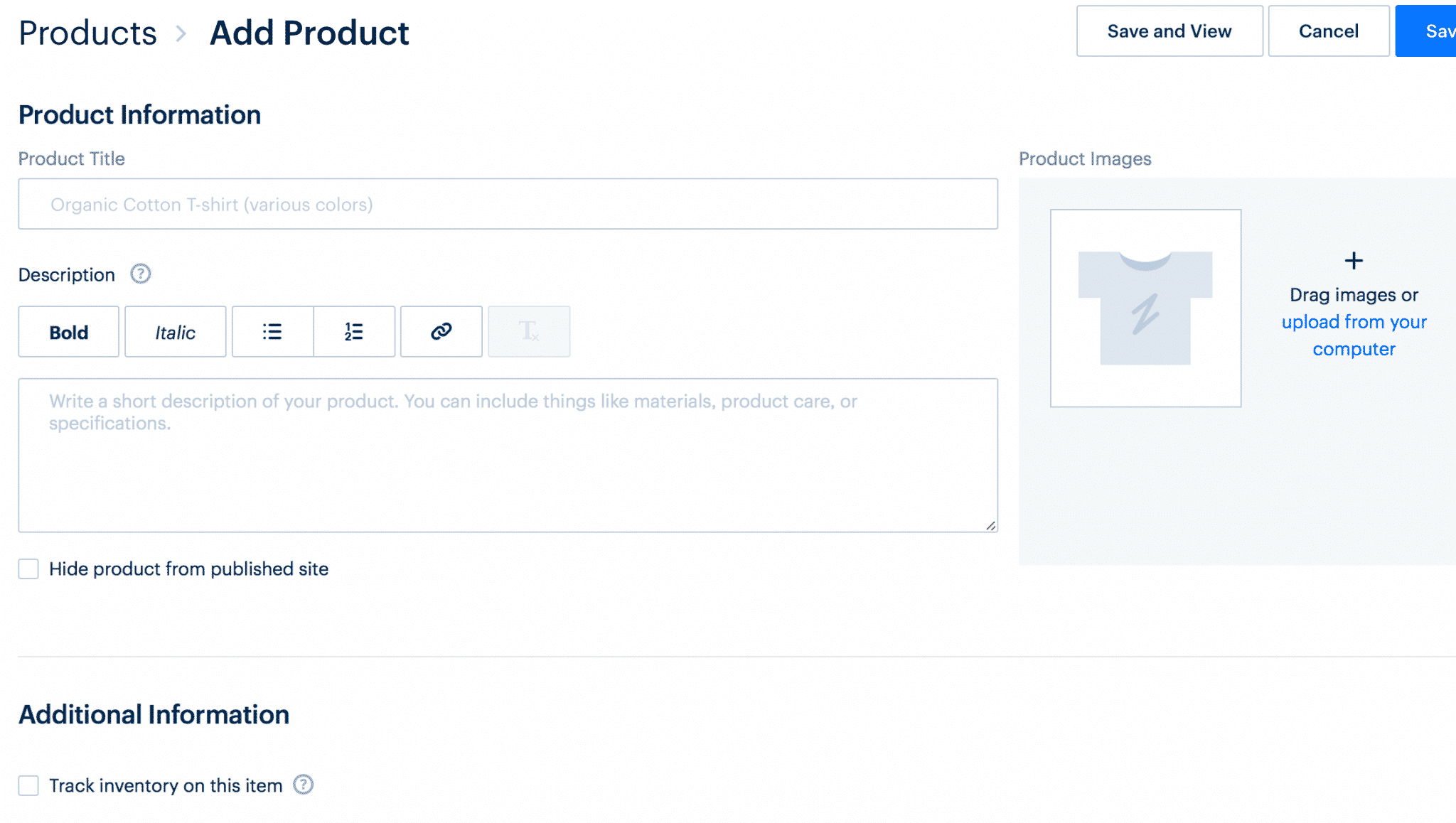 There are integrations available for some marketing tools and social media. Payment options are good, giving your customers flexibility in how they pay.
Overall, Weebly will work relatively well for a small business who wants a site quickly and doesn't need to do a lot of customization. You'll want to opt for the business plan for Weebly, which costs $25 a month. This does include a free domain and a $100 AdWords credit, making it an affordable up-front offer that can help new businesses launch their business and ad campaigns quickly.
4. Wix
Wix is another no-coding-needed website builder like many others on this list and they've got templates available to get you started. These templates are extremely visual-heavy, so if you're looking for an ecommerce website builder where that's the focus, this could be a good one for you to look at.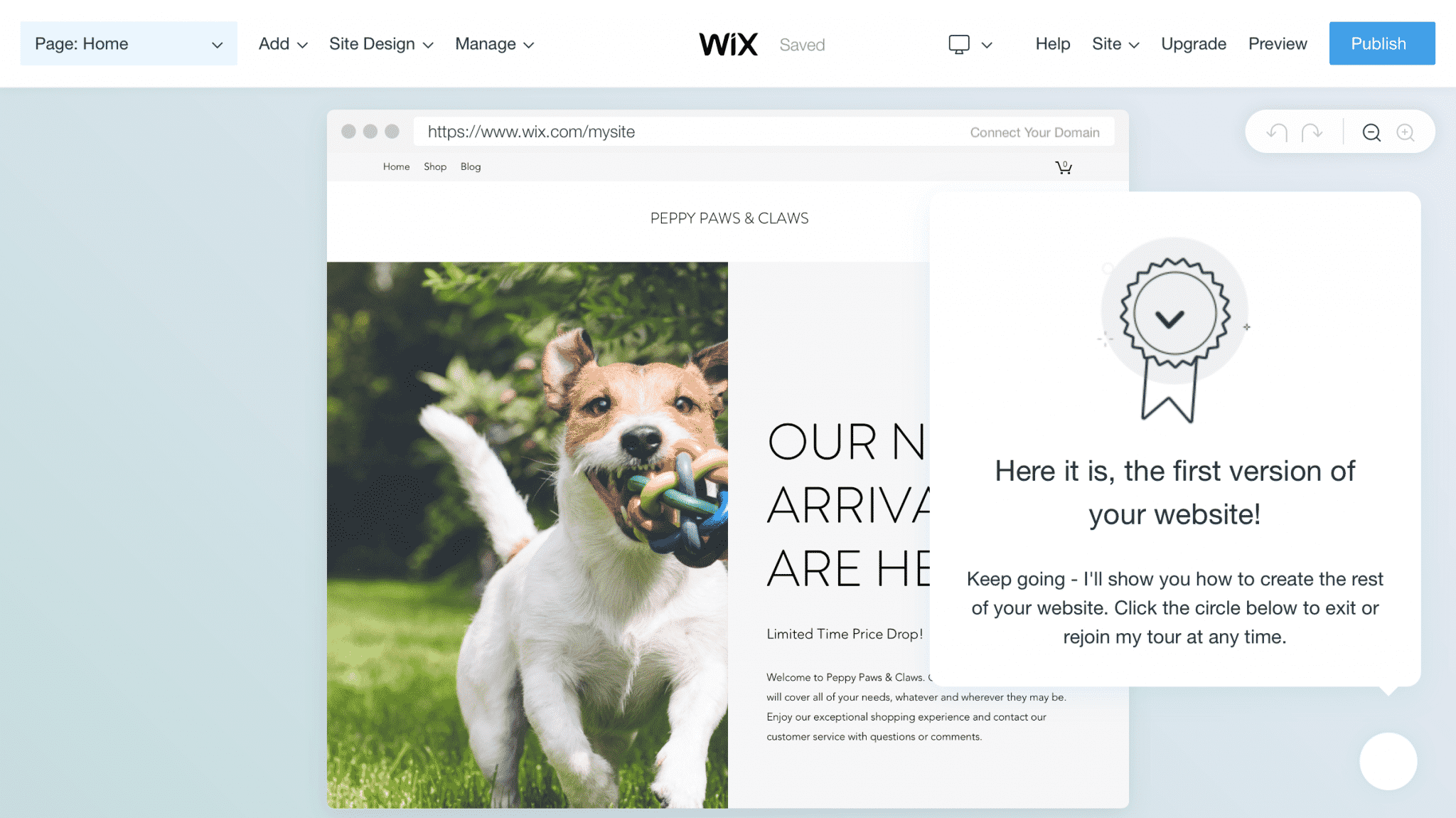 They even have Wix ADI, which creates a website (including custom text for you) after you after a few questions. This gives you something relatively unique as an excellent starting point and it's completely free and effortless on your part.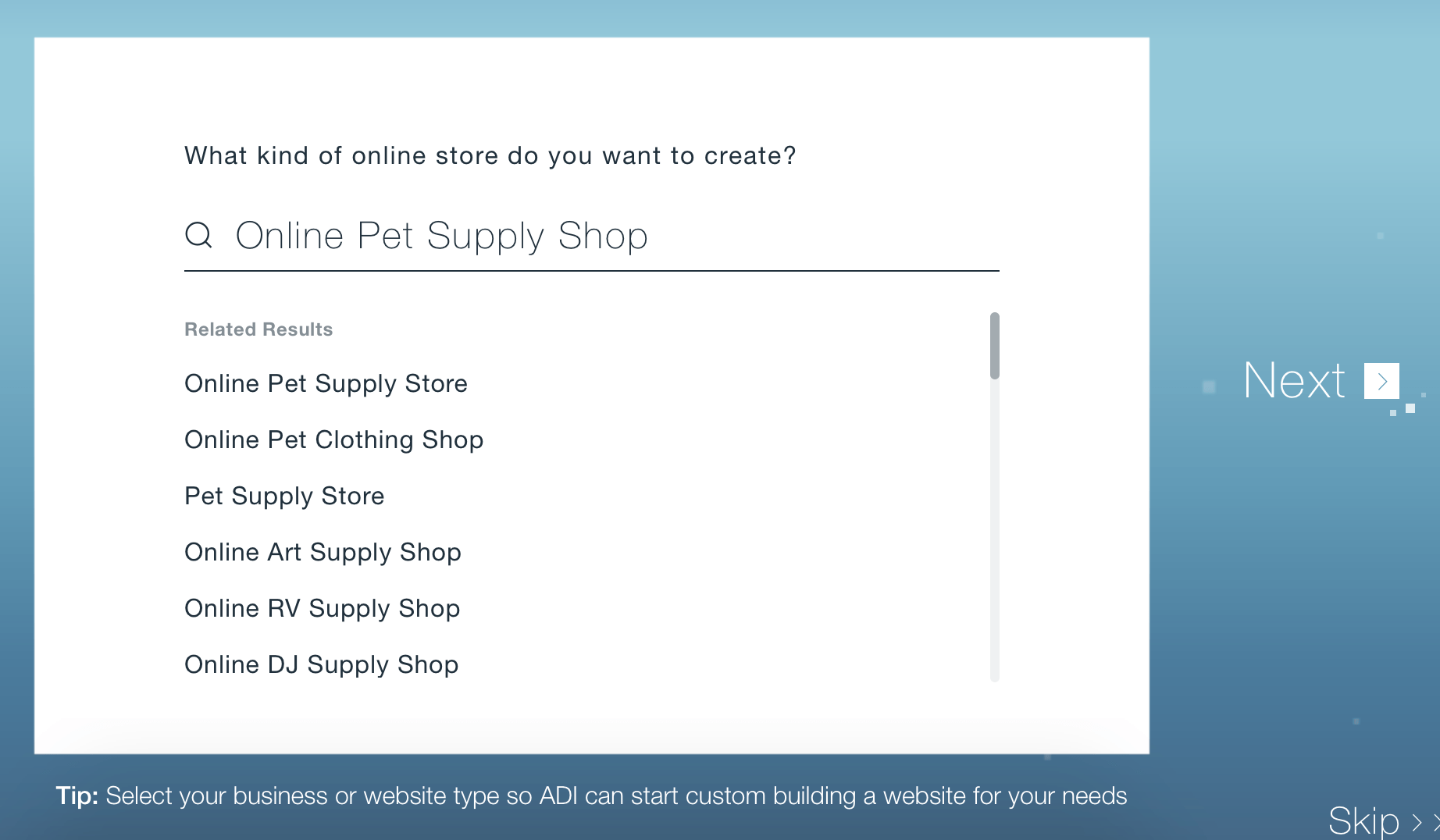 This website builder is exceptionally user-friendly and it has hundreds of free plugins that can improve the function of your site. Do everything from improve the user experience to get SEO plugins to help them find your site in the first place.
The support team on this site builder is okay, but not nearly as good as most other platforms on this list. You can send a support ticket or request a call during business hours, but there's no 24/7 live chat, which can be stressful if something goes wrong. Imagine your site suddenly glitching at 11:59 on Thanksgiving, right before your Black Friday starts, and you can't get a hold of support.
Note that in order to be able to accept online payments beyond $300, you need to have a premium plan on Wix. If you choose Wix, definitely go for their top plan, which is $25 per month and gives you priority support and unlimited bandwidth.
5. Magento
Magento is very different from most of the ecommerce website builders on this list.
It's open-source software, so you don't have to pay for it. It is, however, self-hosted, meaning that you need to install it on your own domain that's hosted through another service.
Magento requires more knowledge and technical skill than the other ecommerce website builders on this list, and it's not going to have the technical support that you see on most other options on this list. Live chat 24/7 for any small glitch isn't something you'll find here, and this can make ongoing management a little challenging whenever you need to update something.
That being said, Magento gives you the power of full customization because it's open-sourced.
If you have the skills (or the funds to hire a designer and developer with said skills), you can create literally anything you could imagine. That's true whether you want to start from scratch or go with one of the many themes. Like other platforms, there are both free themes and paid themes available. There are also plenty of great extensions to improve your site's functionality.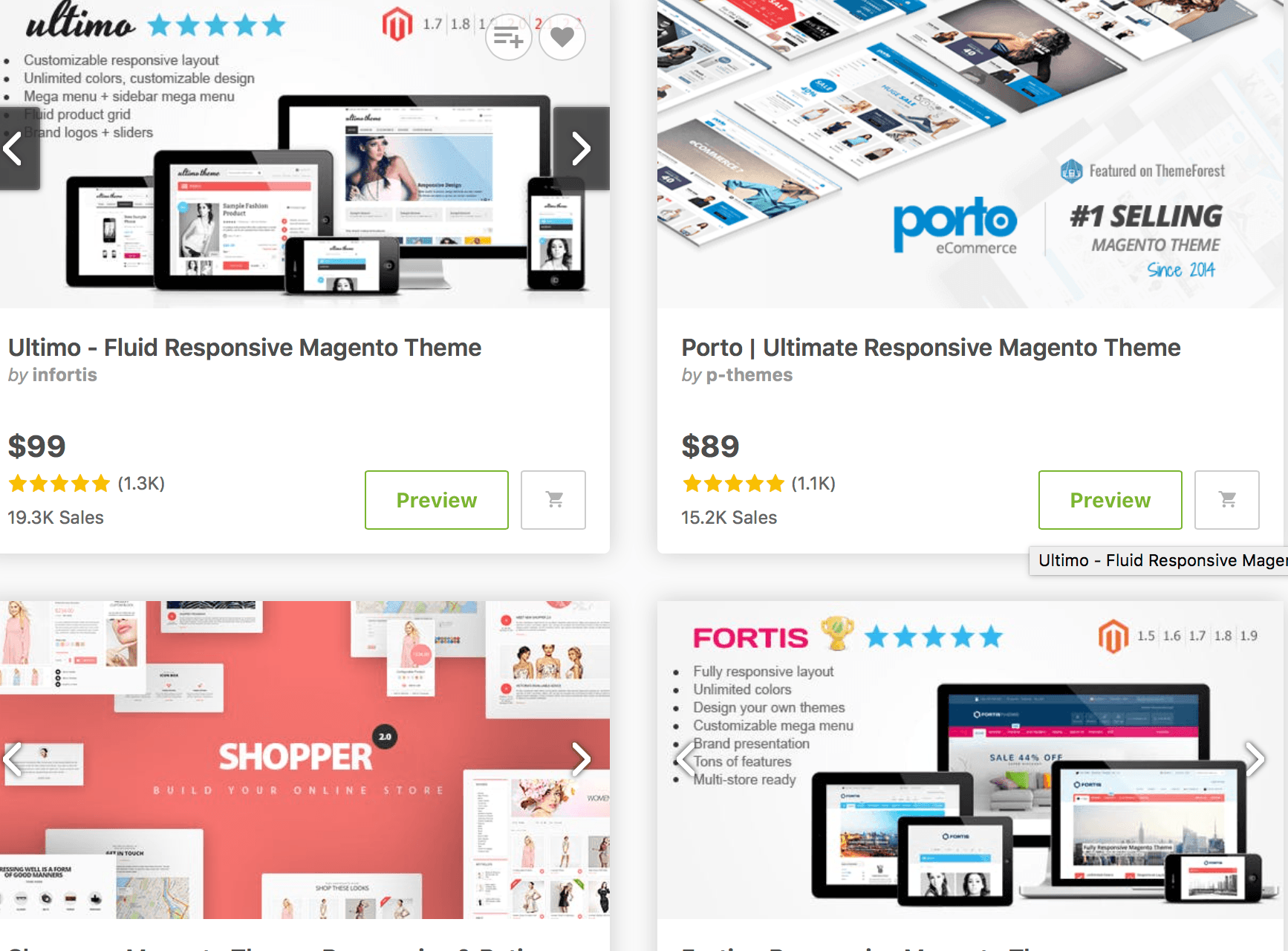 Not interested in investing in a designer on an on-going basis and don't have the design skills yourself? Opt for one of the other options on this list. Not everyone wants a do-it-yourself solution, though, and if they've got the budget and want something specific they can't get elsewhere, Magento is a great option.
6. WooCommerce & WordPress
WooCommerce is a little like Magento. It's a self-hosted and open-source software that requires you to get your own hosting and domain. WooCommerce is a WordPress plugin, so you'll need to install WordPress (which is a content management system) and then WooCommerce (which is an ecommerce platform).
Simply put: WordPress is what you'll actually use to build your site, and then WooCommerce is how you'll add actual ecommerce functionality to it. WordPress gives you the design and WooCommerce gives you the ability to process payments. You'll need to find a hosting service and domain name on your own.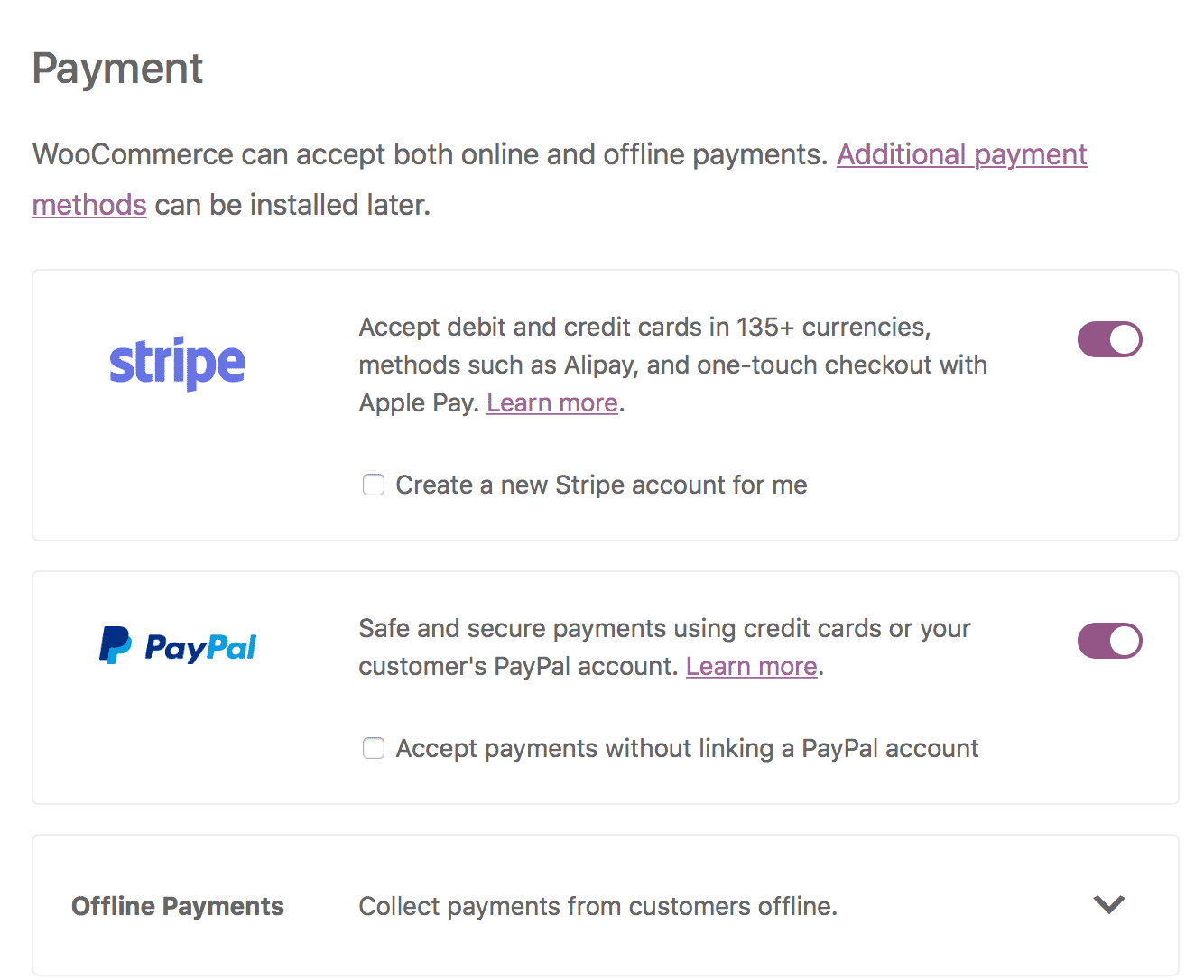 There are plenty of WordPress themes available and there are more customization available here than with most other platforms. That being said, it's also a little more complicated to set up, and true customization will require hiring a site designer and developer.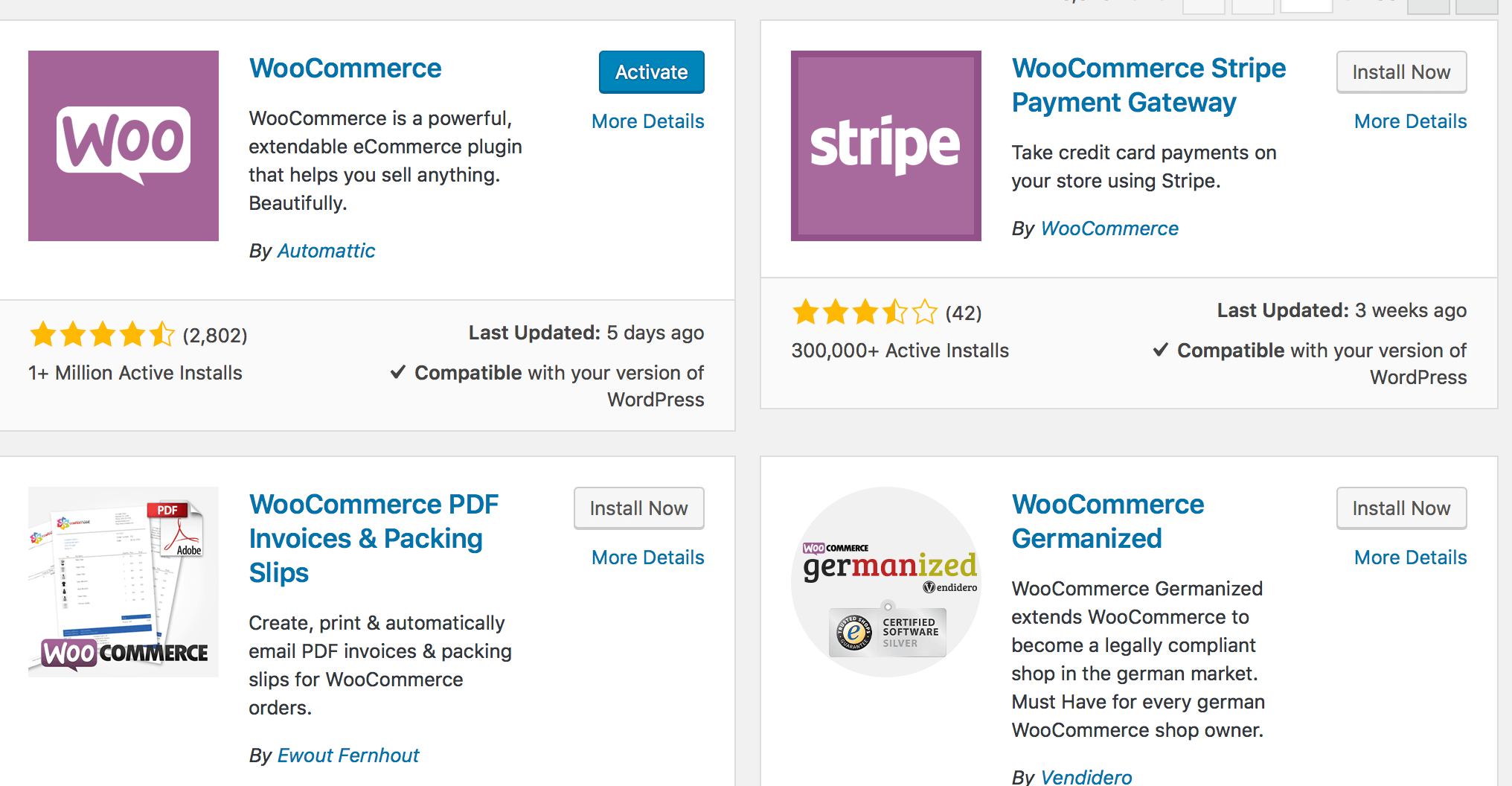 WordPress is a lot more user-friendly than Magento, and there's so many plugins you can get for WordPress to improve the functionality of your site. WooCommerce is technically free, but different extensions will cost you. These are easily worth it, as you can see here. At least a few extensions will be necessary for most ecommerce sites in order to build the site they want.
7. Squarespace
If you want something straightforward and relatively modular, Squarespace is an excellent ecommerce website builder to consider.
It's hosted, so it's another all-in-one solution and their ecommerce templates (which are all designed to be customer-friendly) can be set up in the blink of an eye with its drag-and-drop technology. No coding is needed, but the customization options are relatively limited if you want something outside-the-box.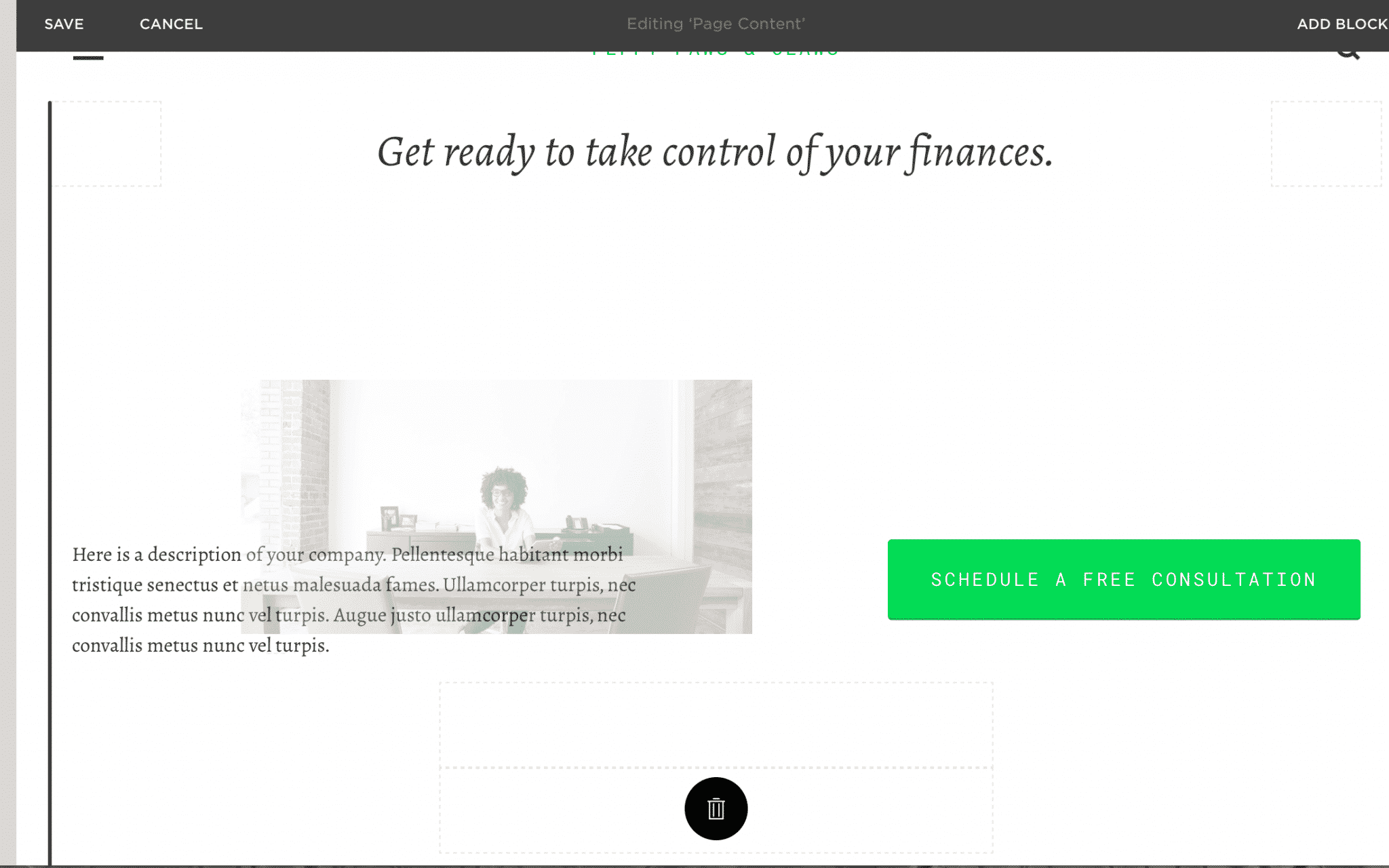 One great feature of Squarespace is the ability to change the template at any point without losing any content you've put on your site. All your modules will be shifted to the new layout, keeping your site intact even after a change. If you think may be interested in switching things up as time goes on or as you scale but don't want a lot of hassle, this is a good option.
This platform does have fewer integrations than most of the others on this list, but there's enough to get you where you need to go and to make your store functional for both you and your customers. Think abandoned cart recovery, bulk shipping labels, and more—it's all there.
They also don't have quite as many payment options, but customers can pay through PayPal and Stripe (the latter of which accepts most major credit cards).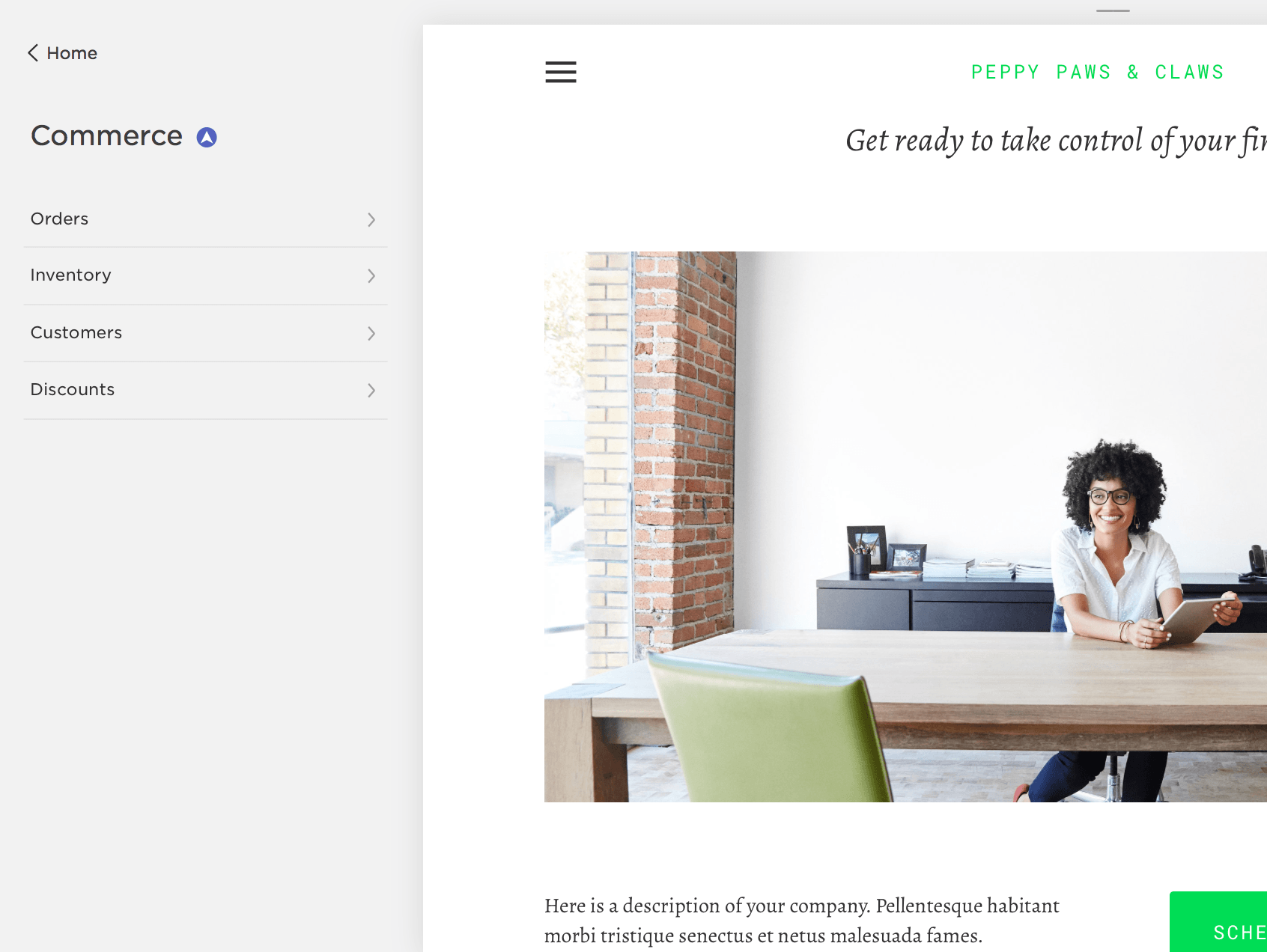 If you want something that not only allows you to grow but is ready for instant scaling, Squarespace is a great option. There's no growth limitations based on plan, as their standard ecommerce plan comes with unlimited storage and unlimited pages. This plan is just $18 per month.
A Quick Recap: Which is Right For You?
All of these ecommerce website builders are good options and the right one for you is, well, up to you. You'll want to find the platform that aligns most with what you're looking for and what you need to not only build but sustain your site.
Here's a quick recap of why you should choose each:
Shopify is perhaps the easiest to use and most simple to customize. It's a total ecommerce platform that's perfect for beginners and experts alike. It's also a paid platform.
BigCommerce is similar to Shopify, but has more features upfront and costs slightly less with costs of potential apps and transactional fees factored in.
Weebly is hosted and excellent for beginners who are looking for something simple. It would be best for small businesses with a small number of products.
WordPress & WooCommerce are a self-hosted platform so they requires more technical knowledge, but allow for excellent customization if you hire a skilled designer. There are free plans available, aside from hosting costs.
Wix utilizes drag-and-drop site building elements, so if you want to truly build a site from scratch with no real knowledge required, this is the way to go. Hosting is included, but plans are cheaper than other ecommerce platform options and start at $17 per month.
Magento is an open-source ecommerce site platform that requires more expertise and skills if you want to build the site from scratch. Themes and add-ons are available.
Squarespace has an easy-to-use layout system that has minimalist but sophisticated templates sorted by different industry. It has plenty of customizations and integration, and it gives you a lot of "unlimiteds" for a cheaper price than most competitors.
Conclusion
There are a lot of options out there for ecommerce website builders, so it's important to find the features you want to have in one and go from there. Remember that it's not just about building your website, too, but also about functionality and managing it long-term.
The last thing that you want, after all, is to be able to easily build a beautiful site and then struggle to maintain it on an on-going basis. All of these website builders meet the criteria for high quality and ease of use, but look for individual features that best match your specific business type.
What do you think? Which ecommerce website builder is your go-to? Did we miss any of your favorites? Share your thoughts and questions in the comments below!