7 Native Facebook Tools to Help You Optimize Your Ad Campaigns
PPC
•
Social Media
•
Ana Gotter
August 28, 2019
Facebook Ads are a ton of work. There's no getting around that.
You need to define a target audience, come up with great ideas for segmented campaigns so you can connect with all audience niches and at all stages of the digital sales funnel, generate great strategies, produce strong creatives. And then, you need to execute the campaigns well. There's competitor research and market research involved, you need to follow Facebook's rules and regulations, and there's so, so much testing involved.
It's no surprise that so many people choose to outsource ad management to agencies like ours who can handle the bulk of that for you.
That being said, if you do decide you want to stay hands-on with your own ad campaigns, it's definitely possible—even if it seems like a lot at first. There are so many tools that are available to brands that can improve and streamline the ad management and creation process, saving you time and helping you to get the results you want much, much faster.
And even better news: some of these tools are native to Facebook, meaning they're accessible to all advertisers and they're free. In this post, we're going to look at 7 of the most powerful free, native Facebook tools you can use to optimize your ad campaigns quickly.
1. Facebook's Audience Insights
Facebook's audience insights is a pretty classic tool that we've had for awhile now, but it's invaluable when it comes to audience research.
It's imperative to remember that you need to understand who you're currently connected to on platform and who makes up your Facebook audience demographics. You can see their age, their gender, their job title and relationship status. You can even see what types of actions they're most likely to take on Facebook, where they're from, and what other Pages they're interested in.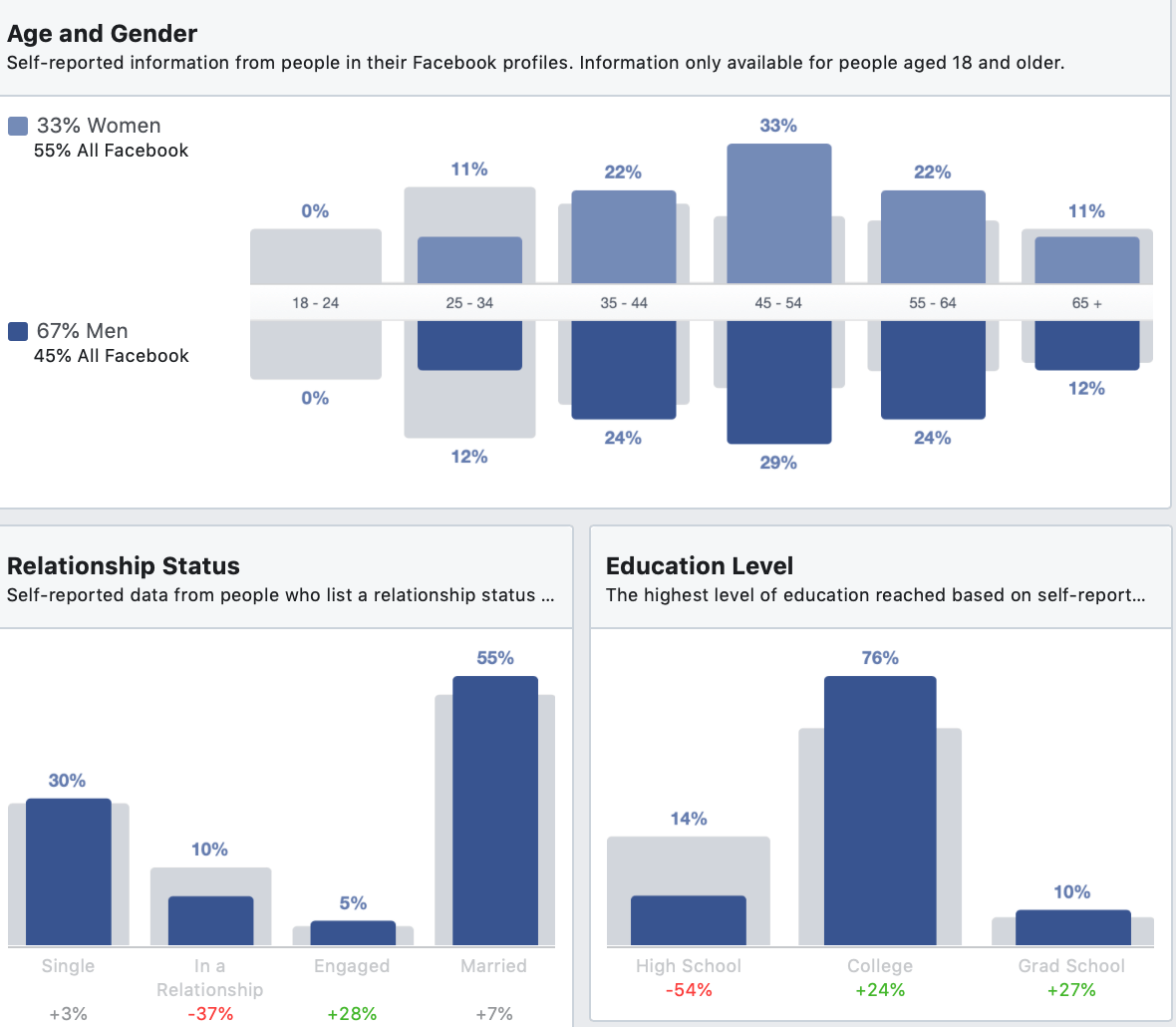 Look for opportunities to potentially segment your campaigns and develop strong strategies accordingly. If you're selling chairs to B2B companies and notice that you have a heavy demographic of accountants, create a campaign targeting accountants and CPAs and opt for copy like "You need to be comfortable when you're spending long hours crunching numbers come tax season."
The more relevant your ad campaigns are, the better, and the audience insights can help you flesh out your audience and what they want to see.
2. Facebook's Ad Library
Facebook's ad library is really meant to be a resource for consumers to improve transparency, but when used correctly, it's an outstanding competitor research tool.
The ad library will show you what campaigns your competitors are currently running, or have run in the past. They can show you both active and inactive campaigns, and all you need to do is type in a brand name, a keyword, or a general industry to start snooping.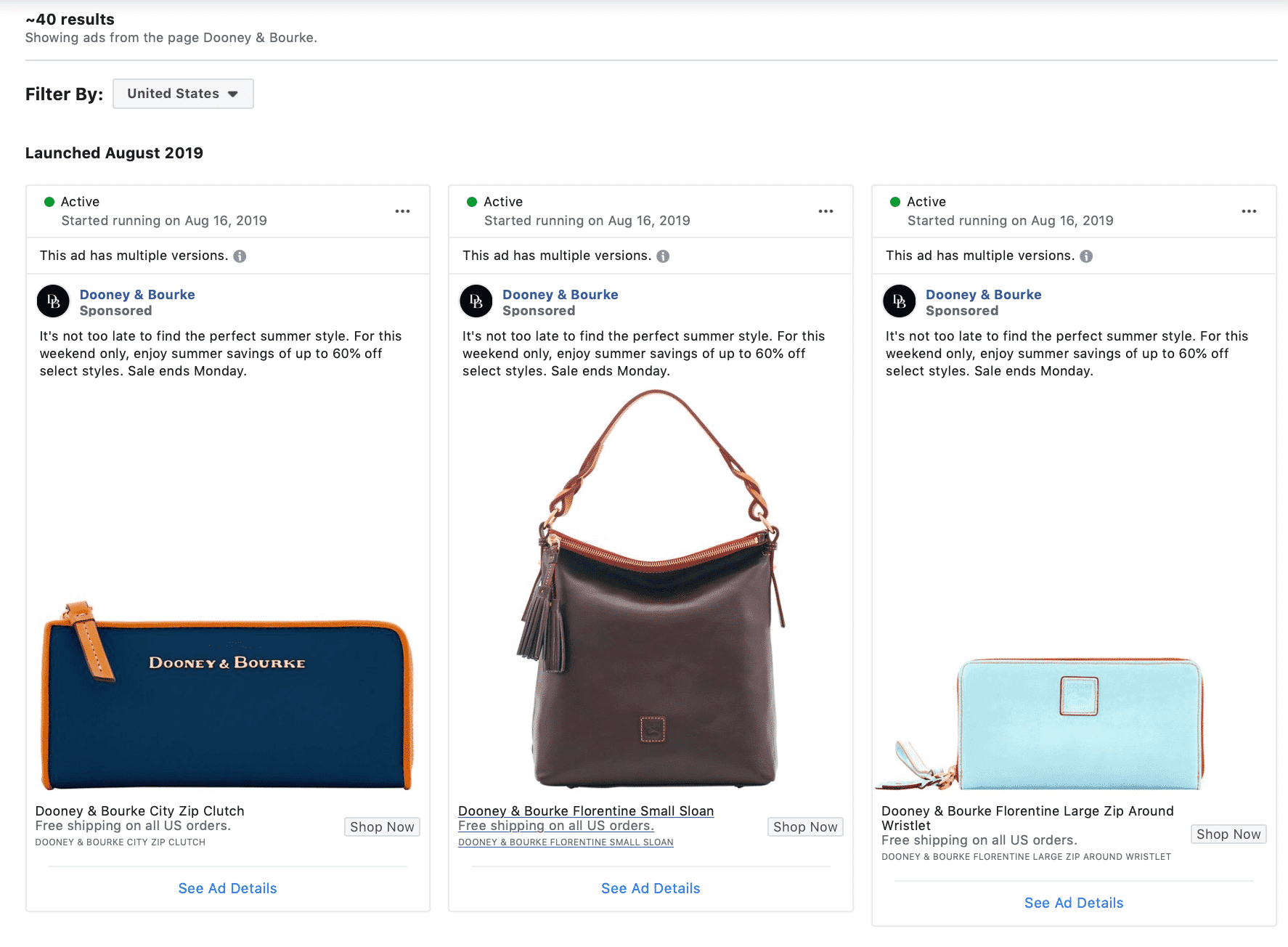 Take a look at the campaigns that your competitors are using, particularly their active campaigns. This can give you insight into what sorts of messaging they're using to appeal to their audience, what offers they're using to drive conversions, and their general strategies.
As a quick note, the ad library isn't perfect yet. There have been plenty of times when I've gone to do research and the library doesn't show ads for a brand that I know for a fact are running, so it's not foolproof (at least not yet). Regardless, it's still a great tool for competitor research as long as you can learn from the campaigns you can see.
3. Facebook's Test and Learn Tool
Facebook's Test and Learn Tool can be found under the business manager. Even though it's right there hiding in plain sight, it's not one that I see mentioned often. This is a shame, because it can be incredibly powerful.

This tool is designed to help you assess the impact and efficacy of your overall marketing and advertising on the platform. You can choose from multiple different tests, which allow you to ask questions to people who have seen your ad in the past and measure their overall impact.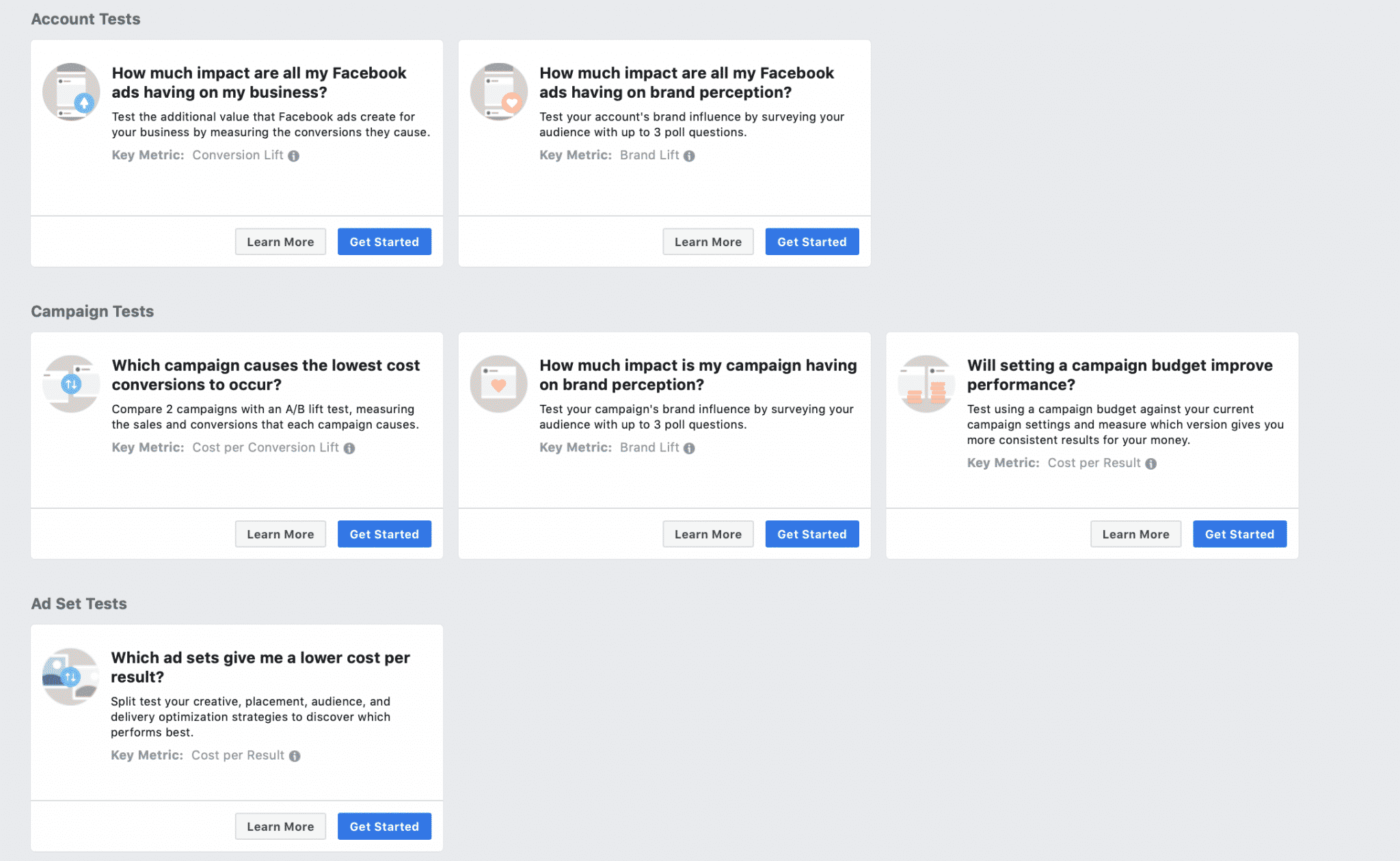 There's the option, for example, to ask survey people who saw your ad and see whether the ads had an impact of brand perception. You get to customize the questions that you want to ask, and even ask a question of your own.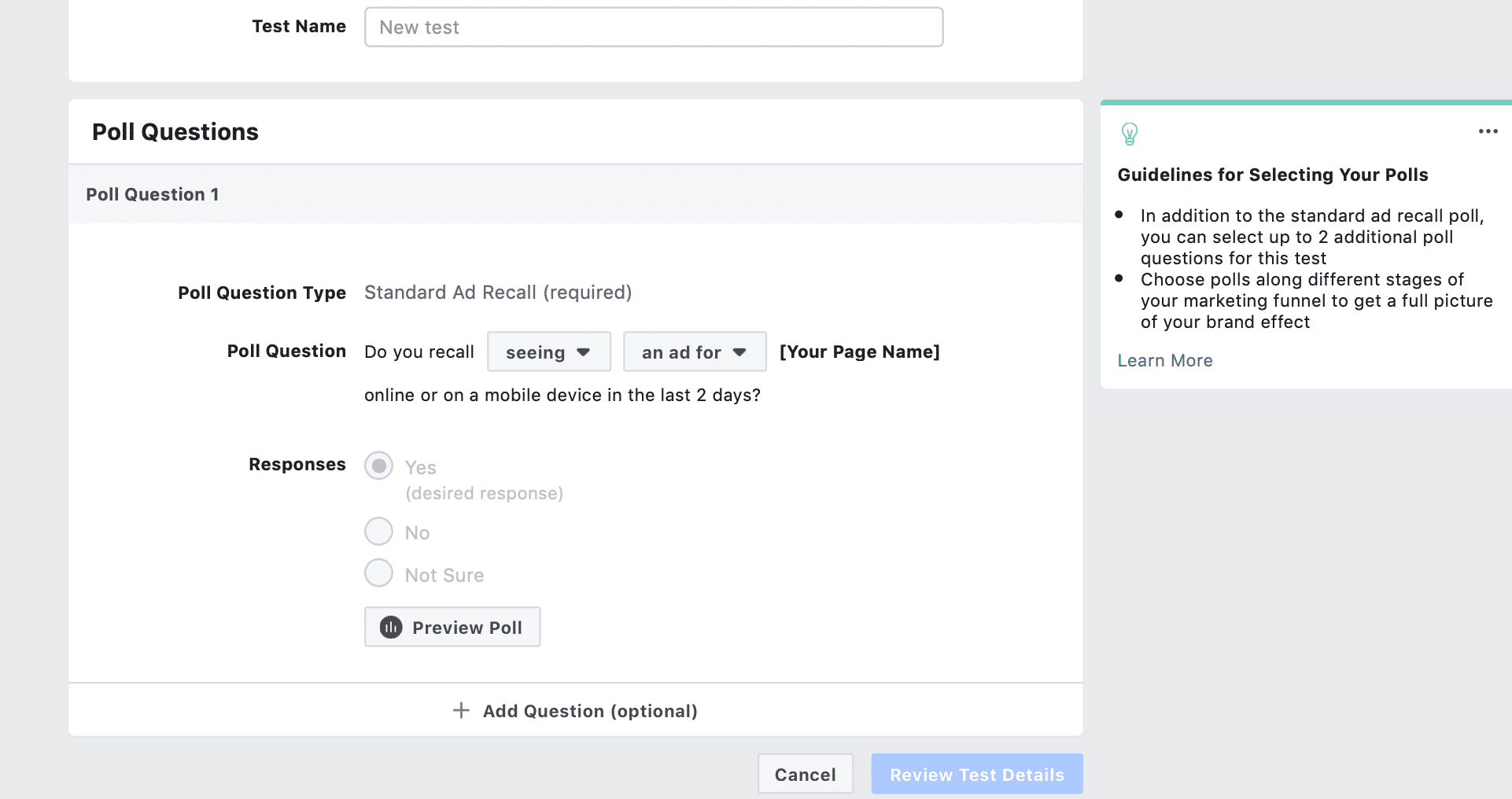 These results can sometimes be difficult to interpret, especially if the only people who answer happened to be in the small percentage that did or didn't experience an impact from your ad, but this is a great tool that can offer great insight. If it doesn't seem like your ads are having the desired impact, you can change them up as you needed.
4. Facebook's Split Testing Tool
Split testing—also known as A/B testing—is the lifeblood of Facebook Ads. Any PPC campaign really depends heavily on frequent split testing, which allows you to try out different strategies, creatives, targeting criteria, and more to see what combination resonates most.
Facebook has a native split testing tool that was rolled out within the past two years, and all you need to do is check the "split testing" box on the first page of the campaign creation process. Once you do this, you'll then be asked to split test one factor of the ad campaigns, like targeting or ad copy.
You can only pick one factor at a time, but the split test will let you instantly create multiple variations of the campaign to quickly and accurately test those variations.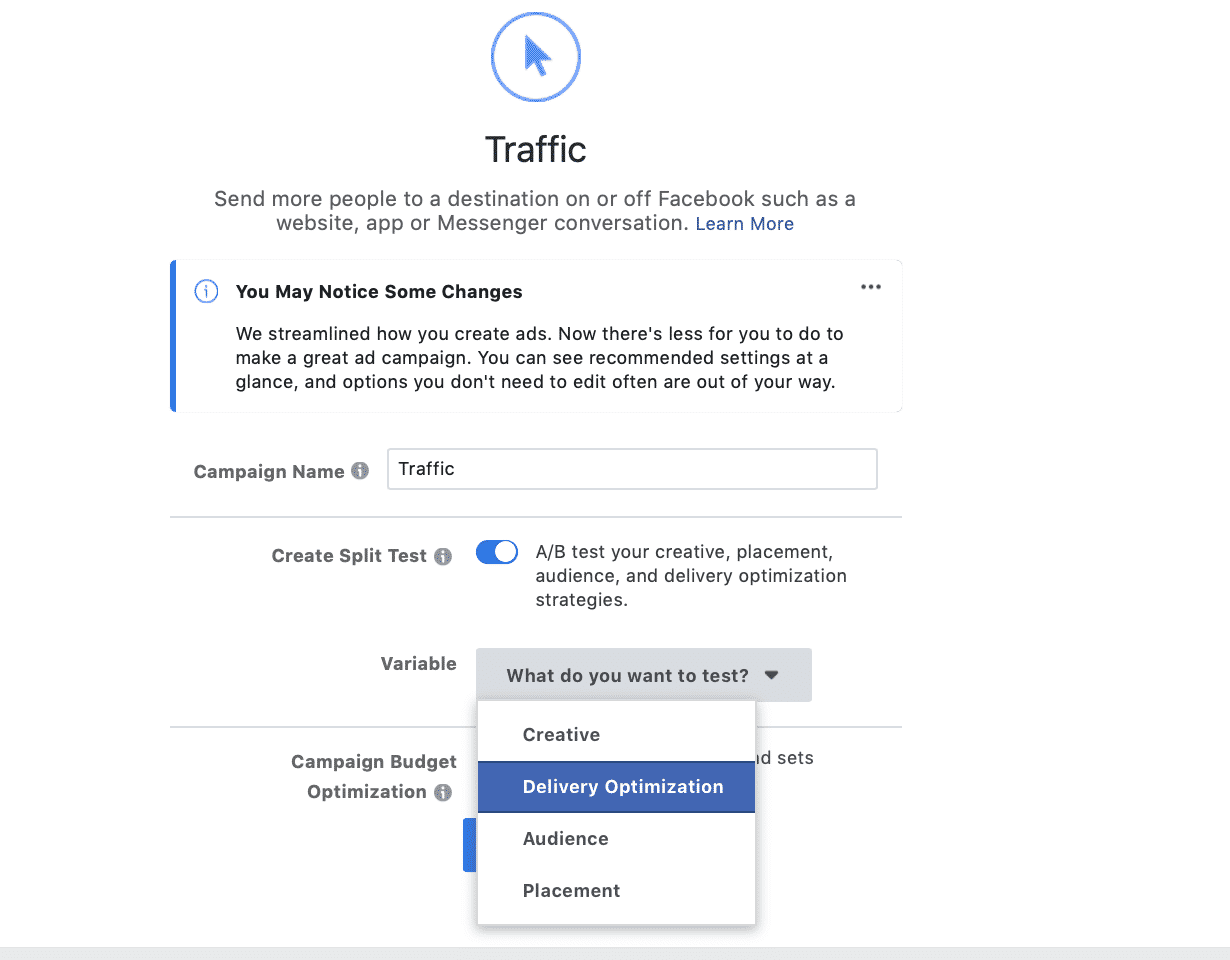 This is a great asset. You don't have to duplicate campaigns or try to create them all over again—you just need to flip a switch and add in the additional content. This increases the accuracy of the results and speeds up the process significantly.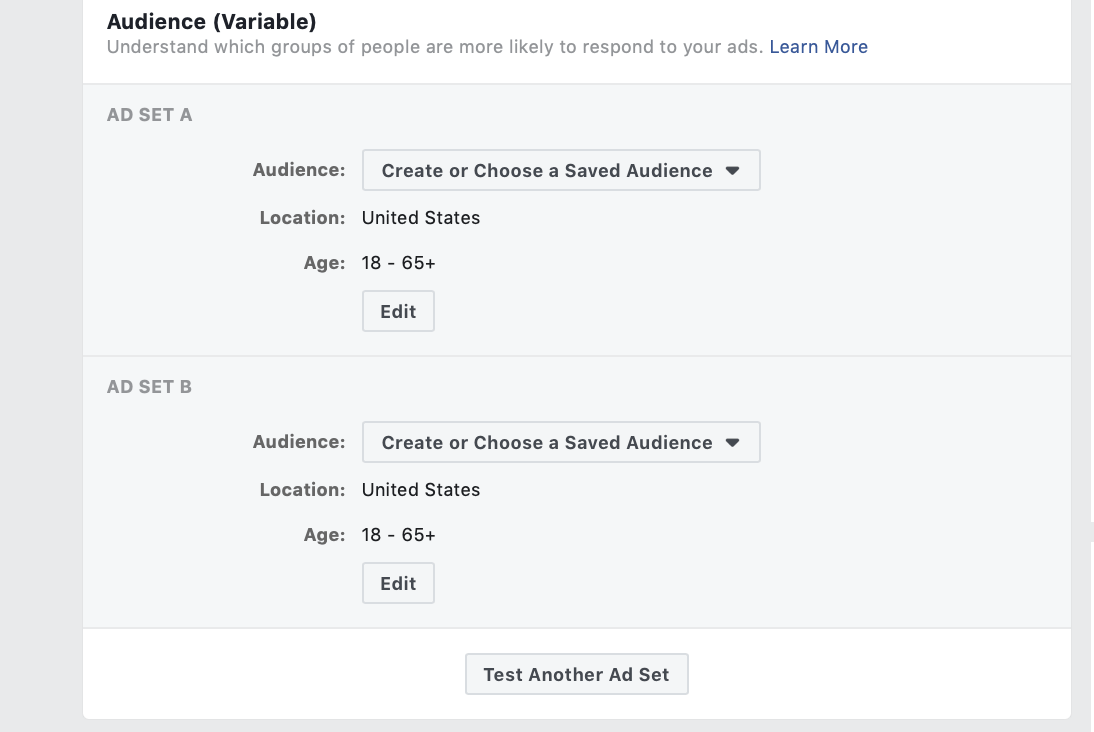 Use split testing and work by process of elimination. Consistently test out different content, new audiences, unique placements, and even delivery optimization options. Sometimes our instincts are right, but sometimes the results surprise us, and with constantly shifting marketplaces, Facebook best practices, and consumer behavior, ongoing testing is a must.
5. Facebook's Budget Optimization
Figuring out your budget for Facebook Ads overall can be stressful enough, let alone trying to optimize the budget for each individual ad, with so many falling under multiple different campaigns. Enter Facebook's native budget optimization tool.

This Facebook tool distributes your budget across multiple ad sets, automatically optimizing your budget to get you more results based on your bid strategies and delivery optimization selections.
You get to control spending on each ad set, giving you more control, but the automation factor here is nice. It saves you from needing to play monetary bidding Tetris and, in some of these cases, Facebook really does know best.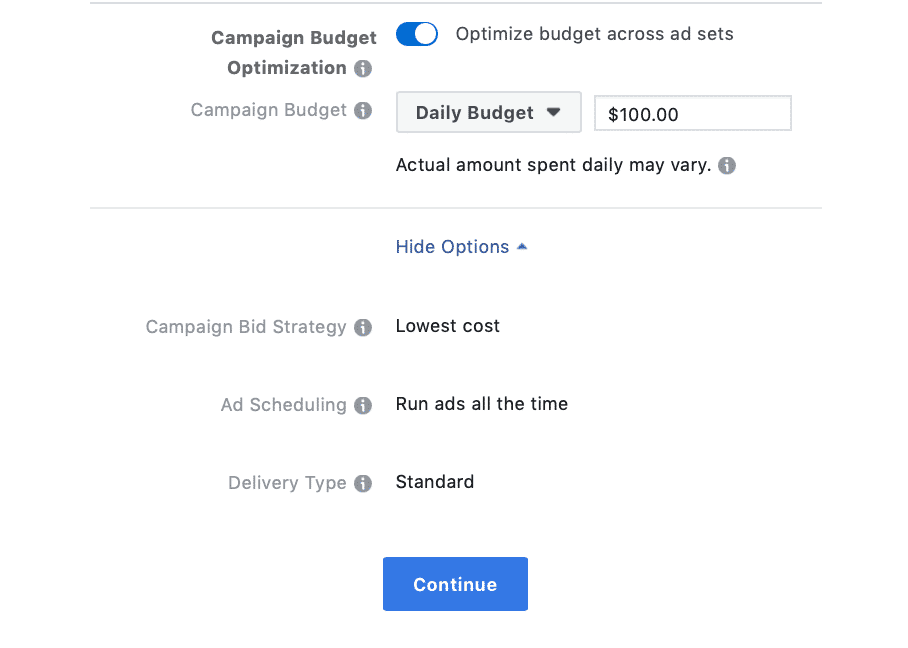 There is a catch with the budget optimization tool, unfortunately. It can't be used simultaneously on a campaign when you're also using the native split testing tool. You must choose one of the other, so the budget optimization feature would best be used on a solid campaign that's already gone through testing and is currently being run for a more extended period of time.
6. Facebook's Text Overlay Tool
This native Facebook tool is so simple but it's so effective. The Facebook Text Overlay Tool tells you what percentage of your image (including image thumbnails for video content) contain text.
Here's why this is important: Facebook has had a longstanding rule-turned-heavy-suggestion that ad images can't contain more than 20% text. Even though they supposedly did away with the rule, they're still essentially enforcing it, penalizing advertisers who have more than 20% text with rejected campaigns or decreased priority when delivering ad placements.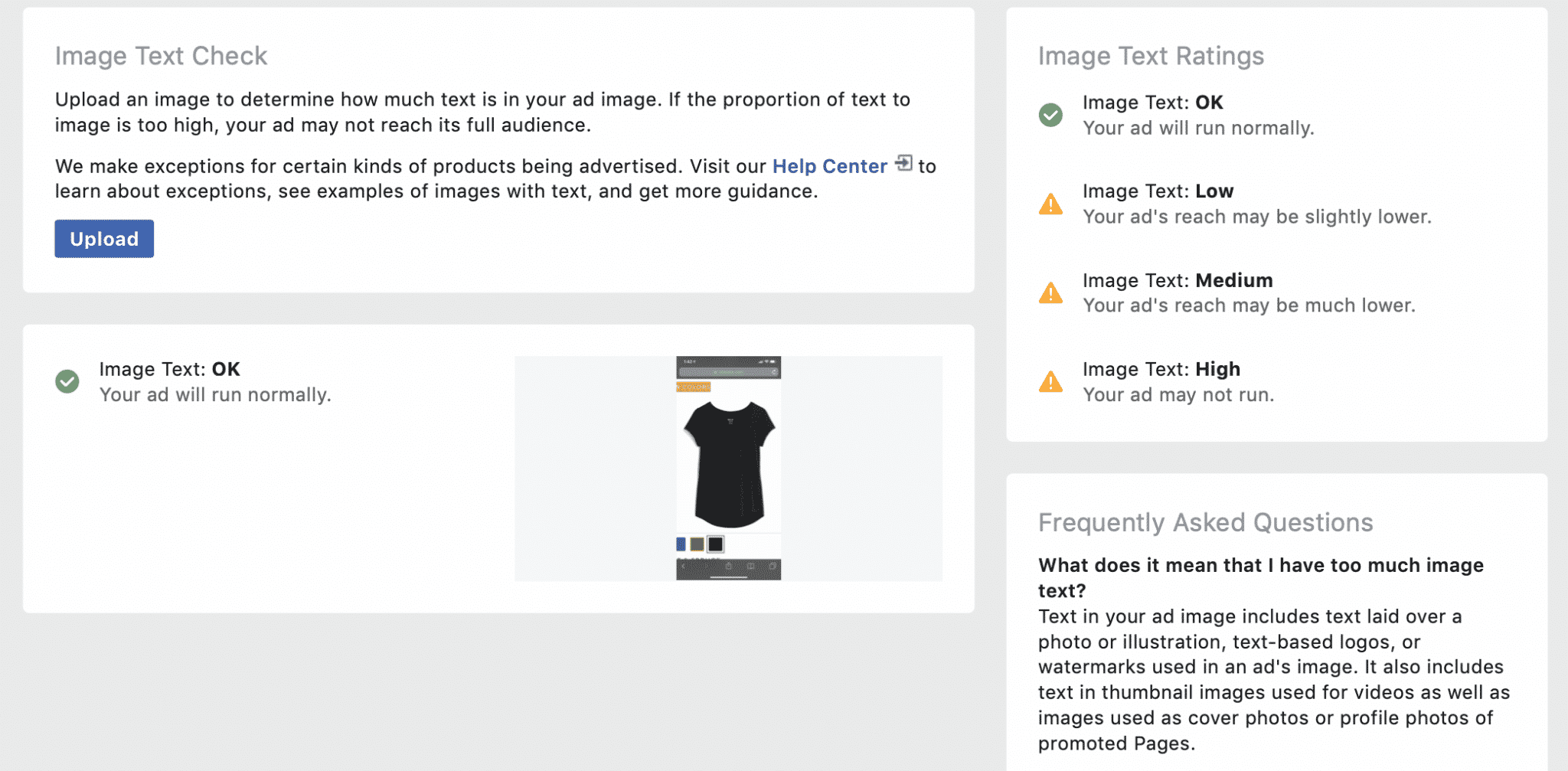 You want your ad to be mostly text-free, and their text overlay tool is the way to go. Just upload your image and see what Facebook's assessment is. They'll let you know if the text could impact reach so you can make adjustments before adding it to a campaign.
7. Facebook's Automated Rules
This last Facebook tool all comes down to campaign management once the ads are up and running, and it's another tool that I don't see mentioned nearly often enough.
Facebook's Automated Rules (often just referred to as "auto rules") can be found in the Ads Manager.

They allow you to put IFTT-styled rules in place that will automatically moderate your campaigns if certain actions occur. If you want to pause all campaigns that have a frequency that creeps past 3, you can, and if you want to receive a notification if any of your campaigns reach a cost per install of less than $1 so you can funnel more money to the campaigns, you can set that up, too.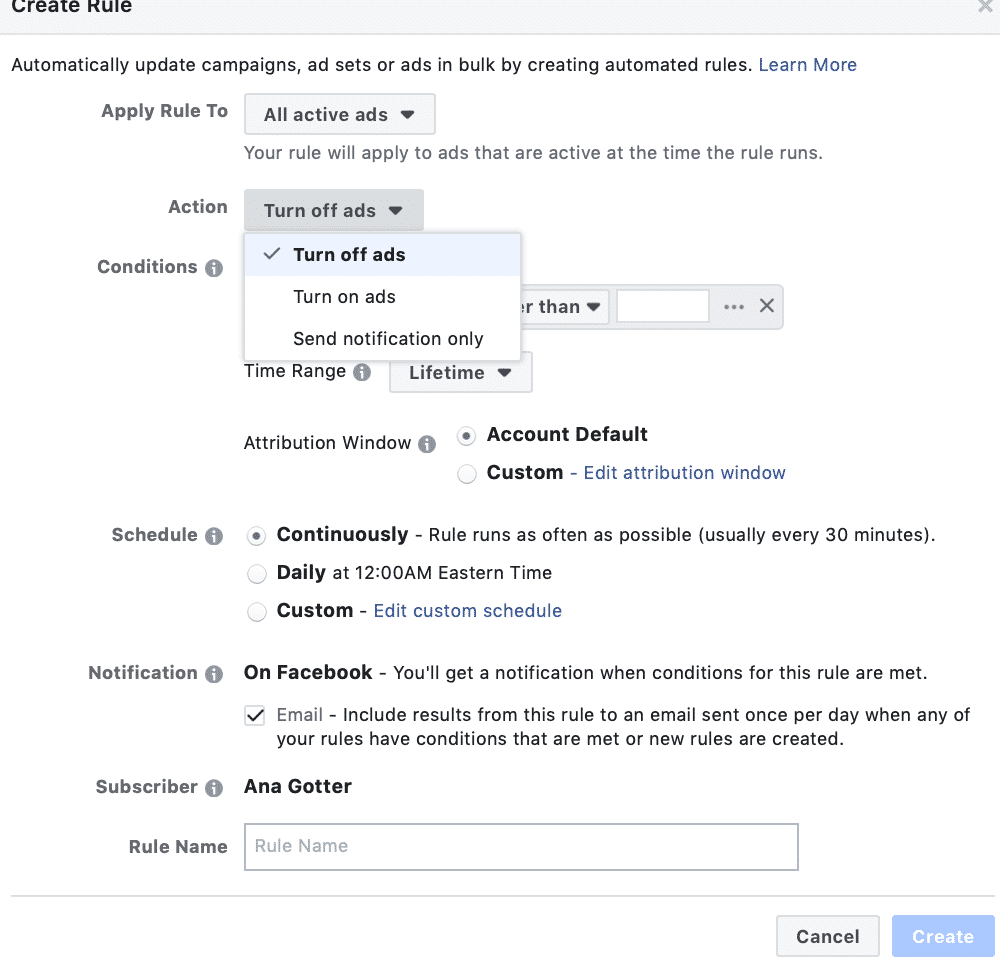 My favorite use of the auto rules is to put systems in place to stop campaigns that could run away from you in case you miss a day managing them. Frequency, for example, or cost per actions that creep up too high can put a big dent in the overall profitability of the campaign.
You can customize time frames and get incredibly specific about what you do and don't want to happen, so take some time digging around here and consider what would make your life easier during the management process.
Conclusion
Finding ways to save time while improving and optimizing your campaigns is always a plus, but the ability to do it for free and natively (which means no complicated integrations) feels like a no-brainer. If you're running your own ad campaigns or even considering it, using these 7 native Facebook tools is the way to go. Each one can make your job much easier and improve success with your campaigns, which is something most people wouldn't say no to.
Keep in mind that if any of these advertising tools feel limited, these aren't your only options. There are paid tools out there that may have more functionality in certain areas of specialty like campaign optimization, though it's important to note that they may not gain access to new features as they roll out on Facebook right away. A good list of some solid tools can be found here.
You can also opt to hire agencies outright to handle all of this for you. Here at Disruptive, we'll you get your audience targeting and your strategy on point, optimizing your campaigns for you. You can learn more about what we do here and see if it's a fit.
What do you think? Which Facebook tools are your go-to resources? Which have helped your campaigns the most? Share your thoughts and questions in the comments section below! 
Leave a comment