How to Create Personalized Campaigns with LinkedIn Dynamic Ads
by Ana Gotter • March 25, 2019
When you hear about dynamic ads, the first thing that might jump to mind are options like Facebook's Dynamic Ads or Google's dynamic keyword insertion, both of which use a user's search or past site activity to show them the most relevant ad possible. Maybe they'll see their exact search term show up in the ad, or see a picture and pricing for those boots they almost bought last week.
Last year, LinkedIn rolled out their own version of dynamic ads, and like their Facebook and Google counterparts, they rely on dynamic insertion of key information into an ad to make it appeal more to their target audience. That key information is a little different, though, and instead of products or search terms appearing in the ad, users will actually see their names and/or profile pictures showing up in the ad.
In this post, we're going to take a look at how and when to use LinkedIn dynamic ads to create hyper-personalized ads that can help you attract attention in the busy feeds.
What are LinkedIn Dynamic Ads?
LinkedIn's dynamic ads are a new type of campaign that allows advertisers to create ads that insert a user's name and/or profile picture into the ad's image or text.
They look like this: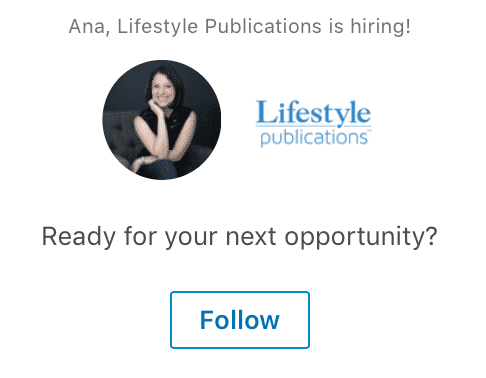 The ads, as a result, look like a direct suggestion from LinkedIn itself that's personalized just for you, which can make a big impact and encourage users to pay attention to the ad itself. Seeing your name and your profile picture will also automatically capture your attention while you're scrolling through the feed, whether the ad shows up on in a feed ad or in the right-hand column like the one above.
The message is clear: this suggestion is perfect for you, and you should check it out, and that level of personalization in ads (even if it's automated and what I call "faux personalization") can be effective.
The 3 Types of Dynamic Ads You Can Create
You can't use dynamic features on all types of LinkedIn Ads—instead, you can only use these personalized features on certain types of campaigns. These include:
Job ads, which focus on increasing engagement and site traffic amongst potential applicants for jobs that you're trying to fill. LinkedIn is a fantastic place to connect with new potential hires, especially if you want to start poaching people—I know four people who were recruited for full-time jobs on the platform when they weren't even originally considering a job switch.
Follower ads, which aim to increase the number of followers for your Company Page or Showcase Page. Increasing followers can build social proof and help you nurture relationships with everyone from influencers to potential clients.
Spotlight ads, which are designed to send people to the website of your choice. This could be your home page or a landing page, whether to purchase, sign up for a lead magnet, or get in touch.
You'll notice that true lead generation ads aren't currently available as an objective and that conversions aren't really an option to prioritize here, even though you can track of them. These ads are really focused more on engagement and capturing interest, with the exception potentially being the job ads.
How to Create Dynamic Ads on LinkedIn
Ready to create your first dynamic ads on LinkedIn? Get started here.
When you access your dashboard and choose the ad account you want to use, you'll first be asked to choose or create a new campaign group. The campaign group simply dictates budget, scheduling, and the name of your campaign.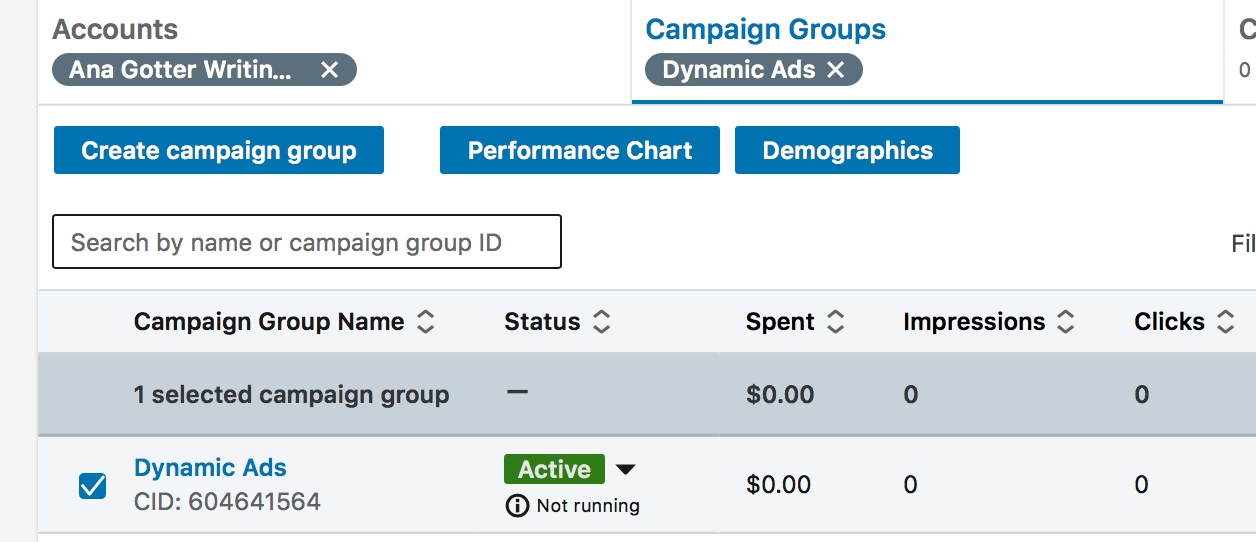 Next, you'll choose an objective. Note that if you want to use dynamic ads, you need to pick the "dynamic ads" objective.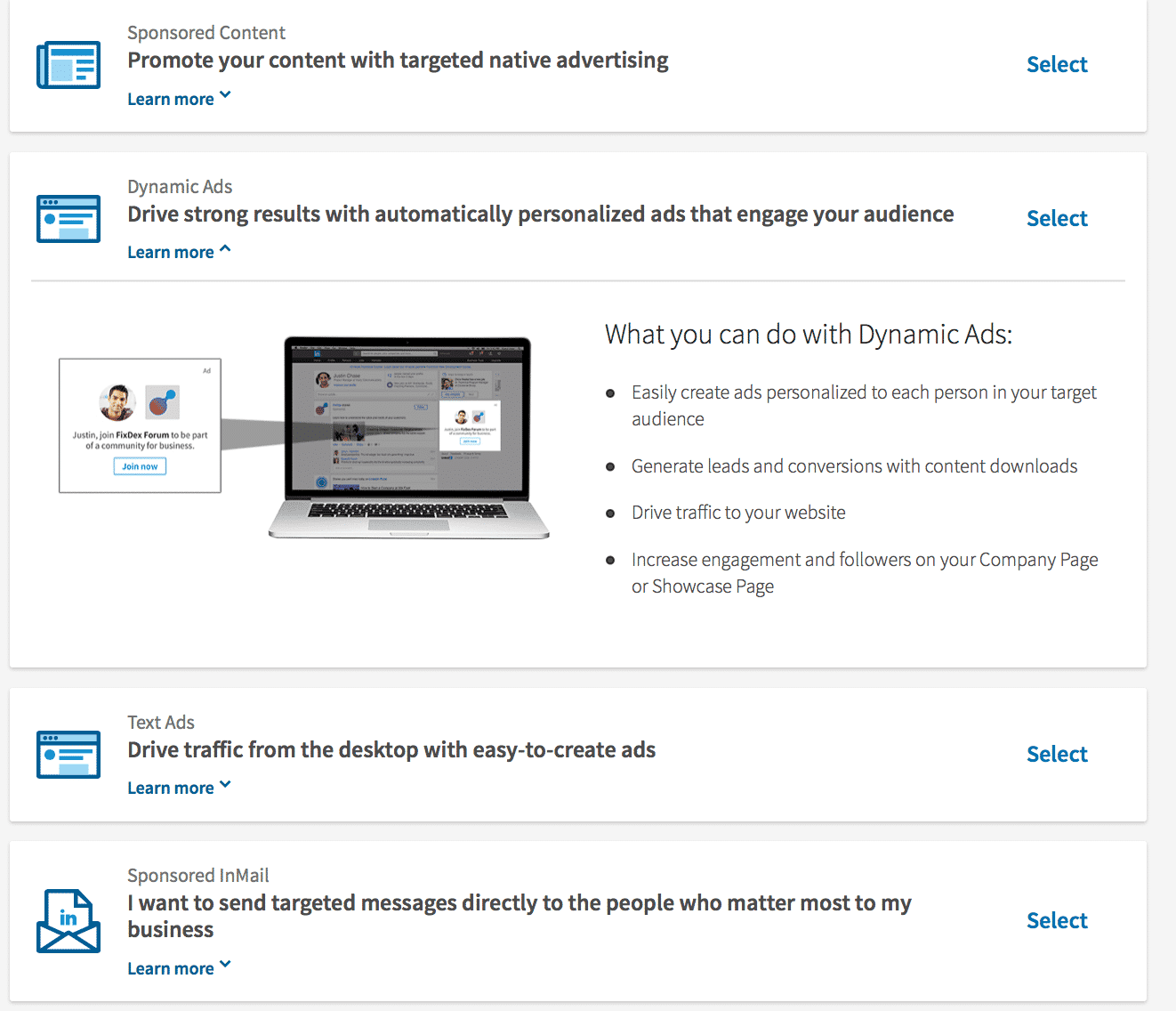 You'll now get the option between the three different types of dynamic ads that we discussed above: job ads, follower ads, or spotlight ads. Pick what you want to accomplish. For this example, we'll use the "Follower Ad."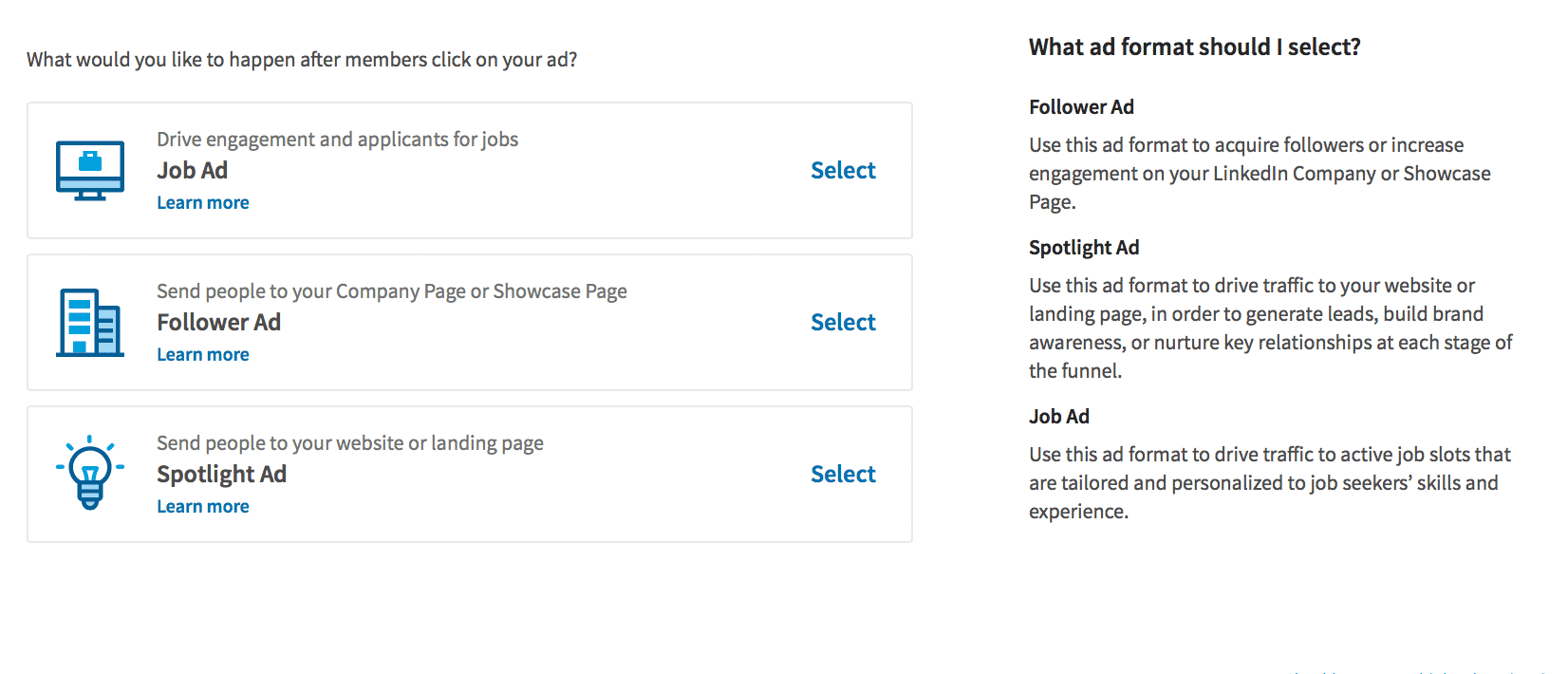 The next stage allows you to create the actual ad. You can use preset ad descriptions or create custom text. Custom text will typically be most effective if you want to highlight specific benefits or advantages for users taking whatever action that you want to promote, but note that you only get 70 characters for the ad and 50 for the headline. You'll also get to customize the CTA, picking the one that best aligns with your goals.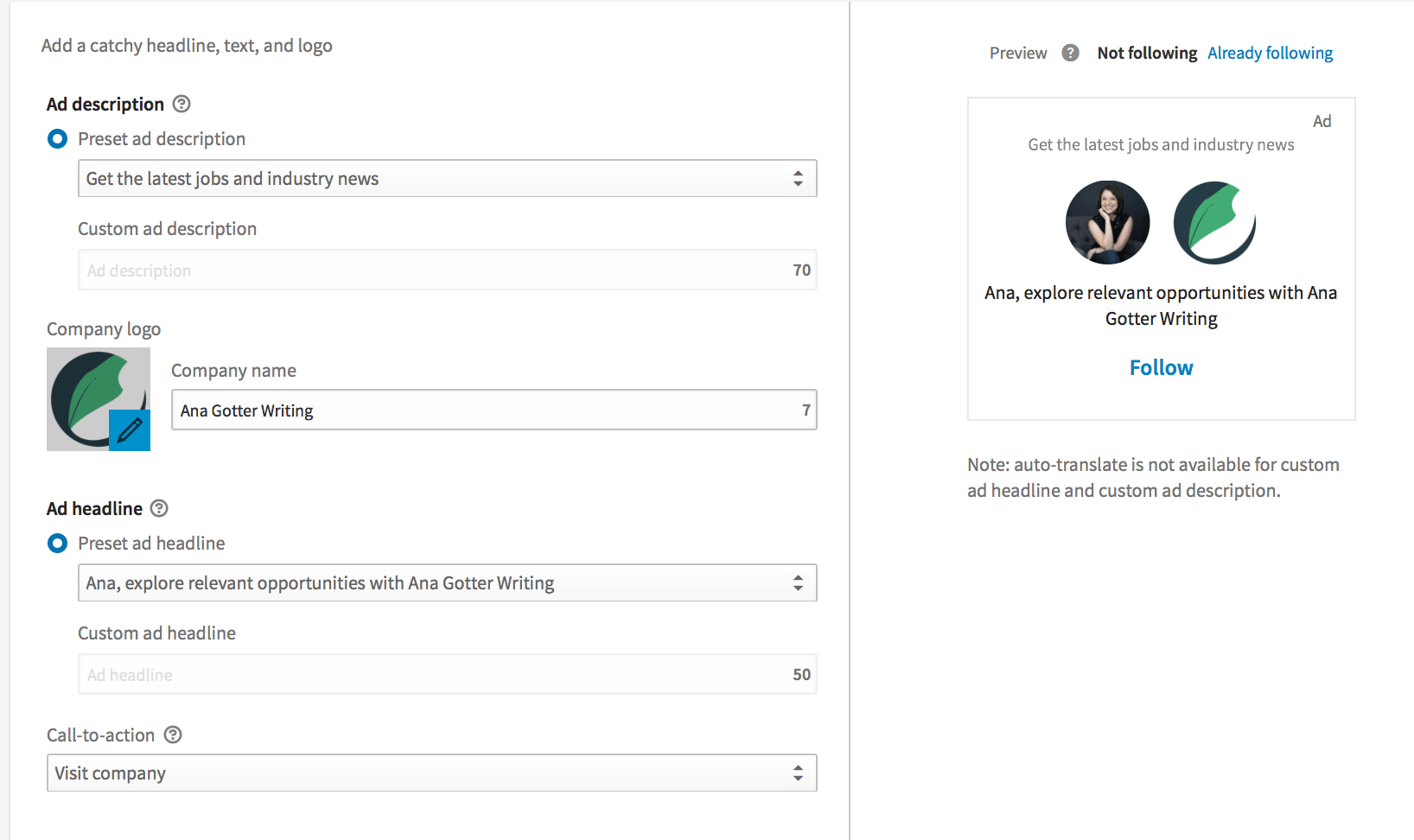 At the next stage, you'll choose your targeting criteria. You can opt for location targeting, audience demographic targeting, and/or exclusionary targeting. You can also choose from "Matched" audiences, which are similar to Facebook's custom audiences and allow you to retarget specific users.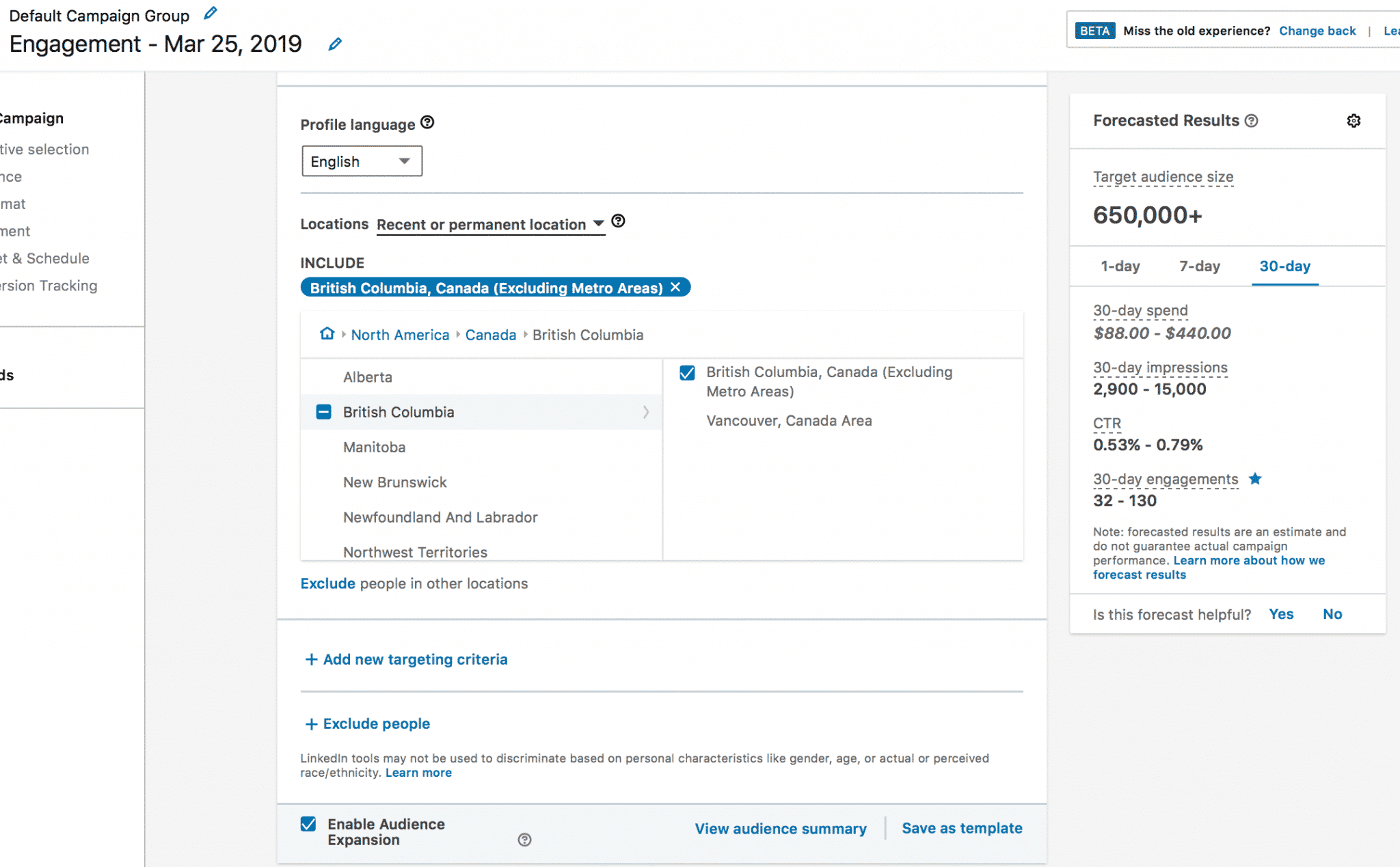 After you finalize the ad, all you have to do is submit it, and if approved, it will start running on the scheduled dates.
Who Should Use LinkedIn Dynamic Ads
LinkedIn is a B2B powerhouse, and for the most part, it will be B2B businesses, agencies, and freelancers who are going to get the most use out of the platform. That will pretty much be true for the Spotlight ads and the Follower ads, but Job ads are a little different.
Many people, after all, have LinkedIn portfolios if they're in the professional world, especially if they're interested in "white collar" positions. Lots of people who are open to job searching are on the platform, so B2C companies can also use job ads to reach out to their target audience and let them know about open positions. That was one of the biggest original purposes of LinkedIn, after all, so take advantage of that if you're trying to find the right candidate for that job you need to fill.
Conclusion
LinkedIn's dynamic ads won't be a perfect fit for every campaign that you run, and that's partially because they're not designed to be. They are, however, effective at accomplishing the specific purposes we've outlined in this post. Whether you want to generate leads or attract potential employees, the personalized ad content can help your campaign stand out and feel more custom-made for the individual, even if that's not necessarily the case, and being able to stand out in the feeds is always a good start.
Looking for a little extra help with your PPC campaigns? We offer PPC services for multiple platforms. Get your free proposal now!
What do you think? Have you ever used LinkedIn's dynamic ad campaigns? How did they work for you? What strategies did you use? Share your thoughts and questions in the comments below—we can't wait to read them!