Why You Aren't Getting the Facebook Ads Results You Need
by Ana Gotter • February 3, 2020
There are plenty of stories online that talk about the incredible results you can get from Facebook Ads. Facebook has plenty of them on their site, citing case study after case study that shows boosts in brand lift awareness, purchase orders, ROI, and more.
These stories make it all the more disappointing when you've invested in the ad system only to be let down.
If you're struggling to get the results you want through Facebook Ads, though, you aren't alone. Facebook Ads is a complicated system and every campaign has a lot of moving parts, and you need to make sure they're all working together if you want success.
In this post, we're going to discuss the six most common reasons why you aren't getting the Facebook Ad results you need and how to address each one.
1. You Aren't A/B Testing
If you look online, you'll find a million blog posts detailing how to create a flawless Facebook Ad in just a few minutes.
In reality, creating strong Facebook Ad campaigns does, unfortunately, take more than following a couple best practices—there is no real magic formula here. That's because there are all those moving pieces we mentioned earlier, and your product, messaging, strategy, and audience combination is all unique. Even PPC experts are sometimes a little surprised about which campaigns do well, and there aren't always clear reasons why some perform better than others.
This is why you need A/B testing.
A/B testing (also known as "split testing") requires careful testing of your campaigns. You'll create multiple versions of a single ad or ad set to test the audience, the placements, the copy, or the images. You can only test one at a time so you can see which changes to the campaign are making the biggest impact, but it will show you what resonates with your audience.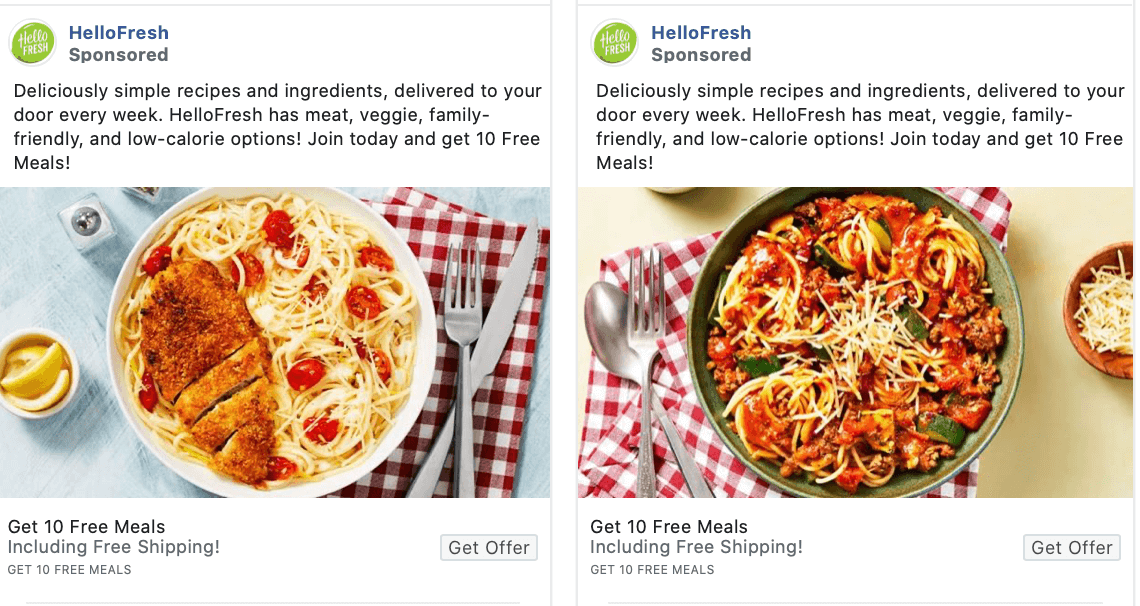 In addition to helping you find your most high-performing content now and shaping your strategies moving forward, A/B testing ensures that you have plenty of ads active at one time. This is good, as it prevents ad fatigue because users are seeing new-to-them campaigns to keep them engaged.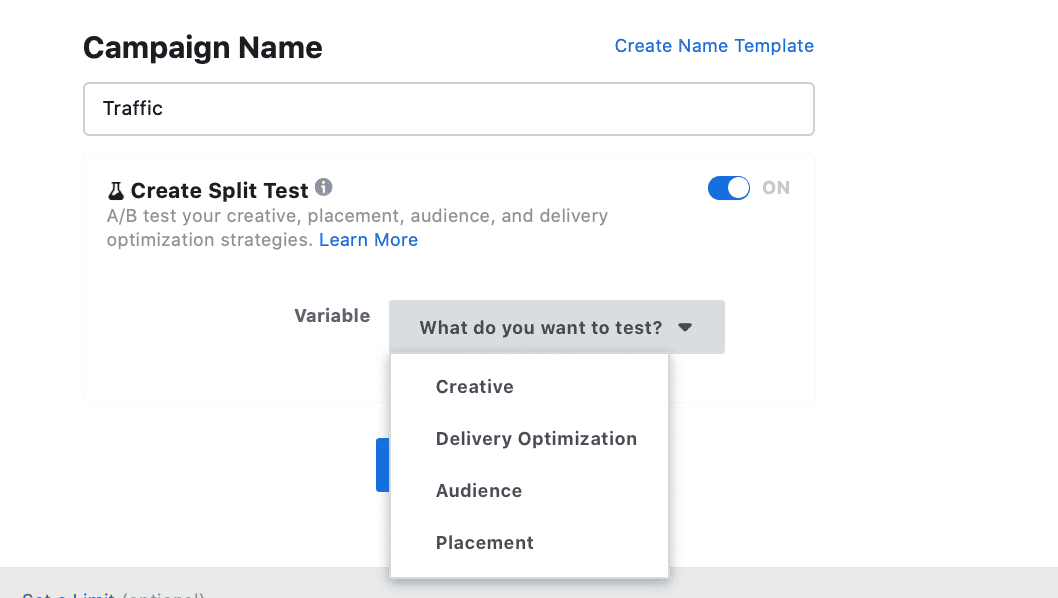 If you haven't started split testing yet, Facebook does make it easy. When creating a campaign, use the split testing feature to create multiple versions of your ads at once.
2. Your Audiences Are Too Small
There's a ton of advice available detailing how you can use Facebook's targeting to reach the most hyper-niche audiences you could ever imagine. Interested in targeting people 18-24 years old who live away from family, have an upcoming birthday, and are into bodybuilding? You can do exactly that and more.
But here's the thing: You may not actually want to.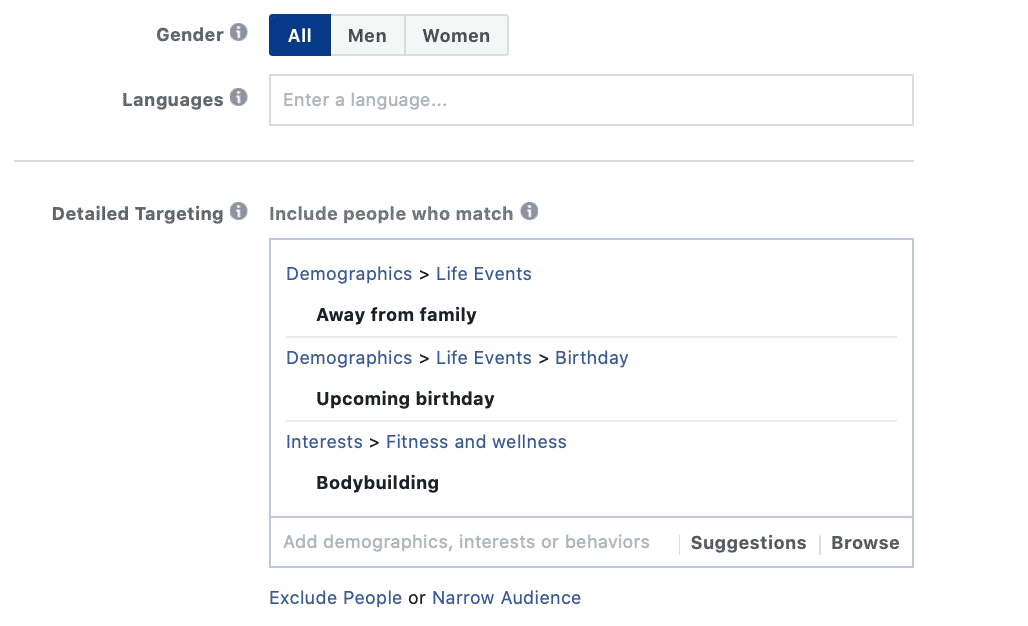 Your audiences can actually get too small. When this is the case, two things can happen: You can lose sight of your campaign's objectives, and you can run out of people to target…literally.
When your audience gets small in size, you quickly run out of new people to market to. This means that the same audience members may see your ad over and over again, increasing the frequency and ad fatigue. People become less likely to click or take actions, which overtime impacts your campaigns negatively.
Make sure that you're striking the balance with your audience, choosing options that are narrow enough to help you reach your audience but not so narrow that it becomes self-sabotage.
3. You Aren't Targeting By Funnel Stage
It's extremely unlikely that you'll run a single ad campaign (or even a few A/B tested versions of it) and see an onslaught of immediate results. While this can happen on occasion, most customers will need to see multiple ads that are all tailored to where they are in the digital sales funnel.
Let's look at an example with these two ads from the same company: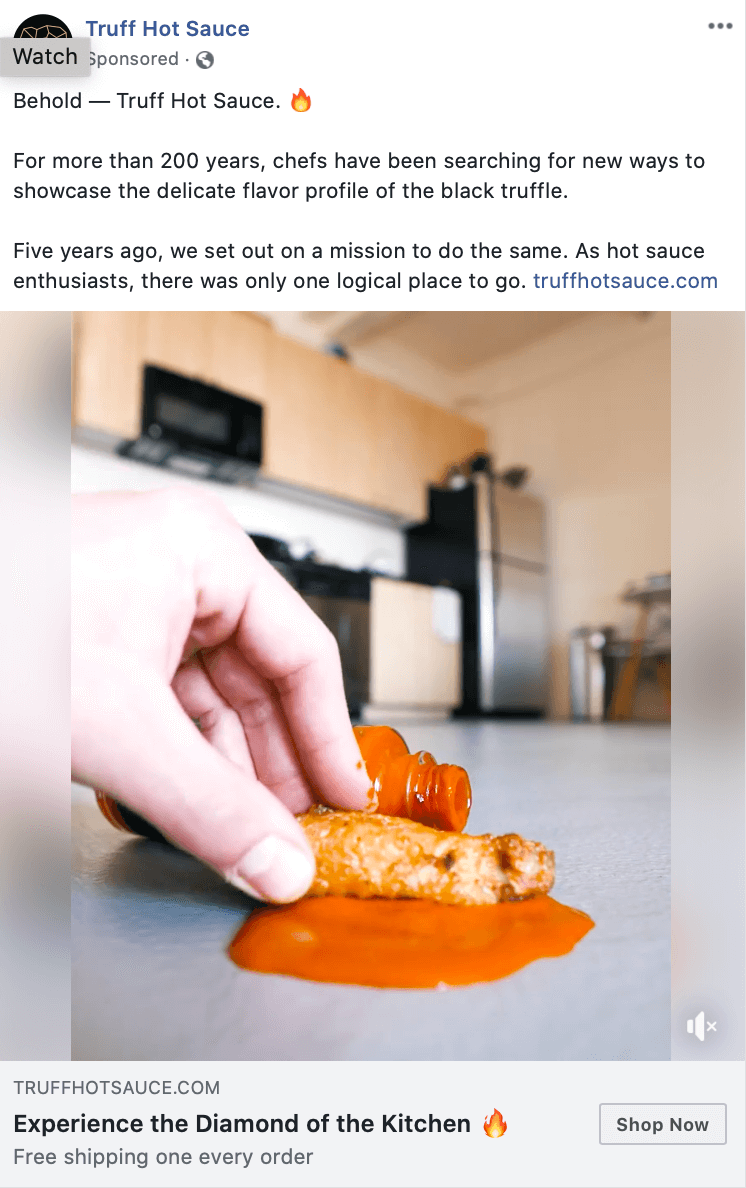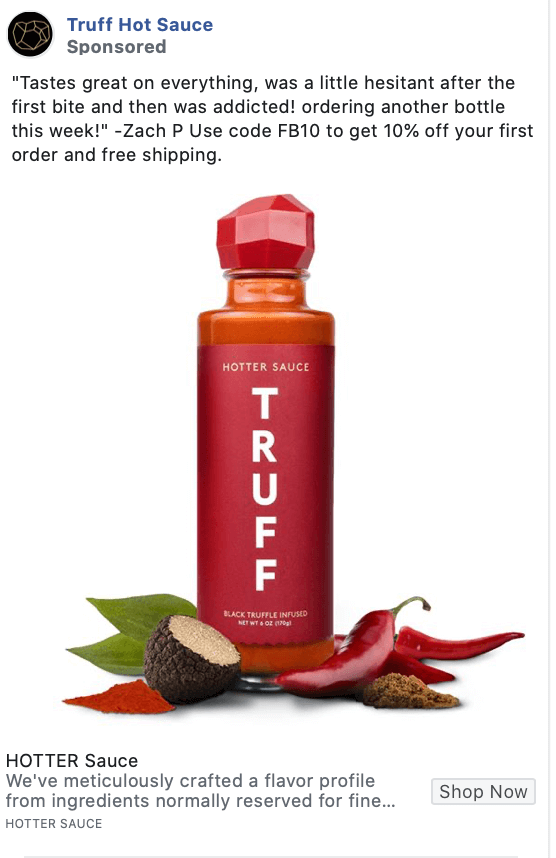 In the first ad, they use storytelling to explain why their product is unique, talking about how black truffle is a delicacy being used in hot sauce for the first time. They're introducing the hot sauce to new potential customers in a way that's interesting and memorable.
The second ad will be shown to warmer audiences who have likely already seen the first video ad and are familiar with the brand name. It features a testimonial and a discount code to encourage purchasing.
Your ad strategies should change as you start creating new campaigns for users in different stages of the digital sales funnel. You can learn more about this here.
4. You Don't Have Retargeting Campaigns Running
Retargeting is a crucial part of showing users ad campaigns that are relevant to their current relationship with you. You can reach past customers or leads by uploading email lists, or warm-but-not-yet-converted leads by retargeting them off the introductory video ad that they watched.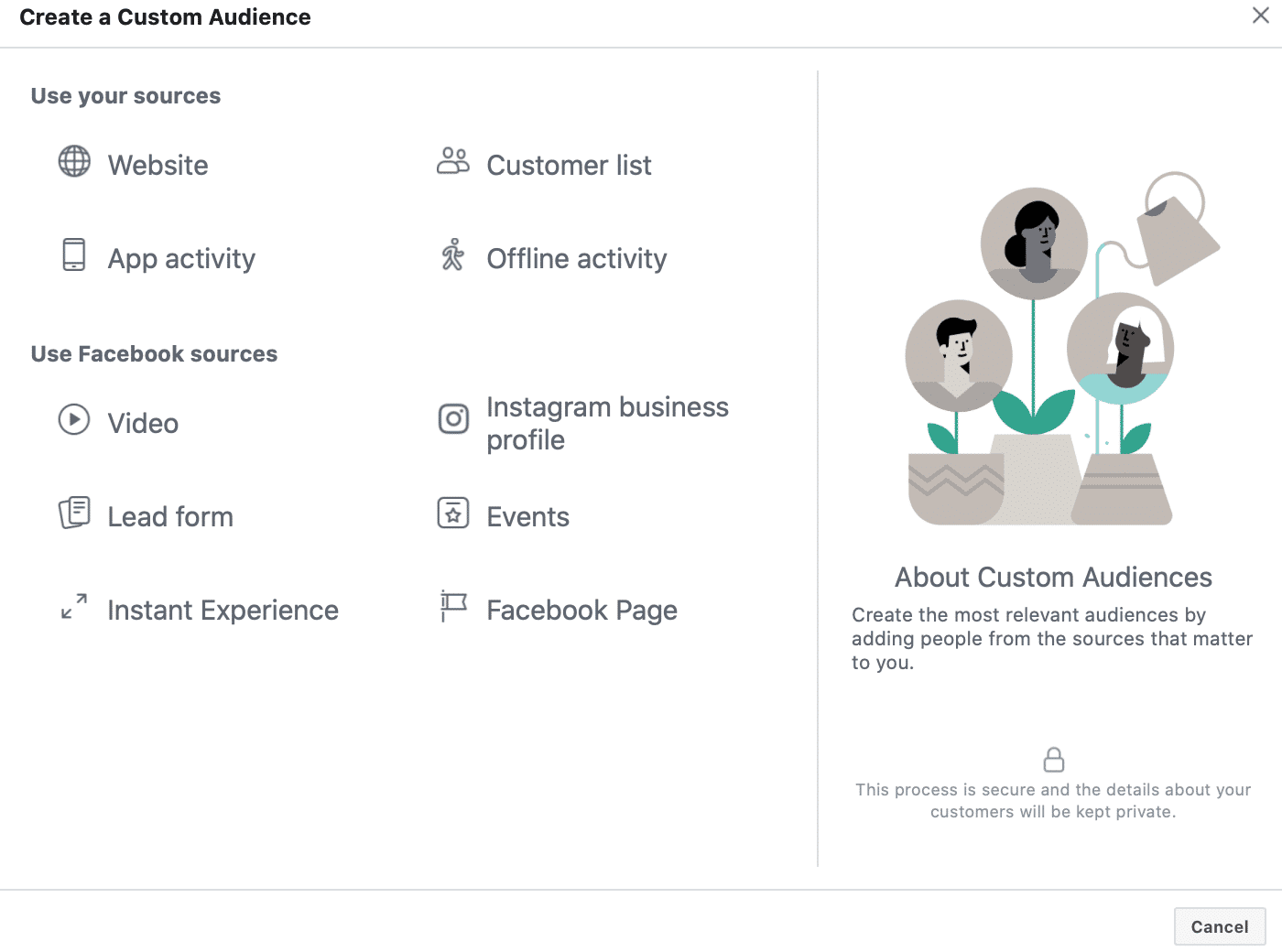 I can't stress the importance of retargeting enough. This is the nudge that people need to get them to purchase, and it works because you're giving them the information needed at the crucial time. It doesn't matter whether you're trying to get users to fill out a lead form or a long-time customer to take an action like trying a new product or joining a referral program; retargeting can help you get there.
5. Your Creatives Don't Convey Value Properly
Your ads will never resonate with viewers if the visuals aren't interesting and the copy doesn't convey value properly.
When people watch your video, they should understand the point on the first run-through. That doesn't mean you need to sell them something—an interview with a customer or the brand's founder is a great way to build awareness and trust. They just need to take away what you want them to.
Images should be interesting and eye-catching, but also self-explanatory. No one should wonder what the product that you're selling is.
Perhaps most importantly (because this is the area where most brands seem to struggle), the copy needs to be killer. You must convey the value of whatever action you want people to take, and the product or service itself. What makes it different, how does it work, and what benefits can the customer get by purchasing and using it?
This ad from Stasher has strong copy. It shows the different benefits of their silicone bags, particularly its versatility and sustainability, separated for emphasis. It's got a CTA that encourages people to purchase, and an emoji to catch attention. It's brief but effective.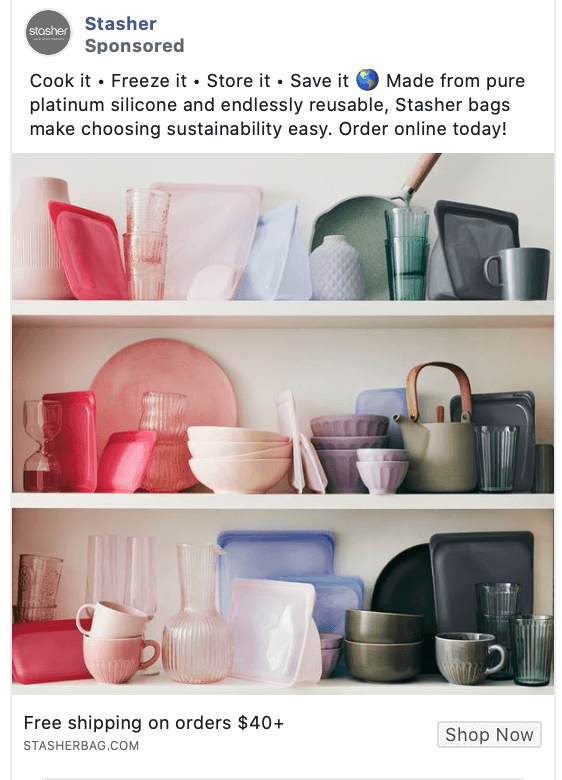 The image could be a little stronger, because first-time users may not know exactly what they're looking at, needing to search out the bags in the image instead of seeing them automatically, so this would work better for retargeting campaigns than an introductory one.
6. You Aren't Actively Managing Your Campaigns
You need to stay on top of your campaigns because some brands will start to see success, leave them as is, and then are shocked when they check back in a few weeks and things have started to slide.
Facebook Ad campaigns (like all PPC campaigns) need careful and active monitoring. Things can change quickly on Facebook Ads for a large number of reasons. The ad ranking system may change, new competitors may start bidding on the same audience members, new features can roll out, and sometimes your audience even just sees the ad too many times and gets tired of it. Even ad campaigns that were performing well a month ago may start tanking unexpectedly if different factors start to change.
You need to be monitoring your campaigns regularly, checking in every few days at the minimum. During this time, look at the performance of your campaigns across the board. You can set up automated rules to help, such as pausing ad campaigns if their frequency creeps past a 4, but manual review is always important.
We're not going to lie here—active campaign management takes a significant amount of time and effort. It's one of the reasons that many of our clients turn to us here at Disruptive Advertising. If you don't have the time on your hands to manage the campaigns your'e creating, consider outsourcing the process to a qualified agency like ours.
Final Thoughts
If you're wondering you aren't getting the Facebook Ads results you need, pause before you continue with your campaigns. Look at what might be holding you back. Is it the strategy, the creatives, or the even the time it takes to manage the campaigns thoroughly?
There are a lot of ways to be successful with Facebook Ads, and sometimes finding the ones that work for you take time and practice.
Want help seeing good results fast so you can maximize your investment? Here at Disruptive, we offer full-service ad management for our clients using data-driven strategies and optimization techniques. You can learn more about what we do here.
What do you think? Have any of these potential issues kept you from seeing the results you were hoping for on Facebook? What other factors have impacted your campaigns? Share your thoughts and questions in the comments below!