21 Bizarre Independence Day Stock Photography You Should Not Use For Your Business
Graphic Design
•
Social Media
•
Cydney Hatch
July 4, 2018
Ahhh…America's Independence Day…
Let's light fireworks, gather our friends and family, throw hot dogs on the grill, wear all things Americana to tacky levels and most importantly, enjoy some bizarre Independence Day stock photography!
Because well, why not?  This is "Emerica", we do what we want!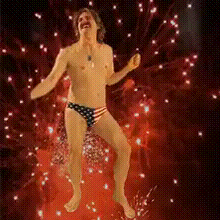 Since today is full of respect, memories and heavy stuff, here at Disruptive we wanted to disrupt your holiday with some light, fun humor. I mean, what is better than sharing some cringe-worthy photos with your friends and family?
With that said, we would like to present some of the "best" Americana and bizarre Independence Day stock photography…particularly ones you should avoid for your holiday marketing efforts (photography and visuals are crucial to business success, but not these visuals!). Enjoy!
1. American Clown: The New Patriotic Scare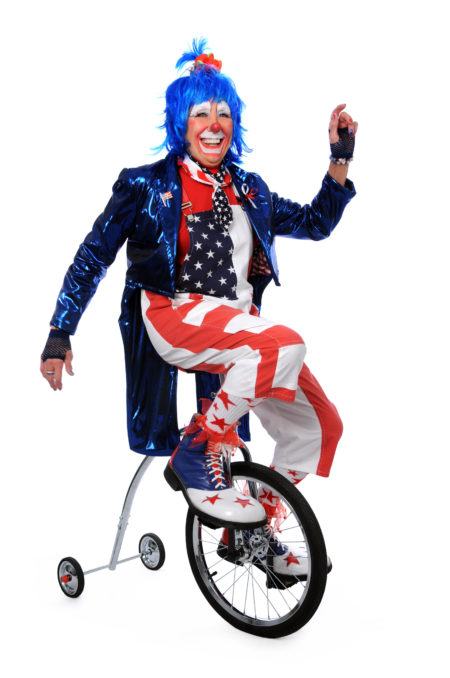 What's worse than a clown, you ask? A patriotic one…
2. Patriotic Makeup: WaterProof or Naw?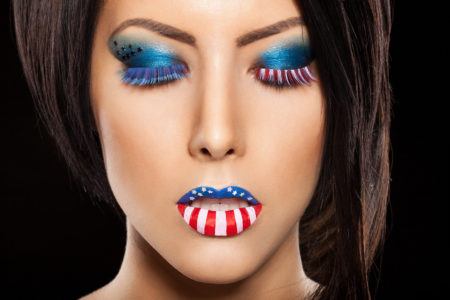 Move over Kylie Lipkits, this Americana lip look won't smudge off on the holiday hot dogs and punch. Don't worry!
3. A Family BBQ: Tiny Style
They say everything's bigger in America, everything but the grills, apparently…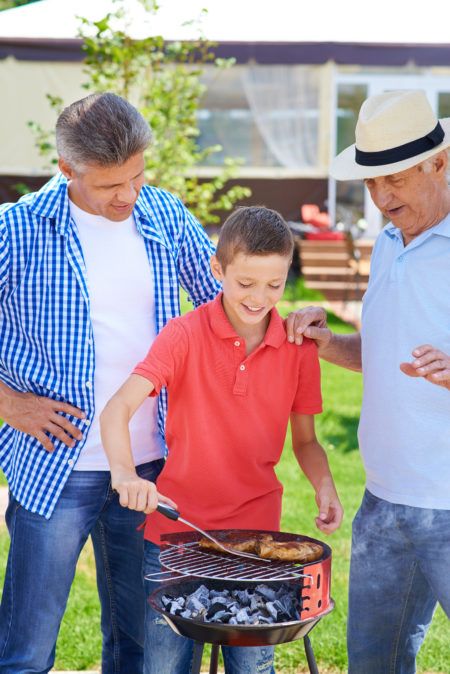 If this is a family BBQ this is gonna take a while…
4. FireWork Safety: Not a Thing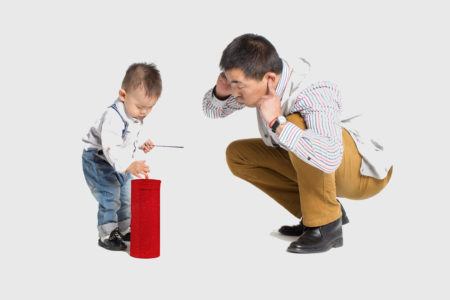 I mean, why shoot your eye out with Roman candles when you could blow your whole kid up this holiday season? Firework safety first, people!
5. Effective Food Photography 101: Confetti/Bows Not Included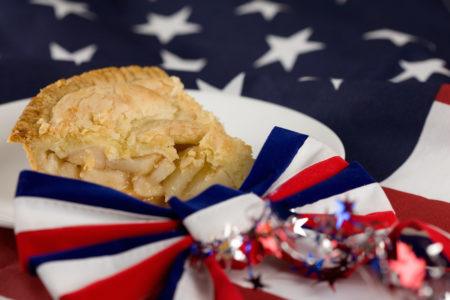 Yum, do you know what I could really go for right now? Apple pie and ice cream, with confetti and obnoxious bows. Who doesn't love plastic confetti with and in their American favorite?
6. America Briefs: American Comfort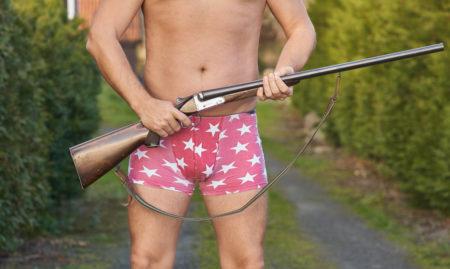 Photo Description: A man standing outside with a shotgun in his red and white underwear. So accurately American: Guns and patriotic undies.
7. Popsicles Anyone?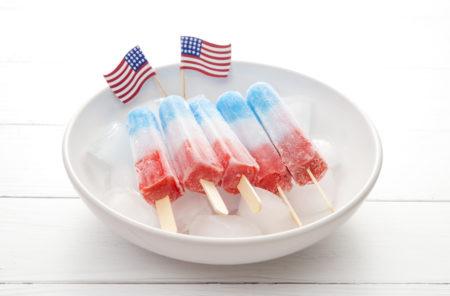 Description for this one: Red White and Blue Popsicles in a Bowl of Ice to Keep them Cool for Serving to your BBQ Guests. I think I found a new and more efficient way to serve my frozen treats this Fourth. How did I not think of a plate?!
8. Breaking Bad Meets A BBQ: No Thanks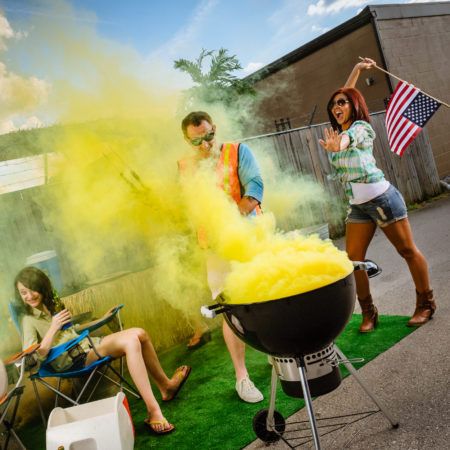 My favorite part of this picture? The woman on the right. I can't decide if she's an undercover cop or about to burn the American flag…
Whatever he's having, not thanks.
9. American Flag Fail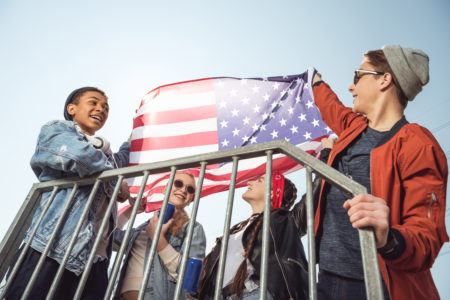 Politically Correct: Check.
Diverse: Check.
Stylish: Check.
All American. Not all smart.
10. SeaFood Anyone?
Description for this one: "Cooked lobster is holding an American flag and saying hello." Oh, is that what he is doing? Looks more like he is summoning his fellow lobsters to invade Maine…
11. A Sober BBQ: Americana Cheers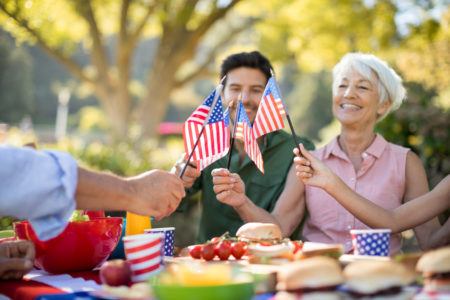 Who needs beers and drinks when you can cheers with your American flags? (I suspect that this picture was taken at a Utah 4th BBQ).
12. Oh America: Catching the Feels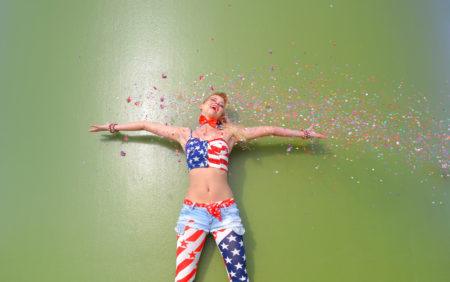 In America, we don't always stand in front of green walls, but when we do, we do it in patriotic underwear and throw glitter.
13. The American Dream: Flags-A-Waving
This woman is living the American Dream…almost. Well, at least she's standing on a dreamy beach holding an American flag.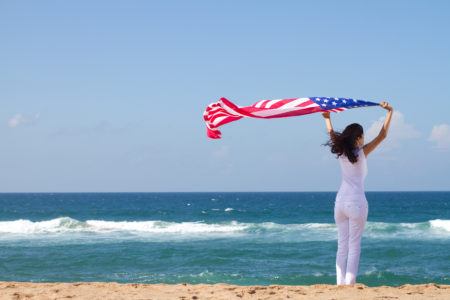 Somehow, I don't think this is what Martin Luther King, Jr had in mind when he gave his "I have a dream" speech.
14. You Work That Flag: American Fashion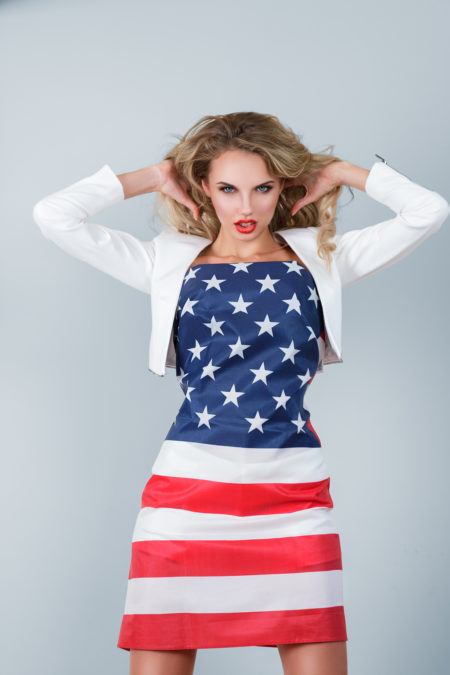 Patriotic vampire, anyone? Not sure how much more American you can get. We need to set her up with Mr. Gun-dies from photo #6.
15. Lady Liberty: Taking a Break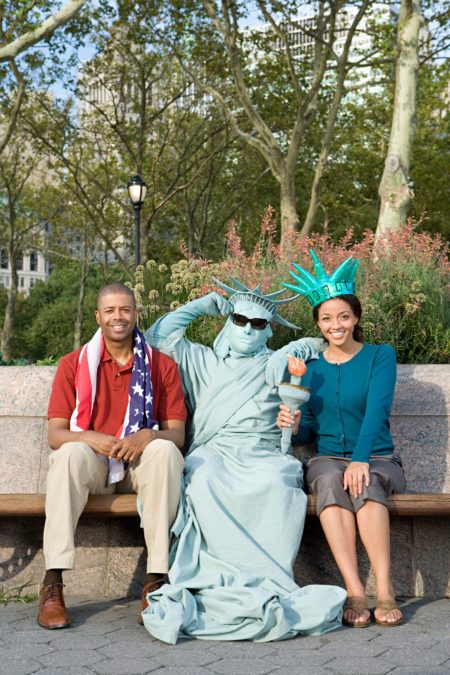 Amongst the political chaos lately, Lady Liberty needed to take a break, kick back and be incognito.
16. Uncle Wolverine
Apparently, 20th Century Fox and Disney tried to do a Marvel crossover event…and this was the result:
Seriously, though. What was the artistic concept behind this stock photo? Captain Logan? Patriotic Wolverine? "Oh*snickt* can you see…"?
17.YeeHaw America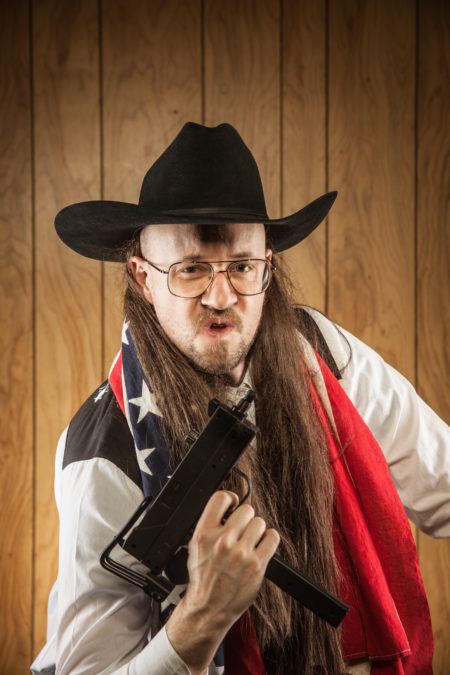 First off, the description is uber long and hilarious: "A backwoods hick cowboy with a huge long mullet in a cowboy shirt and cowboy hat. Man has a scruffy face and glasses on. He is in front of retro wood paneling. Redneck is holding an Uzi machine gun, he is draped with an American flag. A patriot"
Wouldn't it be great if that was someone's actual search term? Quite the keyword search!
Second, this is all types of "E-M-E-R-I-C-A."
18. American Pride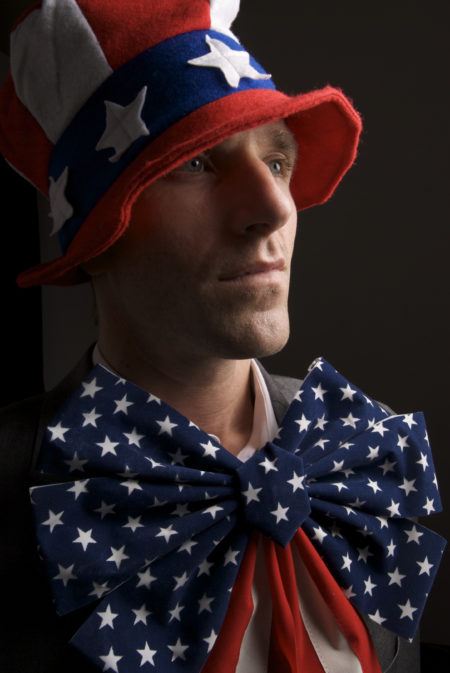 Look, everybody, it's a moody, patriotic "Cat in the Hat"!
19. U.S.A… U.S.A…U.S.A…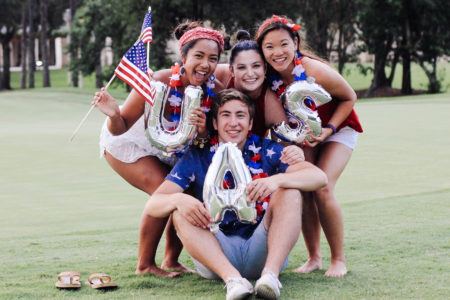 In America, we can spell good. U.A.S.
20. Sparkers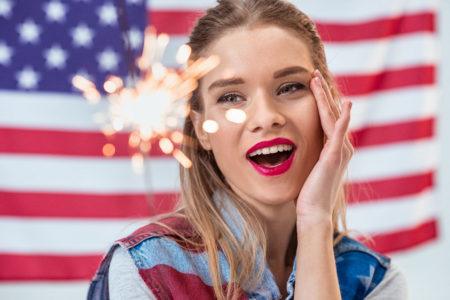 I can't tell if the sparkler is enchanting her or giving her a migraine. Maybe both?
21. Doggie Patriotism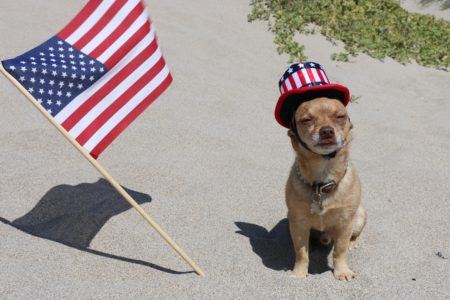 Chihuahuas + The Beach + Uncle Sam : The epitome of American Spirit.
Stock Photos for Yor Business: What to Use
Hopefully, these gave you some giggles but in all seriousness, I want to give you some quality content in this article other than laughs.
I think it is easy to say that the above photos are not ones anyone would pick…ever. Most are really niche, bizarre, poorly composed or downright inappropriate. Those of us who know all about content, understand too well the joys and sorrows of stock photography, but there are some stock photos you can effectively use for your business.
Below are real tips you can use when trying to pick out quality stock photos for your business. In general, stock photos look like, well, stock photos, but they can be great filler visuals or quality photos to use when you are just starting out.
Don't Be Obvious. Sometimes when you make visual connections to content in your article, you might want to use a stock photo that makes people wonder why you picked that image. For example, in my article about "Why Lawyers Should Use Social Media", the punch line is that social media can be "appealing" to lawyers, so I had a dress shoe and a banana peel for that photo.Instead of picking a lawyer or businessman with an iPhone, I picked a photo that makes people wonder what's going on. Most people would wonder why bananas and lawyers go together and hopefully that curiosity will get them to click! Don't be afraid to mix it up and be creative.
Look for Different Angles and Perspectives. Angle and styling are everything. If you are a moving company that is looking to have quality and interesting stock photos that look professional and not dorky, look for perspectives that are different than the obvious. For example, instead of picking a couple holding a box together find something more artistic.
It sends a message that your business is of higher quality when you do that rather than picking a photo like above with the ladies holding boxes. People pick up on quality and this screams stock photo. Do not rush picking photos as visuals really matter to your business!
Customize and Build Upon. Just because you downloaded a stock photo, that doesn't mean you cannot adjust and manipulate it to be more along your branding! Add text, crop out a distracting element, or add another layered image to the photo. There are many, many ways to use simple photo editing tricks to enhance a boring stock photo. Make it your own and even add a physical logo! It can be a lot more snazzy than just the image you downloaded!
Check for weird or distracting elements. Look for photos that will add to the aesthetic experience you are creating, not distract from it. Look for the blurriness, strange faces, busy backgrounds or other things that will take away from the visual experience. Is it overly posed and obvious?: No thanks.
Use Animals and/or People. Photography helps individuals feel connected to the content of an article or website. Using photos of people and animals instantly creates this feeling of connection which is something that as a business you want: audience connection. Be sure to pick quality images of people and animals that would make sense for your business.
Do be aware that you should avoid obvious business situation photos as they are all over the interweb, it comes off as low quality and insincere. So stand out and be different if you are looking for group shots to represent the company. Strive to be different.
Look At Your Branding.  Pick photos that add to your branding! If you have logos and a website frame that has cool or warm tones, make sure your images are matching those visual ones as well. This simple trick ensures a more professional, consistent and valuable appearance.
Choosing stock photos doesn't have to be complicated, but it should require more thought than a quick download to put visuals up quickly on your sites. Visuals matter in your business and marketing efforts! Take the time to think about the message you want to send and the photos that would suggest it!
You don't want people to get the wrong impression about your business, the quality of the product/services or that you have a weird obsession with cats…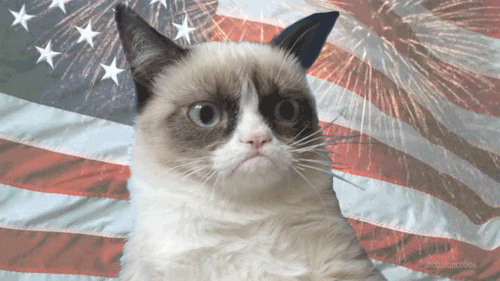 If you want help with your visuals in marketing, do not be shy! Reach out and contact me! I would be happy to help you choose and create a better experience with your website and marketing efforts!
Which stock photo did you find most ridiculous? Have a happy 4th of July!
Leave a comment