Instagram Advertising 101: Things to Know and What Actually Works
by Cydney Hatch • September 24, 2019
I will say it time and time again, Instagram is for BUSINESS, not just personal kicks and giggles…
Today Instagram has 800 million active users, according to Statista, and since 2013 it has been has been one of the fastest-growing social media platforms!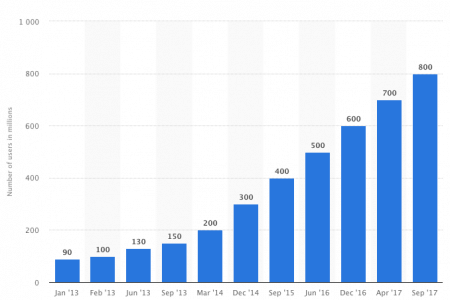 No wonder businesses are trampling over each other to get to Instagram, they are realizing how effective Instagram advertising can be! I mean, good marketing is knowing where your target audience is, and today, it's most likely on Instagram.
So, whether you are looking to grow your brand awareness, drive sales, or get more traffic to your website, Instagram advertising can be a great option to take your business to the next level.
In this guide, I will walk you through everything you need to know about how to find real success on Instagram and how it's advertising platform is one for the books.
Instagram Advertising 101: Things to Know
Leveraging Instagram ads for your brand is a no-brainer. Not only do more than one billion people use Instagram every month, but engagement numbers for the app are higher than both Facebook and Twitter.
So, to really hone in on everything Instagram advertising has to offer, let's cover some of the basics:
Introduction to Instagram Ads
Instagram advertising is basically paying to sponsor content on Instagram in order to reach a larger and more targeted audience. You can create ads from Instagram once you've converted your account to a business account. In addition to creating ads on Instagram directly, you can also use Facebook tools to create ads that appear on Instagram.
Generally, there are three ways to run ads that appear on Instagram:
Create ads directly from Instagram. Once you convert your profile to a business account, you'll be able to promote posts and stories from your Instagram Account.

Create ads from your Facebook Page. If you manage a Facebook Page, you can link an Instagram account to that Page. When you create promotions from your Page, your ads can appear on Facebook and Instagram.

Create ad campaigns in Ads Manager. If you're familiar with Facebook advertising, Ads Manager provides comprehensive tools to create your ads and you can select Instagram as a placement.
Before creating ads, you should also consider connecting your Facebook Page so that you manage to make the most of our business tools. Instagram and Facebook make it pretty dang easy!
Instagram Ads Pricing
The next question for most is, "What will this cost me?" While I wish I could say it would be X amount of money a month, it is not that simple. Costs are based on a variety of factors, so it really just depends.
Instagram's advertising platform model is based on CPC (cost-per-click) and CPM's (cost per impressions), and prices are determined according to Instagram's ad auctions—just like Google Ads.
But, like most social media platforms, the average cost-per-click on Instagram is a lot lower than what you'll typically spend on a paid search platform like Google Ads. According to AdEspresso, the average CPC for Instagram ads in Q3 of 2017 was around 75 cents. Typically, Instagram Ads also have around a 60-70% lower cost-per-impression than Facebook Ads and a slightly cheaper (around 3% cheaper) CPC than their Facebook counterparts. (#YasQueen!)
Now, don't let the "lower pricing" sell you completely. Another added perk to Instagram advertising is that users have the power to control how their marketing budgets are being allocated. For example, you can choose between a daily budget to limit the amount spend per day or a lifetime budget where you would set up your ads to run for a length of time until the budget is depleted. Pretty cool,eh?
Instagram Insights
On top of pricing, Instagram has an incredible perk: Instagram Insights!
Instagram Insights lets you learn more about your followers and about how your content performs with your audience. You can also view insights for specific posts and stories you've created to see how each performed and how people engaged with them. From your profile, you can access Insights in the Instagram app.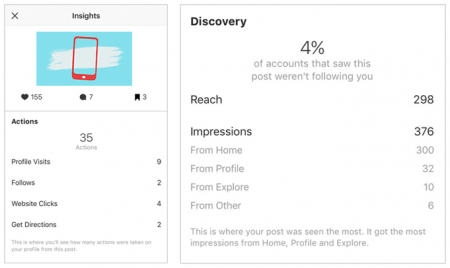 The following are insights you can view from the Insights tab on your profile:
Activity: This section lets you view important insights on your profile, including Interactions (such as profile visits and website clicks) and Discovery (how many people see your content and where they find it).

Content: This section lets you view insights on your posts, stories, and promotions.

Audience: This section tells you more about your followers and audience.
As understanding how content is performing on the platform is important, Instagram makes tweaking and improving marketing content that much easier!
Instagram Ads: Is It Worth It to You?
Now, is this all worth it? That's a great question.
Instagram advertising is a great tool for many businesses but it's not ideal for everyone. Out of the 800 million users, you might wonder who is actually using the platform, and the answer to that will help guide your marketing efforts. Here are some interesting numbers in regards to Instagram demographics:
500 million Instagram users are active daily.
400 million people use Instagram Stories each day.
Over half of Instagram's user base is under 34.
72% of 13–17-year-olds are on Instagram.
39% of women use Instagram, compared to 30% of men.
Over 80% of Instagram users live outside the US.
60% of people earning $100K or more are on Instagram.
72% of users have bought something they saw on the app.
As you can see from the numbers above, Instagram has a lot of traffic, with a younger demographic and creates lots of business opportunities for all types of business.
The problem is, the popular perception of Instagram is that it's just for teenagers or millennials—people who, generally speaking, often won't be earning too much money yet and that is where businesses fall. New numbers, like above show that, just as Instagram has a broader age range than you might think, it's also managed to spread across a wide range of incomes.
Instagram has something for everyone and even though you might have an older demographic, it may not be a bad idea to at least check and see how big your potential Instagram audience might be!
Instagram Ads 101: How to Get Started
Now that you understand the basics of Instagram advertising, it's now time to see how to get started!
Now, before you freak out thinking setup will be a nightmare for a new advertising platform…breathe! If you are already advertising on Facebook, this will pretty much be a walk in the park since the two platforms are connected. The good news is, Instagram Ads can be configured right through Facebook Ad Manager!
If you're not advertising on Facebook, don't fret! The process of "how to" is below and we will also explore ways in which you acn create simple ads directly within Instagram itself as well!
Let's get started!
1. Navigate to Facebook's Ad Manager and Set Marketing Objectives
To navigate to ad manager within Facebook, simply follow this link, assuming you're logged in to the appropriate Facebook account.  After you are on Facebook ads manager, you need to choose a campaign objective.
To get started, click on the "+Create" green button and you will be taken to the marketing objectives page. What makes this part easy is Facebook gives you options that are self-explanatory: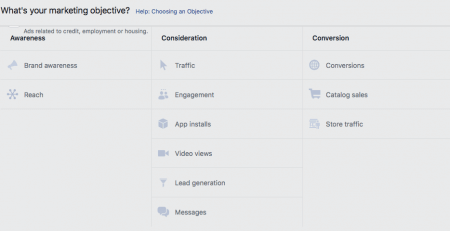 Need more video views for a product launch? Select the video views objective…
Looking to increase brand awareness? Choose the brand awareness objective…
Want more traffic to your store? Choose the store traffic objective…
There are tons of options, but note that when it comes to Instagram Ads specifically you are limited as to which objectives you can select. Instagram Ads only work for the following marketing objectives:
Brand awareness
Reach
Traffic (for clicks)
App installs
Engagement (for post engagement only)
Video views
Conversions (for conversions on your website or app)
While these goals are intuitive, some come with a few additional steps:
Instagram Reach: If reach is what you're looking for, then you'll just need to be sure to select your Instagram account when creating the ad itself. Also, if you are wanting to pump out some numbers for your Instagram story, "reach" is the only available objective for this feature.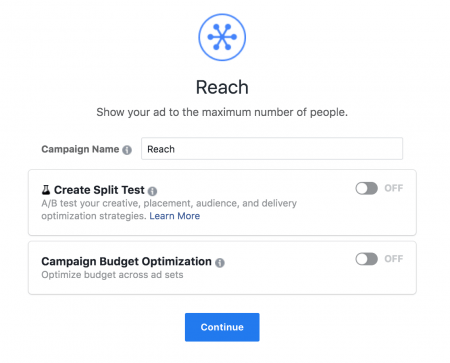 The cool thing about this objective is that you can take advantage of Facebook's split testing feature, which allows you to split test two ads to see which one yields more installs. Split testing is also available for Traffic, App Installs, Video Views, Lead Generation, and Conversion goals.
Traffic: If you're looking to send more people to your website or app store, this is the marketing objective for you.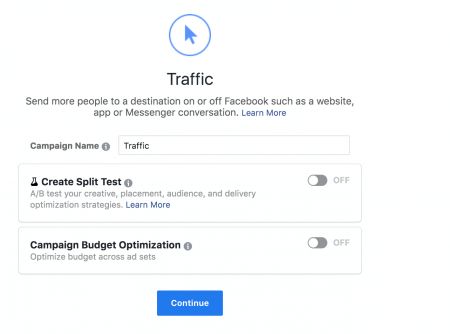 The traffic objective is designed to drive people to your website or app. With traffic as your objective, you can create ads that:
Send people to a destination on or off Facebook (Website Clicks)

Increase the number of people going to your mobile or desktop app (App Engagement)
When you create an ad with the traffic objective, you can:
Select where you want to drive traffic: You can select either Website or App to send people to your website or app.

Target people who previously installed your app: You can target people who previously installed your app in the Audience section of ad creation.
The only additional steps you'll need to take is choosing between those two options, then enter the URL of choice, and let the traffic roll on in.
Lead Generation: Who doesn't want more leads? Right?
Although Facebook Ads have a lot of fields to fill out, when it comes to Instagram, currently they only support email, full name, phone number, and gender.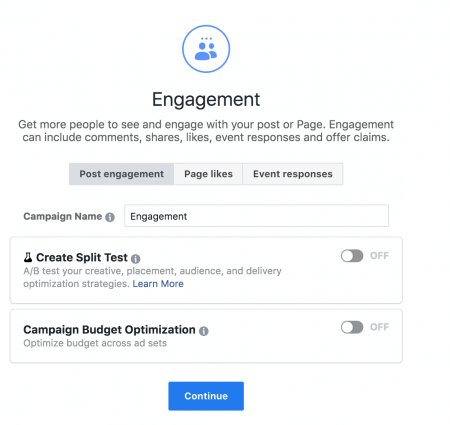 These ads also have more of a barrier than Facebook lead generation ads, since when leads click to open the ad they'll need to click through to fill out their information. The other set-up piece is that you'll need to create a lead form when creating your ad.
Conversions: Last, but certainly not least, we have conversions. This objective allows you to drive your leads to take action and convert on your website or within your app.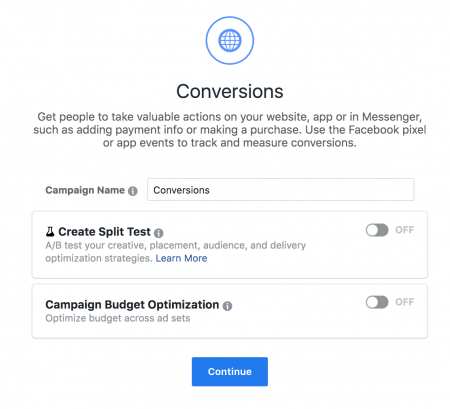 The additional set-up here requires you to configure either a Facebook pixel or app event based on the website or app you're looking to promote; this will allow you to track conversions.
2. Target Your Intended Audience
Now that you've selected your marketing objectives, you need to target your intended audience to ensure that your ads are being served up to the right people. Since Facebook has such deep demographic insights into user data, Instagram luckily gets to feed off it! Pretty sweet, right?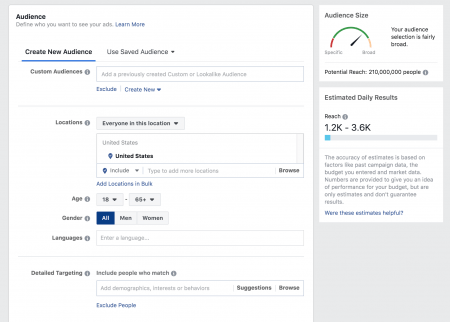 You can target people based off of the following things:
Location: Target a country, region, state, city, zip code, exclude or include certain places
Age: Allows you to target ranges from age 13 to 65+
Gender: Choose between all, men, or women
Languages: Facebook recommends leaving this blank unless the language you're targeting is not common to the location your targeting.
Demographics: Under "Detailed Targeting" you'll find demographics, which has several sub-categories with even more sub-categories under those.
Interests: Interests is also under "Detailed Targeting" with multiple sub-categories to dig into. For instance, if you're looking for people interested in distilled beverages, science fiction movies, and aviation, those options are available for you!
Behaviors: And yet another "Detailed Targeting" option with multiple sub-categories to explore. Whether it be purchasing behaviors, job roles, anniversaries, or other behaviors the options seem endless.
Connections: Here you'll be able to target people connected to your page, app, or event.
Custom Audience: Custom audiences let you upload your own list of contacts allowing you to target leads already in your pipeline or customers who you're looking to upsell.
Lookalike Audience: If your custom audience is tapped to their potential, create a lookalike audience. This will allow Instagram to find people who have similar traits to your other audiences.
Once you've configured your audience, Facebook will also provide you with a guide to how specific or broad your audience is (like the one below).
This is an important tool to pay attention to, because you want to strike a balance of your audience not being too huge (since it's likely not targeted enough), but also not being too specific (in the red zone), since there may not be many people (if any) to reach with so many layered targets.
3. Choose Your Instagram Ad Placements
Now that you're ads set up and targeted, it's time to place them on the digital web!
Unless you take the time to specify where you want your ads to be served, Facebook will just allow your ads to appear on both platforms: Facebook and Instagram.
Although this is not necessarily a bad thing, it might be if you created content specific to a certain platform. If that is the case, be sure to select "Edit Placements" or your formatting might end up being wrong!
In this step, you can specify Instagram as a placement, as well as if you'd like these ads to appear in the feed and/or the stories section of the platform.
4. Set Your Budget and Schedule
As this step is a lot like other paid advertising platforms, it can be pretty familiar if you have dived into Facebook and or Google Ads. If this is your first time dabbling with Instagram Ads, know that like other platforms, there is a small trial and error period.
If you want some pointers on picking the right budget, I suggest reading our post on setting marketing budgets here.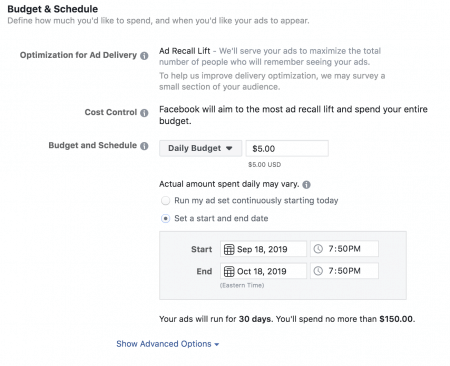 If you are worried about budget, then I would typically start with daily budgets to ensure your budget does not burn through too quickly. When you find the sweet spot, allow for both types of budget scheduling and or some more the more advanced options.
5. Create Your Instagram Ad
Whew, after all of that, it's now it is time to create your Instagram Ad!
Most times, people have already created the type of content they want to use, but you need to understand the types of Instagram ad formats you can choose from.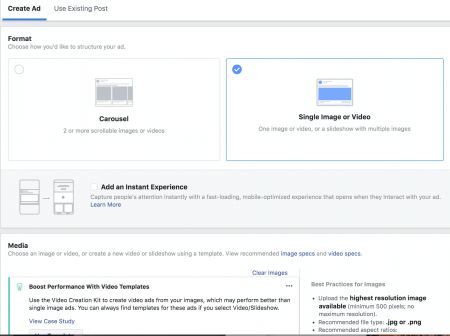 Instagram has a few ad formats to choose from and two of them are solely focused on Instagram stories. The others are formats designed for the Instagram feed, which are more commonly used by advertisers. The formats to choose are the following:
Photo Ads
This is your most standard ad format, and likely the one you see most often scrolling through your own feed. These ads are single images that will appear as an "organic experience" as your audience scrolls through their feed.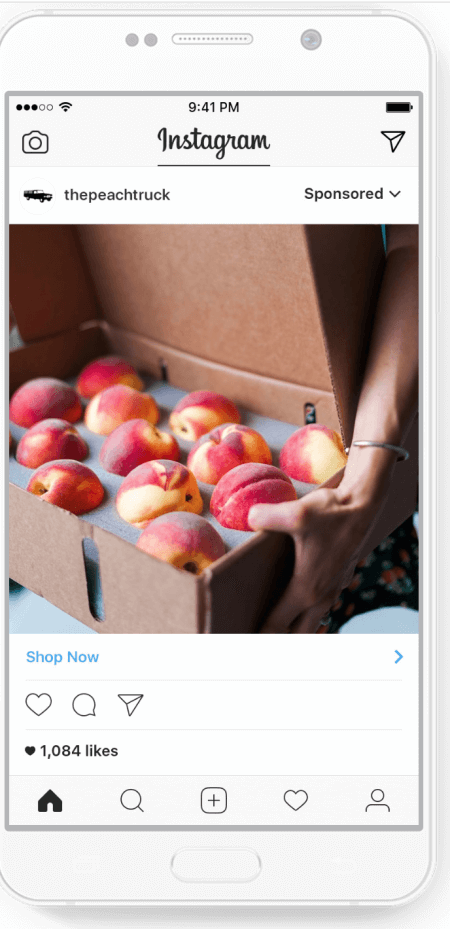 The lovely thing about these ads is that they don't feel like ads, especially when done well. To ensure these are created for performance, follow these design formats:
File type: .jpg or .png
Maximum File Size: 30MB
Minimum Image Width: 600 pixels
Image Ratio: 4:5 minimum, 16:9 maximum
Text Length: 2,200 maximum (*although Instagram recommends staying below 90 for optimal delivery)
Hashtag Number: 30 maximum (*you can add additional in the comments)
Image Story Ads
Same concept as above, but these are for Instagram stories! Stories ads can run for as long as you wish, despite organic stories only lasting 24 hours, and can be optimized to match the business objective that matters to you.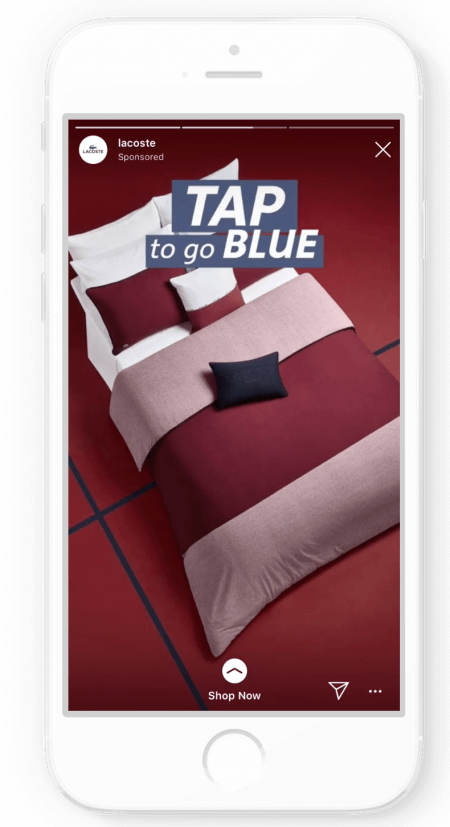 All feed photo and video dimensions are now supported (from 1:91 to 4:5) but to ensure these are created for performance, follow these design formats:
File type: .mp4 or .mov
Maximum file size: 4 GB (video) or 30 MB (photo)
Recommended Image Width: 1080 x 1920
Recommended Video Length: 120 seconds
Video Feed and Story Ads
Bring your ad to life with a video! If you've put the time in to make a quality video, then you should absolutely be promoting it through your Instagram feed. What is cool now is that you can share videos up to 60 seconds long in landscape or square format!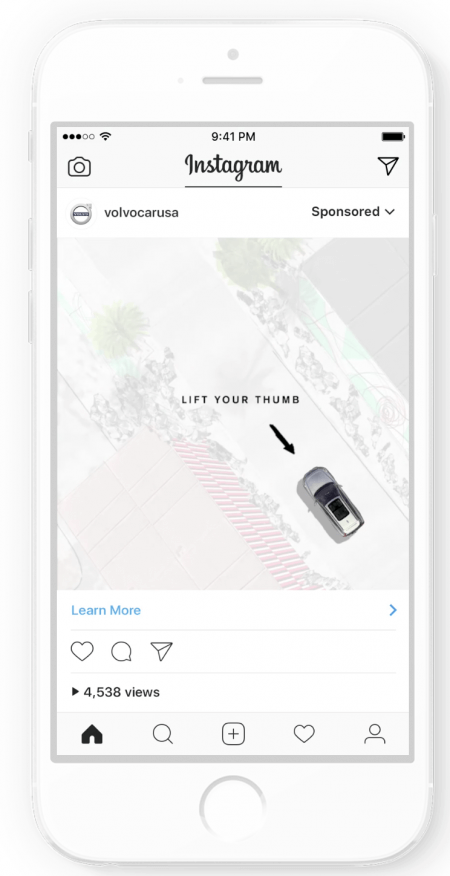 While most video files are supported by Instagram, try using H.264 compression, square pixels, fixed frame rate, progressive scan, and stereo AAC audio compression at 128kbps+. To ensure these are created for performance, follow these design formats:
Video Resolution: 1080 x 1080 pixels (at least)
Maximum file size: 4 GB
Video Ratio: 4:5 minimum,16:9 maximum
Video Duration: 60 seconds maximum
Video Captions: Optional
Image Ratio: 4:5 minimum, 16:9 maximum
Text length: 125 characters maximum recommended
Hashtag Number: 30 maximum (*you can add additional in the comments)
Video Story Ads are also a great place to run your video content, since many Instagrammers expect videos to naturally be there anyways! This is a great way to have users "accept" your video ad as a less pushy approach!
Carousel Feed Ads
Carousel ads are about as fun as they sound! This format allows you to show a series of scrollable images rather than just one single image, the same as you see typically on Facebook feeds: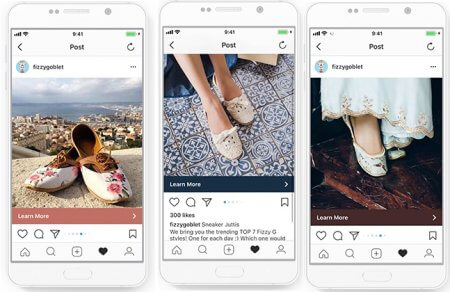 This ad type is great for very visual brands, who have tons of great product photography and want to show it all off in one place! The carousel format allows you to choose from up to 10 images within a single ad, each with its own link. Video is also an option for these ads.
To ensure these are created for performance, follow these design formats:
File Type: .jpg or .png
Maximum File Size: 30MB
Minimum Image Width: 600 pixels
Image Ratio: 4:5 minimum, 16:9 maximum
Text Length: 2,200 maximum (*although Instagram recommends staying below 90 for optimal delivery)
Video Duration: 60 seconds maximum
Hashtag Number: 30 maximum (*you can add additional in the comments)
Collection Ads
The collection ad format on Instagram makes it easier for people to discover, browse and purchase products and services from their mobile device in a visual and immersive way.
With collection ads on Instagram, you can showcase your brand and multiple products in feed and take customers on a seamless post-click experience to browse your products in a fullscreen Instant Experience called 'Instant Storefront'.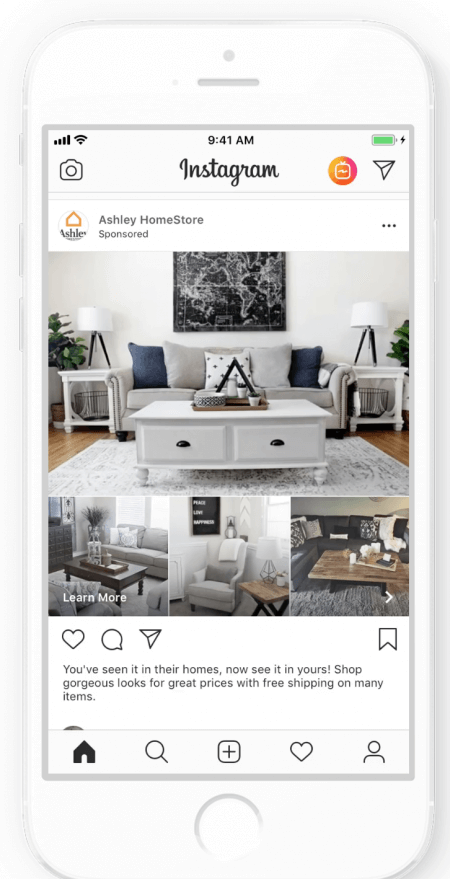 The collection ad format can only be used on Instagram with Instant Storefront as the post-click Instant Experience template. One of the glaring differences between Facebook's storefront and Instagram's is Instagram shows three items below the hero image, versus the four shown on Facebook.
If you would like your campaign to run across Facebook and Instagram, select 4 products to feature on Facebook and 3 images will be dynamically selected for Instagram.
To ensure these are created for performance, follow these design formats:
File type: Image and Video (Per other formats)
Minimum Image Width: 500 X 500 pixels
Image Ratio: 1:1 square, 16:9 horizontal and slideshow
Text Length: 90 characters.
Explore Ads
A newer place to stick ads is in Explore Mode. If you want to reach people in a discovery mindset by extending your feed ads to audiences who are looking to expand their interests beyond the accounts they follow, this is an awesome option!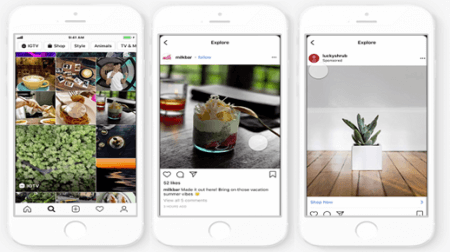 The ads won't appear on the Explore grid itself, but they'll appear once a user taps on an Explore post and begins scrolling through that discovery feed. The ads will be photos and videos, and the first ad  for IGTV is now available.
Instagram Ads 101: What Actually Works
Now that you understand all of the logistics, let's look at a few tips that will actually help you get the traffic you need to your newly created Instagram ads. The tips below will help you plan for, create and manage your Instagram advertising effectively:
Make a Content Plan
Every good Instagram advertising campaign starts with a plan. And every good plan starts with the right goals.
So, before you start putting your ads together, ask yourself the following:
Am I trying to build brand awareness?
Am I looking to build more website traffic?
Do I want more conversions?
Do I want more content downloads?
How you answer these questions can have big implications for who you target and what types of ad content you use.
For example, a study by Instagram found that 60% of Instagram users say that they learn about products and services through Instagram, and 75% say that they take actions such as visiting sites, searching, or sharing their likes with friends by word of mouth.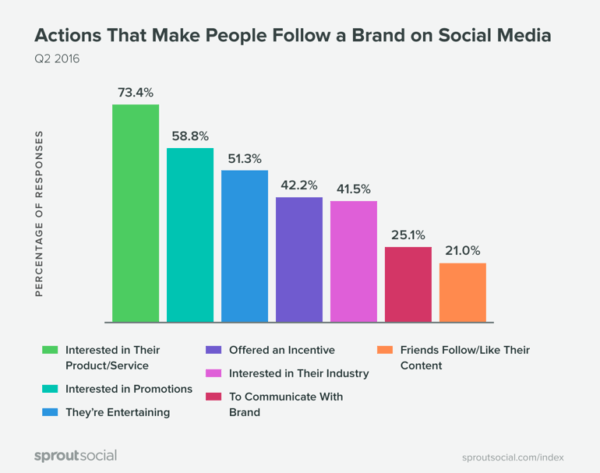 Depending on what your goals are, you might want to make ads that promote a specific product with a specific call-to-action so viewers will share with their friends. Alternatively, if you are trying to boost brand awareness you might want to focus on creating informative content.
Create Pizzaz for Short Attention Spans
The average attention span for a goldfish is nine seconds, but according to a  study from Microsoft Corp., "people now generally lose concentration after eight seconds, highlighting the effects of an increasingly digitized lifestyle on the brain."
So, if your ad cannot hold the attention of the everyday goldfish, how long do you think potential customers will spend watching it?
Humans need visual hooks! You need to snag a viewers attention within the first three seconds to keep them engaged. Make sure you have a "punchy" approach to messaging!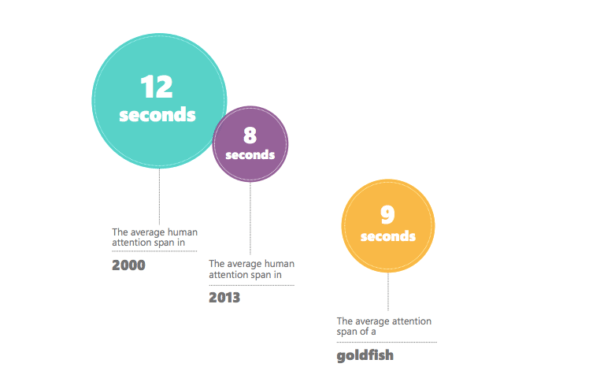 Similarly, as you create your Instagram Ads, pay attention to how your content grabs your audience's attention. That hook will tell you a lot about how to market your content (and who will respond well to it!).
Balance Quality Content and Creativity
Visuals are great for catching attention but Instagram is full of stellar visual content. If you want people to actually do something you also need to create meaningful content.
Meaningful content is eye-catching, but it's eye-catching with a purpose.
Airbnb, for example, has incredible visuals paired with concise content. They beautifully portray the business in a creative way that does not take away the viewer experience of travel. Instead of directly saying what their company does—asking people to stay at in-home locations globally—they instead state:
Why have a cookie cutter travel experience, when you can live like a local?
Once the visuals have grabbed your attention, Airbnb's message turns that attention towards their ultimate goal: getting you to use their service to find an ideal, local place to stay abroad.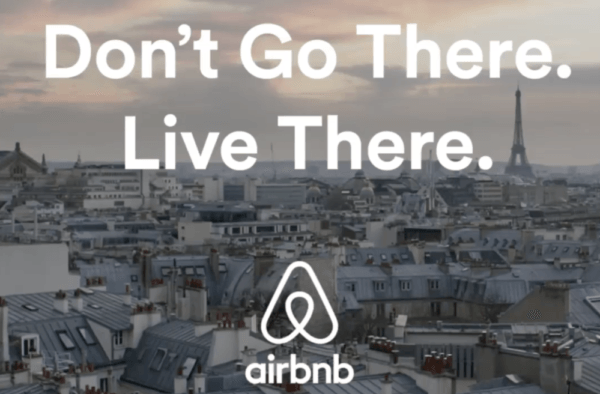 Airbnb clearly gets the principle of creating visuals with a purpose. You too need to link your messaging with creative slogans, feelings, and visuals that will really drive your brand home to target audiences!
Include a Call to Action
Organic Instagram posts do not include clickable "call to action buttons" (CTA)…but paid ads do! The different CTAs available include: Shop Now, Book Now, Learn More, Sign Up, Download, Watch Now, Contact Us and Apply Now.
Now, if you are like everyone else on Instagram, you have a website link in your bio section where you hope people will click and visit your website. But let's be honest, this is not an effective way to direct traffic to your site. Why?
Well, no one clicks on those as it's just too much work for the viewer. So, unless they really care about the service or product, the bio link most likely will not work. You might be lucky to get a dozen clicks a month with 5,000 followers. With Instagram Ads, however, you have a call to action button slapped right on the images or videos making it easy for the viewer to click and act.
No more profile visiting, you can get clients directly to the website pages you want them on!
Get Retargeting with Lookalike Audiences
Another effective way to build an audience for your Instagram ads is through retargeting. Instagram retargeting works much the same as every other type of retargeting, with one special advantage: you can use Facebook's algorithms to create new lookalike audiences.
Facebook's "lookalike audiences" identifies Instagram users who are very similar to the users in your email list and creates an audience around those users that you can market to. This algorithm is remarkably effective, which means you can essentially use lookalike audiences to market to thousands or even millions of people who are highly similar to the people who have already expressed an interest in your firm.
As an added bonus, you can use lookalike audiences with your retargeting audiences, too, so you can focus your marketing efforts on the people who are most likely to respond to your ads. To learn more about how to use lookalike audiences, check out this article.
We won't get into the specifics of how to set up and use Instagram retargeting in this article, but it's a great option to be aware of. For more information on how to set up and use Instagram retargeting, read this article.
Ditch Hashtags 
Hashtags are used on Instagram as a discovery tool but also as a branding strategy. Although these are both positive, at times hashtags can be overdone and destructive to your marketing.
When it comes to creating ads, particularly for direct response, hashtags might be a distraction you can forget… yes ditch the hashtags!
Why? Well, clicking a hashtag from an ad sends you to the search results for that hashtag and while your ad may still appear in those search results, this might be a location you lose people. Every time you send people off with an off-site click you want to ensure it's going somewhere meaningful, like your website!
So, by adding hashtags, unless solely branded by your business, it might be sending people to places you don't want them to. This is a loss to your marketing strategy!
Win Brand Loyalty
Instagram advertising allows you to engage with your target audience on many levels but a lot of the time, people are short sighted with how ads can help your brand.
A helpful way to improve your social engagement numbers is to use Instagram advertising as a way to win new supporters of your brand, something unthinkable with other advertising platforms due to a much higher cost. Instagrams Ads can be a great way to get reviews, run product polls, and get feedback for future products and events!
By using ads as a way to connect with your audience and ask their opinions, you are creating a bond loyalty that will pay off later!
Easy On the Text
If you've been creating Facebook ads, you should be already familiar with the 20% rule. It says that only up to 20% of the image can be covered with text. Instagram advertising is really no different, especially with images being in a smaller square space!
To make your ad copy work for you, consider design elements or move your text completely to the caption.
Use Some UGC
User-generated content (UGC) is a form of content that was created by brand followers and fans. While this is an upcoming trend most businesses are dipping into, there is still time to really hone in before it's overused!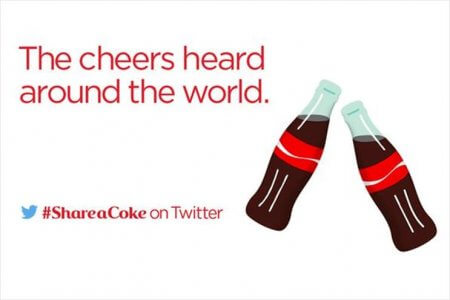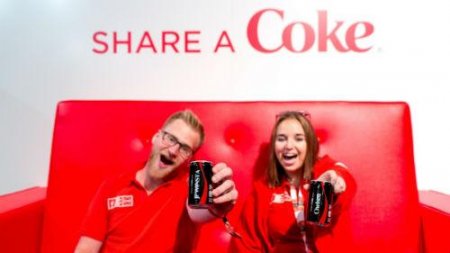 UGC truly equips Instagram Ads with social proof charged by real people, not the brands shoving content for people to "believe." Since the content in the ads was created by real users, it appears as genuine and therefore more successful.
In fact, according to Nielsen, 92 % of consumers around the world say they trust earned media, such as recommendations from friends and family, above all other forms of advertising.
So, use photos or videos from users (with permission, of course) in your ad designs to make them look more trustworthy and authentic! It will pay off!
Mix Your Content Up
Like most things in marketing, you need to mix things up and test content!
Be sure to continually experiment with different content types to see what engages your audiences most in ads. Post how to videos, inspiring images post product photos, behind the scenes footage, lifestyle images, etc. The more you mix things it, but keep to brand, the more interesting your content will appear to users feeds.
In time you'll learn which content types perform best and will help you save time in production. So, when starting, get some insight and cast a wide content net!
Instagram Advertising: There Ya Go
And there you have it, Instagram Ads best practices and information to help you rock promoting your brand!
Without further ado, set forth and advertise on Instagram! This is one platform you should not ignore, and this guide should provide you with enough resources to become Insta-famous.
If you want help with Instagram advertising or other paid social channels, reach out to us at Disruptive… it is kind of our thing. If not, feel free to reach out to me for questions, I love all things social media!
What do you think of Instagram advertising and where it is going? Are you nervous it's the new Facebook advertising? Share your thoughts below!