Instagram Close Friends: How to Create Exclusivity for Your Business
by Cydney Hatch • February 14, 2019
Instagram recently came out with a new feature called "Close Friends" that allows you to share Instagram Stories with only select people from your list of followers. Although this is a great new feature, the idea of exclusivity and privacy are nothing new to social media.
Separate communication with lists of individuals has started since the dawn of social media from Myspace Top 8, Facebook Groups, and Direct Messaging.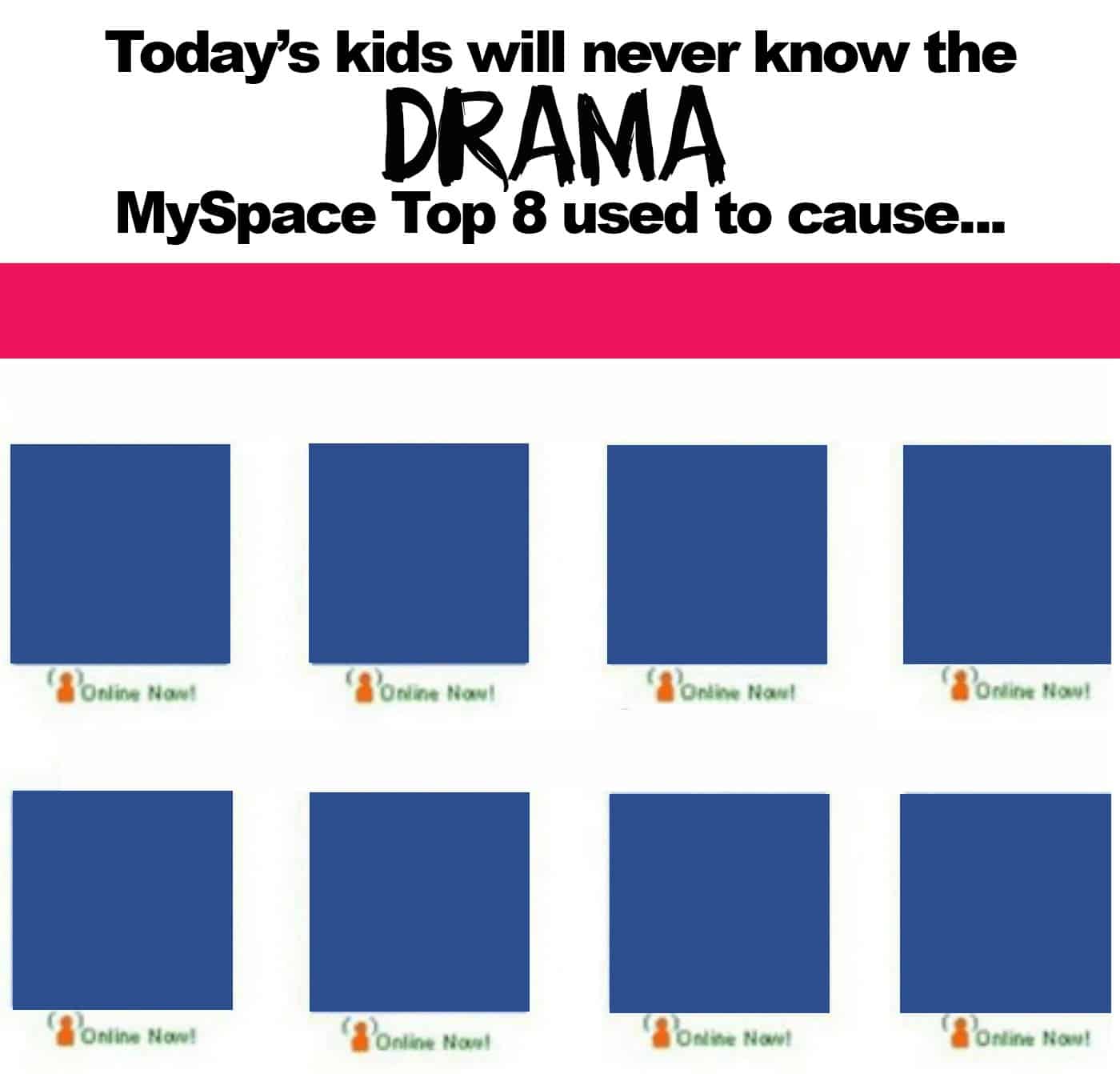 Since social media has evolved from a place where you connect with friends to a digital Rolodex of everyone you know…to exposing you to people and brands you have never seen before, online personability is more important than ever.
With 450 million users posting Stories on Instagram every day, Close Friends can be a great way for businesses to create personability and exclusivity within lists of people they engage with.
So, if you are looking for a creative way to communicate with customers in 2019, Instagram Close Friends might be a great option!
In this article, you will learn how to use Instagram Close Friends as a way to get your foot in the social inboxes of potential and current clients, resulting in monetary gains for your business! Let's make some Close Friends, shall we?
Why Instagram Close Friends: The Perks
As Instagram has boomed into a leading social media platform for users and businesses alike, the lines between "friend", "brands we are interested in" and "follower" have become more and more blurred.
From a personal perspective, as we share more information online, sometimes we do not feel comfortable sharing some aspects of our lives with the masses and therefore would like to limit the exposure. For businesses, it's not personal as Close Friends is used in strengthening your relationships with your team, partners and influencers who promote your brand.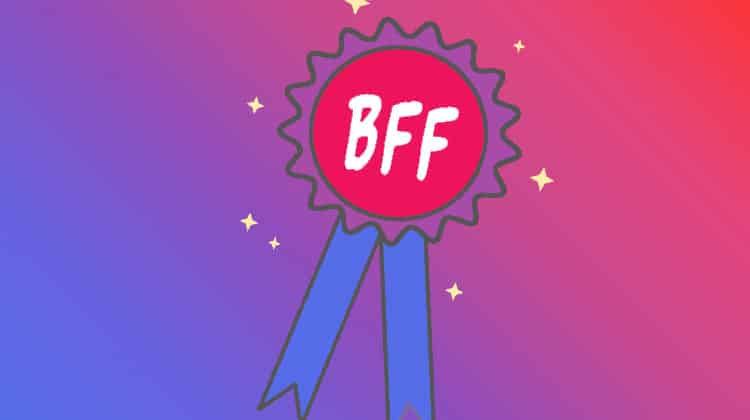 As a result, Close Friends is a great way to:
Sounds pretty great, huh?
But, if you are not sure where to start when it comes to using Instagram Stories, let alone Close Friends for your business, don't worry! We have you covered in the next two sections on how to use the feature and how you can creatively craft it for your gain!
Where You Find It and How to Create a List
Once your Instagram app has updated to the latest version and includes the new feature, tap Profile in the side menu, then select Close Friends. The list you curate can be changed at any time, and only you can see who's on your list.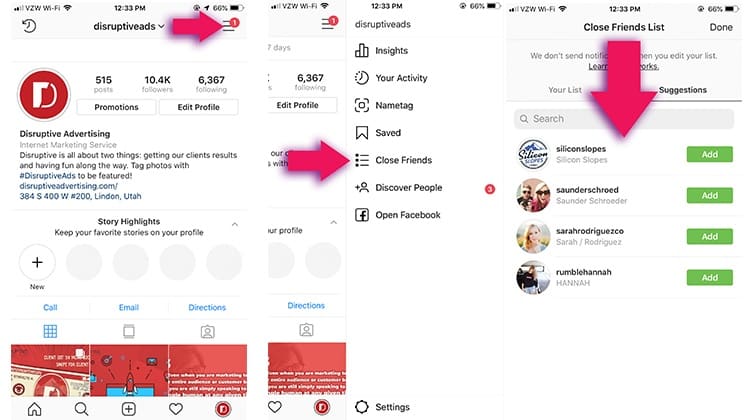 To share with close friends only, create your story as normal and then select 'Close Friends' at the bottom left when it's time to share as seen below.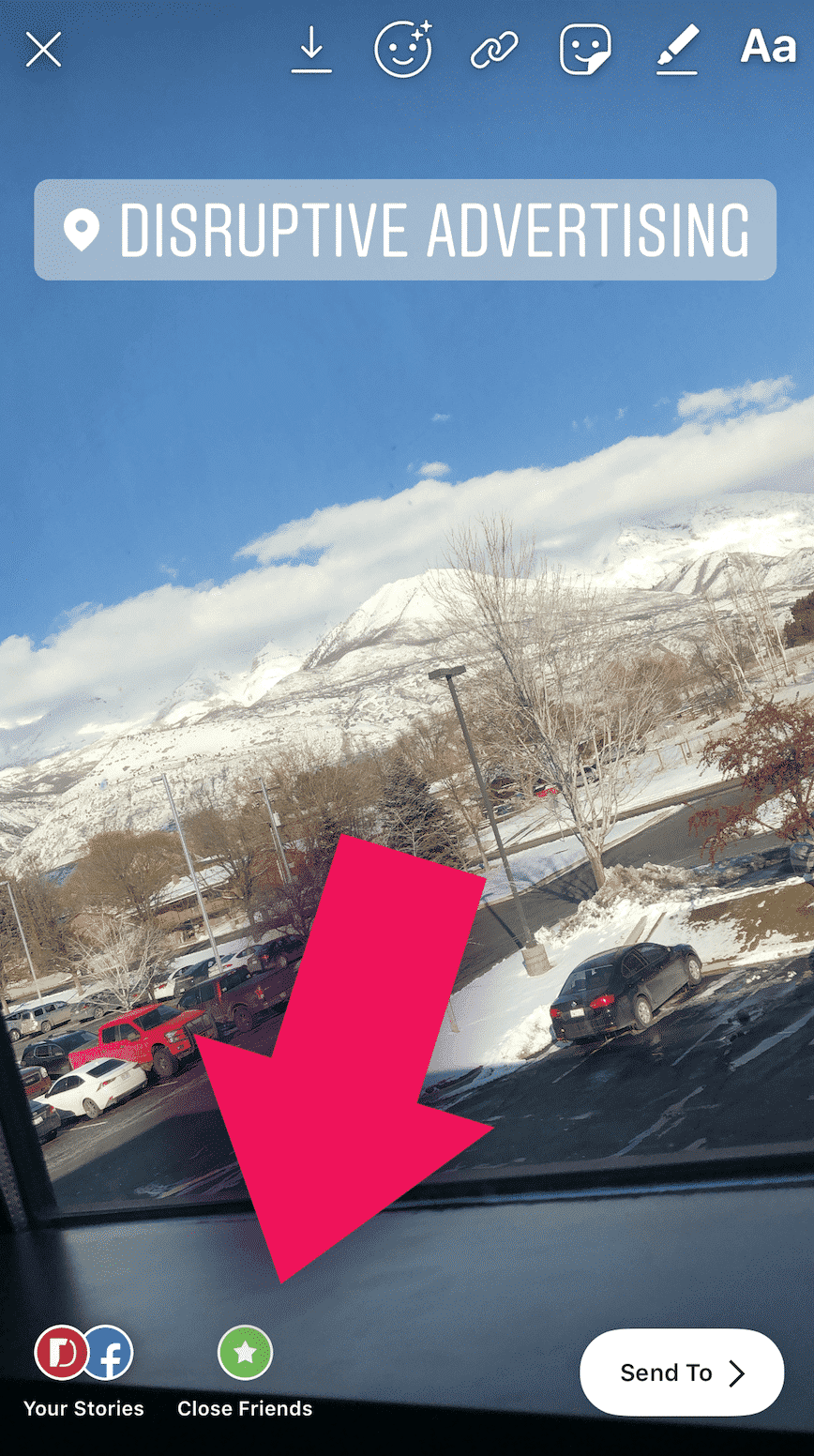 When you post a Story to your list of Close Friends, they'll see a green ring around your profile photo in the Stories bar. Stories posted to all followers will still appear with a pink ring. Instagram says this gives users "plausible deniability" about who's on their list: Someone might not see a green ring because they didn't make the cut, or simply because you never post Stories to Close Friends.
Now that you understand how to find, create and understand the feature, let's take a look at how you can use it for your business!
Instagram Close Friends: How to Create Exclusivity for Businesses
Instagram Close Friends is a fairly new feature, so it will be exciting to see how brands and businesses will creatively use it to push their business needles in the right direction! It's easy to imagine them using it to create VIP lists, fan clubs or paid subscribers, but let's not just stop there!
Below, let's look at a few ways you can use Instagram Close Friends as a way to boost your business's social media game!
Offer Rewards or Loyalty Programs
Reward programs can inspire real-time action, but on the flipside, many consumers now expect benefits for return business! In fact, 84% of consumers say they're more apt to stick with a brand that offers a loyalty program. And 66% of customers say the ability to earn rewards actually changes their spending behavior.
With numbers like this, Instagram Close Friends can be used as a way to set up reward and loyalty programs with your Top Followers!
Think beyond points and look for ways you can give customers free merchandise, rewards, coupons, or even advance released products for being highly engaged with your brand!
While discounts are the standard customer reward in loyalty programs, your program needs to offer more if you want to stand out from the crowd.
For example, you might want to try something like surprise rewards for people who are actively liking, commenting and sharing your content with friends! Let customers redeem points for exclusive products they can't buy anywhere else etc!
Try sending your customers an Instagram story image that delivers some words of encouragement, like what One Love Organics has done for their community members. A simple message like "we think you rock!" and an exclusive deal or a random discount is a great way to make your customers smile! (which is the whole point right?).
Not only does this show that you are actively monitoring your Instagram account and who is engaging, but it creates an unexpected emotional experience with your customer that lets them know that you are personable and care about how they engage with your brand!
Your loyalty program should become an extension of your brand. Align your loyalty program's values with your brand objectives for increased effectiveness.
Send Exclusive Content and Offers
Like every successful business, you may think to offer VIP memberships or create private groups for your consistent customers and followers.
When you use the Close Friends List, you can send exclusive content only to a particular group of people such as discount codes, offers of partnerships, special access to products before their actual launch, special announcements, and personalized messages or videos. See how FabFitFun gave viewers a "pre-sale" sneak peek into their new spring line boxes and paired it with a quick promo discount? (typically their boxes are $49.99).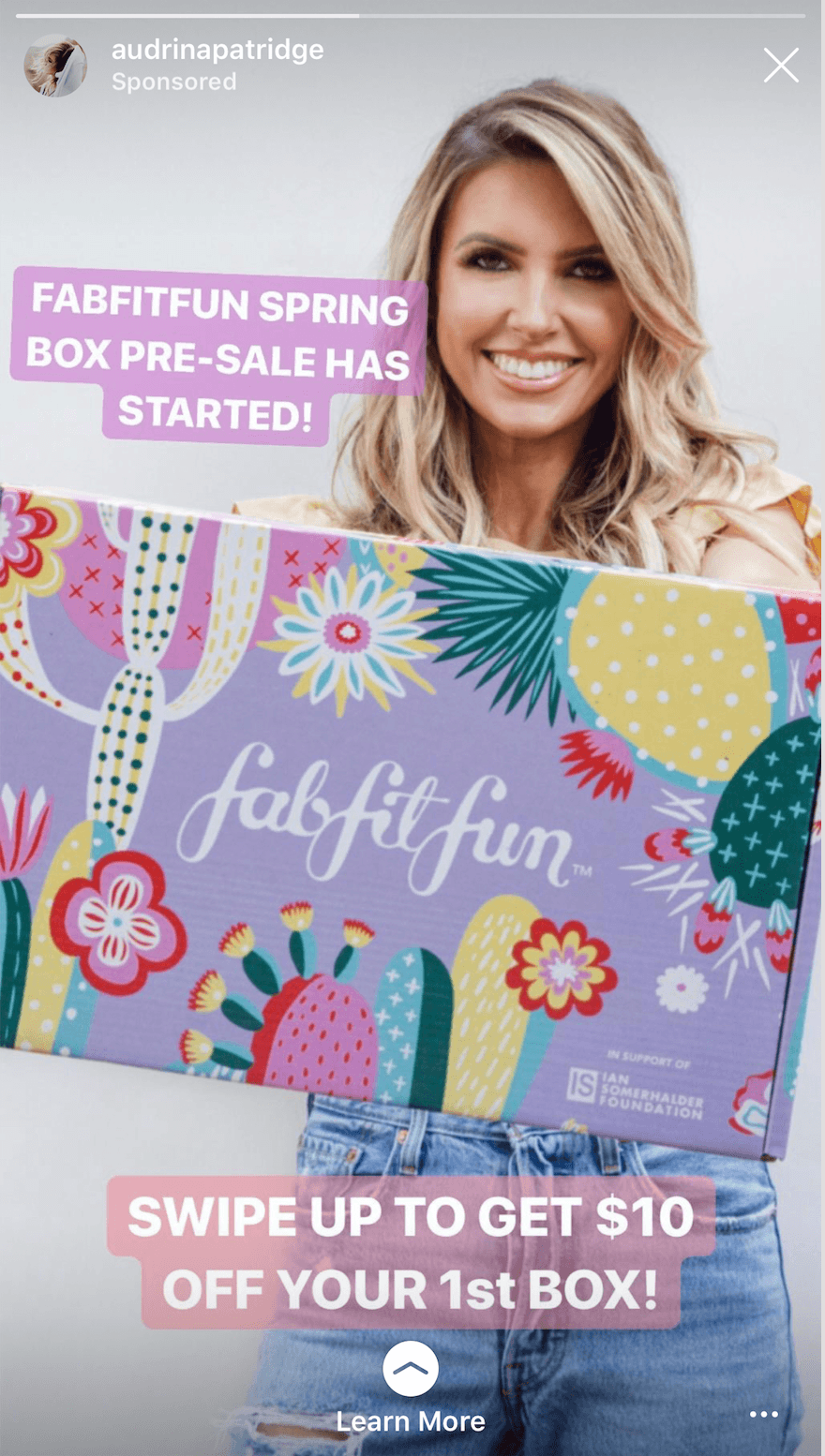 This offer also extended to their website's pop up screen—making it a consistent experience from Instagram to website.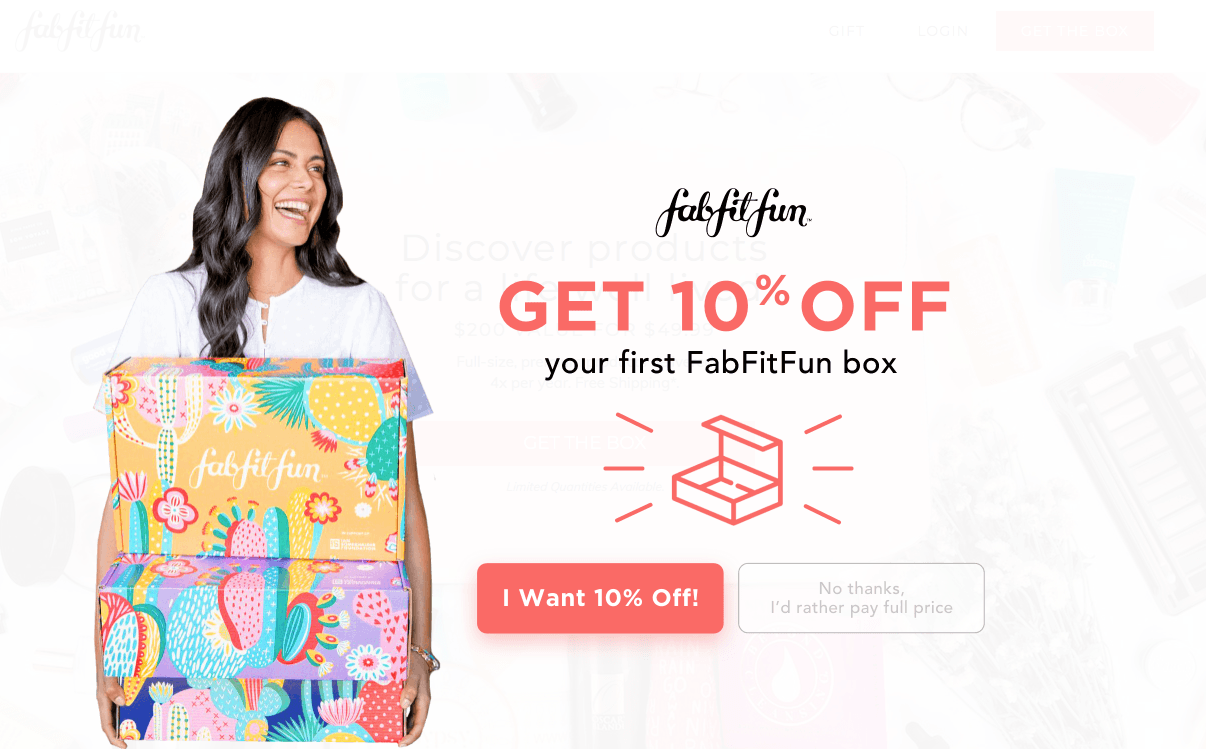 Another way that does not involve discounts is sharing quality content that is helpful to your exclusive Close Friends. If you're a life coach, for example, having your clients all in one Close Friend list on Instagram Stories could make it easier to share exclusive information like industry infographics, video tips, coaching programs or reviews of products.
Like these examples, you can send all types of exclusive content to your Close Friends like:
Exclusive New Stock Images Users Can Download and Use For Personal Use (iPhone backgrounds, laptop backgrounds, content creation images)
One Time Only Class to Teach a Skill
Sneak Peeks Into New Seasonal Product Lines (Also sharing the date they will be released before the launch)
Exclusive Interviews With Brand Influencers or CEOs/Leadership
Exclusive Promotional Codes
Sneak Peek Looks Into Styled Photoshoots
Limited Time Products
Secret LIVE sessions sharing important information or answering questions
Creating exclusive and great content may be one of the greatest opportunities out there for brands. If the content can be converted to draw in new customers—enticing them with helpful/ fun content—the trust factor will rise and business sales should as well!
BONUS: Use the Countdown Sticker in Your Instagram Stories
Now when you share a story about an upcoming something (like a pop-up shop, product launch, or event), you can add a sticker that counts down to a date and time that you set!
This creates anticipation and allows your customers to feel exclusive. Your followers can then subscribe to your countdown event, which will send them a reminder when the time is up and your countdown is complete! Reminders make for better results most times!
Collaborate With Influencers
Due to the rise of social media, many companies have jumped over to implementing influencer marketing programs where these individuals promote products in exchange for perks, a percentage of sales or free products.
So, if you are working with influencers in your brand, add them to a Close Friends list and give them access to special offers, details about your new products, updates, visual content, discounts or information they can use to promote your brand effectively.
I mean, why not make their jobs easier? If you give them the content they need…they can push it out to their people a lot easier! Rewarding influencers, who in turn get to reward their audiences, is an effective strategy you can easily add to your customer rewards system!
On top of implementing rewards systems, encourage your brand influencers and ambassadors to use Close Friends to stir up interest in your products/services for their own followers as well!
Offer Subscribed Services
Instagram Stories has the power to help convert followers into paying customers through subscriptions and opt-ins!
As a business owner, it is important to curate a golden email list of people who are engaging with your brand and Instagram allows you to do just that! Crafting engaging visuals on Instagram Stories can steer people towards the actions you want them to take on your opt-in pages.
Opt-In offers typically include things like:
Discount codes to products
Free eBooks
Free email courses
Free product samples
Free Class to Boost Something
A chance to win something
Decide what your content offering will be to attract sign-ups and make sure everything, even your landing page for the opt-in is optimized for mobile!
To drive traffic to the email subscription Opt-in landing page for your offer, you can add a link to your form or simply invite your audience to tap the link in your bio (keep in mind Instagram Stories Swipe Up feature only works for accounts that have 10K followers or more!).
To add a link when creating your story, tap the link icon at the top of the screen and then add the URL that leads to your sign-up page like seen below: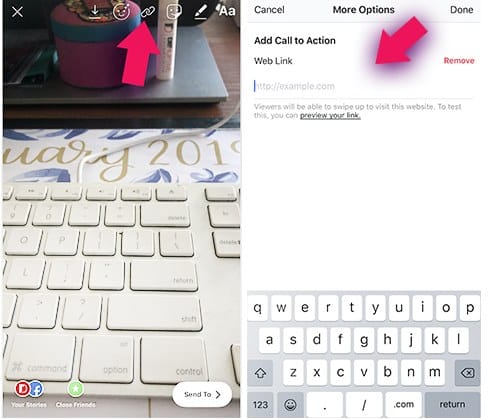 When you insert a CTA link in the bio section of your Instagram profile, clearly communicate why users should open it and what they'll receive as a result. Be sure to customize the link so people do not see a jumble of letters!
By creating exclusive content where they can sign up their personal information for benefits, it's a win for you! Building your email list with quality leads always is!
Direct Message to Your Followers
Instagram Stories is a super informal and personable way to share information with followers, so Instagram Close Friends stories is a great place to speak directly to specific followers.
Whether you've made a mistake with a shipping problem responding to followers who commented complaints or you just want to build a better relationship with your customers, direct messaging in Instagram stories can be a powerful way to connect with people!
Look for certain trends within your followers base and address:
Frequent Questions You Find in Comments/ DM Messages
Respond to Problems
Promote Items People Love
Look For Popular Photography and Visuals People Lik  On Your Page and Give Them Sneak Peeks Into the Planning Process
Create a Voice and Introduce Your Brand In Video
By sharing information through video or visuals, people appreciate you being direct and on the ball with the pressing matters they bring to your table through comments/likes/dislikes/complaints.
BONUS: Give People Shoutouts
As someone follows and engages with your brand frequently, there is nothing better than seeing your photos and efforts recognized by the brand you love! So, a great way to share more intimate "thank you" posts to customers is by sharing their photos out to others!
Ask Questions to Your Followers
Instagram is a great resource for you when it comes to getting feedback from your followers. By selecting Close Friends in your stories you can pose poll stickers, emoji sliders or question stickers to get customer feedback on certain questions or to share answers to questions customers will pose back to you!
Think of ask questions of your:
Your Fans
New Followers
Your Influencers
Your Employees
Whether you want to collect feedback on your products or crowdsource ideas, questions stickers offer an entirely new way to engage with your specific Instagram audiences!
BONUS SECTION: Tools for Awesome Instagram Stories
New apps for Instagram Stories are popping up every day, which means stories are getting more and more creative, interactive, and engaging! Luckily, it's now easier than ever to create high-quality Instagram Stories content—you just need to step outside the Instagram app for some extra help!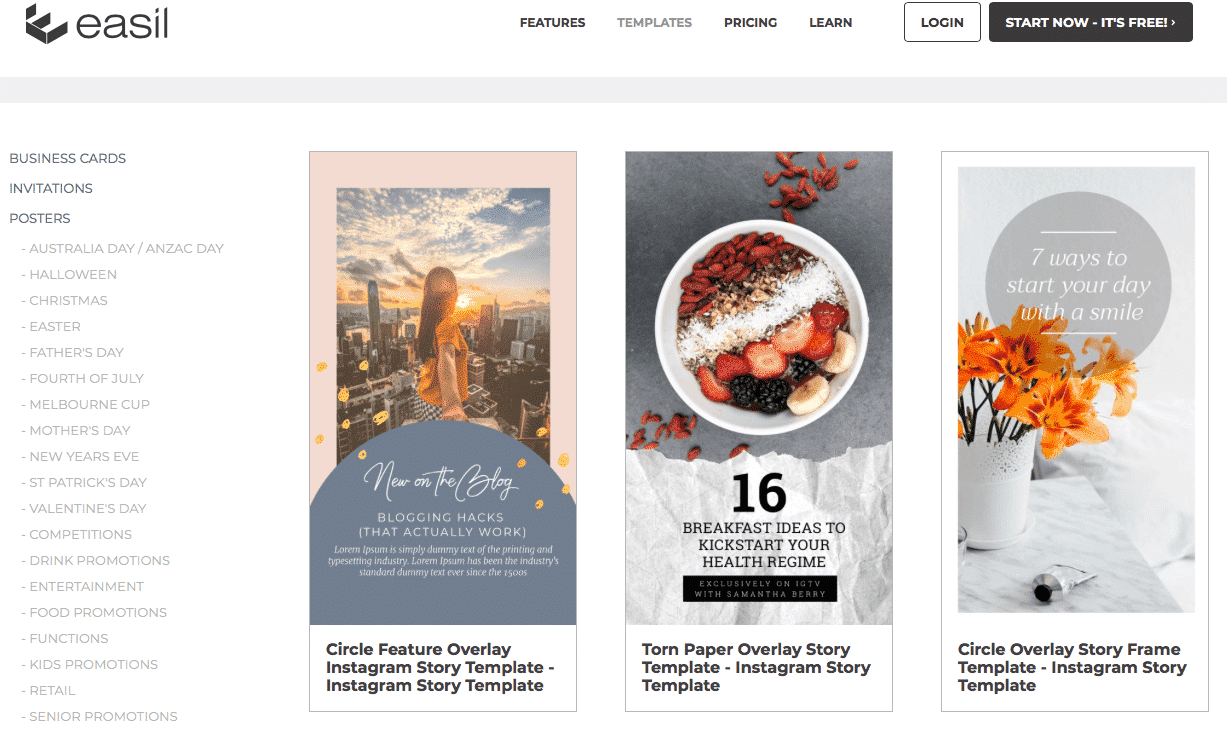 Here are a few apps I recommend for creating high-quality and beautiful Instagram Stories you can share with Close Friends:
Business BFFs: Customer Close Friends Pay Off
The Close Friends list has created a new way to communicate with your closest followers within Instagram. Plus for brands and businesses, it offers a level of exclusivity and real behind-the-scenes moments that Instagram Stories never had before!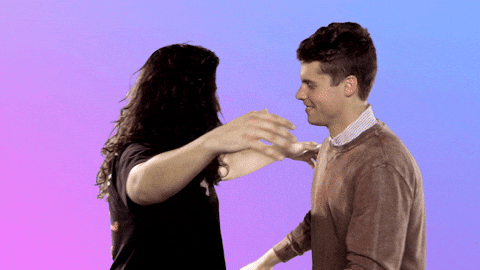 This Instagram feature will place your business on a high level of exclusivity. You can create a friendly environment with a selective group of people and share private content in a brand new way.
If you need help creating a strong Instagram marketing plan, please reach out to me here! I love Instagram and would love to help your brand grow through organic and paid solutions!
Let us know how you plan on using the Close Friends list feature for your Instagram Stories posts!