How to Turn Instagram Followers into Paying Clients
by Cydney Hatch • January 2, 2019
Instagram, the platform you have a true love/hate relationship with…
You spend tons of time creating thoughtful content, writing perfect captions, networking, following and unfollowing, all in the name of traffic and account popularity, but for what?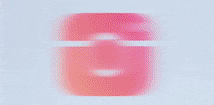 Many entrepreneurs and businesses put way too much time into curating a beautiful Instagram account but don't see paydays as a result of their efforts. Heck, you might love your followers, but you might be stuck trying to get them to take action or buy products.
Sound familiar?
What if you could make your Instagram account profitable, not just popular? Sounds like something many could get behind, right? While Instagram coaching courses are a dime-a-dozen these days, there are simple ways you can convert followers into paying customers and I will share with you some of my tips below.
How to Turn Instagram Followers into Clients
Did you know that Instagram can be an incredibly profitable piece of marketing for your business? There are many ways that Instagram can drive profits—whether through direct sales, bookings made from the app, affiliate sales from recommendations, growing your email list for future launches or influencer marketing.
While there are many ways to make profits, you have to think about how you will monetize your following and what that will look like for your business. Here are a few ideas:
Instagram is Just the Beginning
Instagram isn't the end game. To be profitable not just popular you need to know that Instagram isn't and shouldn't be the end game for cultivating people towards your business goals. It's important to have a marketing plan for your followers after they engage with you on social media.
When you look at the number of followers and likes as the "end game", you might be forgetting that unless that number is doing anything beyond boosting your ego, it's not helping your business.
There are tons of Instagram accounts that have thousands of followers, but they aren't profitable. Why? Their following isn't getting them results. Do not be fooled into thinking that just because someone has tons of followers that they are making tons of money and opportunities for themselves.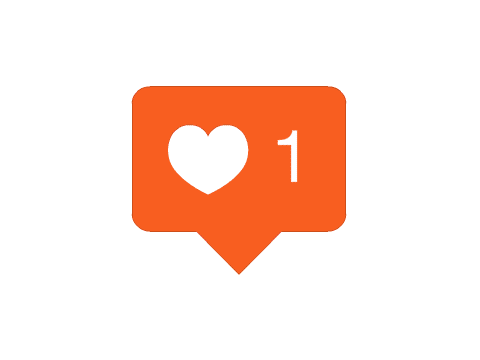 Like most social media, it is all about perception, not reality.
Although Instagram is a free platform to grow followings and business brands, you need to really think about what kind of journey you want your followers to take and how you can engage them on a deeper level.
So, which would you rather be: an empty business brand with tons of followers or creating something that produces results?
Think beyond Instagram!
The first step is creating the plan and in the next section, we will talk about things you need to consider in making your own business "Instagram and Beyond plan!"
How to Create Your "Instagram and Beyond" Plan
When we use social media, we do not own our followers. The platform does, so you need to think about how to get your following on Instagram to follow you in other, more profitable places and ways.
So, when you look at your Instagram account and posts, you need to ask yourself the following questions:
How can I inspire followers and create trust?
How can I connect my business with their personal lives?
Where do I want to take them after they engage with my account?
How can I help and serve them?
How can I encourage action with my content?
How can I educate them towards a business purchase?
When you think about those things, you will want your final destination for followers to be a place you have more control over, like a landing page or website.
Because you cannot control the user experience when you rely solely on Instagram, you need to think about how you can make a consistent, content strong and supported journey they can take to learn more about your business. Whether it is about a product you want them to buy, your business culture for awareness or signing up for newsletters, you have to be thoughtful.
When you invite your followers off of the app, you're extending a chance for them to experience your brand and business in a new way. So, set a goal in mind that will drive traffic to the right places to encourage action from your followers and ultimately drive profits.
For example, if I am a party supply company like Oh Happy Day, I would use Instagram as a way to announce new products and share party decor ideas/inspiration that will inspire people to check out our products.
So, for Christmas, they saw a niche where they could sell their typical party bag stuffers as stocking stuffers during the holidays. So, Oh Happy Day took advantage of Instagram and did some of the following things to promote people buying their "stocking stuffers":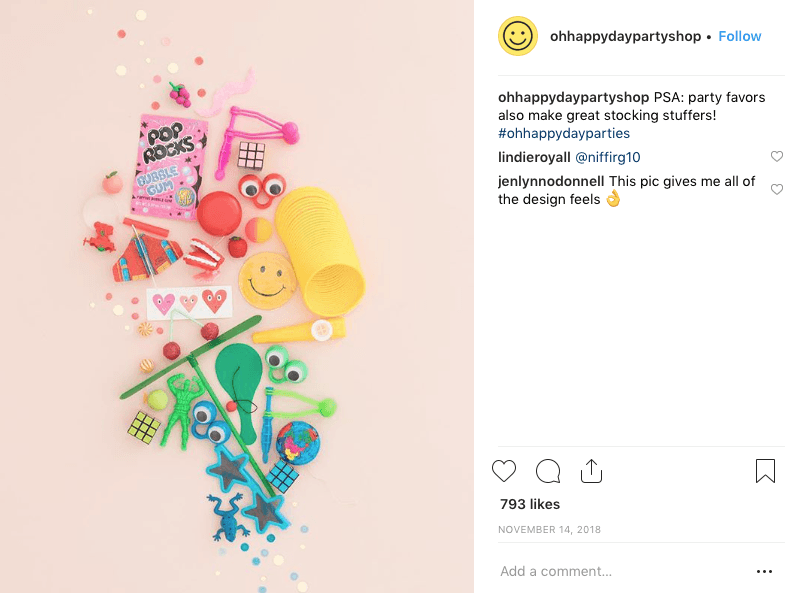 In this first image above, they created an eye-catching image of their products that spark an interest in the options a potential customer could have for holiday stocking stuffers! They pair the stellar image with a cute, short and informative caption that invited people to check out their party supplies on their website (a smart way to sell their products beyond birthdays!).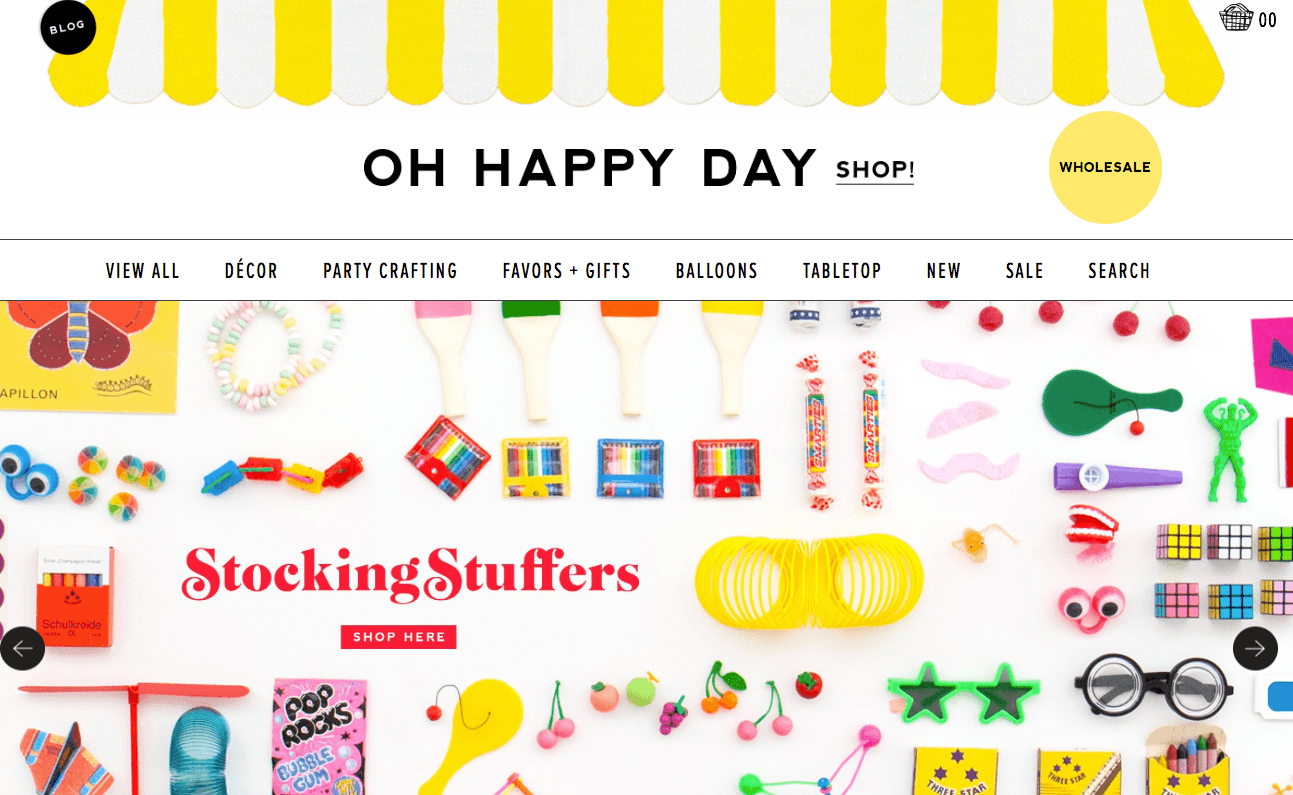 If you went to their site after seeing that first Instagram post, you quickly saw in a banner the same offer for "stocking stuffers" which made the purchasing journey easy, consistent and relevant. From there, a user could click on the banner and be taken to the below shop where they could easily scroll through their adorable product options!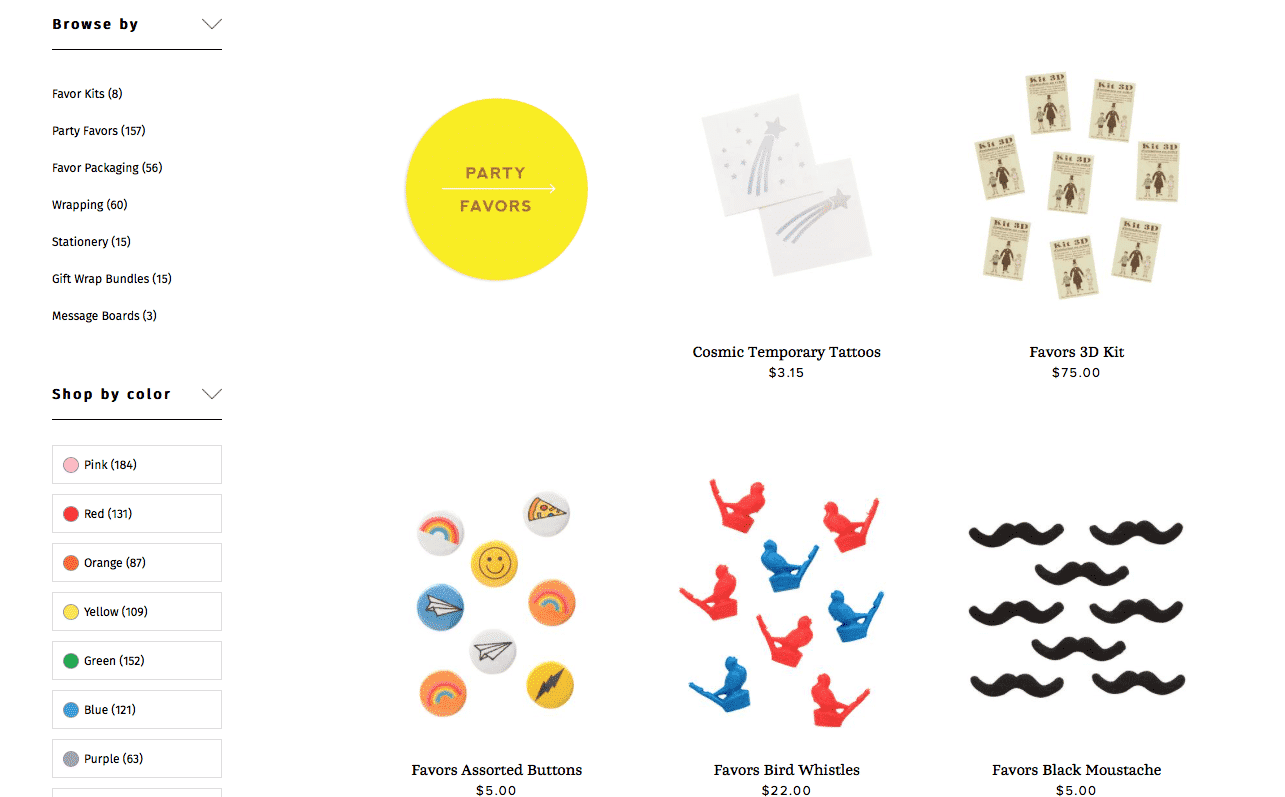 Like Oh Happy Day, you too can plan a journey that starts in Instagram and ends in a possible purchase. The keys to an "Instagram and Beyond" marketing plan are creating a consistent experience, creativity, including a clear call to action and inspiring your audience.
Nailing Down Those Details
So, again, ask yourself where you want your followers to end up with you and your brand. Is it booking you? Purchasing from you? Contacting you?
Once you know the end goal: sell your course, your product, your service, your offer and think about the steps someone will need to take in order to accomplish that end goal like Oh Happy Day did with their products.
To put it simply, your followers need to:
Know you exist
Know about your offer
Know that they are the right fit for your offer
Be invited to take the next step with you
Have a plan to close the sale
If appropriate, have a retention plan in place
The next step is to remove as many obstacles as possible that might get in the way of them taking action. Consider making the purchasing journey easy by making:
Information easily available and obvious
User-friendly websites
Purchases and Checkout simple
You want to make things as easy as possible, so do not assume people can just Google you and your offers or they will take nine extra steps to seek out a way to become a customer. It is your job to give them a clear and consistent path from the moment they first see your Instagram content up until they purchase.
BONUS: Link Your Bio Link to URL Landing Pages
Rather than linking your homepage as the Instagram bio URL, use it for specific landing pages for certain promotions, products or campaigns.

This could be a landing page created specifically for your Instagram followers that welcomes them, invites them to sign up for your email list, or it could be for them to make a specific purchase. Regardless of what you want them to do, this will help you to generate leads from your Instagram profile!
How to Move Followers and Beyond Instagram
Now that you have a plan in mind, you need to see what you can change or implement to make your Instagram posts more effective and profit-minded.
If you were to scroll through your Instagram account, do you have a strong call to action for every post? If not, SHAME ON YOU! 🙂
If you haven't used call to actions in your posts before, it might be time to think about what actions you're asking your followers to take when they are engaging with your account. At the end of every single post, you should be able to clearly see what action a viewer should take. If not, its time to reshape the post messaging and work it towards a business goal.
Repeat after me, EVERY POST SHOULD POINT BACK TO A BUSINESS GOAL.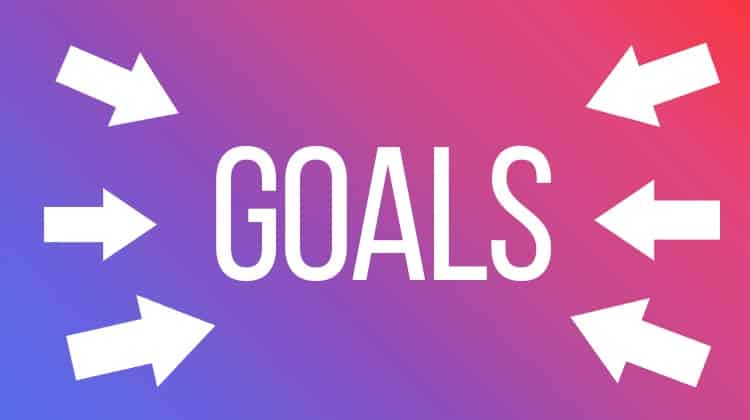 Now, if you are wondering how you can invite your followers to engage with you somewhere else online here are a few ideas on how you can implement call to actions to work in your favor:
Encourage them to slide into your DMs and contact you
Offer a free content piece in exchange for their email
Share a discount code or promotion with them
Include locations where they can connect outside of Instagram for more information
Share a direct link to a product or a promotion
Lead them to a specific landing page
Invite them to share content or be apart of your brand community with hashtags and other participation efforts
Share a link for a survey or quiz
Invite them to events or exclusive content
Once they are off of Instagram, you have to be sure to keep the relevant, consistent and creative content coming! Serve your potential customers by controlling their experience.
Provide content that serves them, share more about your offer and qualify them as a buyer and share how they can become a paying client of yours.
Work the Crowd
These days, 92% of consumers trust personal recommendations over all other forms of advertising, so social media is quickly becoming one of the best ways to spread a positive message about your brand. A quick way to gain positive exposure and social proof is to have people and your current customers talk about your products!
Instagram has tools readily available on to use to make message sharing pretty dang easy, so why not take advantage of the positive "social pressure" you can create around products and services!
For example, Banks Jewelry recently had an Instagram story go viral with lots of popular Influencers and locals in Utah. The Instagram story drummed up lots of exposure by asking people to be product ambassadors and models for their brand.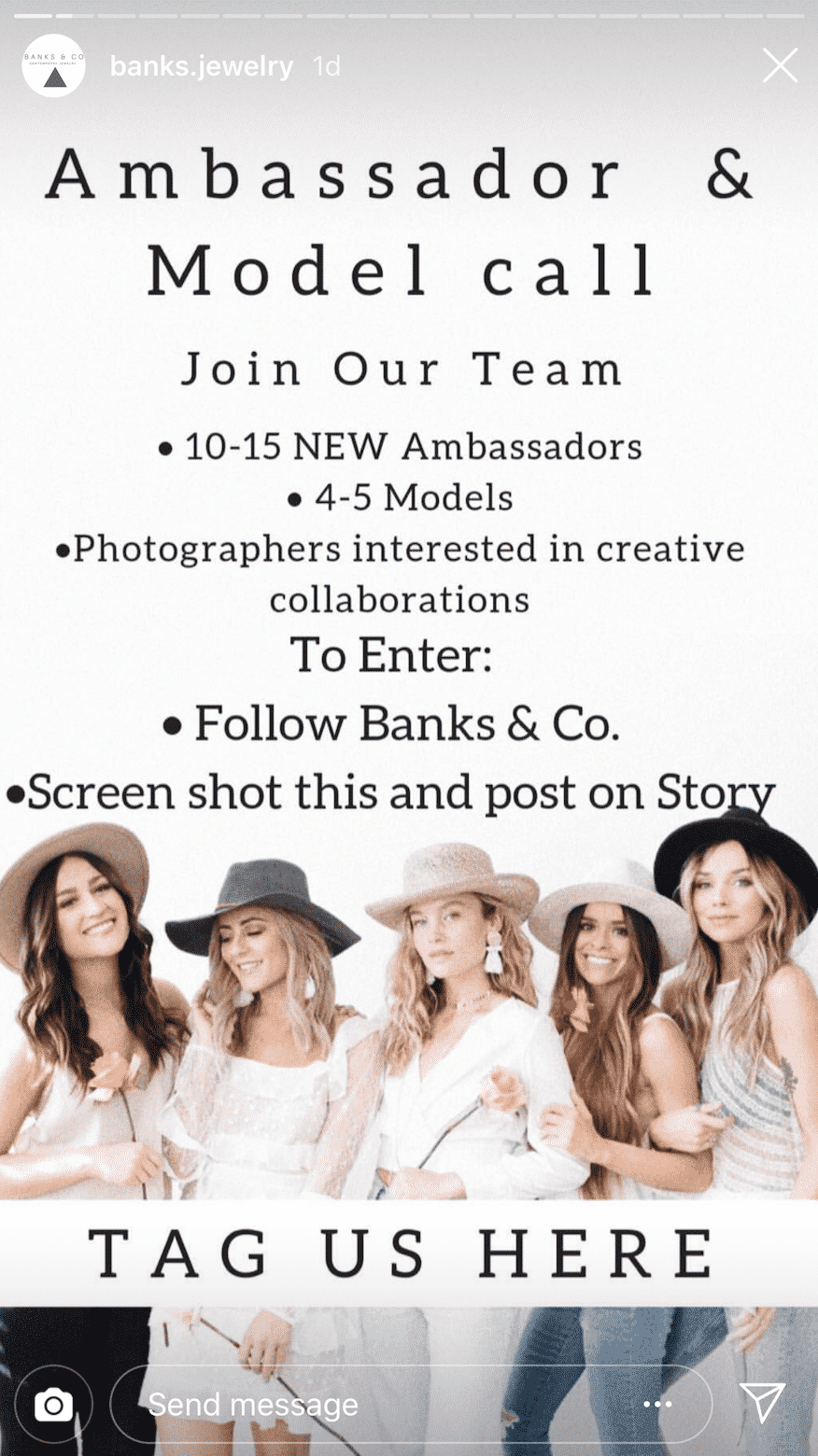 I mean, what's better than growing your Instagram audience, supporting brands you love and getting paid to do it? This was an extremely attractive offer from a brand because:
It feels exclusive
It has limited spaces (talk about FOMO!)
It has great visuals
It gives people free products they love
It gives people opportunities to be associated with a bigger brand and grow their own following
From Banks Jewelry's perspective, this event gained great exposure through tagging, shared content and people drumming up interest in their products which resulted in people wanting to naturally scroll through their products!
As in this example, there are many ways you can drive people to view your products and get others interested in them as well!
Stay Connected Through Giving and Content Marketing
Lastly, it can be dangerous to believe that once someone buys something from you, they will stay with you and continue to come back for more!
Like anything in marketing, you cannot assume the actions of customers, so you cannot stop interacting, engaging and providing great content and offers!
To retain the people who do come from Instagram be sure to continue your relationship with them as a sale is not a finish line! Instagram requires you to be consistent in not only content but communication!
Be sure you sprinkle new products and special offer announcements in between your other content! Generate exclusive deals for followers and make them feel special! Exclusive deals for followers will keep them coming back again and again. These deals don't have to be complicated, rather keep them simple and fun.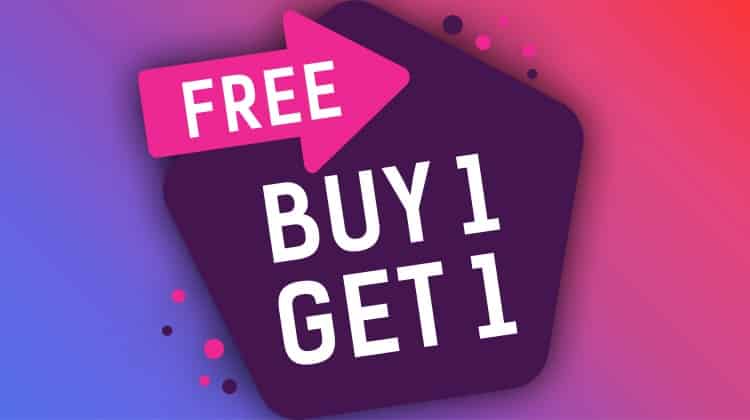 For example, "Buy one get one free lipstick for all Instagram followers…Email us and mention you saw this post." You can even start a deal of the week. This will keep followers coming back and checking in.
Treat your followers with a little VIP attention and it will pay off!
Instagram is the "Hello" to a Greater Plan
Instagram is not the end game but more so the beginning "hello" to your brand, business, products or services—the introduction to you. It offers you the chance to communicate, connect and help rather than just constantly "sell."
Instagram can be a place to share special offers but when you use it to connect and then aim towards business goals to finish the conversion, it changes the game completely. What once might have been a place to just share pretty pictures might become a place where you can drive some serious traffic!
It's important to focus on growing your following, but it's even more important to figure out where you want to take each and every follower beyond Instagram. Popular does not pay the bills so when you start adding smart marketing strategy behind your Instagram posts, you shift your focus to quality content that drives action.
If you want some help planning your "Instagram and Beyond" plan, contact me here! I love Instagram and would love to help you make it work for your business or brand!
What do you think? Have you ever purchased something from Instagram from a post or ad you saw? If so, what worked for you and how can you bottle that into a marketing plan? Share below!