How to Create Awesome Twitter Video Ad Campaigns
Social Media
•
Video Advertising
•
Cydney Hatch
May 22, 2019
Twitter is mostly known as the social platform that people use to blast breaking news topics and pop culture, right?
Wrong!
Although that is the more entertaining side to the platform, Twitter is an online news and social networking service that people go to be informed and connected with their interests. In fact, Twitter is one of the most popular social media platforms available today, with 100 million daily active users looking for news, connections with role models and learning about businesses.

So, as a business, if you can really nail down Twitter video, you can make campaigns that are memorable, shareable, and beneficial to your business. The Promoted video views campaign objective is the perfect way to maximize your videos' views, so if that is new to you let's take a look in this article on how you can build out awesome Twitter video ad campaigns for your business!
What Type of Video Campaigns Does Twitter Offer?
Twitter has a lot of awesome features, but when it comes to video ad campaigns they offer two types:
In-stream video views
Promoted video views.
Both are incredible solutions depending on the type of content you have and the campaign goals you are setting out to accomplish.
In-stream video ads play at the beginning of videos from Twitter's brand partners. Based on the categories you select when you set up your campaign, Twitter will match your video with publisher content. Viewers will see an ad text overlay in the lower-left corner of your video with a skip button allowing viewers to see more if the video is longer than 6 seconds.
On the other hand, promoted video ads are the types where you choose which tweets to promote and serve to a bigger audience. In addition to users' timelines, you can serve promoted video ads to targeted users when they visit profiles and tweet detail pages, as well as in search results.
If you are looking to create video ads, using one of these options, let's list a few of the best practices for video ad performance to help you succeed.
Twitter Video Ad Best Practices
Whether you're new to Twitter videos or you have a stellar strategy, below are a few best practices to consider when creating video ad campaigns on Twitter:
Don't Be Another Sales Pitch
Like most social media platforms, people do not come to Twitter to find ads and to be "sold" on something. They come to Twitter to learn and find something interesting. And, as Howard Gossage said, "sometimes that interesting is an ad."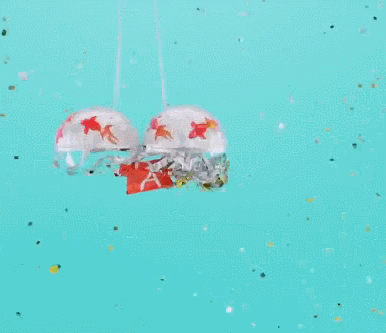 When creating a video campaign on Twitter, you need to create content that does not feel like an ad. It should be an organic piece of video content that is relevant, educational, fun and interesting. Some of the best videos that perform well on Twitter are:
Explainer videos
How to videos
Storytelling videos
Comedic, but relevant videos
Infographic style videos
If you can create content that makes people stop scrolling and want to learn something, you will go far. By varying your content to include more than promotional posts, your video campaigns will perform a lot better. Show or teach your audience something and you'll connect on a more natural level.
Be Branded
Twitter is the place for brands to show their persona and help people understand their business from a new perspective.
Don't be afraid to test a new tone and try new messaging. "Trying something" is a valid strategy you can work with. Establish strategies and brand guidelines and let the engagement tell you what resonates. Tweak and improve your brand voice and you will succeed when you focus it on what your audience wants to see.
Set Your Videos Up for Success
There is nothing worse than investing time and talent in creating awesome videos just to find out the sizing and quality is off. If you want your videos to perform well, you need to ensure that the quality is perfectly up to par so people can see your business as polished and legitimate.
If you need some help to see what the video specifications for Twitter video campaigns are, check out the standards below:
File size: 1 GB max
File types: MP4 or MOV
Max time: 2 minutes 20 seconds
Resolution: 1920 × 1200
Aspect ratio: 16:9 or 1:1 (square)
By creating video content with these numbers in mind, you will ensure your content is looking like a million bucks and therefore it'll make you that much in return-ha!
Keep Your Tweets Short and Sweet
If you have some awesome video content, the next step is to pair it with just as awesome ad copy. The best performing ads on Twitter are ones that keep the Tweet copy short. Videos are to be watched not necessarily to be read, so let the video stand for itself.
In fact, videos with minimal Tweet copy had a 13% higher brand and message recall and overall view time compared to longer ones!
Mobile Will Be Your Friend
Mobile is the name of the game across all of the marketing strategies but when it comes to video, this is incredibly important.
Since the majority of video views are on people's smartphones, you need to ensure your video content is mobile-friendly and even has subtitles if the sound is off! By using the proper ratio size you ensure it looks good in any Twitter feed.
Setting Up Your Promoted Video Views Campaign
Now that you have an awesome understanding on Twitter video ad campaign options and best practices, it's time to set it up!
To begin, create and login to your Twitter Ads account. (To help setup your Twitter Ads account click here.)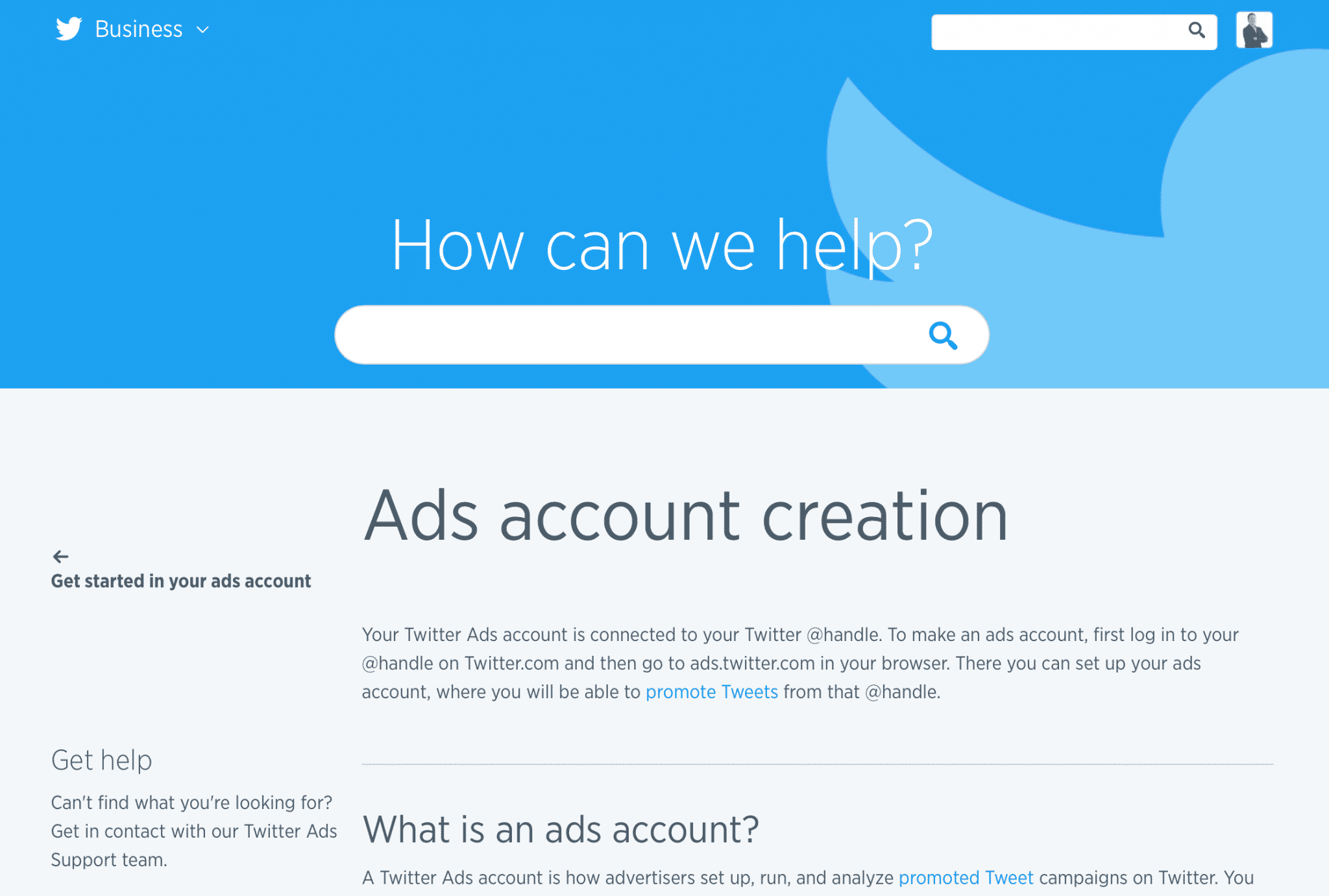 Click "Create campaign" in the top right corner of your Ads manager. Choose "Promoted video views" from the list of campaign objectives.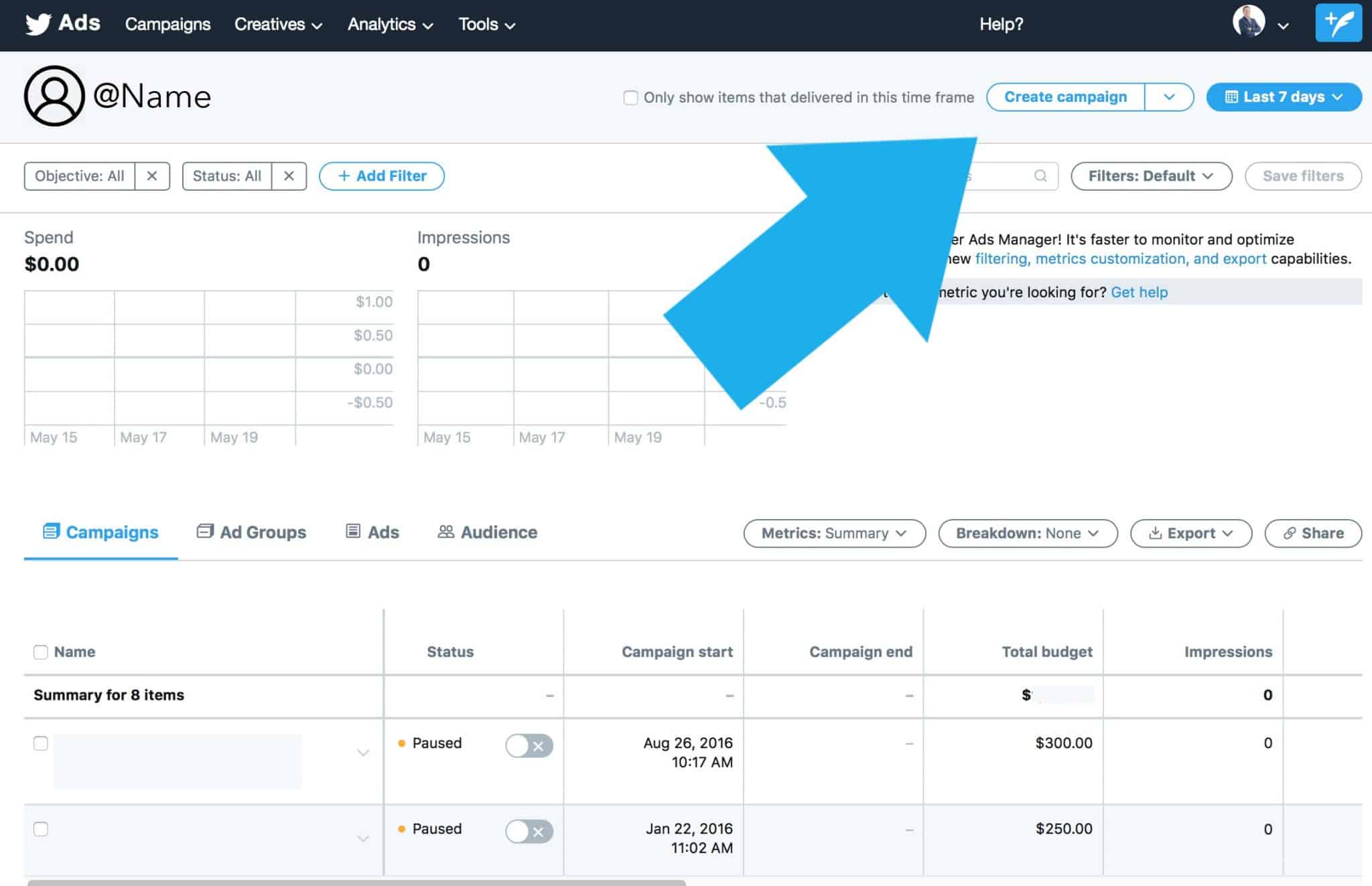 You'll be brought to the "Details" tab the campaign setup form. Here you will name your campaign, choose your funding source, and set campaign dates and budget like seen below for the pre-roll video selection made: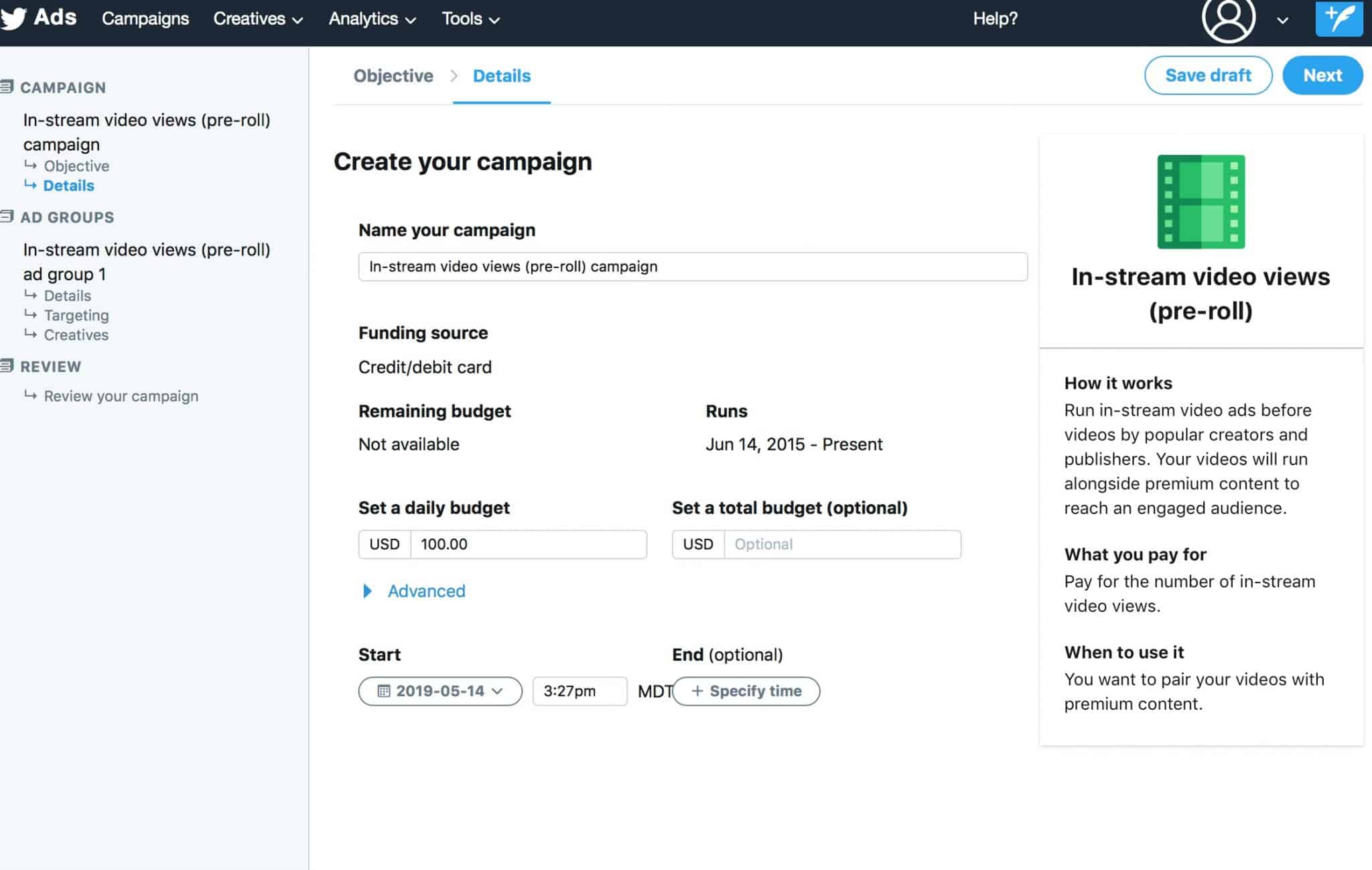 Next, you'll setup your first ad group. You can set ad group start and end times as well as full budgets for the campaign duration. Select the bid type you'd like to use in your campaign:
Automatic bid: here your bid will auto-optimize to get the best results at the lowest price (within your budget). Automatic bid is the easiest way to quickly get your campaigns live and serving impressions on the platform
Maximum bid: this type allows greater control over how much you pay per video view. In this bid type, you can choose exactly how much you are willing to pay for a video view (your maximum bid), and your results will not be charged over this price. This bid type is helpful for experienced advertisers who know exactly how much they're looking to pay per video view at scale.
Select the bid unit you'd like to use in your campaign:
Per video view: A "video view" is when your video is watched in 50% view for 2 seconds or more, or when a user clicks to expand/unmute your video. This is an industry standard view
Per 3s/100% view: A "3s/100% view" is when your video is watched in 100% view for 3 seconds or more, or when a user expands or unmutes your video.
To better align your video with relevant brands and content, click in the "Brand Details" field and select any two categories from the pop-up menu. Twitter will take these categories into account when pairing your video ad with publisher content.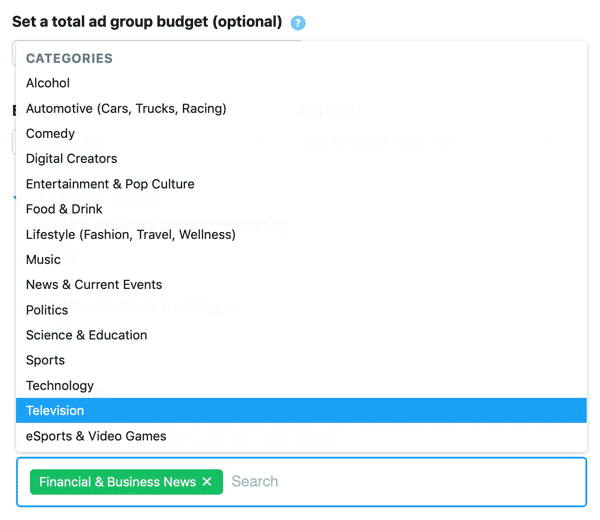 To set up your targeting. Twitter offers a variety of targeting criteria including custom audiences, demographic targeting, keyword targeting, and more. Twitter allows you to create four types of audiences:
Tailored audiences (web)
Mobile audience targeting
Tailored audiences (lists)
Flexible audience targeting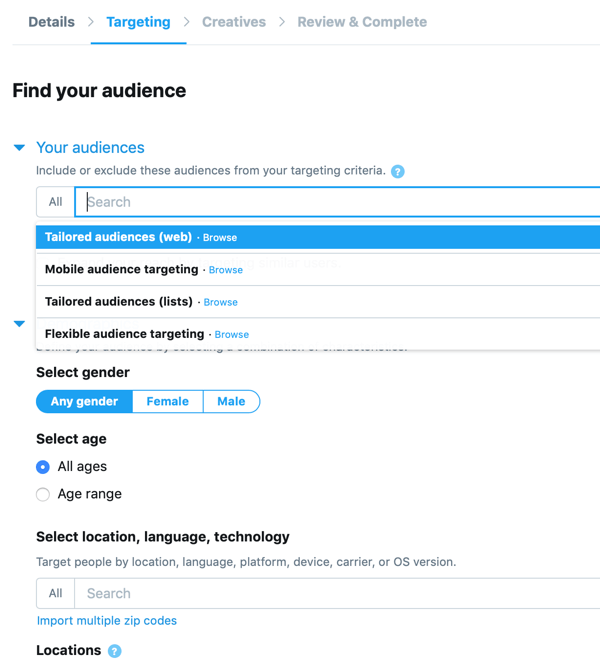 You can also tighten your targeting by selecting behaviors, interests, hashtags, lookalike audiences, competitors, etc. By clicking "Advanced Brand Safety Features," you'll see two additional fields where you can exclude categories and accounts from showing your in-stream video ad.
Lastly, review your final campaign setup on the "Review & Complete" tab. If you'd like to add additional ad groups to your campaign, you can do so on this screen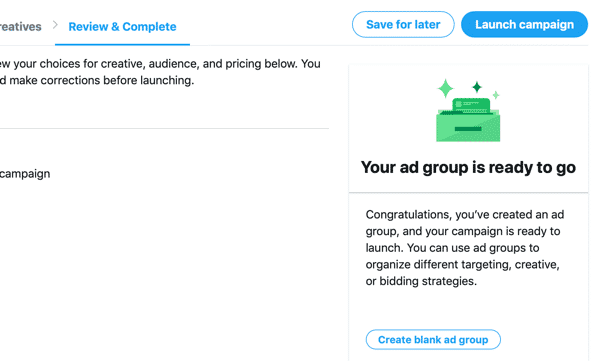 Once you follow those basic steps, you are ready to launch your campaign!
In your Ads Manager, you'll be able to see the results of your Promoted video view campaigns. Filter the date range in the top right corner to see key metrics such as total spend, results, cost per result, and result rate.
Twitter Video: Let's Get Started
Now that you know everything you need to get started on a Twitter video ad campaign, what are you waiting for?
Twitter video campaigns start with great content but end with strategic setup and response. With the above tips on content and the steps to creating the campaign itself, you are ready to rock and roll!
If you want some extra help with setup or want our Disruptive video team to create something awesome for you, reach out to us here. We love video content and we love marketing it online.
 Have you tried Twitter video ads, if so, how did it go? What type of content do you think will work best for in-stream video ads?
Leave a comment