How to Drive More Sales with Ecommerce Video Marketing
Ecommerce
•
Video Advertising
•
Ana Gotter
May 17, 2018
When it comes to product videos versus product images, a lot of ecommerce businesses choose to exclusively use images. Ecommerce video is typically more expensive and time consuming to create than images and often requires specialized equipment and more in-depth editing.
However, despite these challenges, ecommerce video is still worth it—every time.
Ecommerce video most often takes the form of product videos, which are used to showcase value of the products you offer and drive sales.
In this post, you'll learn exactly how and why you should be using ecommerce video to highlight your products and sell more online.
Why Should I Use Ecommerce Video Marketing?
There are certain benefits that video can offer than still images and text alone just can't match. Video is engaging, and it gives users a better understanding of how the product works or looks in real life.
A still image of a purse, for example, only gives you so much information, but seeing it on video can show you how much the bag can hold, all the different pockets and how it looks on a real person. This can help customers feel more confident making a purchase.
Video can show you so much more. For products with multiple uses, like the pram in the video below, you can show the functionality of a product and how to use it:
There's an abundance of research that backs this up, including the following information sourced from Shakr:
Where to Share Your Ecommerce Product Videos
Not only is video effective, it's also versatile and you'll get the best results if you use it in multiple touchpoints online. Here are the channels that you should be adding video to:
Your website. This includes your homepage if possible, but it's particularly important for product pages. If customers are able to see videos of each product before they purchase and it's placed right there on the page while they're debating clicking that Add to Cart button, you'll see more sales instantly.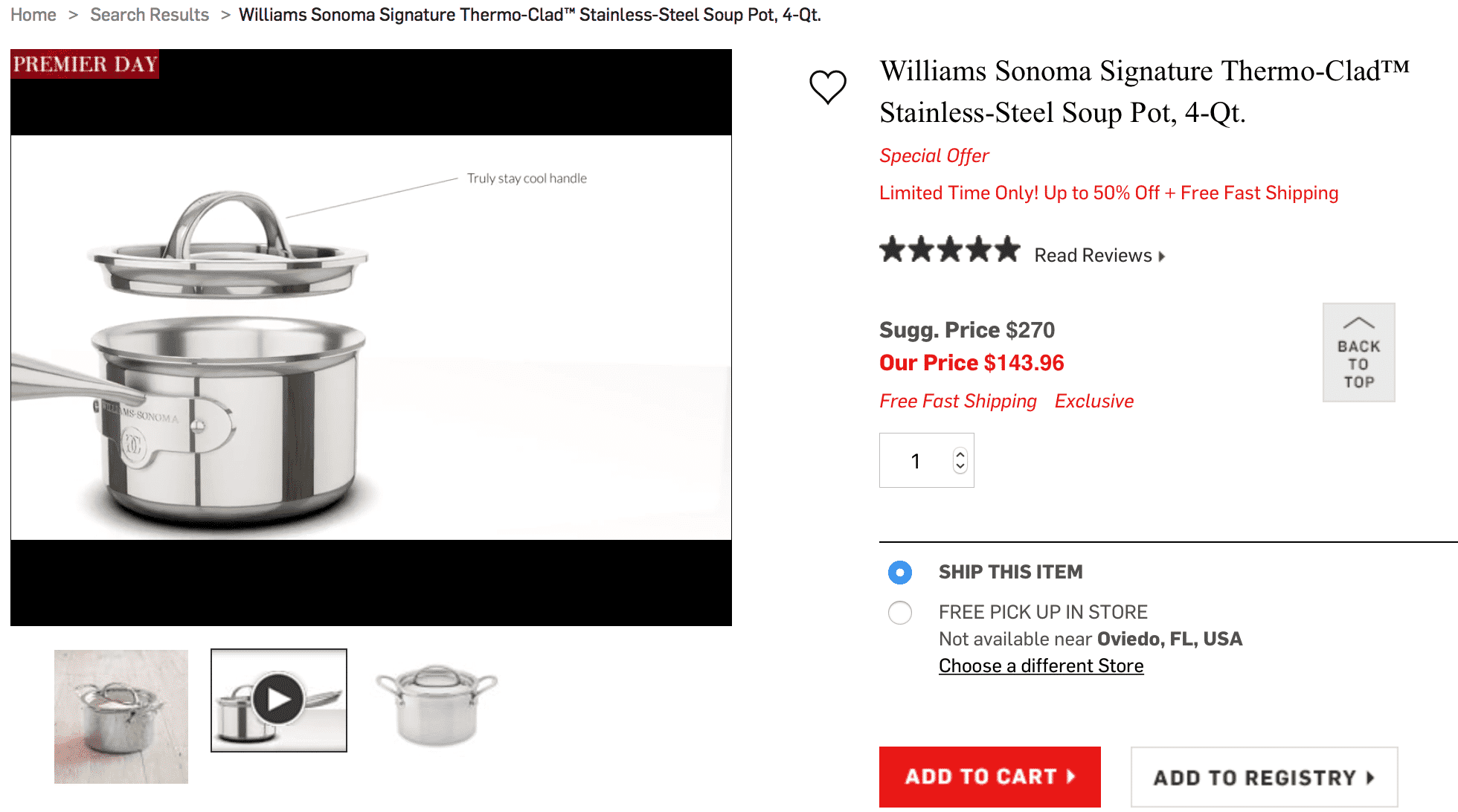 Adding video to your site should be relatively simple. Many Shopify themes come with the option to include video. If yours doesn't, you can use an app like Easy Video.  If you're using WordPress and WooCommerce, you can use the free WooCommerce HTML 5 Video add-on.
Email. We already talked about how video can increase CTR and adding product videos to your promotional emails can do wonders to get more people to your site to start purchasing.
Social media. Another no brainer, people respond to video on social media and it often does well in algorithms as long as you upload it natively. Incorporate videos that tell your brand's story, show your personality and keep product videos to a specific playlist.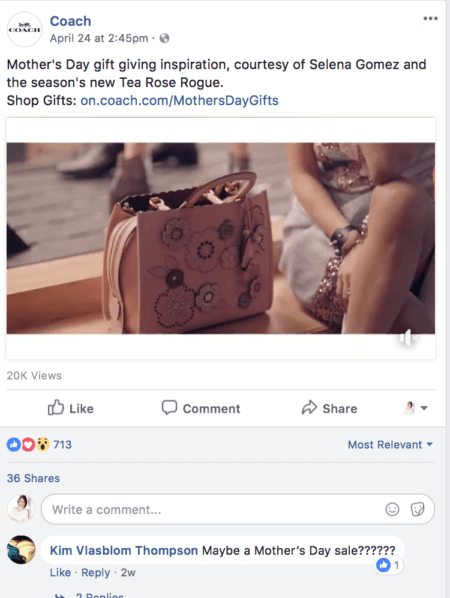 Ad campaigns. Video is an excellent sales technique for both existing customers and new users alike, making it a great option for diverse ad campaigns. Target new users, or retarget existing customers. Social media platforms like Facebook Ads and Instagram Ads will often be your first choice, but Google AdSense also allows video campaigns.
What Types of Product Videos Can I Create?
If you're ready to start creating product videos, you may realize very quickly that there's a lot of different directions your videos can take. Because shorter is almost always better, pick one theme per video and stick with it. Offer consistent videos for each product on your site.
Let's look at a few different types of product videos you can create.
Product Close-Ups
Product close ups are unsurprisingly the most popular type of ecommerce video marketing that you'll see.
These videos involve literal close-ups, and often show the product from multiple angles. There may or may not be text or narration detailing different features of the product to help sell it. This is about as close to a face-to-face sales presentation as you'll get online.
Alternatively, you can create videos that showcase both your product and your business:
Regardless of the approach you choose to use, product close-ups are a great way to introduce people to your products and show them why they should buy.
How to Use It Tutorial
Something may look excellent online, but we all know that online isn't real life. We've all purchased a product that looked great in theory, but once you were actually using it, it was a nightmare. Maybe it was an electric tea kettle that had a weirdly short plug or was difficult to clean, or an alarm system that went off constantly.
Showing potential customers how to use your products can:
Be of immediately value and keep them coming back to your site
Show them exactly how easy it is to use your product
You can also show people not only how to use it on a general level, but highlight different use cases. Breville, for example, has a series of YouTube videos showing different ways to use their Precision Brewer. Cold Brew is just one of those uses.
Another way to approach "how-to" videos is to create videos that show how to use the product to do or create something specific:
https://www.youtube.com/watch?v=eTdT1BPRNXc&list=PLC835212C2551541B
Alternatively, you can showcase ways that your product can be used as part of a broader creation process:
Here's another great example of that:
"How to use it" videos are more of a content play than a product pitch, but that also means they'll draw in a broader audience and help you build brand awareness for your business.
Setup, Installation, Troubleshooting, or Product Manual
This type of ecommerce video technically falls under the tutorial umbrella, but there's a clear distinction. You aren't just showing customers how to use your product—you're showing them how to set it up, troubleshoot it, or use it on a purely technical level.
Set up is a big concern for a lot of purchasers (especially if any element of construction or technology is involved), and showing them not only how simple it is but exactly how to do it will increase sales and can even reduce returns you get from frustrated customers.
Finally, this type of video can be great if you need to show someone how to put together a complex product. Sometimes, no matter how good your manual is…some things are best explained in live-action.
Tips to Create High-Converting Ecommerce Product Videos
Ready to create your product videos and embrace ecommerce marketing? Stick to these tips for best results:
Keep it Short
There are exceptions to this, but in general, shorter will almost always be better with product video marketing.
https://www.youtube.com/watch?v=hIV0ZLnWwxM
Tutorials can be a little longer than outright product showcase videos, but you still want to keep it to a maximum of two or three minutes when possible. This will also help site loading speeds, which is another plus.
Invest in Quality
Make sure your videos are sparkling crystal clear and have excellent sound quality.
If that means hiring a team to come out and shoot all your videos for the day, do it. If it means getting new equipment, do that. You want your videos to help you instead of hurting you.
Eliminate Background Sound
You don't want your customers to hear that weird, mosquito-like buzzing in the background. Go ahead and eliminate all sound off your video if possible; you can always add background music (that you have the legal rights to use) or a voiceover later.
Use the Right Tools
If you're taking on the video creation yourself, use the right tools to help you create the best videos possible. I personally recommend Camtasia as a video editing tool. There are also tools like Animoto and Shakr which let you upload video clips into different professionally-made templates, often with background music and visual effects included. Biteable is also a simple video maker that allows anyone to easily create epic DIY videos using ready-made and customizable templates!
Finally, as you implement all of these other tips, don't be afraid to show your personality.
Branding is a big part of why customers are buying your sweatshirt instead of one of the million other options. Use your ecommerce video to stand out and set yourself apart. If you can make them entertaining and valuable, even better.
Conclusion
Ecommerce video marketing may cost you more time and money upfront, but it's an investment that will easily pay off tenfold. It's why QVC has been on for decades and people are still buying from it even with the internet accessible 24/7.
Videos are dynamic and you can see the product "in real life" and in action. By carefully placing these videos on social media and your website, you're giving potential customers all the information possible in order to get them to purchase.
Incidentally, if you'd like help putting together some great videos for your business, let us know here or in the comments. We'd love to help!
What do you think? How do you use ecommerce video marketing to increase sales? What type of product videos do you have on your site? Share your thoughts and questions in the comments below! 
Leave a comment