4 Easy Steps for Fast, Accurate YouTube Keyword Research
by Ana Gotter • January 14, 2019
If you're creating a website or writing a blog post, you want to make sure that people find it. You'll do keyword research and then optimize your content accordingly, right?
The same goes for YouTube. You want people to be able to find your video content so that new users can discover your brand, and you can usher them into your sales funnel. Since YouTube's own search engine dictates an enormous amount of web traffic and YouTube videos show up in Google's SERPs, it goes without saying that you'll want to do some keyword research and optimization for your YouTube videos, too.
There's a catch, though: keyword research is not one-size-fits-all, and you need to be conducting keyword research specifically for YouTube alongside your general SEO research. In this post, we'll explain why and take a close look at 4 easy steps to effective YouTube keyword research.
Why Do I Need Exclusive Keyword Research for YouTube?
At a first glance, it would be easy to assume that keyword research was keyword research, case closed. But you'll likely conduct additional research specific to your content marketing campaigns outside of your PPC research. YouTube is the same.
YouTube, after all, has its own search engine, and users who want to see videos are often searching for different content all together. You're going to see a lot more "how to" content being sought out on YouTube, for example, with people looking for video tutorials. Wouldn't you rather see a video about how to change a tire on YouTube than trying to read a text-only blog post about it?

Different search intent is also a factor. People searching for "tools to change a car tire" on Google are looking to purchase them. People searching on YouTube may want to see how to use them. YouTube is often used to either research future buying decisions, as a source of entertainment, or a source to learn something new. The high-performing keywords, as a result, will be focused on lines of thought, and you want to ensure that your content is created and optimized with user intent in mind.
Let's take a look at the 4 steps you need to create a strong list of YouTube keywords to increase the visibility of your video content:
1. Brainstorm Ideas
Before you really start diving into research, it's useful to know what sort of topics you're interested in covering and what types of videos you want to create.
Even if it feels like there are only a few videos you can create, you can get creative like you would with content marketing, branching out to new ideas that share your expertise with the world. A personal stylist, for example, could of course create how-to content like "how to match navy pants with brown shoes," but they could also create commentary videos about celebrity outfits at events, review videos about their favorite products, or have educational videos centering around identifying high-quality goods.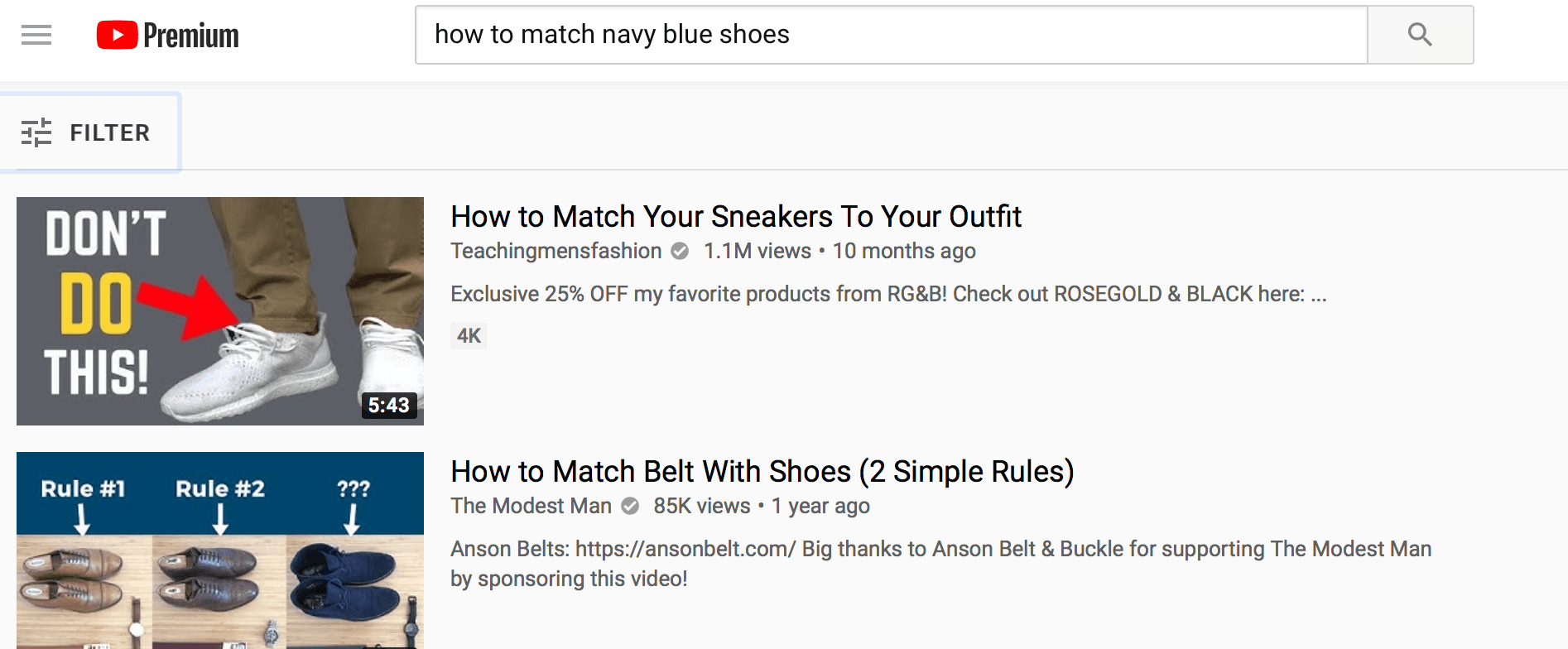 When choosing what you want to create and what topics you want to cover, keep your audience and YouTube's audience and behaviors in mind. People are looking for value here, along with content that's entertaining and relevant to them.
Write down a list of topics and potential keywords you want to target, so they'll come in handy later.
2. Use Autocomplete for Inspiration
A good way to start narrowing down keywords you want to target is quick and free. Head to YouTube, type in the general topic you want to cover and see which autocomplete search suggestions show up.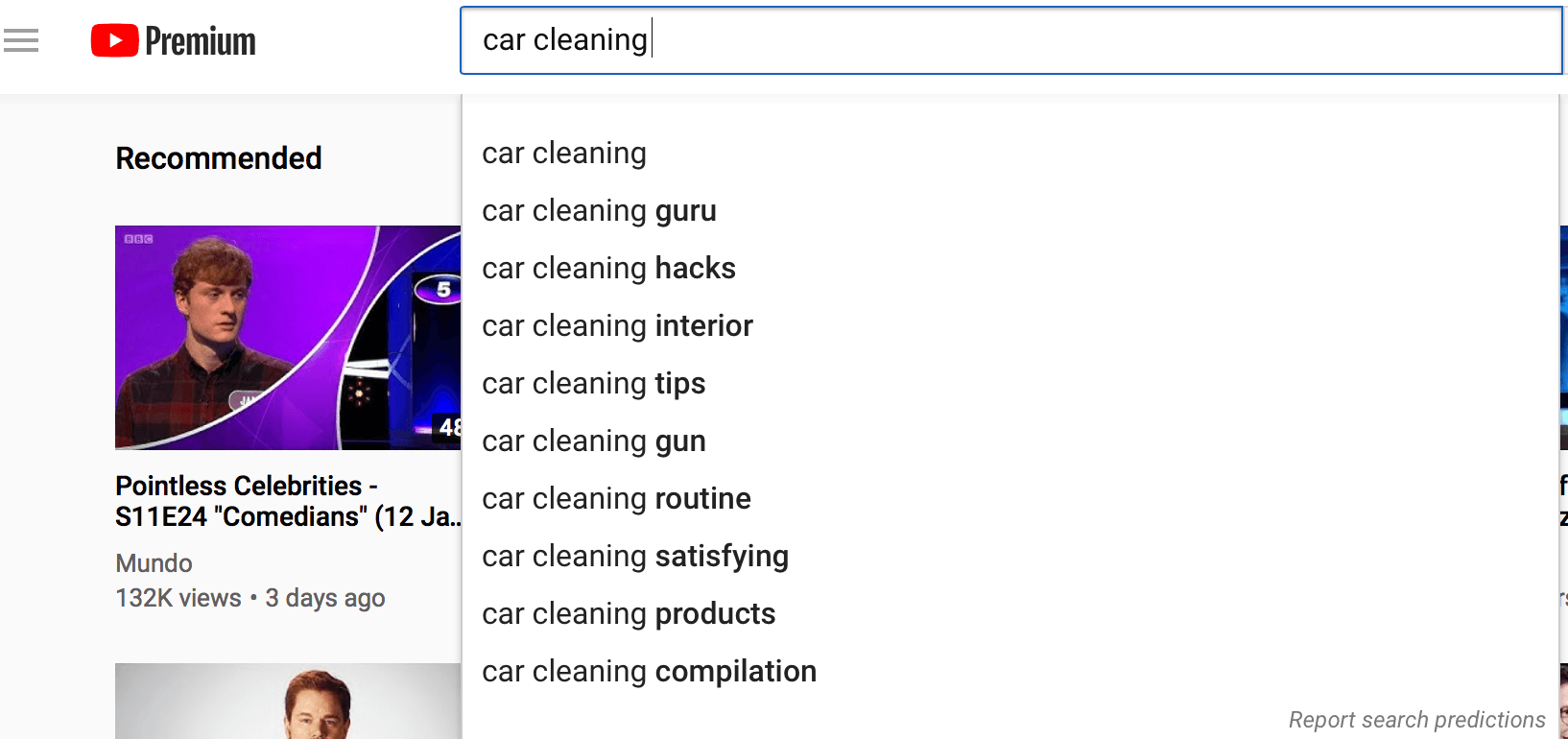 Search suggestions aren't just random terms triggered by random keywords. They show up because they've been searched for frequently enough in the past that they're now an automatic suggestion. You can use these terms to get an idea of what people are searching for and how they're searching for it.
Make a list the terms that are suited to your business and your video campaigns. You'll want to conduct research on them before actually creating content around them to ensure they'll be more likely to have high search volumes.
3. Check Out the Competition
Competitive research is always a big potential goldmine for keyword research, and YouTube is no different. If you have a competitor who is killing it on YouTube—or even someone creating similar content to what you'd like to promote—take a look at what keywords they're using.
Keywords are pretty easy to see based on the video's title and description. In the example below, for example, they're targeting keywords like "easy apple pie recipe" and, likely "how to make apple pie" or "quick and easy apple pie."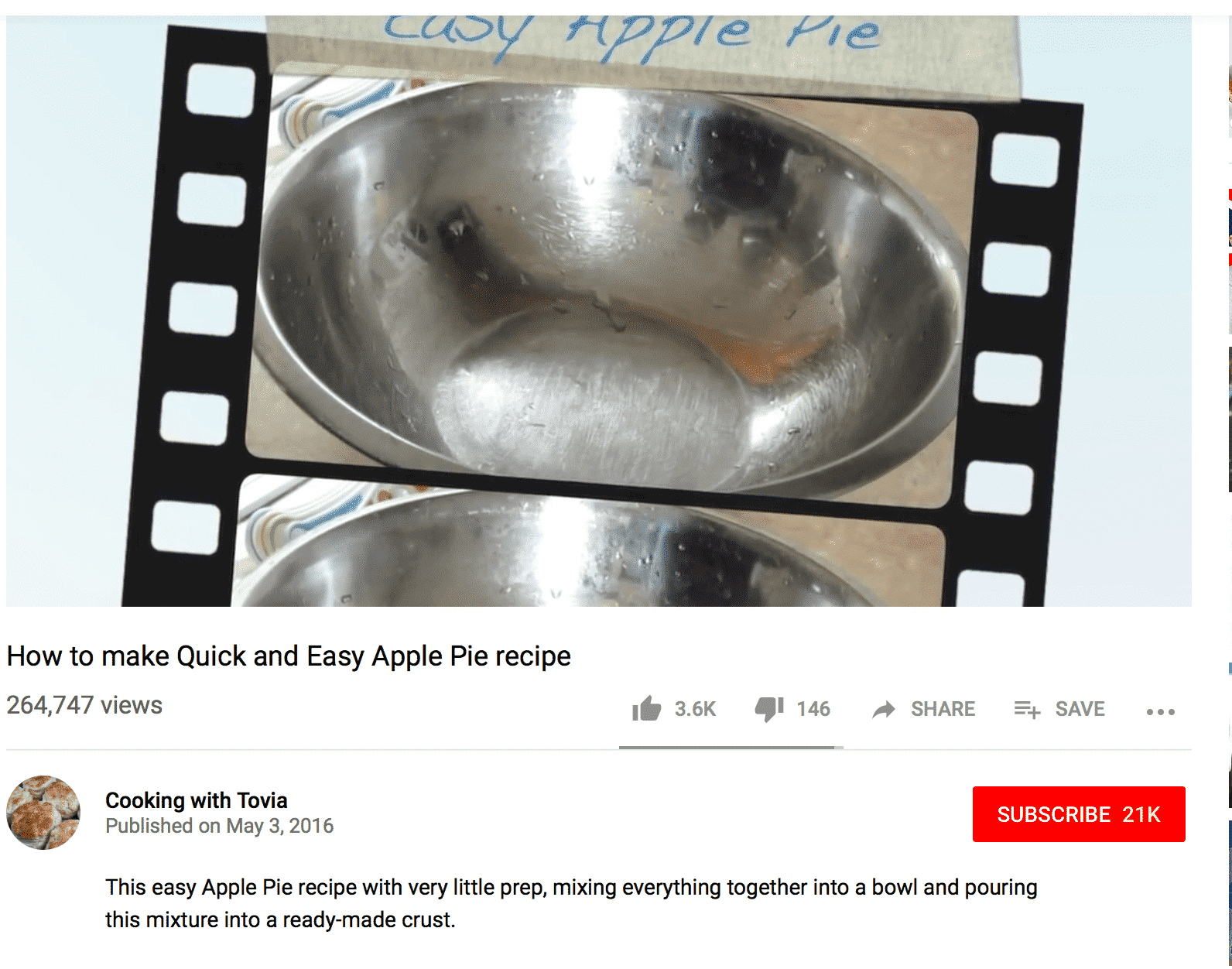 Tags are also important for YouTube keyword optimization, but they're not as immediately easy to spot. You can use chrome extensions like TubeBuddy to find them quickly, showing you a full list of the tags any given video is using. Take note of these—see how they're being used in the title and description. Create a list of the ones you want to target, too.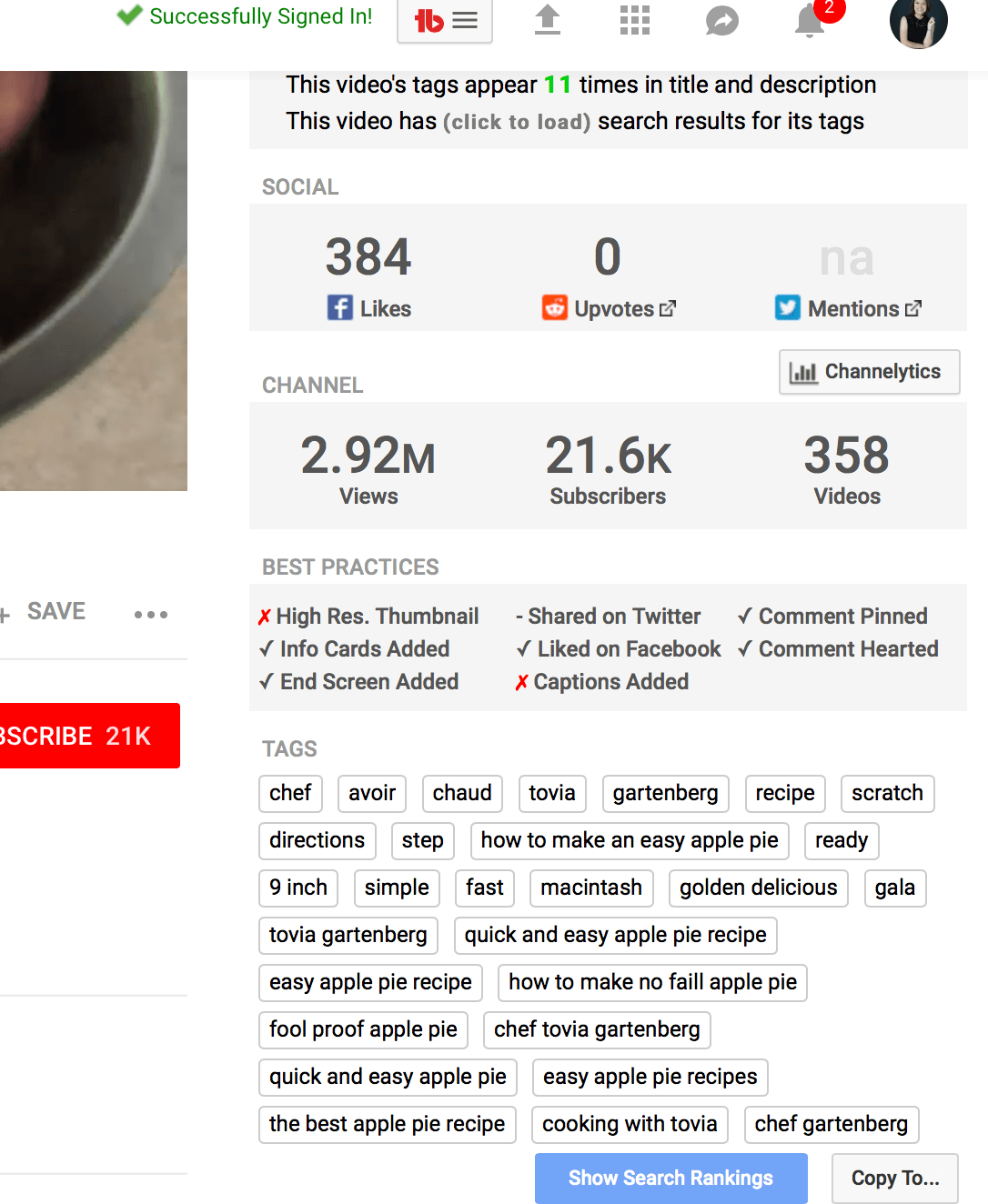 4. Use YouTube-Specific Keyword Research Tools
The last step of your keyword research is to use YouTube-specific keyword research tools. This will help you identify the key phrases with the highest potential visibility and search volume. Note that there are YouTube-specific keyword research tools, which show data based on YouTube performance instead of Google's search results. This is important.
My go-to YouTube keyword research tool is Kparser, which is a free tool and tag generator created specifically for YouTube.

You can alter the search based on the location of the audience you're targeting, so if you want to target an Australian audience, you can make sure you're choosing the keywords they're using regularly.

Double check all the keywords you've written down so far, evaluating each one. This will provide additional keyword suggestions and show you their potential volume, helping you find the best keywords possible for each video you want to create.
YouTube Keyword Best Practices
Once you've got your list of keywords, it's time to start using them. Utilize these keyword best practices to maximize the reach potential of your videos.
Include multiple keyword variations in multiple places. Use "how to bake a cake" in your video title and "easy cake recipes" in your description, giving you the opportunity to rank for as many keywords as possible.
Use keywords in your video tags. Tags are a big part of ensuring your content shows up in in the right searches, so add those keywords to YouTube video tags. The more places your keywords are, the better.
Don't focus exclusively on search volume. Keywords with the highest possible search volume are also those that are going to likely have the highest competition levels. This is important, because it's harder to rank for a term like "how to bake a cake" than "how to bake a rainbow unicorn cake." Keep your audience in mind and choose keywords that are niched down enough so that you can connect with the right people; this will give you the best chance at increasing reach and seeing real results from your YouTube marketing.
Conclusion
YouTube videos frequently appear at the top of Google's SERPs, and YouTube's own search engine is frequently used by interested, engaged users, making YouTube keyword research an important step in your marketing strategies.
Platform-specific keyword research will help you not only ensure that your content is optimized for their specific search engines, but also that the content itself is in line with what your audience wants to see and is looking for. This is the best way to put your brand in front of both brand new users and those who are already customers and establish better relationships with everyone in between.
What do you think? Have you ever done YouTube keyword research? Were the results vastly different than what you found with traditional keyword research? Share your thoughts and questions in the comments below!