How to Pick the Right Dental Keywords for Your AdWords Campaign
by Aden Andrus • January 18, 2017
If you're a dentist trying to market your practice online, AdWords is a great place to start. But, if you want to succeed at AdWords, you have to pick the right dental keywords.
Of course, when it comes to picking keywords, there's a temptation to try every possibly-relevant keyword you can think of, but resist the urge! Picking the wrong dental keywords will put your ads in front of the wrong people.
The wrong people won't be interested in becoming patients at your practice, which means every dollar you spend on their clicks is wasted money. Odds are, you can't afford to waste money on the wrong clicks.
At Disruptive Advertising, we've developed a great system for picking the right keywords for our dental clients. Often, simply focusing a new client's AdWords campaigns on the right keywords can drive 20+ additional leads/month with just $1,500 of ad spend!
Here's how we pick dental keywords for our clients:
Dental Keyword Research
Now, over the years, we've researched and experimented with a lot of keywords for our dental clients, so we've got a pretty good list to start from. If you're just starting out, however, you'll want to start by doing a little research.
This is the part where you get to indulge that urge to pick every keyword you can think of.
Start by having a brainstorm session. Make a list of any keyword that seems relevant to your practice. For example, you might start with keywords like "dentist", "local dentist" or "dentist walk-in" and expand from there to keywords like "dental implants" or "wisdom tooth surgery".
If you find yourself struggling with "keyword block" (the AdWords advertiser's version of "writer's block"), there are several tools you can use to find inspiration, but the most important tool is the Keyword Planner.
This GIF will give a quick overview of the Keyword Planner and how to use it: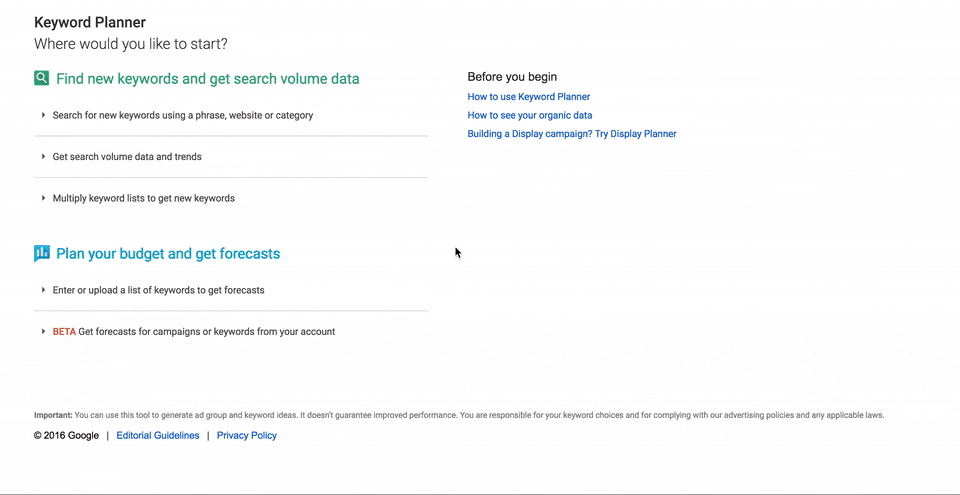 As you can see, the Keyword Planner shows you how many searches you can expect for your search terms (make sure to limit your location targeting to the area you want to target to improve the accuracy of your results). It also gives you suggestions for minimum bids and other keywords you may want to add to your list, making it a great brainstorming tool.
Choosing Which Dental Keywords to Use
Unfortunately, in the average AdWords account, 94% of the keywords are useless—they don't help bring new patients to your clinic.
So, once you've brainstormed your master keyword list, you'll need to narrow down your list to avoid wasting money on the wrong keywords. Hop back over to the Keyword Planner and pull up the keywords on your list.
Then, using the keyword data, ask yourself:
1. Is there enough search volume to justify bidding on this keyword?
At first glance, a keyword like "what is a good dentist in lindon utah who does root canals" might seem like a great keyword. It's very specific and clearly indicates someone who has a need "root canal" and is looking for a dentist.
The only problem is, the search volume for that keyword is so low that the Keyword Planner doesn't even have any data on it: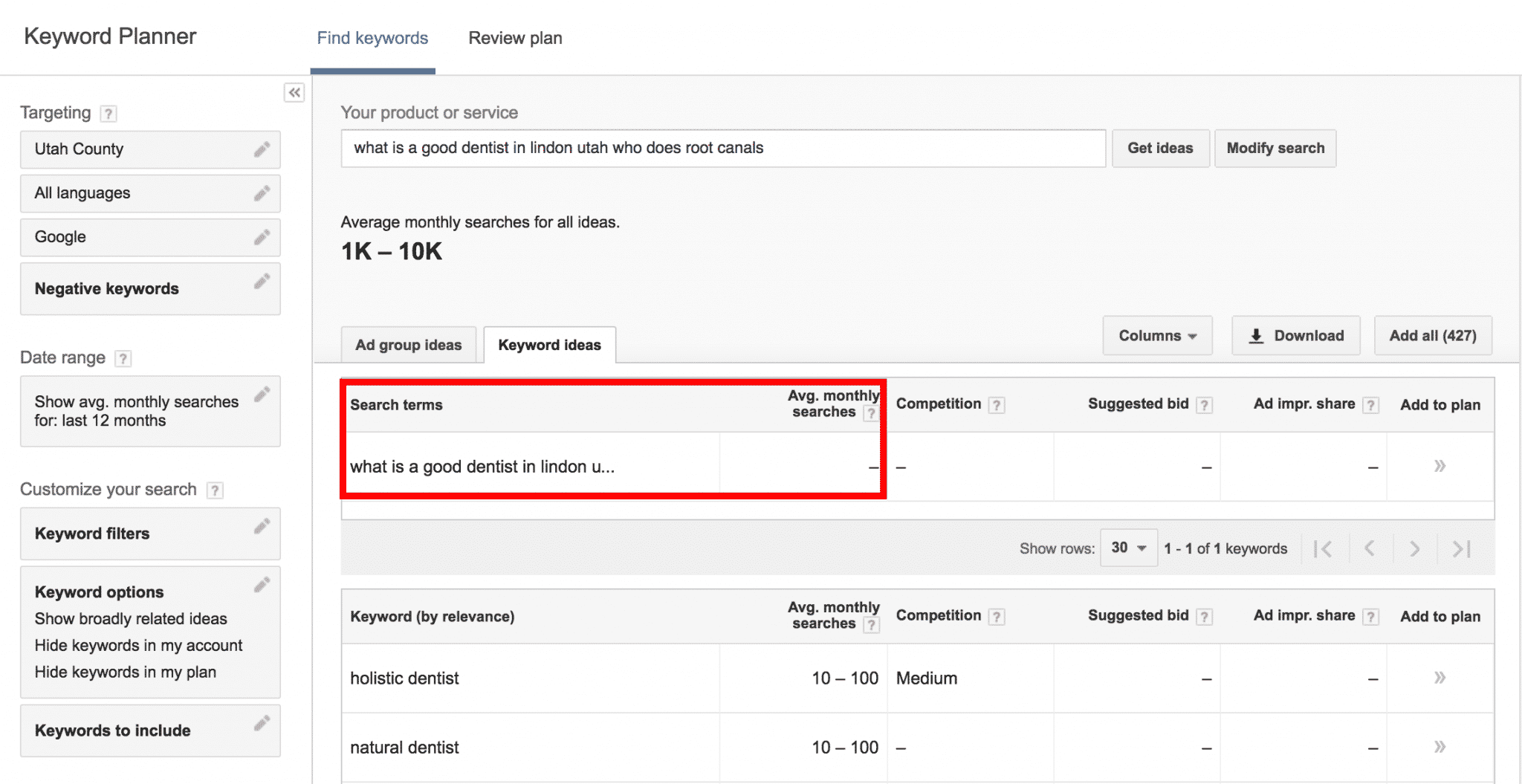 A keyword like "holistic dentist," on the other hand, gets 10-100 searches a month, so if you provide holistic dental services, that might be a better keyword to bid on.
The number of average monthly searches for your keywords will vary significantly depending on your area, so you'll want to check out a lot of keywords to get a feel for which keywords have the best search volume.
2. Is this a keyword a patient would actually use to find you?
Even if a keyword has a decent search volume, you still may not want to use it. For example, the keyword "endodontic therapy" gets hundreds-to-thousands of searches a month in California:

But how many of those searches are really from potential patients?
Sure, if you perform root canals, this is a very relevant term for your practice. But, if your potential patients don't use that search term when they need a root canal, there's no point to bidding on that keyword.
In fact, if you search for "endodontic therapy" in California, there isn't a single ad to be seen. And, the top search results are basically Google's way of saying, "Didn't you mean 'root canal'?"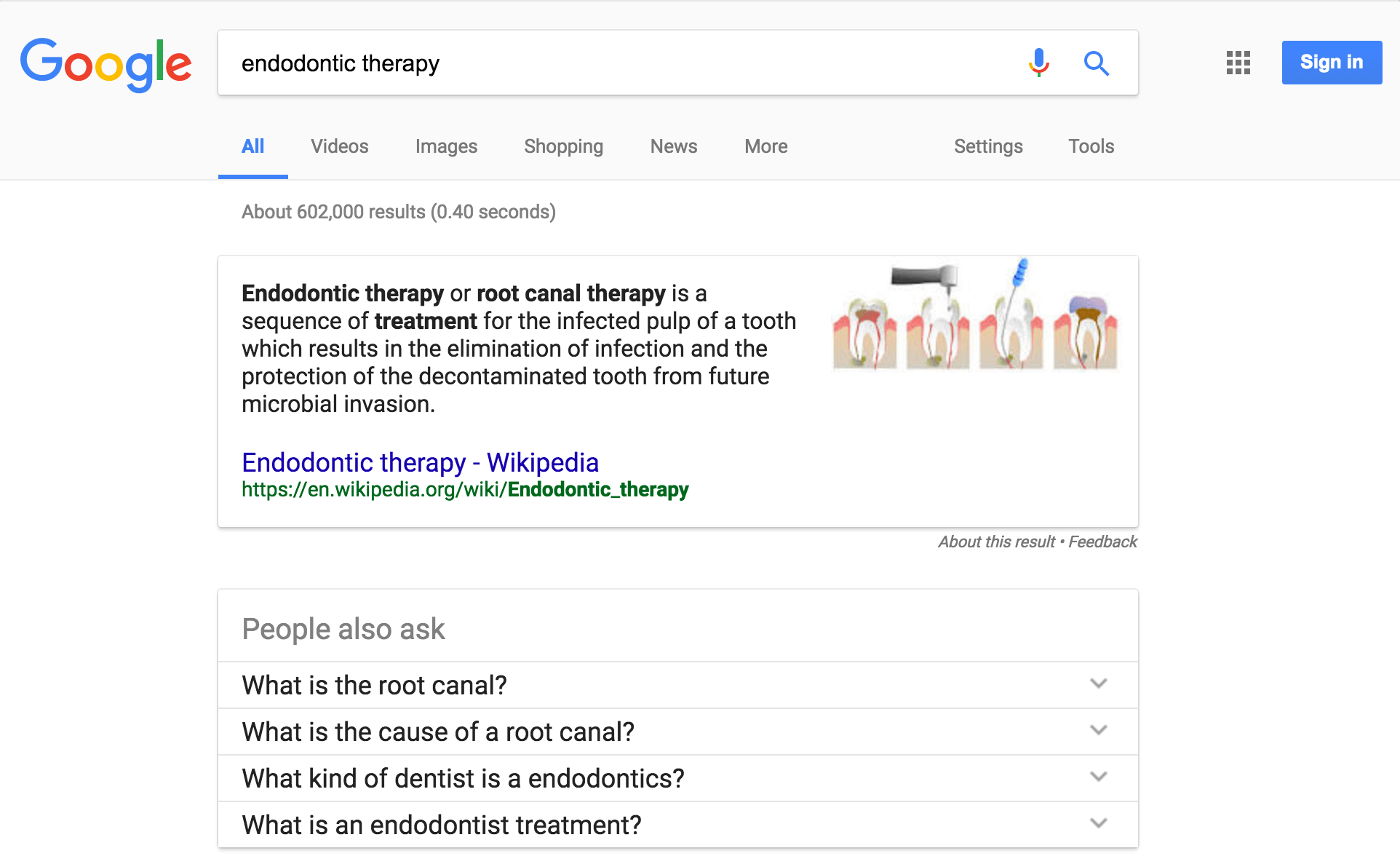 So, if you want to get the right sort of clicks, you need to target keywords that your potential patients will actually use. If you haven't ever heard a patient describe your services using a particular keyword, it's probably not a good keyword to bid on.
Would most people who use this keyword use it to find you?
Lastly, you need to think about the intent behind your keywords. Even if a keyword gets a lot of searches and is a term your patients regularly use to describe you, your services or your speciality, it still might not be a good keyword.
Check out the top organic search results for "dental practice" in Spanish Fork, UT: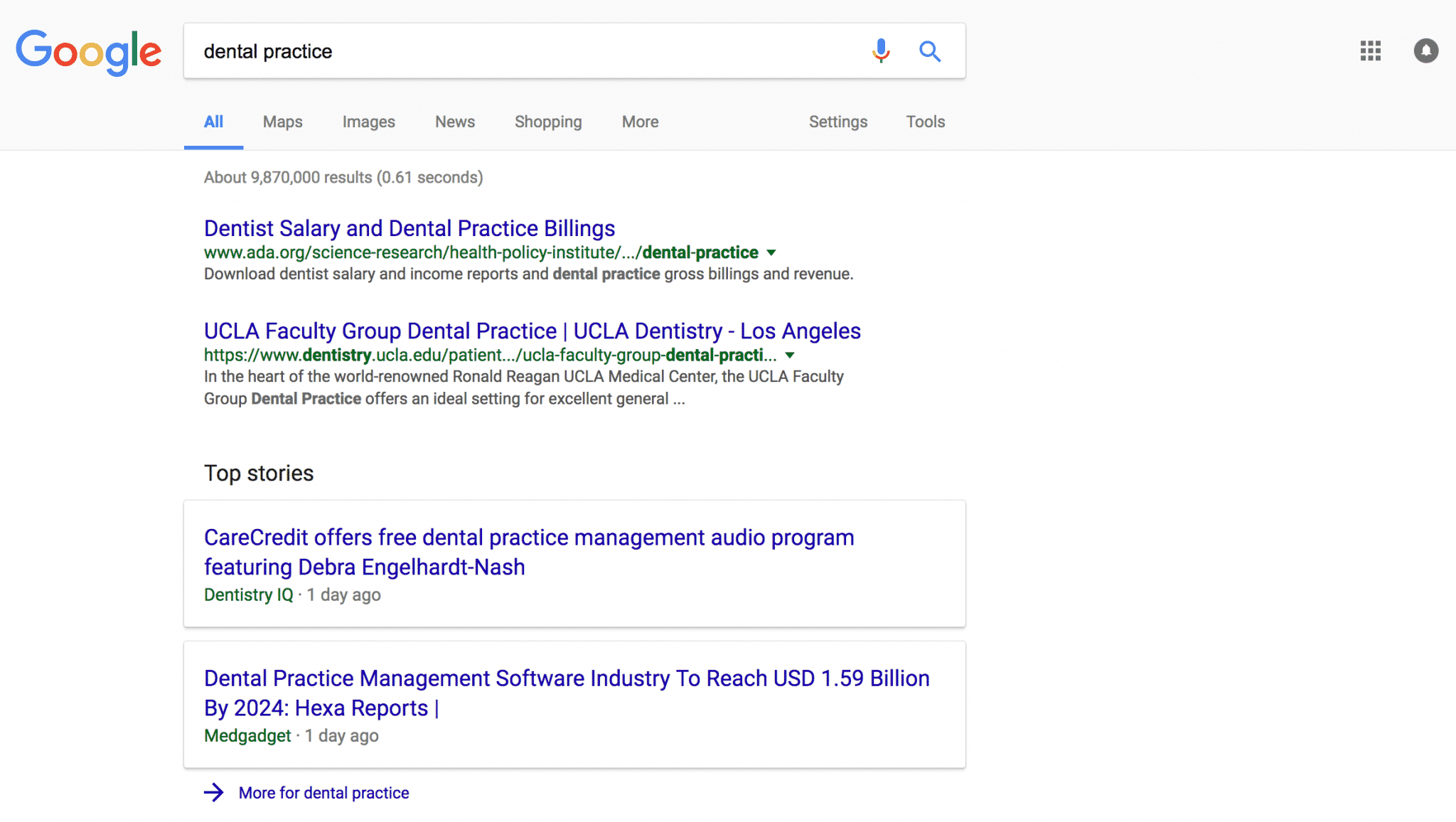 Now, this search seems relevant. You go to a dental practice to see a dentist, after all. And, for a city of around 30,000 people, it has decent search volume (10-100 searches/month).
The problem is, look at the organic search results…Dental practice billing? Dental practice management audio program? Dental practice management software?
Clearly, Google believes that a lot of people who search for "dental practice" in Spanish Fork, UT are looking for information about dental practices—not for a dental practice.
That being said, I hid some ads on this page to make it easier to see Google's organic search results. Here's what the search results normally look like: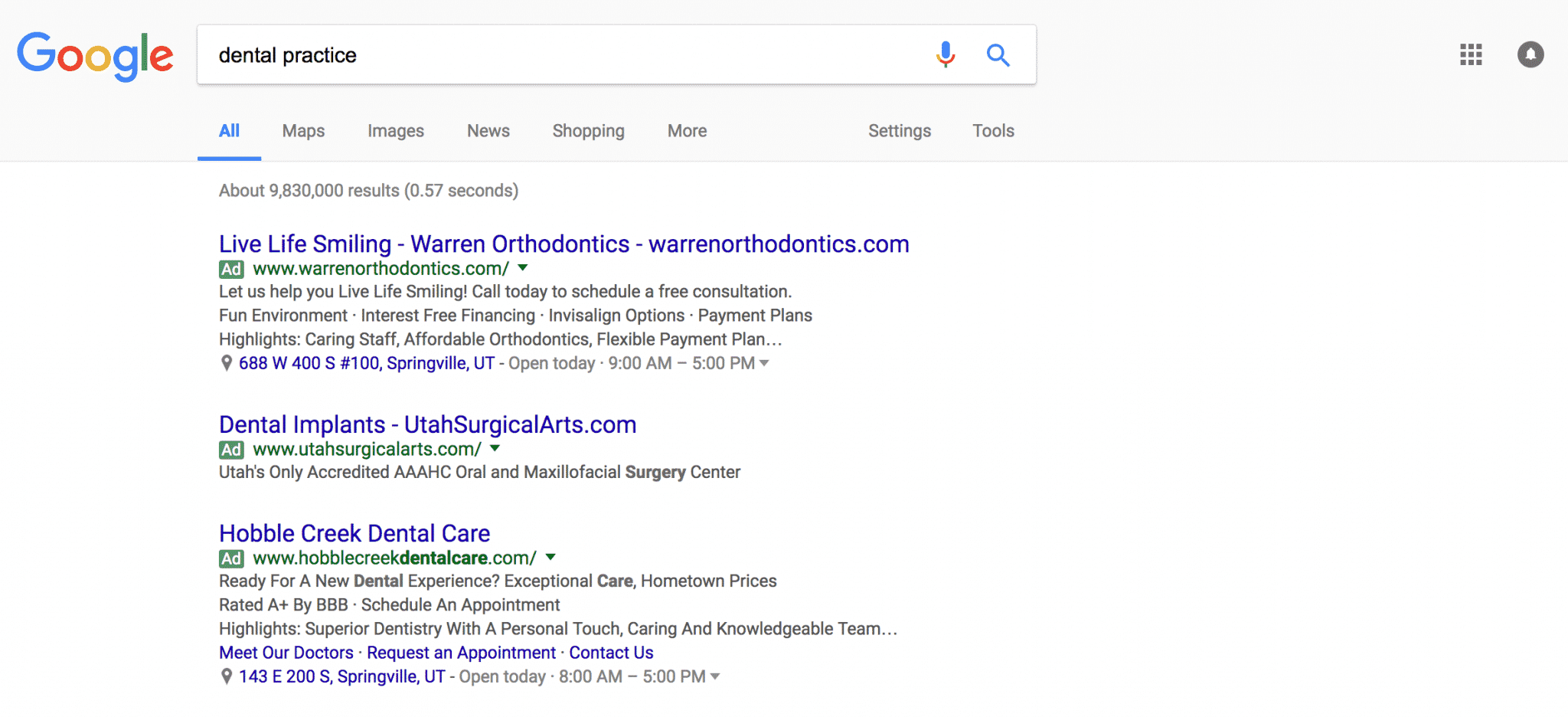 Do you see the problem here? People are searching for information about running a dental practice (possibly because they are dentists), but these dental practices are trying to attract new patients.
As a result, these ads are a mismatch for many-to-most of the searches that use this keyword. That means less clicks and even fewer leads and new patients.
To make matters worse, Google penalizes ads that don't perform well, so these dental practices may be paying extra for the wrong traffic!
In contrast, here are the organic search results for "dentist near me" in Spanish Fork (which also gets 10-100 searches/mo):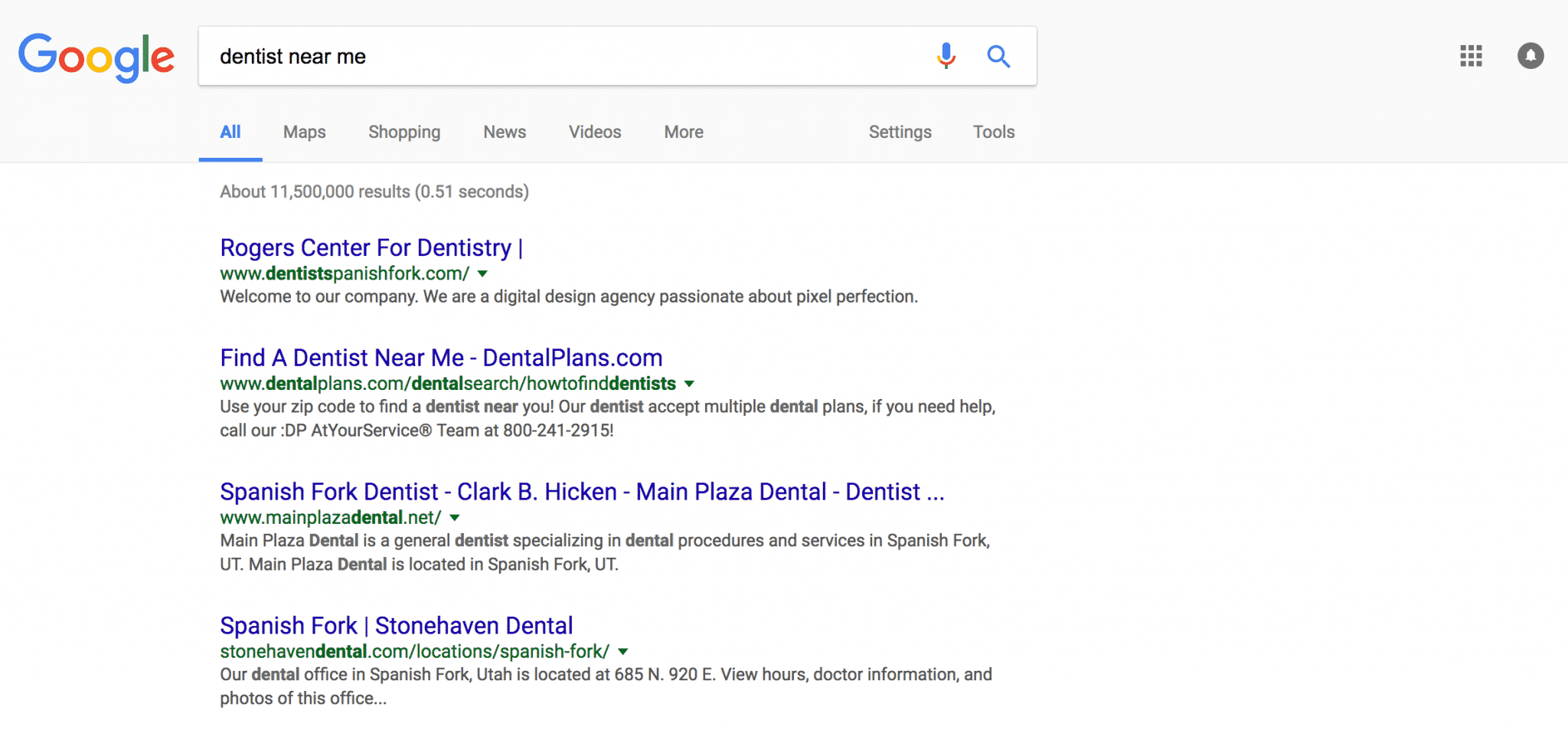 Not surprisingly, Google is showing the sites of several local dentists. Now let's take a look at the ads I hid on this page: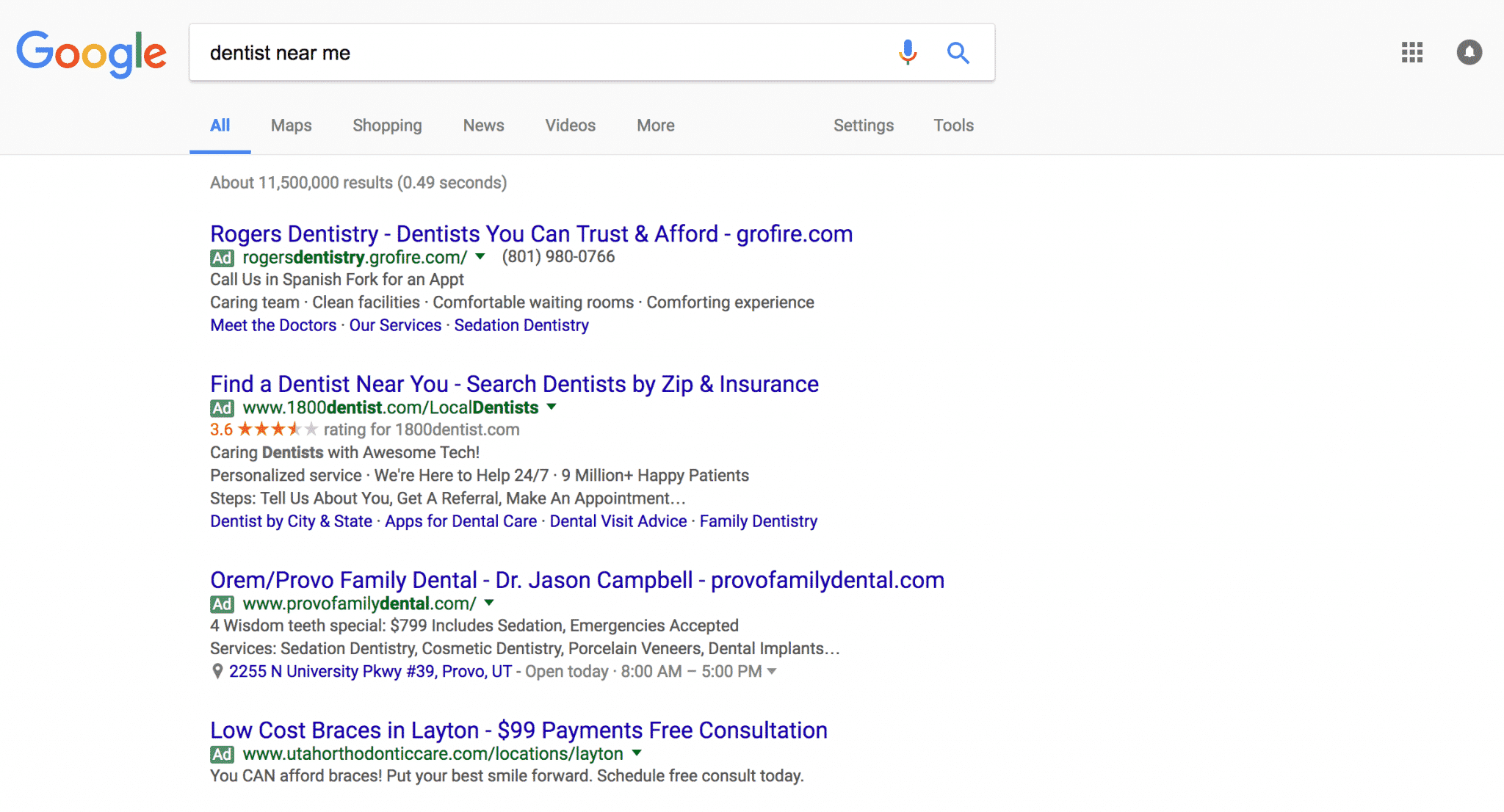 Look at that! The content of the organic search results and these paid search ads is a great match. That means these ads are much more likely to get clicked and produce new patients.
Summary
So, let's do a quick recap. Keywords are the secret to a successful dental AdWords account, but picking the right dental keywords can be a challenge.
To start, you'll want to brainstorm all of your potential keywords. If you're having trouble coming up with ideas, you can always use the AdWords Keyword Planner to find new candidates.
Then, once you have your master list, take a hard look at each keyword and ask yourself:
Is there enough search volume to justify bidding on this keyword?
Is this a keyword a patient would actually use?
Would most people who use this keyword use it to find you?
If you can't answer each of these questions with a resounding "yes!", think long and hard before you try bidding on that keyword.
By the way, if you'd like any help putting together your dental keyword list (or just want us to do it for you!), let me know here or in the comments! We love helping dentists grow their practices!
Does this approach make sense? How do you pick dental keywords for your AdWords campaigns? Let me know in the comments!