Why You Need to Up Your Online Analytics Game
Analytics
•
Google Ads
•
Site Optimization
•
Ana Gotter
February 27, 2020
Analytics are a marketer's best friend. There's no getting around that.
You need detailed reporting to assess everything from how many people are seeing your campaigns to which campaigns are most profitable and likely to lead customers through a path to conversion. Analytics can help you find the strengths and weaknesses in your campaigns so that you can troubleshoot and optimize, and they're a must-have for businesses and marketers.
When most people look at their analytics, they're looking at relatively surface-level data in an isolated way—they look at the number of visits to their site or clicks on their ads…and that's it. While this can be useful, it's not enough.
All businesses and marketers need to have a strong understanding of how to leverage analytics to their benefit, and in this post, we're going to look at 5 key reasons why you need to up your online analytics game.
1. Analytics are Crucial for Campaign and Site Optimization
Even if your campaigns seem to be working for you, there's no way to know for sure without analytics. Plenty of clicks on a Google Ad, for example, may indicate success…only for you to take a closer look and realize that they aren't actually driving conversions like you may have expected. You may also be getting plenty of clicks from Facebook, only to see that people don't actually make it all the way through your site.
You need analytics to show you how your campaigns are truly performing at every level, no matter what your goals are. Once you've got solid information about overall performance and you aren't just looking at isolated metrics (especially if they're vanity metrics!), you can spot opportunities for campaign and site optimization.
You may realize that certain platforms are more effective than others at driving traffic to your site, or that certain blog posts or lead magnets are generating the most high-value leads. This can tell you how to optimize your campaigns in the future, creating more campaigns that are similar to what's already working for you. This goes for everything from single ad campaigns to entire landing pages or product pages, so you need to invest time and energy into pouring over your analytics for full optimization potential.
2. The More Detailed the Analytics Are, the More Actionable They Are
Lots of people set up Google Analytics because it's free, or take a peek at their native analytics on each ad platform they're using. Unfortunately, as we mentioned before, many also stick to that surface-level data that isn't always giving you the full picture.
If you're looking for a reason why you need to step up your online analytics game, this is a good one: the more detailed your analytics are, the more actionable they are.
You want to be able to gain valuable insight from your analytics that you can act on. This is how you continue to optimize your campaigns for continued growth moving forward. You don't simply want to know about traffic—you want to know how long they stayed on your site, how many pages they viewed and more.

This means you want to dive deep, and setting up reporting that will benefit your business is the way to go. On Google's Analytics, for example, you can set up "Goals" to track what different elements on your site and even off of your site are driving the most high-value customers.
You can also optimize individual native platforms so that they can show you more of the information that's valuable to you. If you want to find out about your impression share on Google Ads, for example, you'll be able to see how often you're getting relevant placements for each keyword that you're bidding on, allowing you to see what percentage of potential customers you're reaching.
If you want to boost reach quickly, knowing if you're falling behind on impression share and then troubleshooting accordingly could be a good place to look. You may realize that you need to diversify your keyword portfolio, increase your bids, or simply increase your overall budget, but you won't know until you get the essential data.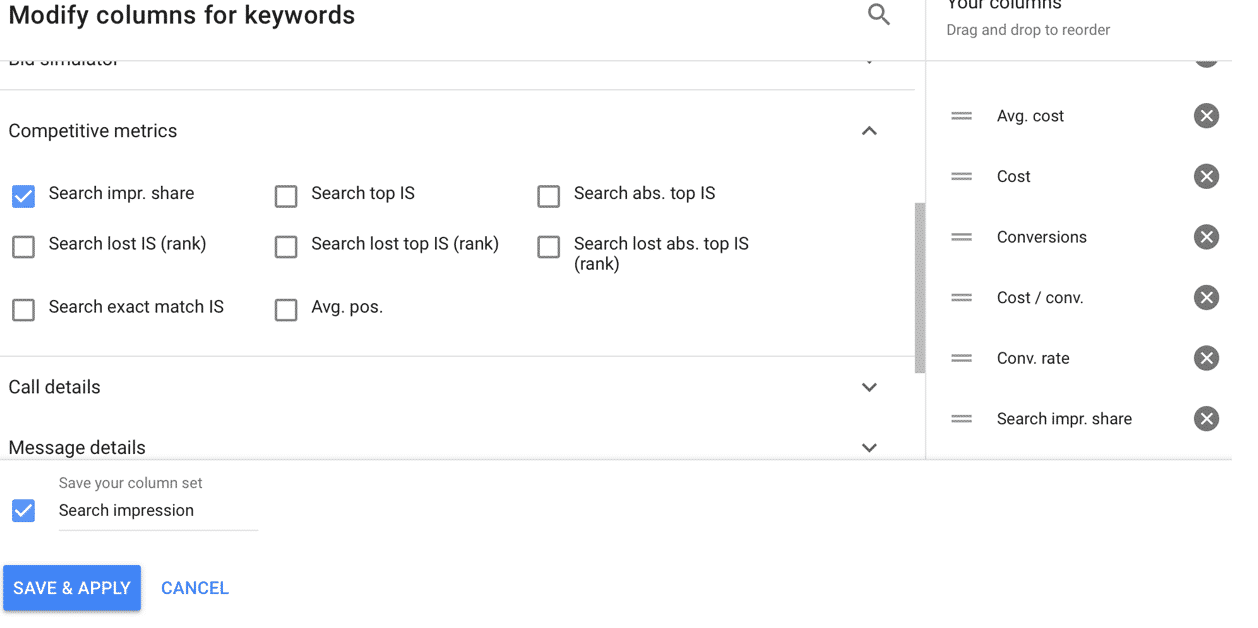 Think about what information you need and how you can get it. Set up custom reporting on each platform if applicable, including on Google Analytics.
3. Analytics Can Help You Piece Together How Things Work
Your online marketing efforts all interact with each other in an often-complicated and nuanced way. A single Google Ad won't necessarily drive a bunch of immediate conversions, but it can lead users to a landing page where they share their contact information.
From there, you can email them, show them retargeting campaigns on social ads and invite them to download your industry whitepaper or go-to guide. All of these steps can eventually lead them to conversion, and there can be multiple touchpoints and paths to conversion.
While this is all tricky to track with analytics, a strong analytics game can certainly help.
To start, you want to set up Goals through Google Analytics so that you can track different on-site funnels. You want to understand what path users are taking through your site to end up where you want them to go, which can give you a great deal of insight into which pages are most valuable to the end result.
On my site, for example, my biggest goal is to get users through to the contact page, so that they get in touch and potentially hire me. Google Analytics can show you where people enter your site, and the different paths they may take in order to get to the contact page. This can tip you off in terms of what users may need to see from you before they're ready to convert.
In my case, the vast majority needed to see my portfolio before they were ready to contact me. This tells me that my portfolio may very well be my most important page, and that I should take care to update it regularly with high-quality clips.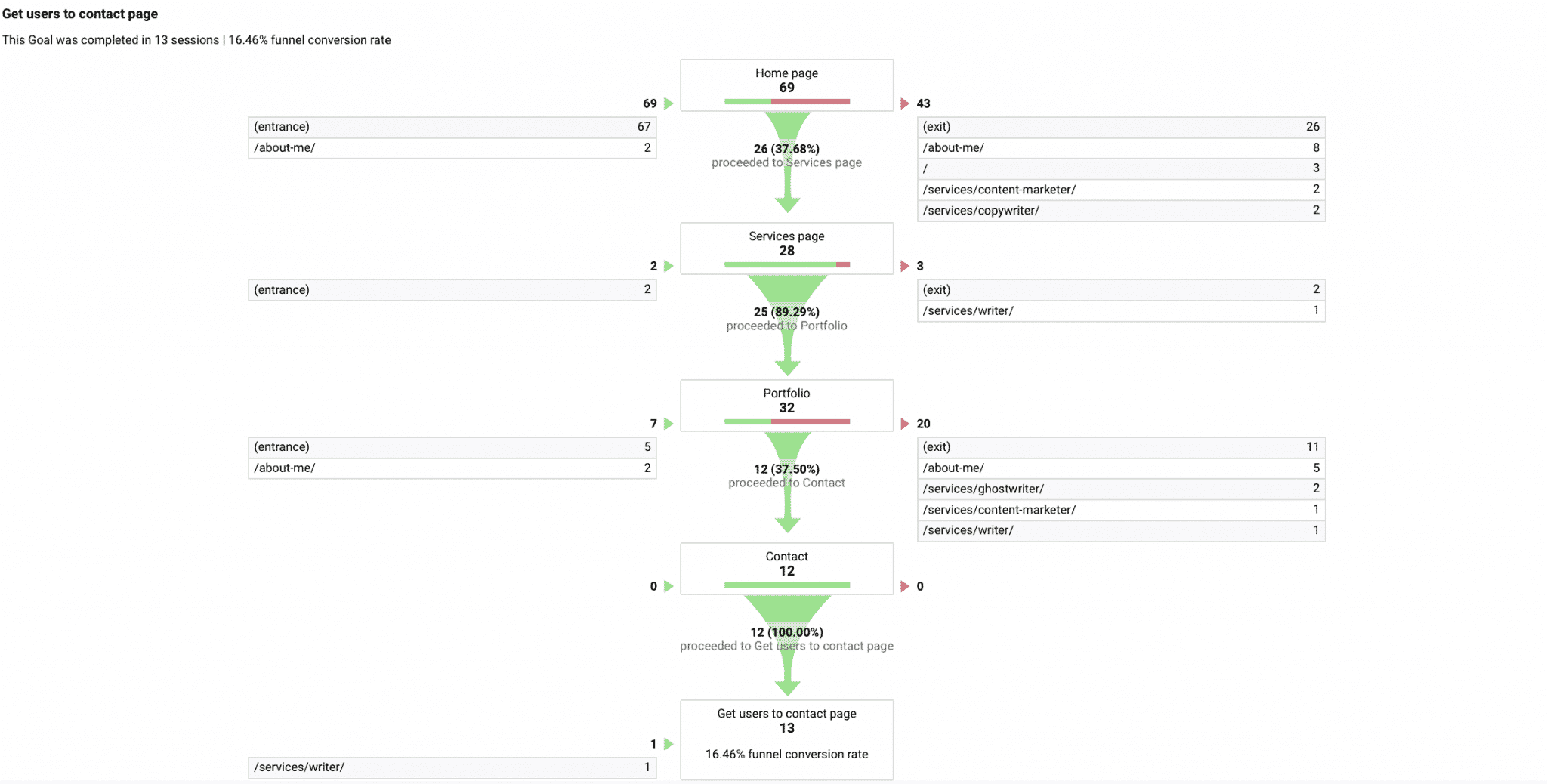 4. They'll Help Ensure That Your Marketing Efforts are Profitable
You don't just want your marketing campaigns to drive results—it's also essential to make sure that your campaigns are driving profitable, cost-effective results. If you're paying an influencer $10,000 for a promoted campaign but can only trace about 2k in profit to it, sure you got results, but you came out in the red.
Google Analytics is going to be key here, especially since you can set up ways to tie financial values to different goals or actions that customers take on your site. You can see which platforms bring in the most high-value customers and exactly how much each is worth, and you can even trace on-platform blog posts' effectiveness for the same purpose.

Looking at the financial impact of your campaigns and on-site optimization is important. It can help you determine which campaigns, strategies, and platforms you want to move forward with and which have been most beneficial to you so far.
5. You Can Flag Issues Before They Cost You Major Business
A lot of marketing comes down to trial and error. That's not something that we as marketers are absolutely crazy about, because a fair amount of "error" typically needs to be factored in before the success comes along, but it's still part of the process.
If you haven't stepped up your analytics game, however, you may struggle to ever get past the trial and error stage, unable to see potential issues that could be holding you back.
You can use platforms like Google Analytics, for example, to spot any red flags that may pop up that indicate trouble somewhere in the funnel. If you were to notice that some blog posts had extremely high bounce rates even though you were optimizing for relatively high-value organic keywords, you'd want to look at why.
You may find that these posts don't align with the search intent, that they aren't as useful as your competitors' or that they simply aren't optimized well.

Look at dropoff points in your campaigns and on your site. You may notice that there are high rates of abandoned carts that happen only at a specific point in the checkout process, and when you test it yourself you find that the page is slow loading or presents an error message. You want to be able to spot these issues quickly before they cost you business, and being on top of your analytics regularly is key in doing that.
Final Thoughts
Investing time into your online analytics will be a gamechanger for you and your business, giving you an outstandingly detailed view of how your campaigns are working and why.
If you're on a tight budget, you can always stick to the free, native analytics platforms available to you, like Facebook's Insights and Google Analytics. If, however, you have some additional budget to spend, consider investing in third-party tools like Moz or SEMRush, which can offer even more data that's instantly actionable and can be used for competitor research, too.
No matter which platforms you choose, make a consistent effort to take a look at what's happening with your business. And if you're starting from scratch and feeling overwhelmed, consider an agency like ours for full website optimization services to help you on the right track, where everything we do is rooted in your analytics. You can learn more here.
What do you think? What are your reasons why you need to up your online analytics game? Which reasons are most important to you? Share your thoughts and questions in the comments below! 
Leave a comment