Website Redesign: What It Is and What It Isn't
by Cydney Hatch • January 21, 2019
Website redesign…I feel a heavy sigh roll out of my body as I think of all the reasons I hear people jump to the conclusion of needing one:
"I just don't like my site anymore…"
"My boss hates our site…"
"We are trying to redefine our marketing and brand strategy, so we hope this will help our direction…"
"I just think it needs to be like so-and-so's site…"
"I think it needs to be more modern…"
Although some of these statements are valid, you need to be careful about website redesign. Many people redesign for the wrong reasons and spend huge amounts of money and time on things that produce little benefit.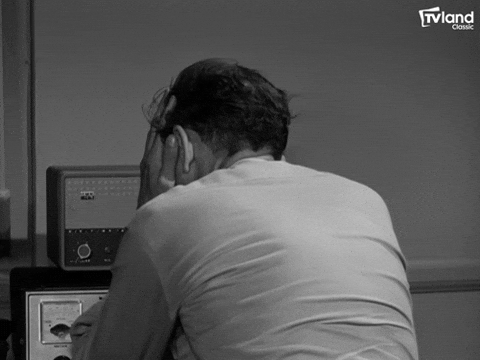 Website redesign should not be a whimsical or fleeting decision for any business. Website redesign should be a marketing action that uses your data and future goals to move your business needle in the right direction!
So, to prevent you from spending money on a daunting task that might not produce the results you intend, this article will teach you everything you need to know about website redesign!
What is a Website Redesign?
Unsure as to what a website redesign entails? That is okay, let's learn something together!
A full website redesign refers to the complete overhaul in code and presentation of a website. To put it in other terms, think of your website as a house that is being torn down to build a new one in its place. You might keep the logistical things like the pipes, electric hookups and sewage, but you are changing everything around it.
Most website redesigns overhaul some or all of the following things:
Updated Servers
UX Design
Technology Adaptations
Social Media Elements
Overhaul of Website Templates
New Products and Service
Regardless what they're trying to change, companies that initiate the website redesign process usually have similar goals: to have increased online reach, better user experience, lessening user friction and to create higher conversions.
What is a Website Refresh?
Now, if you do not have the time, nor the resources to do a whole website overhaul, you can do what is called a website refresh instead. Just like it sounds, a website refresh is typically leaving the core of your website's functionality and code in place but giving it a facelift.
Website refreshes change some of the following things:
Again, a refresh is dealing with some of the simpler changes from changing a few colors and adding your new logo, or it could be more drastic, like an entire new website template.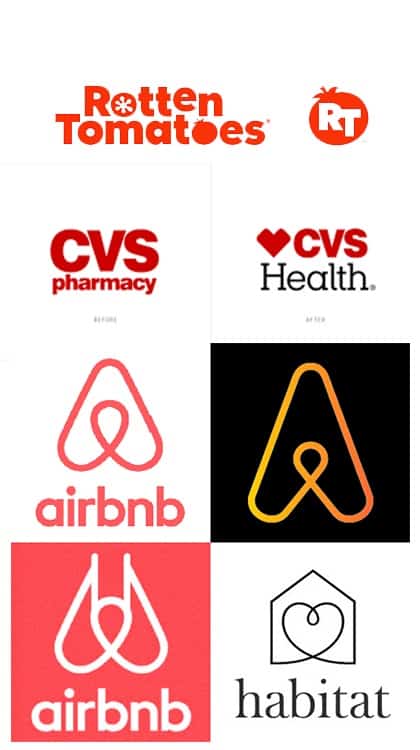 Think of it like trying a new hairdo to do "something different" but doesn't change who you are as a person, it is just cosmetic! Like a new "do" you can refresh your site to be a different experience for your potential customers without the stresses of changing everything.
Why Do You Want to Redesign Your Website?
If you've decided that your website needs a redesign, there's usually some sort of obvious problem, eyesore or pain point that you've found (hopefully it's not just "because"). After all, people don't spend the time and money associated with such a headache-ridden project just for fun, right?
Unfortunately, many times people want a redesign based off of their own impressions, but they key is:
 What do your customers think? 
As the most important user of your website, are your customers satisfied with the website experience? People interact with sophisticated, modern and interesting websites every day, so it is up to you to make sure your website is up to par with your potential customer's expectations.
A website redesign accomplishes a few things for your business:
It can make your site more user-friendly
It can make your site more aesthetically pleasing, eliminating friction
It can keep you relevant and up to date
It can highlight new products and services
It can implement new technology to engage and retain potential customers
It can keep you competitive with your competition
Regardless of what it can do for any business, you need to make sure it is worth the investment. In the next section, we will talk about how you can tell if you need a redesign versus a quick refresh. You are welcome ahead of time, as you will save your "budget bacon" by heeding some of these "tell-tale" signs!
How Do You Know If You Need a Website Redesign?
An easy "tell-tale" sign that you need to redesign is you have tested and tried everything and nothing is working. Website redesigns can be a great way to reset the stage.
When determining if you need a redesign, test some concepts ahead of time! There is a danger in doing a huge website overhaul, praying it works and then nothing improves. Before you do anything, you need to make sure there are data points driving your changes!
To help you consider that, there are a few things you need to look at before you move forward with an agency:
Analyze what works and what doesn't on your site
Host a focus group with user experience in mind
Evaluate objectives against your timeline and budget
Know your target audience
Test your site speed
Check out the competition
Review your website content
Hit the SEO checkpoints
Is it responsive & mobile-friendly?
Evaluate your CMS
If you have done those things, you are in good shape to move forward in conversations with a developer. Without these things, you will not have an effective redesign process that will reap results.
To further help you decide on a redesign, here are a few signs you might need to change things up:
It Needs a Facelift
Believe it or not, looks do matter.
When it comes to your website, visuals do need to take a priority paired with functionality.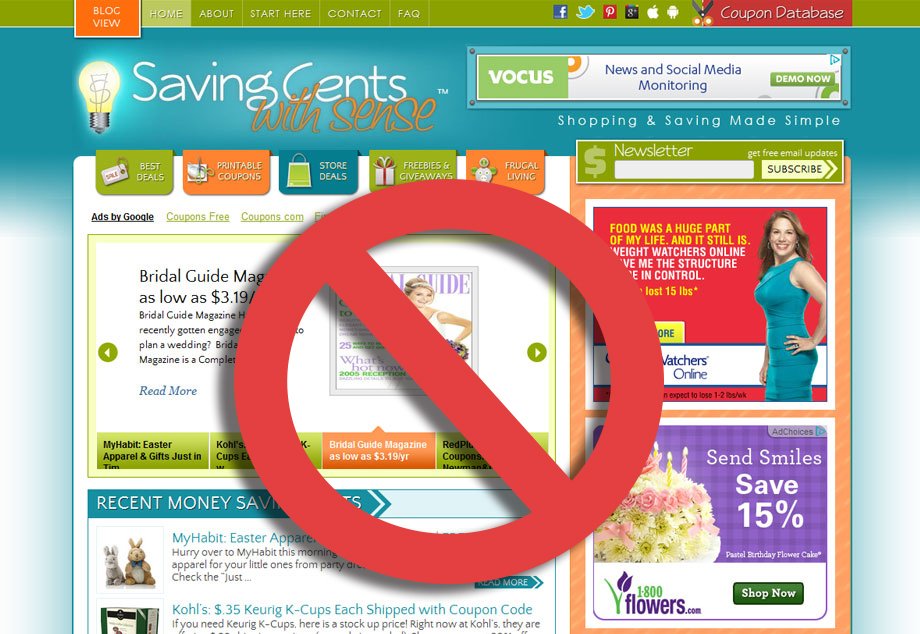 If your website looks like it hasn't been updated since 2000 (ahem, above) it might be time to move away from blogger-like templates and get into the modern age of 2019!
Some key things to keep in mind include:
Keep your design elements balanced and organized
Try to stick to neutral website backgrounds
Use grids to make sure things are aligned correctly
Use branded elements that help create an experience
Use contrasting colors effectively
Use easy to read and branded typography
Use white/negative space well
Remove stock images and invest in quality visual content
Include social media elements
Be mobile friendly
While it's important that your website functions seamlessly, it also needs to look modern and industry appropriate. Be sure to check in every 6 months to see if you can make some changes to stay on top of your game.
Your Business Has Changed: Products, Services, Branding
Business is all about to change and because that is true, your website will need to evolve with you as you grow.
One of the more obvious reasons you will want to redesign is if your business is offering something new, re-branding or going in a different direction. By redesigning, you ensure that your new brand, product, or service is highlighted properly so people will know how to react and take action.
You Aren't Proud of It
Your website should be your pride and joy as a way to share your brand with potential customers. If you are embarrassed to share your URL, like you are embarrassed to share your old AOL email account, it might be time to make some changes.
With so many low priced and user friendly website builders, there's really no excuse to keep putting off making some changes that will make you proud again.
Your Site is Slow and Not Mobile-Friendly
According to Statistica, 52% of all website traffic comes from mobile devices and Google is now ranking most search options based on mobile rather than the desktop version of a website. Do not make the mistake of not taking mobile seriously!
If you have a site that was not made with mobile in mind, it might make sense to build a new site using a mobile-first approach rather than trying to reverse engineer an old site to adapt.
Your Site Isn't Converting
Like stated in the beginning of this section, if your website is not converting and nothing is happening it might be time to consider a redesign (on another note, if a new site or a website change converts the same, it is still a win as it's a new elements to test!).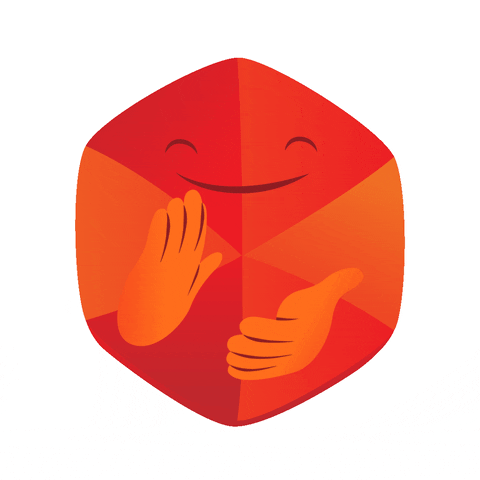 The real problem is when you see significant drop-offs in traffic and leads. At that point, it might want to consider a website redesign. Before you commit, though, it's a good idea to identify what the site isn't doing that you wish it did, how a site redesign will fix it and what your intended goals for the redesign will be.
Your Site is Not User Friendly
Nowadays, it seems like everyone is doing some type of side hustle, and creating websites is easier now than ever before. The hardest part for many, though, is optimizing the design of a website for improved user experience (UX).
If your website gives people headaches, sighs, eye rolls or confusion you need to make some changes! By making your user experience better, it builds trust, provides a better ROI on your marketing spend and helps you win more conversions!
A successful website is all about pleasing your users and making the website experience a pleasant experience. If your site is difficult to navigate and doesn't offer value to potential customers, it will most likely be a flop!
Your Messaging is Off
Communication is key in any relationship—including business—so if you are not clear in your messaging, you can create a huge disconnect with customers you are trying to develop with.
Believe it or not, website redesign is not just reserved for visual elements, it also improves content!
If your site's navigation choices are complex, if the calls to action are too frequent or not clear, if the page titles are confusing or your blog content is weak…you may be losing valuable traffic. To help with this, including a content audit in your redesign will allow you to see what is resonating well.
When you clean up your content messaging, potential customers can get a better idea as to what you are all about, resulting in them making informed purchasing decisions.
Your Website is Not Secure or Updated
We live in a data-paranoid world where people are always having to make decisions on if the websites they are engaging with, let alone purchasing with, are secure.
If your website does not have strong security measures, alerts or messaging in place, you might be hurting your online rankings and presence with potential customers. To succeed, you need to keep up to date with SSL certificates and other online validations to best ensure people your business is safe.
By doing that, its not only free to you, but it can increase your rankings with Google.
You Need a Professional
I think we all like to cut corners and do a lot of things by ourselves, but there comes a time when you know you need a professional to step in.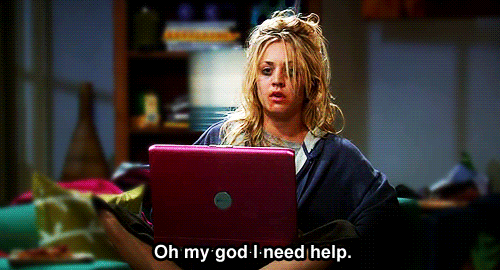 Making small changes like changing logos, adding blog content, or changing descriptions is no biggie, but if you have a website built on a platform that is difficult to work with, or that requires a third party to make even small updates, consider a new website built in an easy-to-use content management system (CMS).
If you cannot update and work on a website yourself 95% of the time, you might need to consider redesigning a website to be more user friendly for not only your customers, but for yourself! Your website should not be a headache to manage and update on your own!
Redesigning an Existing Website
Once you understand and have defined what your website is failing to do now, what you want to achieve with your new website, and which website builder you want to create it on,  you are ready to get started! The website redesign process has many steps, but here are some of the main steps to embark on:
Strategy and Data Collection
Research and Competitive Analysis
Wireframe It
Determine Budget and Timing
Build It Out
Fine Tuning
Launch Time
Make Long Term Plans
Celebrate and Test
Let's go over each of these steps in more detail.
1.Strategy and Data Collection
I'm a firm believer in beginning with data when it comes to marketing. Never, ever build a website based on your personal preferences, or trust an agency that does not support strategic and design choices with data or research! If you have concrete information with which to begin a website redesign, you're more likely to achieve your goals!
So, to make the most out of your redesign process, spend roughly three months testing website concepts and your buyer personas.
Having a good grasp on your personas will help you get understand who you are building for in terms of messaging, tone, visuals, and the buyer's journey you need to facilitate for them online, based on their preferences, pain points, and purchasing habits.
In addition to your personas, it's important to test what your key focus areas are for improvement and  determine any additional technology requirements or features you may need to accommodate or build out.
Beyond your site's structure, you should also perform a comprehensive audit of your website's content and organization.
2. Research and Competitive Analysis
Like anything in marketing, it is also a great idea to look at your competitors and see what they are doing (reverse engineering can be one of your best strategies, if done well).
Look at your top 10 competitors and ask yourself the following questions and take notes:
What do their websites look like?
What are they doing well and what makes their site easy to work with?
How do they connect with your target audience?
What does their content consist of?
What strategies are they using that I could implement better?
What do you think they're doing wrong?
Use competitive analysis to make your website better than the competition's! It's a dog eat dog world out there and there is nothing against getting ideas from others!
3. Wireframe It
The next step, after conducting thorough research and setting goals is creating the website "draft" or wireframe.
Just like you would for any type of draft, a wireframes allow you to visualize your site before it gets built out.
When you use a wireframe, you can place each element precisely on the page just like we did below for a Disruptive website page: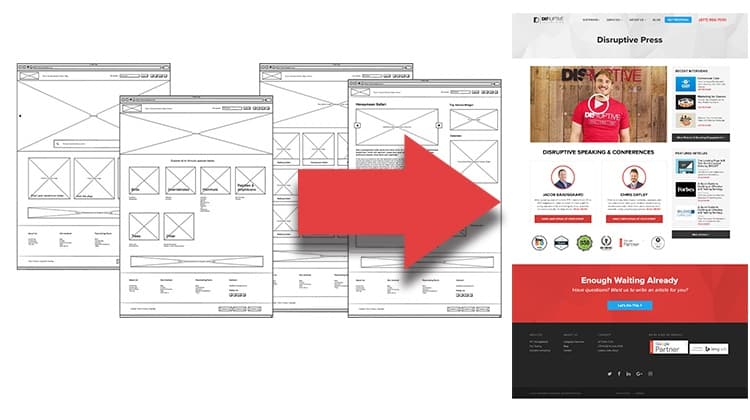 Wireframes should always consider uniformity and balance in functionality, design and content. The goal of this is to break down the strategy for each page in the simplest way possible, by mapping out where which elements will go, such as images, content, and conversion points.
Grid-style websites have become the norm so that is a great place to start! Together, with your web designer, you can create wireframes that include branding visuals, outlines and information that can be evaluated until it is done right!
4. Determine Budget and Timing
After wireframes are created, many developers will determine the time and monetary amount it will take for them to redesign your site based off of your written and visual expectations.
When trying to determine your budget and timing, heed to the following things that can impact your decision to refresh or redesign your website:
Budget
Typically a good designer is going to charge anywhere from $2,000 to $5,000 for a simple website and upwards of $10,000 to $15,000 for a bigger website with more custom design features. These are just general numbers, and they will vary depending on the experience of your designer and your project details.
When working with a good freelancer, you can expect a design that looks amazing and functions well without any glaring flaws, so expect a price to match the final product.
A refresh is almost always less expensive than a full redesign. That said, a refresh can be a nice start towards a full fledged redesign. Consider what your long term needs are as investing in the "cheaper option" might cost you more in the long run, in the form of lost leads and sales. Be sure to really be honest with yourself on what needs to be done.
Time
A full website redesign will require more time and attention from you and your team, depending on your desired level of involvement. One thing is for sure, you will have tons of back and forth for tweaks and changes which can last months.
If you're too busy to dedicate much thought to your website redesign, it may make sense to do a short-term refresh of your existing site and then—when you have a little more time—go for the redesign.
PRO TIP: When your developer estimates a timeline, know it takes longer than what is always projected. A safe rule of thumb is to always double the time and expect on that as to when your website redesign will be done. Avoid getting lost in a redesign black hole if the project is not done within 3-6 months, cancel!
5. Build It Out
Okay, now it's time to start building your site. Sounds easy, right?
Well, kind of…
The simple definition of this phase is that you physically design and build out your website based off of your wireframe. With your wireframe in-hand, you will work with your developer to start bringing that vision to life through design. This will include applying a pre-existing temple or new template as well as getting your branded content, visuals and photos ready to be uploaded and live!
6. Fine Tuning
At this point, you might feel you are ready to go live, but there are a lot of things to ensure before you share! At this stage, it is all about function!
After everything is built out, it is imperative that you know how each page and every element are supposed to function and that it actually works.
Look to see if the following are functioning well:
Responsiveness (desktop and mobile)
No bugs
Website speed
Navigation and flow
Content (no typos, mistakes, discoloration, bluriness)
Ask people to view your site on different browsers, devices, etc to ensure you are smooth sailing across the many places people will find your site. There is no such thing as too much quality assurance! Once you're done testing, it's time to go live! Hooray!
7. Launch Time
Launching your website is at once the most exciting moment of your website redesign and the most stressful.
But, the nice thing is, if you have prepared your website in a detailed manner, tested your stuff till the cows come home and you have a defined clear launch plan, you will be in great shape!
That last part is particularly important, because you don't just launch a website with just a push of a button. There are a lot of things that go into a successful website launch so many sure you not only attend to the website details but also the launch!
8. Long Term Plans
Just because your site is done does not mean that is the last step! You need to have a long term plan in place to what you want to accomplish after you hit publish!
Although each of these plans will be unique to your business you want to make sure you consider plans for the following:
Plans and contacts for bug resolution
Plans for immediate changes
Maintenance plans to keep your site up and running (particularly with security measures)
Testing plans for long term strategy
By having short and long term management plans in place, you and ensure your website and it's changes run smoothly.
9. Celebrate and Test
What's next? Measure, test, iterate, and celebrate!
Wahoo! You've got a fresh, newly redesigned site out on the internet!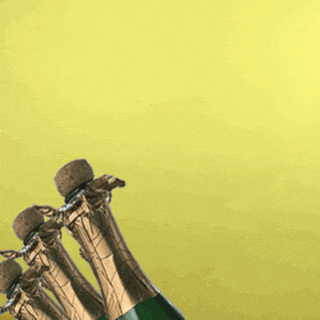 When the glitter and dust settles from your new website redesign, you want to make sure that the changes were worth it. Remember all the hard work you put into your research, documenting metrics and setting goals? Now is the time to see if any of that worked the way you expected it to!
Go back to your original metrics and start going through your new results. It might take a little time to get enough traffic to see if your assumptions were correct, but you should be able to tell pretty quickly if you're on the right track!
BONUS: When Do I Get Off the CRO and Redesign Crazy Train?
I feel there is a fear for many people who sign on for CRO testing and redesigns that it will be a recurring cost that will continually gnaw away at your pocketbook.
This is not true. 
There is an end to the "crazy train" and you can get off. They key is knowing that there needs to be a result equal to the amount you are putting into your marketing efforts. As long as you see improvement, keep going! Why would you stop something that is literally making you money, right? But, if you are feeling like there are no benefits to your costs let alone improvement, it's time to get off the train and move your marketing budget elsewhere.
Now You Know
A website redesign is a huge undertaking, but if done well, it can be a game changer for your button line. If you follow this plan, and you heed some of the suggestions on if a website redesign is for you, you'll be staring at new project that will reap great benefits to you as well as creating something your audience will love!
Contact me here if you have any questions!
What do you think about website redesigns? When do you feel its a good move versus when it is not? Comment below!