Marketing Objectives: It's Time to "Goal" for It!
by Cydney Hatch • August 21, 2018
"Our goals can only be reached through a vehicle of a plan, in which we must fervently believe, and upon which we must vigorously act. There is no other route to success." —Pablo Picasso
Do you know what your marketing objectives are and how they support your business objectives? If you're scratching your head, you're not alone.
As humans, we all have wonderful intentions to improve our lives and achieve our goals but sadly enough, making goals is easy, but keeping them and really defining them for success?
…Not so much.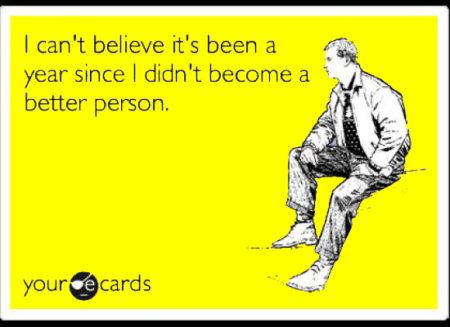 The ugly truth: many of us falter and leave our intended goals behind. In fact, a Harvard Business study revealed amazing statistics related to goal setting and success:
83% of the population does not have goals
14% have a plan in mind, but are unwritten goals
3% have goals written down
The study went on to find that the 14% who have goals are 10 times more successful than those without goals. The 3% with written goals are 3 times more successful than the 14% with unwritten goals.
What can we learn from this?
At the heart of all successful is planning out effective, measurable and achievable objectives.
So, if you're developing a business marketing strategy that has the heart but lacks the proper tools and supportive roles marketing can give businesses—use this guide to define, measure and execute your marketing objectives.
Together, with these steps, we can GOAL FOR IT!
What are Marketing Objectives?
Life requires plans and deadlines.
Whether it's which college we plan to attend, what we plan to do for our careers, what colors we plan to paint our home or what marketing plans we have for our business…it all requires some thoughtful planning and defined deadlines.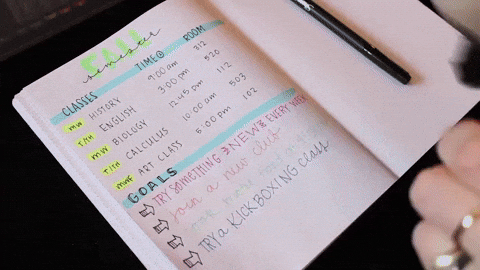 Just like these examples, at the core of any great marketing plan is a list of clear, strategic and thoughtful marketing objectives.
As marketers, it can be easy to get wrapped up in creating ads, campaigns or content, but it's important to take a step backward and ask yourself, "How will this help my business?" If there isn't a clear connection between your marketing objectives and your business's overall goals (increasing profitable revenue, for example), you're probably barking up the wrong tree.
Marketing objectives are a brand's defined goals. They outline the intentions of the marketing team, specific numbers and provide clear actions to execute.
For example:
Grow market share
Target new customers
Generate sales
However, these objectives are fairly broad. As a marketer, it is your job to figure out how to use marketing tactics to achieve them! So, a detailed marketing objective for growing market share could be:
"In order to meet our business objective of X% market share in the automobile manufacturing market, we will increase our online marketing budget by X%, increase our spend on awareness with PPC by X% over the X years, and achieve a cost per customer acquisition of $X by the end of 2020.
Why are Marketing Objectives Important?
No one wants to run around like a chicken with its head cut off…especially if it can cost your business money!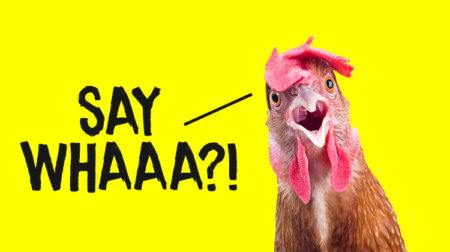 Without defined marketing goals, a business will struggle with achieving its plans because it won't be clear on what it wants to do or how it's going to achieve it. Throwing money into your marketing budget without clear plans is not going to do the deed!
Like Google Analytics and other parts of advertising/marketing, you need to follow where the money is working! Marketing is not left to chance for magical success. You will be far more likely to reach your business goals when you can define and outline a list of measurable marketing objectives.
So, let's not dilly-dally! Let's get planning!
How to Define and Execute Proper Marketing Objectives
Okay, here's where you hop off the marketing cloud and get your hands dirty spelling out how you are going to make things happen for your business.
Like I said above, the simplest way for you to check if you are on track is to ask yourself, "How will this help my business?" If there isn't a strong connection between your marketing objectives and your business's goals, it is not worth your time! 
If you're new to the marketing plan process, you might wonder where to even start. Let's take a look at the steps you need to take to make the most out of your marketing plans and ultimately, objectives:
Self Evaluate to Gain Barring
I think the best way to start is to take a gander at your past and current state. Review everything so you can paint a full picture in your mind of what your business has done and what you want to do!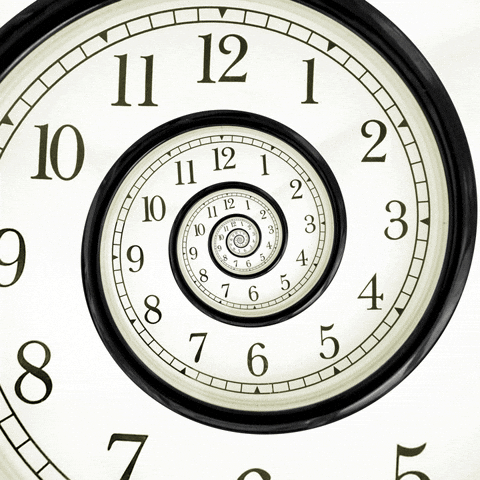 By being detailed in your research, you can make better decisions on what can work moving forward. Look at your past sales numbers, your growth over the years, your typical/new customers, how products (old and new) have fared but more so, what marketing tactics worked!
Once you have a good understanding of where you have been and where you are going, make reasonable projections for what you'll be able to accomplish with marketing support toward your objectives.
Start small so you do not get discouraged! Growth requires time, especially when it comes to marketing tactics! (We all know the chances of viral content and overnight success…low low low!).
Be Reasonable and Prioritize
You should make it a point to limit the number of marketing objectives you take on in a given year.
I find that it is all about quality, not quantity when it comes to making meaningful change in your business! Once you have projections on what you want to accomplish set up your top changes and get specific on what it involves. Focus on the basics of "What" and "Why."
Here are some typical marketing objective categories to spark some brainstorming!
Introduce # new products
Target a new customer persona
Extend/regain market
Build brand awareness
Develop brand loyalty
Grow market shares
Build industry authority
Boost Sales and where will it comes from?
Enter into # long-term contracts
Improve delivery and customer service
Increase brand exposure and engagement on X.
Get Down and Detailed
Once you have your marketing objectives prioritized, you can now start the plan of "attack!" This is where the hard work happens, so be ready for the blood, sweat and tears of tedious marketing planning!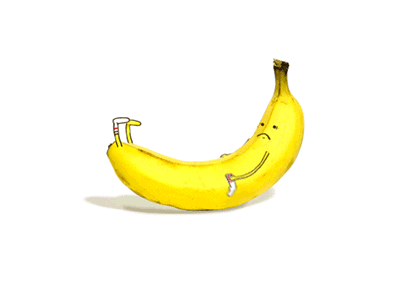 A good marketing objectives plan has the following elements:
Specific marketing timelines
Detailed descriptions of what you intend to accomplish and how
Delegation plans for task responsibility
Relevant goals towards your business mission
Concrete numerical goals
Assigned and specific KPIs for measurement
The key is to take each objective and write out the steps you intend to take to reach it. Ultimately, at first you put the hard work into an outline and from there it's just tweaking for better results later!
As an example, let's say I own a boho bridal boutique that is just starting out and is struggling with brand awareness. Since the business goal is to increase brand awareness, as a marketer I need to think about marketing tactics that can support and solve this problem: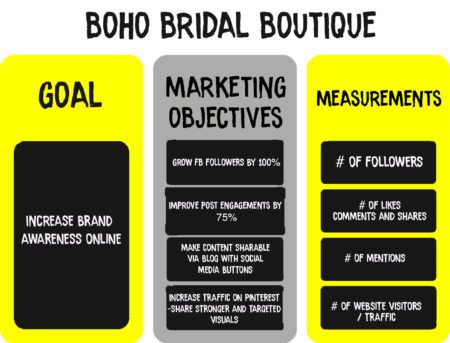 As seen in this rough outline, I have mapped out not only the business goal but also the marketing objectives and the metrics on how to gauge success. Although mine is a simplified version excluding assignments of employees to tasks and timelines, be as specific as you can!
The more specific the better the results!
Taking the time to assign metrics and specific details will help you gain insights into the results you receive. So going back to my example of the boho bridal boutique, if I saw a huge growth in my website traffic coming from Pinterest, I can easily say that is worth putting more effort into my Pinterest efforts, maybe even looking at sponsored ads or including shoppable pins!
Like my example, knowing the details of your plan helps you strongly visualize which strategies worked and which are worth adding additional time and resources to!
BONUS: Create a Progressive Template
Once you have all the details for your plan of action, my advice would be for you to use a graph flow chart or activity matrix to put these things in order! The key to a successful marketing objective template is to design it for a scalable future.
By setting up a progressive template(s), you allow yourself to plan for monthly to yearly marketing objectives with your team! Here are two examples of a more visually focused versus a more analytical focused display: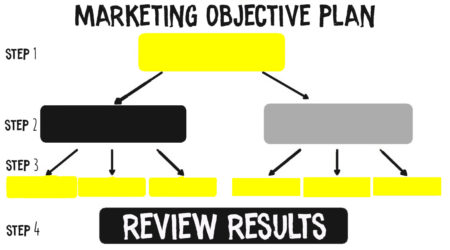 There are a lot of ways you can organize marketing objective plans but just do what works best for your organizational sanity! Whether it's an excel sheet, a visual flow chart or a detail list, it does not matter as long as you are tracking, planning and moving towards supporting your business goals!
GOALS SET: NOW GO!
Business goals are your destination and objectives are your map. Marketing goals are long-term achievements that require you, as the marketer, to be the supporting role of business objectives.
I hope that this article helped you realize that every marketing strategy cannot succeed without clearly outlined and measurable marketing objectives. Now with the above tools, you can now have ways to succeed towards every goal your business sets out!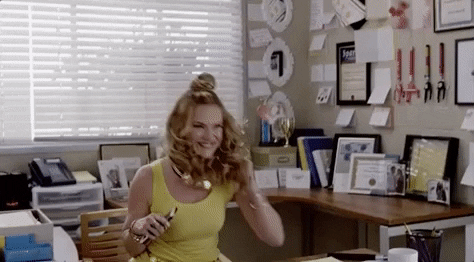 If you want more help with reaching your upcoming marketing goals, reach out to us here at Disruptive! We would be happy to help!
How do you organize your marketing strategy and objectives? What tools do you find more helpful? Share and comment below!