6 Tips for Effective B2B Email Marketing to Increase Sales Quick
Business
•
Email
•
Ana Gotter
August 23, 2019
When you're reading most email marketing advice online, you can almost automatically assume that it's written from a general perspective or exclusively with B2C content in mind. This means that plenty of blog posts covering generic email marketing tips will have some strategies that apply to the B2B sector, but that it can be a little hit or miss.
B2B email marketing does look different than its B2C counterpart, just as one might expect. Instead of dealing with individuals who may be tempted by a discount code for that inflatable kayak that they really wanted but will likely only really use twice, you're marketing to business decision makers who are going to be a little more focused on the bottom line. More research is typically involved in the B2B sales process, and you need to adapt your strategies accordingly.
Trust us when we say that it's well worth it to make this effort. Plenty of data backs this up, including the following:
B2B email campaigns see an average of a 47% higher CTR than their B2C counterparts.
More than half of all B2B marketers (59%, to be specific) say that email is their most effective channel for revenue generation.
86% of professionals prefer to use email when communicating for business reasons.
There's an enormous potential for revenue here, and if you aren't using email, you're missing out entirely. To help you better cater to your specific audience, let's look at a few B2B email marketing tips that most of the generic best practices don't cover.
1. Choose the Right ESP
Email service providers (ESPs) undeniably play a big role in how effective your email marketing can be. Unlike just blasting clients with BCC from your personal email account, this software is designed to help you manage, create, send, and then track massive amounts of communication with your customers.
Almost all quality ESP software (even those that are free up to a certain limit) will have basic analytic data and audience segmentation features. These are both important.
The analytics features can typically give you information like what percentage of users are opening your emails, your CTR, and spam rates. The audience segmentation can help you quickly identify niches in your audience (like those who recently purchased, first time customers, or inactive subscribers) so that you can send more targeted messaging.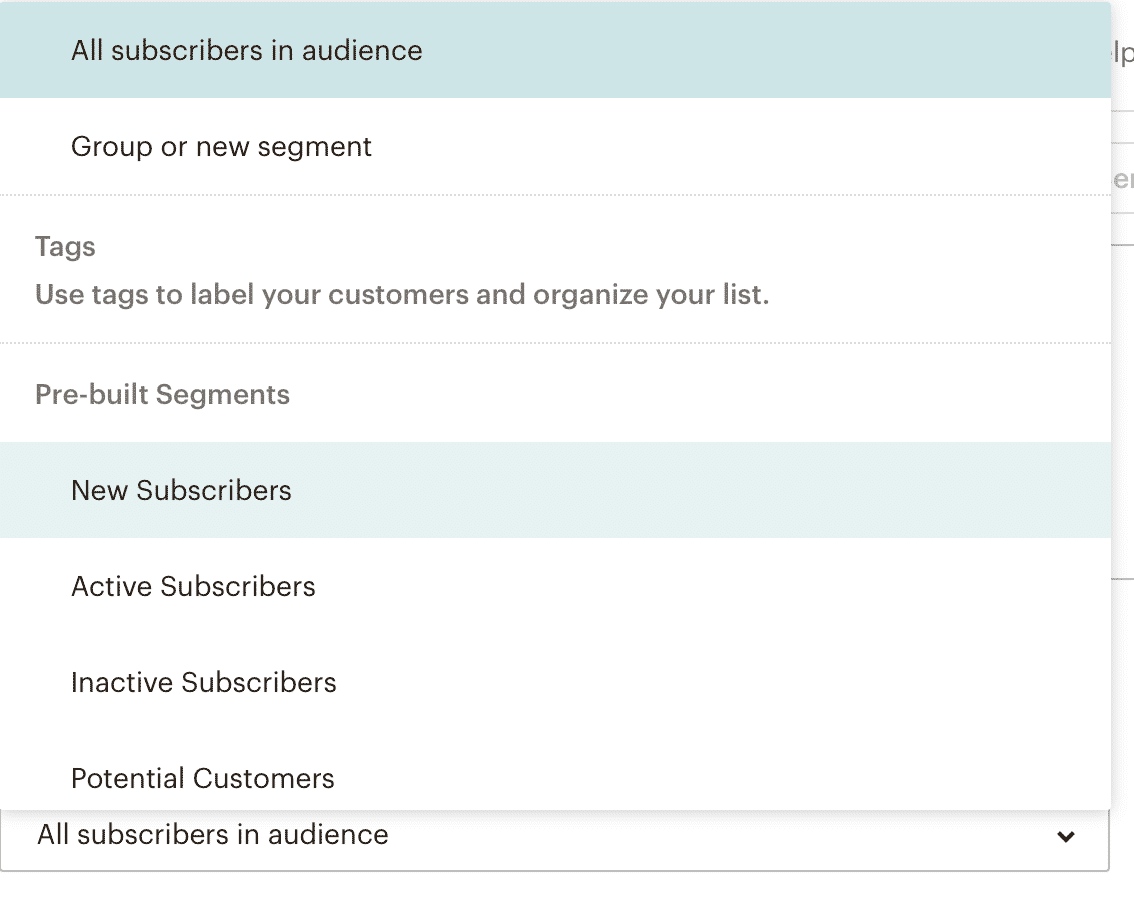 There are plenty of ESP options to choose from. My business is small and I don't need a lot of advanced features, so I use MailChimp, which is pictured above. It's got basic analytics and audience segmentation features, and it's free (with limited features) as long as you have under 2,000 contacts.
There are other great options available, too, at a wide range of pricing. You can go from free to several thousand a month in costs. These are some of the most well-known ones:
Constant Contact, which starts at only $15 a month and has some automation features for a more streamlined process. Free coaching is also available with certain packages.
Campaign Monitor, which is a cool one that comes with really flexible email design tools so that you can come up with something unique quickly. It also includes the option for custom text fields and has more than 100 different integrations available. This one starts at $9 per month, but you really want to spring for at least the $29 plan to get more of their great features.
Hubspot, which offers email marketing as a part of their full-service plan. Because it's a full service plan, you're looking at starting prices of $200 per month (and all the way up to $2000+), but the email tools alone are fantastic, with lead generation features, split testing, detailed analytics that integrates with the rest of the data it collects, and plenty of personalization features. If you're going all in on email marketing and have a large client base, a tool like Hubspot may be a good one to check out.
A lot of these tools offer free trials, or at the very least demos. You can see what works best for you before making a decision.
2. Understand the Role Your Readers Play in Their Businesses
One of the most crucial differences between B2C and B2B email marketing is the ability to reach the person you want to reach and know exactly who you're talking to.
With B2C, you know that you're pretty much always talking to the decision maker, because a person sees the ad, decides they like it and purchases. A minor exception (pun intended) is if you're marketing to someone under the age of 18 who needs their parents to buy it, but we all know the power of persistent kids.
B2B marketing, on the other hand, can be much more difficult, because each business is structured differently and you need to show your ad not to the people most likely to use the product, but the ones making the decision about it. 
Let's say I create table management systems designed to make a restaurants' servers' and assigners' lives much easier, streamlining the process. I can create a campaign targeted to servers and assigners in the restaurant, but no matter how much they may like the idea, they have zero power in most cases over whether or not that new system is purchased. Instead, my best bet is to create a campaign targeting the manager or even corporate's decision makers focusing on the profitability and customer satisfaction instead of convenience on the server's part.
You need to understand the specific audience who won't just use your product, but who will be the one deciding about its purchase. What do they value, and how can you keep them engaged? Understanding who your decision maker is will help you create more relevant email campaigns for them.
3. Create Audience Segments Based on Order Value
When you're creating your email campaigns, segmented campaigns will likely play an important role in your strategy. The more niche your audience is, the more likely you're able to write content that speaks to them.
One important segmentation here is order value. Someone who subscribes to that $200 a month Hubspot marketing service, after all, is likely going to have very different content interests, needs, and offers than the person dropping $2400 every 30 days.
Consider what your audience needs: what sorts of webinars or lead magnets they'd be interested in, what newsletters they'd find helpful, and what offers they'd be most likely to act on. A small business with only five employees is going to be more open to beginner-level advice, where larger companies may want more technical, advanced content. The higher the order value goes, the bigger the offer may need to be, too, to incentivize them to take action.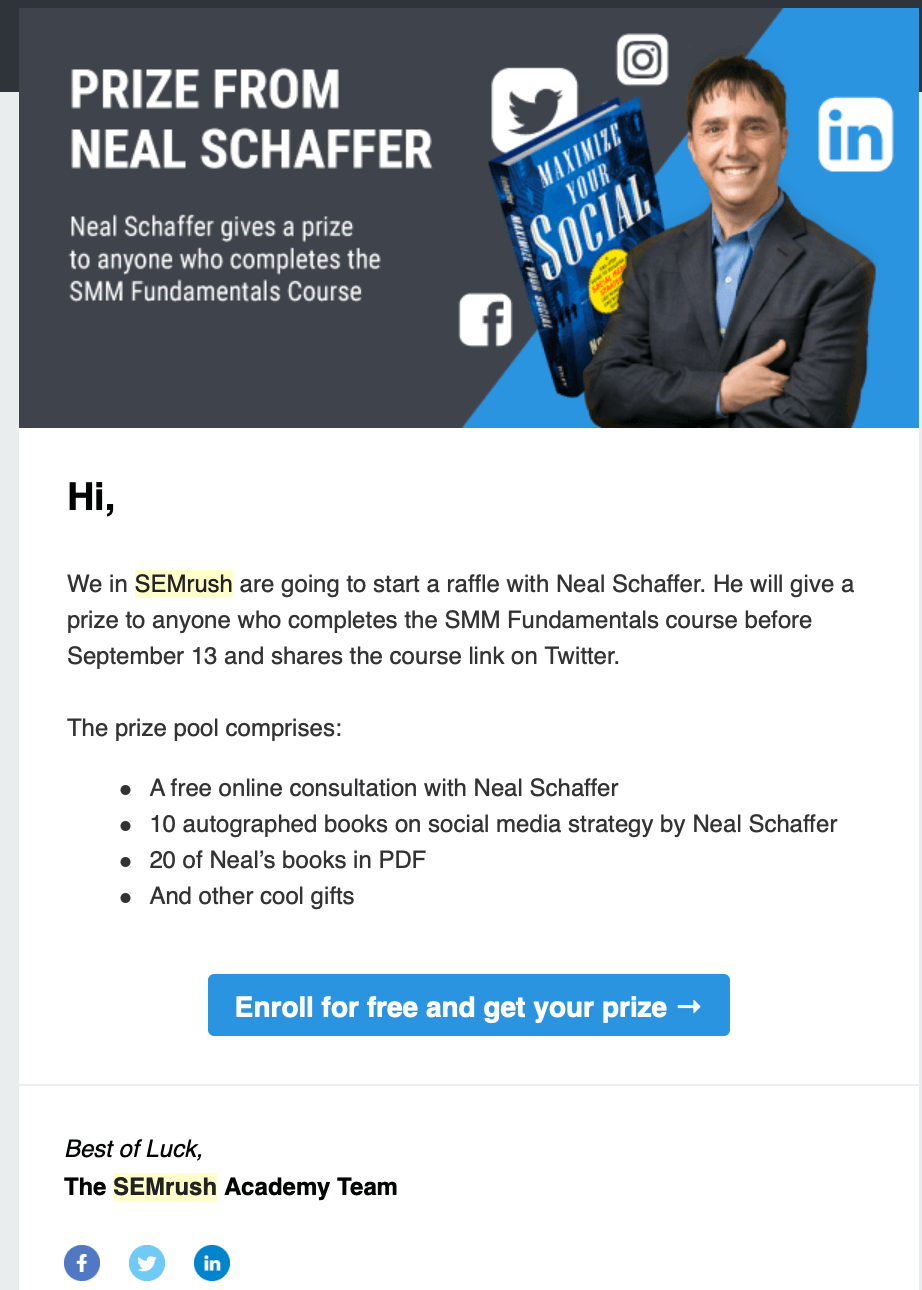 This email campaign and lead magnet, for example, is all about Social Media Marketing fundamentals. This is likely tailored towards entry-level/basic plans like what I have, because companies with huge marketing teams may not necessarily need a social media marketing fundaments course—they've got it covered. They've also got advanced-level webinars that may appeal more to their advanced audiences that beginners may be overwhelmed by, so making sure that the right emails end up in the right places is a plus.
4. Put Emphasis On Referrals and Reviews
Referrals and reviews are the lifeblood of B2B sales in so many cases, playing a significant role in the buying process. The buying process for B2B, after all, is much longer and involves more research, along with knowing what their peers say about a tool, product or service is part of that.
Make sure that your email campaigns are incorporating this in several ways. You should be featuring reviews and even case studies that share your clients' experiences in email campaigns to leads, or those trying to upsell current clients.
You'll also want to actively be asking for reviews and referrals, too. We often need to ask to actually get reviews being uploaded online, so this should be an important part of your overall marketing approach. Send autoresponders after every purchase, and consider sending out requests for reviews in exchange for a discount after the fact.
If you have a referral program, promote it at regular intervals (at least once every six months at minimum). Send an email campaign that starts with what benefits the user can get when they refer their friends and colleagues, and then break down the details of what the program involves.
It should look something like this: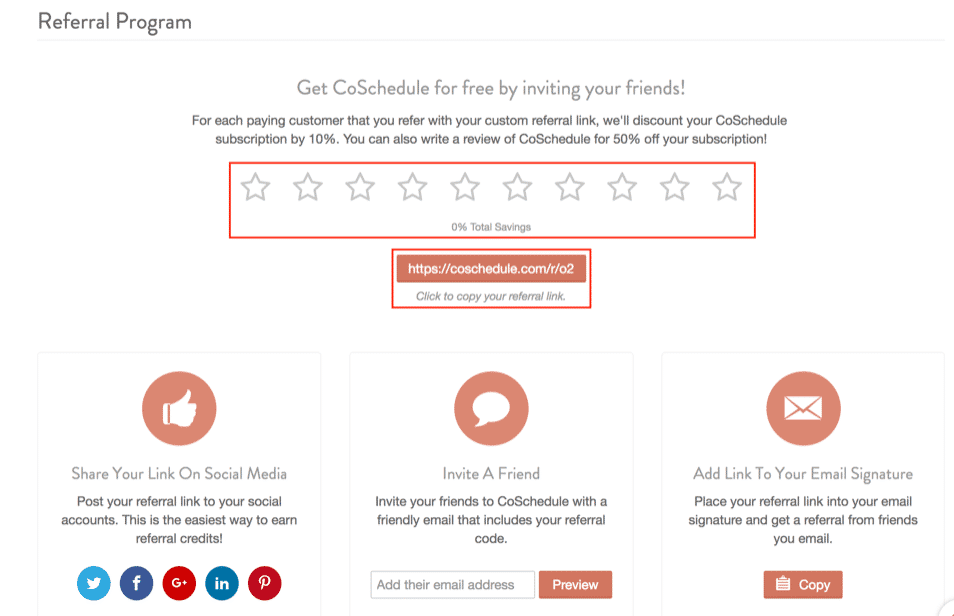 5. Treat Some Campaigns Like Content
Value is the name of the game in B2B, and there's a good chance that if your product or service is niche enough, you'll be able to offer relevant, high-value content that keeps your open rates high and your audience engaged.
Lodging Interactive, for example, offers chat management and social management (amongst other things) for hotels and resorts. They release a bi-weekly newsletter talking about the social media changes that are relevant to the hospitality industry and tips for how hotels and resorts can leverage them.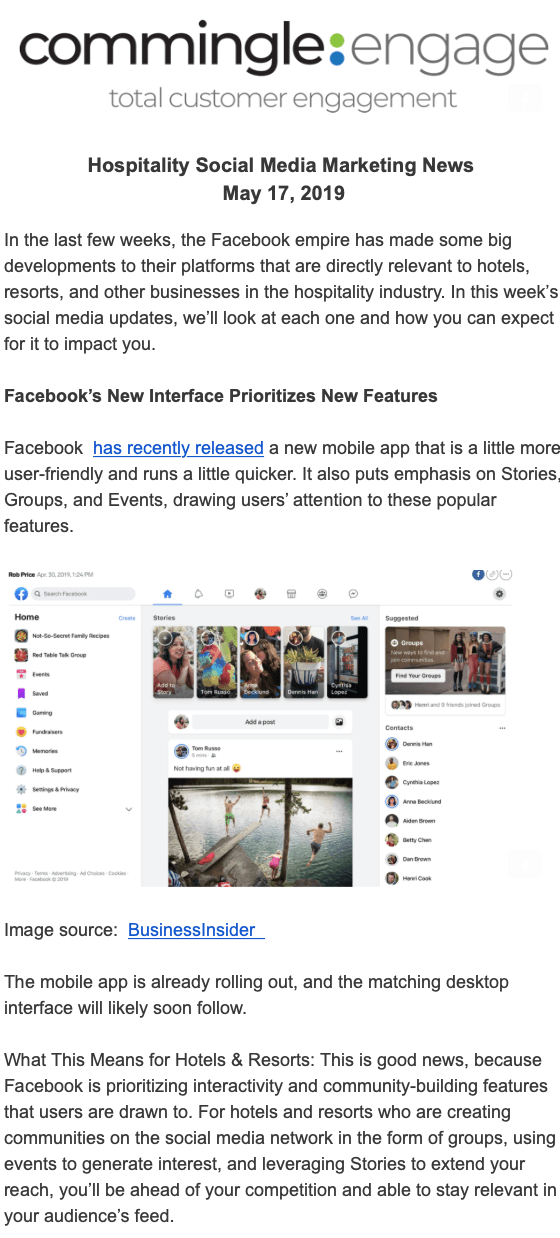 It's utilizing a content marketing approach to demonstrate the expertise and value of the service while offering hyper relevant information that's actionable. It's a good relationship building opportunity and gives them one more reason to stick around and purchase more.
6. Use It to Trigger Autoresponder Campaigns
While your email campaigns themselves can get users from point A of consideration to point B of purchase, it's also good to think of an entire email campaign as just a single touch point that users may interact with. If you are able to use email to set up a stronger multi-touch point campaign overall, there's a good chance you'll be able to sell more.
Emails, for example, can be used to sent your subscribers to a landing page based on what link they click. You can have triggered autoresponder emails ready to go to follow up, but you should also consider using retargeting campaigns on PPC platforms like Facebook or even Display Ads that are designed to appeal to users who viewed those specific pages, products, or services.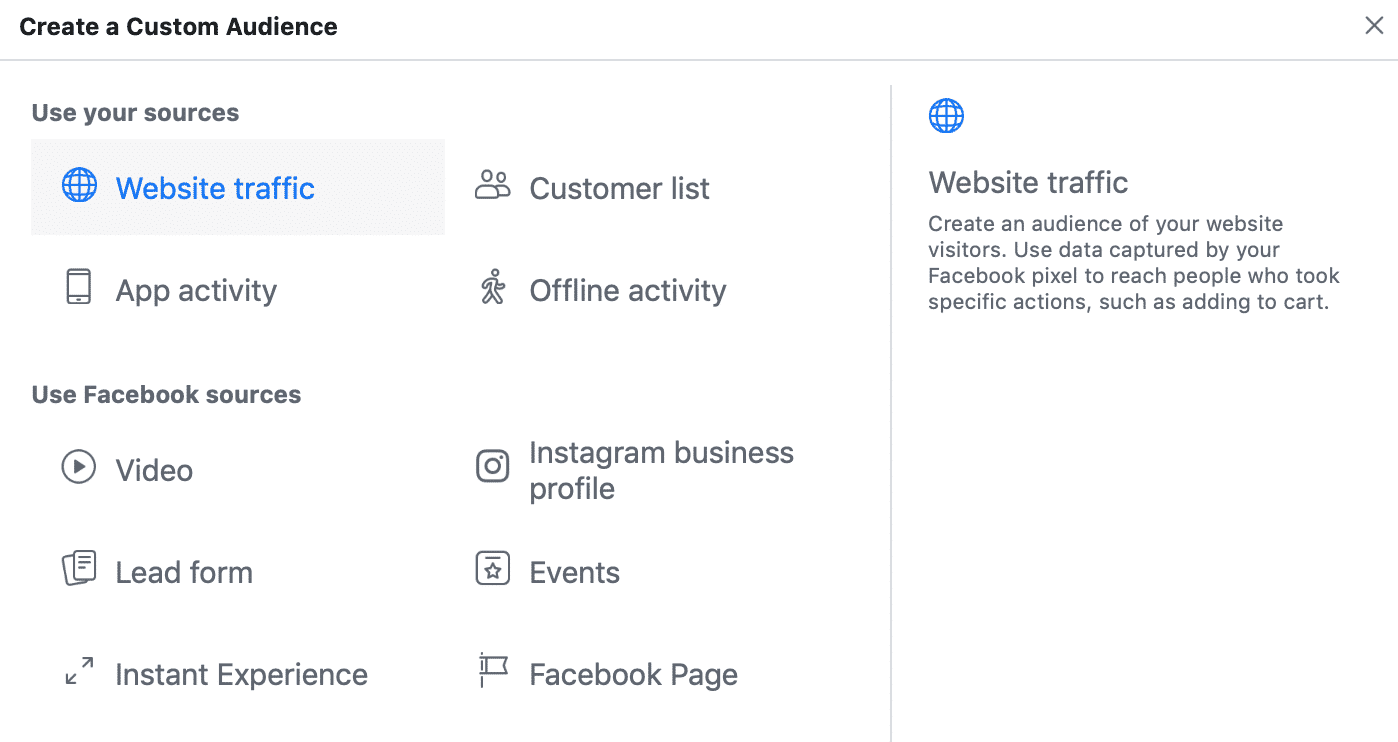 An accounting firm, for example, will likely use very different messaging for a single solopreneur making $30,000 a year and who just doesn't even know where to start with taxes than they would with larger corporations doing hundreds of thousands in profit a month. The freelancer would likely be more concerned about cost, for example, and just not even know where to start, so a little more hand holding may be needed, while the corporation wants big picture guarantees of compliance and savings.
Having autoresponders of all kinds in place are a little like a fail-safe, giving you the best chance of driving more sales by making sure no one slips between the cracks.
Final Thoughts
B2B email marketing is your best chance to reliably and continually connect with your clients, building stronger relationships and driving more sales. It should be a main platform of focus for all B2B businesses, used to keep users moving through the funnel.
As a general rule, approach your campaigns with an understanding of who you're marketing to, what they want to see, and with long-term focus on adding and highlighting the value you offer. This will help you stay on track for B2B email content, increasing success along the way.
What do you think? How do you take advantage of B2B email marketing, and what strategies work best for you? Share your thoughts and questions in the comments section below! 
Leave a comment