12 Email Designs to Inspire Your Next Email Campaign
Believe it or not, email marketing is not dead.
In fact, email marketing has grown into one of the most cost-efficient ways to get better engagement and create more revenue for businesses alike! What once was a platform to communicate with others is now a marketing powerhouse that almost every brand uses to promote products and build brand visibility.
In fact, did you know that more than 2.7 million emails are sent every second? This number is in no way slowing down anytime soon, so as a business you must find a way for your emails to stand out in the inbox if you want to capture the reader's attention and get ahead of the competition!
In this article, we will not only share 8 email designs you should model your future email campaigns on, but we will also share email design basics you need to have in 2019 onward. Read on for some tips to spice up your email designs and content!
8 Email Design Basics You Need to Have
Now, before we share a visual list of email campaigns you need to be inspired by, let's first look at email design basics you need to follow to be successful in today's email crazed world!
1. Set Your Width Size
You can fight me on this, but over time, the standard size for email width has been set to 600px.
If you look at most email platforms like Outlook, Yahoo or Gmail, most will not display wider templates correctly so it's imperative that you get this dimension right! When looking to design your own or buy a template, be sure to make this the foundation of your designs!
2. Keep It Simple Stupid
I think we have all heard the phrases:
"Keep It Simple Stupid…"
"Less Is More…"
"Simplicity is the Ultimate Sophistication…"
And, for email campaign designs, it rings true!
Too often, people try to get too creative or they struggle to cut down messaging when it comes to emails. Many times, many people thinking more stylization will have content stand out more but you need to ensure you keep things branded and simpler.
For example, Macy's did a Fathers Day email campaign that had a whole lot going on while Coco Chanel's holiday was a simplistic email campaign: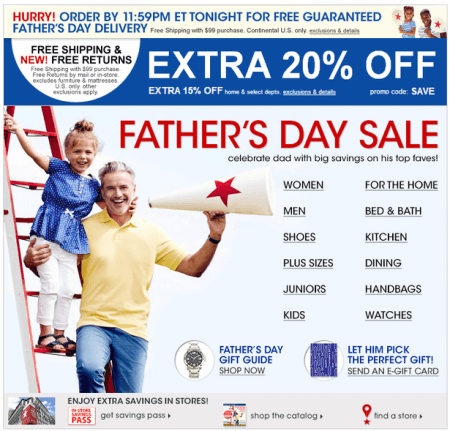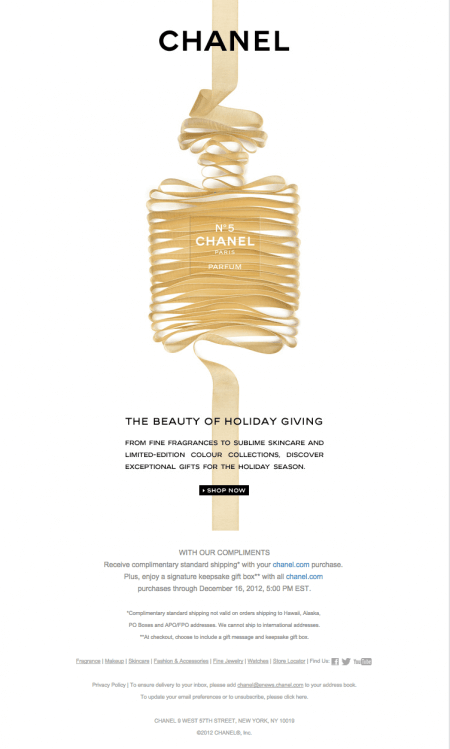 Which one did you "enjoy" more?
Although Macy's is a super department store with lots of great deals, their email created a lot of design friction for those who viewed it. In contrast, Chanel's simplistic message and design created a better flow. Where one email made you go cross-eyed trying to figure out where to look first, the other created a beautiful marketing engagement opportunity.
So, when designing your emails, incorporate plenty of white space for a clean look that visually separates design elements. Remember, the purpose of HTML email design is to help the message get across, so keep it simple! Leave only the essentials, so it can serve its purpose and enhance the message effect.
On top of visual designs, be sure to simplify how you are sharing your text. Don't feature a long block of text anywhere in your email and ensure that you are pointing people to the heart of your email message. Also, be sure to use a minimum of 2 fonts so people can easily recognize your brand.
BONUS: Color Use Do's and Donts
Use a small branded color palette or choose colors specific to a current promotion
Keep text to black against a light background. You can also do in the inverse.
Use quality images
Don't use more than two colors in your overall design
Use color to drive action towards CTAs or Buttons
3. Make Your Subject Line Pop
While you might not think your subject line falls as a "design element", your subject line is in fact one of the most important factors in getting your email opened. So, it's important that you "design" and plan for it.
If you want to draw attention to your email, do not leave the subject line blank! Give your readers a chance to feel engaged with by including elements of:
Emojis
Catchy Phrases
Promotional Percentages
Quick Questions
Statistics
Generally, the subject line should be brief but informative enough to give the reader an idea of what might be said in the email text.
For example, I loved some of the examples below:


Like these examples, you too can craft awesome subject lines that get people excited. If you want additional help, CoSchedule has a nifty subject line and headline analyzer to give you some help.
Remember, there are things like using too much caps and punctuation that will trigger spam filters so be careful!
4. Focus on Your CTAs
If you remember nothing from this article, know that call to action (CTA) elements in an email campaign is the most important element! You cannot neglect your CTA buttons, so design your email template around the actions you want readers to take! Some of the best ways to do this are to:
Have arrows or other elements leading your eye to the button
Center the CTA button in the middle of your email designs
Have negative space around the CTA to add attention
Use contrasting colors to draw attention
Use engaging text to inspire people to click
A great example of this is Ann Taylor Loft using striking YELLOW as a way to connect people to the "PEEL AND SHOP" button: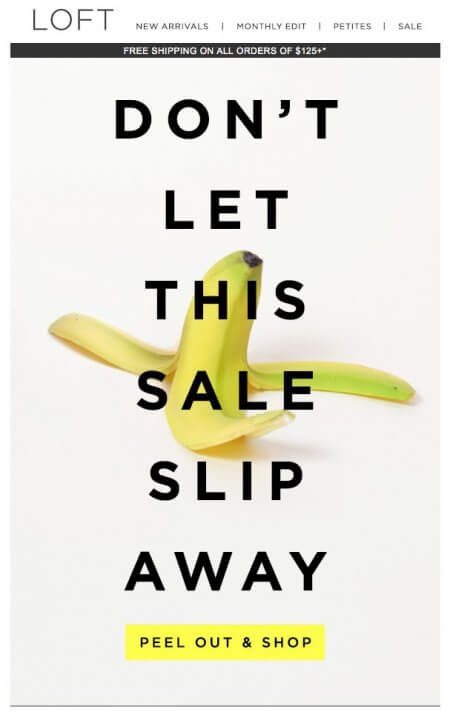 Like them, you can draw the eye to CTA buttons easily through the above tactics!
5. Keep Image Use Down
Constant Contact studied how the number of images and text impacted the email click-through rates. After examining the results from 2.1 million emails sent, the team found that email campaigns with 3 or fewer images received the highest click-throughs.
So, as a rule of thumb, when it come to email designs, you want to have a balance of about 60% text to 40% images. By having too many images you can easily make your email design seem more cluttered, therefore making your reader lost in content not your message. Another reason to keep images down is to improve your email loading time. Save images at 72 ppi/dpi and optimize for the web for quick-loading emails!
6. Add Alt Tags
An alt tag, also known as "alt attribute" and "alt description," is an HTML attribute applied to image tags to provide a text alternative for search engines. Applying images to alt tags such as product photos can positively impact an ecommerce store's search engine rankings.
When you give your images alt tags in email, you ensure that the recipient will know what the image is about. Otherwise, they will just see a blank field when EPS blocks email images.
In addition, avoid setting fixed width and height to your images. If your recipient's EPS blocks the email images, your email design will be left with huge blank areas which will simply not be pleasant to the eye.
7. Use the Footer
When it comes to email marketing, you probably spend most of your time thinking about the message you want to get across. You're likely to focus your energy on crafting the perfect copy, as well as including compelling images.
However, every email you send has a footer. When was the last time you thought about yours? Footers may not be the first thing you think of when creating emails to send to your subscribers, but they're a really beneficial place to pack helpful content!
The signature is more than your sign-off at the end of your email. The purpose of signatures is to include important information about yourself to your reader. This usually includes your name and some form of contact information, such as:
Phone number
Email address
Website
FAQ
Return Policies
Etc…
On top of this, it's important you include an Unsubscribe option to comply with digital rules.
8. Design for Mobile
If you are not planning for mobile, you might as well close up shop!
Yes, CSS has come a long way, but it's still wise to begin with a mobile-first design for optimal viewing across all platforms. Use single-column layouts, larger fonts, and clear and concise messaging and calls-to-action as much as possible.
Now that you have these email design basics in your back pocket, let's take a look at some email campaigns that will make you swoon!
12 Email Designs to Inspire Your Future Email Campaigns
Looking for ways to up your email campaign game? Take a look at the following examples of rock star content and strategies you can easily implement for your brand:
Missguided crafted a playful retargeting campaign for their inactive users and it is a complete gem. With simple visuals, they focused on the email copy to get their message across that they need customers to come back:

With easy to read and emotional content, this campaign inspires people with a laugh to reengage with their brand. As you can see, creative and effective email marketing does not always need to be designed to the nines. It just needs to be thoughtful, personable and connective.
Branding is an important part of successful email marketing, so using a brilliant color palette with strong, vibrant tones and a unique concept can be a great way to stand out. It's what makes this email design by Engage an attention-grabbing piece!

Like any business, you need to start creating strong brand association with customers and with them, there is no question who they are! The pairing of the vibrant yellow with the grabbing images and black and white contrast is simple but beautiful!
The New York Times is known for a lot of things, but did you know they offer a weekly email that shares recipe recommendations from their NYT Cooking subscription? From hamburgers to cassoulet, their food journalists and home cooks are here to serve—with easy-to-follow cooking guides offering recipes, videos, techniques and tips to help both novices and master chefs achieve success.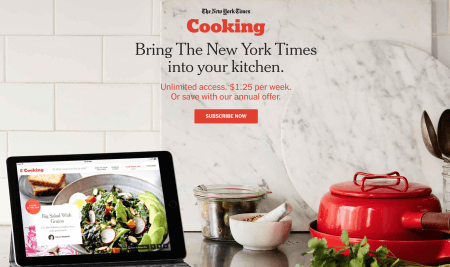 What is brilliant about this example is that it's an easy piece of content that inspires people every week. It does not require a lot of reading but it provides a lot of value. A lot of people struggle to find new quality recipes but the NYP found a way to get into the hearts and inboxes of people through:
Beautiful photography
Long-form content that is written beautifully
Inspirational quotations
Helpful recipes to try for dinner that week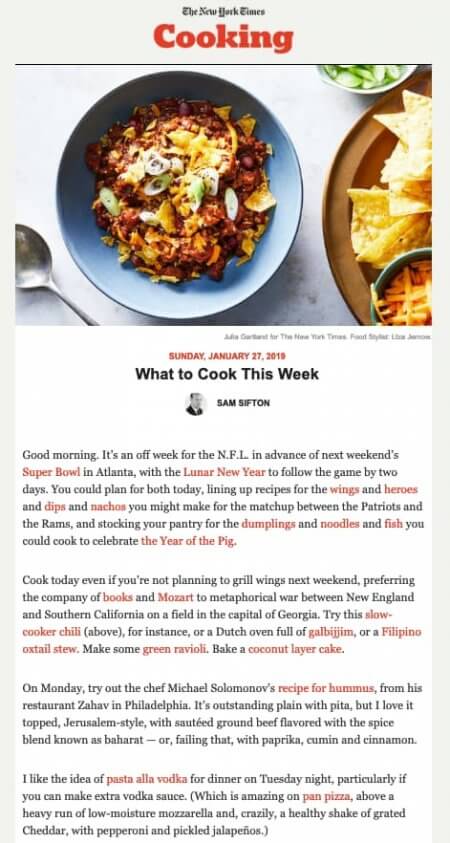 I love the idea of how newspapers are coming up with ways to deliver something totally modern, sharable and helpful!
When people talk about email marketing, lots of them forget to mention transactional emails. These are the automated emails you get in your inbox after taking a certain action on a website. This could be anything from filling out a form to purchasing a product, to updating you on the progress of your order.
Well, charity: water took a stellar approach to this by sharing transactional emails sharing with donors how their money is making an impact! (Something many charities or organizations fail on- sharing the process)
What is really neat about this email campaign is that it strengthens the loyalty and trust between consumer and brand.
By taking the steps like this to include people in your business process, people want to continue working with you due to your transparency and strong storytelling!
Modcloth is masterful at segmenting people in their sale funnels.
From retargeting to creating content along with their shopping experience, Modcloth is fantastic at customer experience. For example, Modcloth sent a 6-month-anniversary email tracking my time shopping with them: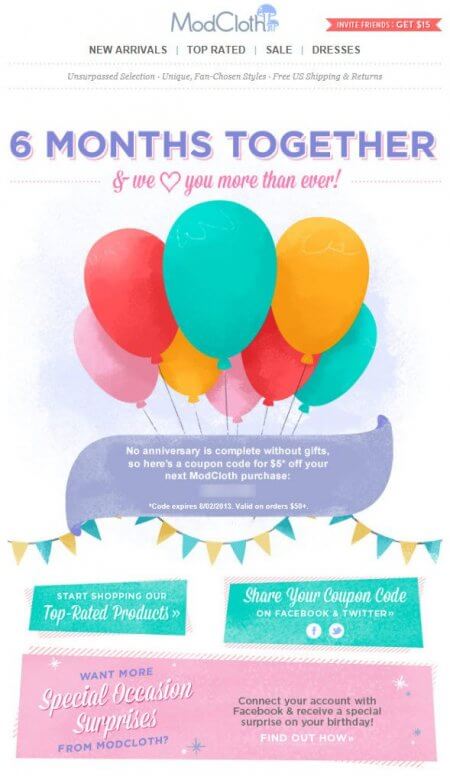 Not only did they make me feel "special", they also gave me a promotion for just engaging with and shopping with them. Like human interactions, everyone wants to feel remembered and appreciated and Modcloth does a fantastic job at doing this through:
Personable messaging
Funnel appropriate emails
Bright and cheery visuals
Giveaways and promotion reminders
Referral programs
Etc
Like them, you too can be personable with your customers and better track their engagement and customer experience! Delight is the name of the game and Modcloth is the real MVP when it comes to delighting their customers!
The beauty of Uber's emails is in their simplicity and humorous relatability.
For example, they did a fantastic job creating a fun reading experience with a clear CTA—perfect for subscribers who are quickly skimming the email: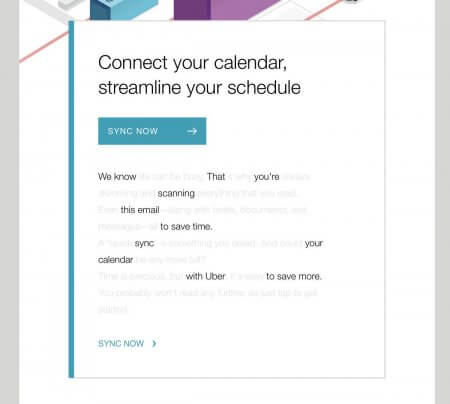 For the people who want to learn more, these are followed by a more detailed (but still pleasingly simple), step-by-step explanation of how the deal works. By adding a humorous relatable twist on the classic subscriber welcome email, Uber really stands out as a brand who "gets people."
This email newsletter by Hatch Inc has a straightforward and effective layout that manages to organize a lot of information into a clean and well-balanced design (this is a big problem for most email campaigns, but they do it beautifully!).
This email from Penguin Classics takes readers through a content journey that is divided into logical sections which give images enough space to shine while not being overwhelming!
Talk about beautifully balanced!

If you are struggling with sharing lots of content effectively, using a design like this that organizes and balances content beautifully might be the way to go!
This design by Starbucks coffee uses consistent sections to allow for this design to communicate several messages at once, each with equal importance:

The header and footer are clearly separated and the vertical sequence—divided horizontally—lets the reader scroll through the information with ease. Each image is simple but strong in color and composition, letting the section to speak for itself and no one section overpowers the other.
Thanks to the GIFs, keyframe animations and live backgrounds that dominated in 2018, web and email design trends no longer emphasize big blocks of wordy content. For example, Shoemint did a great job at using minimalistic GIFs to showcase Get Happy Socks by featuring tapping feet in their email campaign: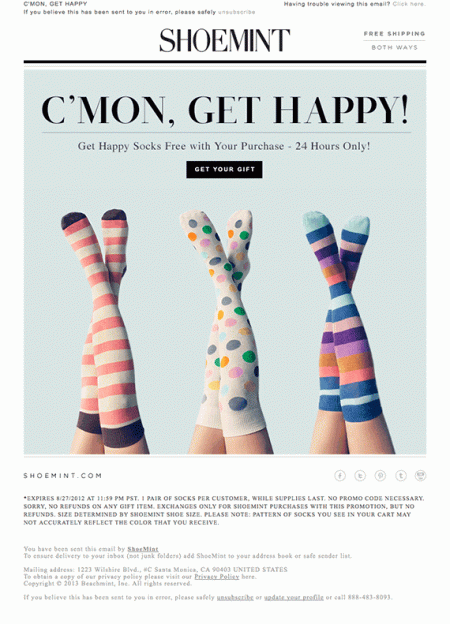 Like them, CSS animation is on the rise and you can definitely use moving images to drive interest! Some of the newer email design trends are:
Hover effects
Flip effects
Scratch fields
Countdown timers
As with other forms of visual content, create your CSS animation in such a way that it provides the bulk of your message and captures the attention and imagination.
Email campaigns feature all types of sales and promotions, but are you being creative with how you are presenting promotions? Most times, people expect sales and promotions from brands via email but your sale don't have to be ANOTHER unimpressive and uncreative promotion.
What I love about Casper is that they created a beautifully branded email campaign for a unique holiday: Daylight Savings!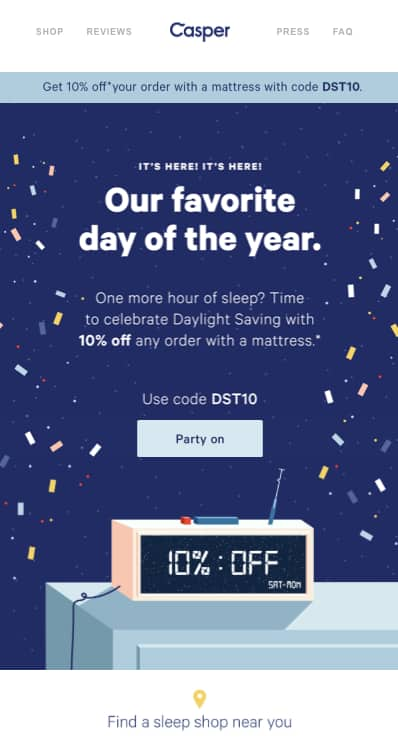 This email campaign was created around not only a holiday nobody ever celebrates, which makes it unique, but also one that relates to their brand: one for sleep! This email campaign has a beautifully crafted content story of a promotion for a mattress during a holiday where all you want to do is sleep!
The overall email design, subject line ("That extra hour, though."), animated GIF, short copy, and a clear CTA—everything fits perfectly!
Finish Line promoted their new shoes in their email newsletter that featured a handy dandy countdown. As the most important information, the image of the sneakers and the countdown timer were placed at the beginning of the email ensuring that the recipients would see it even if they didn't scroll down.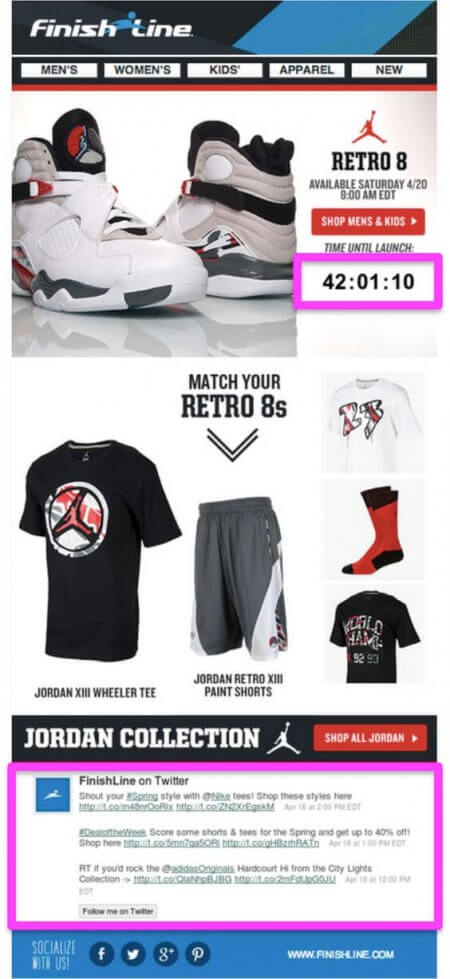 This email design tactic is based on the FOMO (Fear of Missing Out) theory where your readers take action because they don't want to miss out on any great opportunities. This method results in higher conversion and click-through rates.
On top of that design feature, Finish Line did a fantastic job of listing the matching clothes as a brilliant way to do some upselling.
There are so many ways businesses can showcase services and products they have in their store. BHLDN —a wedding boutique store through the powerhouse Anthropologie—does a fantastic job at creating helpful content to their customers.
As someone is looking to book a bridal appointment, BHLDN sends out the following email guide:

If you need the user to make the scope of actions or explain how to work with your software solution or a product, it's better to make a short guide in order to be understood correctly.
Like BDHLN, you can create helpful visual guides to help people along the path to purchasing or booking. Most times, people appreciate the helpful hand instead of the push to book!
Email Design Inspirations: Get Creating
Whenever you're messing around with email design, keep in mind the basics you need to include to ensure best experiences. Armed with the above tips and the elements featured above, you can design compelling emails that not only get opened but motivate clicks and fuel sales.
If you need some extra reading on email design and email copy tips, be sure to click here and here. Disruptive is also here to help you as we have the new email services at our customer's disposal! We love email and we love seeing you succeed! Reach out to us here if you want some help!
What do you think? Have you ever gotten and email you absolutely loved? Hated? Share some of the things you love about email below! 
Leave a comment