PPC Brand Building: 4 Strategies to Test Today
by Ana Gotter • July 12, 2019
If you see an ad on Facebook or Google or Instagram or Pinterest, your automatic assumption is probably that the brand wants to sell you something. This wouldn't be wrong, of course. The long-term goal of most ad campaigns is to sell you something or to drive specific actions like signing up for an event or giving donations to a charity.
The immediate goal of each individual campaign, however, may not be focused directly on selling; in many cases, the focus is more on brand building through PPC.
Establishing brand awareness and identity is one of the strongest uses of PPC campaigns, particularly when display ads are involved. It's an important step in the digital sales funnel, so we're going to take a look at a few key PPC brand building strategies that you should test in your next batch of campaigns.
Brand Building: Why It Matters
Brand building is all about creating a strong identity for your organization, setting yourself apart from your competition and finding new ways to stand out in the minds of your target audience.
Let's look at an example. Who Gives a Crap is a relatively new company that creates sustainably-made paper products. It started with toilet paper, and has expanded to paper towels and tissues. Even their name utilizes strong branding, and all of their copy matches the fun, engaging voice that the brand name uses. Even the messaging that shows up on their delivery boxes is entertaining, as you can see here: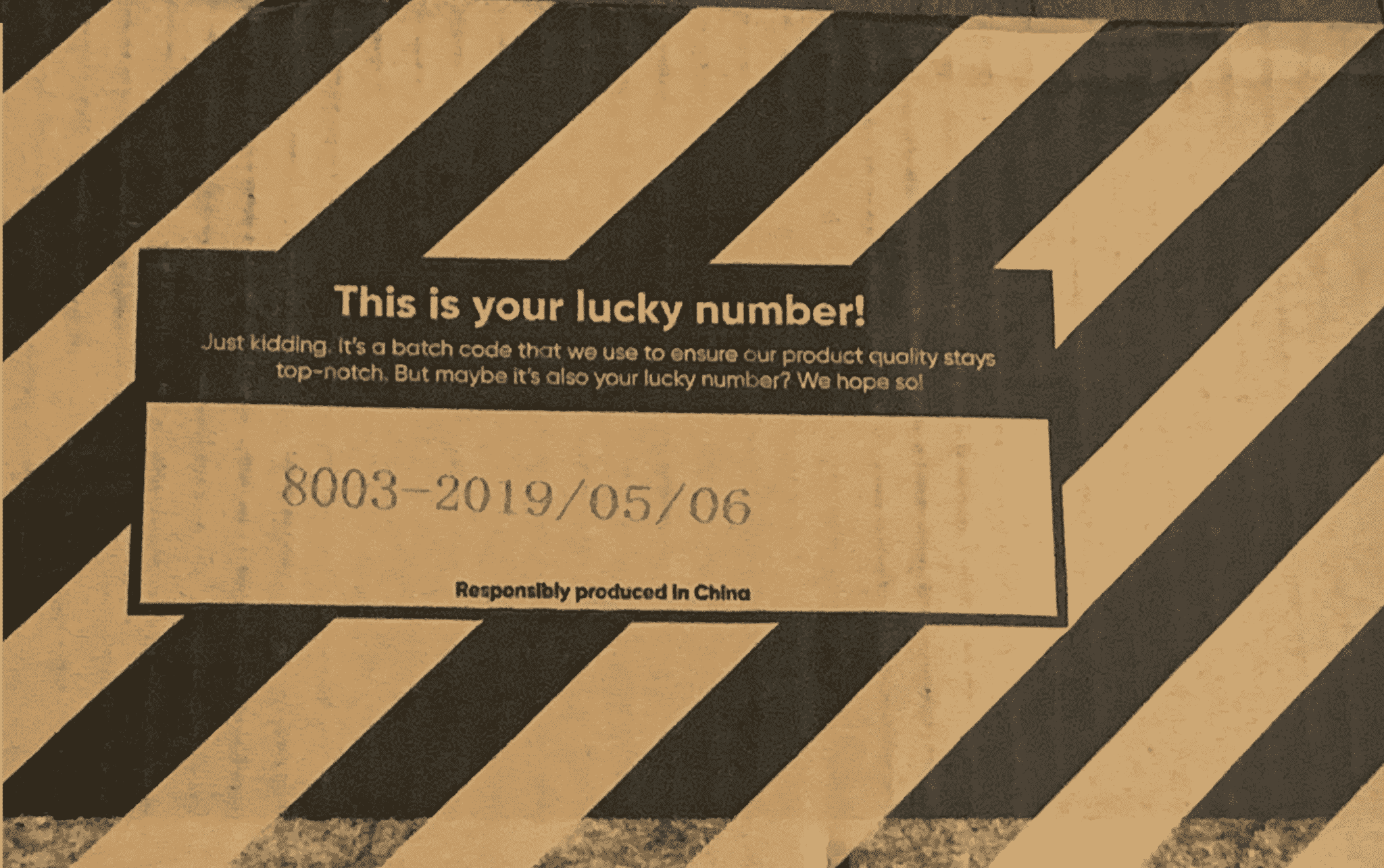 They frequently remind users with their messaging that they're a new, modern company who cares about the world and wants to do good. They stress in multiple places (including after you purchase) that not only are you helping the environment by using these products instead of others, you're helping because a portion of all proceeds go to building toilets in places of the world that need them. This is reflected in all of their PPC copy, really hitting home with what they're doing, who they are, and why you should purchase.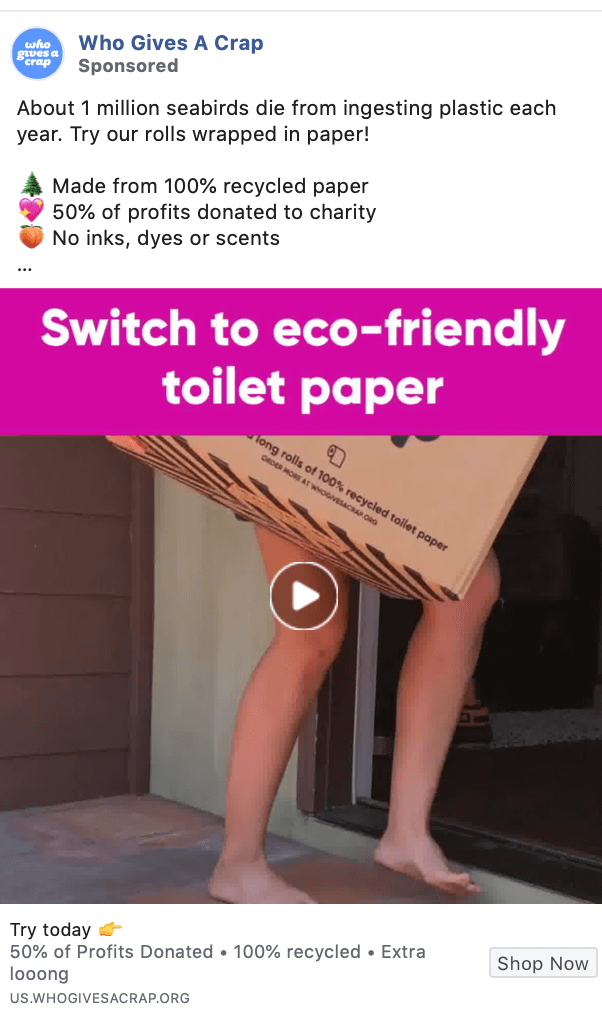 This is what you want to be doing with your brand building. Create a strong, distinct brand identity. Tell your audience who you are, what you do, and why they should care. Developing a unique voice and a clear unique selling proposition (USP) is the way to go here, and make sure they're always clear in all PPC campaigns.
Why PPC is So Valuable for Brand Building
Brand building can be a monumental challenge, because a big part of your brand is how users perceive it.
PPC can help you test out different branding facets quickly if you want to, evaluating users' response by seeing their overall engagement. PPC also is incredibly useful for the sheer amount of exposure it offers—you're able to target specific members of the audience segments you want to reach, introducing your brand to new potential customers.
You can reach cold audiences with messages that focus exclusively on establishing your brand, bringing them into the funnel and setting them up to be ready to convert on ad campaigns that they'll see later on in the funnel. Someone who knows how incredible your brand's sustainability process and high quality is are much more likely to convert when they see that discount-focused-ad a few weeks later.
4 PPC Brand Building Strategies to Test
When you're creating a campaign that's focused on brand building instead of immediate lead generation, conversions, or event sign-ups, you need to utilize different strategies and best practices to do so. Brand building is all about introducing and establishing your brand in the eyes of your audience instead of trying to get them to sell immediately. Hopefully, a few will purchase/donate/take whatever action you're looking for long-term, but that's not the big goal right now.
There are 4 solid strategies that can help with PPC brand building. Let's look at each one.
1. Utilize Brand Differentiation
A solid strategy for brand building campaigns is to immediately differentiate yourself from other brands, making it clear why what you have to offer is so unique. You can do this by comparing and contrasting, and it's even possible to do without directly naming any of your immediate competitors. You're establishing awareness without helping to promote name-brand recognition to any of your competition.
This ad from Ava Women is a strong example. They actually say "unlike LH tests, which only give you one or two fertile days," and then explain that their fertility products can give you more days and a higher likelihood of success. This is a direct comparison to other products, making theirs clearly seem superior in the industry.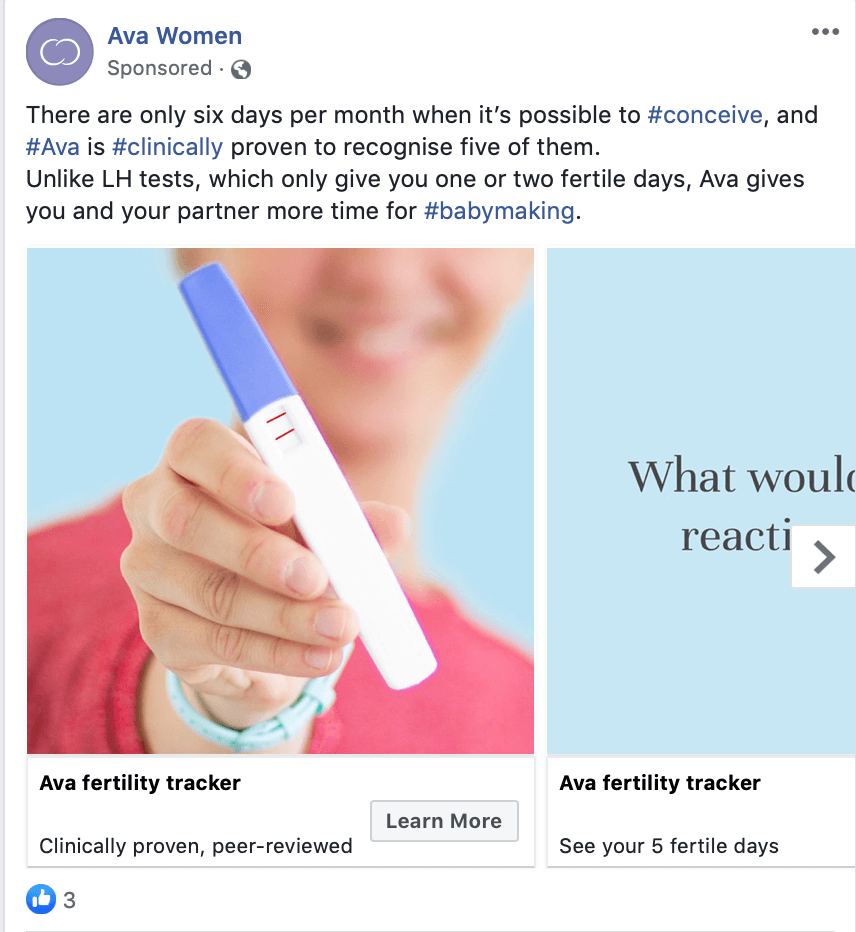 Another great example is the following ad from Tiger Gemstones. They compare their product at a price value of $199 to a $100,000 diamond ring, showing that they look the same. This is an immediate compare/contrast that shows the overwhelming value of their product.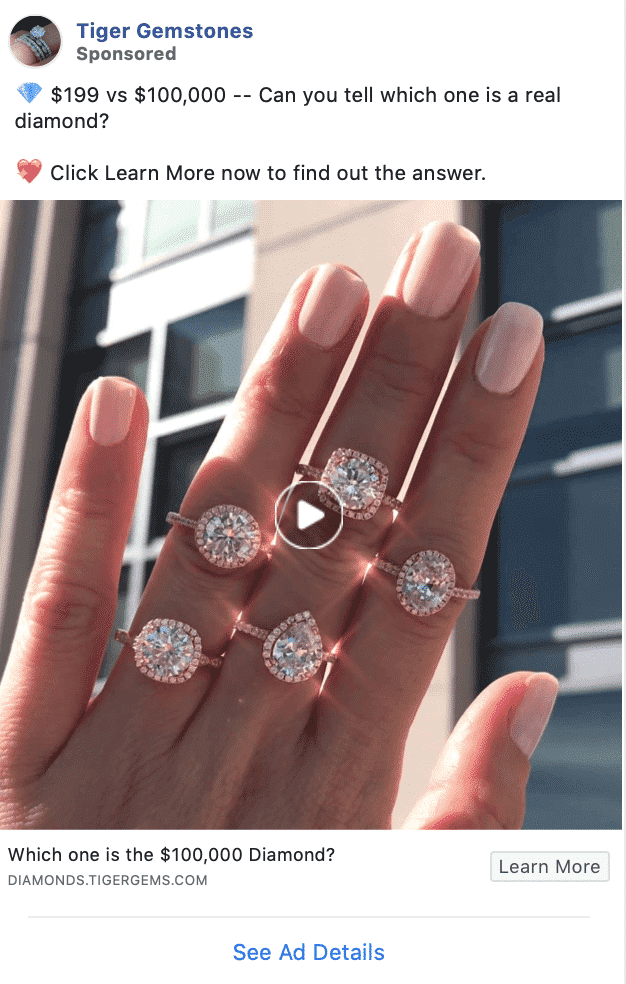 This is a little easier to do with display ads where you have more room for text and visuals for direct comparisons, but it's possible to use this in search, too.
2. Go Straight for the Pain Points
Even though you aren't selling right now, the best way to capture user attention is to focus in on that pain point quickly. This resonates with them, so even though they likely won't be ready to convert just yet, they'll remember it.
Tell users exactly what benefits you can offer that are unique to your industry; you can do this in a straightforward way, or do so by using some gentle comparison and contrasting from the strategy above.
The ad below from Ramen Hero makes sure to list "no line, no artificial MSG," which are two unwanted things that many people are stuck with if they want incredible ramen from local areas. This can resolve a pain point to an extent.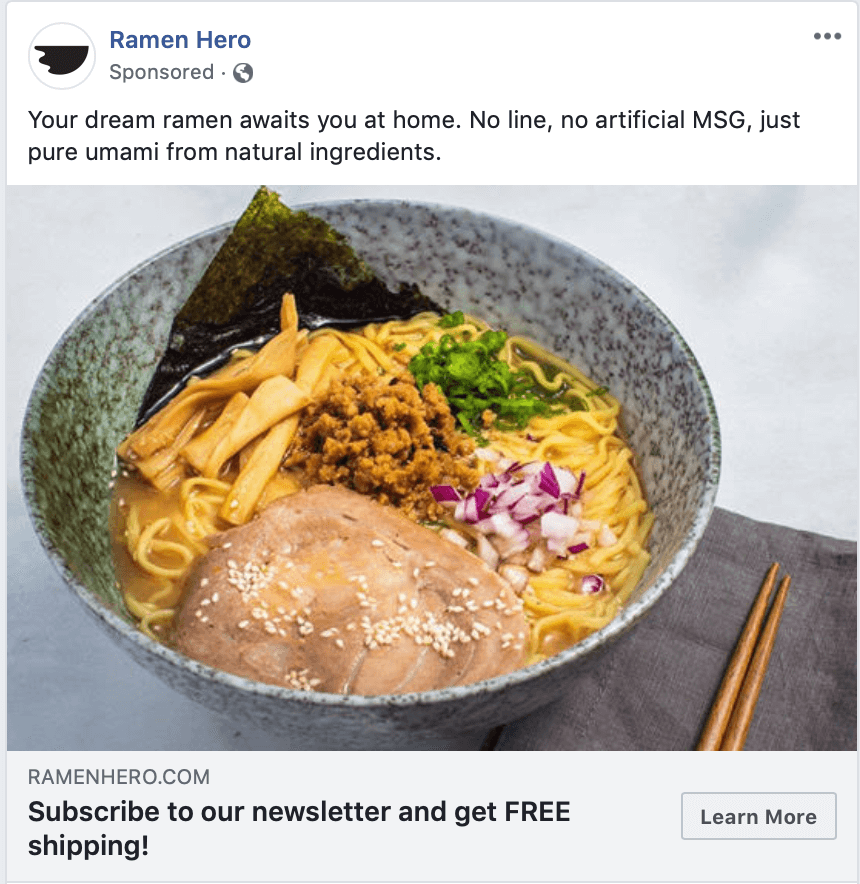 This strategy is pretty easy to implement with search ads, too. Even though you have limited ad space, you can throw in a few adjectives that appeal to common pain points.

Plenty of people know that movers are often both expensive and prone to rush and damage your valuable items. Mentioning "we're reliable, affordable, and trustworthy" and backing it up with strong reviews appeals to that pain point many potential customers may have. This ad is more focused on direct sales, but plenty of search ads will be.
3. Tell Your Brand's Story
Each business has its own unique story of how it came about, and plenty of those stories are interesting. Consumers are all about authenticity and transparency right now, so giving them a look behind the curtain to see why your business was started is a solid strategy. Stories are easy to remember, and they're powerful, so it's a great move.
Check out the following video from Orgain, for example, which I first saw in an ad campaign. It sets the stage for how great the product is by explaining why the brand was started by the founder who had cancer and wanted to improve his health. This is a powerful message, and it sets the stage for brand building. It makes you think that this is a company that is invested in high-quality, healthy products.
This strategy will really only be possible via display ads, but those are best for establishing brand awareness.
4. Incorporate Video Into Your Strategy
Video is a great medium to use when creating display campaigns for PPC brand building. The example from Orgain above proves that.
Video, after all, is engaging, and it's more likely to draw in user attention since consumers are watching more video than ever before. It also gives you more room to tell a story and/or feature your products or services than a single ad text would, because it's flowing in a video clip instead of showing up as big chunks of text.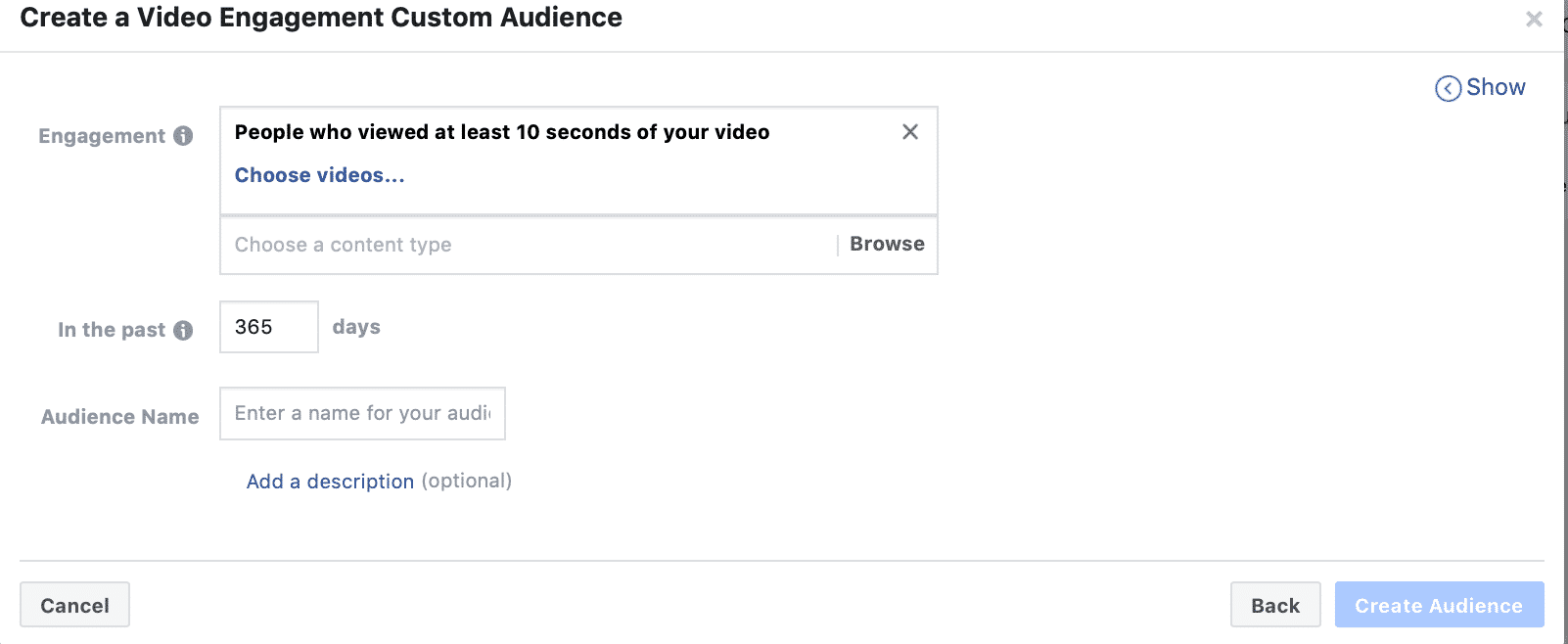 There's another great benefit to video marketing for PPC brand building, too, and that's the ability to remarket on Facebook and Instagram Ads.
When users watch your initial brand-building campaign on video through Facebook Ads, you can retarget them if they've watched a certain percentage or length of the video with ads taking them to the next stage of the digital sales funnel. This is already exceptionally valuable, but it will become even more so as Facebook's Clear History Tool rolls out and other conventional retargeting methods are put into jeopardy. You can read more about this here.
Conclusion
PPC ad campaigns—whether you're using search or display ads—can give you enormous, almost unparalleled reach that organic campaigns typically can't live up to. This reach combined with the ability to utilized detailed targeting gives you the chance to create relevant, engaging campaigns to tell your brand story in a way that will appeal to the people seeing it. Brand building is essential, and these campaigns are an excellent solution to do it on a much larger scale.
Wondering where to start with your PPC brand-building campaigns? Learn more about how we can help with our data-driven campaign management by shooting us a message here.
What do you think? Have you ever used PPC campaigns for brand building? What PPC brand building strategies have worked best for you? Share your thoughts and questions in the comments below!