Account-Based Marketing: Your Secret to B2B Marketing Success?
Account-based marketing has become an incredibly popular B2B marketing strategy over the past 5 years…and for good reason.
It works.
75% of marketers report that account-based marketing (ABM) produced a better return-on-investment than their other marketing efforts. 45% reported that it produced over 2x higher ROI.
If that sounds like a win for your business, you're in the right place. In this article, we're going to show you how to use account-based marketing to drive great results for your business. Let's dive in.
What is Account-Based Marketing?
So why is account-based marketing so effective? To answer that question, we need to talk about one of the biggest challenges for B2B marketers: targeting.
Targeting is a huge issue for conventional B2B marketing. For most B2C businesses, the world is their oyster. If you're selling quirky T-shirts, you can market on Facebook, Instagram, Pinterest, TikTok, etc and get in front of a large, relevant audience.
Does that mean you don't want to be thoughtful about your targeting? Of course not, but even with fairly specific targeting, you're still probably looking at millions of potential customers.
Most B2B businesses don't have that kind of scale or scope. With B2B marketing, you're often trying to get in front of specific people at specific types of companies with very specific needs.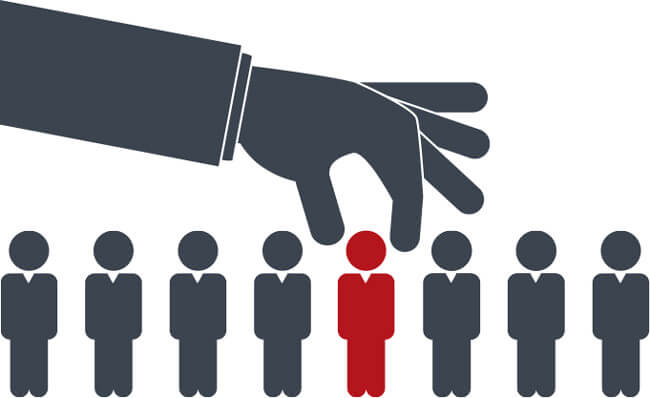 So, with conventional B2B marketing, you often have to target a very broad audience and hope that your message gets through to your target audience. It's not a very efficient way to market, but it can work with enough time and effort.
The goal of account-based marketing is to cut out all of that inefficiency. Instead of marketing to everyone and hoping that you reach your ideal clients, you go after your ideal clients directly with an integrated marketing-sales approach.
Why Account-Based Marketing Works
In account-based marketing, marketing and sales work together to identify high-value accounts and create personalized buying experiences for them.
Essentially, marketing and sales come together and say, "Here are the businesses we want to work with. What do we need to do to get them to buy from us?"
As you can imagine, this level of specificity takes a lot of extra time and effort from both marketing and sales. Most of your ideal clients aren't ready to work with you yet—they may not even be aware of your business yet.
But think about your very best clients. Wouldn't you love to work with more businesses like them?
Finding the right customers is a big deal for B2B companies. The wrong clients suck up a huge amount of time and energy and often don't stick around very long. That sort of churn is expensive.
[clickToTweet tweet="The wrong clients suck up a huge amount of energy and don't stick around very long. That sort of churn is EXPENSIVE." quote="The wrong clients suck up a huge amount of energy and don't stick around very long. That sort of churn is EXPENSIVE."]
In contrast, the right clients are a pleasure to work with. They have realistic expectations, stick around longer and are great for your bottom line.
Is it any wonder, then, that 67% of businesses report that the deals they close with ABM work out better than the deals they close from other marketing efforts? ABM clients are happier, more likely to provide positive references and be an advocate for your business—it's a win all around.
So yes, account-based marketing takes more work and effort up-front. But, the long-term results are incredible, so the overall return is well worth the investment.
Getting Started with ABM
Now, I'm not going to lie to you. Good account-based marketing takes a lot of time and effort.
As mentioned earlier, many of the businesses you want to work with haven't heard of your business. They don't know that they need your products, software or services.
It's going to take time to figure out how to get on their radar. It's going to take time to prove your value. It's going to take time to build meaningful relationships.

Account-based marketing can often take weeks, months or even years to really start paying off. However, once it's working, it works.
With all of that in mind, let's take a look at what you'll need to do to get your account-based marketing strategy up and running:
1. Get Everyone On the Same Page
Successful ABM takes time, effort, commitment and collaboration from a variety of people and departments. To get results, you need to get all of your stakeholders on board.
One of the keys to effective account-based marketing is consistency. You need to provide a consistent experience and message from the first encounter through to when a prospect becomes a client.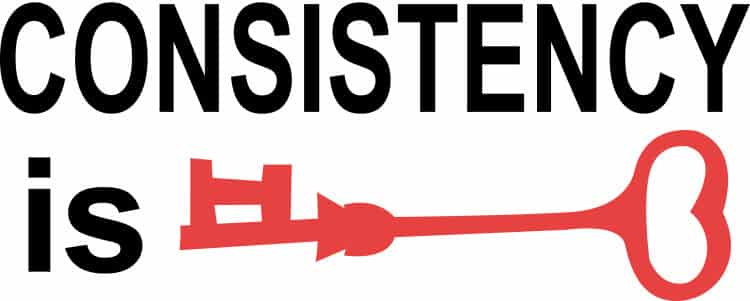 To do that, though, marketing and sales have to understand the overall vision and how they fit into that vision.
Consider the following:
Which accounts will you be targeting?
How will you be reaching out to those accounts?
What assets need to be created?
What is your core selling proposition?
How are you differentiating your business from the competition?
What resources and budget are being allocated to your ABM strategy?
Who is in charge of what?
How will success be measured?
If you don't have internal alignment around your strategy, it will quickly devolve into a mishmash of disjointed marketing and cold outreach from the sales team.
So, before you dive into any aspect of your strategy, make sure that you actually have a strategy that all of your key stakeholders have bought into. Otherwise, you'll put a ton of time and effort in…and get nothing back out.
2. Identify Roles
Once you have buy-in from all of your key stakeholders, you'll need to decide who is doing what. This is going to take a lot of work, so you need to have clear roles and priorities for everyone.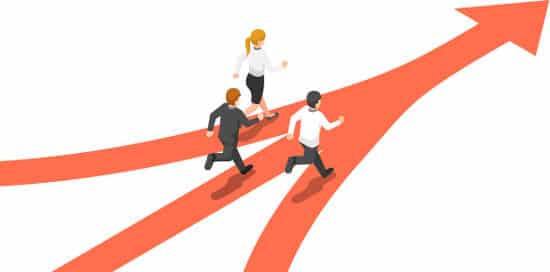 At a minimum, you'll want to choose one marketer and sales rep who is taking point on this strategy.
You may decide to split things up more than that, but ABM is all about meeting specific client needs, so you need a couple of people who are calling the shots and making sure that everything stays consistent and on point.
Your marketing leader will be in charge of creating and publishing content for each account. Your sales leader will be in charge of managing and closing business deals.
However, since the dividing lines between these two roles will be fairly blurry, they'll need to work together closely to ensure that each account's needs are being met.
In addition, if you are assigning certain tasks (like ad buying, etc) to other people, you'll want to make sure that those roles are clear in advance. With all of the work that goes into ABM, everyone needs to be aligned and understand what they're doing and how it plays into your overall strategy.
3. Choose Your Target Accounts
After everyone is on board and understands their roles, it's time to start figuring out which accounts you want to go after.
Obviously, which accounts you pick (and how you find them) will be specific to your business, but here are some ideas to help you identify target accounts:
Ask your key stakeholders, "Which deals from last year would we love to replicate?" Then, dig into that deal, figure out what made it great and use that information to identify similar potential clients.
Call up your company's favorite customers and interview them. See if you can identify what it is about their business that makes them such a good fit and any criteria you could use to find similar businesses.
Come up with an ideal customer profile and set up a search alert around those parameters on LinkedIn.
Create criteria for your ideal customers (company size, industry, etc) that you can use to filter out leads in your CRM.
Take a look at your existing leads and see if there are any businesses that love your content…but aren't buying yet.
Once you've identified a set of criteria that describe your ideal target accounts, you'll need to start digging to create a list of businesses that you want to work with. This will take some effort, but it will form the core of your ABM strategy, so invest the time and get specific!
4. Get in Contact with the Right People
Now comes the tricky part. You know which businesses you want to target…you just have to figure out how to get in contact with the right people at those businesses.
This will probably take some research.
For some accounts, you may already have some of the contacts you need, but there's a good chance that you'll have to do some digging.
Take a look at their website. Check them out on LinkedIn. Research relevant stakeholders. Figure out who you need to convince and what you can do to get on their radar.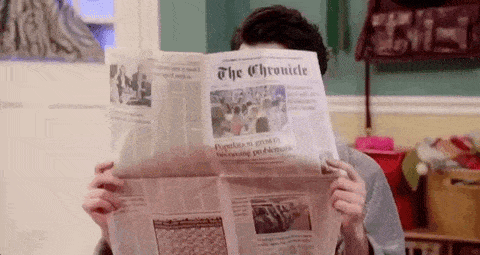 It may be tempting to use one of the many tools out there to identify their cold email and simply send them a cold email, but that rarely leads to good results (and it's illegal).
Instead, here are some other ways to get in contact with stakeholders on your target accounts:
Engage with them on social media! (see what platform they're on, join groups they're in, contribute to conversations they're participating in, share helpful/relevant content)
Create targeted ad campaigns (not as specific, but works if you are trying to target many similar people in similar businesses—especially on LinkedIn)
Sponsor a booth at an event they're holding
Invite them to speak on your podcast
Direct message them on social media
Offer premium, high-value content that will specifically appeal to them
See if any of your existing contacts knows them and ask for an introduction (this can be especially powerful if the contact is a current customer)
The goal here is to build relationships, not drive for the sale.
ABM is all about providing value for your client, so make sure that you start things off on the right foot. If it feels like you're just trying to get them to buy from you at the beginning, you'll lose the relationship before it even has a chance to develop.
5. Build Relationships
Relationships are at the heart of most business deals. This is especially true if you're trying to convince someone to give you thousands-to-millions of dollars in business.
That's why relationships are a key part of a successful ABM strategy.
It may take months or even years for a relationship to pay off, but if you focus on relationships first, things will usually work out in the long run.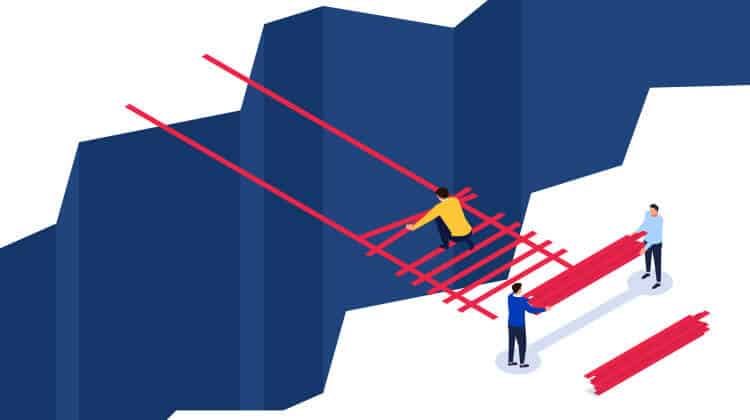 From a marketing and sales perspective, the best way to build a meaningful relationship is to provide awesome value over time. Any business or salesperson can talk big to close a sale, but consistently delighting an acquaintance? That's something special.
Here are a few ways to deliver value and build relationships with a target account's buying committee:
Personalize your content (case studies that are directly relevant to their business, white papers that discuss issues they're going through, etc)
Communicate one-on-one with key stakeholders to make them feel like a valued individual
Offer free value (teach them your secret sauce, offer exclusive content, invite them to closed-door podcasts/webinars/interviews)
Invite them to dinner with your team
Get to know them and their needs, then create specific content around those needs for them
Of course, the right approach will depend on your business and who you're targeting, but the important thing is to provide value and make your contacts feel like you care about them and their company. Do that, and you're well on your way to success.
6. Measure, Analyze and Improve
Finally, it's important to point out that your ABM strategy should be constantly evolving. The whole point of account-based marketing is to build relationships and meet the specific needs of your target accounts, so by definition, your strategy needs to change over time.
To make this evolutionary process as effective as possible, you'll want to track your results closely and regularly review how things are progressing.
Here are just a few metrics you may want to keep an eye on:
Deal-to-close time
Account engagement
Net new contacts
New deals
Net new revenue
Percent of deals closed
Since ABM is a long-term play, it may take some time to start seeing results. In addition, you'll want to make sure that you are looking at a large enough time window when reviewing your strategy. If you don't, you may end up undervaluing (or overvaluing) certain aspects of your approach.
Overall, though, if you're keeping an eye on how things are working out, you should be able to make thoughtful, timely adjustments and keep your ABM strategy on track!
Conclusion
For B2B businesses, account-based marketing is an incredibly powerful way to get the deals you really want. Instead of advertising to everyone and hoping that things work out, you focus your efforts on the businesses and people that matter.
It can be a lot of work, but for most businesses, it's an investment that pays off big-time.
By the way, if you'd like some help figuring out your ABM strategy and how to implement it, let us know here or in the comments. We'd love to help!
Have you tried account-based marketing? What has your experience been like? Any thoughts to share? Questions about how to get started? Leave your thoughts in the comments.
Leave a comment