Google Ads and Account-Based Marketing: Everything You Need to Know
by Ana Gotter • July 2, 2019
I think plenty of B2B business owners have a list of companies that they'd like to work with for their own reasons. Maybe you want to work with them for the prestige, or for the potential income, or even just because you really love what they do and you think your services would be a great fit to help them.
When we're running most of our PPC campaigns, we might think of how these dream-list companies would respond to our ads while also knowing that it's unlikely they'd ever see them. And the sad reality is that even if they did, if the messages weren't exactly offering what they needed, they'd click away.
Account-based marketing is the natural solution to this problem, allowing you to zero in on specific accounts in a way that feels hyper-personalized and is often highly effective as a result. Google Ads and account-based marketing are an incredible match, and in this post, we'll show you how to implement these campaigns so that you can land those dream clients.
Google Ads and Account-Based Marketing: What Is It?
Account-based marketing involves marketing directly to specific key businesses that you know you'd like to work with as clients, and then targeting each one individually with personalized-for-that-business campaigns designed to appeal to them. It's typically used by B2B businesses.
This may sound like putting all your eggs in one basket, but it's a highly effective strategy. In many cases, you're going to be targeting high-value clients that could yield a ton of profit and/or prestige for your business, which makes these specialized campaigns and every penny you invest into them well worth it.
The research backs this up, too; according to a recent case study, 85% of marketers who track ROI said that account-based marketing yield higher returns than other marketing approaches.
In many cases, account-based marketing often involves multiple touch points spread out across multiple platforms, but with the right Google Ad strategies in place, it can carry the weight of these campaigns on their own.
Google Ads and Account-Based Marketing: Why They Work So Well Together
A lot of account-based marketing strategies focus on what we'll call "discovery" ads like you see on Facebook or LinkedIn, with brands trying to build awareness of what they offer while showing targeted ads to the right people.
Too many end up neglecting search to their detriment—why wouldn't you want the opportunity to take advantage of searches that are happening with your dream clients looking for services or brands similar to yours? If you don't catch them when they're actively researching, someone else will.
Google Ads isn't just limited to search traffic though—they also have display ads, video ads, and full remarketing capabilities, so you can offer up ad campaigns at multiple touch points in a variety of different formats for improved chances for success. You'll be able to follow your target audience around online, hitting them with relevant ad campaigns depending on what they need and where they are in the funnel.
How to Implement Account-Based Marketing on Google Ads
Ready to start using account-based marketing to get that man-I-wish-I-could-work-with-them-as-if client to your site and maybe even converting? Here are the steps that you need to take.
1. Identify Your Targets
When you're using account-based marketing, you aren't just trying to generate buyer personas like Supermom Sarah or FitBit Frank. You're choosing exact organizations whose employees that you want to target, like Microsoft or Kay Jewelers or the local mom and pop that's thriving down the street. In most cases, these will be high-value potential clients that need services in your area of specialty.
If you aren't sure exactly what clients you'd want to target, this is your chance to figure that out. Do some research in your industry, and see if you can find any information on what types of businesses yield the highest revenue. As a writer, for example, I found that small and medium-sized B2B businesses with a strong focus on customer service are typically my most lucrative clients, for example, as opposed to startups or even sometimes enormous thousand-people companies. Start doing research to see who fits the bill.
Make a list of the clients that you want to target once you've got them, but be selective. A lot of money can go into account-based marketing, and if you're targeting companies who ultimately won't benefit you, it's 100% a lost cause and lost ad spend.
2. Determine Who the Decision Makers Are
From here on out, you'll need to do each of these steps separately for each client you want to target.
Look at the company that you want to market to, and try to figure out who the decision maker would be. If you sell the world's comfiest office chairs, targeting someone like an office manager would typically be a good choice. A marketing firm might need to target a "head of marketing", a "CMO" or—if the company is small enough—the CEO themselves.
Sometimes doing research on LinkedIn and the company's website can give you some insight here into who the key players are and what job titles you might need to appeal to. This will be important not necessarily for targeting right now, but for helping you to better craft more relevant messages that they'll respond to. A CMO, for example, who lives and breathes marketing may need to see more technical ad copy than a CEO who might not have that background.
3. Start Tracking Your Google Ad Campaigns Carefully
There's a good chance that you're already running Google Ad campaigns and that these are slowly starting to track some of your key audiences. That's excellent—but it doesn't do you much good if you don't know that and can't take the proper action.
ABM software is particularly helpful here, but you can also opt for tools like LeadLander that are essentially reverse-IP lookups. When someone clicks on an ad campaign, you can see key information like what search term they used, what ad they clicked, what pages on your site they visited, and the location of the company.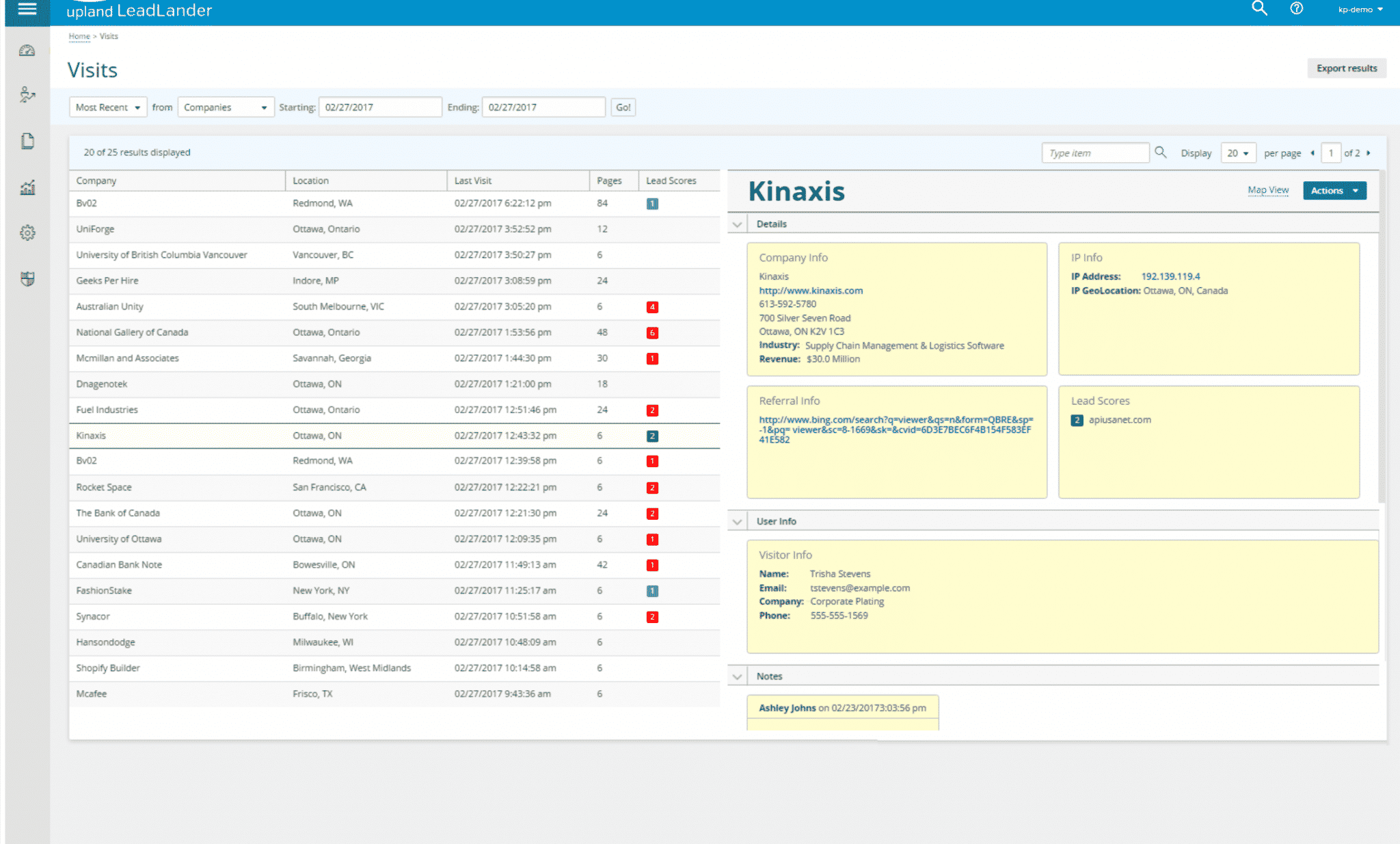 Since most brands won't be searching for terms like "marketing firm for Microsoft," a good bet will be to capture leads through more generic terms that they may be searching for when researching businesses and services like yours. Then, use the ABM software to identify who is finding you and hit them with more relevant messaging in retargeting campaigns moving forward.
Which brings us to the next step…
4. Leverage the Company Info and Search Query for Powerful Retargeting
The search query is going to be key when you're determining how you want to move forward in targeting each individual company.
If someone searched for "best accounting software," you might want to feature a client testimonial or customer service award that you've won recently. If they searched for "most affordable accounting software," on the other hand, you might want to stress the affordability benefits and the ROI you can offer potential clients. Others might still search for something specific, like "accounting software with invoicing." Whatever it is that members of your target businesses have searched for, use that to craft the best messaging possible.
At this stage, you can set up retargeting campaigns through Google's display ads and even YouTube's ad system. ABM software like Infer can help with this, automating the process for you in ways that would be difficult to do manually.
With the right information, you can also reach out to companies directly after seeing what they're searching for. Finding the right person on LinkedIn can come into play again here, letting you reach out with a message or being able to determine their email address and shoot them a proposal that way. Tailor those messages to the search, keep the LOIs short (no more than a paragraph), and make sure you're keeping what you can do for them the central focus.
Conclusion
A lot of marketing campaigns will become more successful as you niche down further and further, crafting messages that are as personalized as possible to your target audience. It really doesn't get much more niched down or more personalized than if you're working to target employees at specific companies with messaging that appeals to their immediate needs.
Note that as your campaigns progress, you need to monitor them closely. You'll want to assess what's working, including what keywords are pushing people into the funnel and which retargeting campaigns are helping to drive the point home. You may need to adapt your campaigns, and you may also find that adding in a mix of other platforms and touch points like Facebook Ads or LinkedIn Ads could benefit your campaigns, too.