Attorney Internet Marketing: 6 Tactics to Try
Landing Pages
•
Marketing
•
Site Optimization
•
Ana Gotter
March 22, 2018
When you're building up your law firm, there's a lot of things to consider on the marketing side of things. So many different tasks fall under the single umbrella of "attorney internet marketing." You have to choose which would be most beneficial for you, and which you'd be able to maintain.
While each law firm and every lawyer is vastly different from one to the next, internet marketing for attorneys often benefits from the same best practices and strategies, and it can have incredibly powerful results. In this post, we're going to go over 6 different attorney internet marketing strategies that attorneys and lawyers can use to connect with their audience and generate more leads.
1. Include an FAQ On Your Site
FAQs have a number of distinct benefits. The first is clear: legal work is confusing and intimidating to non-attorneys, so having an FAQ that answers some of their most common questions can help give them some basic information they need.
Having an in-depth FAQ on your site can also help you to demonstrate your expertise and allow you to start building trust with potential clients early on. And, even better, a lot of the answers you provide can address some of the first questions new clients may have asked you, saving you both some time.
There's also one enormous benefit that many law firms forget about when it comes to having these page on your site—if you are able to answer questions simply and succinctly, there's an opportunity for your answer to show up in a featured snippet on Google, putting you in the top search spot. That's a pretty big advantage.
2. Keep a Consistent Blog
Blogging may seem overrated, but a goal-focused content marketing strategy can do incredible things for an attorney's website (and their business).
Blogs give you an opportunity to provide valuable content that your audience may be actively looking for. Even better, you can use blog posts to attract relevant traffic to your site.
If someone is searching for "Can I sue for wrongful termination," they're probably going to need a lawyer soon, and your blog post answering that question can bring them right to you if you've optimized for the right keywords.
Like the FAQ page, blogging also gives you a chance to demonstrate your expertise while slowly building a relationship with your clients. End blog posts with a call to action to get in touch with you for more information or if the reader has any questions, and put a clear link to a contact form for best results.
3. Get Testimonials & Feature Them On Your Site
In a world where consumers don't trust businesses much, testimonials are everything. Client reviews are how you can quickly show potential new clients that you're legitimate and that you're ready and capable to help them.
You know that you're hard working, dedicated to your clients, and have the experience to back it all up, but you'll need one of your past clients to help convince leads of this.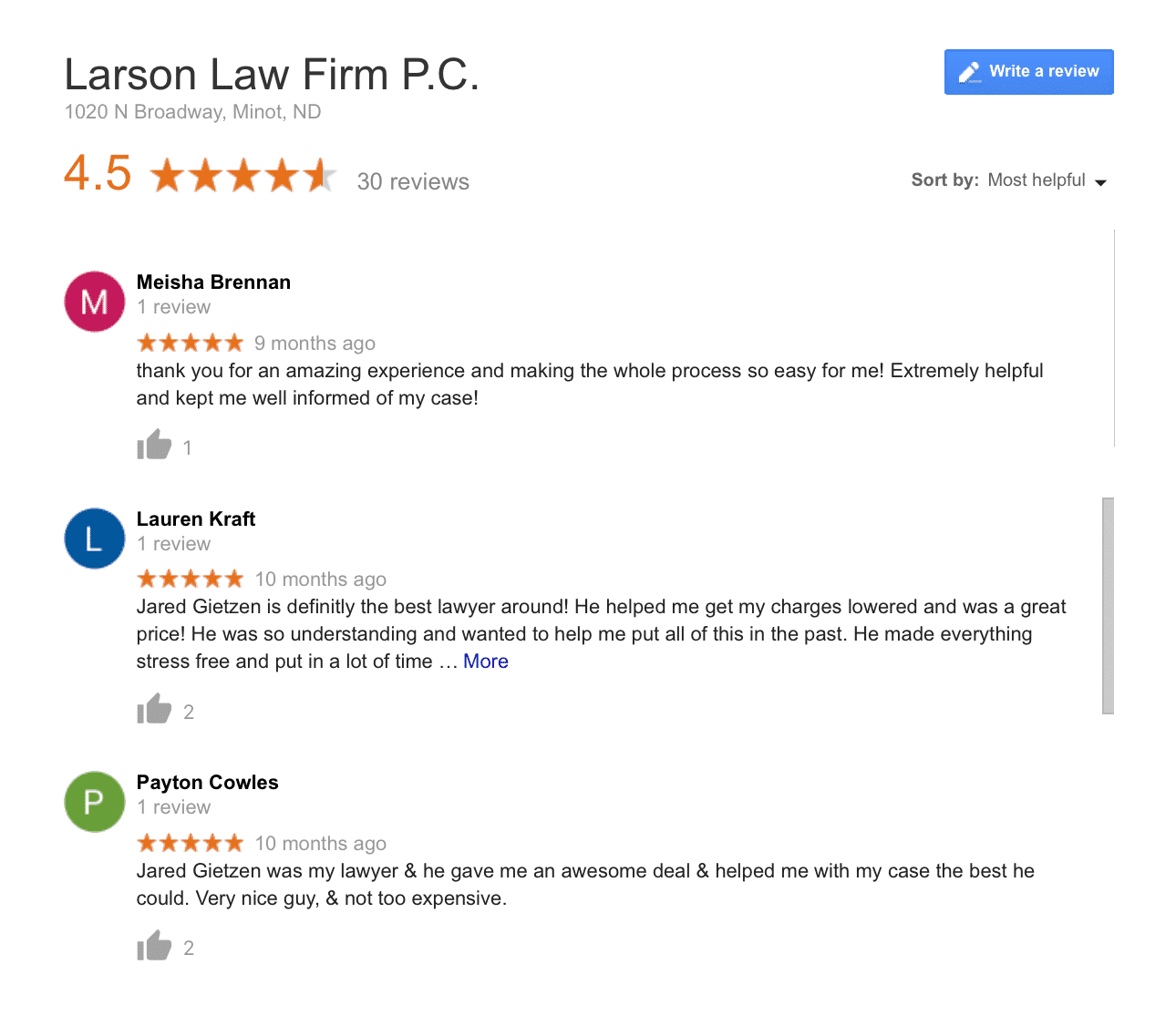 If you don't have any testimonials for your site yet, reach out to past satisfied clients and ask if they would leave a review on Google+. Having those bright yellow five stars pop up next to your firm's name when someone searches will help you get those clicks, and featuring the testimonials on your site can encourage users to go ahead and contact you directly.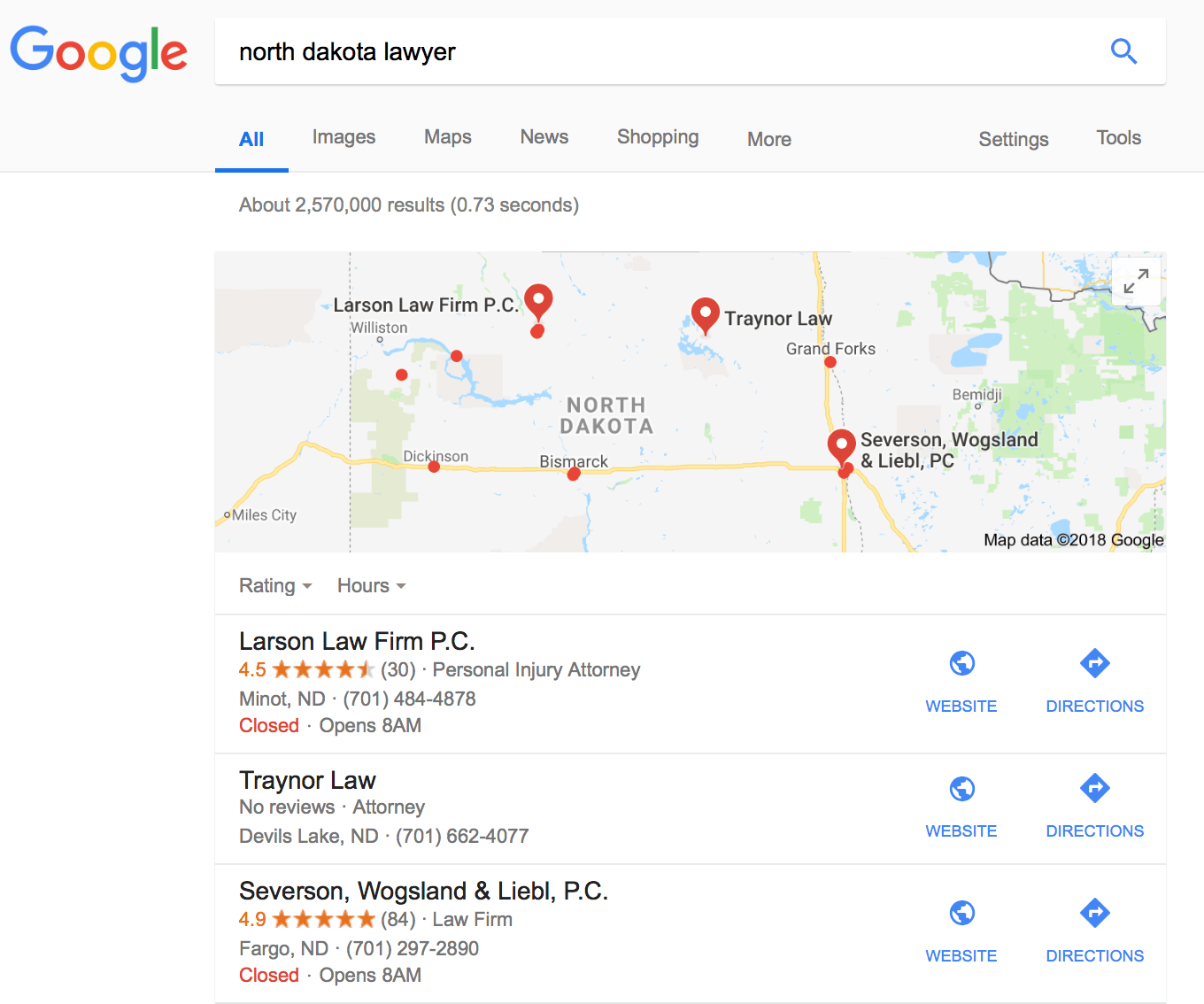 Reviews are beneficial at all stages of the digital sales funnel, making them exceptionally valuable. They cost nothing and can improve your online presence in a flash, so don't neglect them.
4. Assure Customers that Communications are Secure
When it comes to attorney internet marketing, many people want to know that your site is secure, and there's a fast, easy fix to this. Again, this is all about building trust with your potential clients.
First, make sure that your site has SSL, which is a basic security feature that ensures protection against hackers. Not only is this something that you should have for your firm's site anyways, but now Google Chrome will put a great big red "Not Secure" indicator in the address bar if you have a contact form on your site but no SSL.
If you're unsure if your site has SSL or not, you can use this tool from Hubspot to check. If you have a WordPress site but need to add SSL to your site, check out instructions from WPBeginner here.
You can also use secure badges to show site visitors that your site—and the information they share—is protected. Put your SSL certificate or other third-party security badges like Norton or SiteLock near the contact form if you have them. These take only a few minutes to place on your site, but can have a significant impact in building trust.
5. Be Conscious About Your Web Presence
Speaking from experience, it's easy to set up your site and your online presence and then go on with your day and forget about it. Attorneys and lawyers are busy, after all, and very few people will question a system that seems to be working for them.
But what if it could be working more efficiently, or bringing in better results, with just a little bit of maintenance?
Monitor your web presence. (If you can't, hire someone who will). See what people are saying about your firm on social media and on review sites. Watch your competition and see if they're placing higher for both organic and PPC campaigns; if so, try to evaluate why and what you can do to change that.
Stay engaged with your Facebook Page and your blog readership, and post consistently on both, or hire someone else to do so. You'll also want to make sure that your keyword research and SEO best practices are up to date at regular intervals, so you're never caught off guard.
6. Have CTAs Pointing to Easy-to-See Contact Information
Have you ever stumbled onto a business's homepage for the first time, and thought it looked beautiful and had great site copy, but then didn't really feel compelled to do much of anything?
If the site actually had a great layout and strong copy, it was likely lacking one essential component: clear call to actions (CTAs) that encouraged users to contact you in some way. The site below is the perfect example. There's a clean site design that looks professional, and otherwise strong introductory copy…but no CTA.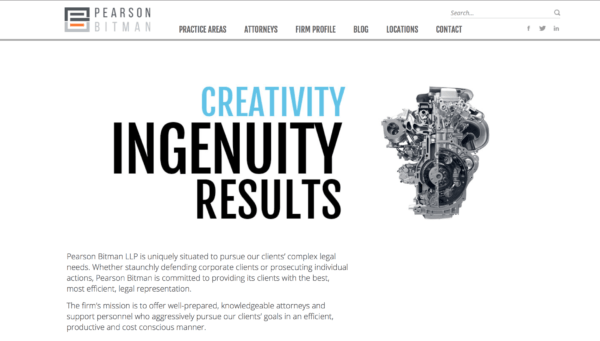 This is can be a fatal flaw in attorney internet marketing. Your site should be designed to intentionally push users through the sales funnel and continually encourage them to take a specific action. That action could be to call you, submit a form, or get in touch via live chat for a free consultation. Whatever it is, it doesn't matter, as long as you make it clear that's what users are supposed to do, and then make it easy for them to do so.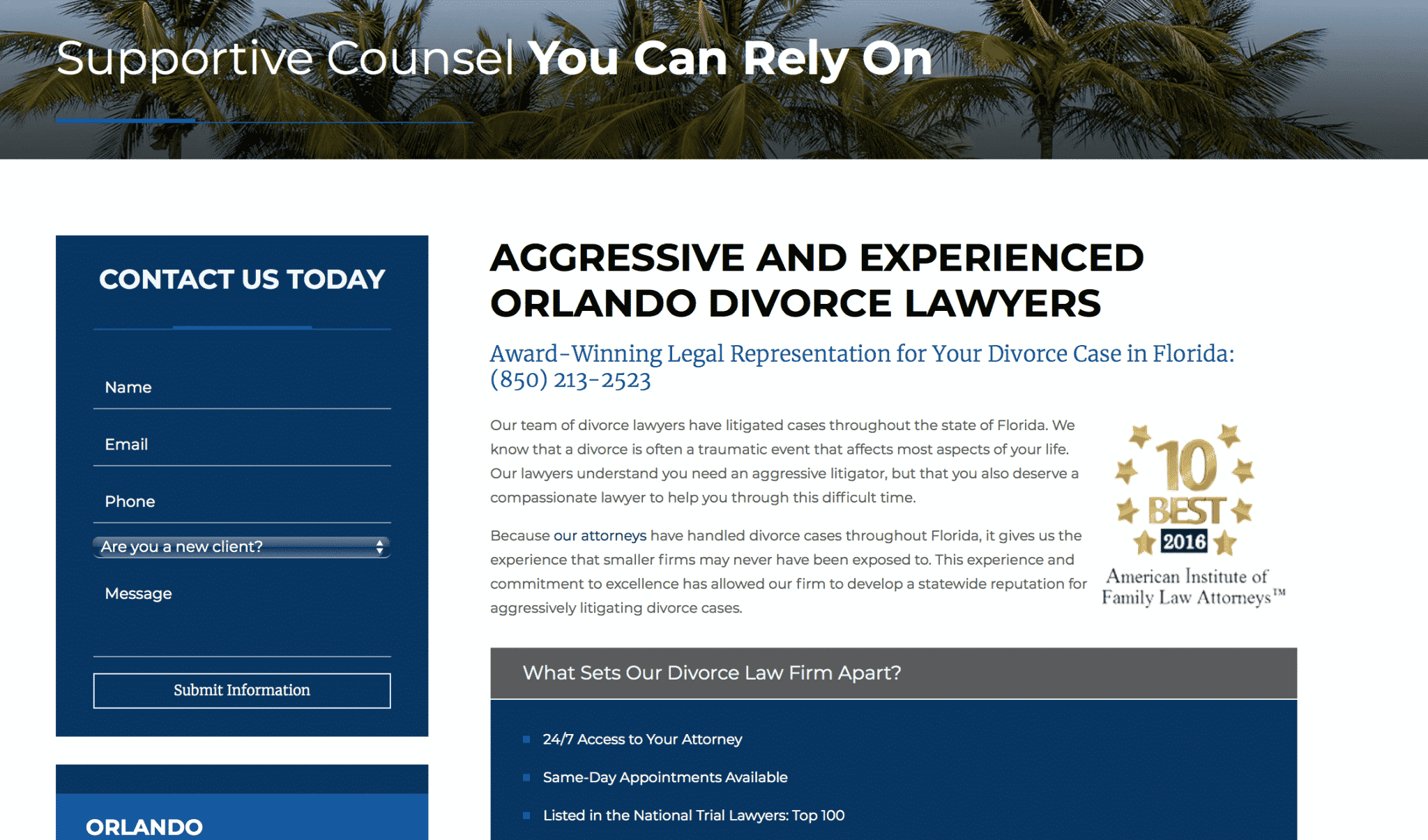 Make the contact form easy to see and easy to fill out, requesting only the information you need to help potential clients. You should also make your phone number clickable, and any other contact information readily apparent.
Attorney Internet Marketing
Attorney internet marketing requires a solid foundation, which can be set up fairly quickly, and then the gradual but consistent building of a web presence. The latter will require more on-going work, like contributing to a blog or keeping your Facebook Page updated.
If on-going work for your attorney internet marketing becomes too time consuming, there's always the option to outsource tasks to content marketers, copywriters, PPC experts, and social media managers. While this won't come cheap for quality work, you'll see your return on investment with all the new clients who come knocking on your virtual door as a result.
What do you think? Do you use any of these attorney internet marketing strategies for your firm? Which have worked best for you? Let us know in the comments below! 
Leave a comment