The Beginner's Guide to Dental Internet Marketing
by Ana Gotter • April 21, 2018
There are constantly new breakthroughs happening in the dental world, with new options for both cosmetic and medically necessary treatments being tested and becoming available.
The same thing is true for marketing, and dental practices need to be on top of both areas of the latest and best in order to stay at the top of their field.
With so many changes happening in marketing and so many platforms and marketing strategies to choose from, however, it's not much of a surprise that it can be difficult to know where and how to start dental internet marketing. I personally believe that site optimization and content marketing, which go hand-in-hand, should take priority and form a central part of your marketing campaign.
In this post, you'll learn about content marketing for dentists, including why you need to use it, examples of what types of content to create, and strategies you can use to extend your reach further.
Dental Internet Marketing
Dental internet marketing is the practice of using valuable content like blog posts and videos to attract customers to your site, build relationships with them, and encourage them to convert. It's different than "just blogging" because it requires a lot more strategy, keyword research, and high quality work.
When done correctly, dental internet marketing can be used to establish a relationship between you and your clients, attract new potential patients by helping you show up higher in more searches, and even increase your local SEO.
It also gives you the valuable chance to demonstrate your expertise and knowledge. Even though patients know you have your DDS, it doesn't hurt to prove you're up to date on the latest breaking news in the field, after all.
What Types of Content Should I Create?
Blog posts are the most common medium used for content marketing, but it's far from the only one, and a diversified approach will get you better results. When it comes to dental internet marketing, there are four key types of content that you should seek to create.
Note that if you aren't a natural writer or designer, you absolutely do not have to do this yourself. You can hire both content marketers (who often have the writing and strategy skills) and graphic designers to take your knowledge and turn it into content gold. For many practices, this is often the right choice.
Whether you're hiring someone else to tackle it or not, here's the four types of content you should try to offer on your site…
Blog Posts
Yep, we had to start with blog posts. No way around this. Blog posts can do wonders to improve your search engine rankings when you've optimized for SEO. If they're at least 1,000 words, they can also thoroughly answer a patient's questions. This makes them valuable for you and your patients.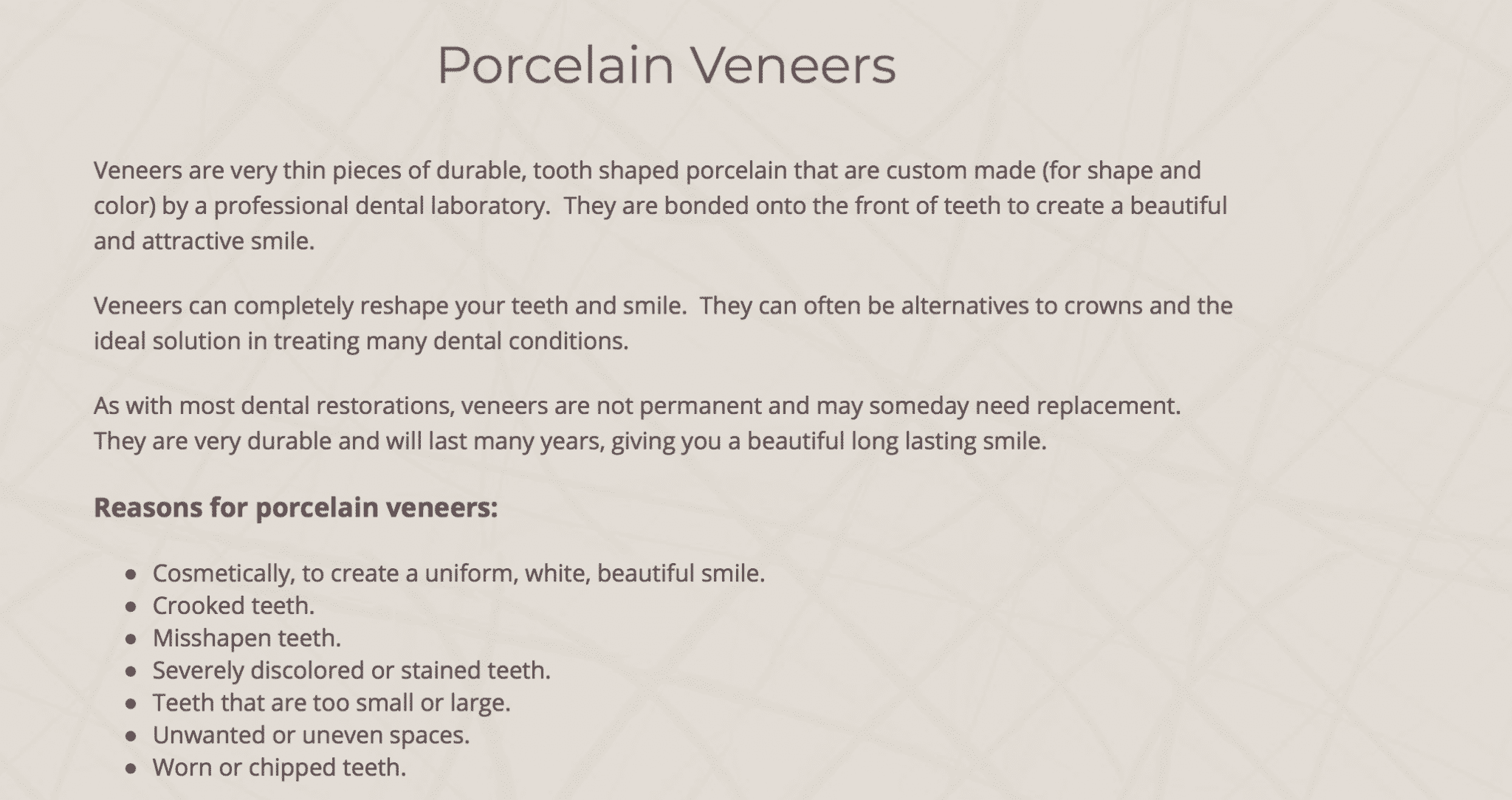 Some quick ways to optimize for SEO include:
Improving readability by using short sentences and breaking the post down into different headers.
Adding both internal site links and external site links
Optimizing for the right keywords that patients are likely to be searching for
If you're unsure what to write about, there's a number of different topics you can choose from. Choose topic types that you'll be able to write about on an on-going basis in a consistent voice.
Examples of different styles of posts you can choose from include:
Myth busting/controversial posts, which are excellent for generating conversation and shares. An example of this could be "Charcoal Toothpaste as a Safe Teeth Whitener: Fact or Fiction?"
Informational posts. Your target audience is likely to search for these and they can demonstrate knowledge. Think something like "What is Gingivitis and What Can You Do About It?"
Insider knowledge or opinions, which can give patients insight into the field and show them that you're at the top of it. Shoot for a post like "Why Laser is the Next Biggest Trend in Dentistry."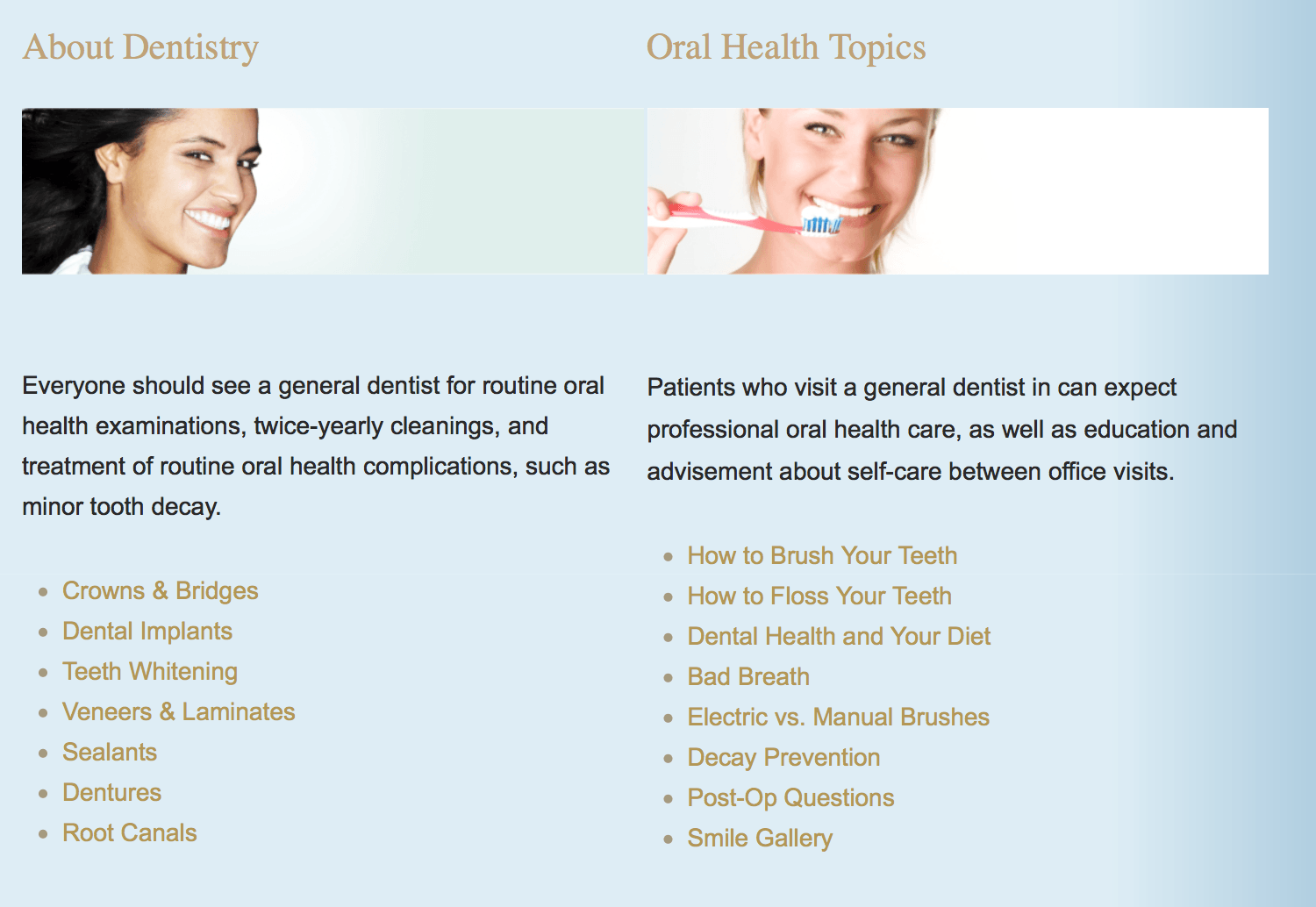 Infographics
Infographics are graphic designs that quickly share knowledge in a visual way. They're highly sharable, both on other sites and by users on social media.
They're also versatile. You can embed them on blog posts, share them on your practice's social media and you can even print them as part of your patient care brochures. If you have a "Fast Facts About Wisdom Tooth Removal" infographic, why not put it in the pamphlet explaining the procedure that you give to patients who need it?
Some types of infographics can be useful enough that users will save them and use them regularly. Ideas for this include a calendar print out of all things dental, like when their six month appointments are, when to change their toothbrush heads, and even quick tips about how to prevent cavities during Halloween.
Not sure where to start? Check out these 7 different types of infographics you can create.
Videos
Videos matter. They're engaging, and they're a compact way to share a lot of information quickly. They also perform well on social media, and, like infographics, can be embedded on your site or in your posts.

Video content can include animated videos, though these can be expensive to produce, especially if you're trying to do more than just one or two explainer videos. It can also have your dentists and hygienists talking about different treatments, conditions, or even themselves.
Remember to make sure that your videos look professionally edited and are shot in high resolution, with no background noise making it difficult for users to hear.
An FAQ Section
Your FAQ section should be listed as a main page on your website, not as an actual blog post, but because it should incorporate a content strategy when being developed, I'm listing it here.
FAQs give you an opportunity to write relatively short, succinct answers to questions patients want to know the answer to. This can include questions like "what types of insurance do you take?" which is personal to your firm.
It may also include, however, more general-appeal questions like "how long will I need braces" and "what's the difference between in-office whitening and Crest white strips?"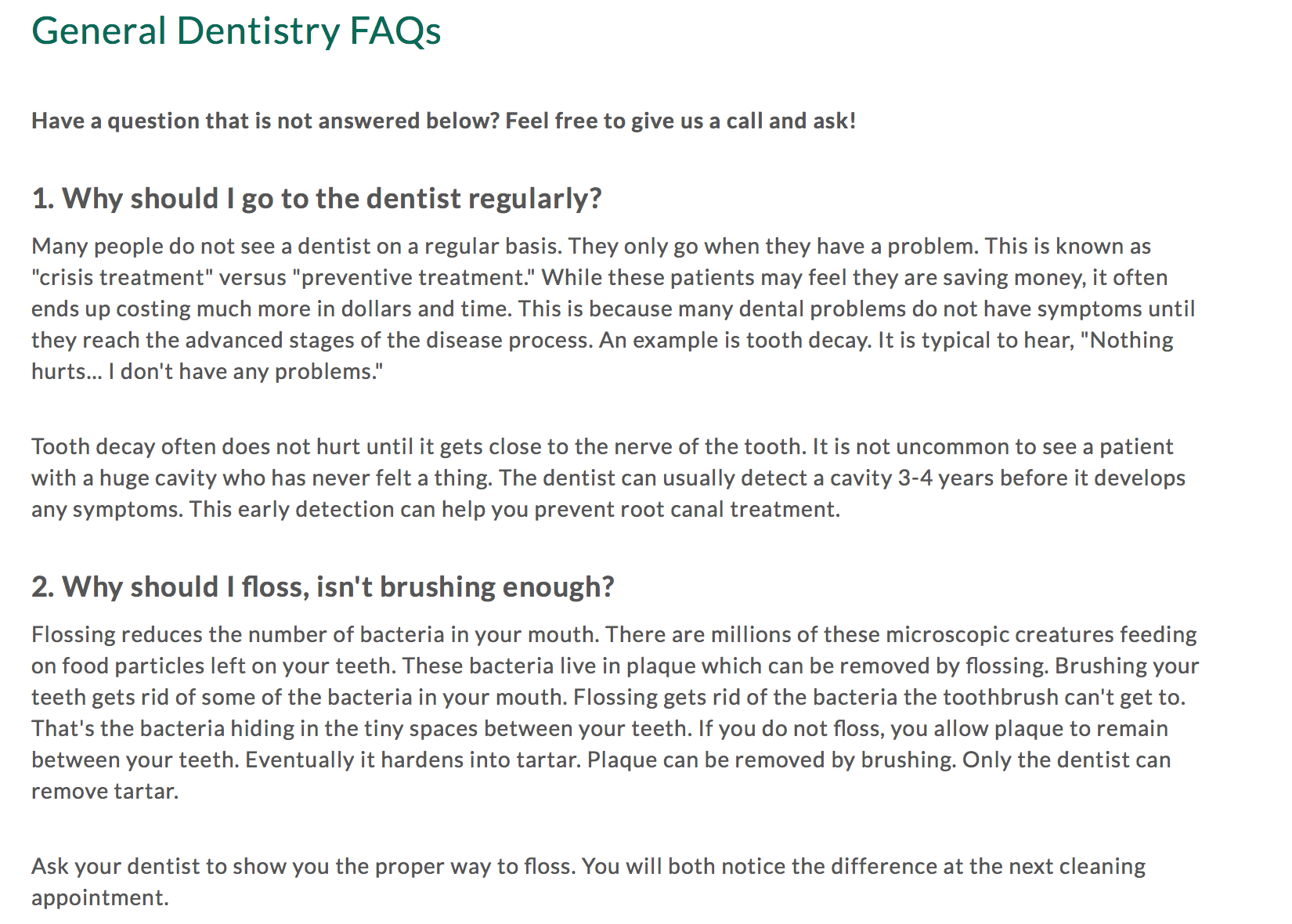 For the latter, answering these questions succinctly can not only help your patients on-site, it can also give you a chance to rank for a featured answer snippet in Google.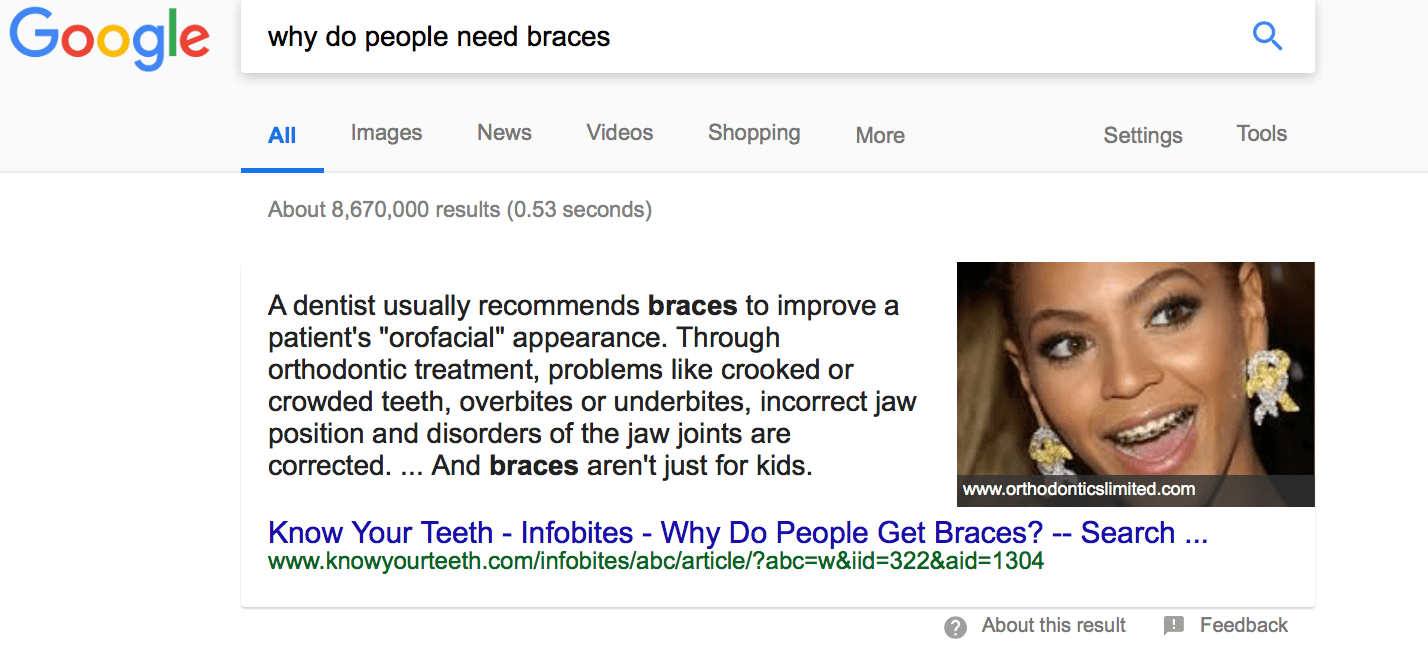 Featured snippets appear first in the search results and they are the answer that Siri or Alexa give if you ask them the question through voice search. It can be difficult to snag this spot if you aren't towards the top of the SERPs, but it's still something to shoot for.
Guest Blogging vs. Posting On Your Own Site
Most of the content that you create will live on your site—and you want it to. You want patients to see most of what you've created, and you can't count on them to be Googling your name to continue to look for articles you've written. This also helps you optimize for more keywords, which means showing up in more searches.
Guest blogging, however, is still valuable. It can help you build credibility and the backlinks you can get to your site and other posts from really big, credible sites are phenomenal.
You also get the opportunity to place yourself in front of interested readers, growing your reach further. Even if some of the traffic coming to your site isn't local (and therefore won't convert to patients), having increases in traffic overall is still beneficial in helping your target audience find you.
Not sure where to start? Here's a few examples of sites that you can try to submit posts to in order to boost the visibility and ranking of your dental practice:
Local large healthcare organizations like Orlando Health, with posts explaining broad-appeal health concerns, like overall consequences of neglecting oral hygiene
Niche sites like New Dentist Now and 123Dentist 
Conclusion
Dental internet marketing is an excellent way to increase your SEO rankings, attract potential clients to your site and demonstrate your expertise. This is particularly true when you offer diverse types of content to your audience, which will yield the best results.
You can optimize for more keywords and become the go-to source for any dental questions your patients have—both online and in person. That's an opportunity you don't want to pass you by.
What do you think? Have you used any of these dental internet marketing strategies for your dental practice? Which have worked best for you? Share your thoughts, knowledge, and experiences in the comments below!