A Good Fit: Web Marketing for Dentists
by Cydney Hatch • April 23, 2018
When a potential patient needs to find a good dentist it's hard to know where to begin. The world wide web can give them a hefty list of dentists to choose from, but a name and contact number doesn't tell them if that dentist will be a good fit for them or their family.
Likewise, you, as a dentist, might find that finding good clients is hard too! But, by using targeted web marketing for dentists, you can make it happen! You can find each other!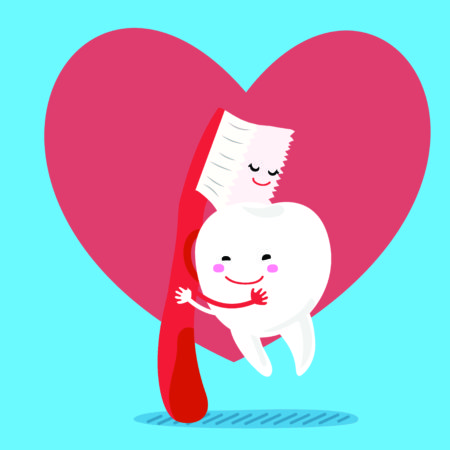 One of the best ways to know if a dentist and a potential patient are a good fit for each other is through successful web marketing! By creating quality content, advertisements, and social engagement you can connect with target audiences while connecting with the patients who are looking for an office like yours!
Let's learn some of the tips and tricks to make the connection!
Social Media
Part of effective web marketing for dentists is being active on social media. If you haven't already set up Facebook and Instagram pages, those are the two platforms you should focus on.
Fill out these social media profiles with relevant information about your practice and make sure to link back to your website. When you post updates, cross-promote your material from your blog, website and social media platforms. When you do this, you can improve your website rankings online.
One reason people may search for your information on Facebook or Instagram is to see if any of their friends like your page or to see your traffic load and reviews. These features can help you attract new patients by adding to your credibility with ratings, reviews to read and page likes.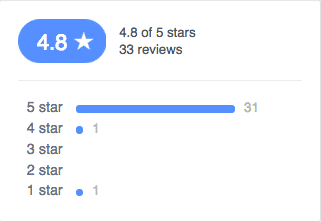 Social media content should contain information and visuals people can interact with:
Health tips
Success stories
Before and after photos
FAQ
Dental news
Change in hours or locations
Readers are more likely to comment on, like, or share these posts. That is the ultimate goal of your content: engagement. Engagement is what makes social media accounts successful, so if you can start a conversation with your audience, you are doing great!
Don't just pump out content on your social media, though, make sure you connect with and respond to your readers.
Video: Advertisements and Content
Simply put, video rocks! Video is growing and will only get bigger in 2018 because we are becoming more of a visual society. According to Cisco, video traffic will be 82% of all consumer internet traffic by 2021, up from 73% in 2016!
As a dental office you should create videos that promote your services, expertise and give your clients resources for their health.
For example you could create a "kids guide to a dental office visit" like this video:
Another great example of a quality dental video content is Exceptional Smiles Family Dentistry. Their office video is an impactful stand alone sales pitch that shares meaningful information that can help a potential patient viewer make a decision on choosing them as a dentist. They are office space visuals, services, awards, locations and dentists bios that can easily inform viewers on what they are all about.
Seeing a video like this can really give potential patients a holistic experience of your dental office before they walk in the door or setup an appointment—it's helpful!
Other types of productive videos include:
Instagram Stories: Stories give practices a way to add a more personal touch to their standard posts, which may sometimes feel too professional. Instagram stories can help create a personal experience by giving people behind the scenes looks into your practice, which will help you build stronger relationships with your current followers while also attracting new patients to your practice. Heck, you might find yourself wanting to bring your phone into the operating room!
YouTube Tutorials: YouTube can be a great way to post a collection of videos your practice can create. Tutorials are some of the highest trafficked video types and can be an easy way to show your expertise. Create tutorials on steps people can follow to avoid medical problems, What to expect step-by-step videos for procedures your patients will undergo etc. An example is "How to Brush your Teeth Properly—For Kids. 
Patient Testimonial Videos: When I search the internet, I'm surprised that so few healthcare businesses are using patient testimonial videos. The marketing power of testimonials is incredible and undeniable. Video takes the testimonial to a whole new level. When done right, a video testimonial can provide social proof for you and your practice (for a good example, check out Harris Dental!).
Local Awareness Facebook Ads
While you want to get the word out about your dental practice, you don't want to just advertise to everyone and their dog! Location will be super important to your paid advertising because local people will be the ones to actually walk through your office doors!
Showing your ads for your practice should be limited to a 5-15 -mile radius because anything larger than that will lessen the likelihood of patient conversion. Who wants to drive to kingdom come to visit a dentist?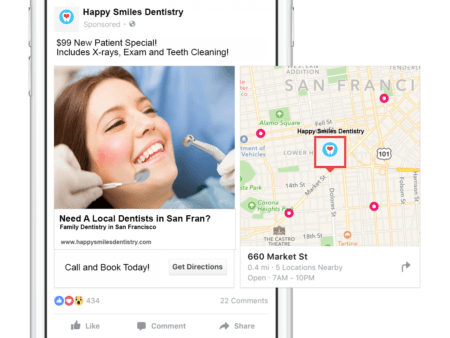 Local Awareness ads like above, are a great way to reach a local audience, and you can now use the new map card to share locally relevant details about your dental business, like the address, distance to the business, hours of operation, and a "Get directions" link. Your CTA can even be a call button, an easy prompt to make an appointment.
Facebook Demographic Targeting
Facebook has a lot of demographic targeting available, and you can be using this to your advantage. You can target potential patients by mostly anything these days: language, relationship status, likes and interests, employment or even income!
One demographic in particular will be most helpful to you: mothers/women.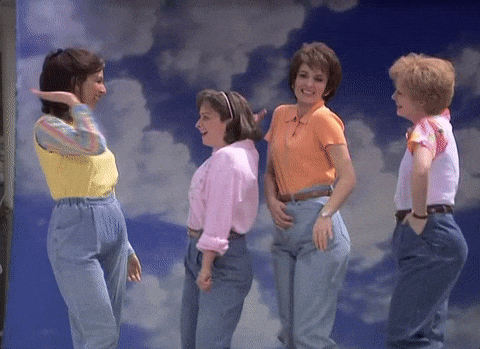 Research has shown that women make 90% of all dental buying decisions in their families. Make sure you're targeting ads to women who recently bought children's products, married and are local to your practice.
Strong Contact and Call to Action
If you have a website for your dental practice, your main goal is to get patients to call your office and schedule an appointment. One of the biggest mistakes I see with web marketing for dentists is there is no clear or defined call to action.
If you don't tell the visitor what you want them to do, they won't act. Patients are looking for a pain free approach to contacting their medical professionals, so call to action buttons are helpful. Make sure to have a call to action at the bottom of every page of your website.
Write things like: "Call us today for a complimentary consultation…", "Call to setup your appointment today…" or "Call to ask about our new whiting procedure…"
All of your call to action buttons should have your office phone number included.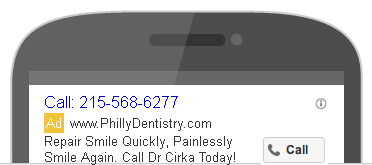 Another impactful way you can get patients to book an appointment is call-only ads like shown above.

According to Google, most healthcare-related searches are performed on a smartphone. And one-in-twenty Google searches is for health-related information. Don't miss out. You can create ads exclusively for mobile with call-only campaigns through AdWords.
Call-only ads are designed to encourage people to call your business and can only appear on devices that make phone calls. When a potential customer clicks on your ad, it initiates a call.
These ads are available through Facebook and AdWords on mobile, desktop, and tablet. This extension can be added to existing ads, or you can create call-only campaigns.
Scheduling and Reminder Applications
Appointments are the lifeblood of your web marketing for dentists strategy. No appointments, no patients, no money.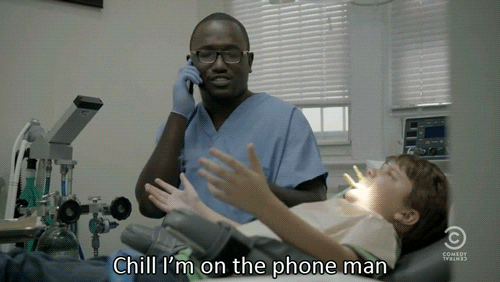 Whether it is a phone call email or text message appointment, reminders are important so let's make them easy to navigate and user friendly. Some of the best scheduling apps to use which will also have reminders are:
As each have their pros and cons its up to you to see which will work best for your dental practice.  You can also easily use these apps to remind your patients to make a follow up appointments or annual cleanings.
BONUS: Mobile Marketing-SMS Text Messaging
SMS text messaging can help your practice keep existing customers with an effectice marketing method of mobile text messaging! This text messaging service sends patients reminders of upcoming appointments, can set up booking suggestions for annual teeth cleaning and other alert messages.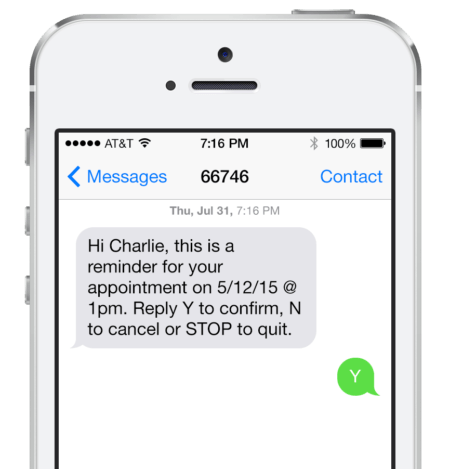 According to SimpleTextin, most text messages are read instantly and aren't ignored, which makes the SMS approach the most effective way to reach your patients.
Still not convinced? 90% of texts are read within 3 minutes of receipt, while less than 1% of all text messages go unread.
SMS cannot be ignored as a powerful web marketing for dentists strategy.
Remarketing Ads
Remarketing is an easy way to reach interested people. This type of advertising helps you reach people who have visited your website by showing them your ads focused on their interests.
Your practice can also use email lists and funnel them through Customer Match on Google AdWords and Facebook! Just upload the email lists to create a remarketing audience and create an ad around those individuals.
Targeted Keywords
One of the most important things you can do is getting your website ranked highly on the search engines like Google, Bing, and Yahoo!
Using meaningful SEO keywords will take your website from 0 to 100 quickly, but if you think "dentist" is the only keyword you need, we have a lot of work to do!
Start by having a brainstorm session. Make a list of any keyword that seems relevant to your practice. Examples of keywords that have high searches are:
| | |
| --- | --- |
| invisalign | 135,000 |
| dentist | 135,000 |
| braces | 90,500 |
| root canal | 90,500 |
| wisdom teeth | 74,000 |
| dentist near me | 60,500 |
| affordable dentures | 60,500 |
| teeth whitening | 49,500 |
| veneers | 49,500 |
| dental implants | 49,500 |
| wisdom teeth removal | 49,500 |
| lumineers | 49,500 |
| toothache | 33,100 |
| gentle dental | 33,100 |
| dentures | 27,100 |
| invisalign cost | 27,100 |
| pediatric dentist | 27,100 |
| dental | 22,200 |
| emergency dentist | 18,100 |
| wisdom teeth pain | 18,100 |
| tmj treatment | 18,100 |
| how to whiten teeth | 18,100 |
| oral surgeon | 18,100 |
| bruxism | 18,100 |
| tmj symptoms | 18,100 |
| tooth extraction | 14,800 |
| cosmetic dentistry | 14,800 |
| tooth pain | 14,800 |
| dental implant cost | 12,100 |
| dental post | 12,100 |
| best teeth whitening | 12,100 |
| impacted wisdom teeth | 12,100 |
| dentistry for children | 12,100 |
| dental plans | 12,100 |
| tooth decay | 12,100 |
| dentistry | 9,900 |
| dentists | 9,900 |
| zoom whitening | 9,900 |
| family dentistry | 9,900 |
| dental implants cost | 9,900 |
| teeth whitening products | 9,900 |
| veneers cost | 9,900 |
| porcelain veneers | 9,900 |
| toothache remedies | 9,900 |
| root canal pain | 9,900 |
| dental crown | 8,100 |
| emergency dental care | 8,100 |
| dental bridge | 8,100 |
| implants | 8,100 |
| wisdom tooth pain | 8,100 |
If you find yourself struggling, there are several tools you can use to find inspiration, but the most important tool is the Keyword Planner.  If you feel a bit overwhelmed, consider getting your keywords researched by a qualified internet marketing expert. (Ahem, we are not a bad choice)
BONUS TIP: Emergency Keywords
A keyword I find underrated is "EMERGENCY."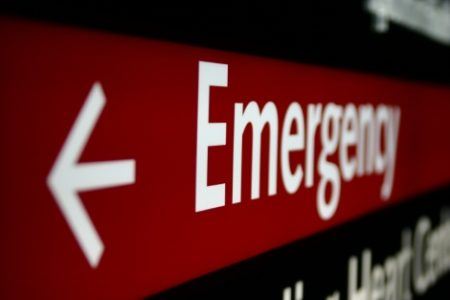 I think we all have found ourselves googling "emergency _____" at some point in our lives. Whether it's a late night party foul, a tooth getting knocked out or not knowing what is medically going wrong, we have looked for immediate relief!
Since this is true, why not use this human commonality as a web marketing for dentists strategy?
Bidding on keywords like "emergency" or "urgent" is an easy way to get clients with immediate needs and high conversion. It is also something that many dental offices do not pick in their keyword strategies.
Not optimizing your keywords correctly can result in wasting your marketing budget and not getting the results you're hoping for!
Make sure you set yourself up for success by setting your marketing strategies straight with professional help or your personal marketing planning.
Google Maps Ads
An advertisement on Google maps could literally lead a potential patient right to your dental practice. It is a quick, efficient and easy way to find location dentistry office listsings.
For example, if I was living in Carlsbad California, I could search dentists in Carlsbad with the following results: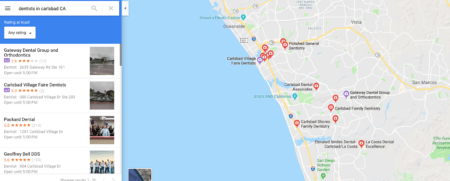 When I entered "dentist in Carlsbad" into the search bar, results were shown on the map and on the search results list. On mobile, these ads also include directions and call CTAs.
If you plan to use Google map ads make sure you have an address or phone number attached so potential patients can easily reach you!
Web Marketing for Dentists
So there you have it—helpful web marketing for dentists tips on how to connect with the right audience.
These strategies are designed to grow your practice and help you stand out in the crowd. We've been helping dentists like you so if you still feel like you want some help, give us a ring! We are here to help!
How do you feel about web marketing for dentists? What results has your practice seen thru web marketing? Share your thoughts below!