7 Law Firm Marketing Ideas that Can Improve Your Online Presence Fast
by Ana Gotter • March 13, 2018
Law firms and lawyers sometimes fall into the trap of believing that their skill set and reputation alone is enough to keep a steady stream of clients coming through their doors. That may be true, but in many cases, the law firm's business and profit can be improved with a solid online presence.
Strong marketing can help your law firm set yourself apart from the rest and attract new clients. It can give you a boost in search engine ranking, allow your site to resonate with your target audience, and build rapport with potential clients quickly. Even if it doesn't seem like you need improved marketing for your firm, I can almost guarantee that you do.
Ready to get started? Check out these 7 law firm marketing ideas that will help you build your online presence and get you more clients.
1. Invest in Good SEO
Search engine optimization (SEO) is the practice of utilizing specific goal-oriented strategies to get your site ranking higher in search engine results pages (SERPs). If you don't have the time to learn the technical side of things, hire an SEO expert or a copywriter specializing in SEO writing to give your site an overhaul.
If you're choosing to optimize your site yourself, the following best practices are a good place to start: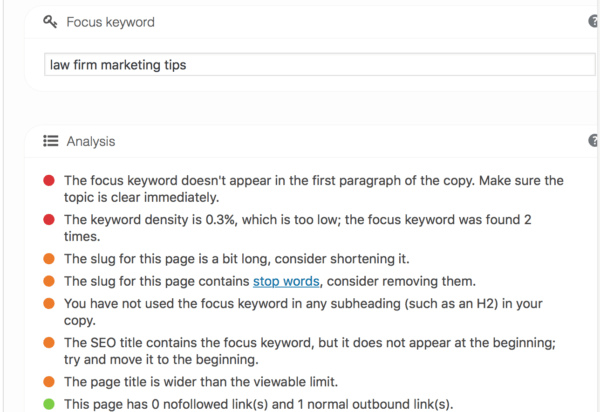 If you're unsure of where your site stands in terms of current SEO rankings, you can use a tool like SEMrush's Site Audit. This will provide you with a detailed analysis of your site's current SEO health. It can even flag areas that could use some improvement.
2. Create Specialized Pages for Each Service
Many law firms will have multiple specialties or offer different services. This is true even for hyper-specialized law firms.
Those that specialize in family law, for example, might offer divorce services, prenuptial or postnuptial agreements, estate planning, or custody arrangements. These all fall under one category of family or marital law, but they are distinct specialties and people searching for these specific services want to be able to find them quickly.
For best results, make each specialty clear either with a drop down menu or in a clickable CTA menu, as seen in the example below.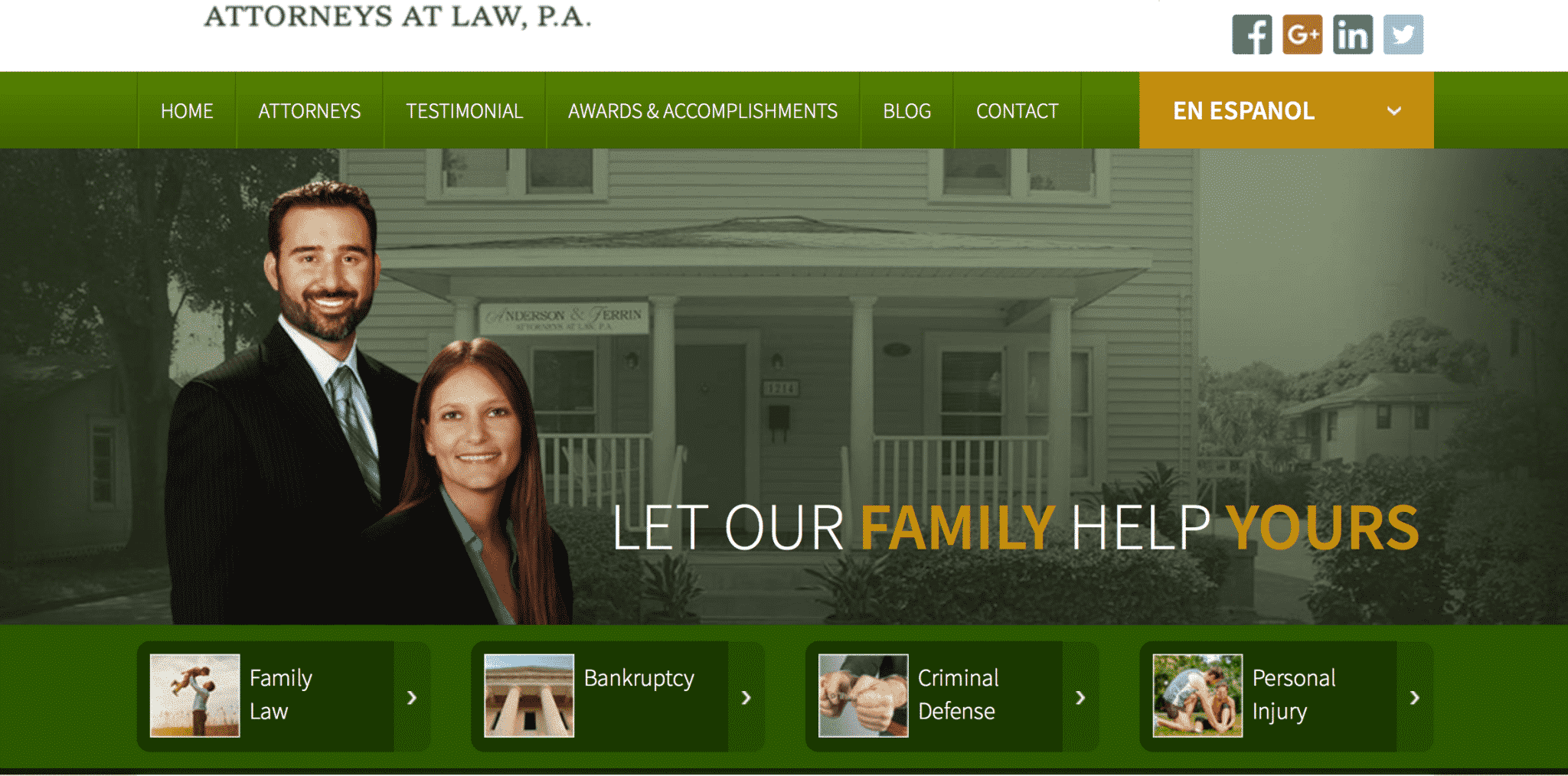 If you advertise yourself as a family law firm and someone comes to your site looking for help with a custody battle, they're likely to leave if they don't immediately see that listed clearly as an option.
Don't give them that chance. Have dedicated landing pages and sections on your site for each of your specialized services. Detail what you do, and how you can help. Not only will this improve retention rates on your site and get you more leads, it will give you more room to optimize for keywords for each specific area of practice.
3. Emphasize Your Branding
Your law firm's specialty can range from environmental law to business law, but your branding will be something entirely separate. It often closely ties in with your mission statement, and it's one of the biggest tools you have when you're looking to stand apart from your competition.
Let's look at a few examples of law firms with strong brands.
The first example comes from YLaw Group. They take a serious subject and try to set you a little more at ease with a combination of clever puns and high quality images. It's just unique enough and unexpected enough that you want to know more. Their "featured on" section lends instant credibility to counteract doubts you may have from the quirkiness.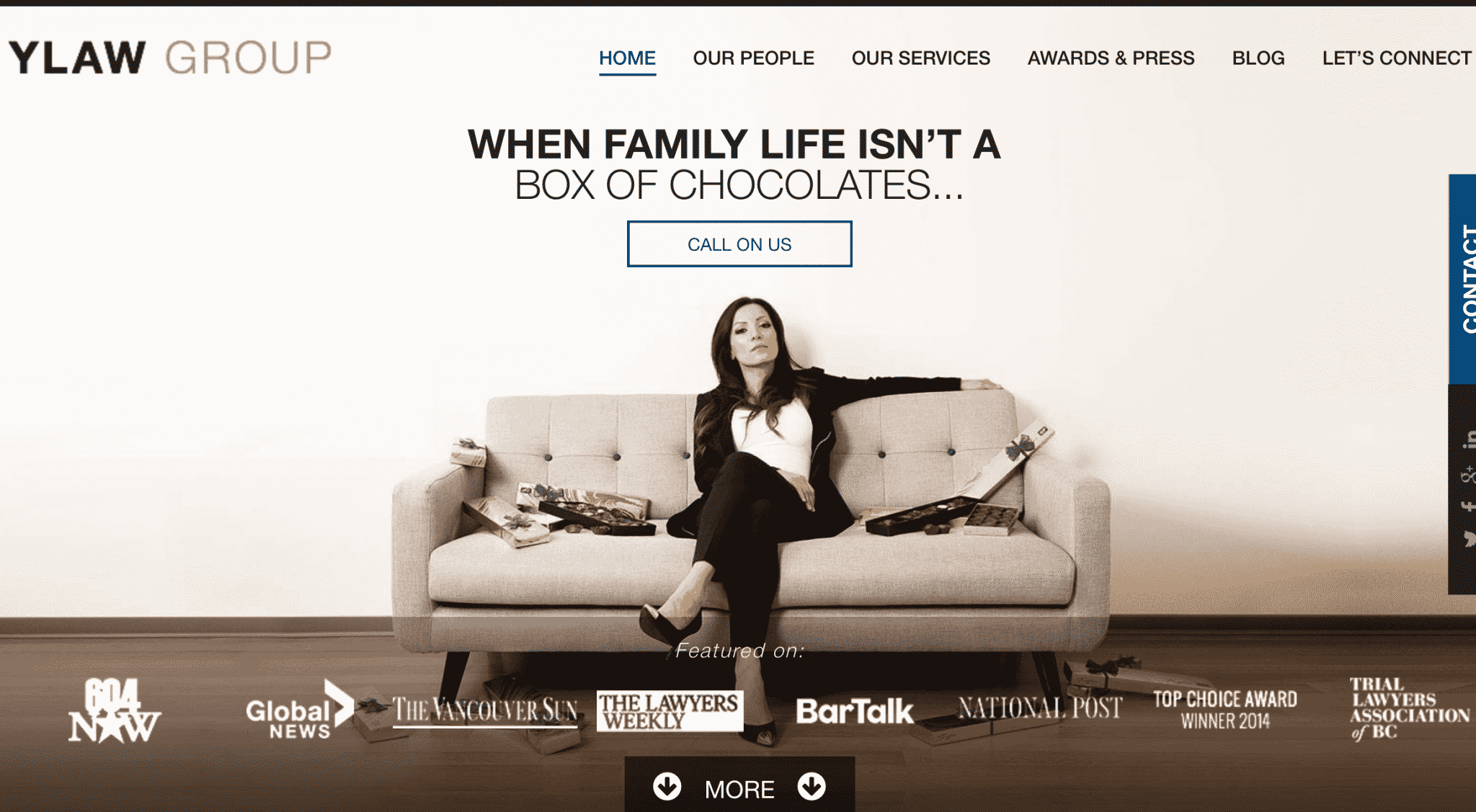 Our second example comes from Small Law, a network of independent lawyers. They get their point across quickly: that bigger doesn't always mean better, and that in this case a small firm would be more advantageous.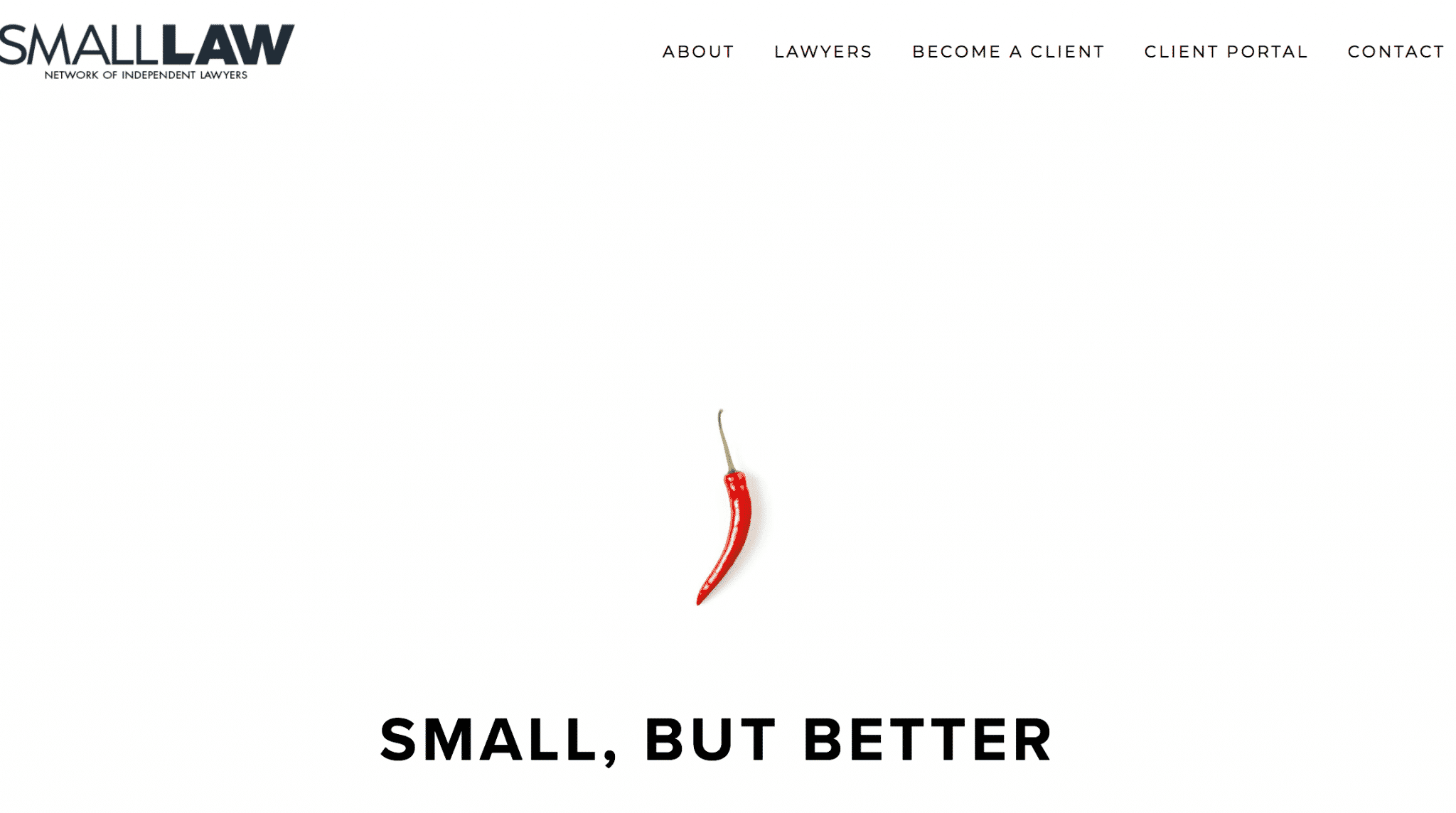 Use your images, site design, and copy carefully to express what makes you different and show your potential clients why that difference is such a good thing.
4. Provide Valuable Content
Value is always good, because it keeps people coming back to you. Creating extra content can not only offer more information that your clients are desperately looking for, but it can also give you more room to rank for keywords and draw in relevant traffic. Users searching for "how much does divorce cost" are likely looking for a lawyer, after all.
Valuable content can take several forms. A common one would be an FAQ placed in a designated page on your site. This FAQ could contain questions and answers to the inquiries that you hear most often. If you're able to write answers succinctly, you may even end up having your answer show up in a featured snippet and get you high up in the SERPs.
You can also use content marketing (aka blogging and lead magnets like eBooks) to accomplish the same goal. Blogging gives you a way to create on-going content to stay relevant in search engines while generating new content for relevant keywords. Having a blog that fits in with your branding can also help you earn trust early on if potential clients stick around to check it out.
5. Include Video to Build Trust
Pictures can help enhance your branding, but video can really sell the deal and win over new potential clients.
Video is naturally engaging, and having it on both social media and your website can make it easier to build a fast rapport with potential clients. This is crucial, because lawyers belong in one of the least-trusted professions in the country.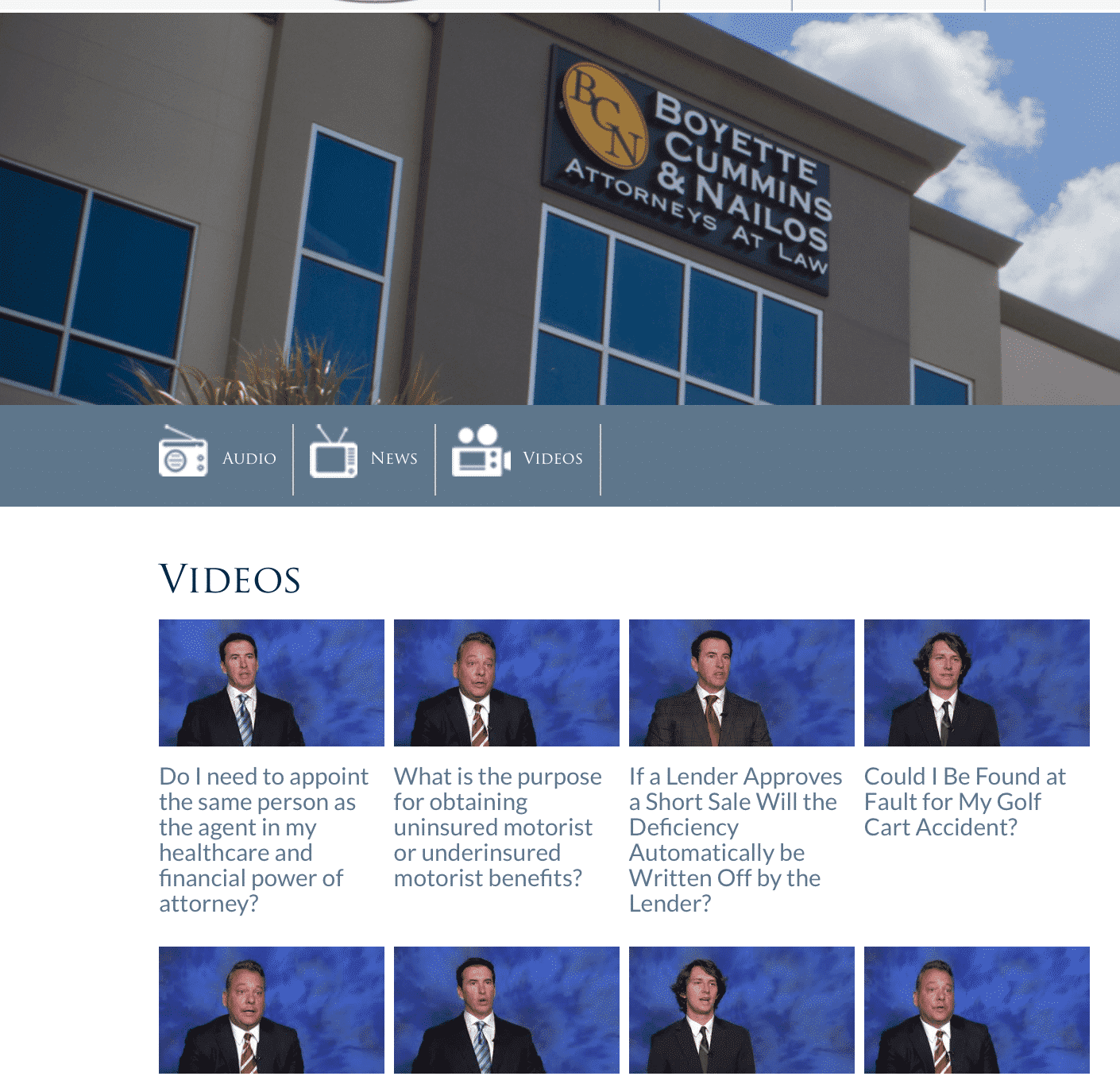 Videos can help you to bridge that gap. They're inherently more emotional, and seeing someone talking about issues that are important to you can flesh them out and make them feel more real. This can build that rapport early on, so maybe the client will be a little quicker to trust you when the consultation rolls around.
Need some ideas for how to incorporate more video on your site? Check out this video series from BCN law, where their attorneys answer commonly-asked questions on camera.
6. Rack Up Reviews
Another excellent tactic you can use to build trust with potential clients much faster is to get more client testimonials. Reach out to past clients and ask that they leave a review of you and your firm on Google, LinkedIn, or a submittable form online. Publish these reviews on a client testimonial page on your website, if appropriate, so long as you're never violating a client's privacy.
If you're doubting the importance of reviews, look at the search results from below. Just based on the information at hand, which firm would you be most likely to check out or contact first? I'm going to guess it's not the firm with a measly two stars.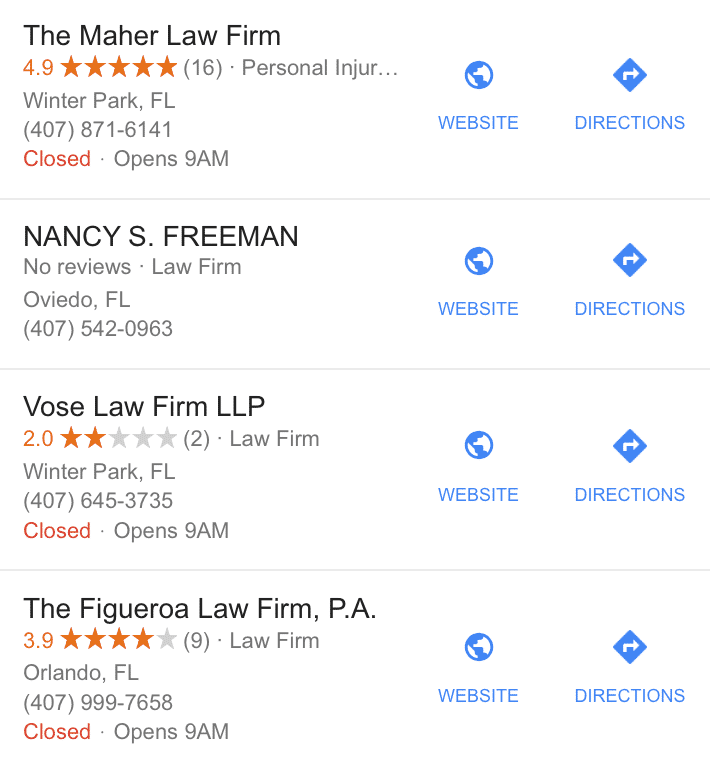 Reviews are powerful. People are a lot more likely to trust what other people have to say about you than what you have to say about you. By featuring client testimonials prominently, you'll be setting yourself apart from the very beginning.
7. Invest in PPC Advertising
Organic marketing and brand building is great (and should never be ignored at any cost), but sometimes it's not enough to go skyrocketing to the top of the SERPs. Because of this, pay-per-click (PPC) advertising is one of the fastest law firm marketing ideas you can try.
Google AdWords in particular is an excellent platform for law firms. You can create ads that will be shown to users searching for specific queries, allowing you to appear at the top of search results when potential clients are actively looking for you.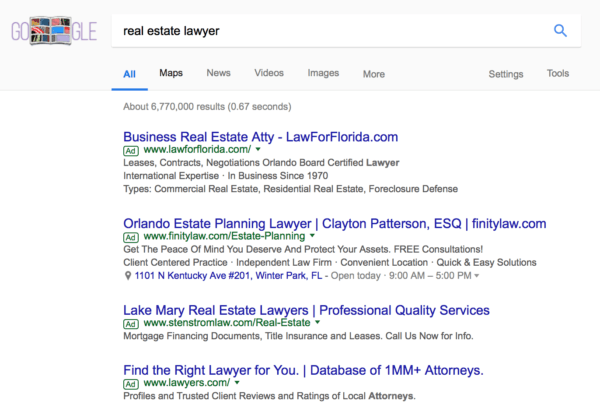 Since hiring a lawyer typically only occurs when there is already a need for one (and doesn't happen just because someone saw an ad on TV), AdWords is the best PPC platform for law firms to invest in. You can even improve your results by running campaigns with tight-knit ad groups, creating relevant copy and offers for specific niches of your audience.
If you want to run Facebook Ads, retargeting is the way to go. Set up Facebook's tracking pixel, and then run campaigns targeting users who have visited your site recently but didn't reach out to contact you. This can give them the push they need to get back in touch.
Conclusion
A combination of strong branding, search engine optimization, and trust-building content will help your law firm stand out from your competitors. Use these seven marketing tips to not only get more traffic to your site, but to be more persuasive once they actually get there.
Need a little help coming up with law firm marketing ideas? We've got you covered there. Shoot us a message and learn more about what we can do for you.
What do you think? Which law firm marketing ideas do you use for your business? What tips are you going to use? Share your thoughts and questions in the comments below!