The Ultimate Guide to Social Media Ad Design
by Manny Lopez • December 8, 2015
Social media is an ever growing platform with billions of active daily users. We all know that ads must appeal to the masses, and those masses are on social media. It's no surprise that advertising on theses platforms has become a popular and booming industry.
It was reported that companies spent 6.1 billion dollars on social media advertising in 2013. Business Insider states that there has been a rapid 40% growth in ad spend on social media platforms, equivalent to over two billion dollars. That growth in two years is huge, and experts are predicting that social media ad spend will reach 14 billion by 2018.
Just like Google has done with AdWords, social media companies have established rules and regulations on how their ads should be written, designed and displayed. I'll break down the specs for ads on Facebook, Twitter and LinkedIn.
Facebook
The undeniably largest social media ad network is Facebook with 1.55 billion active users. Facebook has worked very hard to optimize their timeline design, so they have strict specifications you must follow for them to approve your ad.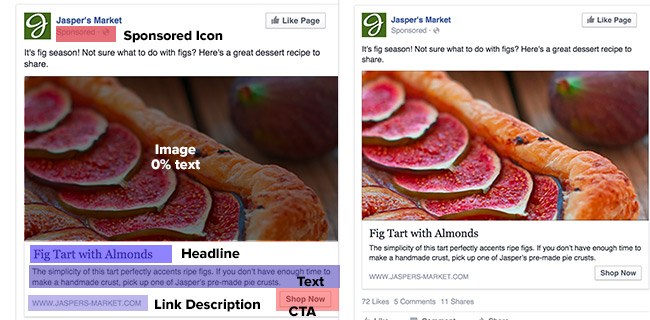 The 20% Text Rule
This is one of the most challenging restrictions in Facebook's ad design policy. Facebook requires that your ad cannot contain more than 20% worth of text overlaid on the image. The way that Facebook measures this is by breaking your ad into 5×5 grid. Any amount of text in one block counts as 4%, even if it only fills a 10% of the block. This can be quite a challenge for marketers and designers alike.
Fortunately, Facebook has a tool to check your image prior to submitting your ad for approval. This will help you make sure you are in compliance with the 20% rule. Just remember to choose compelling imagery, since that will be making up the biggest piece of your ad.
Design Dimensions
It's crucial to optimize your ad based on where it will be displayed. This will ensure you're not wasting ad spend on platforms where your ad appears broken or incomplete. Facebook has implemented one set of design recommendations to make your ad will look fantastic on desktop and mobile timeline.
The standardized size for all Facebook ads is 1,200px By 628px.
Headlines
Any Facebook ad headline is a maximum of 25 characters. I prefer a clear and direct headline over headlines that try to be "catchy" because it offers users what they want right away. Speak to a users pain points rather than focusing on why you think you're great. You can even make your headline a question or a call to action.
Text
The maximum length for your ad copy is 90 characters, and is commonly used as a description for a product or service. This is a great opportunity to reinforce your headline while providing more information on your product or service. Spend time on brainstorming and writing your copy for best results.
Link Description
Believe it or not your URL does matter. Keeping your URL simple and easy to remember is important to keep your messaging consistent throughout the entire ad. This is also a great opportunity to send a user to a conversion optimized landing page and into your sales funnel. The character limit for URLs is 30 characters.
Calls To Action
Adding a call to action to your ad can increase its engagement with users. Facebook allows you to add preset calls to action such as; buy now, shop now, book me, contact us, more information etc…
LinkedIn
LinkedIn has 400 million active users with influential professionals and industry leaders. Its advertising platform has been growing tremendously throughout the years. It presents opportunities to market top level executives, small business owners or just the general public.
LinkedIn has their own design recommendations to ensure your ads are being displayed correctly. Here are a couple ad sizes that are used on LinkedIn's premium display ad platform.
Medium Rectangle Ad
The medium rectangle ads are 300px by 200px images. You'll see them on the right hand side of your main news feed, company profile, or above the fold on the group page. This ad size is the perfect dimensions to include a great image, headline, and call to action button without it feeling too crowded.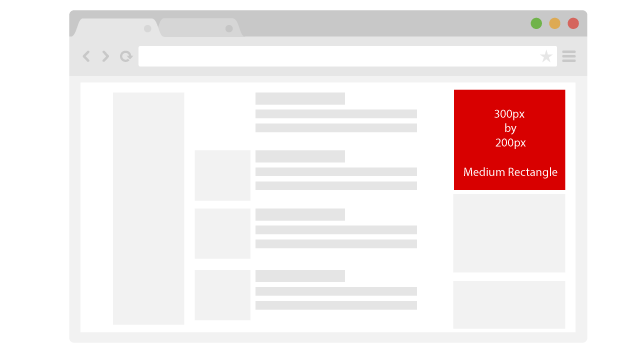 Wide Skyscraper
The wide skyscraper 160px by 600px and appears on the user's messages page as well as their inbox. This size commands a lot of real estate on a page which gives you an opportunity to market to individuals without having to fight for screen space.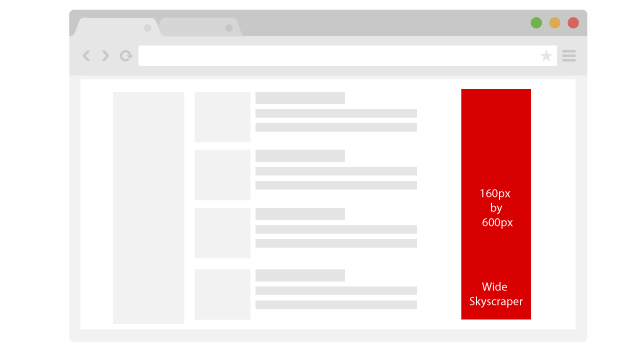 Leaderboard
The leaderboard is 728px by 90px and appears at the bottom of some feeds. This ad size can be used as a final effort to market to a user before they exit the site.

Ad Copy
LinkedIn has restrictions you must follow in order for your text and display ads to be approved. The restrictions are universal across the entire site. Headlines can't be longer than 25 characters, and ad copy can't be longer than 75 characters. That's shorter than a tweet! Make sure you're spending time testing and implementing your best copy ideas.
Twitter
Twitter is one of the most popular social media platforms for users to use on a daily basis. With 320 million active daily users Twitter's mega audience and global reach its potential to market to a wider audience presents itself.
Twitter doesn't present their ads like the social media platforms they keep the 140 character restriction on all ads but they do add a sponsored icon that lets you know that this was a paid ad.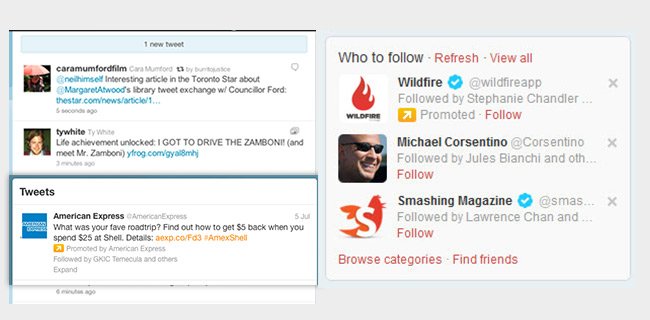 Sponsored Tweets
These are the most common ads that you will see on twitter and are displayed with the other tweets in your timeline. They are restricted to 140 characters like any other tweet but there are ways to optimize your post to get the most interaction from the sponsored tweet. A great strategy is to use hashtags in your post because this will allow users searching that particular hashtag to see that post outside their timeline.
Another optimization tip is to optimize your URL, try using a shortened URL instead or your normal URL and save on precious characters.
Promoted Account
This option is available for any company trying to grow their network of followers. A promoted account will be displayed on different screens under the headline who to follow. This can be a cost effective way to grow your list of followers which will grow the ability to for you to market to them with unpaid tweets.
Conclusion
Social media is a great way to get your ads seen by a targeted, highly relevant audience—if you set your ads up right. Using the recommendations in this guide will put you well on your way to social media success.
If you'd like additional recommendations, comment below or let us know! I'd be happy to take a look at what you're doing and give you specific advice.