2019 PPC Trends: What Should You Be Focusing on this Year?
by Aden Andrus • January 1, 2019
Last year, we saw a ton of changes in PPC advertising.
Google rebranded AdWords as "Google Ads", updated its interface and added several new campaign types and targeting options. Not to be outdone, Bing Ads released a range of new features, including LinkedIn profile targeting. Amazon advertising took off…suffice it to say, 2018 was a big year for PPC.
But all that's in the past. What about 2019?
This year, PPC is expected to have another big year, with lots of new features from all of the big platforms, but the top PPC trends for 2019 seem to focus on two key areas: audiences and automation.
In this article (and throughout this year), we'll cover these two key 2019 PPC trends and many others that you should take advantage of this year. Here are seven of the hottest PPC trends for 2019!
1. Start Using Paid Search Audiences
Paid search has always been about keywords, but keywords don't always tell you a lot about search intent or who your target audience is. For example, if you're a dentist, bidding on the keyword "dental practice" seems logical.
In fact, if you search for "dental practice" in Spanish Fork, UT, the top search results are all ads: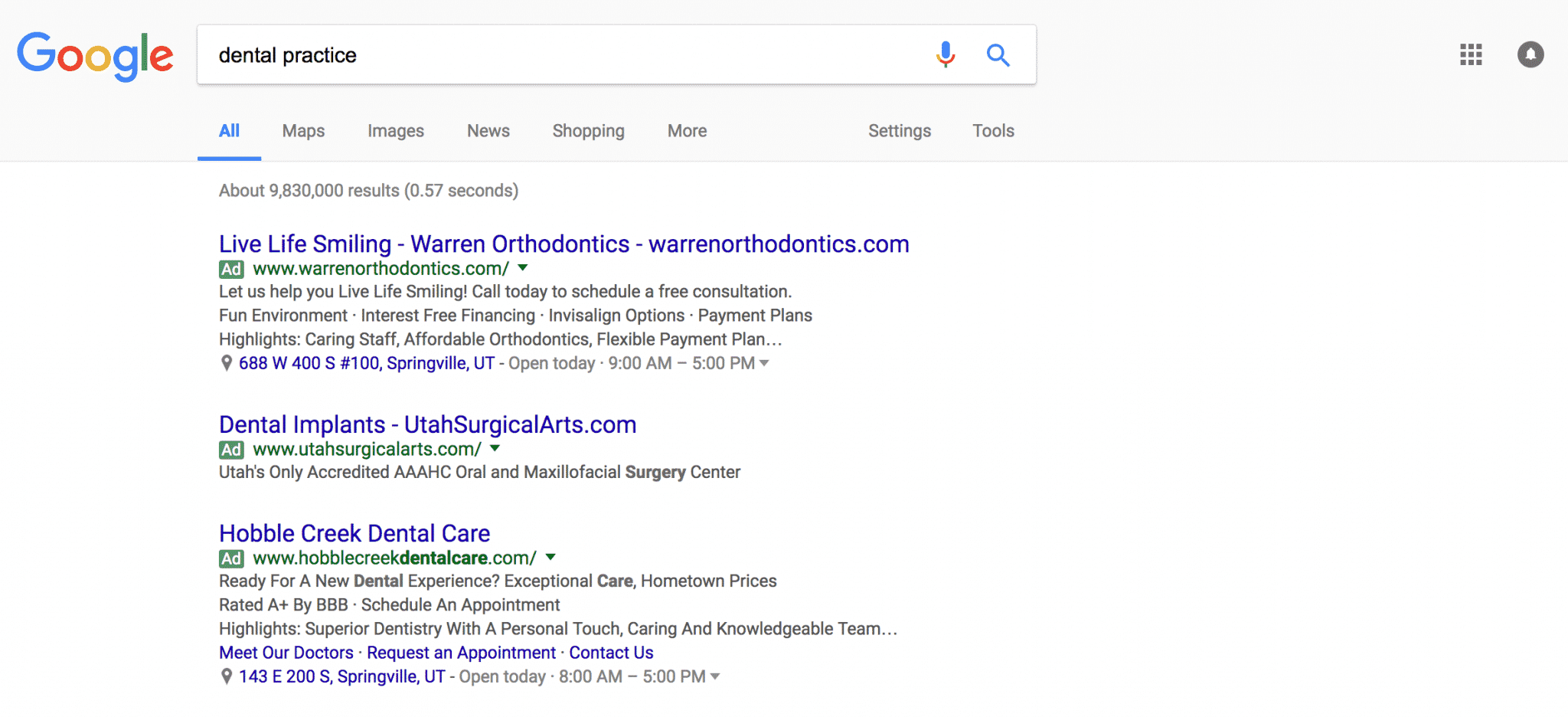 This all seems great, but let's take a look at the organic search results. Google has invested a ton of time and money into developing algorithms that can identify what people are really looking for when they type in a search term, so the organic search results should be a good indication of the search intent behind the keyword "dental practice".
Here's what the search results page looks like if you delete the ads: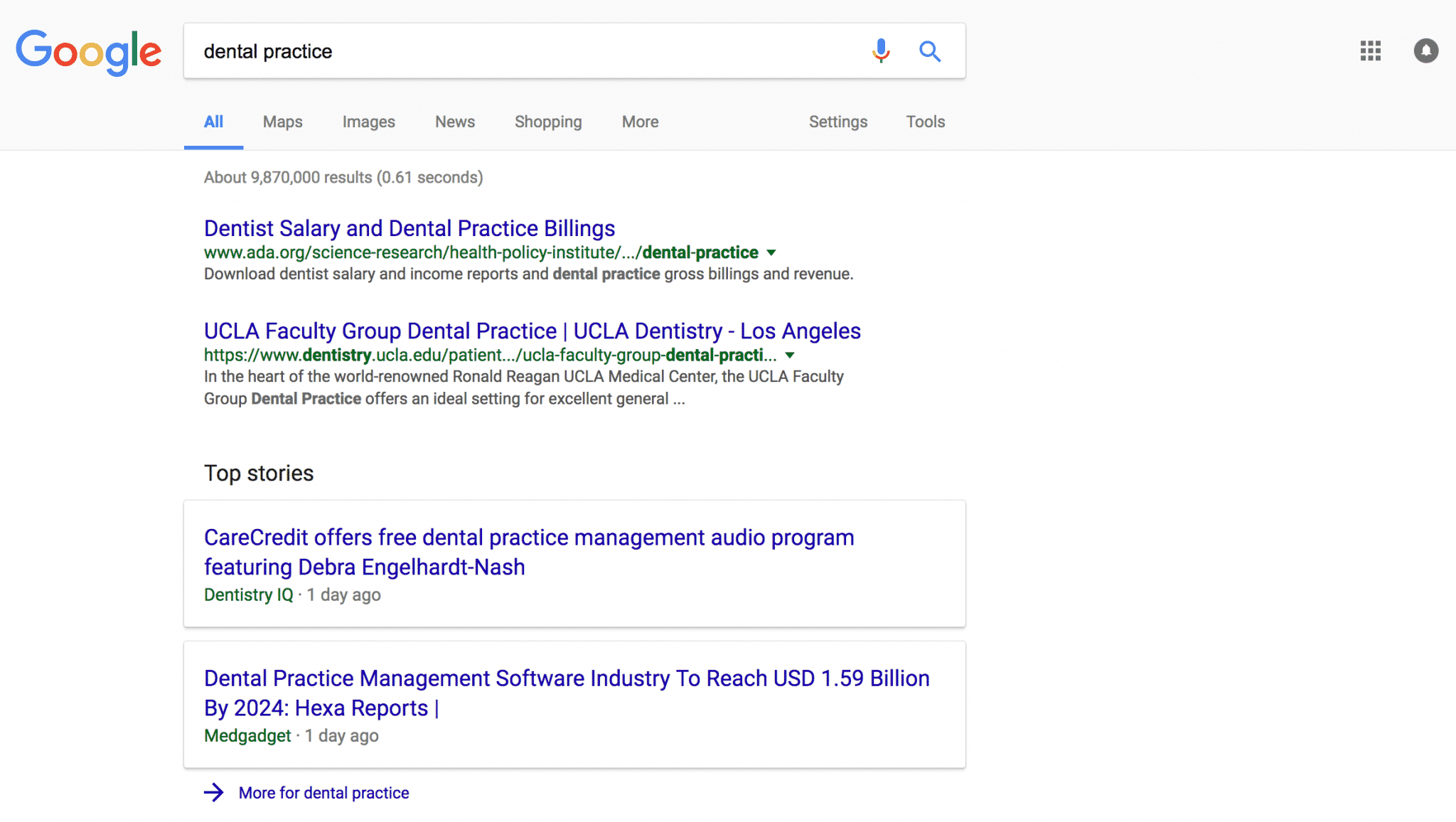 Dental practice billing? Dental practice management audio program? Dental practice management software? Clearly, Google believes that a lot of people who search for "dental practice" in Spanish Fork, UT are looking for information about dental practices—not for a dental practice.
Do you see the problem here? People are searching for information about running a dental practice (possibly because they are dentists), but these dental practices are trying to attract new patients. As a result, these ads are a mismatch for many-to-most of the searches that use this keyword. That means less clicks and even fewer leads and new patients.
And that's the tricky thing about keyword-focused paid search campaigns.
Amongst all the match types, bid optimization and search volume research, it can be easy to lose sight of the intent behind your keywords. To make matters worse, even if you pick the right keywords, not everyone is in the same phase of the buying cycle when they search for those keywords, so you can bid on the right keywords and still end up advertising to the wrong people.
This is where audiences come into play.
Audience targeting is hardly a new thing. Since people don't really hop onto Facebook and search for "dentist near me", most social media platforms have focused on audience targeting rather than keyword targeting. This offers a lot of interesting options, but it does come with one key handicap: the user isn't actively searching for what you're selling.
On Facebook, you can display the perfect ad to someone who is actively in the market for your product or service, but if they are scrolling through their feed looking for Aunt Suzie's latest post, they'll never click. While audiences are a great way to target your ads on social media, you are interrupting people in the middle of doing something else and hoping that they'll find your ad interesting enough to click on.
Paid search audience targeting, on the other hand, is the best of both worlds. With audience targeting on paid search, you're not only getting your ads in front of the right people, you're getting it in front of them when they are actively searching for what you're selling.
In 2019, layering audience targeting into your keyword strategy will be a key way to get ahead of the competition. While certain aspects of this approach, like remarketing lists for search ads (RLSAs) have been around for a while, integrating audiences and keywords really didn't become viable until late 2018, so it's a golden opportunity for advertisers in 2019.
2. Take Advantage of Automation Opportunities
Over the past few years, PPC automation has evolved from a "let's try it and see if we learn anything" feature to a powerful way to improve the performance of your campaigns. In particular, Google has invested heavily into building out their automation options and the results are extraordinary.
At Disruptive, we've seen a lot of great results lately from implementing some of Google's newer bidding features. However, there's a secret to our success.
To really get the most from PPC automation, your campaigns need to be set up to help the algorithms work in your favor. That means implementing effective and accurate conversion tracking, writing great ad copy and identifying your ideal audiences and keywords.
Do it right, and you can offload a lot of the grunt work to the machine. Do it wrong, and you can end up with all sorts of surprising (and often expensive) results.
In addition, while the native PPC automation options in Google Ads and other platforms can save you a lot of time and money, automater beware: not every suggestion or automation option will be right for your business. The algorithms are a lot better than they were a few years ago, but PPC automation still works best with human oversight.
As long as you don't "set it and forget it", however, PPC automation can be a huge opportunity for your business in 2019. It can help you improve the performance of your campaigns and save you from countless hours of mind-numbing work, enabling you to focus your efforts on more important—and human—tasks like writing copy or building landing pages.
3. Get to Know Your Whole Marketing Funnel
Ten years ago, you could build an entire business off of a clever Google AdWords campaign. These days, you have to interact with your audience across a variety of marketing channels and in a variety of stages of the buying cycle to get effective results from your marketing.
The only problem is, this can easily lead to a "who's on first?" attribution scenario? If someone watches one of your videos on Facebook and later visits your site through a branded paid search ad, which channel produced that sale?
Unfortunately, in today's multi-touch marketing world, there are no easy answers to these types of questions. For many businesses, a simple first- or last-click attribution model is no longer useful. Customers often interact with your marketing in a variety of ways before they convert, which can make it difficult to measure the effectiveness of individual channels.
Given the challenges of creating an effective attribution model, many businesses tend to look at marketing channels in silos. This, however, is a mistake.
Without a good multi-touch attribution model, only low-funnel marketing channels like paid search will ultimately deliver a good return-on-ad-spend. However, if you only run paid search ads, you'll end up conceding a lot of important business to competitors who are targeting their customers at all phases of the buying cycle.
The good news is, while creating and maintaining a useful multi-touch attribution model takes work, most of your competitors probably aren't doing it, either. As a result, they—just like you—are probably spending a lot of money on marketing channels that aren't producing valuable results.
But…if you take the time to build a meaningful attribution model, you can focus your marketing spend on the channels that really matter. In a few years, everyone will be doing this, so 2019 is a golden opportunity to get ahead of the curve and figure what works and what doesn't while the competition is still throwing money at the wall to see what sticks.
4. Rethink Your Ads
Ultimately, no matter what PPC platform you're using, great ads will always be an important key to PPC marketing success. With all of the new ad options released in 2018, figuring out how to create the right ad in the right format for the right audience is more important than ever,
If you're not sure whether or not it's worth it to rethink your ad strategy, here's a quick example of what happened to one of our clients when we revamped their ad strategy: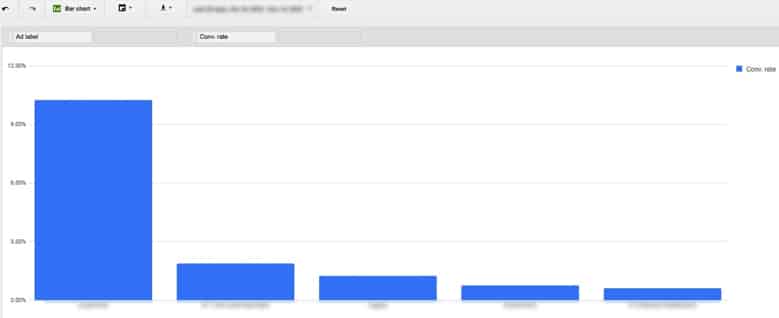 The new ads were so effective that our new conversion rate (not clickthrough rate, mind you) was almost 5x higher! (10.17% vs 2.25%). More importantly, cost-per-conversion dropped from over $2,000 to less than $60.
That's a 97.3% drop!
Now just think, what could these sorts of results do for your business? Of course, not every business will get these sorts of results (especially on the first try), but clearly, taking the time to revamp your ads can have a huge impact on your online marketing.
5. Invest in Video Marketing
Video marketing was big in 2018, but it promises to be even bigger in 2019. While creating effective marketing videos is certainly more work than writing a text ad or letting Google auto-create a display ad for you, video is an incredibly powerful marketing medium that can do wonders for your business.
If you need a little more convincing, you can consider the following:
Although video advertising is harder and more expensive than more traditional forms of digital advertising, one thing is for certain: your competition is already investing in video advertising. If you don't figure out how to do video right in 2019, you'll just fall further behind.
6. Revamp Your Remarketing Strategy
Remarketing has been an important part of any digital marketing strategy for years, but consumers are now well aware of what these ads are and how they work. To really make the most of your remarketing ads in 2019, you need to rethink how you approach remarketing.
To date, most businesses have run remarketing campaigns under the assumption that the 98% of web traffic exits your site without converting might convert if you could just get back in front of them. All you have to do is run the same sort of content in front of these people again and they'll return and make a purchase, right?
That might work…if everyone who clicked on your ad was ready to buy right now.
Unfortunately, as it turns out, only about 4% of the people who visit your site are ready to buy.
This presents a bit of a conundrum. If only 4% of your traffic is ready to buy and you're already converting 2% of your traffic, that means your advertising is already converting half of the available opportunities. If all you do with your remarketing is push the same message you used the first time around, remarketing might—at best—enable you to convert 4% of your traffic.
But what about the rest of your traffic? The ones who were interested enough to click, but not ready to buy? Can remarketing help you with them?
The answer, of course, is yes, but in 2019, it won't work to ads with the goal to get people to "Buy Now" or "Convert Now", you need to create ads that help convince people that they are ready to buy—and buy from you.
Done properly, remarketing in 2019 actually falls much more in line with the audience-based marketing approach we discussed earlier in this article. Instead of trying to beat people who aren't ready to buy into buying from you, you need to use what you know about your audience and where they are at in the buying cycle to create ads that help them get ready to buy. For more on how to do that, check out this article.
7. Keep an Eye Out for New Features
Finally, if 2018 is any indication of what is to come in 2019, you can expect a lot of new features and tools from every PPC marketing platform. These will present real opportunities for marketers who are ready to jump in and take advantage of them.
This is especially true if you're a local advertiser. Over the past few years, Google has been setting up and hinting at a variety of new features for local advertisers that will probably drop sometime during 2019, so keep your eyes peeled!
Fortunately, you won't be on your own here. Here on the Disruptive blog, we'll keep you up to speed on what is happening and what you need to do to make the most of your marketing throughout the year. Stay tuned!
Conclusion
And there you have it, seven of the hottest 2019 PPC trends to take advantage of this year. In the aftermath of 2018's massive number of new features and tools, 2019 will be a big opportunity for savvy advertisers to grab an advantage over the competition. It'll be a lot of work, but that's what makes the game fun.
By the way, if you'd like any help taking advantage of these PPC trends for your own business, let me know here or in the comments. I'd love to help!
What do you think of these 2019 PPC trends? How do you think they will affect your online marketing efforts? Are there any additional trends you'd add to this list? Leave your thoughts in the comments.