How to Create Copywriting that Sells
by Cydney Hatch • December 17, 2018
Most business owners hate writing.
In fact, it's a skill many people doubt they have and will avoid at all costs, often even going so far as to delegate it to someone else whenever possible.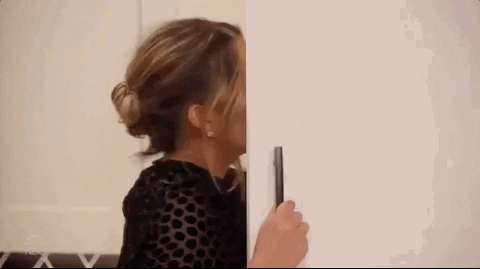 That being said, the difference between good ads and great ones is often the quality of the copy! All it took was writing passionately about their services, products or brand in a way that made a business stand out in their market.
Incredible copywriting is probably the fastest and best way to increase your sales as well as your conversion rates, however, the majority of companies do it terribly.
So, if you shudder at the idea of writing for your business, wonder what copywriting is or you struggle to find the right words to write, this is the article for you! In the sections below I will explain everything you need to know about business copywriting as well as give you tips on how to write business content that will sell!
What is Copywriting and Why Do I Need It?
Copywriting (not be confused with "copyright") is writing business promotional materials with the intent of getting people to do something. Unlike other forms of writing, copywriting is all about getting the reader to take a certain action after reading marketing materials. That action might be to purchase, opt-in, or engage with a product, service or brand.
So, basically copywriting is the "silver tongue" of marketing…
As you can probably imagine, copywriting is one of the most essential elements of effective online marketing! Most companies report that content marketing (and copywriting) increased both the quantity and quality of leads.
So, why do you need strong copywriting for your business? To put it simply, it's the most cost-effective way to grow your company! Mastering copywriting gives you a full tool set that can help you stand out amongst the millions of content pieces that are published daily. By standing out, you will be able to lure more potential customers into your camp over your competitors.
So, do you want to learn how to make the most out of your business copywriting? In the next, section let's learn a few tips and tricks you can use to make your copywritten content stand out!
How to Write Copy That Sells
Just like anything in business, copywriting takes time to master but that doesn't mean you can't learn some helpful tips today! Let's take a look at how you can make your copywriting shine:
Know Your Audience Like the Back of Your Hand
While researching and creating a buyer persona seem like a lot of work, it's worth it. Your buyer personas are the key to write effective copy that will speak to your audience. Understanding your customer is a must and failing to do so will hamper your sales. Many businesses make the mistake of writing without actually talking to and learning from their audience.
So, to understand what they need to hear, engage! One of the best ways to understand your potential customers and your target market better is through surveys!
Surveys show you what's going inside the head of your target audience—what their questions, thoughts, interests and concerns are. Luckily, this does not require tons of marketing budget to do! You can use Google Forms, SurveyMonkey, Wufoo, Instagram story polls, Facebook post polls and/or other tools to get the job done!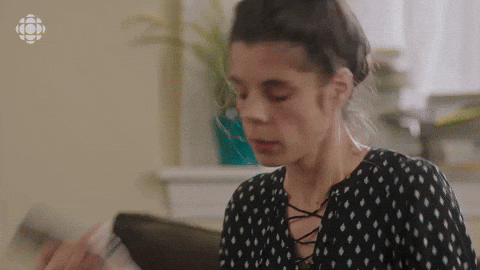 The goal here is to get key points from the mouths of the people you are marketing to.  Their words will be an incredible source for your copy! Without focusing on the words your audience uses, it's easy to create content full of business jargon and language they do not relate to.
Do not make that mistake!
Take a Look at the Competition
Studying the competition is one of the most important things you can do. In fact, it can save you tons of time!
By figuring out the angles they are marketing with, what content they are writing, what they are charging and how they are getting customers is a strong piece of information you can use as a baseline to improve upon.
Take advantage of whatever you can as stealing marketing tactics isn't a crime…ha!
Also, if you want to take this step a bit further, read professional copywriting in magazines and other advertising to see how the professionals craft their messaging. Follow industry leaders and then adapt what you learn to your specific business!
Always Have Purpose in Mind
With the content marketing boom, lots of marketers create content for content's sake.
This is a no-no!
Although quantity seems "official", quality is what will really matter for you and your business! Each piece of your copywriting needs to have a purpose that fits into your overall marketing plan.
As David Ogilvy said, "In the modern world of business, it is useless to be a creative, original thinker unless you can also sell what you create." Creative content by itself doesn't do you any good if it does not serve a purpose. Make sure your content engages your audience, educates or builds trust.
Use the AIDA Formula
You know exactly who your target audience is and what their interests, desires and pain points are…now it's time to crank out some copy!
Unfortunately, at this stage, you have information, but you might not know what to do with it, let alone how to use it for effective copywriting!
This is where the marketing AIDA formula can come in handy, especially when it comes to brainstorming copywrite content.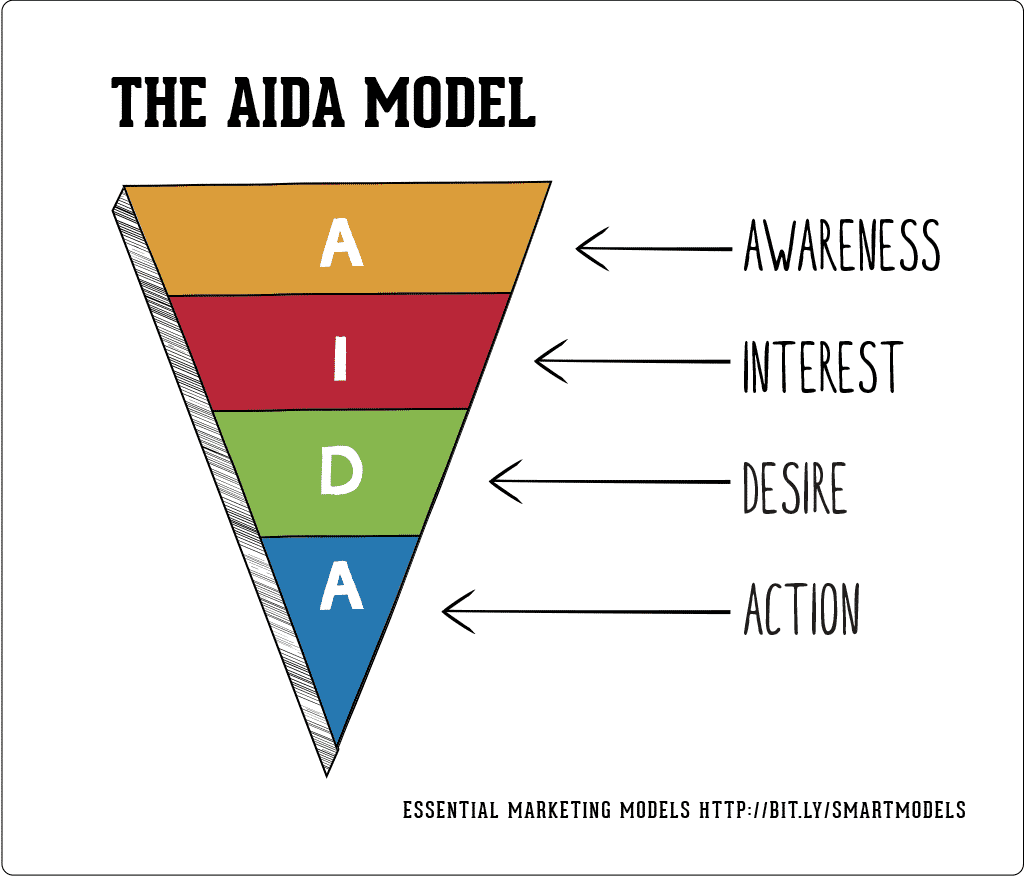 It's designed around the interest of your business's target audience, helping you see through the informational block and get you writing!
So, what exactly does AIDA mean? The marketing formula represents:
Attention 
Believe it or not, a single well-written line of copy can make a person stop scrolling Facebook and pay attention—and it is not because you were cutely clever. It is because you spoke to them directly!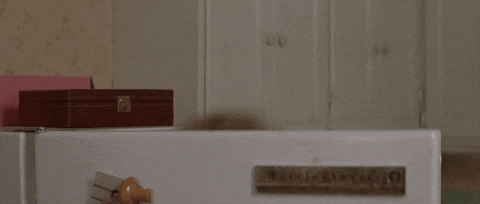 Consider:
Opening with a question to force your reader to mentally respond
Keeping sentences short to keep your readers reading
Stating your claims in a punchy way
For example, if you are a photography business you might want to write:
"We don't just take photos. We capture the intimate moments that you can remember forever!"
Rather than writing:
"Hello, welcome to our website. If you're looking for quality photography, you've come to the right place!"
Interest
It's incredibly difficult to get someone to click on your site. You're not just vying for attention amongst your competitors, you're vying for attention amongst all the ads and other content your audience sees every day!
Piquing your audience's interest is what will reel them in and make them click! Between the killer combo of your attention-grabbing headline and your interest line, you are going to intrigue your readers so much they can help but click for more!
Desire
When that click is made due to interest, you have to do everything you can to convince them they made the right decision! In this stage, you want to craft a Unique Selling Proposition. USP is what makes you stand out from the crowd. It can be a risk-reversing guarantee, some bonuses or anything.
It's time to feed their intrigue by making them believe how your products/services will improve and change their lives! Identify three ways your reader will gain something from your product/service here.
Action
Now, it's time for the final step! Once your product connects well with the needs and emotions of your audience, you will punch a call to action involving your business!
By following this formula, it helps you walk through how you can write copywriting that will truly connect with your audience through needed steps!
The Basics: Using Sentence Structure Strategically
Believe it or not, the biggest challenge in copywriting is not necessarily writing a lot, it's saying a lot with just a few words. Many people know how to drone on, but many do not know how to get the same message across but in a short and concise way.
To help with this, try to simplify through sentence structure:
Cut the Fluff 
Always go for short, to-the-point sentences. Website copy must have short sentences, with a maximum of 3 sentences per paragraph. People do not like reading a ton these days, so make sure your readers do not slip through because of seeing a content "textbook" on your marketing materials!
If you need help, set yourself a word count to ensure that your copy is laser-focused!
Use Punchy Verbs
As with resumes, punchy verbs really make a difference. Loading up your sentences with powerful action verbs shows results in a much more effective way.
Create Nice Flow
Read what you've written out loud. Are there awkward sentence flows? Do you struggle to understand the sentence, let alone spitting it out?
Reading your business copywriting aloud is one of the best ways to make sure your copy flows nice and is written well. If you're stumbling on sentences or being lost when reading, your customers will too. Once you've checked yourself, get someone else to read it out aloud to fine tune things even more.
Formatting Matters
When talking about your business benefits, be sure to think through visuals and how people want to read content these days.
Simply put, beware of great walls of texts! Marketing materials, unless they are meant to be long like blog posts, eBooks or white pages, work best when they are short and snippy.
Use bullet points or visual "sections" rather than paragraphs for listing benefits. Bullet lists and sections offer the reader small, digestible pieces of information which are easier to read than blocks of text.
For example, Growing Natural's advertisement for their protein comes off a bit text heavy:
Can you feel your brain tuning out as you look at this ad? You don't want your customers to have the same reaction when they see your copy!
Try Reframing
A 1999 study showed reframing has a shocking psychological power.
While conducting the study, they went door to door to sell note cards for charity. In their first pitch, they offered $3 for 8 cards and got sales at 40% of the houses. In their second pitch, they offered 8 cards for 300 pennies, followed up by "And that is a bargain" and made sales at 80% of the houses.
Even though the cost and value was the same, how they phrased the deal had a huge impact on their sales! But how did this work?
People aren't used to hearing 300 pennies as $3 is more common. As a result, their normal calculations were disrupted, allowing the salesperson to plant the idea that they were getting a "deal."
In marketing, this practice is called "reframing". It is an amazing tactic allowing you to manipulate the value of an item by comparing and focusing on the reader.
Here's an example of reframing in practice:
Why would someone rush to blow 500$ a year, right? But what about $8 a day?
What a steal of a deal, right?
Even though you are ultimately paying the same amount, people like to feel like they are getting a deal and with business copyrighting, this is a great tactic to use!
Create Open Loops
I will be honest, I like many people, fell for the show Game of Thrones as every week I could not wait for the following week to complete my quest with Jon Snow and the crew.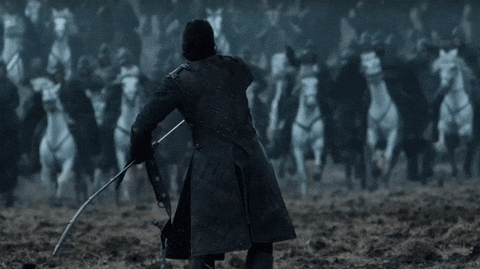 Like this example, there are many books, movie series and TV shows that many people cannot get enough of. Hence, why Netflix is so successful because it feeds our need to complete psychological "open loops."
Simply put, open loops are written "cliffhangers."
Open loops seduce our brains into wanting completion as our brains are wired for closure. The good news is, the same principle works in copywriting!
Open loops could be asking questions or sharing stories in your marketing content. The most effortless way to start is by asking more questions and vaguely imply on them. This lack of completion gets your reader more curious and invested in your writing.
Make Copywriting Inviting
Successful advertiser Leo Burnett developed simple icons to symbolize easy-to-understand product benefits and values (such as the Jolly Green Giant and the Pillsbury Doughboy). One of his rules of copywriting was to "make it inviting to look at"—since if the ad didn't invite and entice the eye, no one would read it.
This concept is that much more important today as visuals have been key factors in marketing success. In fact, 38% of people will leave a website if they find the layout unattractive or difficult to navigate! Another study found that "given 15 minutes to consume content, two-thirds of people would rather read something beautifully designed than something plain."
If your content does not have "eye appeal" it won't be considered. So, to make your copywriting visually appealing consider:
Simple type fonts that are easy and big enough to read
Colors that are beneficial to user experiences
Short paragraphs
Relevant and high-quality images
Varying text like bolding, italicizing, underlining
Indented paragraphs or quotes
Apparent Headlines
Want to avoid driving away potential customers? Work on design, because it is more than just "pretty stuff," it is your business brand experience. It does matter.
Copywriting, You Can Do It!
Writing is already difficult for many people, but writing persuasively, can make people run for the hills. Although mastering copywriting takes time, thoughtful planning and research, you can pick up a few simple tips today that can drastically help you improve your business writing. And, there is no better bang for your buck in business marketing!
If you need some more help on how to draft more effective business copywriting, reach out! We love working with businesses to draft effective ad copy and marketing materials!
If you'd like to mention other copywriting methods, comment below!