7 Things to Try in Your Dental PPC Campaigns
AdWords
•
Google Ads
•
PPC
•
Ana Gotter
October 28, 2019
Marketing for dentists can be insanely competitive, especially because there are typically an abundance of offices in most cities. I know that driving from my house to my high school, I used to pass three different dentists' offices on a fifteen-minute drive, and there were plenty more right outside of that direct path.
When the competition is high, PPC advertising is a solid choice. The ability to show up high in searches when users are actively seeking a new provider is insanely valuable and can help you grab potential patients right as they're trying to find you.
In addition, options like Facebook's discovery ads can build awareness and allow you to proactively run campaigns promoting specials and new services.
With multiple platforms to choose from and a seemingly endless number of ad formats and targeting options, it's important to focus on specific strategies that can help set you above your competition. To help you out with that, we've compiled a list of the 7 things you should try in your dental PPC campaigns
1. Focus On Niche Keywords
Sometimes, people are going to search for "Dentist in Orlando" (or the always-increasing "dentist near me"). Running campaigns for general location-based keywords is a great option, and will help you hopefully land people who need standard, ongoing cleanings and exams every six months.
Some patients, however, might be looking for something different. They might be looking for "teeth whitening dentist near me" or "family dental practice Tampa."
While niche keywords will almost never have the same kind of volume as your standard "dentist near me" search, they can still be plenty valuable in their own right, especially if you're advertising high-value services like cosmetic procedures.
And, as an added bonus, there will be less competition for them because most advertisers will be focused on the general keywords, leaving these outliers for you. This means you're more likely to have a higher impression share and at a lower cost.
A quick search with any keyword research tool can help you find the best niche keywords to use, and to determine exactly what phrases people are using to make those searches.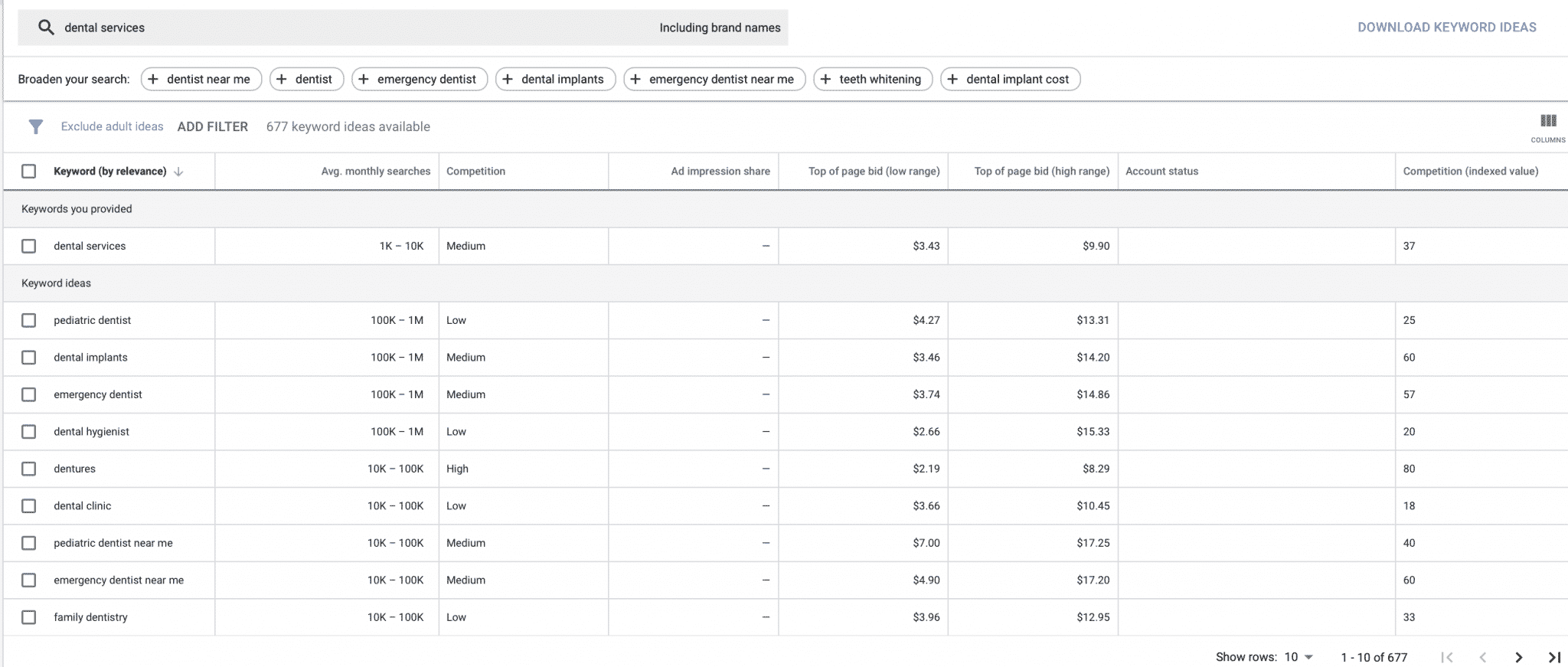 When you're targeting these keywords with search platforms like Google Ads and Bing Ads (and you should consider Bing Ads for high-converting potential at a significantly lower cost), keep your keyword groups tight and niched down. This will allow you to create hyper-targeted ad campaigns that are immediately relevant to the keywords at hand, increasing the likelihood of placements and clicks.
2. Consider Running "Emergency" Campaigns
This is only really applicable if you have any sort of "on call" or "emergency services," but if you do, it's an excellent tip.
People typically aren't going to have a list of "emergency dentists" on hand before they actually need it, so search ads are a great way to connect with clients who had a tooth knocked out or an infection post wisdom-tooth removal.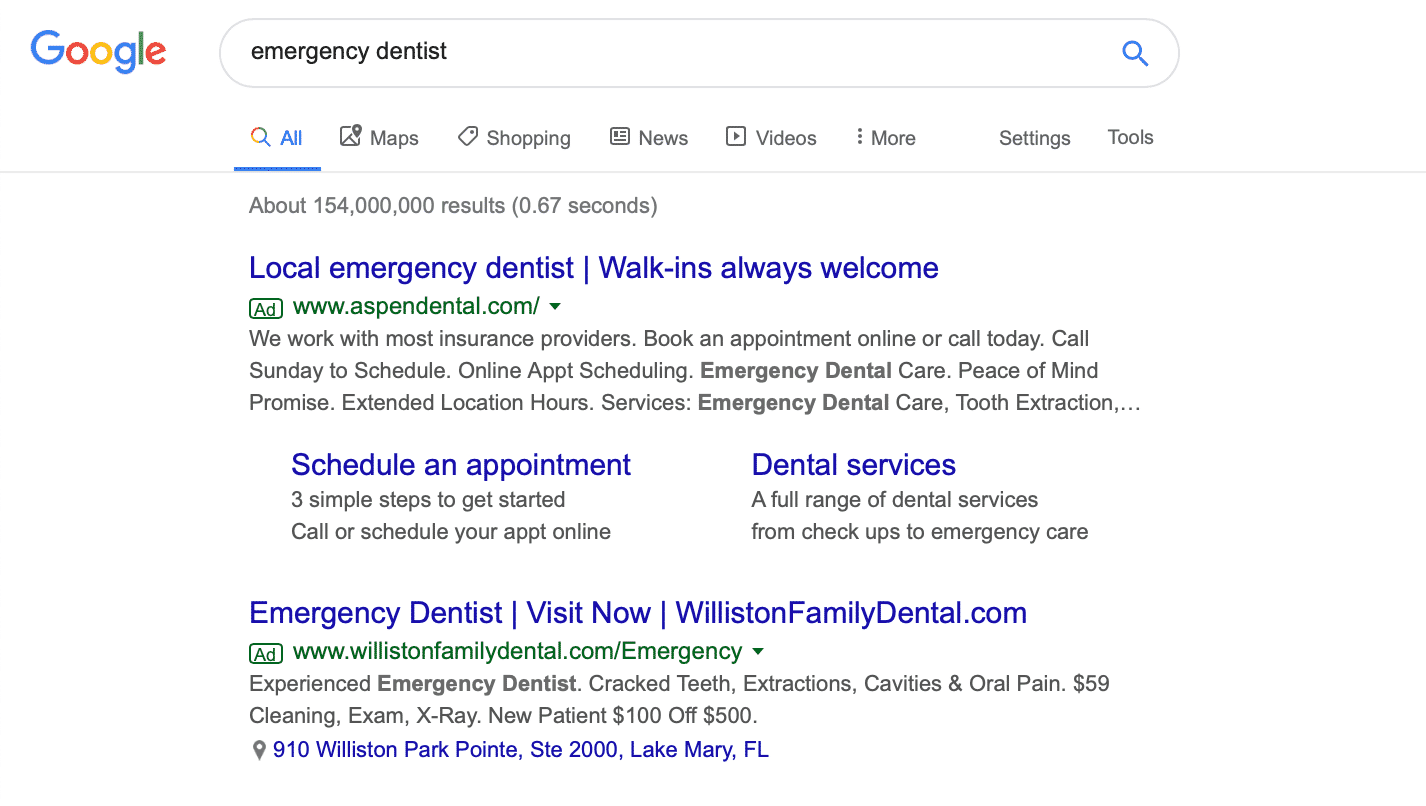 If you offer any kind of emergency services, create campaigns for keywords like "emergency dental services" or "emergency tooth repair." For best results, only run these ads during the hours that you're open for emergency services to reduce irrelevant clicks and time wasted for an in-pain patient. You can also consider using Google Ad extensions to give yourself a little more room and list the specific emergency services you offer to increase the potential relevance of clicks.
Remember to always use location-based targeting to narrow down your audience, only showing ads to those who are geographically able to reach you quickly.
3. Find Your USP
When you're running discovery campaigns—like those on Facebook, Instagram, or Google's Display Ads where users are seeing ads from you without searching for them—you need to find ways to set your office apart.
Are you a pediatric specialist whose own child was terrified of the dentist, and that's why you went into the field? Do you offer discounted services to military veterans because you yourself served as a vet? Are you focused on a holistic approach to patient care, and happy to find natural alternatives for those with allergies or aversions to certain procedures? Or maybe you just have years of experience training at one of the top schools in the country, and you can bring new, cutting-edge procedures to the area that no one else has yet.
Consider transparency, too. Show pictures of you and your staff smiling, or the practice's owner with their family (including fur-family!) can build trust early on.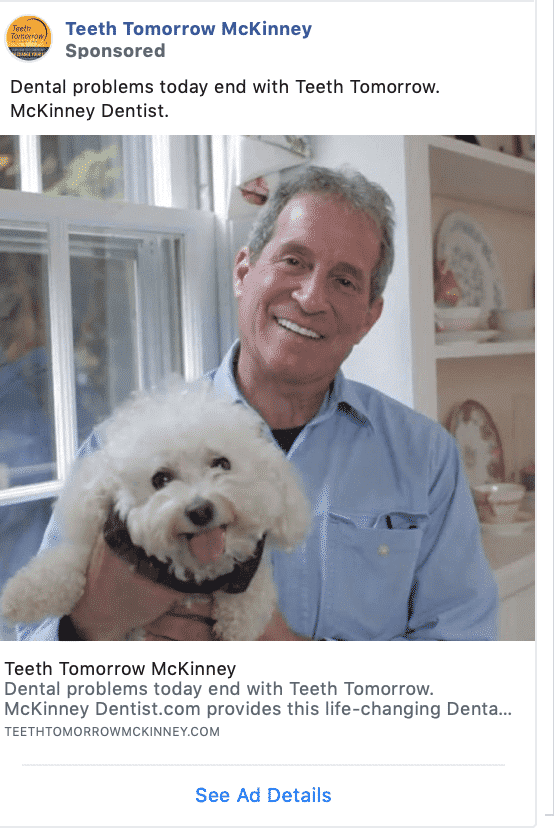 Every office has something that makes them unique, even if it's just the amazing people who work for you. Showcase that in your discovery ads, because this is how you can attract potential patients who weren't actually looking for you and maybe even snag them from your competition.
4. Use Extensions to Their Full Advantage
Ad space is extremely limited, and particularly with PPC search ads, you only have so many characters to really convince users that your practice is the one they should choose (emergency or not).
Anything that you can do to add a few extra lines about what you do and why patients should come see you is a huge advantage, so consider using extensions on your dental PPC campaigns.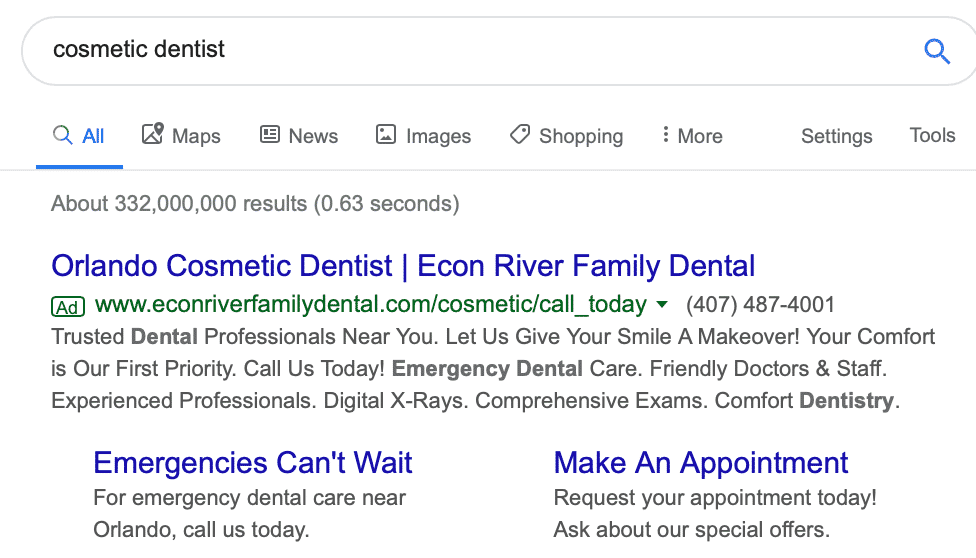 Extensions allow you to literally extend your campaigns with additional information that's relevant and valuable to your target audience. The example above uses extensions that allow you to feature your office's phone number, along with links to specific pages on their site with snippets of information. The latter option makes it easy for potential patients to review different services or pages of your site, and in the example we have here, they even have a linked option for "make an appointment" to quickly get interested patients set up.
5. Leverage Testimonials
Testimonials carry an enormous amount of weight when people are deciding what healthcare providers they want to book an appointment with. This makes sense: I don't want someone poking around my mouth with sharp objects if they aren't the best I can find, or to end up with uneven whitening on my teeth.
Testimonials are going to give you a competitive edge while also building trust with your target audience from the first second that they see your ad campaign. This is how you can start off a potential patient relationship on a good note, so consider incorporating more of them into all kinds of dental PPC campaigns, including both search and discovery ads.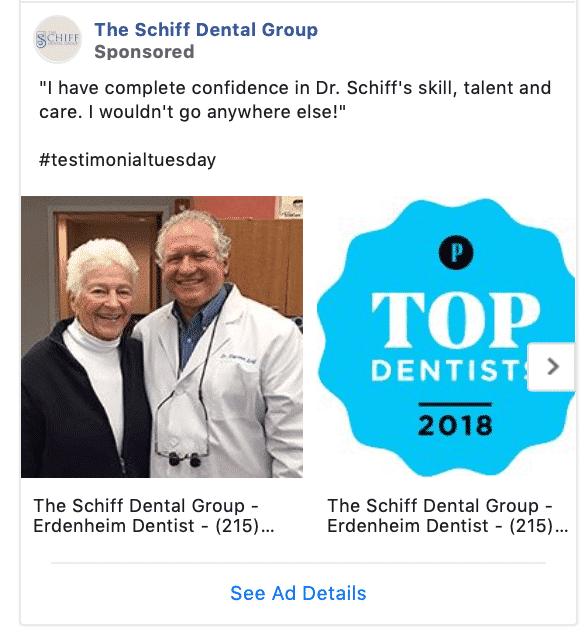 To use testimonials, you have a few options. One of the easiest is to pull quotes of testimonials from reviews that patients have left on your site and feature them as copy in your ad campaigns. Make sure to always put quotation marks around the testimonial to quickly identify it for what it is.
6. Promote Popular Services
Different dental procedures and treatments rise and fall in popularity over time. That's common, just like everything else. Charcoal treatments are all the rage right now, for example, and fewer people want braces since more people are opting for options like Invisalign.
Most dentists are going to know what the currently popular services are, because they're going to have people coming in and asking about them regularly.
When you've got these high-in-demand services, go ahead and run dedicated ad campaigns specifically for them. You can absolutely run search campaigns, but this is a good option for display campaigns, too. Your audience has likely already heard of the treatment before, and just didn't realize it was accessible or available to them.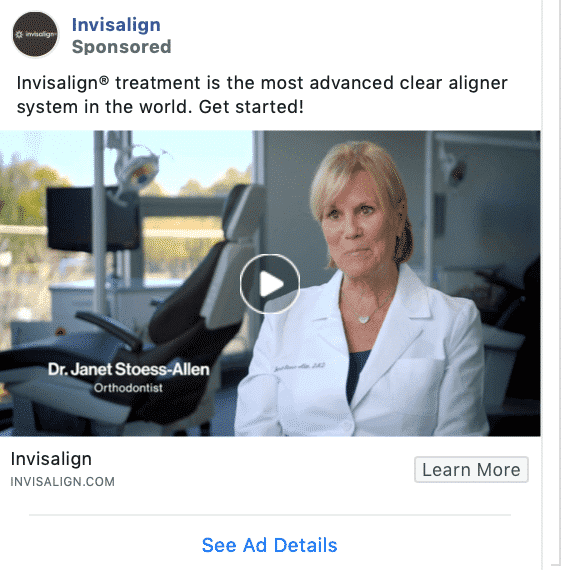 With these campaigns, promote the benefits of each specific service that you're offering and then explain why you're the best person to offer it. If you're offering Invisalign services, for example, remind users they can get a gorgeous smile without ever having to use bulky, uncomfortable braces, and that you've been a certified provider for more than ten years and have helped hundreds of patients.
7. Get a PPC Audit from a Reputable Agency
As you're testing all of these strategies and figuring out which platforms, audience targeting options, and copy works best for you, things can get a little bit chaotic. It can be difficult to assess what's working and why, and how it can be optimized further.
That's where a PPC audit from a data-driven, reputable agency comes into play. The free audits we offer here at Disruptive (click here to request one for your practice), for example, will comb over every detail of your campaigns. We'll look for wasted budget, provide performance insights to help you find the "low hanging fruit," and help you restructure your accounts to maximize your performance for you.
Ultimately, if you aren't having your campaigns audited or monitored by a professional agency, there's a good chance that at least a chunk of your ads are costing too much and performing at underwhelming levels, at least compared to what they could be. Consider setting up an audit to ensure that your ads are working for you instead of against you.
Final Thoughts
The dental industry can be extremely competitive, and dental PPC campaigns can be plenty competitive on their own, too, so it's essential to find new tactics and strategies that you can use to create relevant, high-performing campaigns that will appeal to your target audience and maximize your ad spend. This can be significantly more effective than sending postcards in the mail that will instantly be discarded as junk, or trying to cold call and be written off as spam.
Because PPC campaigns are a financial investment, it's crucial to ensure that your campaigns are working for you and are as cost-effective as possible. This will give you more room in your ad budget to run additional campaigns, likely bringing more patients in through your office's doors, so an audit and monitoring services are easily well-worth the investment.
What do you think? Which strategies do you use in your dental PPC campaigns? What tip are you most excited to try for your practice? Share our thoughts and questions in the comments below! 
Leave a comment