Do You Need to Start Running Display Ads?
Google Ads
•
PPC
•
Cydney Hatch
October 15, 2019
When you are looking to get your business out and about amongst your target audience you probably wish there was a way to digitally shout from the rooftops and display big banners across the city, right? I mean, to get your business buzzing, you need to grab attention and get people exposed to your brand.
Well, before you invest in blimps, posters and paint, there is good news! There are ways to get your business the visual exposure it needs without painting the town red! Meet display ads!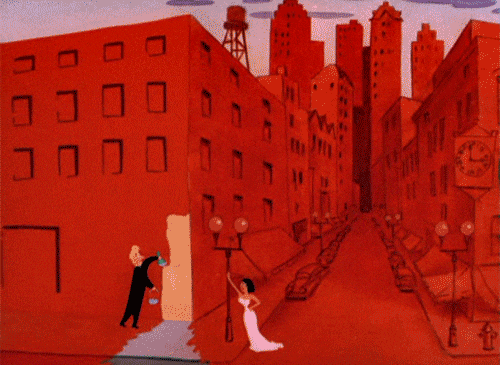 Think of display ads as your own digital version of a billboard online!
With display ad's visual and targeting capabilities, they offer many benefits to businesses alike, especially if you are looking to improve your visibility and brand awareness!
So, if you are wondering if display ads are for you, you need a new form of marketing or you are new to digital marketing altogether, this article is for you! Together, we will go over the basics of display ads, how they can benefit your business and if it makes sense for your marketing plans!
Let's get displayin'
The Google Display Network and Display Ads
The Google Display Network is designed to help you find the right audience. Its targeting options let you strategically show your content to potential customers at the right place and the right time.
With that said, its good to know that Google Ads is split into two networks: the search network and the display network. When advertising on the search network, businesses who are advertising are placing ads in search results like Google searches. On display, however, businesses are placing ads on a network of sites across the internet—like buying digital billboard ad space.
Display ads are most commonly thought of like the ads at the top or side of a website, surrounding the content. If you recently visited an ecommerce website, and considered purchasing a product or two, you likely saw a display ad for the same product when visiting other websites online.
For example,  Captain Crunch and Three Bird Nest are displaying ads on Cosmopolitan and Hello Giggles websites: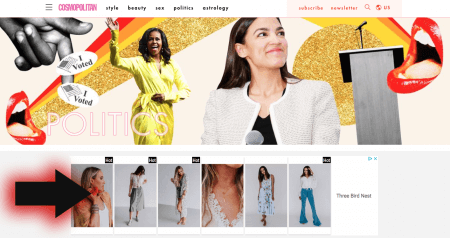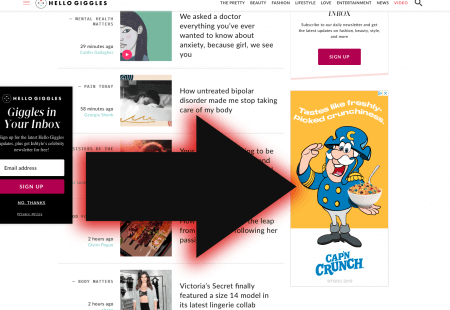 You are probably even more familiar with display ads like these on Facebook, Instagram and Twitter feeds: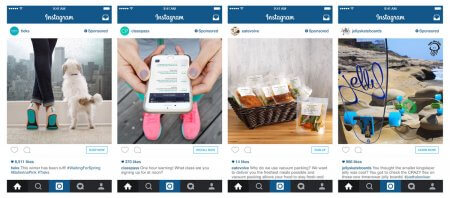 Display ads are a great chance to engage with your potential customers with visually appealing formats, so it's best to know what types you can run.
Yes, they are more than just images, so let's take a look:
Text Ads — text ads on display are the same as you would on the search network. Text ads consist of a headline and two lines of text, and allow advertisers to create a range of ads to text which copy is generating the most clicks.
Image Ads — an image ad that fills the entire ad block on the website it appears upon.
Rich Media Ads — include interactive elements, animations or other aspects that change depending on who is looking at the ad and how they interact with it. For example, a moving carousel of products.
Video Ads — becoming more popular since YouTube is included on the Display Network. You can now utilize Google AdWords Display Advertising to place your ads next to YouTube videos.
While the search network can reach people when they're intentionally searching for something online, display ads can help you get people's attention and introduce them to products earlier in the buying cycle. In other words, you are putting visual ads in front of people before they start searching for what you offer, which can be key for your overall advertising strategy.
BONUS:Display Advert Sizes
There are tons of ad block sizes within the Google display network due to each site having to choose ad blocks that best fits their website. As that is the case, you need to format your ads to be shown on a variety of websites!
To help you, know that you can upload images and animated image ads on the Google display network as well as HTML5 ads in the following sizes: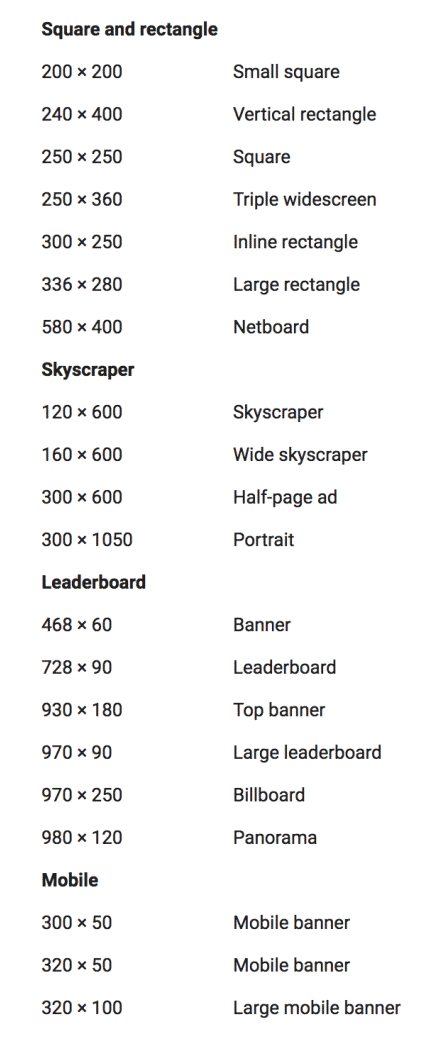 Remember that with Google AdWords display advertising, each image size must not be more than 150KB and can be in either GIF, JPG, PNG, SWF, or ZIP form. Failing to format your ads properly will prevent your from ads showing on certain websites!
Why Use Display Ads?
So, now that you know the difference in what makes a display ad, you might wonder why you should choose that format above anything else when it comes to your marketing.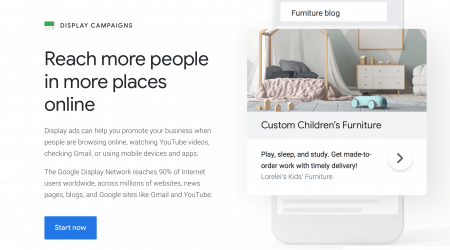 Well, to start, Google estimates that their display network provides coverage to over 90% of all internet users, which alone is enough of a reason you should be using it. Although that number is impressive, display ads do a lot more than just having incredible reach, they have amazing targeting options!
Unlike other forms of digital advertising, display advertising is super targeted. You can use your current email contact list to create an audience of people, and then show those people very specific display ads that remind them to make a purchase or return to your website.
Because of this, display advertising and in-stream video advertising are both expected to grow faster than other forms of digital advertising in the future.
In fact, Forrester's US Digital Marketing Forecast: 2016 To 2021 states that:
"By 2021, CMOs will spend nearly $119 billion on search marketing, display advertising, online video, and email marketing. Over the next five years, search will lose share to display and social advertising while video will scale. These changes reflect a new emphasis on quality over quantity, a dynamic that will reintroduce human intervention into programmatic ad buying, turn marketers into growth hackers, and put long-tail publishers out of business."
Display advertising is important because this is where people are spending more and more of their time, which makes it an ideal channel to reach potential customers. If those reasons alone are not enough, check out some of the benefits of display ads:
Low Start Up Costs
As opposed to other advertising channels like TV or radio, which require large investments up front, it's relatively cheap to start running display ads. With just an image and some text, you can start running display ad campaigns that will help you drive traffic back to your website.
Super Tracking
As with other forms of digital advertising, display advertising is very trackable. When your ads are live, you'll know exactly how many times your ad was displayed, how many times it was clicked, and you can then link those actions to activities on your website like purchases.
Brand Awareness
The visual component of display ads also benefits your business by facilitating brand awareness. With a PPC ad, users have to read the text on the ad and then click through to a landing page to learn about the business and its offer. Since display ads are branded and styled, often with an offer, a user can gather information on your brand simply by seeing your display ad, no click necessary.
 Support Retargeting
In addition to standard targeting capabilities, display advertising also allows for retargeting. With retargeting, you can put your ad in front of people who have previously visited your website. This is a way to reach out to people who have expressed interest in your business, and who could still be considering your business.
Are Display Ads Right For You? 7 Reasons Why
Display ads are pretty incredible, right? If you are gung-ho about trying these ads in your marketing line up, let's see if they make a good fit for you! Below, let's go through a few questions you should ask yourself before getting started:
1. Do You Have an Engaging Product?
First and foremost, you need to ask yourself: Does my product have curb appeal? Since display ads are ideal for those who have products that entice the eye, you need to ask yourself if your product can make someone stop and scroll.
With banner blindness becoming a common response to digital ads on websites and more, it's important that you have visuals that are appealing enough to make people stop scrolling!
For example, would you rather click on cute pictures of dog products as a dog owner, or would you rather click on Home Depots ad without images?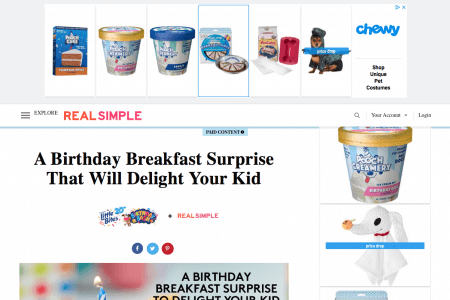 Since display advertising relies largely on distraction, it's helpful to have an appealing product to promote.
2. Have You Dabbled With Ads Before?
Although display ads are digital ads we are all too familiar with, they are not the best to start right out the gate. These are not ads to recommend to first time digital advertisers as they are often more complicated to set up and measure than other ad types.
If you want your display ad to be maximally effective, you need to take the time to understand all the different alternatives display offers—which include a long list of targeting and creative options.
3. Are You Expecting Quick ROI?
If your boss is breathing down your neck for results, display ads might not be the way to go, especially if your business has not bought into the idea of digital ads.
Display ads can drive relevant traffic to your site, yes, but more often than not, they only account for one touch along a customer's buying journey. So, unless you have a detailed attribution model built out, it will be hard to really see solid ROI from your display ads.
4. What Are You Wanting to Accomplish?
Believe it or not, like most things in marketing, if a platform does not match your marketing goals, it might not be a good fit. Ultimately, if you are a business trying to gain more brand awareness, nurturing leads or creating them, then display ads might be helpful to your marketing efforts.
Here is why display ads help with those three marketing goals specifically:
Awareness: Display ads can be a wonderful way to grow brand awareness and create demand for your product. While it's always a best practice to get as specific as possible with targeting, display can provide massive reach.
Nurturing: As long as you are using smart targeting, display can also help nurture leads and prospects down your funnel. Use

strategic

 targeting like retargeting, lookalike audiences, custom audiences, or topic targeting if nurturing is your goal.
Lead generation: Generally, display is a bad way to capture leads or drive a specific action from a customer, like filling out a form. If lead generation is your goal, target only the most relevant audience, and use CPC bidding instead of CPM.
5. Where are You Wanting to Display?
Although most of us "hate" the big guys on the internet, if you are going to do display ads, you need to pay into their network.
With display ads, you cannot rely on a third party ad network that is not established! You need to ensure you are getting traffic on proven partner sites with great ad tech like Google, Yahoo, Facebook, and LinkedIn. To move the needle, you need qualified leads, and those only come from a relevant audience.
6. What Industry are You in?
Although digital advertising formats can work for just about any business, there are some that work better for display ads which are commonly ecommerce and b2b.
Why?
Well, in simplicity, Retargeting! 
Retargeting is a type of display targeting that advertises a specific product or message to potential. customer who has already expressed interest in that product. For example, say you left some scarves in an online shopping cart, you most like will see ads that feature those said scarves!
Display ads that use remarketing targeting give ecommerce marketers a second chance with a customer they know is interested, and have a much higher CTR than display ads that use more generic targeting.
B2B, on the other hand, displays ads to potential customers who you think are in the market to buy your product. Although it can be hard to measure the impact of these ads, they will ensure your company stays top of mind throughout the buyer's journey.
7. Do You Have Awesome Video Content?
If you've already invested a ton of time and effort into creating awesome video content for your business, why not use it?!
With the rise of YouTube advertising, Google has made it easy for marketers to create video ad campaigns and for good reason! Video ads have shown to be an irresistable way to connect with your target audience. People are more likely to engage with video content than text or image ads and, with Google's TrueView option, you only pay for users who demonstrate a true interest in your video!
Display Ads: Give 'Em a Try
Now that we've dropped some display ads knowledge on you, it's a good time to think of how your business can best utilize it to bring in new customers or re-engage past consumers.
Display advertising is a great way to familiarize more people with your business and build your online presence if it makes sense for your business.
If you need additional help to see if display ads make a good fit for your marketing, reach out to us here! At Disruptive we work with tons of businesses with their paid search and would love to help with manage and create campaigns that will help your business thrive online!
Leave a comment