How I Doubled Converted Clicks in Two Weeks
Converted clicks are a great measure of PPC campaign success. They tell you how many unique customers your ads are bringing in, which is important for defining what sort of value your ads are producing.
Given the importance of the converted clicks metric, I'm often surprised to discover how poor conversion tracking is for many of the accounts I work with here at Disruptive Advertising.
The problem is, if you don't have conversion tracking in place, you really don't know how well your different ads are working. As a result, you don't know which ads deserve funding and which are simply draining your budget.
Case in point, I recently doubled a new clients converted clicks simply by implementing an effective tracking strategy and using our newly-acquired conversion data to guide our budget decisions.

That's twice the converted clicks…in just two weeks.
Once you're tracking everything correctly, these sorts of results are not uncommon. For example, we recently used this sort of approach to triple market share for a client while reducing ad spend by 25%.
So, how do you get these kinds of results? It all starts with setting up the right sort of tracking.
Conversions vs. Converted Clicks
First, let's make sure we clarify the differences between conversions and converted clicks.
A converted click is the number of clicks that convert within your chosen conversion window (for example, 30 or 90 days). Basically, converted clicks are a measure of how many unique customers you are acquiring.
Conversions (1 per click) = Converted Clicks
Conversions (many per click) = Conversions
In other words, if a customer clicks on your ad and makes two purchases, you'll see two conversions in your "Conversions" column but only one converted click in this column.
Tracking Converted Clicks
When you set up your conversions, it's important to think through all of the various ways that a potential client might convert after clicking on your ad.
For example, here are some of the ways you can track conversions or converted clicks within your AdWords account:

Website actions: Use these to define a specific action (purchases, sign ups, etc) a visitor takes on your website as a conversion.
Phone calls: Calls are conversions too! If they contact you because of your ad, calls from your website or landing page and clicks on a phone number on your mobile site should be tracked as conversions.
This is an easy one to miss, but it's often a critically important part of conversion tracking.
Downloads and in-app actions: Downloads of your Android or iOS mobile apps and purchases or other activity within those apps are another form of conversion to consider.
Imported conversions: Sometimes, customer activity begins online but finishes offline. For example,  a customer may click an ad and submit a contract form online but later sign a contract in your office.
Imported conversions can be harder to set up than other types of conversions, but for many companies they are critical to identifying which ads are producing sales, not just leads.
Regardless of what specific action drives value for your business, you should always have some type of conversion tracking setup.
After all, if you don't have good tracking in place, how will you know if your ad spend is producing value?
How to Set Up Conversion Tracking
Here's a quick step-by-step guide to setting up conversion tracking:
Step 1: Sign into your AdWords account.
Step 2: Click the Tools tab at the top and select Conversions from the drop down menu.

Step 3: Click the red "+ conversion" button.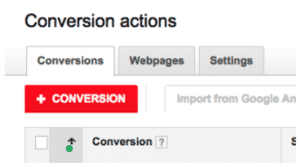 Step 4: Select the source of the conversion you would like to create. For example, here I'm selecting "Website" as the conversion source.

Step 5: In the "Name" section, enter a name for the conversion action you'd like to track, such as "newsletter sign-up" or "wedding bouquet purchase." This will help you recognize this conversion action later in conversion reports.
Click Done.
Step 6: Click Value. Select how to track the value of each conversion:
If the conversion is worth a fixed amount, click "Each time it happens" and enter the value of the conversion.
If the conversion can be worth multiple amounts, select "The value of this conversion action may vary." This is a good option if, for example, you're tracking purchases of products with different prices. Later, when you add your conversion tracking tag, you'll need to customize your tag to transaction specific values.
If a conversion is priceless (see what I did there?), choose "Don't assign a value".
Step 7: Click Count.
Select how to count your conversions:
If every conversion adds value to your business (for example, if you are running an eCommerce campaign), pick "Every".
If you only get value out of the first conversion (for example a lead gen sign-up form), pick "One". Note, this option will make it so that your Conversions count will be very close to your Converted Clicks number, since it makes it hard for an individual to get credit for more than one conversion.
Click Done.
Step 8: Click Conversion windows.
Select options for each of the following:
Depending on what your conversion funnel looks like, you'll want to attribute conversions to ad clicks differently in the "Conversion window". The window can be as short as one week or as long as 90 days.
Similarly, you can attribute conversions based on how recently someone has seen an image or rich media Display Network ad using the "View-through conversion window". The window can be as short as 1 day or as long as 30 days.
Step 9: Click Category.
Select the category that best describes your conversion. You can use this category to segment your conversion reports. Since you can change categories whenever you want, just pick one that makes sense with your current marketing plan.
Click Done.
Step 10: This step is a little more advanced, so you may skip it depending on your needs.
Click Include in "Conversions."
Uncheck this setting—selected by default—if you don't want to include data for this conversion action in your "Conversions" reporting column. If you uncheck this setting, data will still be included in the "All conversions" column.
You might want to use this setting if you use an automated bid strategy to optimize for conversions, and you don't want to include this particular conversion action in your bid strategy.
Click Done.
Step 11: Click save and continue.
You now should see a screen with your conversion tracking code, which should look something like this: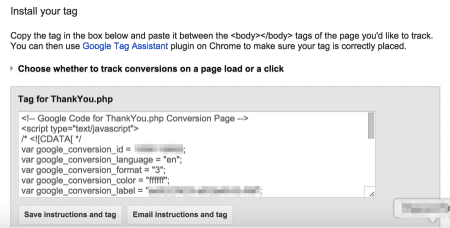 Put this tracking code on the appropriate page(s) on your site and you should be good to go!
These steps should get you through setting up AdWords conversion tracking on your website. We didn't cover some of the other conversion tracking options, but here are some helpful links to other posts:
Using Your Converted Clicks Data
Once you've set up your conversion tracking properly, you'll need to wait at least 7-14 days before you make any judgement calls about campaign performance. Ideally, it's best if you can wait for 60-90 days of data, but that isn't always an option.
As soon as you have a decent amount of converted clicks, you can pull a search terms report to see which search queries are driving conversions for your business.
At Disruptive, we've audited over 2,000 AdWords accounts and found that 61% of ad spend is wasted. In other words, for every $100 you spend on PPC, $61 goes towards search terms that never produce a single converted click.
Can you see why conversion tracking is so important?
Once you know which search terms and keywords are responsible for your converted clicks, you can stop spending your money on the keywords that don't drive results. As a result, you spend more of your budget on clicks that convert.
More converted clicks = more leads and sales = more profitable campaigns!
And that's how I doubled converted clicks in just 2 weeks.
Conclusion
By tracking your converted clicks, you are setting yourself up with the key information you need to dramatically improve campaign performance.
If you'd like help setting up conversion tracking or evaluating which campaigns should be getting more budget, let me know here or in the comments! I'd love to help.
How have you seen conversion tracking improve converted clicks and campaign profitability?
Leave a comment