16 Ways Your Ecommerce Business Can Stand Out in 2019
It's 2019 and the retail apocalypse has descended on America.
It seems as though every week a huge department store is closing, leading to the death of malls and big department chains.
The culprit? Online shopping.
Online shopping has forever changed the way we shop. Not only can you get items delivered straight to your door, but every product imaginable is just a click away! As most people have walked away from retail shopping, this is a great opportunity for ecommerce businesses, but it is also a challenge in an over-saturated market.
Today, online retailers abound in every niche, and many have gotten their distribution down to a science. On top of that, customers are overwhelmed with options, and they want to quickly understand what makes one product different than another.
Knowing the right way to position yourself and your products can mean the difference between standing out and blending in as a modern ecommerce business. So, how do you, as an ecommerce business owner, stand out and take advantage of this shopping behavioral switch?
Below are 16 tips to help your ecommerce business stand out this year!
16 Ways Your Ecommerce Business Can Stand Out in 2019
Let's take a look at several different ways you can set your ecommerce business up for success this year. Not every strategy will apply to your business, but you should be able to find several that are worth considering.
1. Present Your Difference
First and foremost, if you do not have a unique selling proposition (USP), or you haven't updated yours recently, you might need to take a look!
Creating a USP is crucial for all entrepreneurs. Your USP helps guide your branding and marketing decisions by stating the one thing that makes your ecommerce business better than the rest in your market.
Forming a specific USP helps focus your messaging and influences branding in ways that will truly set your business apart. At its core, a USP should quickly answer a customer's most immediate question when they encounter your business. Your USP should highlight your strengths and what is uniquely valuable to your customers.
Being "unique" is not a good enough USP.
You have to differentiate around something your target audience cares about, otherwise, you won't connect.
For example, Rags to Raches states: "We are breaking all the romper rules with the RAG, which features a patent-pending elastic neckline, letting little arms easily slide in and out. "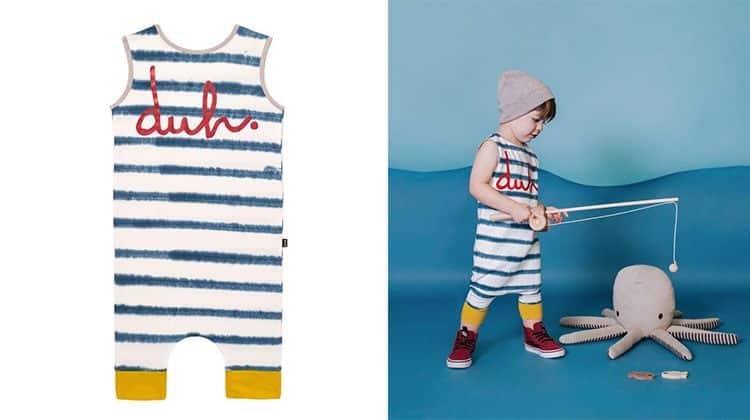 Unlike other toddler rompers, RAGS is a unique children's fashion romper that puts function over fashion with easy on and off wearability. This is a great choice for on-the-go mothers looking for a quick and cute way to dress their kiddos.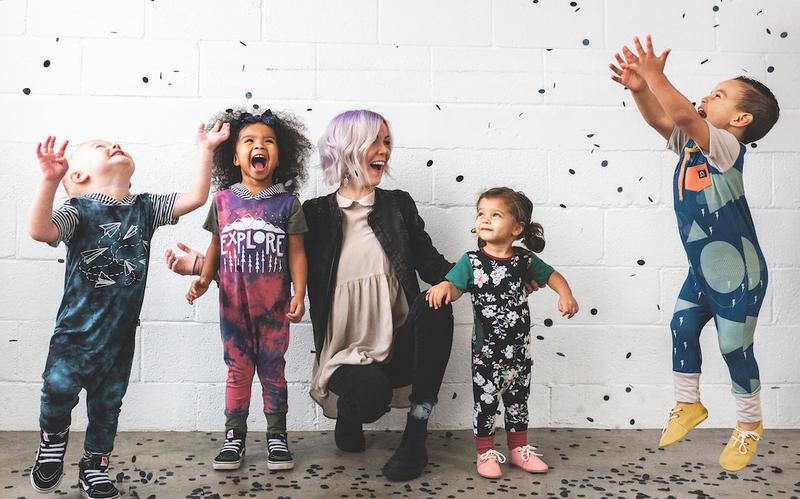 RAGS does a fantastic job differentiating itself from other ecommerce toddler fashion sites by helping mothers create:
Easy fashion choices with a one-piece outfit
Comfort for active toddlers
Answers to pain points of moms wanting comfort and quick fashion with "easy on/off" designs.

In comparison to other toddler ecommerce sites, like the one below, it offers a unique value to mothers looking for cute outfits that are easy to put on (why have the hassle of putting together leggings, jackets and shirts? Don't get me started on mini buttons…).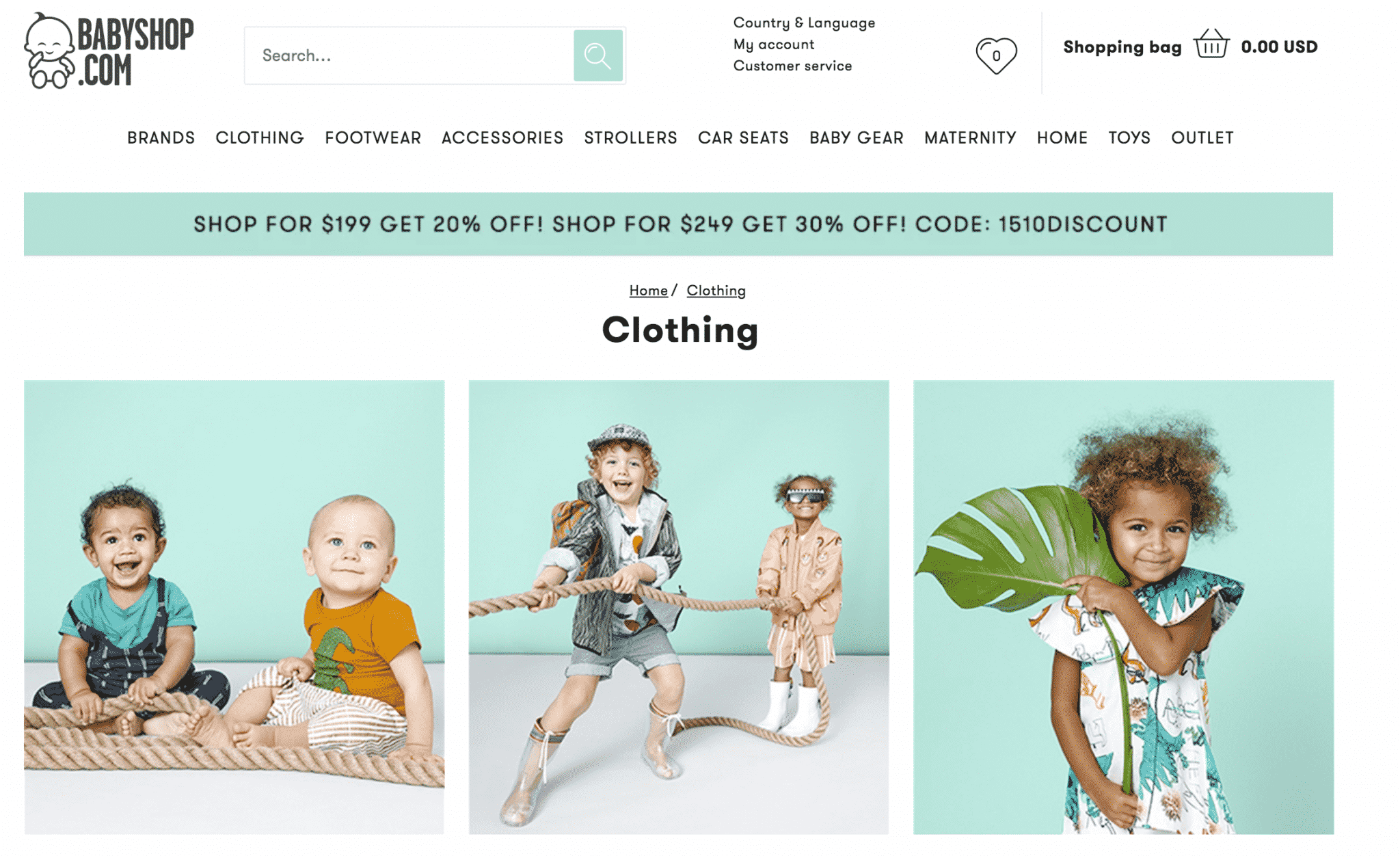 Although fashionable, sites and products like these are a dime a dozen as they are not functional for kids, let alone alleviating a mom's pain point for clothing ease. RAGS creates an easy choice for mothers to put on one piece and not have to think about layering, matching or comfort.
This is a unique approach to their market!
Like RAGS, you too can create specific propositions that will set your business apart online through unique offers and positioning within your industry. It all just starts with the question: Why you?
To help you formulate or tighten your proposition, consider using some of the following tips:
Make a Case for Business: A specific position that forces you to make a case against competing products is more powerful than a generic stance, like "we sell unique boho bracelets…"
Focus on the Customer: If your USP doesn't target something your target audience cares about, it won't matter. Laser target your business propositions around pain points, questions and concerns your products can alleviate!
Not a Slogan: Slogans are a great way to quickly share your USP but it should be used beyond your main page. Your USP should be all-encompassing—from your main site, product pages to your return policies. You should be able to create a full experience around this statement.
Not Marketing Offers: Free shipping, 24/7 customer service and stellar return policies are not USPs. As awesome as those perks are, they are not unique amongst the thousands of other ecommerce businesses that offer pretty much the same thing.
Again, if you do not have a unique selling proposition, you are likely to be forgotten in your market as you are not creating a case for why you should even have the opportunity to stand out.
Take the time to create a unique experience, not just be unique.
2. Don't Be Stagnant
Many new ecommerce business owners make the mistake of putting all of their eggs in one batch of products thinking those will stay relevant throughout the year, but in today's market, you need to evolve your product offers!
If you are a passive business owner that does not take initiative in finding new trends, you quickly can find yourself in the dangerous place of "price shopping" and that always turns south. Being a 2019 ecommerce business will require you to stay on top of ecommerce trends people are interested in and changing your products accordingly. Whether it's fashion or seasonal trends, pop culture references or new product lines of design, you need to create buzz and excitement for your business throughout the year.  Do not rely on manufacturers to create new opportunities as many will get ahead of you.
Adapt constantly and develop your own custom products, if you can! By doing so, you can stay relevant and ahead of the curve.
3. Get Your People Talking
Social proof is a huge ecommerce opportunity, which a big part of Amazon's success.
Why?
Social proof is a credibility indicator which encourages new customers to purchase from you with confidence. Like most shoppers, they want to avoid bad purchases so having people vouch for your products can be a tipping point for most people to take that chance.
There are tons of ways to leverage social proof on your ecommerce website. If you do not have it currently, or you are looking for new ways to share them, check out some of these suggestions:
Offer Product Ratings
Showcase Reviews
Create User-Generated Content
Use Local Stars or Industry Influencers for Social Proof
Implement Liked or Favorited Product Suggestions
Point People to Social Media Engagement
Use Chat Bot Responses to Share Social Proof Content To Answer Questions
BONUS: Create a Branded Community
On top of sharing social proof, you should also look for ways to create community engagement around your brand. Most successful ecommerce brands have a ton of customer engagement, and you too can use this to your marketing benefit!
By encouraging your current customers to share their purchases on social media and creating branded hashtags, you can create socially relevant content you can easily feature on your website. This is helpful to your ecommerce business because it not only gains attention to your business on social media, but it shows that you have active customers who love your brand enough to make efforts.
For example, MAC Makeup Studio created a recent hashtag promoting their new matte makeup line #HaveWeMatte which allows makeup artists buying these products to showcase how they are using the products.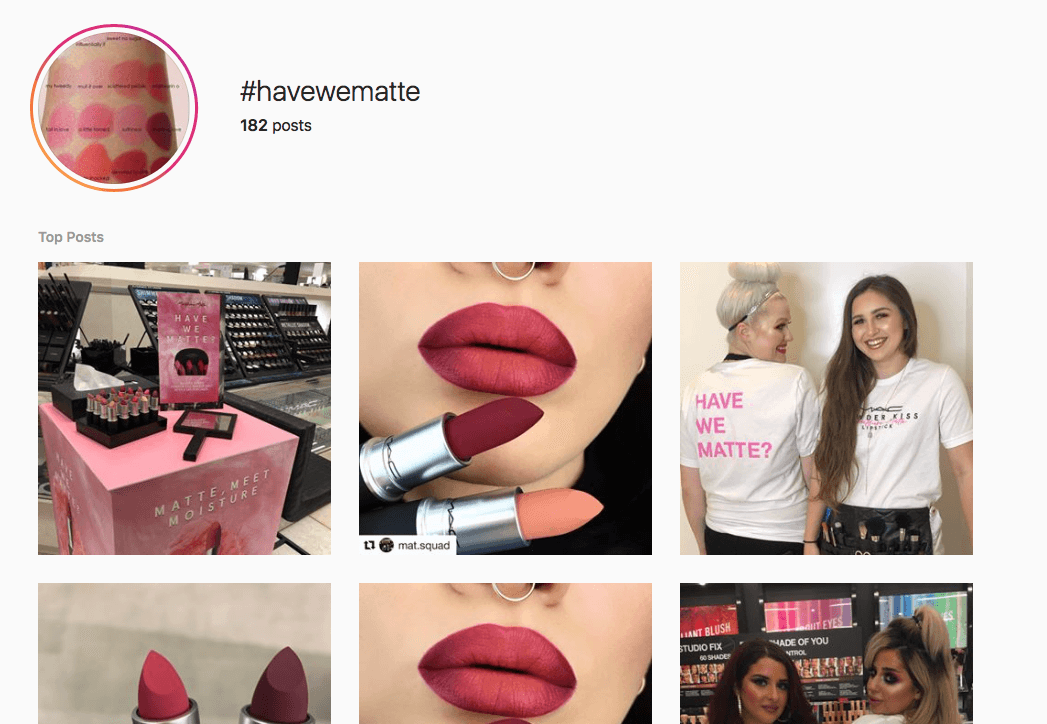 MAC then features customer photos on their account which creates an ongoing online presence and following.
By creating social media communities that allow customer interaction and rewarding them for those interactions, you are setting yourself up to be perceived as an ecommerce business that is active with their customers and how it is changing their lives!
Love is spelled time, and customers are looking for businesses who are looking to love them right back!
4. Put Some Heart in Your Business
We live in a world where people are a lot more socially and politically active, so people are always looking for ways to feel they are adding to society, even when shopping online.
When you are an ecommerce business that has taken the time to donate portions of revenue and partner with charities and causes, it creates an added amount of trust and respect for your brand. In today's world, many people question motives of politicians and big businesses alike, so give people an easy way to feel good about doing business with you by allowing them to feel good during their shopping experience with charitable giving.
Create a charitable partnership that is a good fit on both your mission, product and market. For example, Oola Tea chose to partner up with Rice Bowls to help fight hunger.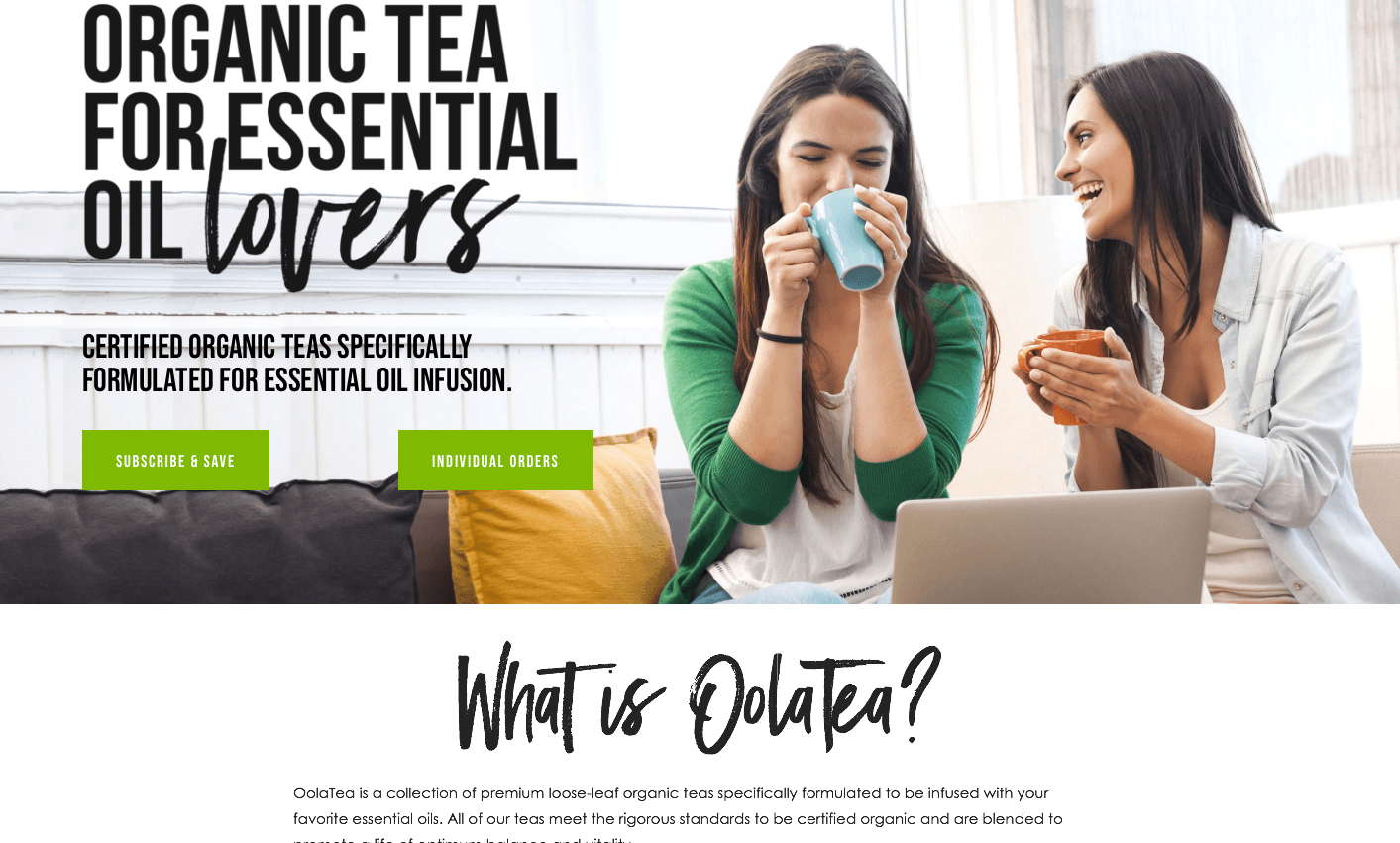 For every bag of Oola Tea that is purchased, one meal is given to a child in need. For individuals who care about world hunger, which most are also tea drinkers according to market research, this is a natural partnership that benefits both partners.

By partnering with a charitable cause, you are creating awesome marketing and PR opportunities that lead to more exposure and leads coming in your funnels.
5. Get Snazzy and Sexy
According to Kissmetrics, 93% of shoppers have said that they value visual appearance over any other factors when shopping.
Although this is true, I hear many ecommerce business owners say that:
"web design is a waste of money…"
"website design does not directly translate to sales, so put it on the backburner.."
"Let's just get the website up and we will come back to design later…"
and lastly, "web design is a waste of time…"
Sadly, with these mindsets,  ecommerce business owners are losing depth, strategy and value to their business by devaluing visuals. Although you should not be investing all of your budget and time into an ecommerce website design, there needs to be a delicate balance of functionality, speed, SEO rankings and thoughtful craftsmanship. The way your site looks tells potential customers whether they want to do business with you in just a fraction of a second.
One glance can turn someone into a customer, or force that person to click away.
It all starts with basic and thoughtful design, usable technology and function and user-friendly experience. I have talked to many businesses about branding, good design and taking action, but it's shocking how many people still fall flat when it comes to their visual designs.
When creating your ecommerce website, here are a few basic design "musts" you should consider:
Strong Logo and Branding
Stylized Typography (but also easy-to-read typography)
Customized and Defined Color Palettes
User-Friendly Interface Tools
Integrated Social Media Application
Simple Navigation and Clear Page Categories
Creative and Strong Images that Reflect Brand
Targeted and Creative Content and Ad-Copy
Simple Call to Action Elements
Strong Brand Story and Objectives
Modern Design and Function (Including significant use of video)
Ultimately, it's truly up to each brand to figure out what every target audience needs and how to best serve, inform, entertain and engage them. Test all of the different elements on your site frequently, including video, images, content and design to see how your audience responds.
This is also important in your product photography and visuals.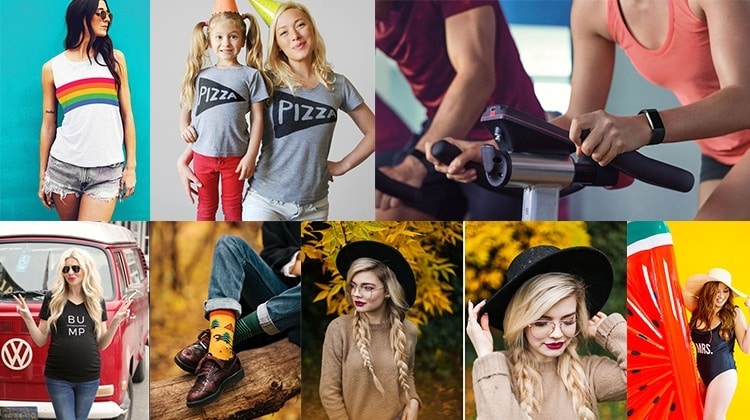 As a business, you want to ensure your photos are high-quality, clear and stylized. If you want help with how to take quality product photography, click on my article here. 
Whether it's your website or your product visuals, you need to ensure you are on top of your game presenting yourself as a quality business to buy from.
Visuals matter!
6. Put the Work in Networking
If you're in the ecommerce business, it makes sense that you have your own website, but do not rely on that traffic alone.
If you want to be relevant and dynamic in 2019, you need to remember the value of website networking. Just like in the early 2000s with blog mentions, you want to show up on other people's platforms too!
By getting links from authority websites and influencers, you will not only improve your SEO but you increase your credibility within your target market. One of the best ways to do this is to collaborate with third-party channels with features and guest-posting. By creating value on other people's websites and blogs, you are boosting your online exposure to new customers.
When you start collecting these features on industry blogs, news outlets and influencers, you can also showcase badges on your site which will create strong social proof recognition!
7. Be a Delight
As an ecommerce business owner, you have probably created a customer journey map. If so, take a look again and see how you can build more quality, personable and unique services and experiences!
In a huge pool of ecommerce businesses like yours, your experience should always be about creating a delightful difference where customers feel valued and helped. Some of the ways you can do this are:
Creating valuable, creative and helpful content along the purchasing path
Improve slow loading pages, confusing navigation and chatbots
Test your checkout processes to ensure smooth sailing
Test your website experience on various devices and browsers to ensure great experiences
Display related items based on search and purchase histories to make discovery easier on preference
Allow item search filters like prices high to low, colors,etc
Include promotions for first time website visitors
Create live chat features to create helpful experiences
Provide follow up materials that make customers feel valued beyond the "buy" button
When you have taken the time to create a delightful experience that includes personability, it adds a sense of security, trust, and credibility which will help set you apart!
8. Be Socially Active
As an ecommerce business, you need to be on social media.
No "ifs, ands or buts…"
Whether you like it or not, social platforms help you connect with your customers, increase awareness about your brand, and boost your leads and sales. With more than three billion people around the world using social media every month, it's no passing trend.
If people don't know about your business, they can't become your customers. By using social media, you can boost your visibility among potential customers and it's free to create a business profile on all the major social networks, so you have nothing to lose!
Now, before you hoof and haw about having to not only manage a business but daily social media accounts, know it's do-able. Through pre-posting programs like Buffer, Hootsuite and Sharpspring, you can easily post content that is pre-created and not think twice about it.
When it comes to content and social marketing strategies, my advice is to seek relationships, not just followers.
Create and curate content that your audience needs by creating:
Demo and How To Videos
Go LIVE on Instagram
Create Curated Pinterest Boards
Ask Questions To Your Audience
Give Sneak Peeks Into New Products and Events
Host Q + A Sessions
Invite Influencers to Collaborate With Social Media Strategies
Use Business or Event Specific Hashtags
Create Giveaways and Promote User Content
As there are many ways to be socially active as an ecommerce business, click on my article here to get started.
BONUS: Encourage Social Sharing
Research shows that people today are more likely to buy items they've seen before on social media.
According to a study by comScore and Facebook, people who liked Starbuck's Facebook page or who had a Facebook friend who liked the page transacted 11% more frequently over the month. When a peer shares a past order, it inspires people to check out your merchandise and develop a positive rapport with them.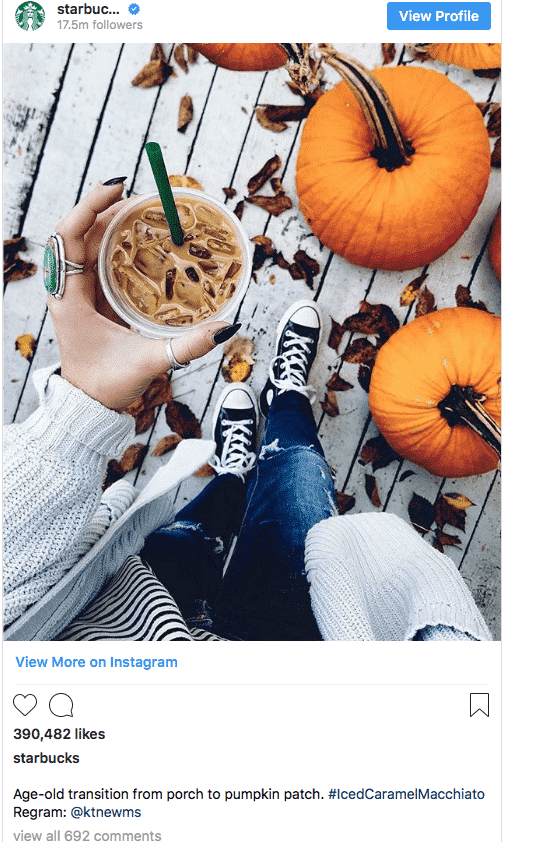 So, by promoting social sharing, you are getting free advertising that psychologically works with audiences. Since this is true, be sure to offer incentives for people to be engaged and sharing! This strategy will do wonders for you if you are trying to reach a younger audience as well… A.K.A Millenials and Gen X.
P.S. Focus on Instagram
In recent years, ecommerce businesses have become more creative and experimental with the various features Instagram has to offer. More specifically, I see many businesses increasing their shoppable posts and in-Story "stickers" so look for ways you can implement creative in-platform shopping experiences using social media, particularly Instagram.
9. Be More Than Just a Sale
It's a no brainer that if you are not making money, you are going to be closing up shop.
I get it, but do not let sales be at the heart of why you engage with customers.
In today's world, people want interactive relationships with the brands they buy from, so be sure to provide creative and personable follow-ups after purchases. Relying on the unbranded, impersonal transactional emails that share default purchasing information like confirmation numbers alone is a great way to down-play your business connection.
Although these types of emails are functional and share important purchasing information, they lose massive engagement opportunities because they lack branded personality, engaging visuals, memorable content and call to actions! Since purchasing something online is a fun experience, continue that spirit post purchasing! The follow up is a massive opportunity to nurture brand loyalty and promoting further purchases!
For example, Modcloth, my favorite store, sent me this follow up email that not only gave me my purchasing information but shared a promotion I could use in the future.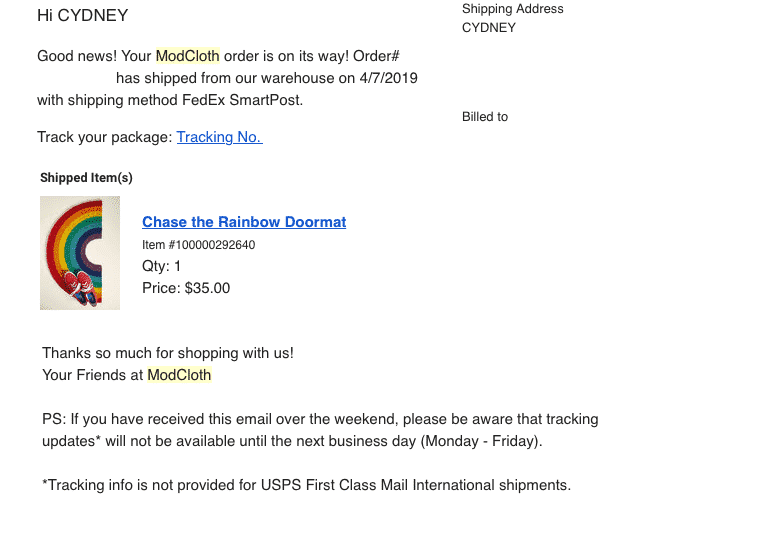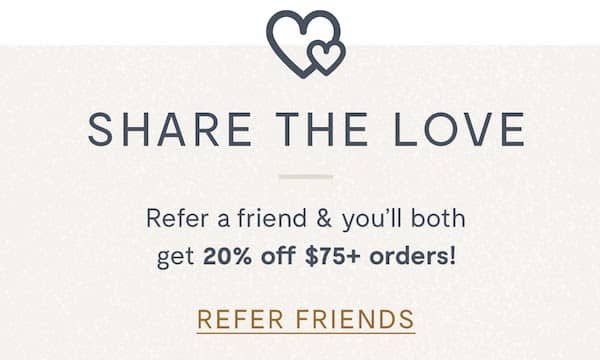 As this is just a simple way you can promote future engagement, there are many ways you can build a post-purchase experience that will leave a lasting impression. Some elements and tactics you can try include:
Branded voicing that is upbeat and appreciative
Consistent branding that connects your site and post- purchasing emails
Helpful purchasing, return and exchange policies
Temptations for people to go back to your site
Ask for feedback
Send appreciation messages
Give coupons and upcoming deals
Provide helpful tips and care information about purchased items
Share return policies and helpful information
Ask for customer product photos top share on social media and provide hashtags to use
Share options for opt-ins and newsletters
Share related or suggested products
Upsell in an easy going way
When you create follow up experiences like the examples above, find the most personal means of doing so whether its through email, handwritten notes in packaging, etc.
Your customers will appreciate it!
10. Amazon is Your Friend
Believe it or not, it's true!
Amazon can be your friend!
As an ecommerce business, you might feel mega-commerce websites are your direct competition but you can still dabble with them! As Amazon is a great place people look to find products and buy them quickly, you might want to look into using them as a platform to supplement your ecommerce site!
Yes, there are commissions associated with platforms like Amazon, but if it makes you profitable, why would you miss out on those sales?!
11. Consistency is Key
From social media posting, introducing new product lines, customer service or branding, it is all about showing up and sharing content consistently.
To make your content more easily followed by your target audience, you need to feed the human need for predictability. By making things predictable for your customers to follow, you'll find that they will keep returning to your store as they know what to expect from your business.
So, if you are wanting to release new products on the third Wednesday of every month, you need to do so consistently. Imagine if you had a customer who loved your products and had a reason to check in every third Wednesday and you didn't release anything?  Most times, they will lose interest and look to competitors they can count on. Ek!
As running ecommerce is a dog-eat-dog world, where people have numerous options at a click of a button, sharing content consistently will help create lasting relationships that will keep customers coming to your site.
If you have committed to doing something, then you HAVE to carry on and keep it consistent at all times to be competitive in 2019.
12. Be Open to New Technology
To many, ecommerce technology has become indistinguishable from competing offerings over time but there are so many ways you can use technology as a way to distinguish yourself from your competition. From ASOS's video feature on product pages to showcase apparel pieces and how they are worn on a human, to using your iPhone to get the perfect fit for dress shirts on MTailor, implementing technology to help your products stand out is a great way to create convenience for customers!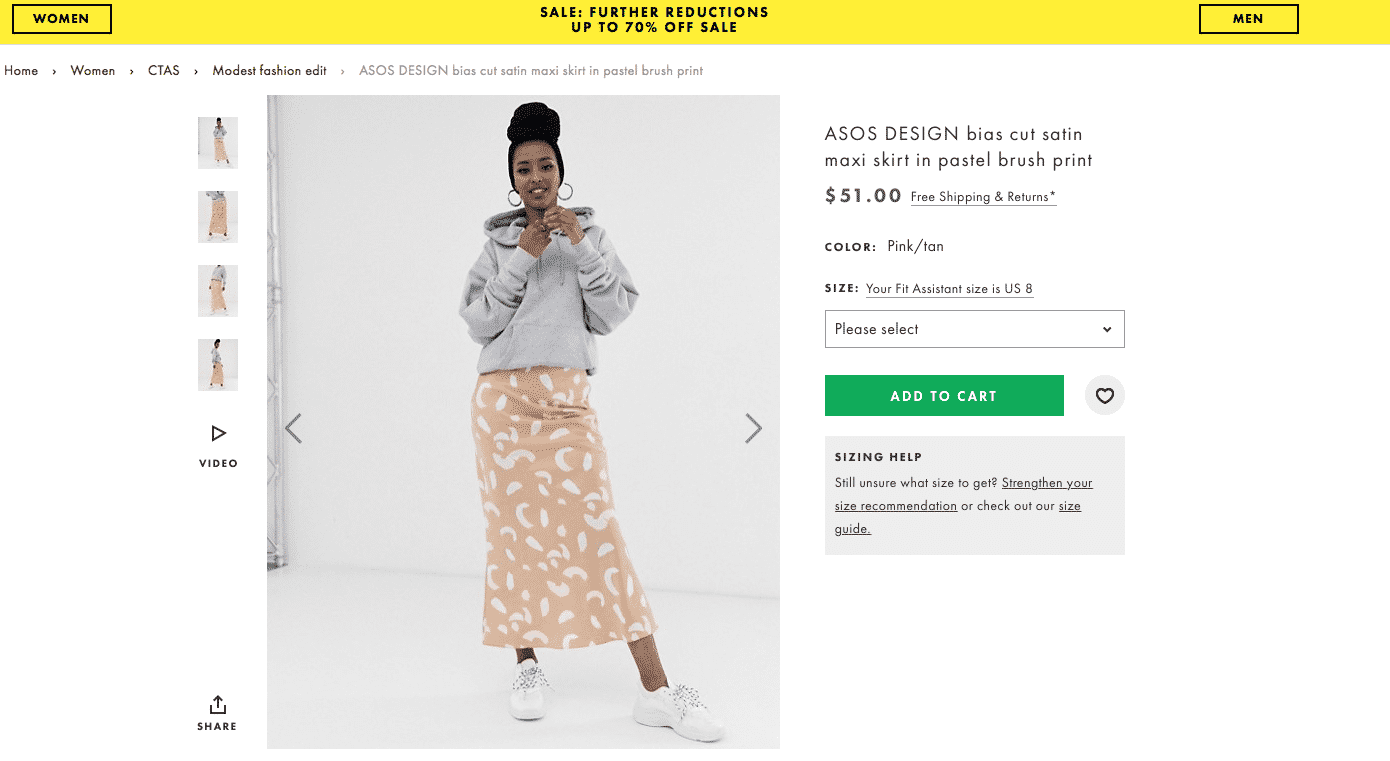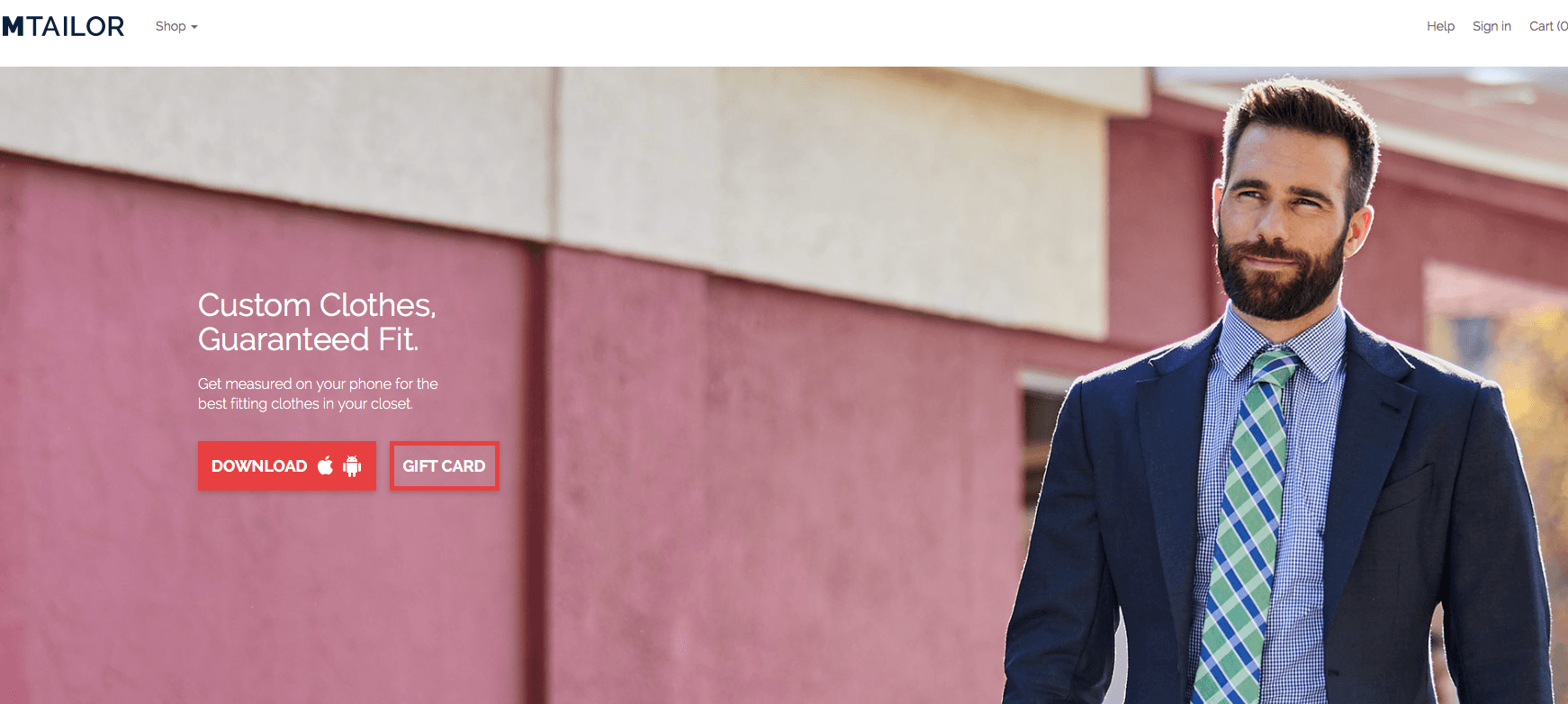 Enhancements such as interactive product displays and dynamic personalization are enabling retailers to deliver an online experience more aligned with consumer preferences.
In fact, companies such as RotaryView and RichRelevance are utilizing technology to create an online experience similar to what consumers encounter in-store. The convenience of online shopping paired with in-store personalization provides customers with the best possible experience.
By using technology, you are allowing customers to have the type of in-house comfort they seek when buying online. This effort will greatly pay off!
BONUS: Start Learning AI NOW!
Artificial Intelligence will keep reducing friction in the buying process in 2019 as AI-powered platforms will provide more targeted, personalized experiences which will drive sales online. Although a lot of AI technology is still relatively new, it's important that you hop on this train now and start familiarizing yourself with the benefits it can bring to your brand via chatbots and personalization campaigns.
13. Preferred Payments, Make It a Thing
With options like Venmo, Apple Pay and Paypal, many people have developed their preferred way to pay and as an ecommerce business, you need to make those an option for your business payment experience.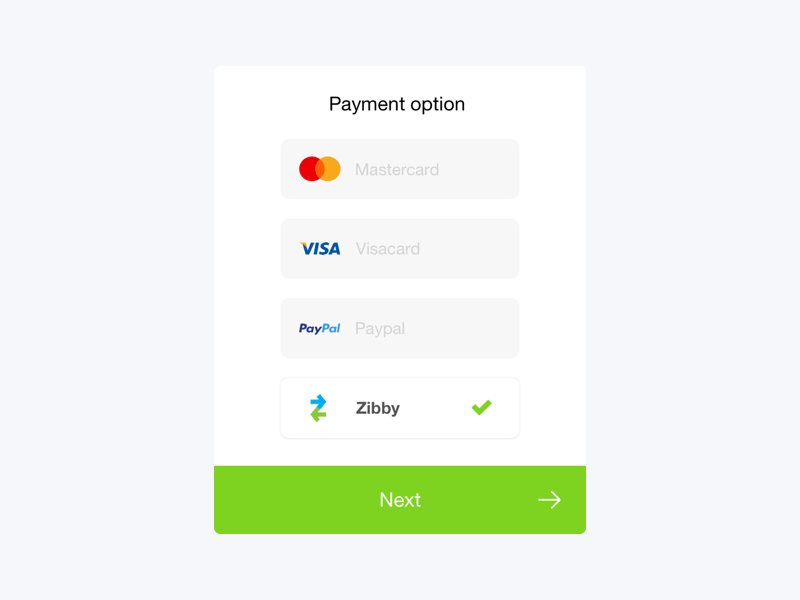 As an ecommerce business in 2019, you need to ensure the customer has a variety of payment methods to choose from and your shopping cart experience is quick, easy and mobile friendly!  By offering popular purchasing options outside credit cards, you will make your store feel more established as well as easier to use, effectively keeping customers coming back!
14. Educate and Connect with Video Visuals
As much as I hate to say it, as it's a common trend many marketers throw around, video is still on the rise and as a business in 2019 you need to hop on the video train.
The fun thing about owning an ecommerce business is there are so many options on how you can effectively use video to improve your shopping experience. From telling your brand story, creating a YouTube channel full of tutorials and product reviews to sharing customer stories, the possibilities are endless!
Videos deliver a higher level of engagement among viewers compared to text, and even images. Studies show that our human brain processes video nearly 60,000 times faster than text. In effect, videos tend to have a higher level of engagement among viewers, and thus provide better returns. In fact, social videos are believed to receive nearly 1200% more shares than text and images.
Not surprisingly then, over a quarter of all ads on platforms like Instagram are single video ads.
To learn more about how you can optimize video advertising and content creation in 2019, check out our guide here.
15. It's Okay to Pay for Advertising
No matter how fantastic your products are, being good in an industry is basically being invisible without paid advertising.
I cannot be more clear, in 2019 you need to use sponsored and paid advertising for your ecommerce products.
PPC advertising, especially Google Ads and Facebook Ads can be a great way to promote your ecommerce business and products. Although this technique involves a greater level of investment compared to some of the others mentioned in this article, it is cheaper than traditional forms of advertising and has been shown to have great results, particularly when combined with other digital marketing strategies.
Amazon advertising can also be an option if you are struggling to rank your listings organically: this is essentially Amazon's own version of Google Ads.
16. Offer Subscription Boxes and Pairings
The subscription box market has exploded in recent years, so in 2019 you can expect this to be a growing trend for lots of ecommerce businesses.
As traffic to subscription service sites in January rose 18%, according to Hitwise, this can be a great way to achieve consistent, month-to-month revenue without a ton of work.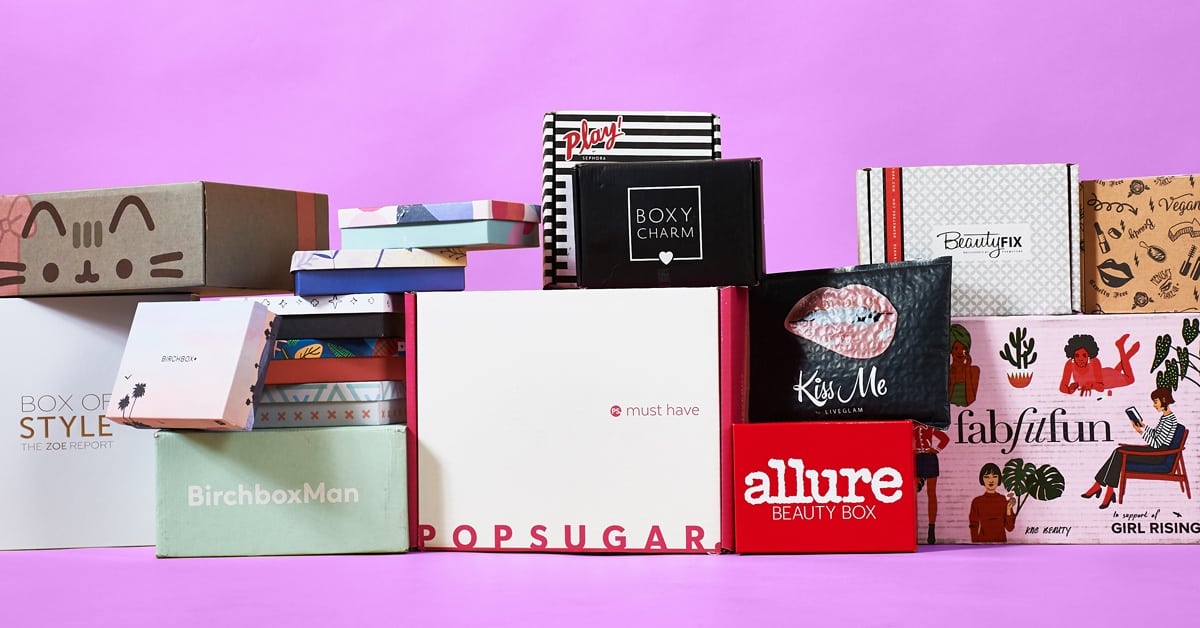 With a simple recurring payment system, your clients know exactly what to expect and when to expect it, allowing them to enjoy your products consistently with ease.
If subscription-based ecommerce makes sense for your brand, you could dabble in the practice by launching a subscription box that features cool add-ons or added items not found on your site! For example, if you are a business that focuses on selling computer device add ons you can create subscription boxes that introduce new computer tech every month like Raspberry Pies, Amazon Smart Plugs, port hubs or different compact flash adapters.
Give your shopping experience a facelift by implementing something out of the box, literally!
Make Your Business Stand Out: Check!
Yes, we live in a world where it seems like there are 249,458,609,458,609,845,096,845,906,809,458,604,586 businesses doing exactly what you are doing, but there is room for unique perspectives and business positioning. With the above tips, you can really start to better position yourself within your market and industry through creative ecommerce strategies for 2019.
If you want some more help on how you can improve your ecommerce site, user experience or improve your marketing strategy feel free to reach out to me here. We have a wonderful team that has helped many businesses improve their ecommerce conversion rates, so do not hesitate to reach out!
What do you love about ecommerce? What trends do you see in the near future and what tips have you found? Share and comment below!
Leave a comment