Ecommerce Marketing Tips: 9 Ways to Get More Sales
You want more sales. I get that. All ecommerce companies, with few exceptions, are actively looking to increase more sales.
What if I told you that there were strategies that you could use to not only get more sales, but also to drive more sales with higher average order values and high-quality sales that are at a lower risk for returning the products?
There are a lot of marketing strategies you can use to drive more conversions, but there are a few that are particularly effective at helping you grab those high-value sales that will earn you extra revenue across the board.
Interested? In this post, we're going to look at 9 e-commerce marketing tips that will help you get more high-value sales that will benefit you most.
1. Feature Reviews Everywhere
Reviews should be everywhere. 93% of consumers say that online reviews absolutely impact and influence their buying decisions, so having them on your site will naturally and effectively help you increase sales.
There's another perk to this. Not only do people feel more comfortable making purchases after reading reviews because they trust you more, but they're also able to gain relevant information.
A retail company might have reviews that allow users to state that the dress the customer is viewing runs small. This helps them order the right size and make sure it's a good fit for them, which will increase the likelihood of a satisfied customer who is happy about their purchase, reducing return rates.
2. Write Strong, Engaging Product Descriptions
You want to stand out, and creating a website that feels like a branded experience instead of just a run-of-the-mill, same-old-same-old business can help you increase sales both now and long-term.
Engaging copy on your site overall and your individual product descriptions is the way to go, and getting a little creative can be a huge asset.
Let's look at this example, which showed up after clicking on a Facebook Ad. They don't just say "we hold your ring," they talk about how those rings-for-a-lifetime should be protected and kept close to your heart. I've had enough friends with engagement and wedding rings to know this is something they're majorly concerned about when they have to take the things off.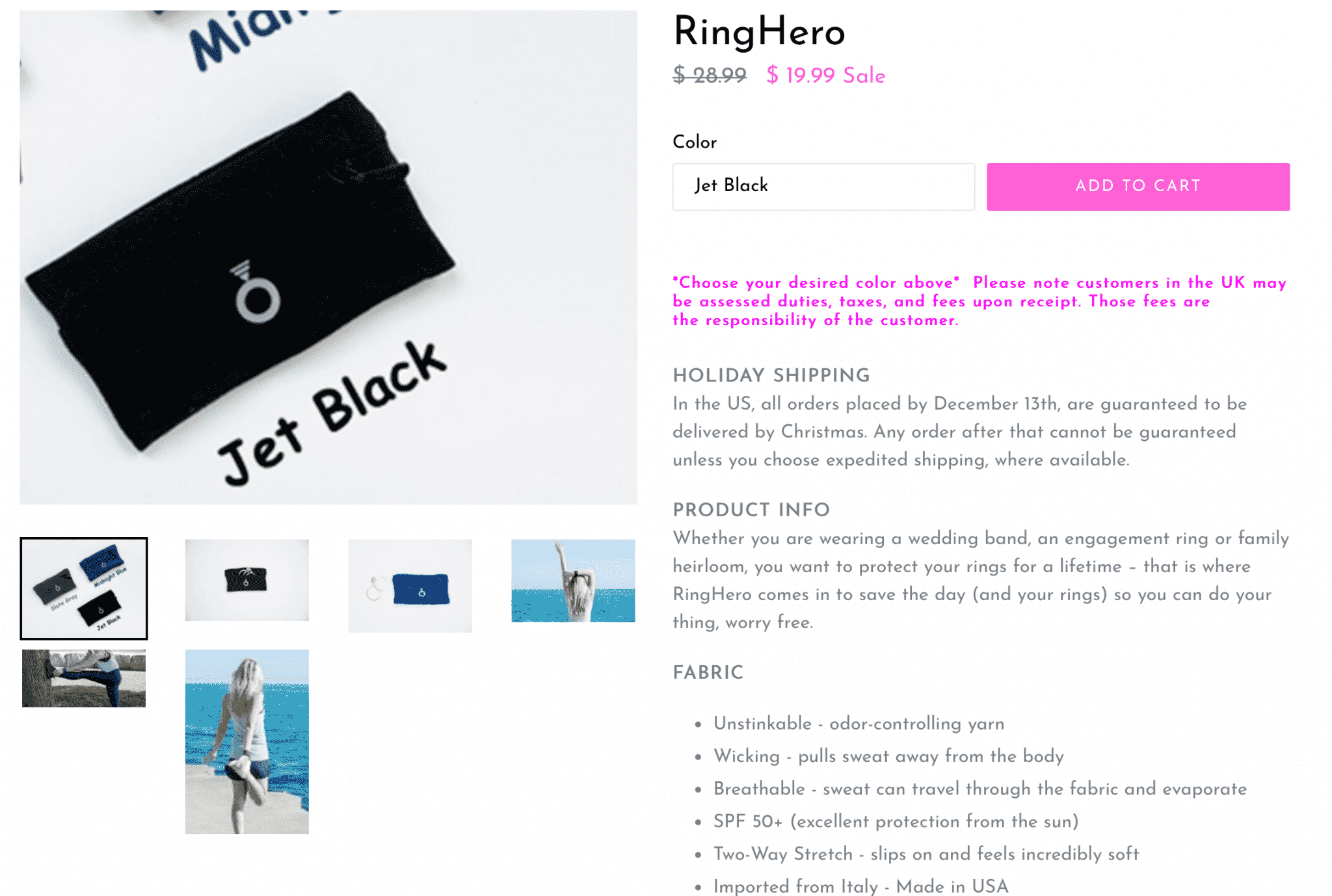 Then, they use more creative words when describing the product, like "unstinkable" and "two-way stretch," before explaining why this feature benefits the user. It's interesting to read, keeping the reader considering the product for longer.
Let's look at another example that relies more heavily on a little bit of wit and humor. "Our Cheddar Heirloom Cheese Balls are made from what should be in a cheese ball." They list the "real" ingredients for these "better-for-you" cheese balls in a way that's fun and drool-inducing.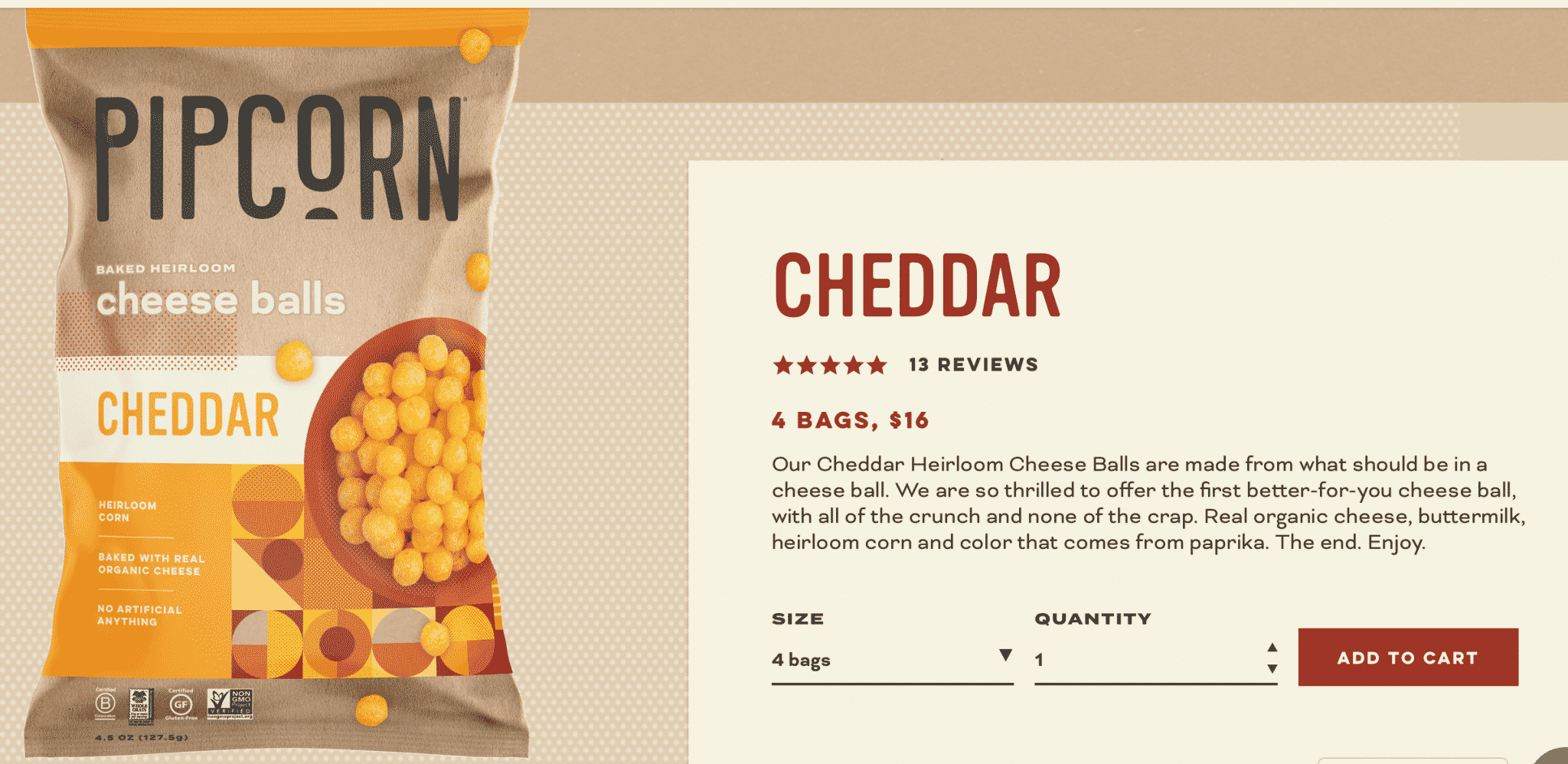 As you decide how to put your product descriptions together, though, keep in mind that it's important to settle on a brand voice before you go all-in on the copy. Otherwise, you could end up writing and re-writing your production descriptions indefinitely.
3. Set Up Retargeting and Abandoned Cart Emails in Advance
When users visit your site, view one of your videos, add items to a cart, or engage with a post on social media, you want to be able to reach back out to them quickly with relevant campaigns based on their current stage of the digital sales funnel.
You'll want to have all of your retargeting campaigns and triggered autoresponders in place before you think you need them. When someone views your product page, you want to automatically be able to hit them with a dynamic, retargeted ad on Instagram within a week.
And, if someone adds something to their cart but abandons it, you want to follow up through email with a coupon code to get them to purchase, as you can see in the example below.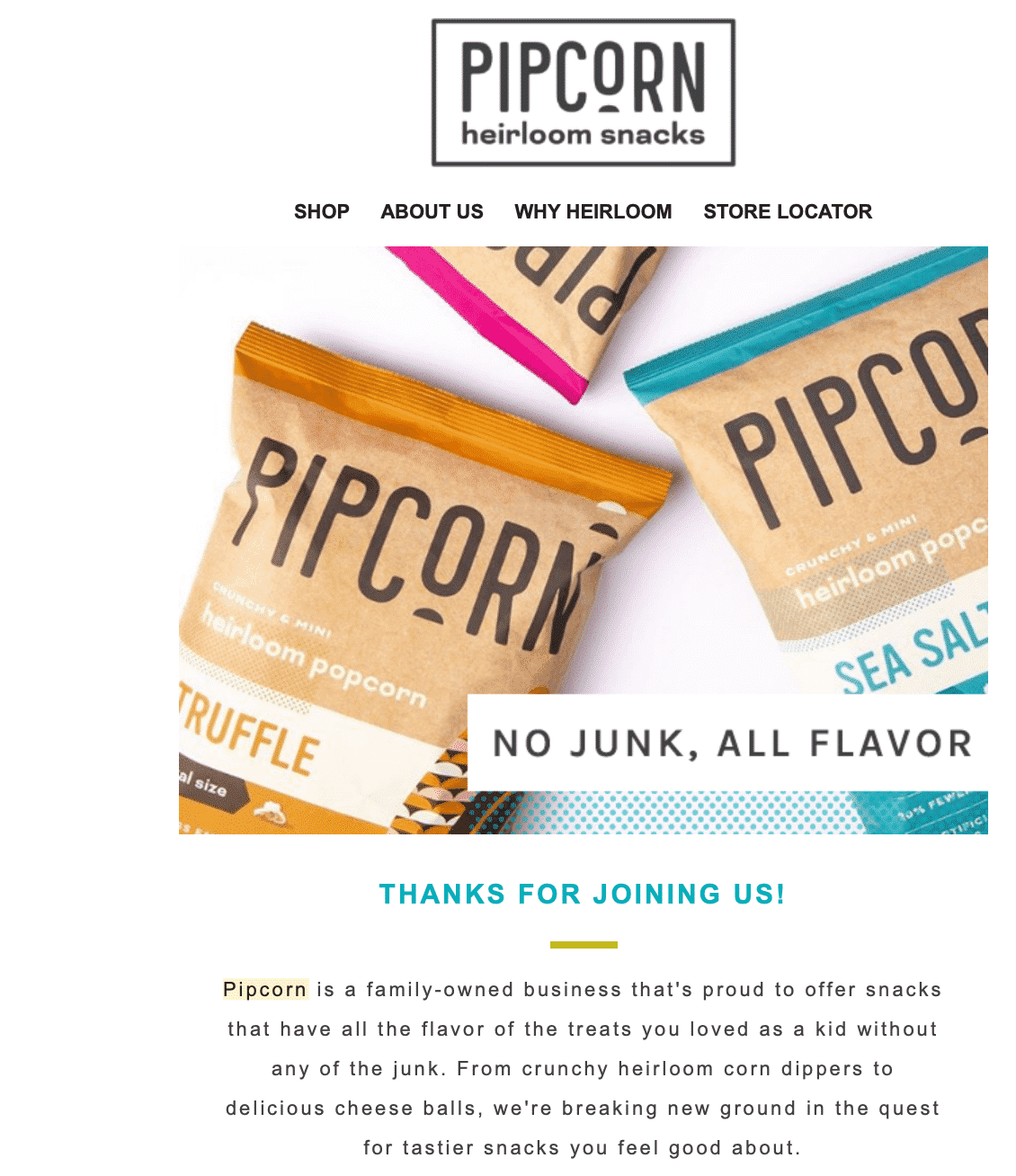 If you want to drive high-value sales, re-engagement and retargeting is a major part of that. These strategies allow for you to build relationships with members of your audience instead of letting them slip between the cracks. Since retargeted audiences are more likely to convert, they also cost less per click overall if you're running PPC campaigns.
You can learn more about autoresponders here and retargeting campaigns here.
4. Have Opt-In Popups that Offer Discounts
You want customers to have everything they need to want to convert right there on your site. And since offers and discount codes are an exceptional way to convince users to take the plunge, have them ready to go and very accessible.
Discounts are an incredible selling tool. Even if you're looking at a pair of plain ballet flats that are $300, you see 15% off and think now is my chance to try them and know! $255 is a high price for ballet flats, after all, and may cause you to run initially, but $255 looks a lot more impressive when $300 was the starting offer.
Popups that show up when users are statistically likely to leave your site are a solid choice. All users need to do is enter in their name and email and maybe answer one qualifying question, and they'll be able to receive a coupon code instantly. Not only does this help you drive sales now, but it also gives you their contact information so you can drive repeat sales later on, too.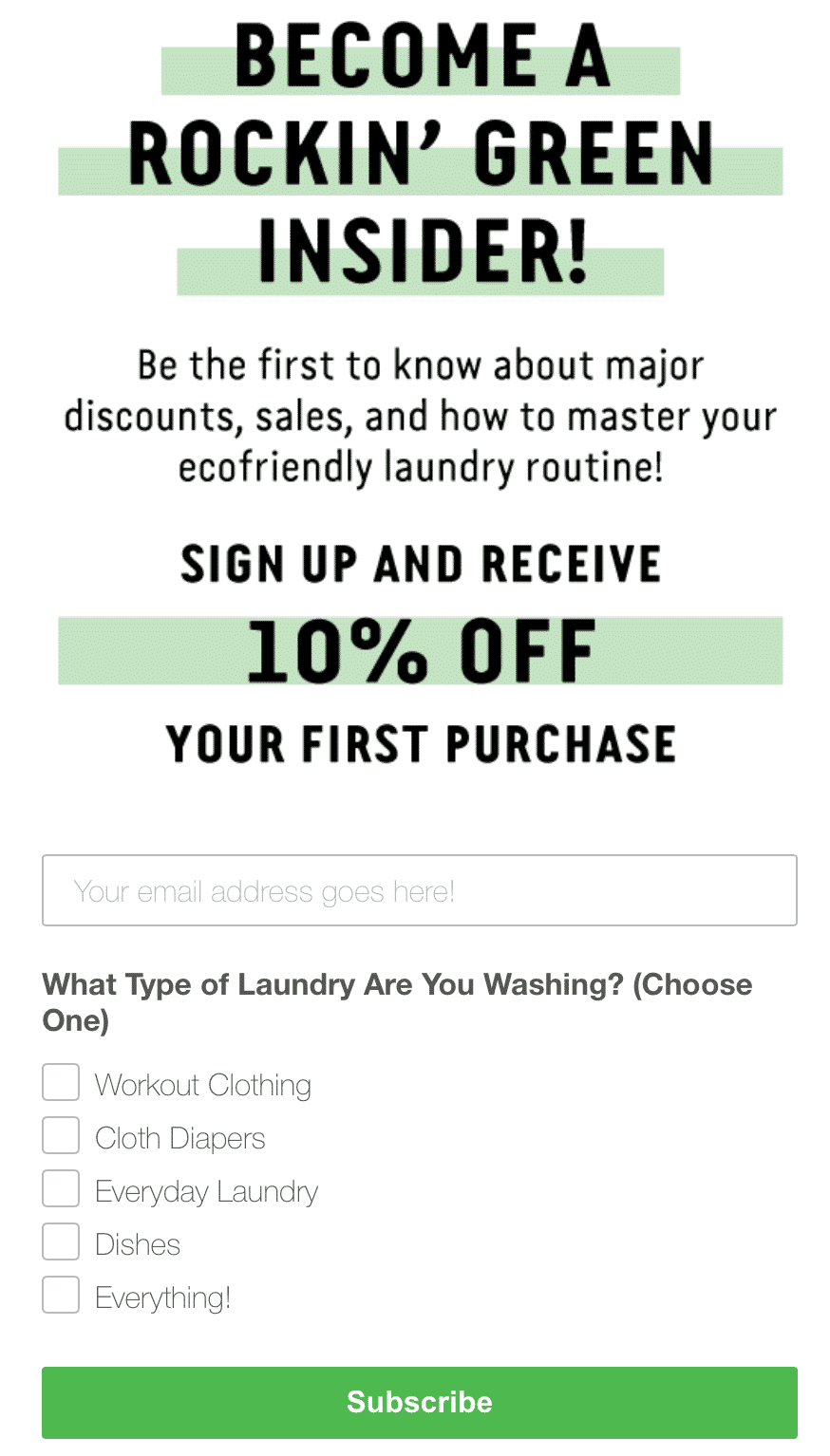 If you don't want to go for the conventional popup, something like this option by Saved by the Dress works great.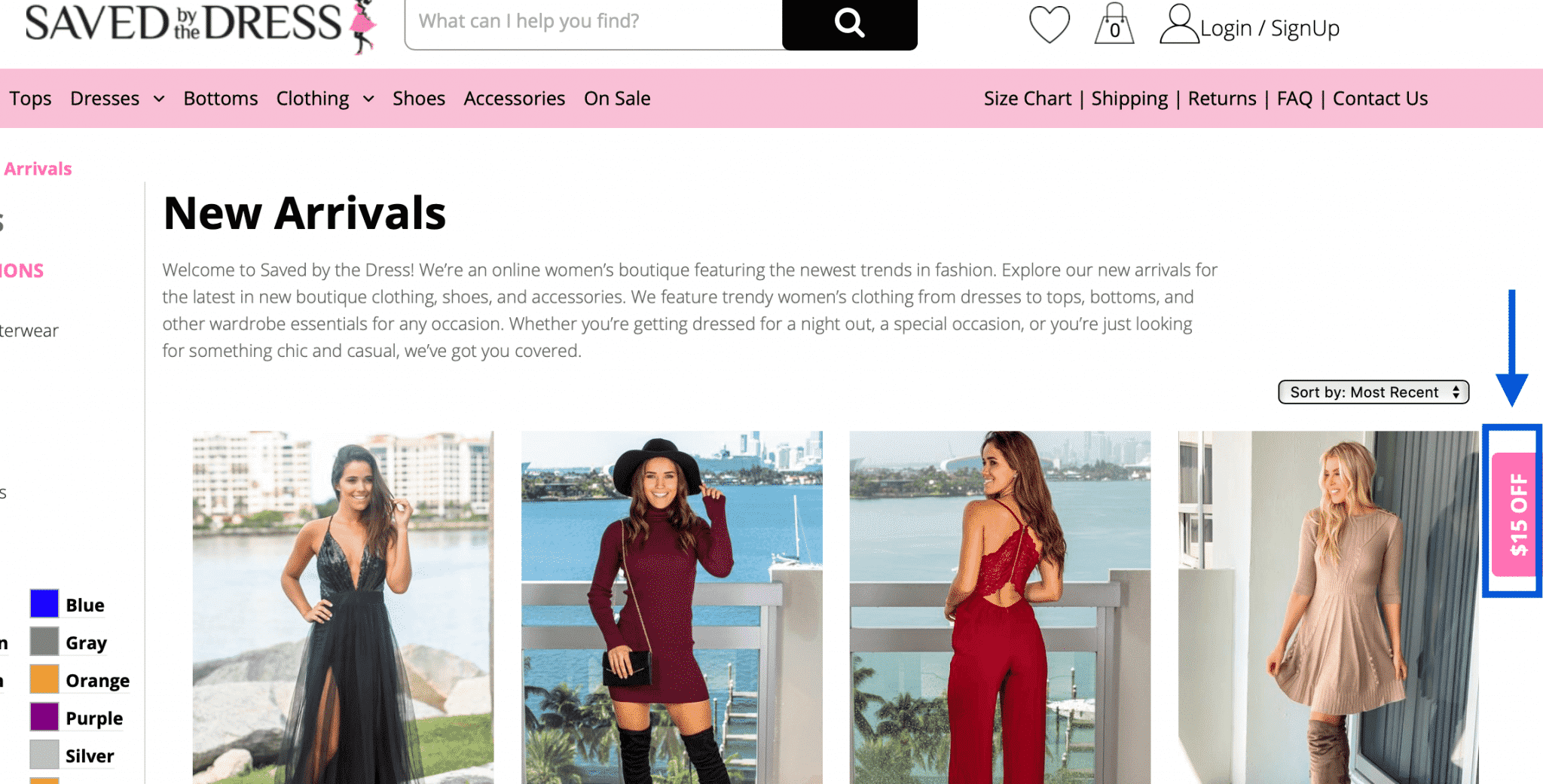 Saved by the Dress has a small floating tab on the side of the screen in a neon pink, offering $15 off. When users click, it opens an opt-in form with the promise of $15 off your next purchase.
5. Show Featured Products on Each Product Page
Featured product recommendations will help you sell more. It's a simple statement for a simple fact, but it's undeniably true.
You have a few different options for featured products that you recommend.
The first option is to show users products similar to the one they're currently viewing. This may help them spot an alternative product that's closer to what they're looking for, increasing the likelihood that you don't lose them when you were this close to driving a sale.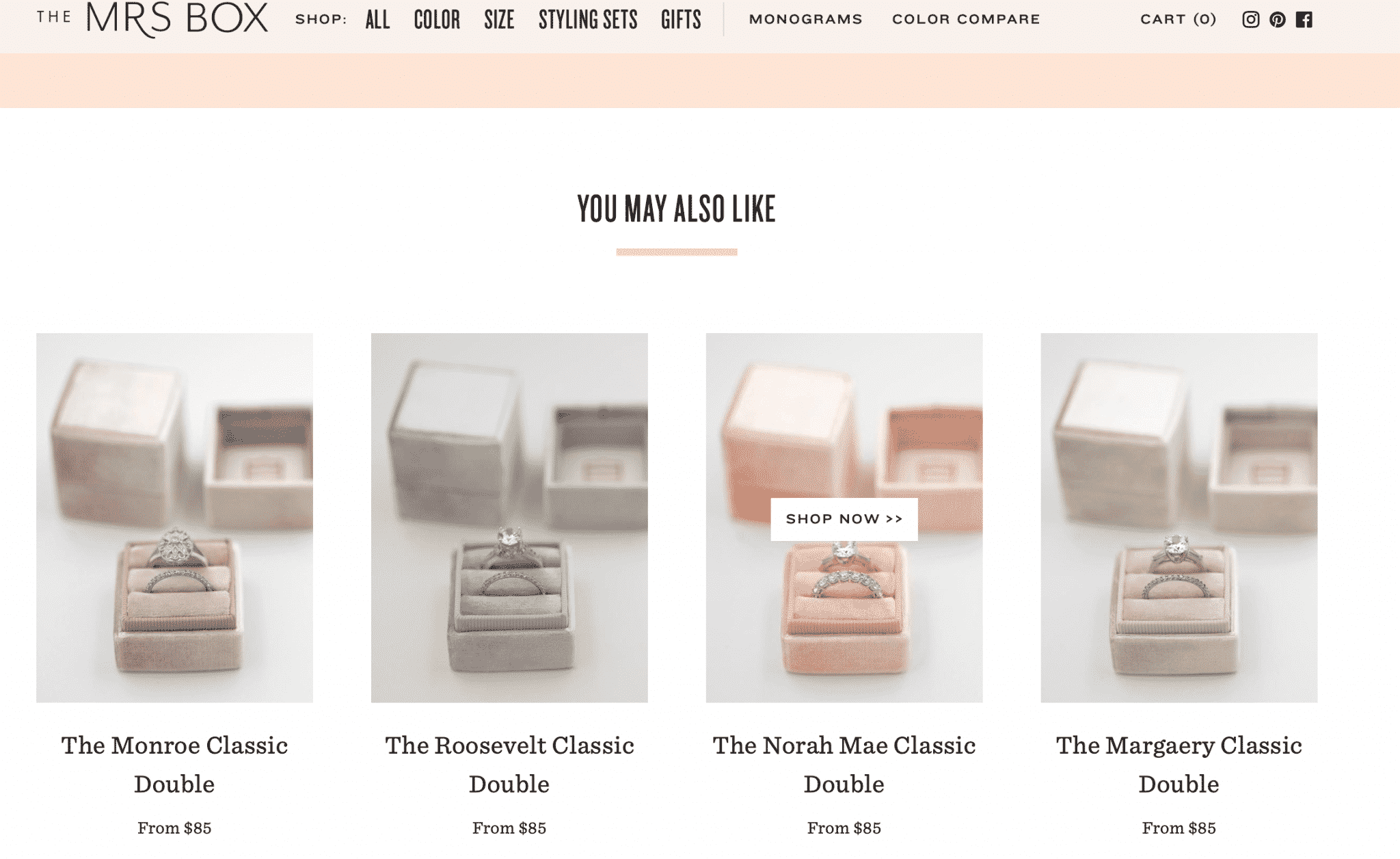 The second option is to show users products that are complementary to what they're currently viewing. If I'm looking at a pair of earrings, it may be easier to get me to make an add-on purchase if you also show me the perfectly-matching bracelet in a product recommendation.
You can also opt for an upselling approach. In this case, you'll show users products similar to what they're viewing but at higher price points. If they're looking at a $30 maroon phone case, you want to show them one in the same color that's $100 but is also waterproof, shatterproof, and everything-else proof.
These options can all result in higher average order values in addition to driving more sales, increasing your profit margins.
6. Offer Personalized Product Selections
Personalization can be exceptionally useful when you want to drive sales, but when you don't have a salesperson standing in front of the customer to make those tailored-for-you suggestions, it can get tricky.
This is why so many companies are relying on short quizzes that ask users to answer questions about their specific needs before offering product recommendations. ThirdLove does it for bra sizes, plenty of retail companies including StitchFix do it to assess clothing fit, and I've even seen a custom wedding dress designer who allows users to take a questionnaire asking what styles they like before offering a "custom" sketch of a dress.
Here's a great example from Prose. They frame it as a "consultation," and they ask users about their specific lifestyle, hair types, and overall needs.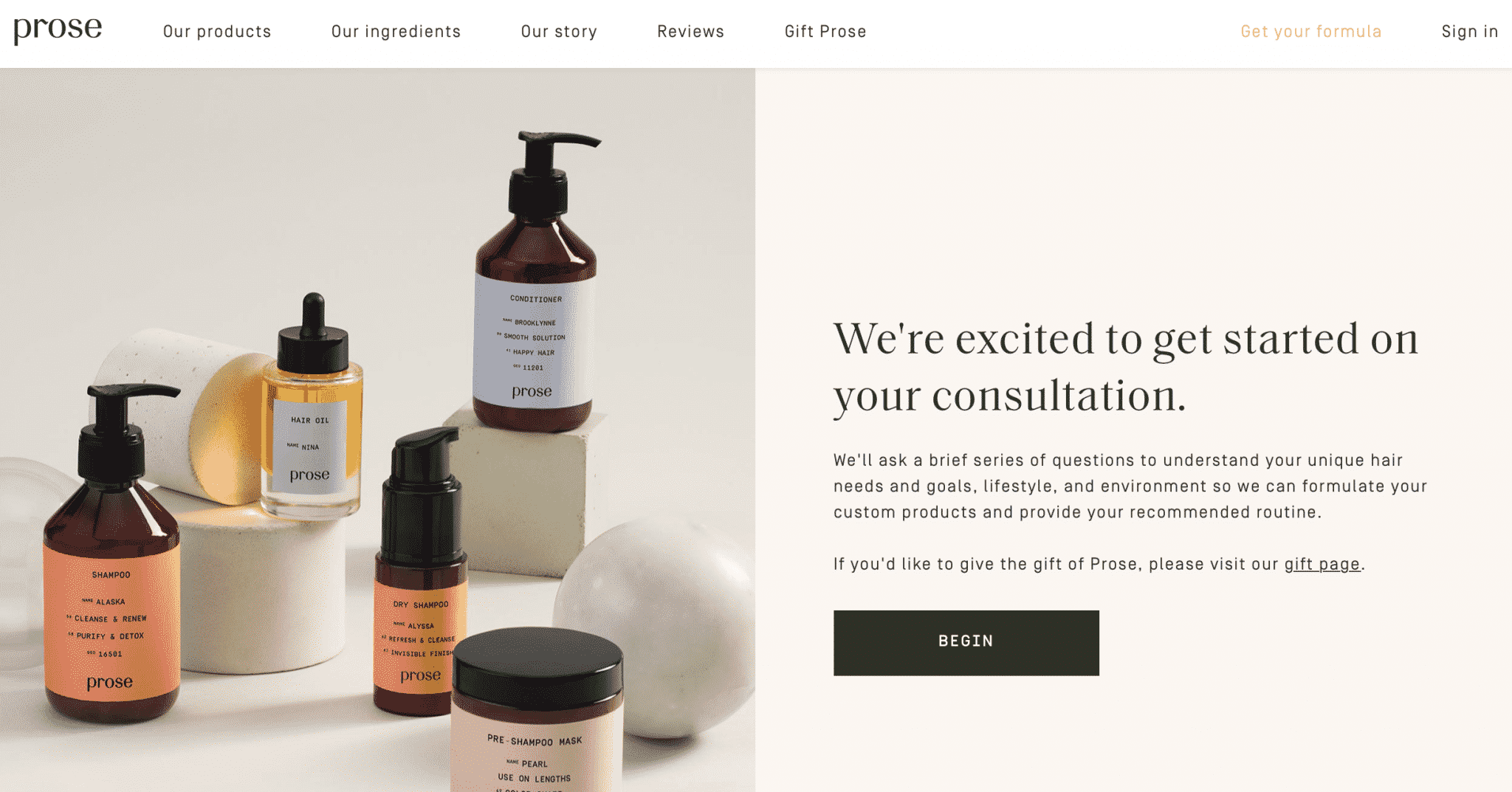 They then use the answers to guide users towards the most relevant products. Even if the recommendations weren't all that accurate, they would feel accurate to the user, who feels like they've found a solution perfect for them and make a purchase as a result.
7. Have Bundles That Encourage Higher Purchase Values
Bundle it up.
Offering bundles of products—whether it's multiples of the same product or a combination of other complementary products—can help you increase your overage order value with the promise of a discount.
Everyone loves the idea of buy more, save more, even though it's a bit of an illusion. Do you really need 3 bottles of hot sauce? In most cases, the answer will be no, but those pricing discounts are appealing.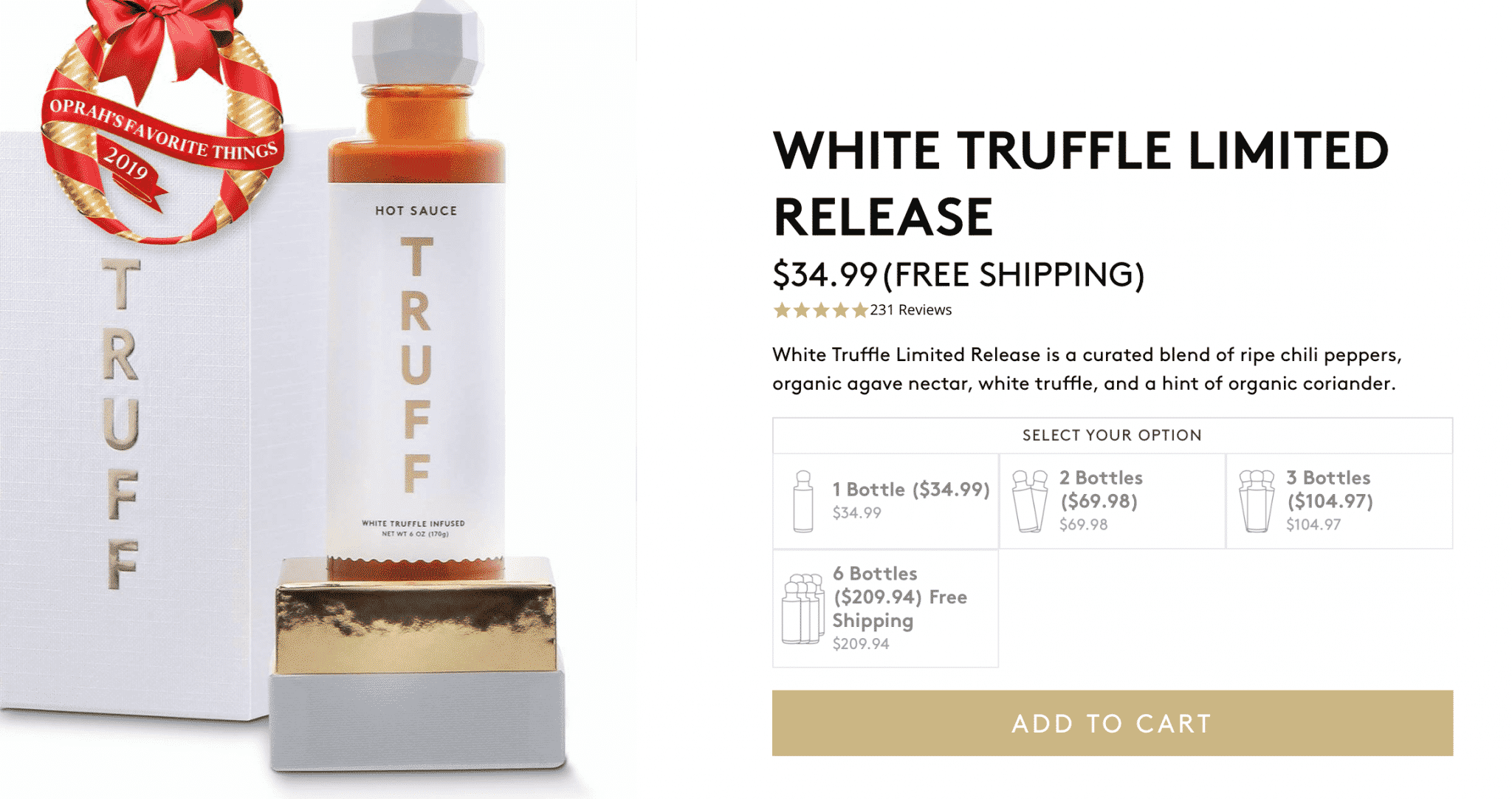 Consider listing bundled options for any of your high-value products, making them seem like incredible deals just by comparison alone. You'll be surprised how effective it can be.
8. Have Instant-Pay Options Available
Around 26% of users abandon their carts because even though they wanted to purchase, the checkout process was too complicated. Maybe it took too long on mobile, or the site was glitching, or you just asked for too darn much information (in their opinion).
You don't want high-intent users who have pulled out their credit card to click away over something so trivial. Make sure that your checkout process is easy, that you're only asking for information needed (shipping address, billing address, gift options, promo codes, and payment).
It's also useful to incorporate Instant Pay or quick checkout options. You'll notice more and more ecommerce retailers including these options on their site, and more consumers are opting to use them. Users like that it's secure in addition to convenient, which is a huge bonus if you're trying to establish trust.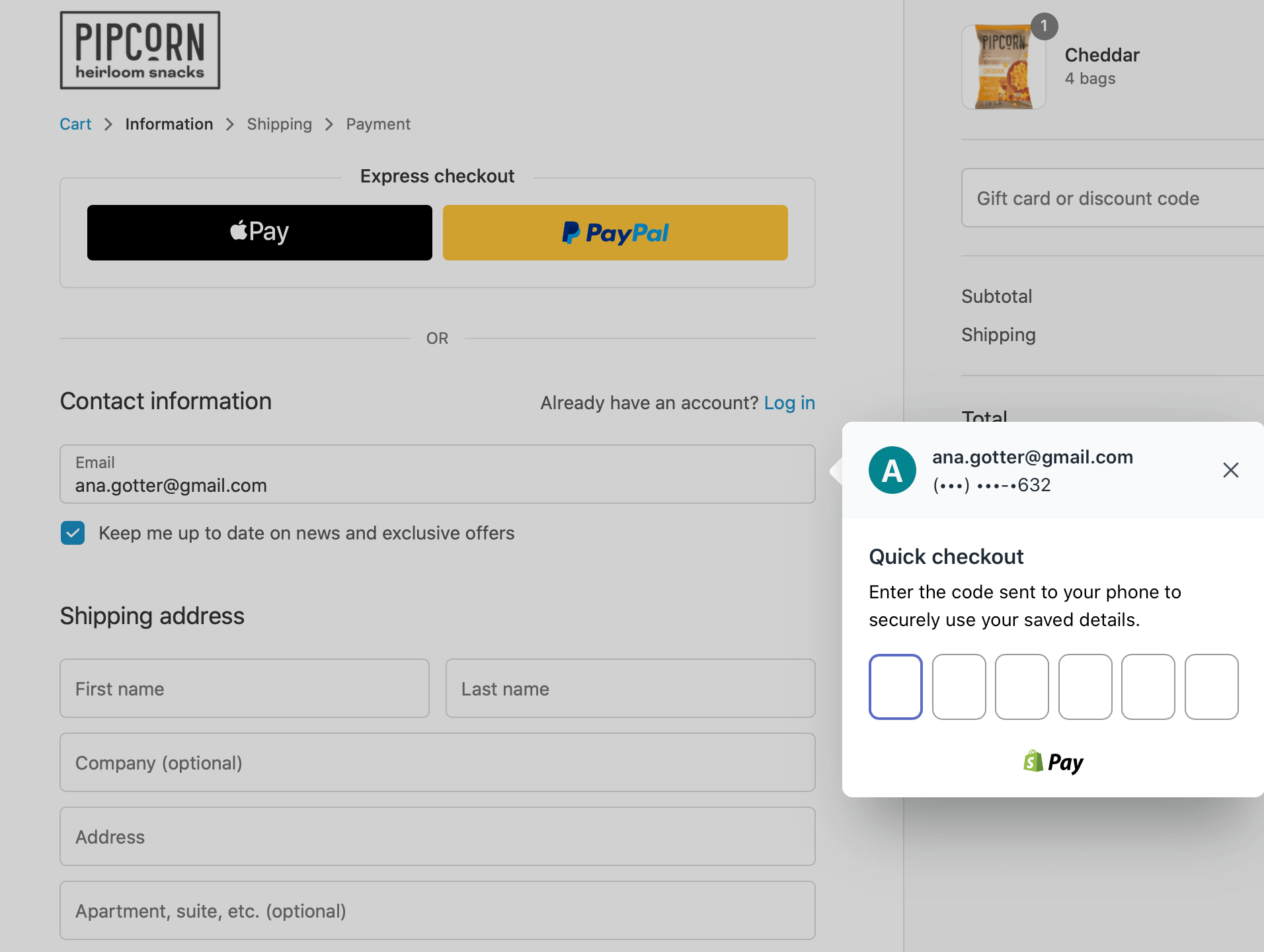 These options may include PayPal, Visa Checkout, or Amazon Pay, all of which allow users to complete a transaction in just a few clicks without needing to fill out their entire address and credit card information. Some ecommerce platforms like Shopify have their own version of a Quick Checkout, which are easy to set up and can be seen above.
9. Set Up Strong Search Functions
If people are on your site and looking for something specific, you want them to be able to find it and fast. Don't count on someone browsing through 100 different styles of pants if they're only looking for one, which high-intent audiences are somewhat likely to do.
If they know what they want and find it on your site, there's a good chance they'll purchase. But if they can't find it, they'll go to a competitor instead.
Let's look at an example and say that I search for "tie waist pants" on Madewell's site. This is what pops up, but it's not what I'm looking for:
A different search, however, reveals other styles of paperbag pants with tie waist styles that never showed up in the original search. This could have cost them a ready-to-go sale, and even though the correct title is "paperbag," I've regularly heard people refer to "tie waist" as a feature they're looking for, so it could have been considered as a keyword.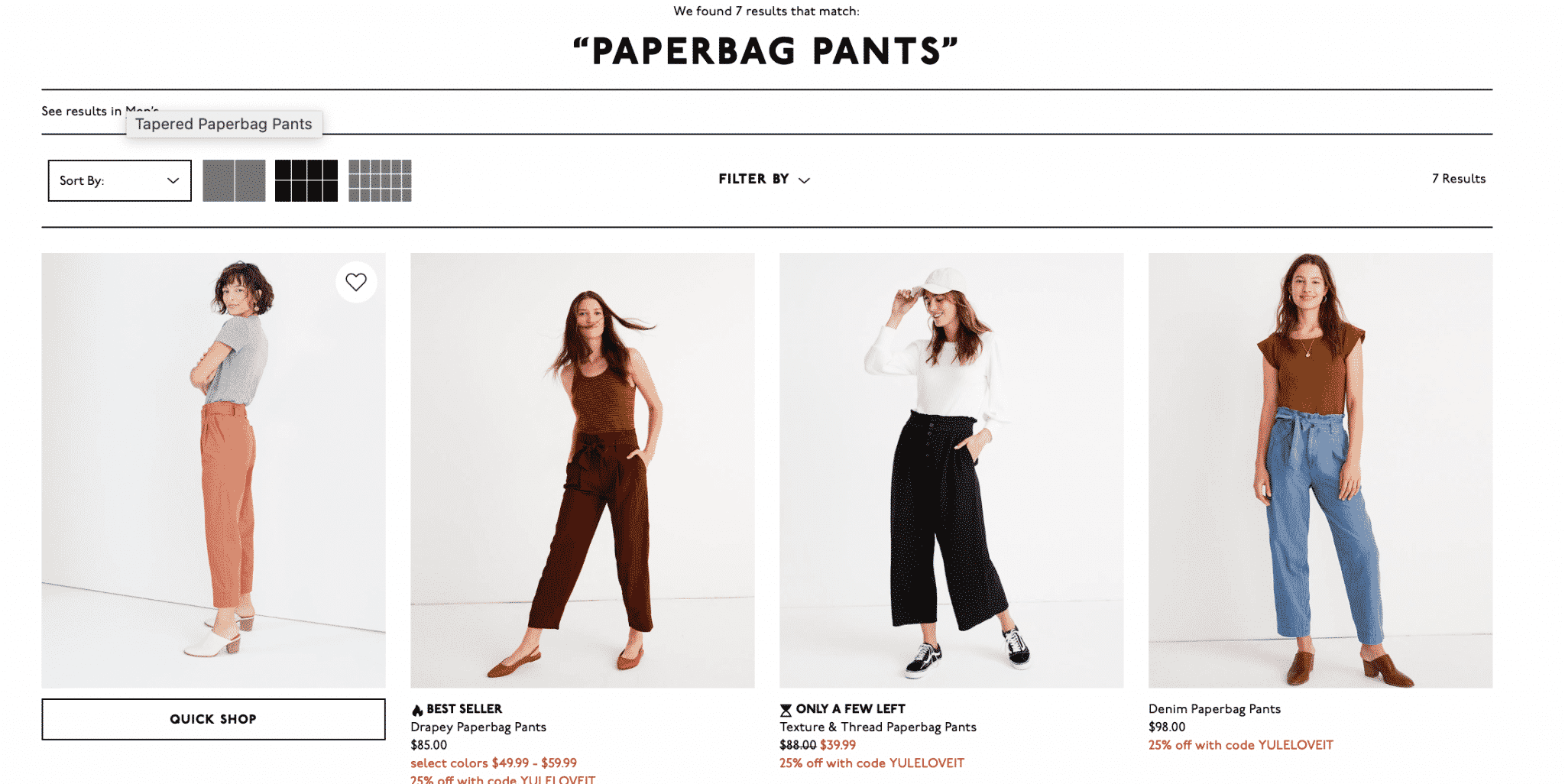 Strong search functionality on your website is therefore essential. Make sure that your products include any relevant keywords that users may be searching for and are all categorized correctly.
Final Thoughts
Ecommerce marketing tips, in general, can be hit or miss, and their efficacy may depend heavily on the industry you belong to. That isn't the case with these 9 tips, all of which will work well regardless of the size of your business, your industry, or any unique audience quirks. They're reliable, and they have a broad appeal that will resonate with all audiences and can be adapted for any industry.
And if you're looking for new, paid options to help you reach more of your ecommerce audience quickly, don't forget about integrating your organic marketing with paid, PPC advertising. You can learn more about PPC campaigns for ecommerce here, or get in touch with us to see how we can help.
What do you think? Which of these ecommerce marketing tips have you tried? Which ones will you implement soon? Share your thoughts and questions in the comments section below! 
Leave a comment