Selling on Facebook: 5 Facets of a Fantastic Facebook Store
by Cydney Hatch • June 8, 2018
Oh Facebook…it has become so much a part of our lives. It's a newsfeed, an address book, a video conferencing app, to even being an online storefront! Not only is this social media platform the "king" of our social media needs, it is also the leading social media network for total revenue driven to online businesses.
Ad revenue last quarter was up by 53% over the same period the previous year, and with more than 1.2 billion daily users, roughly 16% of the world's population logs on to the site at some point every day—those are crazy numbers considering that China does not allow Facebook!
With numbers like that, you can bet that the majority of today's consumers are logged into Facebook at some point during their day!
So, with that said, why not use this platform for your benefit, especially if you are an ecommerce business owner! With the power of Facebook to drive traffic to your store and to sell your products directly to active users, you can truly take your ecommerce business to new levels by using the Facebook Store App!
If you are new to this application, this article will help you understand everything about a Facebook store and how to use Facebook storefronts as a sales generator!
What is a Facebook Store?
A Facebook Store is a Facebook business page tab application where potential customers can purchase products directly on your "Facebook Store." This app allows potential customers to browse, share and purchase your products without having to leave their Facebook windows!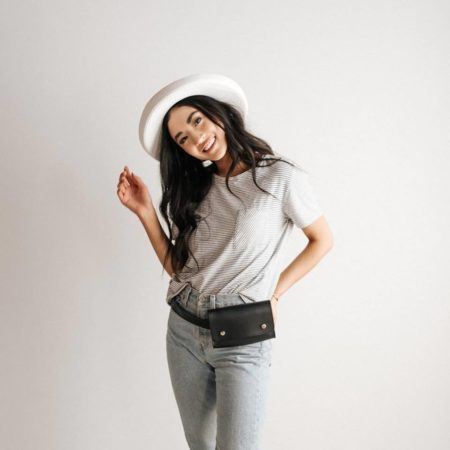 For example, Gigi Pip has a Facebook Store tab on their Facebook Business Page. You can see many of their products featured and have the ability to buy single products like the red hat below.
Talk about online convenience for shoppers!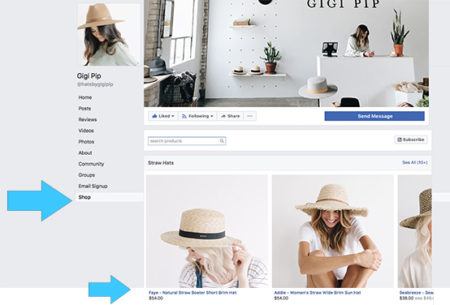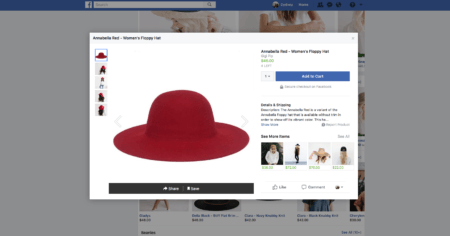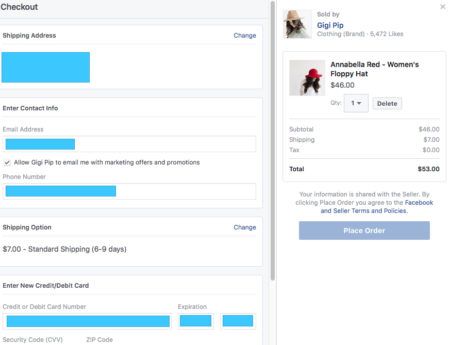 The Facebook Store app is an amazing and surprisingly cheap way to get your business enormous exposure due to Facebook's large user audience. If this isn't enough, Facebook store can also help with:
Driving new sales
Engaging potential customers with products directly
Offering deals and promotions
Rewarding brand advocates
Building brand awareness and recognition
Needless to say, engaging your Facebook community is an excellent way to grow your ecommerce business! Facebook makes it super easy for you to target users with specific interests, likes and behavioral patterns. It also makes sharing your ecommerce business content a breeze!
So how can you get started? Let's take a look!
How Do I Setup A Facebook Store?
What is the best part about selling on Facebook with the store app? Well, you do not need to be a coder or have the technical knowledge of an internet guru to set it up!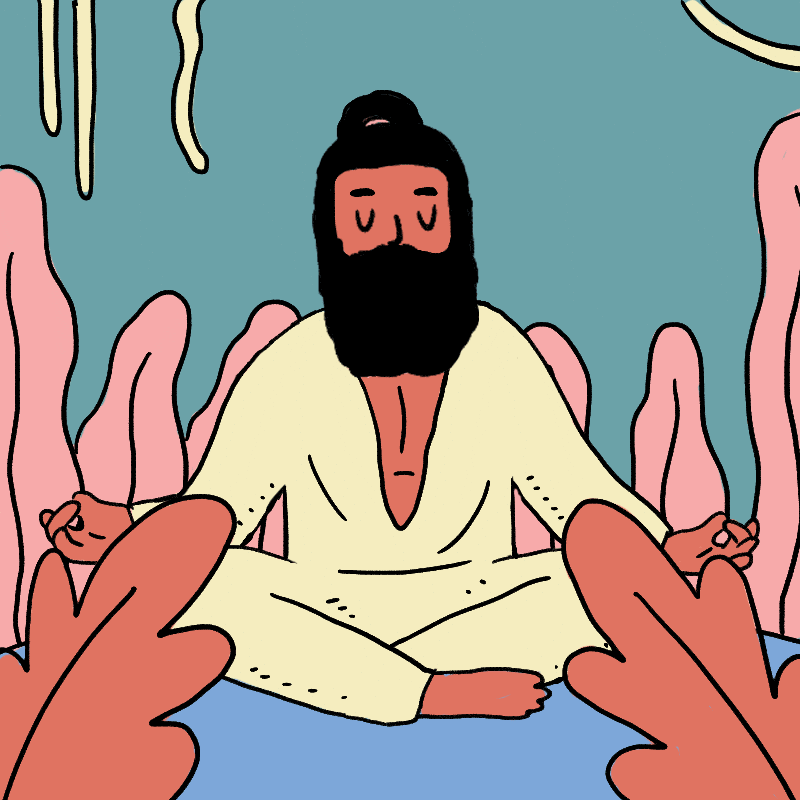 There are two ways you can set up a Facebook store: do it directly on Facebook or use a third party ecommerce application like BigCommerce or Shopify. If you want help in setting up your Facebook store, here's how to set up both ways:
Facebook Business Page Setup
If you already have a Business page setup on Facebook with all of the business details, photos and amazingness filled out, creating a Facebook store is a breeze. From there, check to see if the "Shop" application is available for your type of business page. If it is, you will need to follow the steps below:
Add shop section: The first step is the easiest, in the application sections, click on the  'Add Shop Section' link!
Terms & Conditions: Next, you'll need to read the Merchant Terms & Policies and check the box beside 'I Agree to the merchant terms and policies'. Look over this carefully to understand all the rules and regulations your business will be held to using this application.
Your Business Details: Next, add your business details! Add your address, email, phone numbers and and other business details they will ask for. The more detailed you are, the better the profile!
Connect Stripe: If you have a Stripe account, connect it.
Add Products: It's super simple to add products, simply click the "Shop" section, and then "Add Product."  Fill in all the details you need, including images, descriptions and other important pieces. You can see all the requirements right here, but here are some basics:

You should have at least one high-quality image per product and it should be an image of the product itself with a resolution of 1024 x 1024 pixels
Your descriptions should be detailed, helpful and creative
Share 4 more images to help customers experience your product. Think carefully!
BONUS TIP: if you have a lot of products, it's worth dividing them into collections. To add a collection, click the "Shop" section, and under the little gear button, select "Collections." Add a new collection, name it for the product category and then select which products you want to add in. And that's it! Easy right?  All you have to do now is manage your orders!
Third Party Setup
Here's what you need to do to set up your Facebook Store through Shopify and BigCommerce.
Shopify
If you're a Shopify shop owner, it's even simpler to setup and manage your Facebook store.
Add Facebook as a Sales Channel: Login to your Shopify store, head to Settings, Sales Channel and then click Add Facebook.
Connect Your Facebook Account: Make sure you're signed in to the right Facebook account and hit Get Started. Facebook will then verify your account info to approve your store before you can enable Facebook checkout.
Enable Shop Tab: Click 'Enable Facebook Shop' and you'll then be able to determine which products and collections you want to be visible on your Facebook store.
Choose Your Checkout: Your final step is to choose which checkout to use whether through Facebook or Shopify.
Once that is done, all that's left to do is manage your orders which you can do as you would manage the other orders within your Shopify dashboard.
BigCommerce
Setting up on BigCommerce is pretty similar to Shopify, it's just a case of enabling it in the admin panel.
Enable Facebook: Head to your Channel Manager in the admin panel of your BigCommerce store and click Get Started next to Facebook.
Connect your Facebook Account: Connect your business account to BigCommerce, simply by logging in.
Add Your Business Details: As you would for the direct route, you need to put in a contact email and phone number, a link to your terms of service and finally choose the Facebook page you're connecting to.
Get Approved!
From there, you follow the same steps when it comes to adding products and categories as you would in the direct route. Orders are all managed within BigCommerce.
5 Facets of a Fantastic Facebook Store
Now that you know what a Facebook store is and how you set it up, let's share 5 "facets" you should have to make your Facebook store FANTASTIC!
1. Fantastic Facebook Ads
To get more customers and to increase your conversions from your Facebook store, you need to grow your Facebook audience. A quick and easy way to do this, if you have a marketing budget, is to use Facebook advertising!
With an average monthly user-base of over 1.5 billion people, Facebook is an important part of your ecommerce business strategy. Facebook has the largest audience of any social media platform and offers a lot of value and potential reach.
As its popularity has grown, Facebook has dedicated a sizable portion of its efforts toward developing an advertising PPC platform. An example of this would be a "sponsored" or "boosted" Facebook post that is used to increase the post's reach.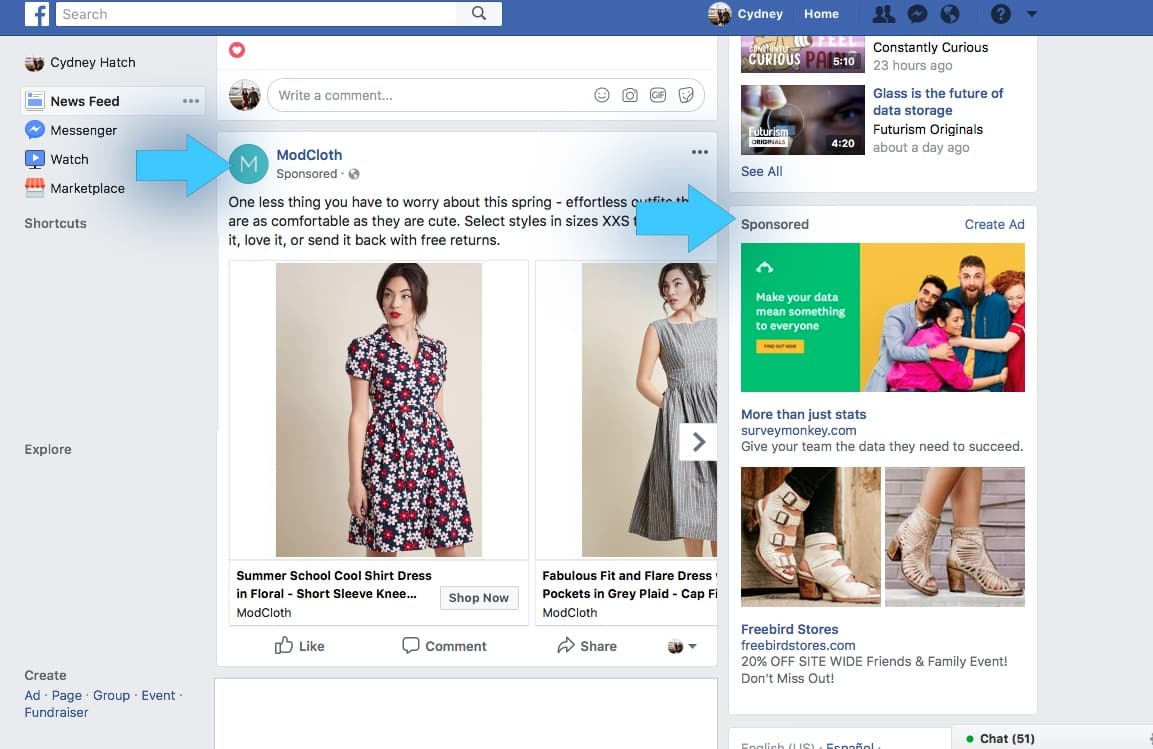 Paid PPC Facebook ads are helpful because they allow you to reach people who may not follow your business directly/organically. You can also target those who have expressed interest in your type of business/product and fall within your target demographic. In other words, Facebook ads extend your influence beyond your social media following!
But how can you setup Facebook advertisements to help your Facebook store? It's pretty easy!
Facebook has "Boost Post" buttons that make it easy to take your content to the next level. Begin by clicking the "Boost Post" button on the bottom right corner of the post.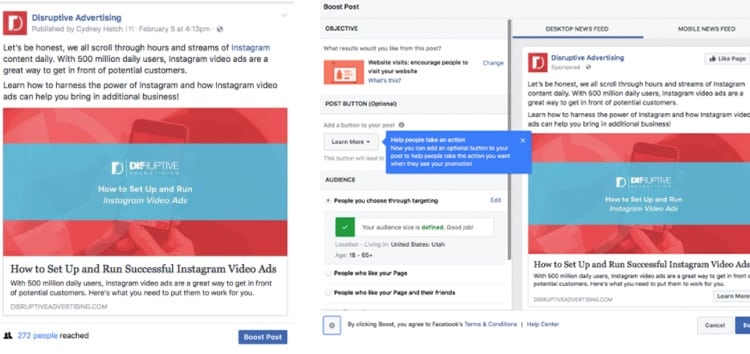 Then, choose the audience you want to reach with the boosted post. You can boost this post in the news feeds of people who like your page, as well as their friends, or choose a specific audience through targeting.
Paid social media, particularly Facebook, is cost-effective, targeted and—when used correctly—can help generate awareness, leads, followers and ultimately marketing success. Ultimately, by using this marketing strategy, your Facebook store will maximize sales by expanding beyond your organic leads!
To learn more about Facebook advertisements, check out our article here!
2. Fantastic Facebook Photos and Video
Studies show that images and video are some of the most important components of social media ecommerce success.
Since that is true, developing a strong visual brand strategy is the key to setting yourself apart from your competitors and helping your business grow. The details of your business matter because they quickly distinguish between quality businesses and amateur ones. Photo and video are the first experiences a customer will have with your business and product so why not knock it out of the park with strong visuals!
Photo
Again, like stated above, photos are the first experience that customers will have with your product and business so you need to make sure they present you well!
The details of product photography are important. A good photo should make a customer want to buy an item from your Facebook store. The key to quality photography is making sure you have a clean, clear and creative way to present items simply for quality assurance and item recognition but also to share varying lifestyle images that style and show off the item itself.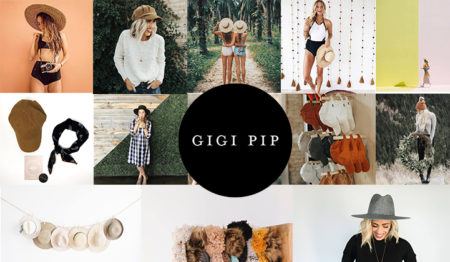 So, if we go back to the hat shop Gigi Pip, they are a great example of strong Facebook store visuals because they have:
Strong branding (fonts, color palettes, models, message)
Consistent design and styling (on all platforms: website, Facebook shop, social media)
High-quality imagery (varying between simple product and lifestyle style)
Punchy captions (that add to the playfulness of the photography)
If you look at their Facebook store, here's what you see: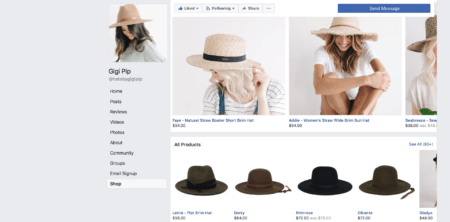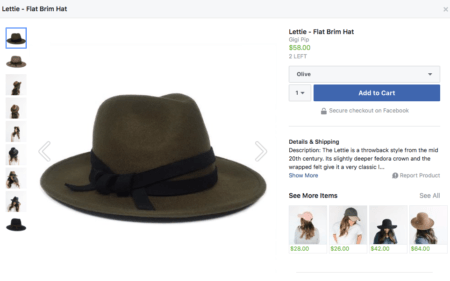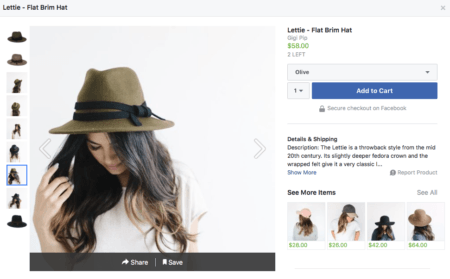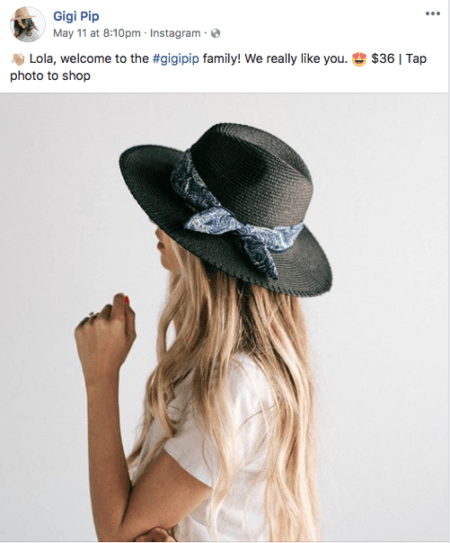 Their shop is simple, stylish and full of visual content that both draws attention and interest but also informs and involves the customer.
Gigi Pip does an awesome job at sharing high-quality product photography with their customers. This helps the customer feel comfortable purchasing a high-quality hat but also inspires them to wear it.
They do an amazing job sharing photos of their products from all angles simply on a white background but also shares lifestyle photography that helps customers see a hat styled on a model. Having that variation is so helpful to someone purchasing something online!
They then take that Facebook shop experience and move to their site and Instagram. Check out their beautiful brand consistency that helps build customer trust!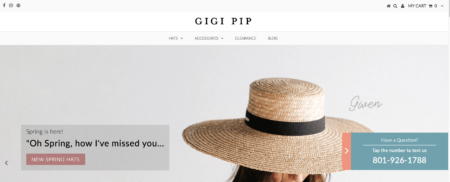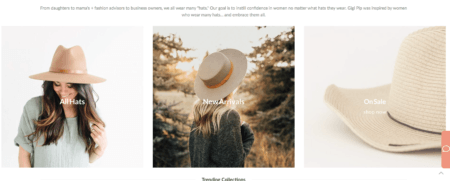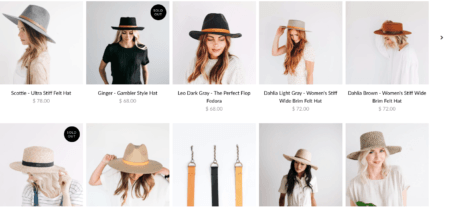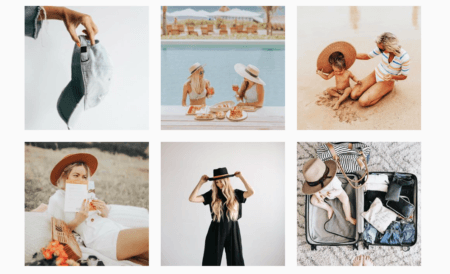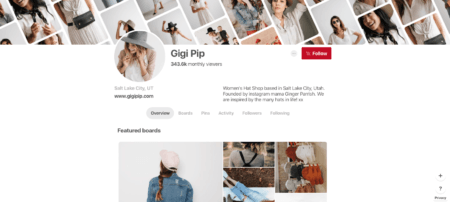 They also take full advantage of influencer marketing since their owner is a huge social media star and blogger, Ginger Parrish!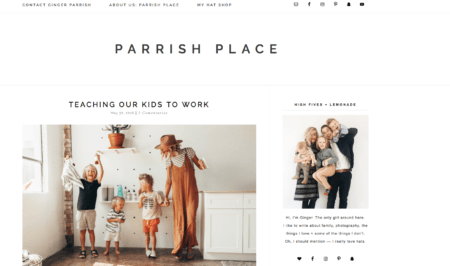 By tapping in to her strong fashion audience, this business drives sales to the Facebook shop and the general website to buy the many hats she features frequently on her blog! Visuals are truly powerful, so take advantage of all the places you can place photos like individual posts, cover photos, profile photos, etc.
Video
Video is another powerful tool in Facebook store ecommerce. From creating product short videos where potential customers can see how clothing "wears," advertisements to "How To or FAQ" videos, video matters—especially if you want to reach younger generations.
In fact, consumers are 73% more likely to make a purchase after seeing a branded product explanation video! So, make creative use of video in your "ABOUT US" section and other product areas of your Facebook store!
Gigi Pip creates high-quality hats for their customers, which means they are more than just the hats you can quickly pick up at Target for the beach. These hats are form fitted and designed to be high fashion and high-quality, so size matters!
Since this might be a daunting experience for "first timers" buying a high-end hat, Ginger made tutorial videos to share with customers wanting to understand hat sizing!
In this video, she talks about a lot of the features the hats have—like a sizeable sweatband—as well as how to use sizing tape! She is representing the brand showing off the storefront physical location as well as showing an array of beautiful products they sell in the store.
Gigi Pip also goes a step further and highlights some of the items featured in their video description and shares links where customers can directly buy the items!
This is an extremely helpful video for clients who need to take the "leap" in investing in a high-quality hat!
Great job, Gigi!
So, like this Facebook shop, you too can create visual content that both inspires and informs your customers to purchase from you! Doing so will help drive meaningful sales to your ecommerce business.
3. Fantastic Facebook Content
Quality content goes hand-in-hand with strong visuals!
Your ecommerce strategy should be more than just saying the obvious or "buy this now." A common mistake ecommerce businesses make with their Facebook shops and websites is being too obvious.
When trying to think about captions, blog posts and shop posts, think about the following questions:
What story do you want to tell?
How can you convey your message creatively?
What benefit does your audience get from your business?
How can you help your target audience?
What is the attention span of my audience and how can I share snappy information?
When you answer these questions thoughtfully and creatively, your content will do more than just "tell" your customers,  they will "inspire and show " your customers the value of your business and products!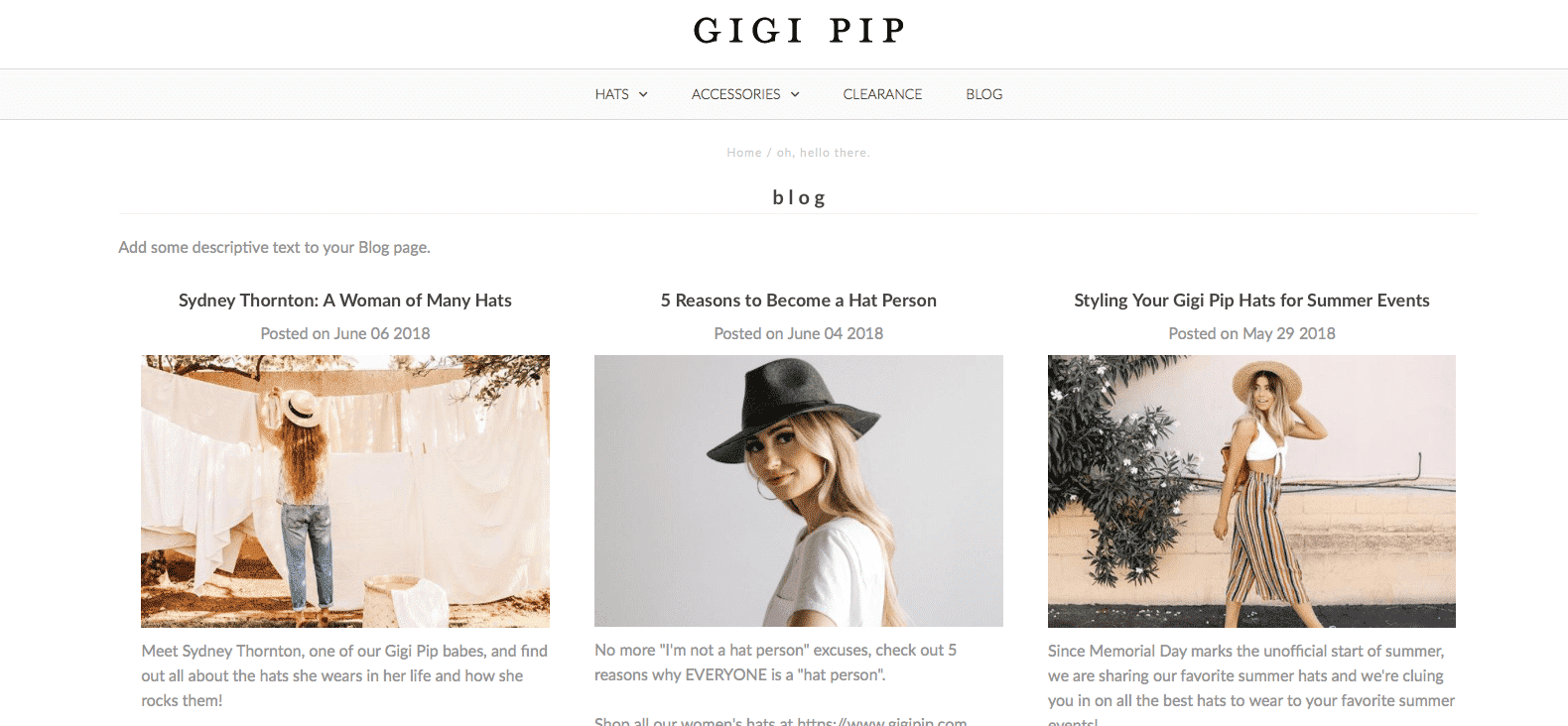 A good Facebook store needs snappy captions on photos, detailed "About Us" information, shared blog content as well as informative product descriptions. With each of those you need to be creative, thoughtful and informative. By balancing those elements, it will set you apart from businesses that more "obvious" and "bland" with their business content.
But, the most crucial part of a successful Facebook store is making sure to write concise and compelling descriptions for products. This is what will sell customers on the products.
Include all details that they might need to make an informed decision. These descriptions must follow certain guidelines set by Facebook so make sure you take a look at what is expected as well!
Gigi Pip does a great job at describing their products well for customers.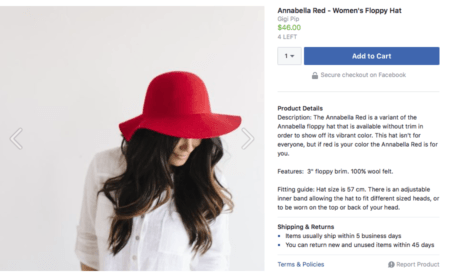 Gigi Pip shares product variations and features as well as material, make and sizing. Although they are a bit more straightforward with their descriptions, it doesn't hurt to add some pizazz to your product descriptions. Remember, you want to make them click BUY!
Other content opportunities to consider with your Facebook shop include polls, discussion boards, posts with engaging questions, email newsletters, or helpful and featured blog posts from your site. Give your customers a holistic, fun and informative experience on your Facebook store and they will keep coming back!
BONUS TIP: When planning your Facebook shop's organic content, remember the 80:20 rule. You want to make sure that only 20% of your content is promotional, while the remaining 80% is fun, inspiring, educational, high-value other non-sales content.
4. Fantastic Facebook Engagement
Selling your products is so much easier if you have a strong community behind you. Although building such a community through blogging, engaging in discussions, going LIVE and answering fan questions is a lot of hard work, it is so worth it!
If you are looking to build your Facebook store, you need to make customers feel like you care. I suggest doing the following:
Go LIVE & Use Facebook Stories!
Unless you've been living under a rock for the past few years, you probably already know just how important video and LIVE content is to social media marketing. One of the best ways to get reach with your video content is to use Facebook's live video and story. According to Livestream stats, 82% of brand audiences prefer live video over any other form of social media posts.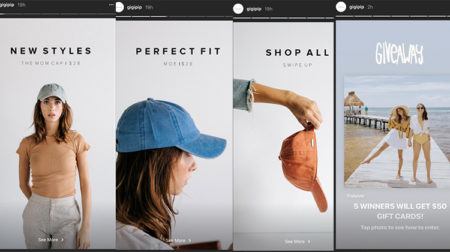 In most cases, you don't always need a video to be professionally shot for it to be effective, especially for Facebook. Use these two marketing opportunities to reveal a new product or promos, to give tips or show behind-the-scenes teasers for upcoming lines! Have fun with it and be informative!
Newsletters
Email marketing is easy with Facebook shops!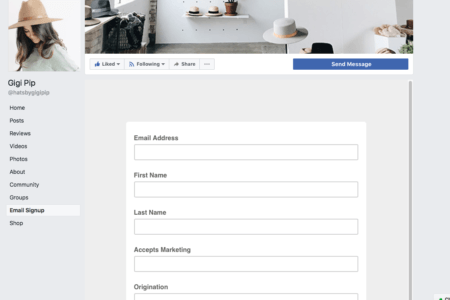 A big engagement piece can be converting your Facebook followers and customers to newsletter subscribers! All you have to do is create a dedicated landing page that will ask people to join your list OR (even easier) just link them to a free product page that asks for emails in return for a download.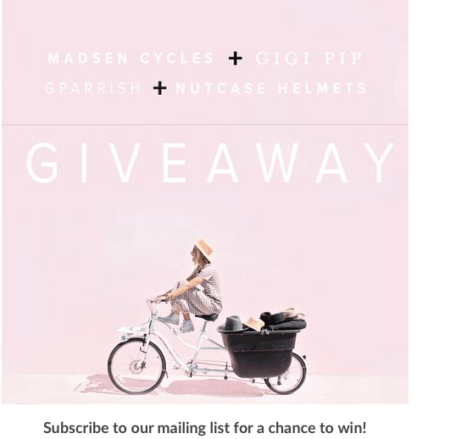 You can also have an additional tab that can easily ask for customer information. By starting an email community, you can easily share promotions, sales, and business information that can drive them to visit your storefront!
Tagging & Community Photos
People really under-utilize Facebook tagging for their Facebook stores. Not only can you feature collaborations with other businesses, influencers and people but customers can also tag your business and products!
For a business, this can allow you to stay more top of mind with your customers and "fans." When you tag someone, they receive a notification you've done so and, thus, come see what you tagged them in. They can also approve these posts to be shared on their pages…talk about awesome free exposure!
This is potentially very powerful for businesses. As the administrator of a fan page, when you tag someone in a wall post or note, it appears to them as if the business or organization tagged them, not the individual logged in to administer the account.
Gigi Pip does a great job at utilizing tagging through allowing visitor/customer photos in their community tab which also features VIP chat boards which engagements customers further!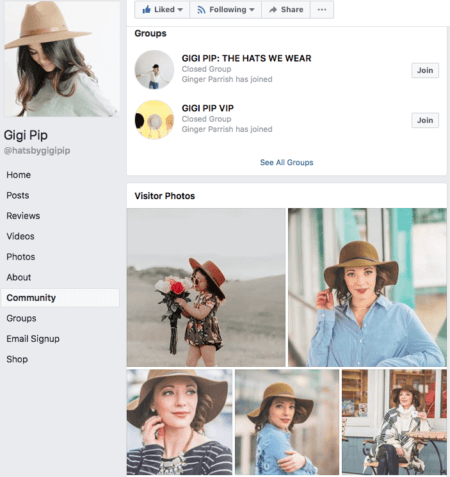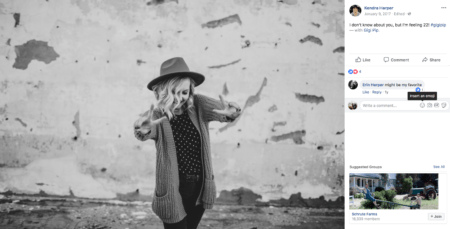 Gigi Pip also has other businesses tagging their products in their shoots as well. This gives a popularity boost to show their products are highly used and praised by other businesses etc.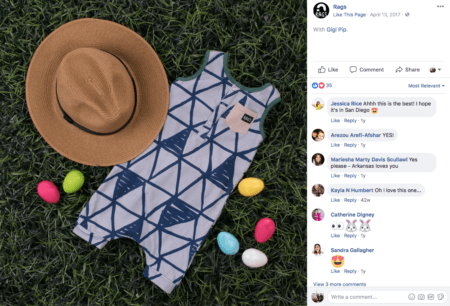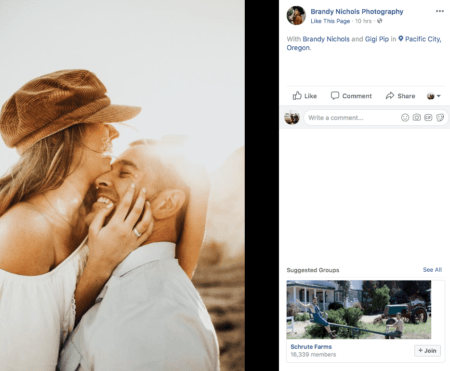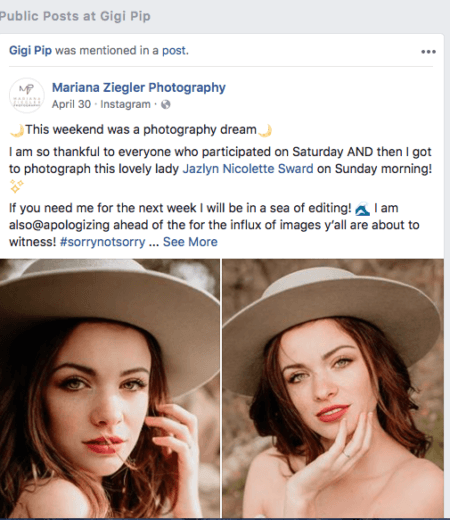 Utilizing tagging and photo sharing creates a community full of "Gigi-Pippers" who love their photos enough to share the product photos! Its like an awesome photo talent show! So, in your content, encourage tagging and collaborative photo sharing as its free advertising for you! Why not connect other organic networks in your favor?
Reviews & Testimonials
It should come as no surprise that 63% of customers are more likely to make a purchase from a site with user reviews. A security seal can increase sales by as much as 42%! Why? Because social proof demonstrates that you and your offer are trustworthy.
When you do it right, social proof can make a huge difference to your business.
Hands down, testimonials and reviews are the simplest way to add social proof to your Facebook store. According to Reevo, customer reviews increase sales by 18%.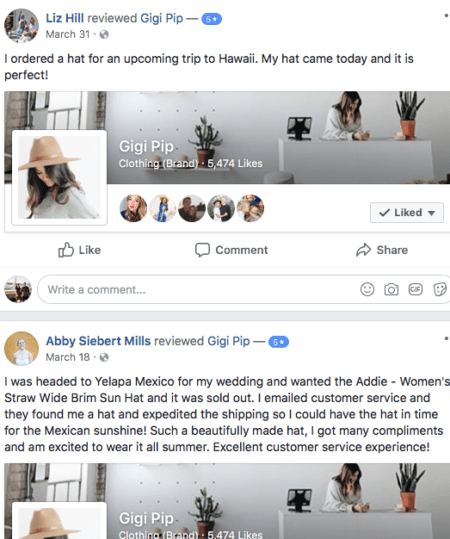 Encourage customers to leave Facebook reviews that also feature customer photos! This is an easy way to build trust with other customers and it helps create a business "rating" that can be an instant "approval sticker" to clients that you are reputable!
Unfortunately, testimonials need to be a little bit more "beefy." Since they are so easy to put together (or even fabricate), testimonials often don't carry a lot of weight so make sure you do 'em right!
To start, if you want your testimonial to be believable, you need well-known sources. Gigi Pip does a great job at utilizing Ginger Parrish as social proof, I mean she is a super popular blogger that many women on the West Coast would recognize.
Like them, you can create content around influencers, clients, etc as long as they are creative, thoughtful and detailed. Use video and photos in these element to really drive their messages home!
Great Customer Service & Dealing with Negativity
Facebook stores are no different than brick and mortar ones…other than the location thing. Ha!
Since this is true, the rules of selling on Facebook are no different than any other place: You've got to be able to provide top customer service.
To do this well I suggest:
Responding Quickly: Prioritizing customers means that you are on top of your page, using the Facebook Page Manager app to get instant notifications for customer inquiries. You know that you won't be able to answer for a few hours? Set your status in messenger as  'Away' so customers know you will have delayed response.
Responding to Negativity: Move every negative comment into a positive light. Use positive words and remember what Bill Gates said very wisely, "Your most unhappy customers are your greatest source of learning".
Responding to Positivity: Your happy fans deserve your attention just as much as the negative ones. Show some love for your super-star customers by responding to their positive reviews, and comment of their shared photos etc. Be authentic!
Responding to Milestones: Include customers in your business growth and make them feel apart of the family by sharing milestones, promos and other things that make them feel involved.
5. Fantastic Facebook Consolidation
If you can make buying easier, you are going to sell more. Keep it simple, stupid…right?
If you make buying complicated, bottom line, it's going to affect your sales. So, I suggest keeping the whole shopping experience, from product browsing to checkout, centralized on Facebook.
According to ConversionXL, 88% of respondents would rather make their purchases directly from the brand via their web store and not via third-party sites. That should prove to you that there is value in sending customers straight to the checkout process. So, although Shopify and BigCommerce allow Facebook shop capabilities, I suggest keeping it simple on Facebook.
No one likes complicated. Isn't ease and convenience two traits that enabled ecommerce to become so popular? Let's keep it that way!
A Fantastic Facebook Store: Your Reality!
Having a Facebook store is a great way to grow your business. It lets you tap into new audiences and gain more customers.
From sharing your content with ease, to marketing your store and products well, opening a Facebook store is a no-brainer that will increase sales and boost your bottom line! If you want help setting up with Facebook store of your Facebook ad campaigns, feel free to contact me here!
What Facebook stores do you love and why? What Facebook marketing tips do you find helpful? Comment below!