Stuck in a Rut? 6 Proven Ways to Jumpstart Your Ecommerce Business
by Aden Andrus • May 19, 2020
So, you've been in business for a while. You're making good money and you're in a pretty good groove.
It's just…there's a problem.
You've been in your groove for so long that it's starting to become a rut. You know your ecommerce business is capable of more, but you're not quite sure how to get there.
Well, you're in the right place. It can be tricky to figure out how to jumpstart a stagnant business, but we've helped hundreds of clients scale and reach new heights with online advertising.
For example, we recently helped a 55-year-old business to nearly double their yearly revenue in a matter of months.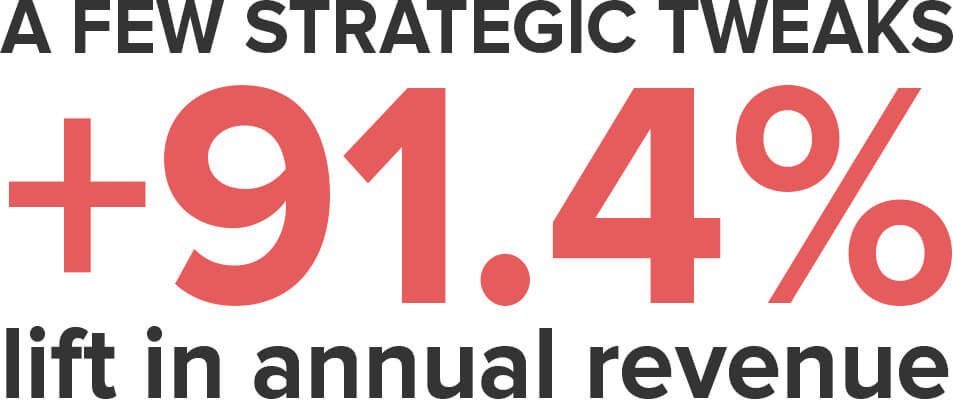 Best of all, we did it by optimizing and improving their existing marketing channels. The potential was already there…it just needed to be unlocked.
But, we'll get into that more later.
For now, let's just simply say that we've got a big bag of proven tricks for helping stagnant companies jumpstart their marketing. We won't give all of our secrets away, but in this article, we're going to take a look at 6 of our favorites and show you how these tactics can revitalize your ecommerce business.
1. Restructure Your Campaigns
One problem that we've seen countless times with well-established businesses is poorly maintained and updated campaigns.
We get it, you're busy. You don't have time to revise your campaigns every few weeks or months when Google or Facebook release a new update.
However, over time, old ads, targeting criteria and campaign structures begin to lose their effectiveness. Algorithms change. Your audience gets tired. Competitors emerge.
If you aren't actively adapting, your marketing will plateau and eventually fail.
Even if you've been paying an agency to manage your ad campaigns, you can still see this sort of problem in your account.
For example, one of our bigger clients came to us because their ad accounts were basically stagnant. Their agency was keeping the lights on, but not much more.
To get things back on track, we completely restructured their accounts to prioritize campaigns and products based on purchasing intent. We divided their campaigns by level of intent, set manual bids at the product level that prioritized higher revenue products and created SKU-specific campaigns that targeted high-intent buyers with hyper-relevant, rich ad copy.
It was a new strategy, one that was completely different from anything the client (or their old agency) had tried before. Don't get me wrong, it was a lot of work, but the results were worth it.

Marketing revenue increased by 21%, which was a big deal for a company of this size. At the same time, return-on-ad-spend (ROAS) increased from 8.75x to 10.01x, improving the overall profitability of their marketing by 34%.
Not every account needs this level of overhaul to jumpstart things, but most well-established accounts have a lot of problems or outdated strategies that need to be addressed. If you want great results, you (or your agency) may need to spend some significant time revising things.
2. Incorporate More Reviews
In today's online world, reviews are important for any business, but they're especially important in ecommerce.
No matter how good your marketing is, people will always have their doubts. Everyone knows that you can say whatever you want online and there's little-to-no way to verify it.
Are you trying to scam them? Of course not, but your customers don't know that for sure.
Even if they believe that you're a trustworthy, legitimate business, it's hard to evaluate the look, feel, quality and effectiveness of a product from a photo and a description. Videos can help, but they're still marketing material…and people simply don't trust marketing.
But do you know what they do believe? Other people.
Whether they are family members, friends or complete strangers, 84% of online shoppers say they trust reviews. 93% of them say that online reviews have a big impact on whether or not they buy a product.
So, if you want to convince people to buy, you need reviews. Put them on your website. Incorporate them into your Google Shopping campaigns. Use them in your Facebook Ads.
Anywhere you can naturally include reviews…do it!
The good news is, as a well-established business, you should have a ton of reviews at your disposal. If not, you should have an email list full of happy customers that you can ask to leave reviews.
If you ask and make it easy for them, most people are happy to leave a positive review. This alone can improve the performance of your campaigns, but if you then catalog and use those reviews in your marketing…well, that's when the magic really starts to happen.
3. Optimize for Seasonal Trends
There are natural rises and falls in searches for plenty of different products. While you very well will get some Floridians searching for "winter coat" in May so they can go on an Alaska cruise, most people will be done searching for their winter wear by the end of October in most cases.
If there are certain products that you know will be popular at different points of the year, make sure those product titles and descriptions are ready to go.
Consider mentioning that those fuzzy socks would make great Valentine's presents and then updating those product descriptions to say they'd be great stocking stuffers. Change "spring dress" to "summer dress."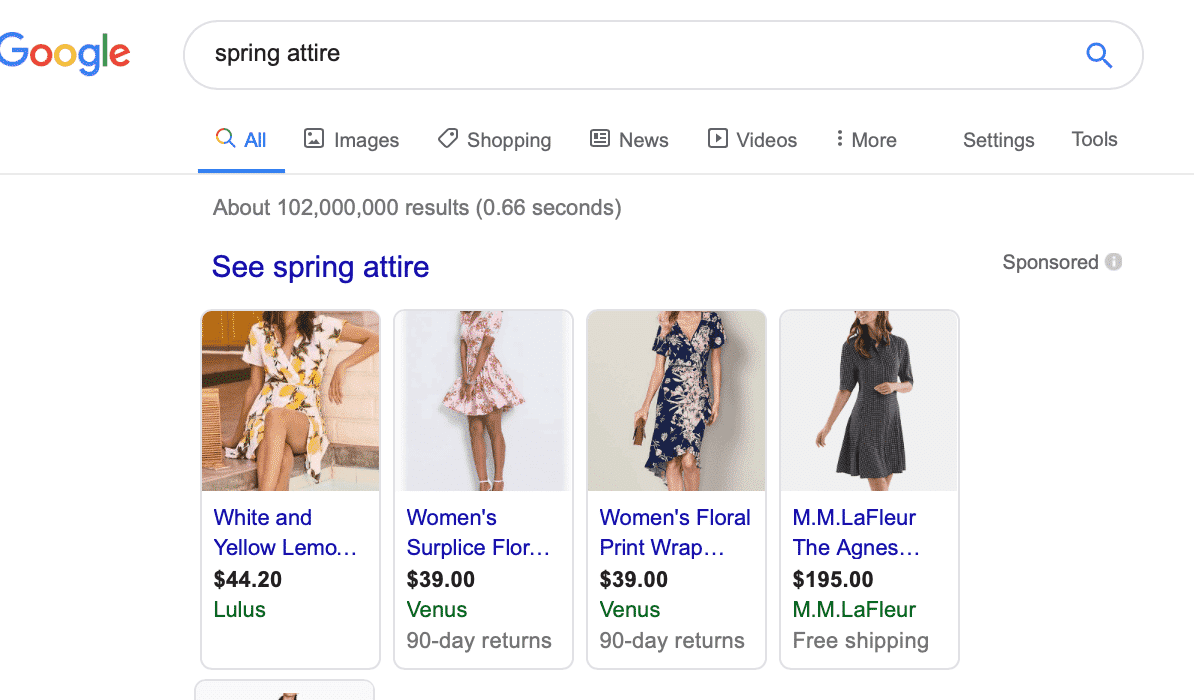 In addition to changing your product descriptions as appropriate, seasonal trends might also dictate a change in product bidding. Bid more on in-season, competitive items that are likely to be in high demand at the moment for a better chance of driving sales.
To put it simply, the more relevant your campaigns are to your customers, the more likely they will be to buy. Yes, it means some extra work, but if you want to jumpstart your marketing, you're gonna have to put in more effort than you have to date.
4. Rethink Your Pop-Up Strategy
Pop-ups. Everyone loves to rag on them, but there's a reason why they've been a staple of marketing for so many years: they work.
The trick is knowing how to create pop-up ads on your site that provide value for your customers. People don't hate pop-up ads…they hate irrelevant marketing.
For example, take a look at the pop-up ad that shows up on Revolve's website a few seconds after the page loads: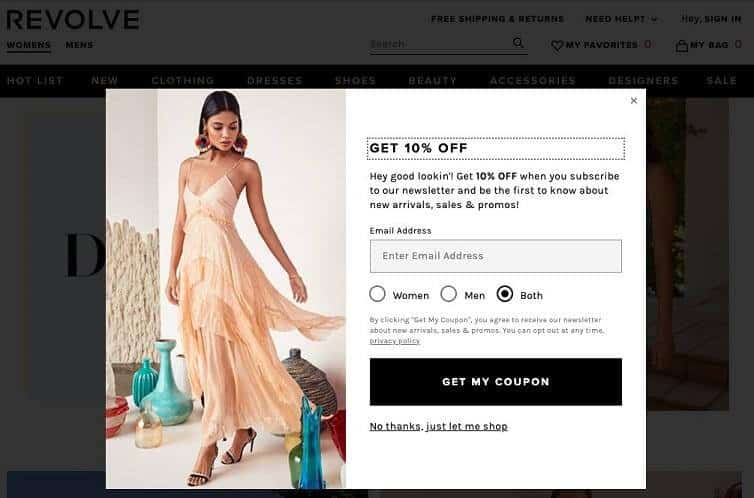 This pop-up really isn't that different from paying someone to hand out coupons at a brick-and-mortar store—except that you don't actually have to pay someone. Pop-ups are popular, so there are tons of free and paid options out there.
To make things even better, you get something in exchange for that coupon: a potential customer's email address.
We'll get into this more in the next section, but email is an incredibly powerful way to get people to buy from you—now and in the future.
Unlike many of the pop-ups you see scattered across the internet, this type of ad is actually one that will get your potential customers excited. Even if they're not sure whether or not they're ready to buy, if they think they might buy, there's a good chance they'll give you their email to make sure they don't have to pay more later.
It's a tried and true scarcity tactic, and it works wonders for ecommerce businesses.
Why? Well, you're not asking for something. You're offering a sizeable discount, and all they have to do to get it is give you their email address—which they would have to do anyways if they make a purchase.
Big value for both you and your customers? There's a reason why this approach works so much better than most pop-up strategies—especially when coupled with a solid email marketing strategy.
5. Set Up Email Drip Campaigns
Email is one of the most powerful—and yet most underutilized—ecommerce tools. Sure, some businesses make great use of email, but an astonishing number either aren't using it…or aren't using it effectively.
At a minimum, you should have abandoned cart emails in place to recapture potential customers. However, good ecommerce email marketing goes far beyond this.
This is especially true if you start using the pop-up strategy discussed in the last section or other tactics to gather emails from people who haven't yet made a purchase. Most people prefer to get marketing content in their inbox, so if they've given you their email, they're basically asking you to send them deals, discounts and updates.
Ideally, you should build out a variety of email drip campaigns that automate the whole process. That way, you're delivering a pre-defined, optimized series of emails that help your potential customer connect with you and get excited about your business.
For example, if someone sees your pop-up and subscribes, they should immediately get a welcome email. Here's a great example from Pipcorn: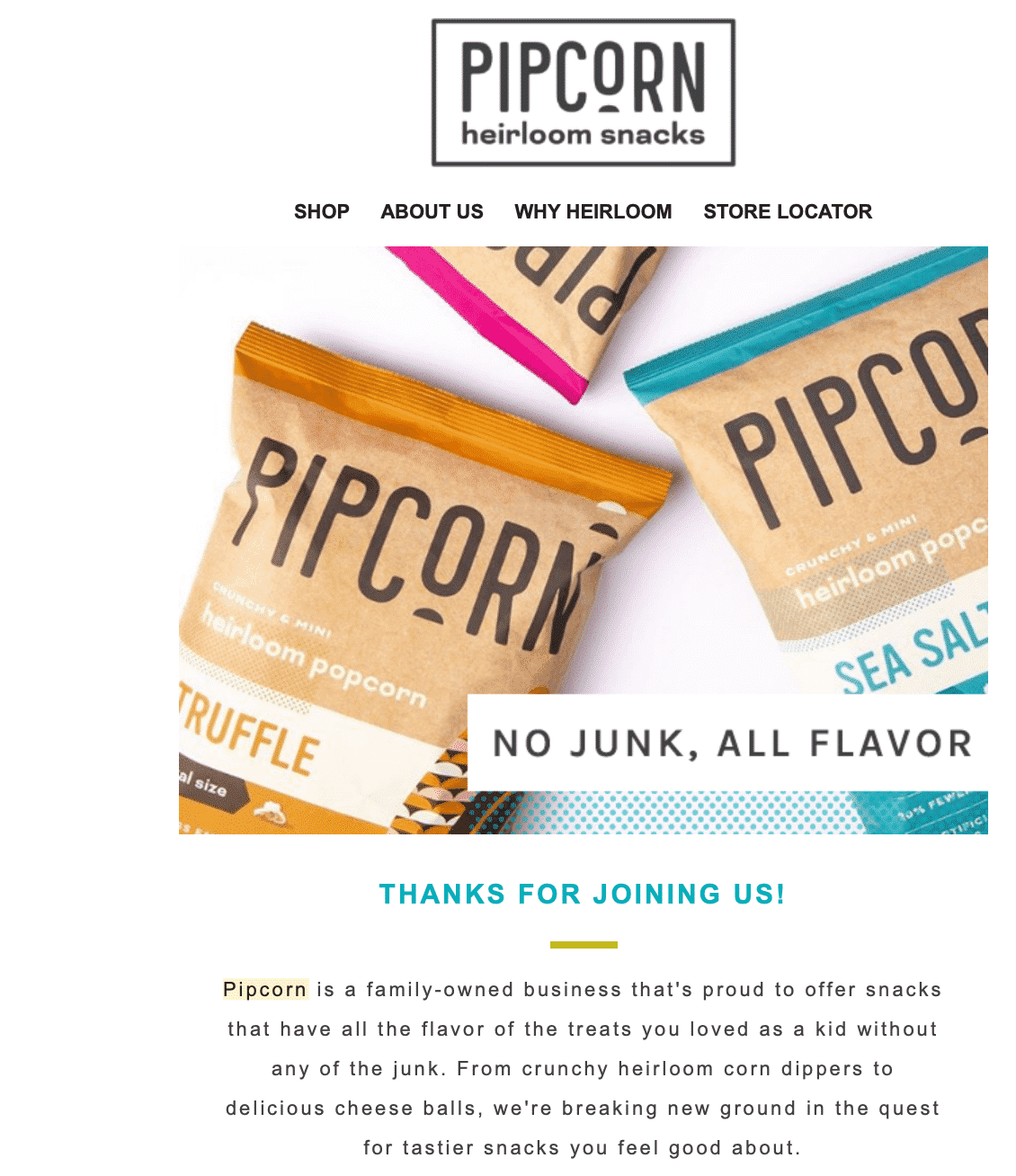 From there, you can send them a series of value-driven emails that keep your business top-of-mind and incentivize casual visitors to become raving fans. Consistency is the key to effective branding, and the most consistent place to find your customers is in their inbox.
The right sort of email drip campaign and email content will depend on your business, what you're selling and what sort of offers you can make, but a solid email marketing strategy can yield incredible results.
6. Flesh Out Your Marketing Funnel
Finally, sometimes you just have to take a step back and look at the big picture. Often, clients come to us because they can't seem to figure out how to get their business to the next level.
They've been running ads for years and know exactly what sort of ad copy to use, how to target their customers and what their acquisition costs are.
However, what they don't realize is that they've can't see the forest for the trees. They've been marketing for so long that they've gotten lost in the details.
This is exactly what had happened to that 55-year-old business I mentioned earlier. They'd been doing their thing for so long that it was hard for them to take a step back and take a look at the big picture.
So, when we started managing the account, the first thing we did was look at their customer journey to see what was missing. To our surprise, there were some big brand awareness opportunities that the client and their last agency hadn't ever explored.
In addition, there were a variety of feed management and smart bidding strategies that were perfect for their campaigns…but again, no one had thought to give them a try.
Once we had their buyer journey in perspective, though, these tweaks seemed fairly obvious. We made the necessary changes, built out their brand awareness campaigns and launched our new, more holistic marketing strategy.
The results were rapid and impressive. By the end of the first year, we had cut ad spend by 6.2%, revenue was up 91.4% and return-on-ad-spend had jumped from 13.43x to 27.41x!

It was the biggest year-over-year growth spike the company had experienced in decades. And it was all possible because we took the time to step back, look at the big picture and find untapped opportunities.
Jumpstart Your Business
If you feel like your business is stuck in a rut, don't worry, you're not alone. We've worked with hundreds of businesses in that exact situation and we've seen them jumpstart their marketing time and again.
It might not be easy, but it's definitely doable. Whether it's revamping your account, trying a new marketing channel or cleverly applying a novel tactic in your campaigns, there are tons of great ways to get things moving in the right direction.
In this article, we've covered 6 of our favorite tactics and a few examples of them in action, but we have plenty more tricks up our sleeve. If you'd like to see what we can do for your business, let us know here or in the comments. We'd be happy to give you a complimentary audit and plenty of actionable advice.
What do you think of these tactics? What have you tried so far in your own campaigns? Have any thoughts or tips to share? Leave your thoughts in the comments below.