What is Pay-Per-Click Advertising? Is PPC a Good Investment?
by Aden Andrus • September 3, 2019
Pay-per-click advertising. Odds are, you've probably heard a lot of chatter about it over the years. And now, you've decided to see what all the hubbub is about.
Maybe you've started your own business and you're trying to get people to visit your site (or brick-and-mortar store). Maybe you run a services company and you're looking for ways to get in front of new potential clients. Maybe you're in charge of marketing for an established business that's trying to expand its customer base.
Whatever reason brought you to this article, you're in the right place. And, to be honest, pay-per-click (PPC) can probably help you achieve your goals. To prove it, let's take a look at what PPC is, how it works and whether it's a good investment for your business.
What is Pay-Per-Click Advertising?
Pay-per-click advertising is a digital advertising model where advertisers pay every time someone clicks on their ad.
It's as simple as that.
In a nutshell, Google Ads, Facebook Ads, LinkedIn Ads and other platforms ending in "Ads" all allow businesses to advertise to their users—for a price. However, unlike conventional forms of advertising like billboards, radio or television, advertisers don't pay a fixed amount. Instead, they bid for visibility on the platform.
For example, let's say you're scrolling through Facebook and you see the following ad: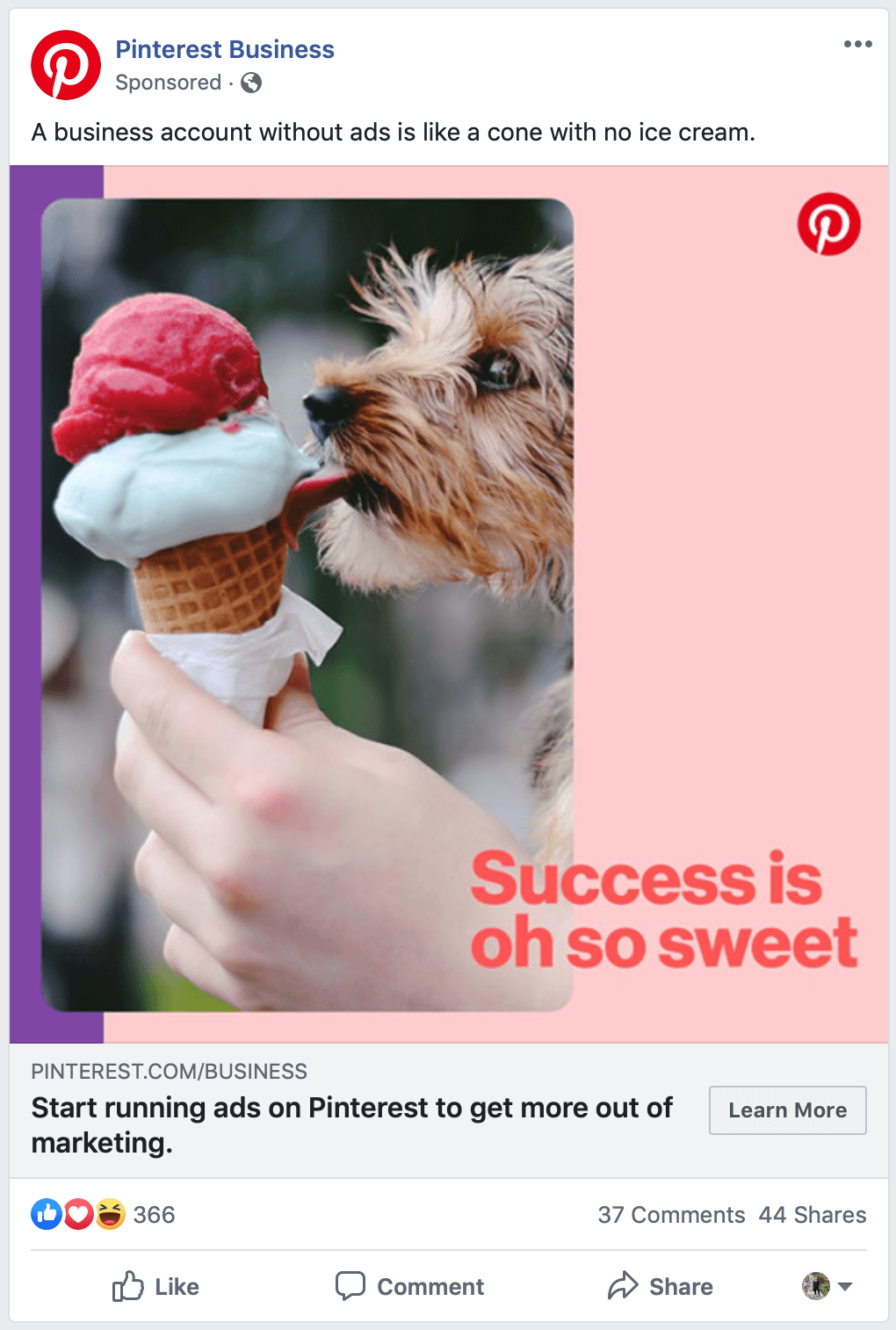 How did this ad get there? Was it mere chance? Not by a long shot.
To get in front of a user, all pay-per-click ads go through the same basic process.
First, the advertiser sets up targeting criteria to define the users they want to see their ad. Then, when someone who matches those criteria uses Facebook, Google or whatever platform the advertising is running ads on, the ad competes with other ads to see which ad will be displayed to that user.
This competition is called the "ad auction." Based on how much the advertiser bids and how high quality a given ad is, the ad platform ranks all of the competing ads and displays the winner to the user. If the user clicks on the winning ad, the advertisers pays the platform the minimum amount necessary to outrank the other competing ads.
Of course, this is a gross oversimplification of a very complex process. Each ad platform has its own criteria for determining which ads will display to which users, but the basic process is the same for all pay-per-click ads. Advertisers compete in an auction to have their ads shown to their target users. The winning ad is shown and if it gets clicked, the advertiser has to pay for that click.
Other Online Advertising Models
Now, PPC isn't the only model ad platforms use. There are actually more than a dozen different types of online advertising models out there.
For example, you've got pay-per-impression (PPI) or cost-per-thousand-impressions (CPM), which is commonly used for the banner ads you see all over the internet.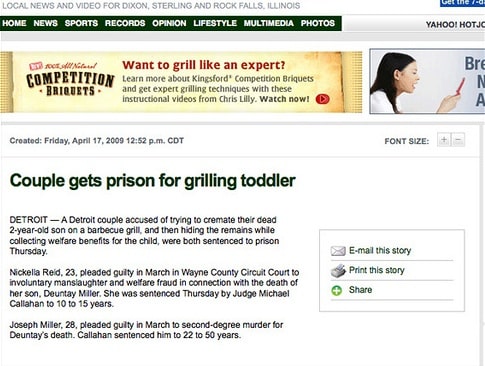 With PPI, advertisers don't pay for clicks, they pay to be seen on web pages. Whether 100% or 0.01% of those views turn into clicks, the price is the same. You're paying for views, not clicks.
You've also got cost-per-action (CPA), which is frequently used in affiliate marketing. Then there's pay-per-install (PPI), where you pay when someone actually installs your app, instead of when someone clicks on your ad.
Finally, there are a bunch of different algorithm-driven models like pay-per-sale, cost-per-conversion and others, but honestly, most people refer to these models as "PPC "anyways. So, rather than split hairs, let's look at where and how PPC advertising is used! (if you'd like to learn more about other online advertising models, click here to check out this fairly comprehensive article).
PPC Advertising Platforms
There are a lot of pay-per-click advertising platforms out there. PPC is one of the best ways to monetize a user-base, so almost every "free" platform uses it to make money.
Let's take a look at 5 of the biggest PPC platforms:
1. Google Ads
Google Ads (formerly known as Google AdWords) is the king of online advertising platforms. Don't believe me? Guess what? Of every $3 spent on online advertising, $1 is spent on Google Ads.
While Google Ads technically offers CPM-style advertising through YouTube Ads and their Display Network, Google Ads is best known as a search engine marketing (SEM) platform.
In other words, Google Ads lets you pay to have your ads show up at the top of the screen when someone conducts a search that is relevant to your business.
For example, here's what shows up at the top of the search results when I search for "sandwich delivery":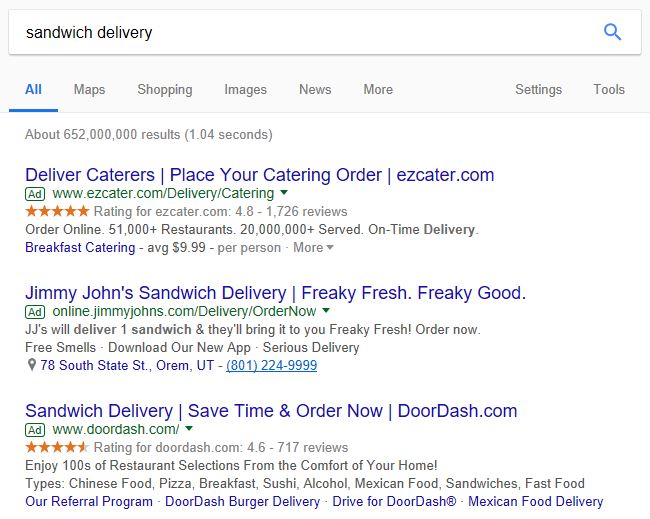 EZcater, Jimmy John's and DoorDash all seem like good results for my search (I'm getting hungry just writing this), so there's a good chance that I'll click on one of these ads and make a purchase.
In contrast to most of the other ad platforms we'll discuss here, people who see your ads on Google are looking for what you have to sell. When someone searches for "sandwich delivery" on Google, you don't have to convince them that they're hungry and that they should order a sandwich—you just have to convince them that your sandwich is the sandwich they want to buy.
And that's Google's secret to success.
By putting your ads in front of people when they are actively searching for what you have to sell, you can advertise to people when they're most likely to buy. That's pretty powerful and it's part of the reason why many people use "PPC" as a synonym for paid search advertising on Google.
Of course, all the details of running PPC ads on Google is probably more info than you want here, but if you'd like to get started with Google Ads, you can read through our essential guide to Google Ads here.
2. Facebook Ads
With over 1.6 billion daily active users and 2.4 billion monthly active users, Facebook Ads is a great way to reach almost any target audience. To be honest, if your target market isn't using Facebook, pay-per-click probably isn't a good fit for your business.
Unlike Google's paid search ads, Facebook Ads aren't keyword- or text ad-driven. Instead, you define a target audience that you want to see your ads and then set a budget for how much you are willing to spend during a given time period to get people to do something (watch your video, click your ad, become a lead, make a purchase, etc).
Facebook's algorithms do their best to get as many people to take your desired action (aka, convert) as possible with your budget, but if your ads don't do a good job of getting people to act, you'll end up paying more for each action.
In other words, Facebook will take your money and put your ads in front of your target audience, but it's up to you to convince them to convert. If this sounds like the platform for you, check out this guide to marketing on Facebook to help you get started!
3. Instagram Ads
Instagram is relatively new to the social media scene—at least compared with sites like Twitter, LinkedIn or Facebook—but with over 800 million active users, Instagram is one of the fastest-growing social media platforms around. To make things even better, Instagram is focused on visual content, giving advertisers a number of incredibly compelling ways to connect with their potential customers.
That being said, Instagram advertising is a great tool for many businesses, but it's not ideal for everyone.
First and foremost, like most modern technology, Instagram is mainly used by young people. 55% of Instagram users are between 18 and 29 years old and another 28% are between 30 and 49 years old.
This report from the Pew Research Center shows the basic demographics of Instagram users:
As you can see from the chart above, if you're trying to sell dentures to white, 65-year-old men, Instagram probably isn't right for your business. But, if you want to target college students, Instagram may be your ideal pay-per-click option.
Now, technically speaking, Facebook owns Instagram. In fact, you run ads on Instagram through the Facebook Ads platform. However, Instagram Ads is such a powerful option that it warranted mentioning separately. By the way, if you feel like Instagram Ads is an option you'd like to explore further, check out our introductory guide here.
4. LinkedIn Ads
LinkedIn is a professional networking site—not just a social networking site—so LinkedIn users are usually thinking about work when they log on. They're on the site for networking, job searching, recruiting, and some professional research into other companies.
This makes users of the site intrinsically much more open to your business's offer than they would be on any PPC platform aside from Google Ads.
As an advertising platform, LinkedIn is very similar to Facebook Ads. However, when it comes to targeting, LinkedIn Ads offers a ton of options that you simply can't find anywhere else. These options are particularly useful if you're trying to market a B2B business, because there aren't many other ways to target people based on their specific job and industry.
If all of this sounds like something you'd like to try, you can read our article on LinkedIn advertising basics here.
5. Pinterest's Promoted Pins
While Pinterest isn't quite as big as other social media platforms like Facebook or Instagram, it holds a lot of sway over the users it does have—especially when it comes to selling products online.
Pinterest works in a fundamentally different way from either Facebook or Instagram. Although Pinterest users do like content and follow their favorite influencers or brands, Pinterest is more about gathering ideas and information than it is about social buzz. As a result, it's a bit more niche than the other PPC platforms we've discussed so far, but if it's a good fit for your business, it can deliver incredible results.
Because of Pinterest's unique nature, Promoted Pins almost feel like a mix between Facebook Ads and Google Ads. It's all still pay-per-click advertising, but Pinterest's hybrid approach offers advertisers some very interesting ways to reach their target audience. To learn more about advertising on Pinterest, check out this article.
While these 5 pay-per-click platforms aren't the only options out there—you've also got Twitter Ads, Snapchat Ads, Reddit Ads and a handful of others—these 5 are some of the heaviest hitters in the world of PPC.
Does Pay-Per-Click Advertising Work?
Now, all of this talk about PPC platforms, targeting options and ad auctions is nice, but it doesn't really answer the most important question:
Does pay-per-click advertising actually work?
In a word, absolutely!
Our first client here at Disruptive grew from 25 employees to 250 employees and brought in millions in profit—all thanks to pay-per-click advertising. In fact, their PPC campaigns were so effective that the company had a hard time hiring enough sales people to field all of their leads!
Since then, we've helped countless clients use pay-per-click advertising to transform their businesses. Some clients have seen so much success that they've stopped advertising on any other platform while others have received millions in VC funding.
All of that being said, just because PPC works, that doesn't mean it's always quick and easy. In many cases, it can take quite a bit of time to figure out how to get your pay-per-click campaigns to peak performance.
A Quick Story
As a simple example, let me tell you a story about one of our clients. When we first started working with this client, their PPC account was performing decently well. It was nothing to write a case study about, but it wasn't losing money hand over fist, either.
During the first 10 months of working with this client, we tried all sorts of different advertising strategies. After exploring a variety of options, we had increased their click volume by 500% and lead volume by 240%.
At a certain point, however, we had tried just about everything that it made sense to try. To make matters worse, every time we tried something new, we ended up wasting money.
So, we switched our focus. Instead of trying to find some breakthrough new tactic, we dug into the client's web analytics data and discovered that not all of their clicks were created equal. For example, paid search clicks from certain keywords were producing lots of leads. In contrast, clicks on our Display Network ads rarely converted.
Using this data, we started to make changes to the account. We cut our Display Network budget and eliminated other campaigns that weren't producing profitable sales.
It took about four months, but we eliminated 20% of our clicks without really reducing lead volume. More importantly, this reduced our cost per lead by 13%. Now, after a little over a year, the client was getting 3x the leads at a 10% lower cost per lead.
But even then, we still kept at it. Over the next year, we tripled lead volume, dramatically improved close rates and cut overall ad spend. It was a huge win for the client, but it wasn't the result of any particular tweak or hack. Instead, it was the end result of thousands of tweaks and optimizations.
Unfortunately, while it would be great if you could just set up a pay-per-click campaign and watch the money roll in, it's rarely that easy. Like most things in life, time, effort and patience are the secret to effective PPC.
So, if PPC sounds like something you'd like to try, pick a platform and give it a shot! Just know that there will be a learning curve involved.
Of course, if you're excited about the potential of PPC for your business and want to get results as fast as possible, you could always click here and ask us to help you out. We'd love to add you to our list of success stories, but that's up to you.
Conclusion
When you get right down to it, pay-per-click advertising is actually fairly straightforward. The concept is simple. You want to get people to your site or store and the ad platform wants to help you do it—for a price.
If you're willing to pay to get clicks on your ads, PPC can be a great way to grow a business. We've seen hundreds of businesses succeed with PPC. Will yours be next?
What do you think of pay-per-click advertising? Have you tried it? Do you have any tips or advice to share? Leave your thoughts in the comments!