Hashtags Not Working? Here's 10 Reasons Why and How to Fix Them
by Cydney Hatch • May 15, 2019
Hashtags and social media go together like peanut butter and jelly…mac and cheese…cigars and whiskey…
I mean, when "handled" right (no pun intended…well, sort of intended) they can provide a ton of value to businesses. But for some, hashtags are a mystery guessing game that leave many frustrated on social media.
Whatever your frustrations, whether you are new to social marketing or you are using hashtags that are not providing the value you were hoping for, it's time to talk about why hashtags may not be working for you!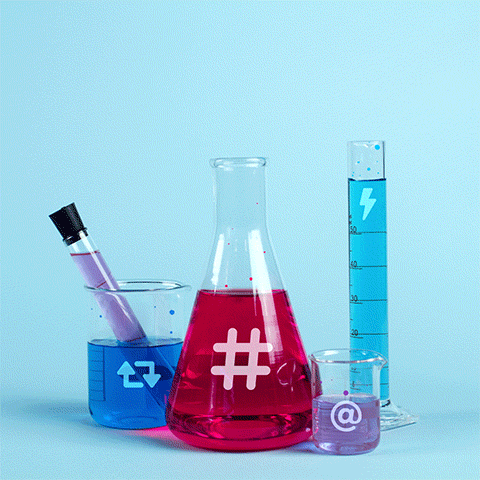 In this article, we will look at 10 reasons why your hashtags might not be working and how you can fix them to get more exposure out of your social media efforts.
Let's get things handled! ###
The Hashtag Mindset
Before we get into a checklist of reasons of why your hashtags might not be working, let's first learn a game-changing mindset to develop if you're going to be successful online.
Like many businesses, you hop into social media wanting to build out your brand and although there is definitely a need to create a sense of "YOU," the more important part of social media marketing is focusing your strategy around "THEM." Many businesses fail to remind themselves of the simple fact that social media is for and about their customers.
Hashtags are no different.
So, ask yourself:
Are you using and creating hashtags your potential customers are looking for?
Are you using hashtags your potential customers are using?
If the answer is no then you need to do some research into your "target audience."
Take a walk in their shoes and figure out what they are searching for when they are opening up Instagram and other social media platforms.
What are they looking for?
What phrases are they using?
What trends are they looking at?
Where do they shop? 
What are their interests?
If you can get a good handle on this information you can use hashtags as a way to connect with your clients more effectively and speak their "language" online. When planning hashtags this way, you are inserting your business in the direct locations your ideal customers are in these platforms and it will change your business forever.
With that mindset, let's take a look into hashtag mistakes you might be using and how you can fix them!
Hashtag Problems?
As many people struggle with creating hashtag strategies, it's important to know you are not alone. Whether it's figuring out where to put your hashtags in posts or wondering which ones to even choose for your business, we have you covered!
Below is a strategy checklist of things to consider and fix within your current social strategy:
1. Is Your Account Private?
As simple as it sounds, you might need to check if your account is on private mode.
Typically, if you are a business profile you do not need to worry about this setting, but if you are an influencer or a personal brand, having an account on "private" will limit your exposure.
Hashtags only work for public accounts as they are meant to help gain exposure and add to the community content on Instagram, so if you are private you are not being a part of the conversation. So, to be actively involved with your potential customers online, you need to switch your preferences.
To check or switch your account, take a look at your Instagram settings under "Privacy and Security" as seen below. Once you click that setting option, look at your first option of "Account Privacy." A window will slide over revealing a button sliding towards public or private.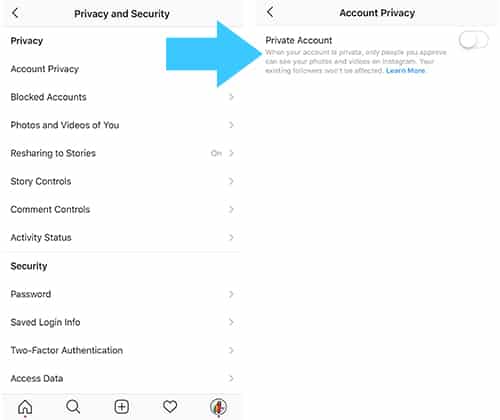 If your button is "green" then you are in private mode. If you are a business profile on Instagram, disregard this, because you are always public.
2. Are You Planning Ahead?
You might be trying to wrap your brain around hashtags you want to use for your business or brand but you might also be asking "how do you know which ones to use and when?"
To answer that question, it's helpful to first think about these things when trying to think of useful hashtags:
What is the Goal?
What Topics or Categories Does This Post Contain? (Is it in a specific geographic area? Does it feature any brands or companies? What would people type in to find it?)
Is there a holiday/event coming up I can take advantage of their traffic?
By thinking ahead of time, you can brainstorm effective hashtag topics and categories that will help your post gain attention.
For example, Game of Thrones season 8 was HUGE this past month, so to get a new wave of traffic I used that upcoming media exposure to my benefit my photography business for brand awareness.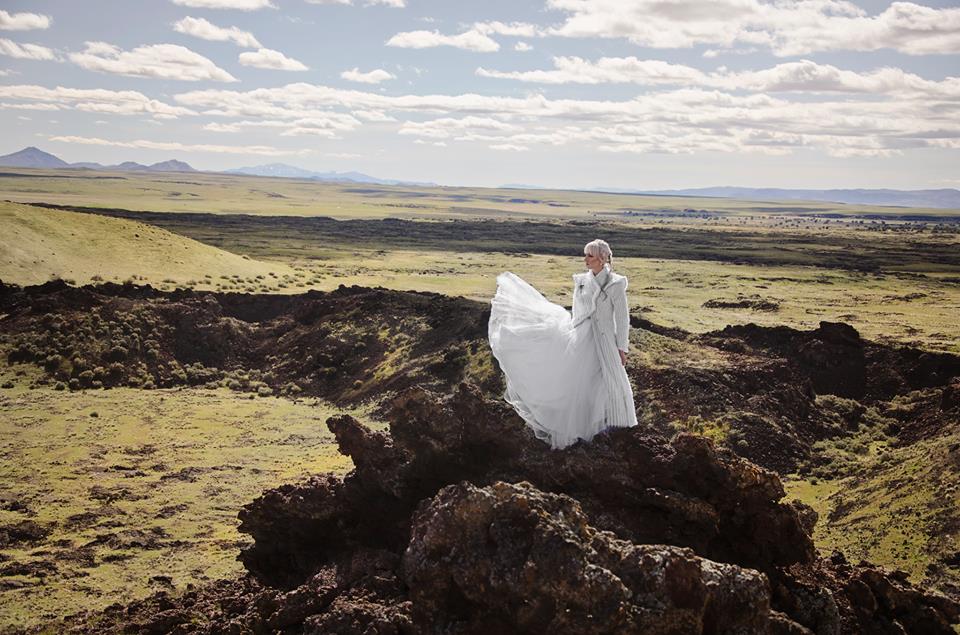 When posting my fashion editorial, featuring GOT characters, the week of the first episode I made use of hashtags I knew people would be using like:
#ForTheThrone (A popular content hashtag campaign for GOT)
#GameOfThrones
#GameOfThronesFans
#GameOfThronesLastSeason
#MotherOfDragons
etc…
By doing so, my social media traffic soared through the roof! Within the first day, my post received impressions in the thousands. Like me, you too can take advantage of hashtag traffic for holidays, events, and popular content topics!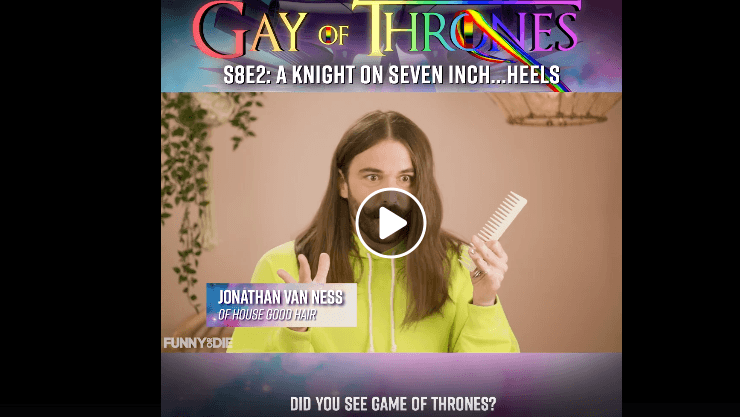 It's okay to take advantage and piggyback off popular topics to gain certain social goals. I mean, even Jonathan Van Ness does it!
BONUS: Pairing relevant hashtags with relevant content is a killer combo. Like the example of Game of Thrones above, if you can pair your content and hashtags to popular things you are going to kill it. For example, Oreos created Game of Thrones Oreos…Mountain Dew created special cans for the show…even hairstylists were creating Game of Thrones inspired braid tutorials to help gain brand awareness traffic!
If you are a business, you can totally create relevant content that can fit into trends like this. In fact, a law school created a course that paralleled GOT themes with law ethics.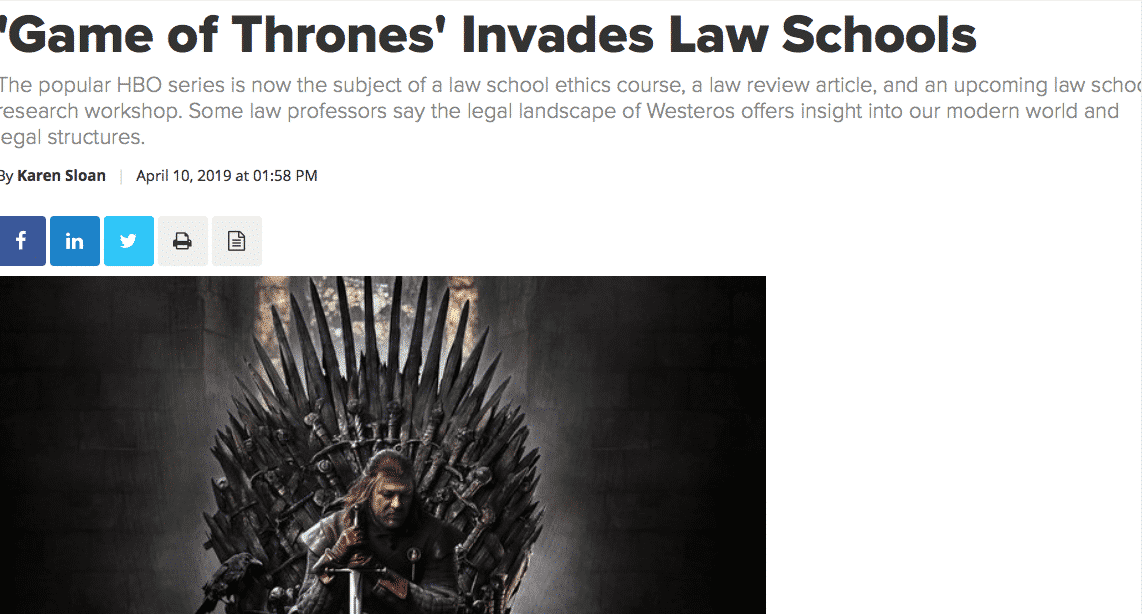 To most this is not something they would typically pair, but this drummed up a lot of interest in the law school faculty and the program itself. So, think again if you feel like planning ahead is not worth the effort! You can get pretty creative!
3. Are You Specific and Simple?
If you're using a hashtag to join in a social conversation or topic, you'll want to make sure the hashtag is specific and relevant.
It's important to be selective in the hashtags that you use and make sure that they not only resonate with your ideal client but that they are terms your ideal client would be searching for on social media. Who is it you're trying to reach and what terms, phrases, or locations would they be searching for? Be sure to avoid hashtag trends like #followforfollow, #weekends, #summer, etc as they will not gain a lot of attention, let alone value.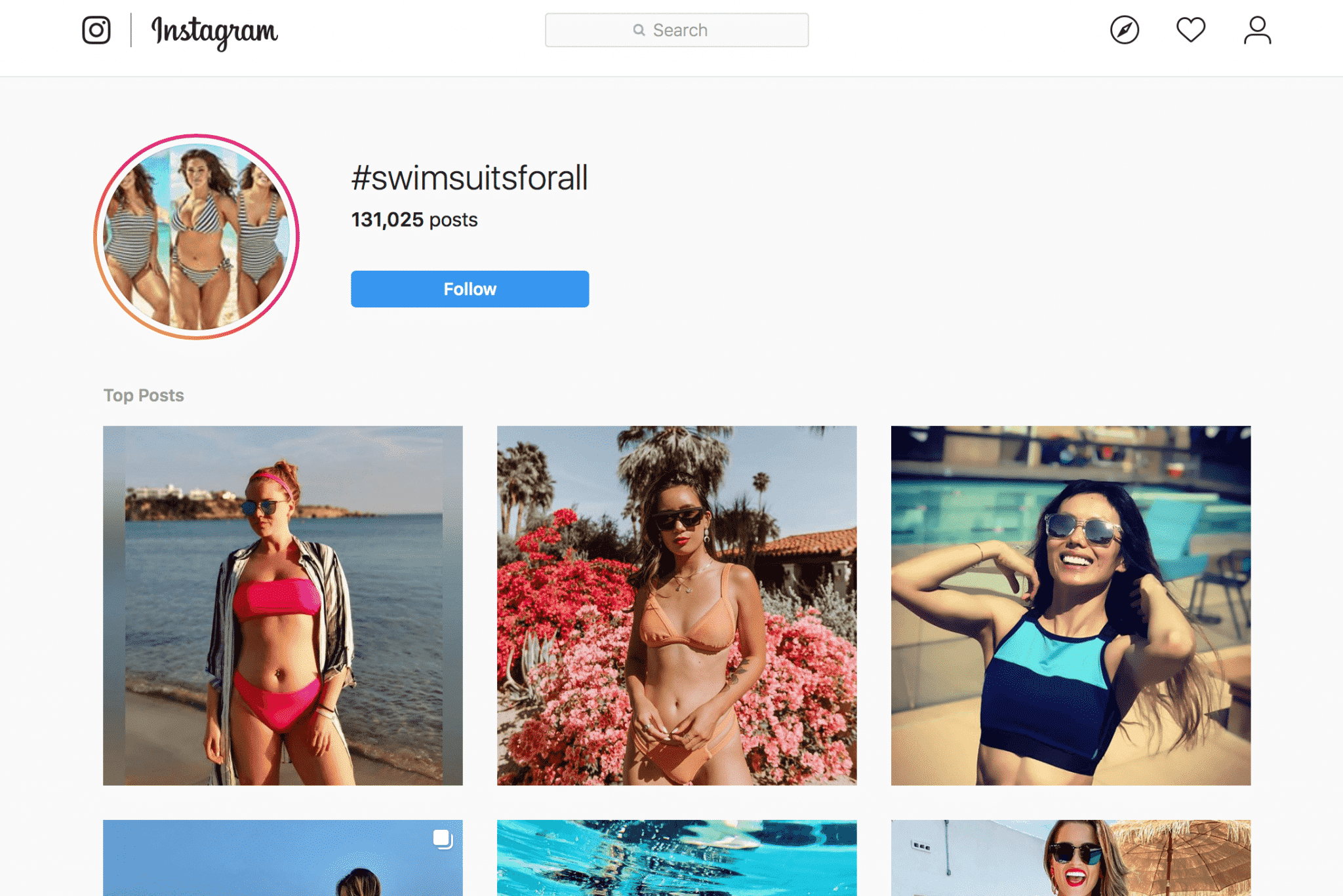 For example, during the few weeks of Summer, many women will want to find cute swimsuits to wear so you would want to look at using the below hashtags if you are a swim ecommerce company in Hawaii:
#Swimsuit
#Swimwear
#Summerstyle
#Summerlook
#Bathingsuit
#Summerlookbook
#Swimsuitsforall
#Vacationlook
#Vacationfashion
#Vacationoutfits
#Hawaiioutfit
#Hawaiiswimsuit
#Swimhawaii
Etc…
By keeping a hashtag close to the interests of your business and your target audience, you tailor your posts perfect for relevant traffic.
4. Are You Killing the User Experience?
How many times have you seen a social post that has a "great wall" of hashtags? How does it affect your social media experience with that post?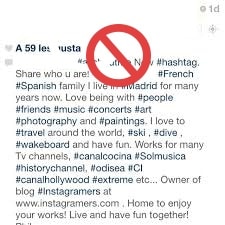 I mean #how #much #fun #is #it #to #read #this? #Not #very #much #fun, #eh? Use hashtags when they are relevant, but make sure it does not interfere with customers reading experience! Some helpful hashtag tips are:
Use periods to break up captions and hashtags. Once you create the perfect caption for your image, tap the 123 key. Select return and then enter a period, dash, or asterisk. Repeat those steps at least four -six times. Because Instagram caps off captions after three lines, the hashtags won't be viewable to users unless they tap the more option. By doing this, you can create a pleasant visual experience for your target audience to read without a lot of hashtag clog up!
Put hashtags in your comments! Want to forgo the typing, period and asterisk? Forget it! Just put your hashtags in your comments below! (Make sure it's the first comment). Once other people leave a few comments, the hashtags won't be viewable!
By using these visually appealing ways to include your hashtags, you are allowing a more readable user experience while having the benefits of hashtag traffic.
5. Is Your Hashtag List Diverse?
A strategy you can use is to mix popular hashtags that appeal to a larger audience and more targeted less popular ones that will more likely ensure that your content is going to be placed in the "top" section of that hashtag.
Sadly, many businesses make the mistake of shooting only for the "big hitters" and by doing so, they limit their post reach.
How?
The numbers game.
Sadly, there are just too many posts using that same hashtag at the very moment you're posting so it's harming your abilities to be seen! To not fall victim of being swallowed up into a hashtag void, pay attention to the number of people who have used the hashtags and prioritize them by popularity or how targeted they are. By doing so, you cast your net wide among both popular hashtags and smaller, more targeted ones.
Aim to always keep your hashtags balanced and you'll be set for success!
6. Are You Using Banned Hashtags?
Now, before you skip over this section know banned hashtags go beyond porn, scantily clad influencers, and drugs.
Yes, banned hashtags are indeed blocked by Instagram (temporarily or permanently) due to an excessive amount of inappropriate content such as provocative or racist imagery but known even appropriate hashtags can get banned.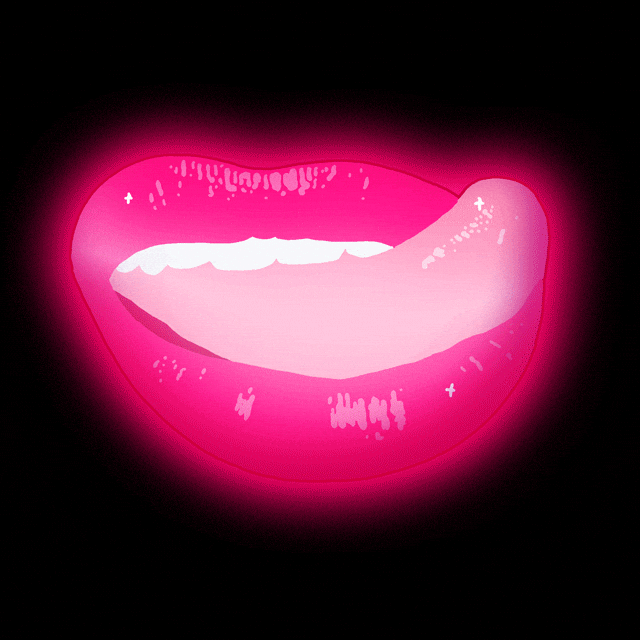 How? Popularity hijacking.
When a hashtag gets a large amount of popularity there are some people who try to "hijack" it by posting irrelevant content on it. When that happens Instagram can flag those hashtags, so if you are some of the unlucky people using that hashtag, it might be useless.
For example, did you know #beautyblogger was banned for a bit due to people just trying to get some hashtag "gains?"
Crazy, right?
So if you are wondering if your hashtag might be on the "no-no" list, check it by entering it in the search bar of your social platforms. If the hashtag does not appear in the results, then it's most likely banned.

Another way to know if a hashtag is banned is seeing an error message like above when researching your hashtags.
Be on the lookout!
7. Are You Using Enough Hashtags?
Instagram allows you to use a maximum of 30 hashtags per post but if you are using only five of those spots, you might be missing out on opportunities. On the flipside though, if you are using too many it can also hurt your business so it's all about finding your " magic number."
With 91% of brands using seven or fewer hashtags per post, it's easy to assume that's the sweet spot for everyone…right?
Well, not exactly.
The point is, like most marketing techniques, it requires testing! For many businesses, it's good to start at the best practices number and test out what works best from there. Although it might take several months to find your business hashtag number, give yourself flexibility for trial and error for best results.
Be sure you are testing what combination of hashtags are benefitting your business!
8. Are You Manipulating Hashtags?
On social media, there are tons of ways you can manipulate your "success." Whether it is buying followers, faking "sponsorships" or duping your followers into a paid post, you can really hurt yourself by trying for the "quick wins."
One hashtag game many try is something I call "hashtag recycling." This is when accounts will use the max amount of hashtags, get the likes/comments they want and then delete the hashtags. After deleting the old, people will go back and re-add new hashtags to the same post later.
Unfortunately, doing this kind of stuff will not only waste your time but it will bring no benefit to your business. The act of editing your posts, again and again, will likely make none of them work. Don't fall trap to a lot of manipulative social media strategies that leave you wasting time at high costs!
9. Are You Using Hashtags Specific to Campaigns?
Often, social media will require you to create branded hashtags, but many people do not think to create ones specific to campaigns.
If you are starting a new product line or service, take a chance and make a hashtag for campaigns to create some traffic to your new additions!
For example, in 2017 the Worldwide Breast Cancer organization launched its hashtag campaign #KnowYourLemons to convince women to check their breasts for signs of cancer more frequently.
Sure, at face value that is an odd hashtag that many people are unaware of but it created a social buzz! The catchy concept went viral almost instantly as it was a fun and creative way to give women information that will help their health. The charity then launched its own Facebook member's page where people could take part in conversations about women's health.
By creating an intimate place to continue the conversation, they made the hashtag and movement stick!
The creativity in this hashtag campaign was a fantastic way to raise awareness for an important cause. This campaign also made the information available to everyone so they could learn about breast cancer.
Like them, you too can create a creative and meaningful campaign using hashtags that will gain much attention and branded education.
10. Are You Mixing It Up?
Believe it or not, Instagram hates it when you use the same hashtags over and over again. In fact, Instagram will most likely lower your post reach if they see this typical pattern being used.
So, what can you do to avoid all this? Mix up your hashtags!
By rotating your hashtags through different lists and cycles you can create consistent but varying hashtag groupings that can work against the aggressive algorithms we deal with in today's marketing world. Play around with your techniques and see what works best for you. Typically work to rotate your hashtag groups every 4 weeks and create a schedule you can easily follow!
All Fixed Up and Ready to Shine
After reading this article, you should see many ways you can "mess up" and yet fix your hashtag strategies for success.
Hashtags can be a great way to attract your ideal clients, connect you to other creatives and brand your business. Use them thoughtfully, sparingly and do your research for the best results and you will see some business wins!
So tell me, what hashtags are you using currently in your business? What problems have you seen arise and how have you fixed them? Do you have favorite hashtag campaigns you have seen, what are they? Comment below!