Instagram Launching Reminder Ads, Brings Ads to Search
by Joseph Jones • July 5, 2023
Advertisers, get excited because Instagram has recently rolled out some new and super helpful ad options that you will love! Buckle up and get ready to start engaging with your audience in new ways!
On March 21st of this year (2023), IG launched "Reminder Ads" and ads in search results. In their announcement, they said:
Reminder ads, rolling out to all advertisers as an option in feed, help advertisers build awareness, anticipation, and consideration for upcoming moments.
We will explain what both of these are and what this means for your IG marketing strategy.
What Are Reminder Ads?
Reminder ads are a type of advertising strategy used to remind consumers about their products or services. These ads aim to re-engage individuals who have previously interacted with a brand or have shown interest in its offerings. The primary goal of reminder ads is to reinforce brand awareness and encourage potential customers to take action, such as making a purchase or revisiting a website.
One common form of reminder ads is retargeting ads. Retargeting involves displaying ads to people who have visited a website or have taken specific actions on it, such as adding items to a shopping cart or signing up for a newsletter. These ads serve as gentle reminders, appearing on various online platforms, to keep the brand fresh in the minds of potential customers and entice them to return and complete their desired actions.
Reminder ads can be displayed across multiple channels, including websites, social media platforms, search engines, and mobile applications. These can be especially effective if you are using Facebook Pixel.
By strategically placing these ads in front of relevant audiences, businesses can effectively maintain their presence in the digital landscape and maximize the chances of converting interested prospects into paying customers.
To create successful reminder ads, marketers often employ personalized messaging and offers tailored to the individual's previous interactions or interests. By leveraging data and tracking user behavior, businesses can deliver relevant and timely reminders that resonate with consumers, increasing the likelihood of a positive response.
However, it is essential to strike a balance when utilizing reminder ads to avoid overwhelming or annoying potential customers. Ad frequency capping and careful targeting can help prevent ad fatigue and ensure that reminders are delivered in a manner that is helpful and not intrusive.
Reminder ads are a valuable tool in the advertising arsenal, allowing businesses to maintain brand visibility, re-engage interested individuals, and drive conversions. When implemented effectively and considerately, these ads can serve as gentle reminders that guide consumers along their purchasing journey and contribute to overall marketing success. Now let's get to reminder ads on Instagram…
Reminder Ads On Instagram
Instagram recently launched reminder ads and they are awesome! Imagine being able to engage with your audience in a timed way that they signed up for! Reminder ads on Instagram are truly great! They allow you to give your audience the choice to opt-in to receiving reminders of events, launches and sales from your company. If one of your followers opts-in to these reminders using the CTA in the ad, they will receive 3 subsequent reminders in their feed. When? Glad you asked:
One day before your event
15 minutes before your event
At the time of your event
Bam, bam, bam! You've reminded your audience and this will make it much more likely that they will engage with your event or sale. You can think of reminders as a form of opted-in automation. It looks like this: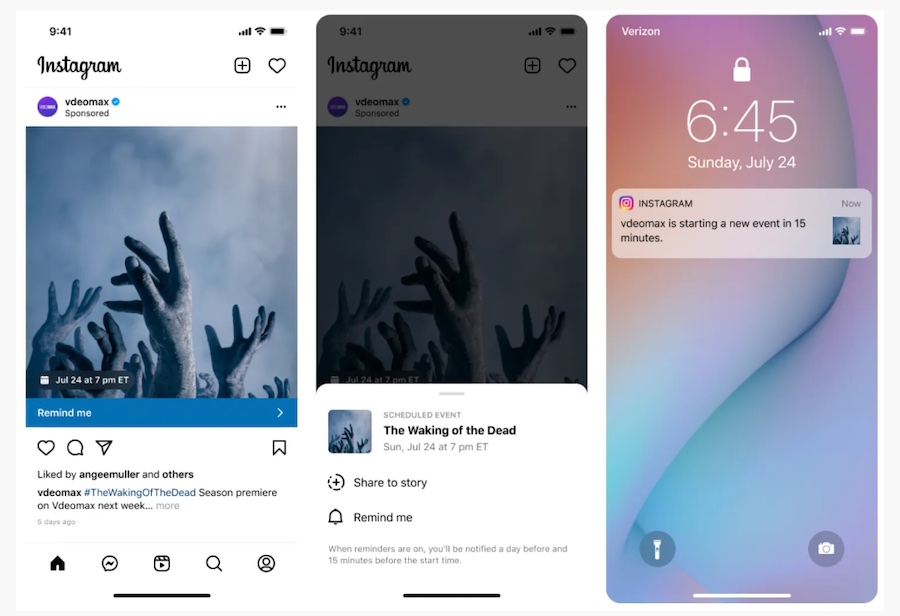 Ads In Search Results
The other new and exciting kind of ad option IG is offering is ads in search results. They are continuing to test as the option has been launched, so more data is sure to arise as the option is used more and more. For advertisers, "Instagram Search Ads" is going to be a game changer. Let's talk about what search ads are.
What Are Search Ads?
When you perform a search on a search engine like Google, you may have noticed that alongside the organic search results, there are also ads displayed. These ads appear in search results through a process known as search engine advertising or search engine marketing (SEM).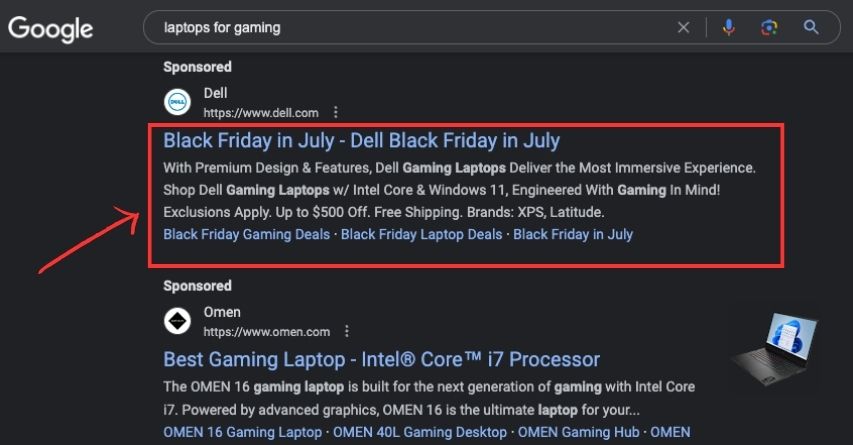 Search engine advertising works on a pay-per-click (PPC) model, where businesses bid on specific keywords or phrases relevant to their products or services. When a user enters a search query that matches the keywords a business has bid on, an auction takes place to determine which ads will be displayed.
Search engine advertising is a powerful tool for businesses because it allows them to reach users who are actively searching for products or services related to their industry. By appearing in search results, businesses can increase their visibility, attract targeted traffic to their website, and potentially convert those users into customers.
Furthermore, search engine advertising provides a level playing field for businesses of all sizes. Even smaller companies with limited marketing budgets can compete with larger competitors by optimizing their ad campaigns and targeting specific keywords that are highly relevant to their offerings.
Instagram Search Ads
Up until now, Instagram didn't use ads in searches. This literally opens a whole new market for advertising on IG. According to Meta in March 2023:
Ads will show up in the feed that people can scroll when they tap into a post from search results. We plan to launch this placement globally in the coming months.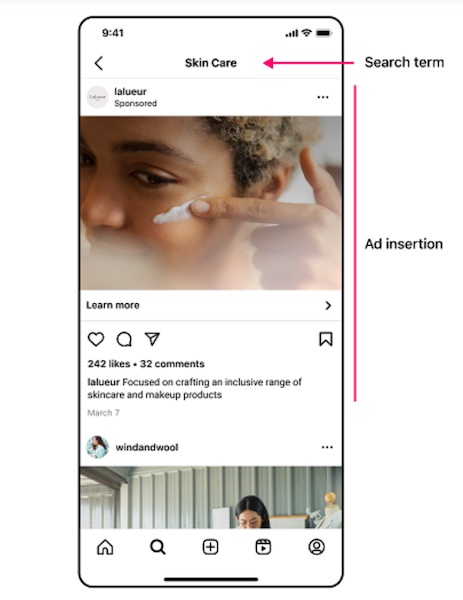 For advertisers, this is obviously a huge door opening up to new possibilities. IG users, on the other hand, find themselves asking, "Why is Instagram all ads now?" Like all social media platforms, ads are where the funding comes from, but users don't want to feel like they are in an online bazaar or flea market. With that in mind, Instagram search ads need to align with the platform and your audience. 
Advertising on social media can be effective if done in a way that respects and engages social users. Remember, the key is to strike a balance between promoting your brand and respecting the social media experience of your users. If you want more tips on how to use these great new IG ad options, an ad agency like ours is a great place to start. 
IOHO (In Our Humble Opinion)
Here at Disruptive Advertising, we live to utilize new and improved advertising options and technology. This is what our team members think "Instagram Search Ads" and "Instagram Reminder Ads" will mean for you/
The Positive Impact
IG Search Ads are going to be a powerful ad placement for businesses. These ads show up in the feed that people can scroll through when they tap into a post from search results. For example, if you search "men's fashion," you will see related ads within the search results feed.

For advertisers, the trick is going to be creating ads that don't feel like ads to the user so as not to interfere with the user's intended experience.
-Cory Wray, Paid Social Strategist
What these kinds of ads mean is that we could have better quality targeting on IG. Over the last few years, Meta has removed a lot of different interest-based targeting options due to privacy policies.

There are [now] lots of opportunities here to get in front of people. Since the reminder will show up on their lock screen notifications this is a high-quality reminder.

We are excited to start testing this new strategy [reminder ads] leading up to promos. Having people set reminders for a big promo you have coming up. I think this will also be big for product releases.
-Kezlie Halversen, Social Subject Matter Expert
The Negative Impact
What could happen is an increase in CPMs. Normally higher-quality placements will have a higher CPM. Currently, I don't know if this placement will be part of the automatic placements or if it is completely separate. If it is part of automatic placements I expect an increase in average CPMs.

What I am interested in watching is how much users and advertisers use this platform.
-Kezlie Halversen, Social Subject Matter Expert
As we have seen Meta open up different beta programs in the past, some have been more beneficial to certain clients than others. What works for one brand may now work for the other and vice versa. However, what is always in a brand's best interest is to AB test any new functionality. Any improvement, no matter how marginal, is a win for a brand in a crowded and competitive advertising space.
-Jimmy Forman, Paid Social Strategist