AdWords Guide: 8 of the Best Free AdWords Tutorials Around
AdWords
•
Marketing
•
PPC
•
Ana Gotter
February 14, 2018
Knowledge is power. This is an overused, common cliché, but that's probably because it is so true. Knowledge absolutely is power and when you're in the marketing world, knowledge also directly translates into more revenue earned.
Fortunately, that knowledge isn't nearly as expensive as it used to be. The internet has made sure of that and content marketing has encouraged brands and businesses to create incredible, in-depth guides and resources for free, which they'd previously have charged an arm and a leg for. It's all out there, waiting, and you just have to know how to find it.
Here at Disruptive Advertising, we know where to find all the good resources on everything marketing-related. Although we've written our fair share of AdWords content, in this article, we wanted to create an AdWords guide you could use to check out some of the other great tutorials out there.
These tutorials cover everything from the basics for beginners to more advanced strategies for the experts, and they're all available with just one click.
1. Google Partners' YouTube Channel
Marketers who are looking to become AdWords consultants or account managers should absolutely get their AdWords Search Advertising certification. This takes a lot of time and money, but the resources that the Google Partners' YouTube Channel offers are completely free and valuable, even if you have no intentions of ever taking the exam. And really, it's no surprise that the best resources on Google AdWords comes from Google itself.

Specifically, Google's Exam Refresher Series playlist has a ton of condensed but extremely useful information that will get you up to date and familiar with everything from AdWords Fundamentals to Display Advertising.
2. Kissmetrics' "How to Create a Profitable Google AdWords Campaign"
Kissmetrics is an excellent source of data-driven, actionable content, and their "How to Create a Profitable Google AdWords Campaign" blog post is no exception. It goes slightly behind the basics, and looks at how to set up a strategic campaign that will help you get ROI.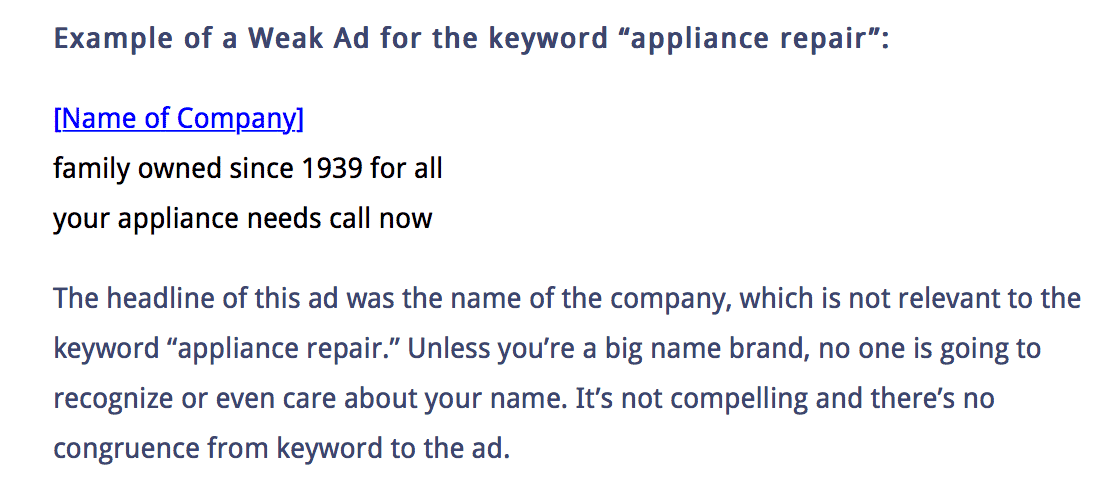 This post discusses everything from in-depth competitor research to unique selling positions to a break down of the AdWords copy, along with how to combine all the information into one sure-to-be profitable campaign.
3. Shopify's "Ultimate Guide to Google Shopping"
Shopify's entire Ultimate Guide to Google Shopping is fantastic and goes over Shopping Ads, but I want to specifically highlight their bidding guide (which is Chapter 6).
Bidding can be one of the most complicated factors for advertisers to decide on when they're creating their campaigns. Shopify's chapter on AdWords bidding takes you through everything that you could ever need to know. This includes considering product price, product margin and what you need to bid competitively when determining your actual bid.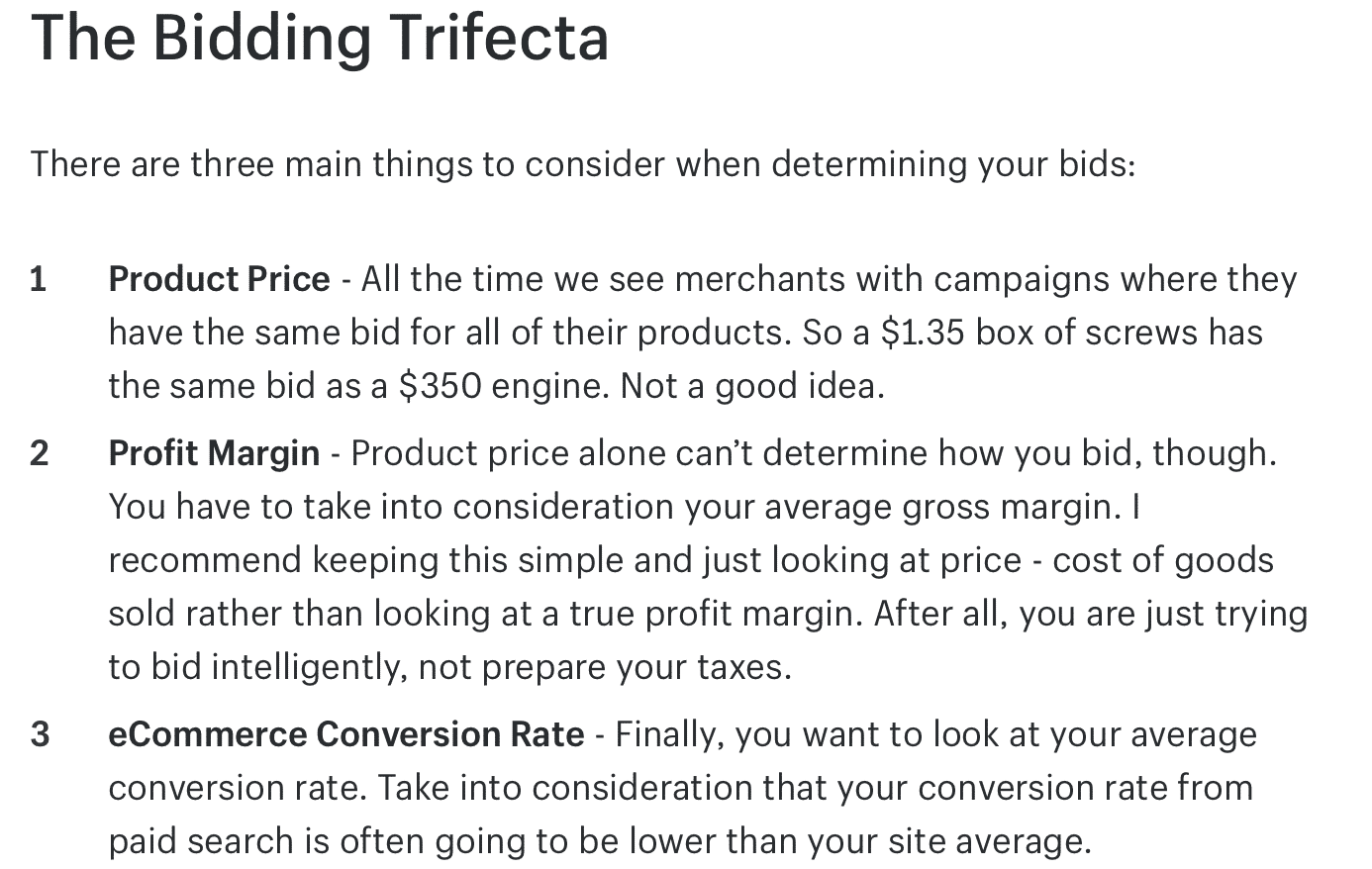 This guide gets technical, too, showing readers how to incorporate features like SKU-level bidding and how to create and bid on tight product groups. If you're trying to sell products on AdWords, read this guide first.
4. WordStream's Keyword Optimization Post
We all know how crucial keywords are to your Google AdWords success and it can be more complicated than just set-it-and-forget-it. This post from WordStream dives deep into choosing the right keywords and knowing how and when to optimize them for continual success.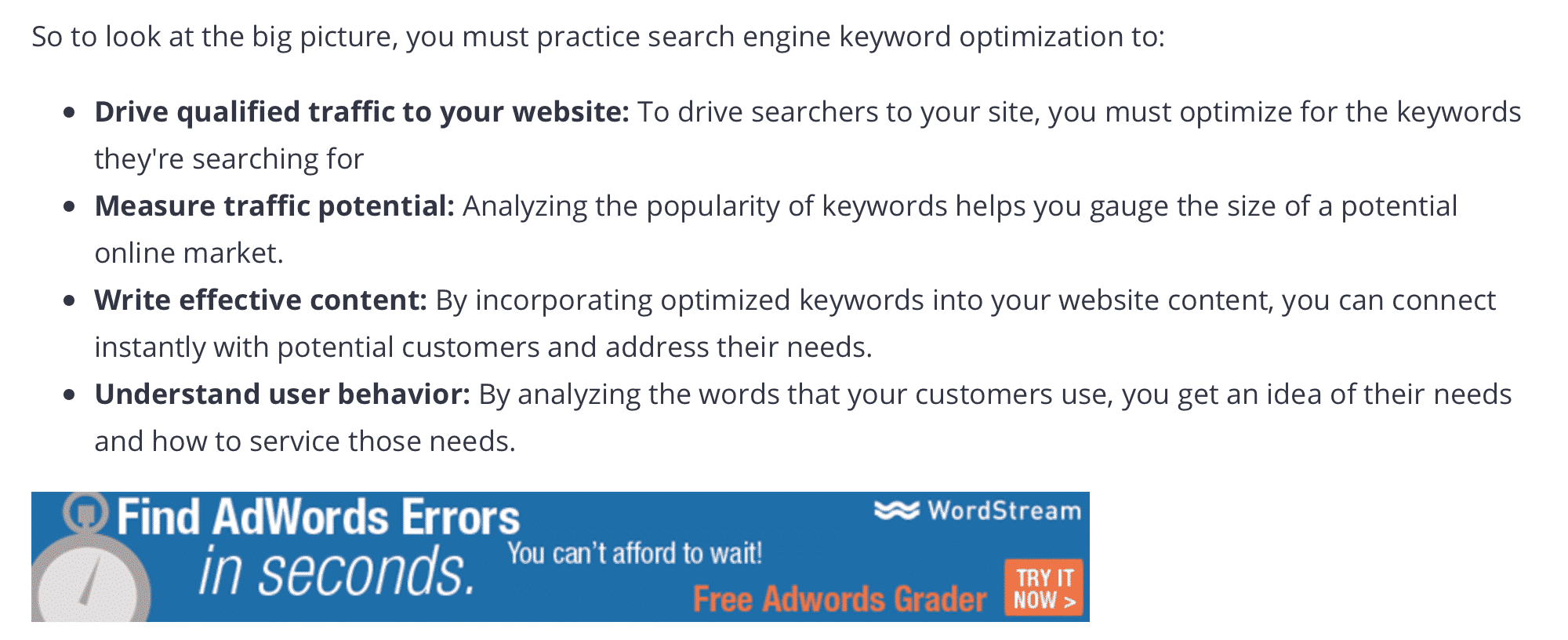 There's a lot of great information in this post, including understanding user behavior and identifying different types of searches that indicate user intent and how to interpret that data into profitable keyword optimization.
5. Wishpond's Guide to Google AdWords for Small Businesses
This free ebook from Wishpond is an excellent one for beginners. It even starts with a list of terms that you need to know for the AdWords process, making sure you're up to speed at the very, very beginning.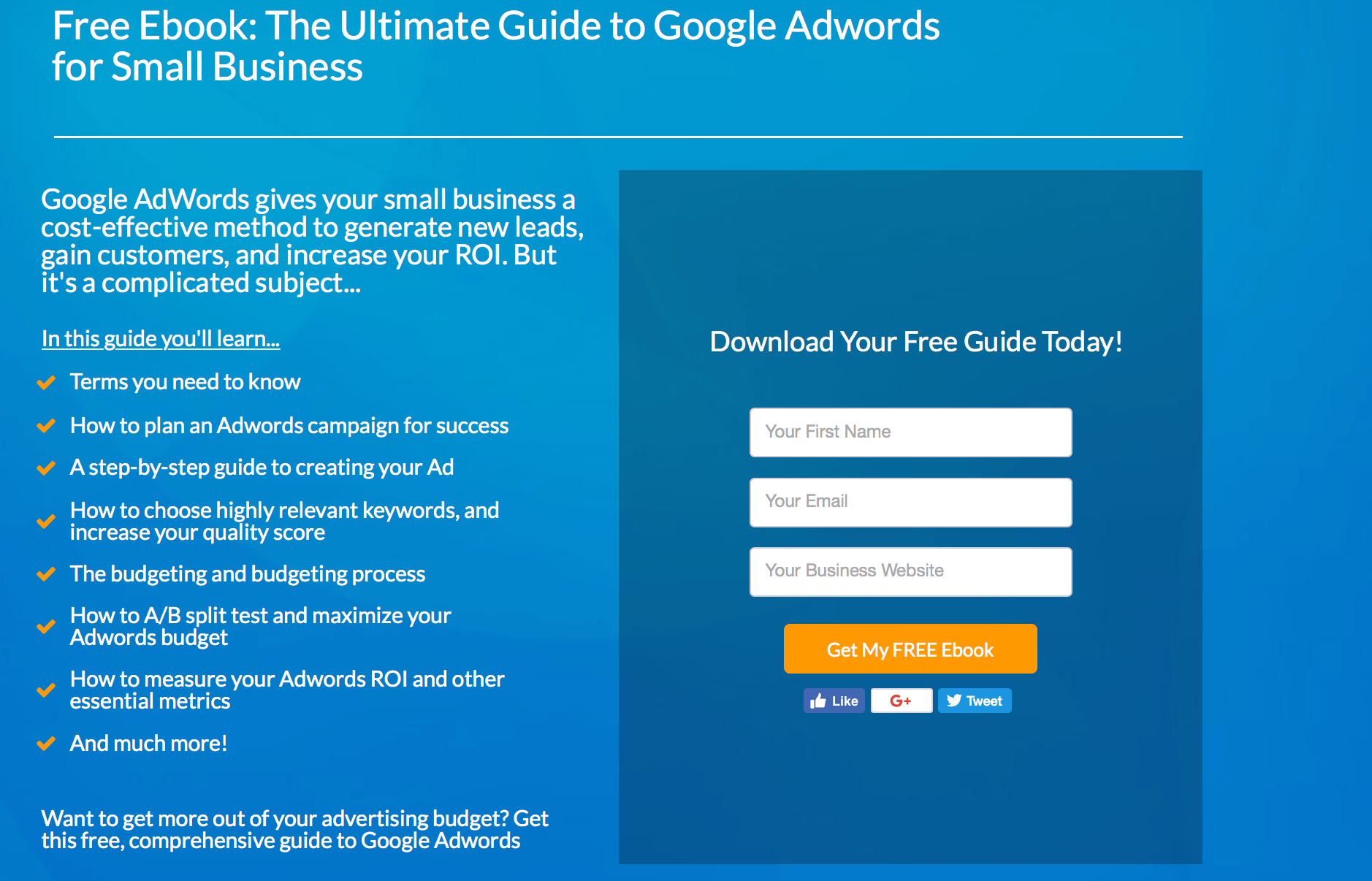 This eBook includes strategy development ideas for your campaigns, along with step-by-step, visual tutorials that walk you through every single stage in the process all the way from ad creation to split testing and evaluation.
6. Crazyegg's Post on AdWords Extensions
AdWords extensions are an extraordinarily valuable feature on AdWords and they're also often underused by many small businesses running their own campaigns. Change that and give yourself a competitive edge by reading Crazyegg's post on Google AdWords Extensions.
This post will show you not only how to install the AdWords extensions but also the ins and outs of five of the most valuable extensions that more businesses should be moving. The post is well-written and succinct, so you'll be able to read it and learn in just a few minutes.
7. WordStream's Quality Score eBook
WordStream has several free AdWords eBooks that are all pretty great (in addition to the free content on their site). A personal favorite is their "Hacking AdWords: How to Get a (NEAR) Perfect Quality Score" ebook.
AdWords' quality score is a big deal. It directly affects placements and ad rankings, which can affect clicks and conversions. You want to make sure that your quality score is as high as possible. This eBook breaks down the factors that make up the quality score and how to ensure that you have a great one.
8. Disruptive Advertising's Google AdWords Guide
I know we're a little biased here, but our series of in-depth guides on Google AdWords have been written to help both beginners and experts alike develop a stronger working knowledge of the AdWords system. We cover everything from the basics like defining PPC marketing, to the advanced breakdowns of ad group strategies and improving ad ranking.
Here are some of our most popular guides to get you started:
Conclusion
There's no denying that Google AdWords is a complex system. Just as soon as you figure out one feature, it's not uncommon to realize that you need to learn another. It can be difficult to try to keep up and to keep your  campaigns in the positive overall.
In this AdWords guide, we've discussed eight of the best free AdWords tutorials for beginners to experts alike. We're confident they can help you get the job done, too.
Still have questions about AdWords? Are you looking for more one-on-one consulting or for full account management? Get in touch with us to see what we can do for you.
What do you think of this AdWords guide? Which tutorials will you use? Do you have any favorites that we missed? Let us know in the comments below!
Leave a comment