Bring On The Traffic! How to Use Google Maps Promoted Pins
by Cydney Hatch • February 13, 2019
If you own a local brick and mortar store, driving foot traffic to your storefront can be a serious challenge, especially as people increasingly love getting products delivered right to their doors! (dang Amazon Subscribe and Save etc!!!).
But before you feel you need to close up shop, Google Maps is here to give you some competitive marketing opportunities!
According to the most recent numbers from Google, about one billion people around the world have downloaded Google Maps and use it to reach 1.5 billion destinations each year. Where this matters to you as a business is a newer update to Google Maps called Promoted Pins.
This advertising feature hopes to bridge the sales gap between online and foot traffic by offering exclusive listing options to local businesses. In this article, we will look at the many ways you can use Google Maps Promoted Pins to localize your sales and drive traffic like never before!
What are Google Maps Promoted Pins?
If you're familiar with Google Maps, you've probably seen the many red pinpoints that show up when you open your maps or search a type of business within Google. These are used to recognize landmark businesses in the area. Promoted Pins work differently as they show up as purple pins for specific searches!
Promoted Pins on Google Maps allow you to target users directly on Google Maps based off of searches for not only business types but products people are trying to find as well!
For example, if I was to search Grocery stores in Salt Lake City I would get the following pin type below. As you see the first search result is a Promoted Pin of a Chinese Supermarket that appears as a purple pin instead of a red.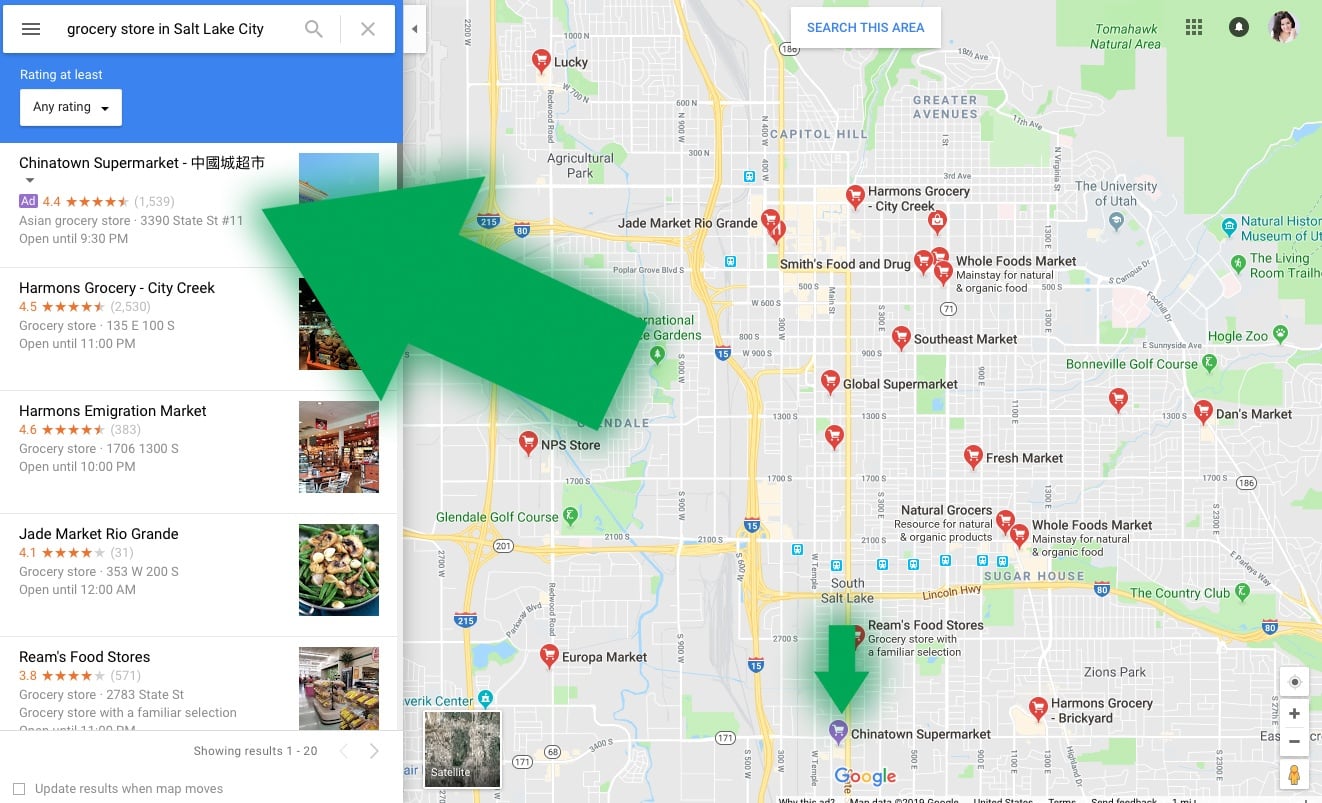 On top of finding a location for someone to visit, Promoted Pins allow businesses to do the following:
Offer small coupon-based deals for the searcher depending on their search
Allow customers can also check the promoted listing for offers or browse through the business's current inventory before making a stop in. To display your local inventory information, you will need to let Google know about it first (here's how you can do that).
List customizable pages that users will be taken to every time they click on their ad. You can put your phone numbers, addresses, website, photos, directions, and more on this page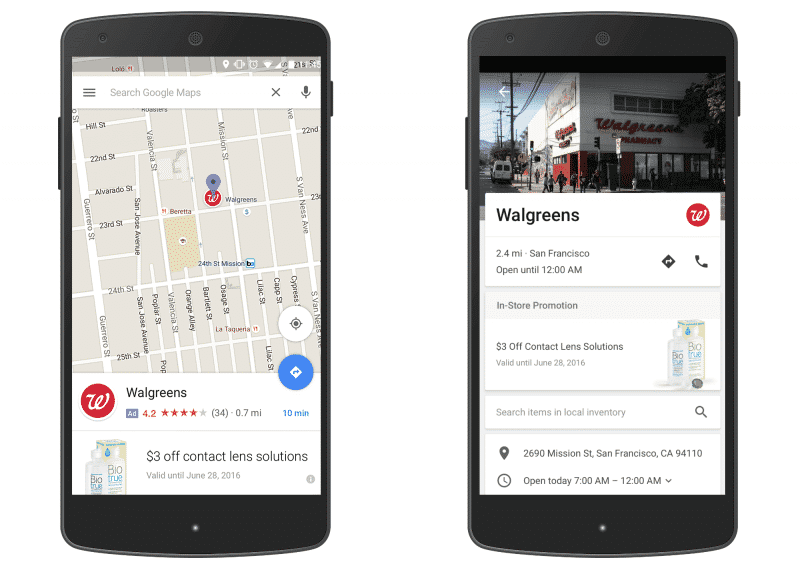 Similarly to PPC search ads, Promoted Pins are basically a local version of paid search ads specifically crafted for Google Maps where you can "pay to rank." You can use them to get your business front-and-center when a person is using the application to find a local business.
BONUS: Who Should Use Google Maps Promoted Pins?
If your business is highly dependent on local, location-based sales, consider setting up some Promoted Pins.
If your business is the type of store that people often find from a Google Map search, you should highly consider it.
Why are Google Maps Promoted Pins Important?
So, you might be thinking to yourself, I already advertise on Google, so why would this feature matter to me?
Well, according to a current Google Local study, 30% of all mobile searches are local queries relating to a location and that trend for those types of search is growing! In fact, it's more than doubled in the past year of people searching things like: "store nearby or stores open now…" Google found that 76% of those type of localized searches will result in people visiting that business within 24 hours of their search.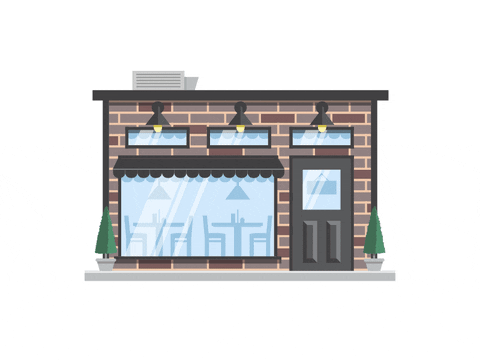 What Google Promoted Pins is trying to do is to increase your physical foot traffic, help you compete with similar businesses that are near you and help you snag sales from your competitors. People are given more exposure to different places that apply to their search that they may not have been aware existed or were nearby.
Promoted pins ultimately help businesses build visibility, drive action and reach people who are on the go! So, if you struggle to rank amongst organic foot traffic, this is where you as a business can succeed as it evens the playing field!
What is the Cost of Google Map Promoted Pins?
Typically, with Promoted Pins, you'll be charged a standard cost-per-click (CPC) for these types of clicks on local search ads:
Get location detail clicks
Get direction clicks
Mobile click-to-call clicks
Website clicks
But, as of July 16, 2018, a new pay-as-you-go pricing plan went into effect for Maps, Routes, and Places. This new plan gives you more flexibility and control over how you use the API.
How? Well, you can use as much or as little as you need and only pay for what you use each month. So depending on your industry, searches and how much you use, your pricing will vary!
If you need help in determining a proper price point for your business see our article here or reach out to us to help you map out a PPC model that can work for you!
How Do You Setup Google Map Promoted Pins?
Now that you have an understanding of how Promoted Pins work, you might want to start getting set up today, and lucky for you, it will only take a few minutes!
You don't have to be a Google Ads expert to get these Promoted Pins up and running! A quick checklist of how to set Promoted Pins includes:
Verifying your business with Google
Turn on location extensions for Google Ads (in the ad extensions tab)
Update your Google My Business listing
Target a location(s), increasing bids for locations near your business
Target keywords that relate to your business/location and what people look up in your area—this could be brand terms of your competitors or more generic keywords related to your service.
If you need a more in-depth look into how to Setup Google Map Promoted Pins look at the following steps below:
Create a Business Listing
Before you can run your ads on Maps, you need to create a business listing on Google and get it officially verified. To do that, navigate to Google My Business, and click on "Start Now" or "Sign In" on the top right corner of the page to set up your account.
Next, follow the steps below:
Enter the name of your business and click "Next."
Enter your business location, then click "Next."
Choose if you want your business location to appear on Google Maps.

If you serve customers at your business address:

Enter your business address, then click "Next."
If you also serve customers outside your business address, you'll have the option to list your service areas as well.

If you don't serve customers at your business address:

Enter your business address.
At the bottom, click "I deliver goods and services to my customers" > "Next."
List your service areas, then click "Next."

Use the search field to select a business category, then click "Next."
Enter a phone number or website URL for your business, then click "Next." You'll also have the option to create a free website based on your information.
To complete sign-up and verify your connection to this business, click "Finish."
Select a verification option.
To verify at another time, click "More options" > "Later." If you're not authorized to manage the business, find the person in your organization who's authorized and continue the process.
If you see a page that says "This listing has already been claimed," click "Request access" and follow the directions to claim your business. Learn more about how to request ownership.
Once you're done, you might have to wait a week or two for Google to send you a confirmation letter by mail.
This is a necessary step so Google can verify your business's physical location is real (there are enough fake businesses out in the world, so you'll have to verify that you are not one of them 🙂 )
Connect Your Google Ads Account and Enable Local Extensions
Now that you've verified your business on Google, go ahead and create a Google Ads account (if you don't already have on—if you do, this will be a lot quicker set up)
Make sure you're using the same email address for both the GMB and the Google Ads accounts. Once you've signed into Google Ads, navigate over to Ad Extensions.
From the drop-down menu, select Location extensions like seen below: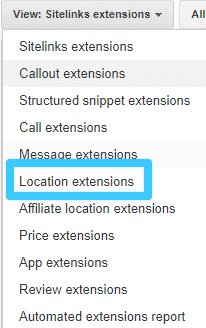 Next, select your Google My Business account and double check your location to see if everything is okay. Once you're done, click on "Finish."
Navigate over to "Call Extensions." This setting will enable users to access your phone number and call your business.
Set Up Specific Locations
After you've set up your location extensions, you need to target specific locations and bid by location to make the most out of your ads. Be sure to be specific to your city location.
Go over to "Keywords & Targeting" > "Locations."
Here, select one or more locations and adjust your bids next to Bid adjustment. For more details on how to do that, here is a support link from Google.
Pick Out Specific Keywords for Your Business Search
One of the key factors to Google Ads success is remembering to optimize the keywords you use in your ads! Keep track of what potential customers in your area are searching for and use that data to optimize your ads and campaigns.
Use a mix of both general and specific keywords. Google recommends using 5-20 keywords per ad group.
If you want more help on how you can best choose keywords effectively for ads, check out our article here! From this point, start tracking your performance and tweak as needed!
How You Can Use Google Map Promoted Pins to Grow Traffic
So, how do you take full advantage of the Promoted Pin listings to drive real conversions? The key is hyperlocal marketing mixed with compelling ad copy/images!
But like most things in marketing, sometimes the best ways to start implementing new features in your strategies is to look at how other businesses are using them successfully! So, to understand how to drive more sales, you can look at how current businesses are using promoted pins!
Take a look at different examples and tips you can use to instill better results using Google Maps Promoted Pins:
Focus on Holiday Foot Traffic: Small Works in Your Favor
The holiday season in the best way to capture foot traffic as many people avoid large department stores and prefer to shop in smaller storefronts. This is where if you are a small business owner, you can really compete with the bigger stores!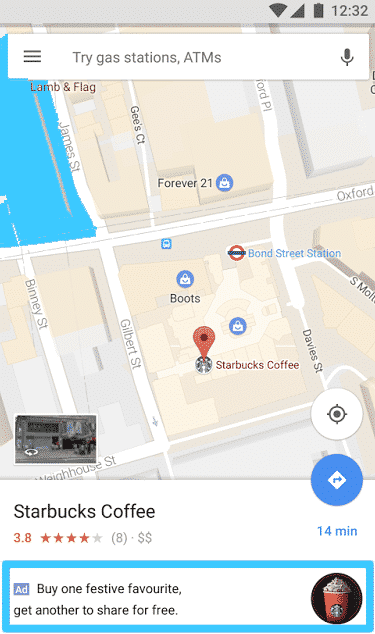 Like seen above, Starbucks had a great Promoted Pin ad during the holidays that helped people buy holiday drinks for not only themselves but a friend! (who doesn't love 2-for-1?).
This example is a great one is showing people's need for ease! When people are trying to shop for their loved ones, sometimes finding the closest options are the way to go, but if you offer them an incentive to shop with your local store, your opportunities will skyrocket.
Focus on Offers: People Need Incentives
Like stated above, people want reasons to choose you over the next local business, so coupons and offers should not be limited to just the holidays!
Like most Promoted Pins, businesses successfully introduce new product lines, coupons and discounts on their listings to ensure better traffic all the time. In fact, according to a 2018 Customer Engagement and Loyalty Study, discounts and coupons came in as the top-ranking tactic for driving loyalty with 61% of consumers saying they use them.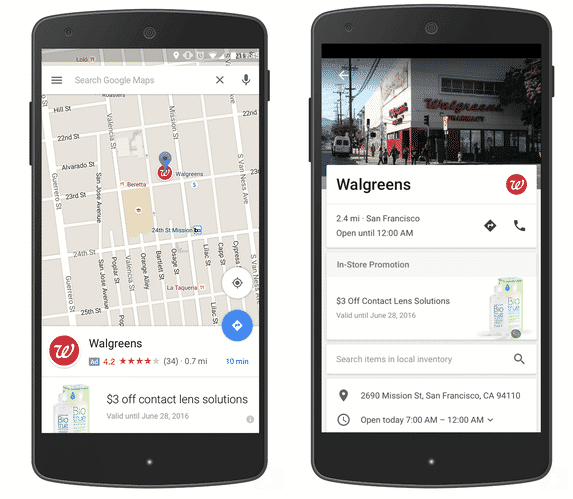 So, if you are looking to add some "spice" to your Promoted Pin listing, add a simple promotion as Walgreens did above!
Focus on Services: Specifics Sell
Another common way to use Google Maps Promoted Pins is capitalizing on service offers.
People are constantly looking for services whether through traveling and needing to find solutions or people trying to find services nearby. So, if you look at my search for finding car rentals in LA you will see that there are two options that come up using promoted pins: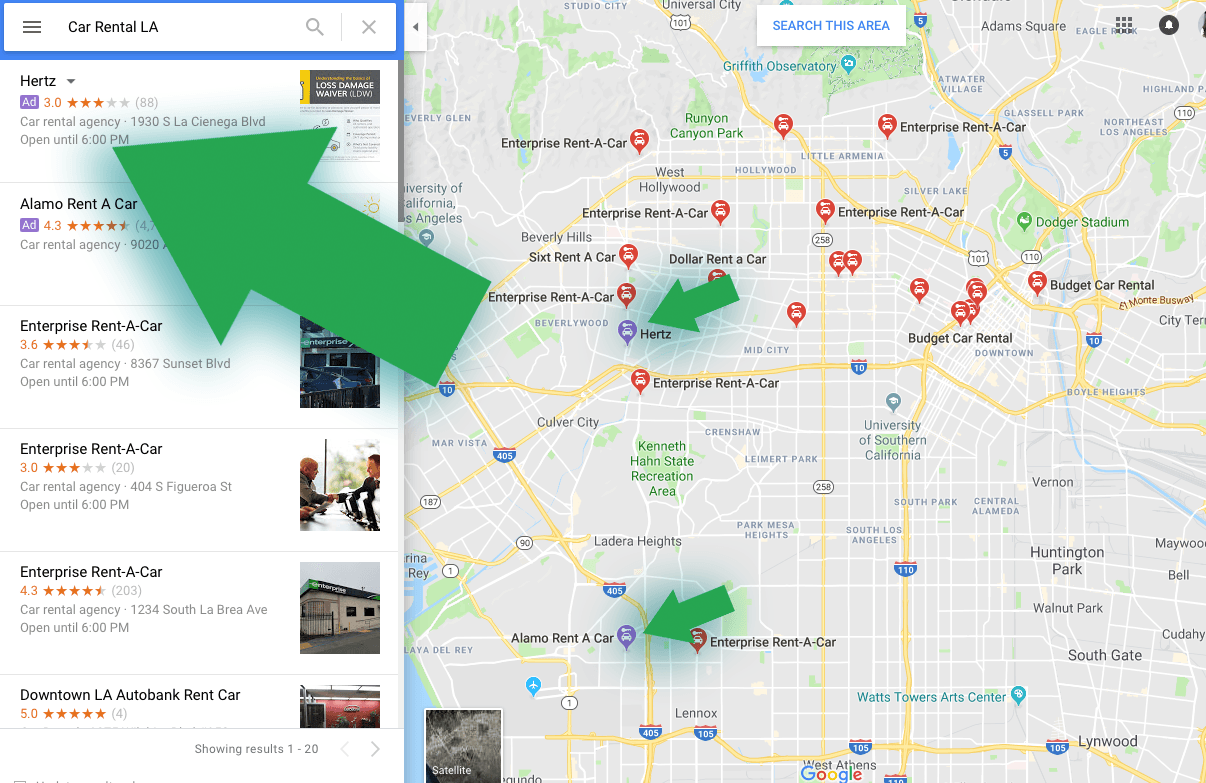 By Promoting Pins this way, you position your services to people looking for answers above the rest of your competition. This means you are more likely to be visited because of your listing position in comparison to others who are lower on the page.
To make the most of listings like this, to be competitive you want to ensure you have a compelling name, awesome reviews and include helpful descriptions that strike attention!
Focus on Visuals: Engaging Visuals Engage Clicks
Like mentioned above, have you ever searched businesses, get a list of locations but many do not have content to look at?
How boring, right?
Most times, businesses make this mistake and leave a lot of their business listing to chance which leaves their listing bland and bare of any real engaging piece to spark interest.
A helpful way to get more eyes on your Promoted Pin is to include engaging and high-quality content, specifically images. If you don't, Google Maps will typically fill in the gaps leaving users to see "default" images, usually sourced from Google Street View, that doesn't always leave a great first impression.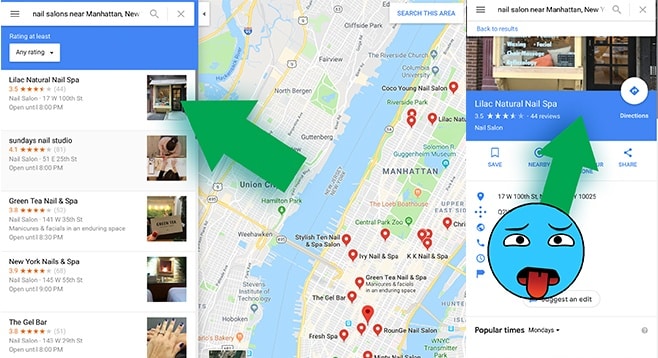 Seize the opportunity to provide images that drive people to your business—not away from it! For example, this Promoted Pin by Qualia Coffee House in Washington D.C. seems way less appealing at face value than the featured image from Fox Loves Taco:

As we live in a world that is increasingly more visual, you need to pique interest fast! How you list your Promoted Pin visually will greatly increase the likelihood of your business being clicked!
Focus on Descriptions: Specific is Better
On top of visuals, you'll want to write snappy ad copy that draws people in and educates them on where you serve and what you offer.
You can think of your Google My Business Introduction as your business summary and what sets you apart from your competition. Sadly, many businesses don't take the time to do this, which is a major missed optimization opportunity.
So, going back to the coffeehouse examples above, Fox Loves Taco uses simple word choice as a way to be more engaging and interesting in comparisons to Qualia's straightforward description. On top of thoughtful/creative explanations, you want to ensure you state which areas your business services in your Google My Business profile. This could include the names of local cities that you serve or geographic radius.
The more specific the more relevant and helpful you will be to searchers.
Solicit Customer Reviews
Social proof is big these days and when people look at business listings on Google, they are most likely going straight to reviews once interests are peaked.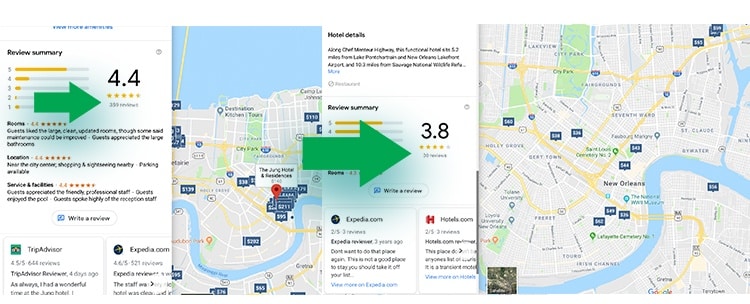 It's no shock that a business with no reviews is almost certainly going to struggle compared to businesses with beaming reviews coming out their bums, so it's vital that you solicit reviews in your Google My Business profile! Reviews will not appear in your Google Maps listing until you have at least five, so be sure to encourage satisfied customers to swoon over you online!
Promoted Pins: An Answer to Your Worries
As a business owner for a physical location, running a local business seems to be more challenging as technology changes and online marketplaces are dominating the competition.
Foot traffic and in-store sales are critical to your success but thankfully, you do not need to lose sales to places like Amazon.
Remember, Google Maps taps into billions of users every year and you can tap into that market directly! Google's reports continually show that mobile searchers are constantly looking for local businesses, so hopefully you work these specific pins into your marketing strategies to round out your PPC efforts online.
If you want help with your PPC efforts, or just need us to set up more locally specific ads like Promoted Pins, reach out to Disruptive as this is our bread and butter!
What do you think of Google Maps? What is the best method you have done to drive local traffic to your storefronts? Comment and share below!