The Top Google Ads Strategies for Ecommerce in 2020
by Ana Gotter • February 5, 2020
Google Ads can work for businesses of all shapes and sizes. It doesn't matter whether you just launched your company or have been around for ages, or what industry you're in—Google Ads can most likely benefit you. If you want to see those benefits, though, you'll need to leverage strategies that were chosen and developed specifically for businesses like yours, which is where things can get tricky.
Ecommerce businesses, for example, are going to want to stick to strategies and tactics proven to sell products effectively and at a relatively high return. They'll naturally need to take a different approach than a B2B service provider or a university trying to recruit students.
As you're revamping your campaigns for the rest of the year make sure that you're using these top Google Ads strategies for ecommerce businesses in 2020.
Run Shopping Ads
Shopping Ads are going to be your best friend as an ecommerce business. They allow you to feature product images, titles, pricing, and product ratings immediately under a relevant search.
If I search for "pearl drop earrings," for example, I'll immediately see a list of products suggested by Google. These companies have all paid for this incredible visibility, which is why that "Sponsored" tag is showing up in the top corner.
If you're selling physical products, you absolutely want to be running Shopping Ads through Google. This is where plenty of high intent users will see something that meets their immediate needs and purchase quickly.
For success here, make sure that you're focusing on sharing product data that's relevant and descriptive instead of simply targeting keywords. This can help you show up in more higher quality searches. You'll also want to display any product reviews you already have to stand out, which you can learn more about here.
Highlight Discounts, Sales and Special Offers
Want to move products quickly? Showcasing sales, discounts, and exclusive special offers never hurt.
Potential leads and existing customers alike love a great sale. The opportunity to save while getting something great can be practically irresistible, especially if they think that the sale is almost over and that they need to act now. It's urgency combined with a little bit of loss aversion, and it's downright effective.
Make sure that you mention any special offers or sales that you have going on. You can do this in ad copy for search ads to help you stand out, adding the deal in your heading.
You can see three different brands do this here: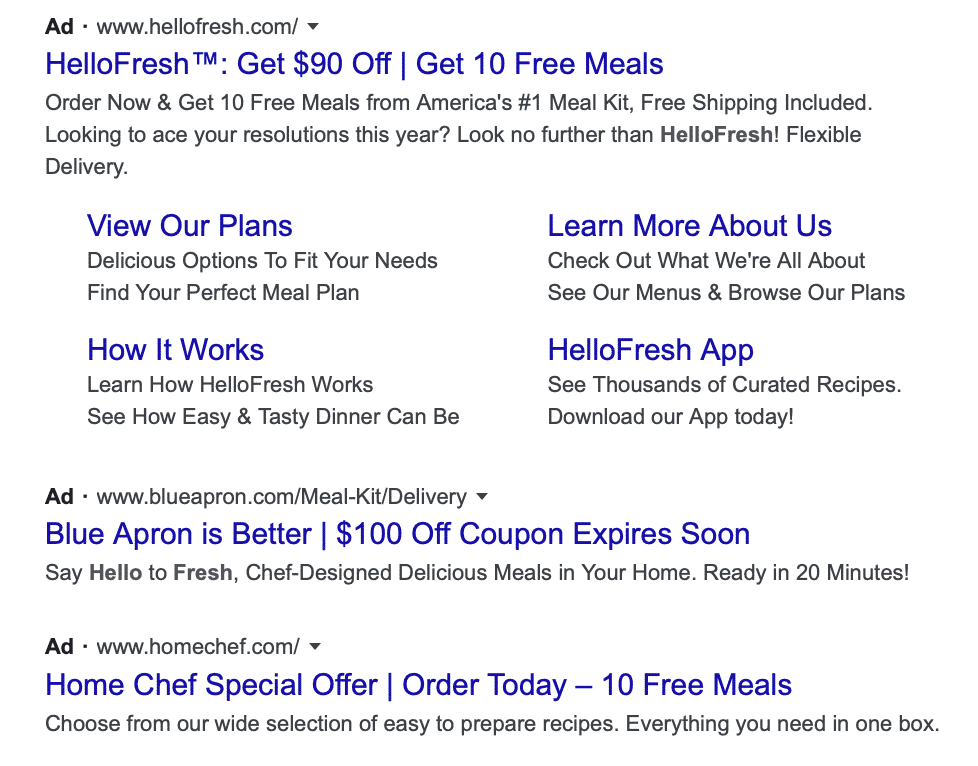 You can also add sale or discount information to your Shopping Ads, listing the current sale price and the typical price or featuring promo codes. This allows you to show the full value of the product while making yours seem more competitive.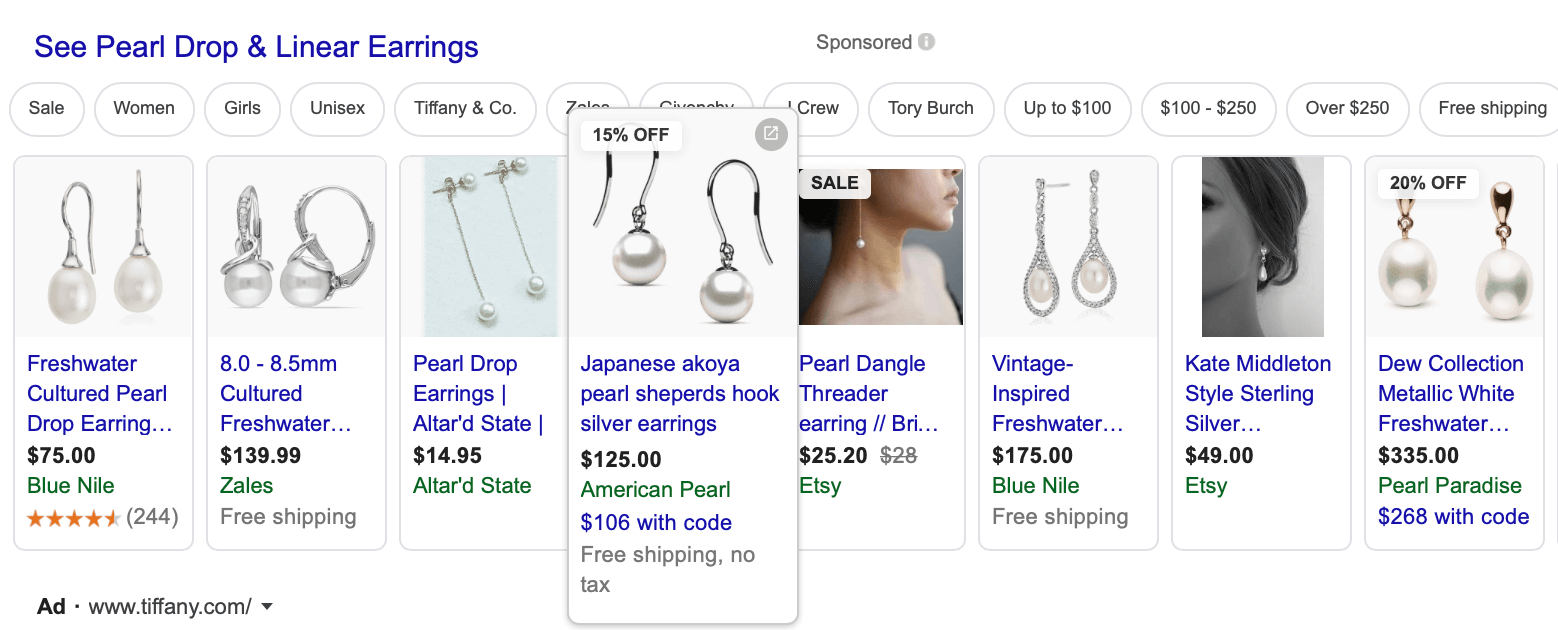 I might balk at the idea of spending $268 on a pair of pearl earrings in general, but seeing that they're discounted from $335 makes them seem more affordable.
Bid More On High-Value Products
Did you know that you can bid more on certain keywords, or group products into different categories so that you can bid separately on each?
You can, and this is an excellent overall strategy.
Bidding more on high-value products is an excellent strategy for ecommerce companies, especially when it comes to high-intent audiences. When users are ready to buy now and are just trying to find the right item, you want to make sure that you're showing up in those searches.
High-value products will typically have higher profit margins, giving you more room to bid more will still having a positive ROAS. Take advantage of that. It may give you the chance to be more competitive and get higher visibility and a higher impression share across the board.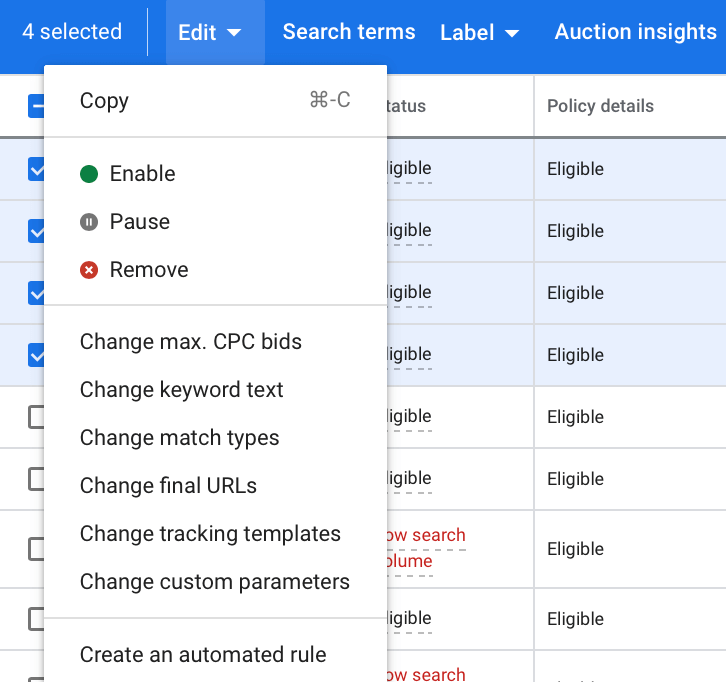 Optimize for Seasonal Trends
There are natural rises and falls in searches for plenty of different products.
While you very well will get some Floridians searching for "winter coat" in May so they can go on an Alaska cruise (hello, that was me last year), most people will be done searching for their winter wear by the end of October in most cases.
If there are certain products that you know will be popular at different points of the year, make sure those product titles and descriptions are ready to go. Consider mentioning that those fuzzy socks would make great Valentine's presents and then updating those product descriptions to say they'd be great stocking stuffers. Change "spring dress" to "summer dress."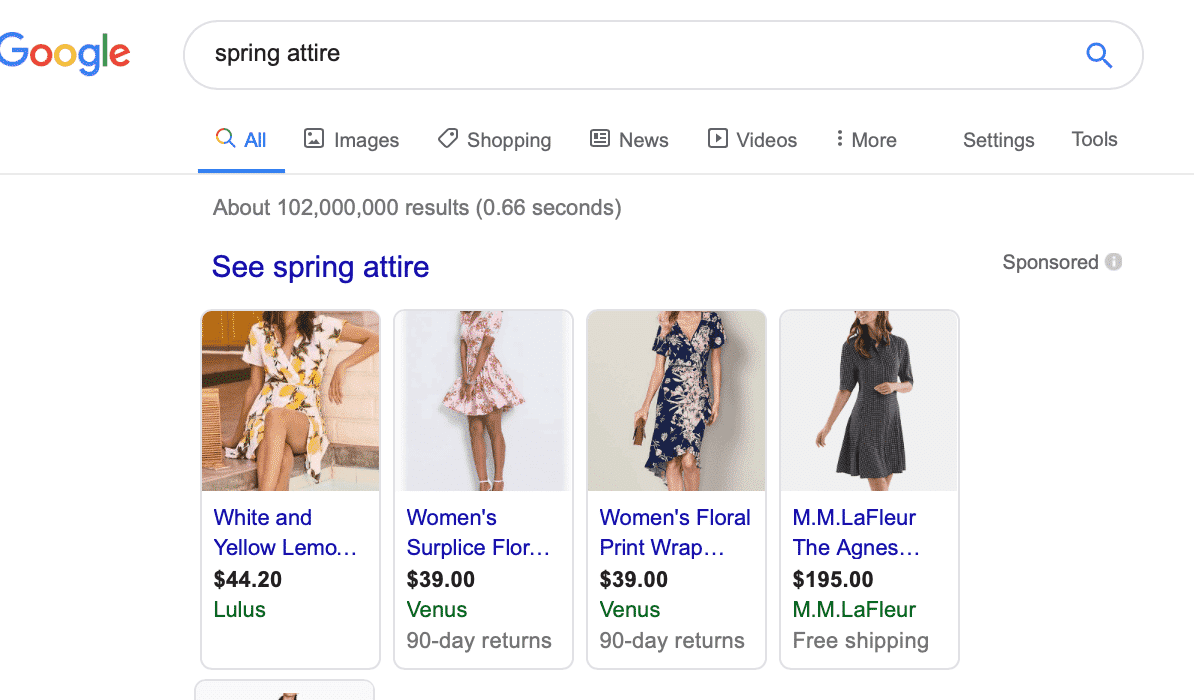 In addition to changing around some of the product descriptions if appropriate, seasonal trends might also dictate a change in product bidding. Bid more on in-season, competitive items that are likely to be in high demand at the moment for a better chance of driving sales.
Set Up Dynamic Retargeting with Display Ads
Dynamic retargeting campaigns are an excellent choice for ecommerce businesses. If you have someone click on your ad to view your products, there's a good chance that they're interested. And unfortunately, it's pretty common for customers to see something they like and click away. Maybe they want to think on it more, or maybe they want to do more research. Either way, they might purchase, but they haven't yet.
Retargeting through Google Ads allows you to show your products to users who have viewed your site or video ad recently on third-party, in-network sites all over the internet. You can actually follow interested users, reminding them about what they left behind and potentially offering them a discount to get them back.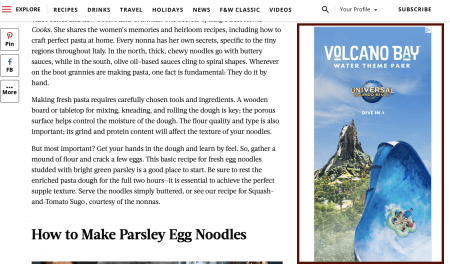 Dynamic retargeting is one of the best ways to follow up with users even if they never filled out an opt-in form or made a purchase. You can learn more about it here.
Use Negative Keywords to Increase Relevance
When you're running keyword-based campaigns for Google's search ads, you're absolutely going to want to include negative keywords.
Negative keywords tell Google what searches you don't want your ad to appear in. This reduces the likelihood that your ads will show up in searches that don't align with your ad or products, keeping you from getting clicks where there's little to no chance of actually getting a conversion.

If I was selling break-away dog collars for dogs, for example, I might want to add in negative keywords like "choke collar," "leather collar," and "cat collar," which all may have triggered ad placements under broad match keyword options but don't describe what I'm selling.
You can learn more about how to use negative keywords here.
Final Thoughts
There's a lot that you can do with Google for your ecommerce business, and the sky is the limit in terms of what offers you want to promote and how you choose to do so. Just remember to combine powerful shopping ads with retargeting while prioritizing your most relevant and high-value products.
Need a little help optimizing your e-commerce campaigns on Google? Learn more about what we can do for you here.
What do you think? Which Google Ads strategies for e-commerce will you be focusing on in 2020? Have you tested any of these strategies yourself? If so, what works best for you? Share your thoughts and questions in the comments below!