Targeting on Reddit Advertising: How to Connect with Your Audience
by Ana Gotter • June 11, 2019
As marketers, we spend a ton of time looking for new ways and places to connect with our ideal audience members. We use PPC ads, attend networking events, and join online forums hoping to find people who are engaged and interested in what we have to say.
One advertising platform that's often overlooked is also one with enormous potential, and that's Reddit advertising.
Reddit is the fifth most commonly used site online, generating more than 168 billion views each year. The site is essentially a user-run forum, divided into more than 1.2 million niches, specialized forums called "subreddits." These subreddits are diverse, and its user base is diverse, too. There are subreddits for popular television shows, makeup advice, marketing tips, true crime detective work, moral philosophy, and so, so much more.
Reddit advertising allows you to create text-based ads that appeal to your target audience in the subreddits where they're most likely to be engaged. Relevant messaging and the right placements can lead to a lot of clicks and a lot of conversions.
Like all other platforms, of course, the key here will be getting the targeting right, so let's take a look at your targeting options within Reddit Advertising and how to choose when to use them.
Who is On Reddit?
Reddit is anonymous. People don't enter in their birthdays or gender or education level when creating profiles, like they do on Facebook, so it's not always easy to track who exactly is on the platform and who isn't.
Here's what we do know:
The diversity on Reddit a marketer's dream, as is the fact that users are highly engaged, spending an average of 16 minutes on the site every time they visit. Though we're not sure about exact demographics, we do know that there are a huge number of interests and opinions shared on the site, allowing you to connect with many different niches and personas.
While the platform is diverse and you can definitely reach both men and women very easily on the platform, about 2/3 of users are male.
Reddit is also used by 45% of people aged 25-34, making up almost half of Reddit's user base, though those between the ages of 30-49 accounted for about a third of the site's users. This means you're able to target both young adults and middle-aged adults successfully on the platform.
Long story short: the audience here skews male and young, but the enormous range in subreddits and interests means that you can reach big chunks of most target audiences. I do want to acknowledge that Reddit advertising can be a little like Pinterest, in that it can be wildly effective but not necessarily the right fit for all brands. I definitely think it's a platform worth testing, but if after a few thorough tests you're not getting the results that match up with other PPC platforms, cut your losses and move on.
Audience Targeting Options on Reddit
Reaching your target audience on Reddit can be a little tricky. Unlike search ads, you don't have search terms to gauge intent and immediate relevance. And, unlike plenty of social PPC platforms, you don't have some of the extensive, almost mind-blowing targeting options like household income or whether or not they've liked your Page.
There are, however, some fantastic audience targeting options that you can leverage to connect with your audience and understand who is seeing your ad and how they might respond to its messaging. Let's take a look at each one.
Location Targeting
Location targeting allows you to target users who are in certain areas, but you can also exclude users from your target. Want to target the US but not Florida because of the those Florida Man stories that rolled out? I live in Florida, I get it. Keep your ads hidden from us!

You should use location targeting to ensure that people you can actually serve are seeing the ads. If you only ship to the US, why bother having someone in London see the ad campaign? This improves relevance, so take advantage of it; there are Reddit users from all over the world active on the site.
Subreddit Targeting
I'm a big fan of the subreddit targeting. What food delivery company wouldn't want to run an ad like "Delivery is coming!" and "Your watch is over but the food doesn't have to be!" on a Game of Thrones Reddit?

This targeting option allows you to place your ad in specific subreddit, or guarantee that it won't show up there. And as far is user information goes, this is about as tapped in as you can get to your target audience, what they're doing on the platform, and what they want to see. This can help you to keep your messages relevant, which we'll discuss a little more later on.
Interest Targeting
Interest targeting is used to show ads to users who have expressed interest in a topic throughout Reddit's site. Maybe a bride-to-be, for example, is looking at a cooking subreddit but would never turn away an ad for half off foil-stamped wedding invitations, no matter where it shows up.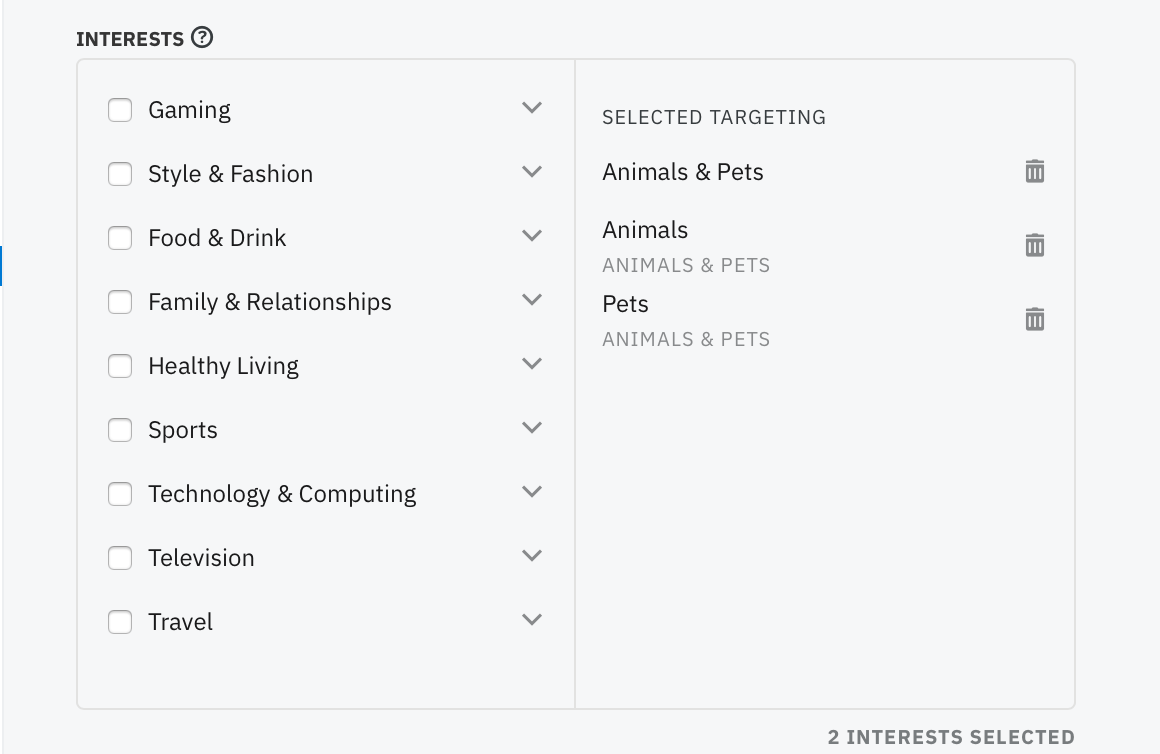 You can choose a single interest to try to connect with your target audience, but you can niche it down by applying multiple criteria. Maybe Air B&B, for example, could show an ad to users who both loved pets and travel, reminding them that many lodgings are pet-friendly.
Device Targeting
Reddit's device targeting can be useful. It lets you choose whether you want to have your ad shown to desktop users, mobile users, or both. If you select mobile users, then you can even set what specific brand of devices you want to target.

Device targeting is often most helpful when you're trying to drive app installs. You're much more likely to get app conversions on a mobile device than desktop, just because it's so much easier for users to convert. It's a single click, instead of reaching for their phone, looking up the app, and then downloading. Make sure to use device targeting to send users to the right App Store for their phone—iOS takes users to the Apple Store, while Android users can head to Google Play.
Reddit Advertising Best Practices
Want to get the most out of Reddit Ads? Follow these three best practices whenever applicable.
Choose the Right Objectives
Like plenty of other platforms, the first step of creating an ad campaign is to tell Reddit what you want to get out of it.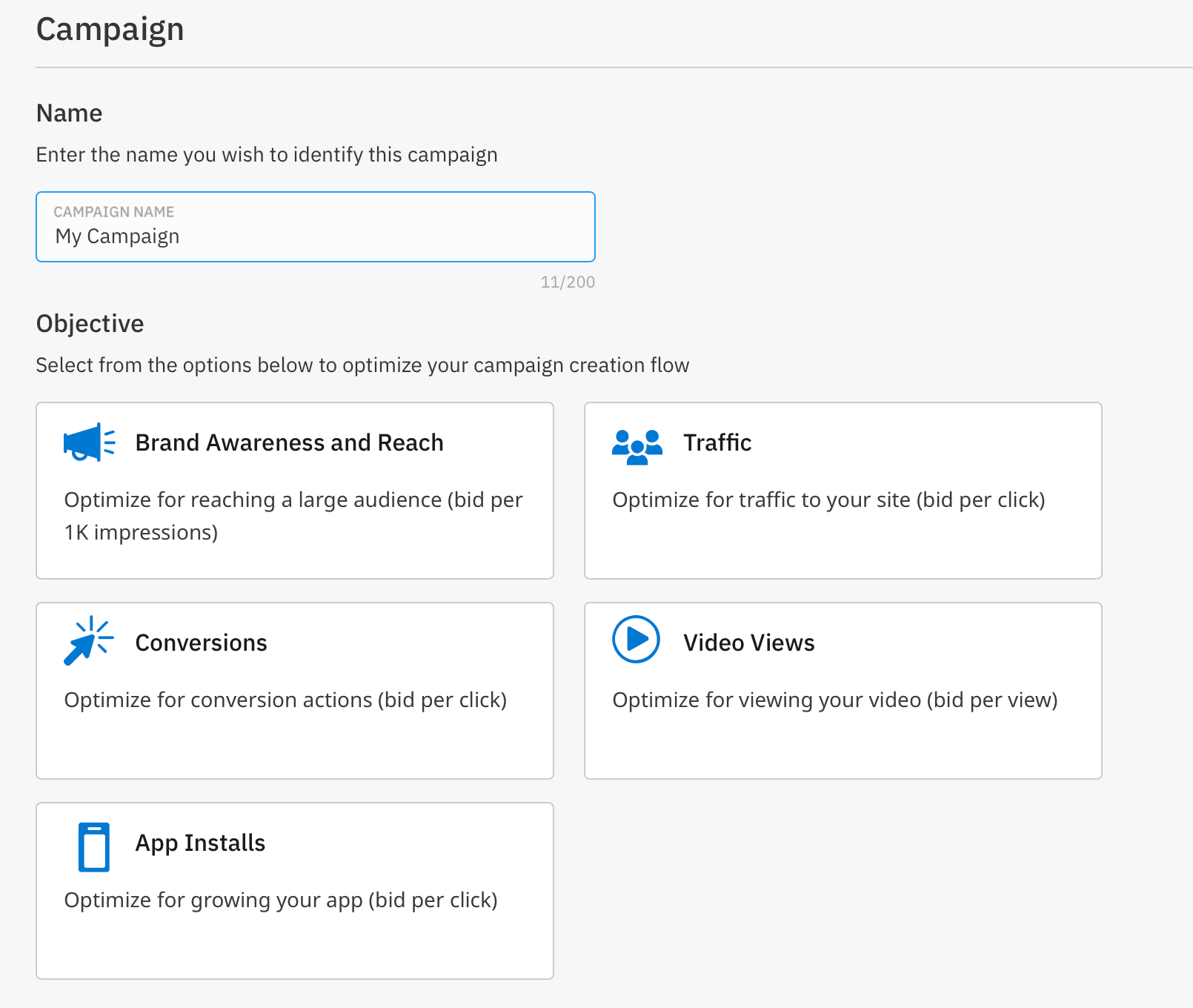 Choose an objective like video views, conversions, or app installs. This will affect who sees your ad and how you're paying for results, so choose carefully.
Tailor Your Copy to Each Subreddit
If you're targeting multiple different subreddits with hyper-focused messaging (which is often what will do well), it's best to adjust the copy accordingly.
Let's say I wanted to sell an Instant Pot for example. For the busy professionals and health junky subreddits, I'd advertise the appeal of making a healthy meal fast. For budget-oriented/money-saving Reddits, I'd try hitting them with a discount code, talk about energy saving abilities, and talk about the cost appeal of one-pot meals. The ad below uses this strategy, opting for a "free month!" message in a financial planning subreddit.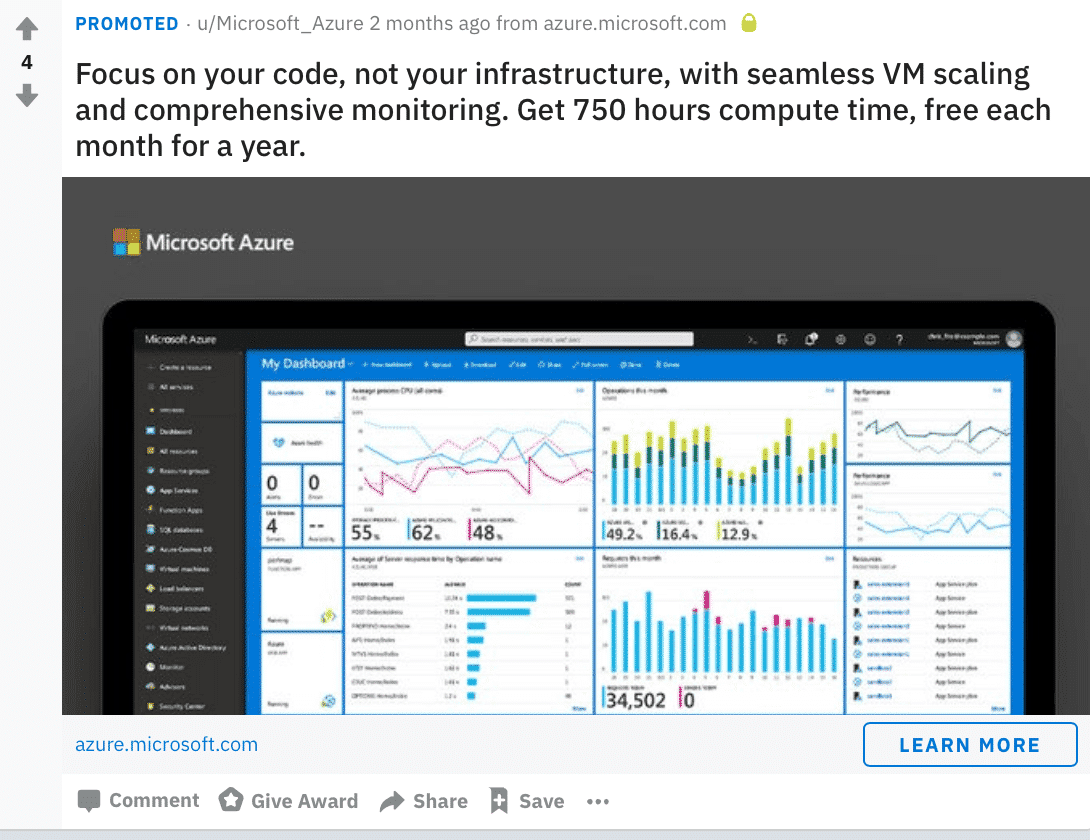 The more your ad fits in with that people have gone to that subreddit to view, the better.
Use Exclusionary Targeting When Necessary
Don't be afraid to use exclusionary ad placements when necessary. Whether you're guaranteeing that your ad won't run in the mornings because your service is only available at night, or you're ensuring that it won't be seen by someone outside of your service area, they can help you increase relevance and maximize results.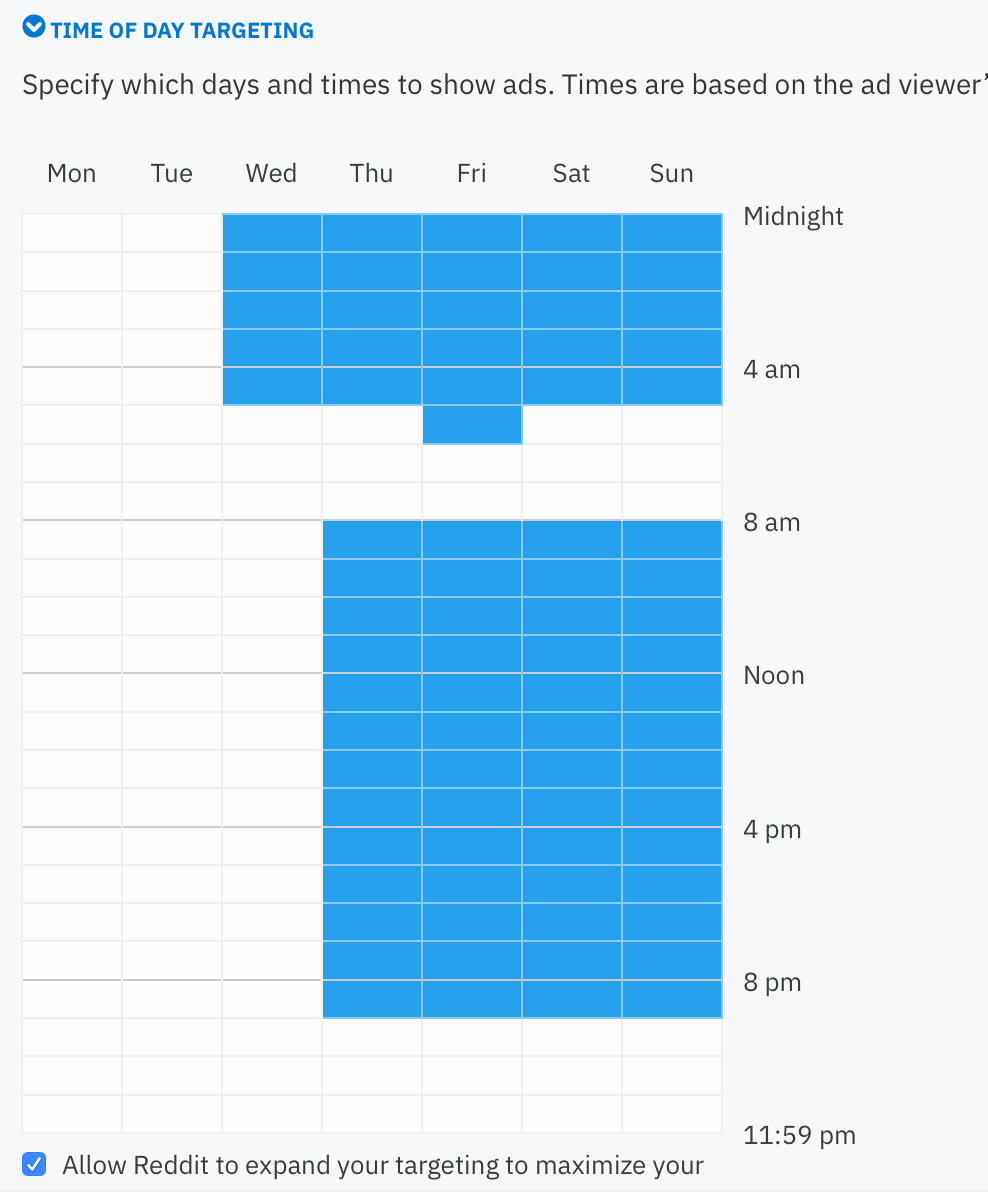 Conclusion
Reddit's ad system is certainly unconventional, but it gives you an authentic way to promote your brand instead of setting a PR person loose to try to sneakily advertise for you. Since Reddit users are notoriously resourceful and good at sniffing this out, it's best to stick to the ad system for this.
Drive results on the platform by starting with a working knowledge of who your audience is up front. What are they likely to be interested, and where are they hanging out on the site? Then, explore different subreddits to see if you come up with any new ideas. I've seen ads for true crime novels not only show up in the crime reddit, but also subreddits for podcasts like Serial that are more "mainstream," allowing you to reach people interested in true crime even if they wouldn't be invested enough to poke around on a reddit about the subject in general.
As with all platforms, your best bet will be to do your research, test your best theories, and then adapt your campaigns as needed. When testing your campaigns, you may find that Reddit isn't the ideal platform for you, and if that's the case, that's okay. Try out other platforms like Google Ads, Facebook Ads, and LinkedIn Ads and see if they work better instead.
Interested in getting some help with your PPC campaigns? Get in touch and see what we can do for you!
What do you think? Have you ever used Reddit advertising? How do you use the platform to drive more results? Did it work for you? Share your thoughts and questions in the comments below!