Social Media Photography On a Budget: Tips and Tricks
Social Media
•
Cydney Hatch
June 21, 2019
Did you know that the average business posts on their social media 2-3 times a day?
Seems like a lot, eh?
Since most studies say that posting at least once per day is optimal, the best standard is to post as often as you can share quality content, consistently. With that said, you might be thinking "that is a crap-load of photos and how could I ever keep content creation up like that?" but have no fear, photo options are here!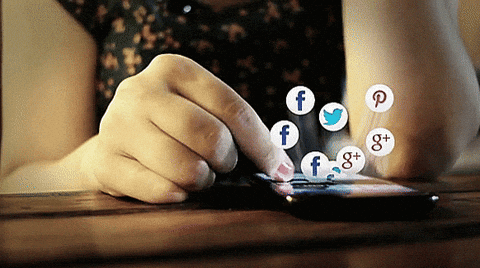 Sure, you might not have a photo studio, the budget for a monthly photographer nor the "creative eye" for taking quality images for your business but there are creative options out there! There are awesome ways to fill your social accounts with gorgeous content curated to tell your brand story!
So, if you are struggling to fill the photo gaps, this is the article for you!
Why Quality Photography Matters
For many business owners, the visuals of their business are secondary and this can be a big mistake, especially if you are trying to reach a younger demographic. In 2019, visuals prove to be one of the strongest factors in earning social media engagement.
In fact, a social media post accompanied by a photo is ten times more likely to get engagement!
Since social media is a crowded space where many businesses get lost in the content void, using images that are curated, branded and unique are a great way to grab attention. The perceived value of your business and its products are often judged on the quality of your visual content. That means having high-quality, beautiful product photography can go a long way towards driving sales for your business.
So, if you want to make a splash with your social media effort, it's all about getting the right photos! Whether you take your own, hire out photographers or use stock images it's an important effort to make!
In the next section, before we chat about budget-friendly photography options, we will talk about rules you should consider for stock images photography, one of the popular photo options.
Stock Photo Rules to Follow
Those of us who know all about content, understand too well the joys and sorrows of stock photography, but there are some stock photos you can effectively use for your business.
Below are real tips you can use when trying to pick out quality stock photos for your business. In general, stock photos look like, well, stock photos, but they can be great "filler visuals" or quality photos to use when you are just starting out.
Don't Be Obvious
Sometimes when you make visual connections to content in your article, you might want to use a stock photo that makes people wonder why you picked that image. For example, in my article about "Why Lawyers Should Use Social Media", the punch line is that social media can be "appealing" to lawyers, so I had a dress shoe and a banana peel for that photo.
Instead of picking a lawyer or businessman with an iPhone, I picked a photo that makes people wonder what's going on. Most people would wonder why bananas and lawyers go together and hopefully that curiosity will get them to click! Don't be afraid to mix it up and be creative.
Look for Different Angles and Perspectives
Angle and styling are everything. If you are a moving company that is looking to have quality and interesting stock photos that look professional and not dorky, look for perspectives that are different than the obvious. For example, instead of picking a couple holding a box together, find something more artistic.

It sends a message that your business is of higher quality when you do that rather than picking a photo like above with the ladies holding boxes. People pick up on quality and this screams stock photo. Do not rush picking photos as visuals really matter to your business!
Customize and Build
Just because you downloaded a stock photo, that doesn't mean you cannot adjust and manipulate it to be more aligned with your branding! Add text, crop out a distracting element, or add another layered image to the photo. There are many, many ways to use simple photo editing tricks to enhance a boring stock photo. Make it your own and even add a physical logo! It can be a lot more snazzy than just the image you downloaded!
Check for Weird or Distracting Elements
Look for photos that will add to the aesthetic experience you are creating, not distract from it. Look for the blurriness, strange faces, busy backgrounds or other things that will take away from the visual experience. Is it overly posed and obvious?: No thanks.
Use Animals and/or People
Photography helps individuals feel connected to the content of an article or website. Using photos of people and animals instantly creates a feeling of connection which is something that as a business you want: audience connection. Be sure to pick quality images of people and animals that would make sense for your business.
Do be aware that you should avoid obvious business situation photos as they are all over the internet, it comes off as low quality and insincere. So stand out and be different if you are looking for group shots to represent the company. Strive to be different.
Look at Your Branding
Pick photos that add to your branding! If you have logos and a website frame that has cool or warm tones, make sure your images are matching those visual ones as well. This simple trick ensures a more professional, consistent and valuable appearance.
Focus on Images of Social Quality
One of the biggest mistakes made with social media imagery is uploading files that may be too small for viewing on all screen sizes. Even though a whopping 51% of all media is now viewed on mobile devices, 42% of people still prefer viewing media on a desktop.
With Facebook's Fullscreen viewing mode, an image that is only 400 pixels wide may look completely out of focus to those viewing on a large laptop screen.
So, part of creating powerful social media posts comes down the quality of your content, including resolution. In order to avoid viewers seeing your photos in low-res look to these social media photo dimensions:
Facebook Photo Dimensions:
Profile Picture: 180 x 180 pixels
Cover Photo: 820 x 312 pixels
Shared Image (any image you post to your Timeline): 1200 x 628 pixels
Facebook Stories: 1080 x 1920 pixels
Instagram Photo Dimensions:
Square Photos: 1080 x 1080 pixels
Landscape Photos: 1080 pixels wide
Portrait Photos: 1080 x 1350 pixels
Instagram Stories: 1080 x 1920 pixels
Twitter Photo Dimensions:
Profile Photo: 400 x 400 pixels
Header: 1500 x 500 pixels
Image Post: 1024 x 512 pixels
Pinterest Photo Dimensions:
Profile Photo: appears at 165 x 165 pixels
Pin: at least 600 pixels wide
LinkedIn Photo Dimensions:
Personal Profile Image: 400 x 400 pixels
Company Logo: 300 x 300 pixels
Cover Image/Background: 1584 x 396 pixels
Shared Images: 1104 x 736 pixels
Links with Images: 1200 x 628 pixels
Choosing stock photos or setting up your own doesn't have to be complicated, but it should require more thought than a quick download to put visuals up quickly on your sites. Visuals matter in your business and marketing efforts! Take the time to think about the message you want to send and the photos that would suggest it!
You don't want people to get the wrong impression about your business, the quality of the product/service. If you are interested in how you can find budget-friendly photo options for your social media and website needs, let's take a look at some options below.
16 Photography and Graphic Options to Use
Again, one way to separates the social media winners from the "wannabes" is to simply post at least one amazing photo every day!
With the photo options below, paired with your own branded images you will never run out of engagement worthy photo again!
1. Stocksy
Stocksy is home to a highly curated collection of royalty-free stock photography and video footage that is beautiful, distinctive, and highly usable. It is a great go-to source for high-quality photos, they have good search functionality, and there's a lot of content for a variety of industries.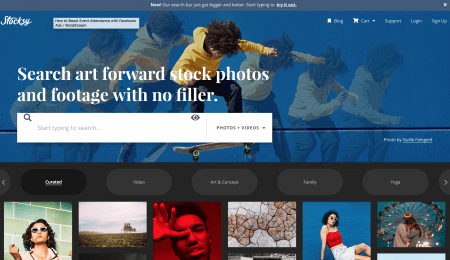 If you're looking for photos of a niche topic, Stocksy is most likely your best bet. In order to sell photos on Stocksy, photographers have to apply and go through a rigorous vetting process which allows you to avoid low-quality photo digging.
Unique to Stocksy, you also have the option to license a photo for non-web usage (like print, or products for resale), and you can pay to put a market-freeze on the image so that no one else can use it!
Pretty cool, huh?
The incredible team behind Stocksy works together tirelessly to create the best possible experience for customers and artists alike!
PRICE: starting at $15 per photo but check out their site for different payments and licenses
2. Unsplash
Unsplash has a fabulous selection of professional looking photos, and you won't believe the quality you get for free!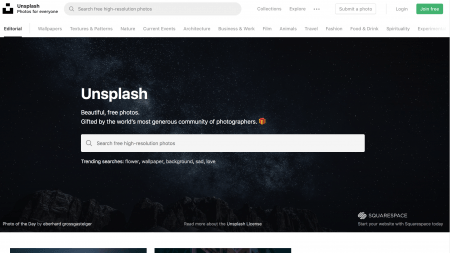 Unsplash started as a simple tool for creators. The concept was born from the pain they had in finding great, usable imagery. Today, Unsplash is a platform fueled by a community that has generously gifted hundreds of thousands of their own photos.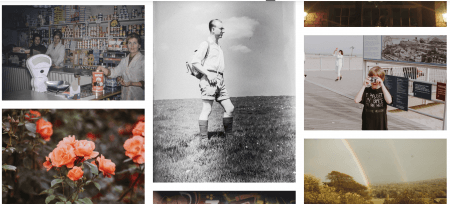 All photos published on Unsplash can be used for free. You can use them for commercial and non-commercial purposes. You do not need to ask permission from or provide credit to the photographer or Unsplash, although it is appreciated when possible.
Wowza!
PRICE: FREE (For Real)
3. Stock That Rocks By Bloguettes
Bloguettes is a blog about social media and blogging, and they've created a small yet robust "Stock that Rocks" shop where you can buy trendy and authentic looking images for your business.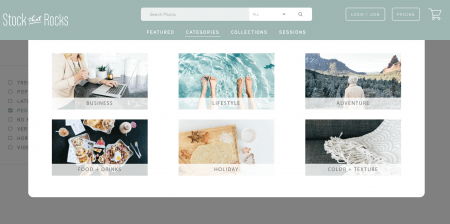 Their style is consistent, with a minimalist, "blogger" look to it that is perfect for adding text over your photos or just posting to Instagram on its own. Because the photos don't look overly edited or "professional" they create a strong sense of tangibility where people feel you took the images, which is ideal for using stock photos for Instagram.
Why? In a world where people are more and more cautious and wary of businesses being "non-transparent" this helps people feel more "at ease."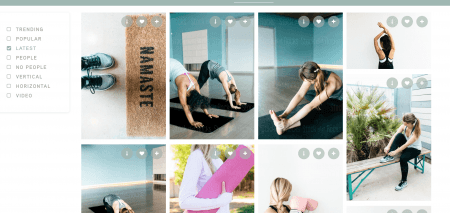 Unlike Stocksy, where you purchase each photo individually, Stock that Rocks has a membership program and individual purchase options.
PRICE: Stock Photos: $10 each $20 for print sizing
B-Team Membership: Starting at $175 annually (6 photos a month)
4. Death to Stock Photo
Death to Stock offers premium photos, videos, graphics, and media downloads, which you will receive every month when you sign up for their email list.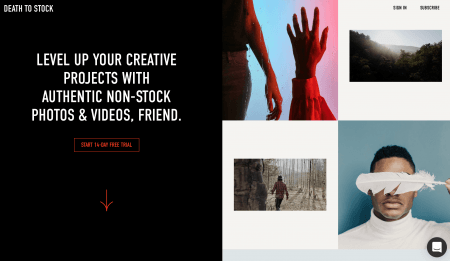 As a photo subscription service, businesses will need to subscribe to their platform to get instant access to their vast library of over 3,500+ photos and videos.
You'll only get a certain selection of images per month as part of their free membership, but if you'd like to access their whole archive of content you can upgrade to their premium service to gain instant access.
PRICE: Membership services starting at $12/month
5. Twenty20
Twenty20 is a stock photo site where anyone can upload photos for other people to purchase. This means that there is a high quantity of photos, but a much lower quality of images compared to other sites on this list.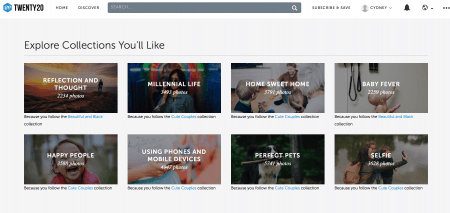 Although this site makes going through tons of lower-quality images tough, it does help you curate photos you would be interested in by asking you to set up feeds just like Pinterest does.
Whether you are a small business or an enterprise, there are photo packages and licensures available for all needs!
PRICE: Starting at $29/month
6. Burst By Shopify
Since Shopify is an ecommerce platform, they have a ton of great business-related stock images to help you create better products, social media campaigns, websites, and marketing material. Although they were specifically created and curated with Shopify stores in mind, it's really up to you how you want to use them.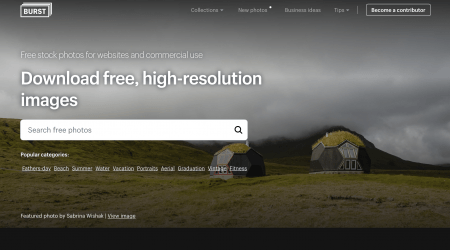 New photos are also added every week, so keep an eye out for great new content! When you hover over or click on an image, you will see "High Resolution" and "Low Resolution" download options which will allow you to download images based off of project needs!
Photos on Burst are free to use for personal and commercial purposes!
PRICE: Free
7. Social Squares by SC Stockshop
SC Stockshop started as an Etsy shop and revolutionized stock photography with their crisp, clean, and colorful imagery.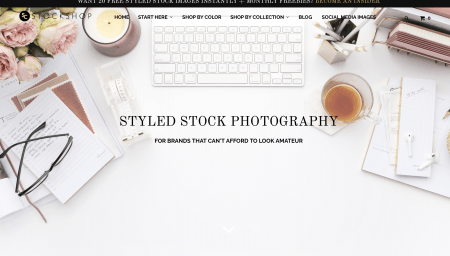 SC Stock Shop is gorgeous and beautifully branded, but this is one of the more expensive photo options for businesses as most photos run from $20-79.
Although it is pricey, this can be a great solution for website imagery that will only require a few images rather than daily/weekly social media use.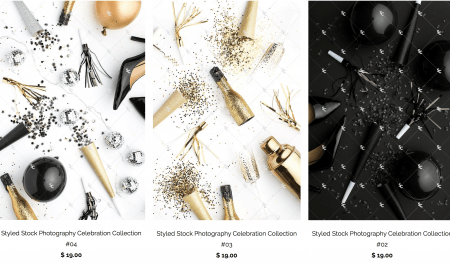 One unique element to Social Squares is that every image is already cropped to a square, which is great because they've taken Instagram into account for all of their images.
PRICE: $15 per image and above
8. iStock Images
iStock is a part of Getty Images and is one of the major players in the microstock market. For more than 15 years, iStock has given artists a platform to make money with their passions by licensing their stock content to businesses and individuals for use in a wide variety of projects.
Although it is one of the better-established stock image platforms, it is definitely not for everyone. As it runs quite expensive, especially for smaller budgets, this is a photo option typically best fit for people willing to spend a couple of hundred dollars a month.
Offering credit or subscription, you have flexibility on how to spend your money,
If you have one-off or hard-to-predict image needs or require video clips, credits are a great option. If you have larger or ongoing image needs (as few as 4 images a month), you'll save on every photo, vector and illustration that you download with a subscription. With monthly and annual plans available and download limits ranging from 10 to 750 images a month, you can enjoy huge savings without making a huge commitment.
PRICE: Starting at $70 for 10 images monthly
9. Easil
Love slick-looking designs, but still want the simplicity of a template? Meet Easil!
Easil makes drag-and-drop design easy! Easil is the secret weapon your whole team will love as it allows you to store and access the right colors, fonts, imagery and logos for your brand in the one place, every time. From header and body fonts to trademarks and multiple color palettes, Brand Kit is always up to date and ready to use.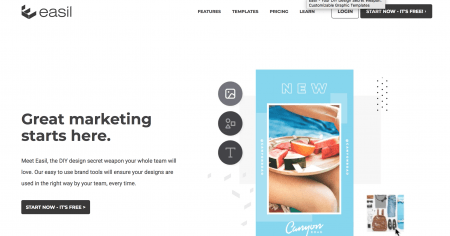 From header and body fonts to trademarks and multiple color palettes, Brand Kit is always up to date and ready to use. Easil features modern, edgy templates for Social Media Templates, GIFs, infographics and more, all helping you create social content that stands out!
PRICE: Free and cheap plans ranging from $7-$59/month
10. Styled Stock
Are you a creative entrepreneur or #girlboss looking for something a little bit more feminine? StyledStock will be your new social #BFF.

StyledStock has a great collection of free feminine stock photos that are great for anyone going for a beautiful female entrepreneur vibe on their Instagram feed or blog. Though the collection is small, it's full of great styled flat lay images and pretty feminine objects.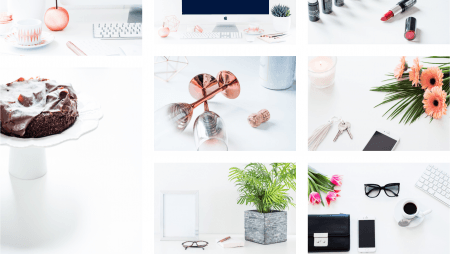 These photos are free for both personal and commercial use.
PRICE: Free
11. FreePhotos
FreePhotos is a free resource to business owners and creatives to find content that is categorized and easily found across tons of their creative content.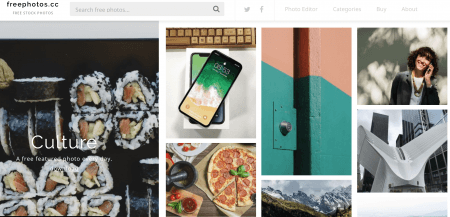 Although FreePhotos has the word "free" in it, it also has paid content available for more exclusive projects. Attribution isn't necessary but is always appreciated if you feel like it.
PRICE: Free
12. Pixabay
Pixabay is a vibrant community of creatives, sharing copyright free images and videos—nearly half a million free images and videos for both personal and commercial use!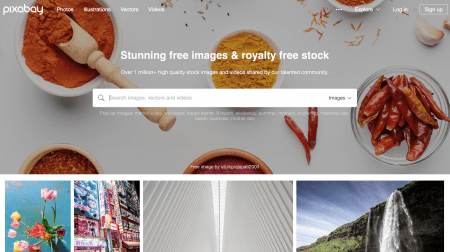 Whether you are looking for flower bouquets, cityscapes or business images you will find a wide variety of edited images, styling and compositions on this free and interactive site.
PRICE: Free
13. Pexels
Pexels is another fantastic website offering hundreds of thousands of free stock photos drawing from a community of photographers and digital creatives.
The website also aggregates photos from other websites such as Gratisography, LIttle Visuals, and Pixabay to get you the most high-quality photos out there.
Pexel tries to keep licensure and costs as simple as possible: All photos are free and you can use and edit them as you please! So, if you are looking for another awesome photo option Pexels is your platform!
PRICE: Free
14. FancyCrave
Instead of tired old stock photos, FancyCrave aims to provide "emotionally driven images that tell a story." The site specializes in travel photography and has an easy-to-navigate website that releases two new images from professional photographers every day.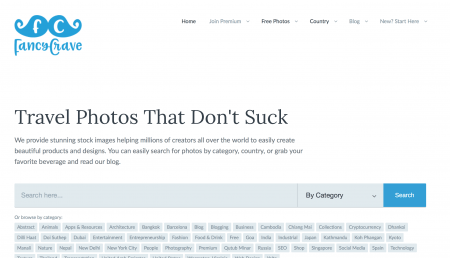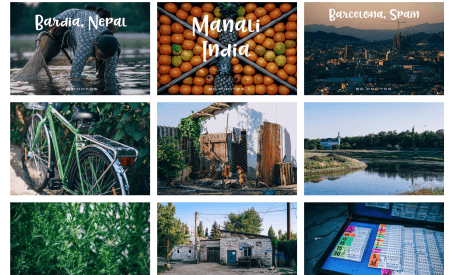 When looking for free social media images, especially if you work internationally, this can be a great way to share vibrant photos of the places your offices are! Heck, you might even want to highlight business initiatives your company is doing for the local communities in world locations!
PRICE: Free and monthly packages starting at $9/month.
15. Canva
Like the platform Easily we talked about above, Canva is a friendly drag-and-drop editor with tons of presets and templates to make your designs quick and easy.
Canva has everything you need to spruce up your social images including photo filters, stock images, icons to even fonts!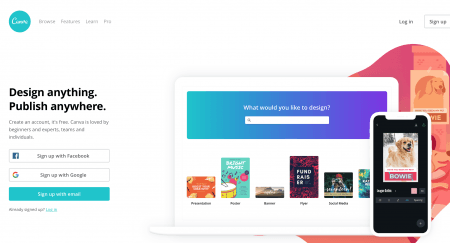 It's free to start, but you'll have to pay for premium images and most custom templates or to upload your own fonts.
PRICE: Free with package options starting at $9.95/month
16. IconFinder
IconFinder simply provides high-quality icons to millions of creative professionals.
Looking to create a unique icon for your Instagram profile image or to help improve your website button game, this can be the platform to change it for ya!

Iconfinder has a huge collection of free and paid icons to use in your next design project. Just hit the "free" filter button when searching results.
PRICE: Subscriptions starting at $9/month
BONUS: User-Generated Content
As an added bonus, I would suggest looking for one of the most under-used visual marketing content: User-generated images!
User-generated content is helpful not only from a content creation perspective but it's a community building piece for your business and target audience. To make the most out of your efforts in including this type of content and to ensure it stays on brand, look to:
Include a person who has an audience with similar tastes and preferences to your own.
Ask for permission to share their photo. This could be as simple as a polite comment or a kind direct message through the Instagram app.
Give credit always! It's wonderful you are sharing someone's image but for them to get the full benefits of that share you need to make sure you tag them in a post and give credit.
Make Social Snappy
See, photo creation isn't so bad! Whether you are just needing photos to fill in the gaps between your photo sessions or you are just needing help getting your social accounts consistently posting, these photo sites are a great way to help you get the visual attention you need, all at a reasonable price!
If you are needing help with product photography or any other business photography, be sure to reach out to us at Disruptive. We are starting a new service in helping clients give their product photography a facelift!
What do you think? Are you using any of these image tools to design your social media visuals? What tools would you add to this list? Please share your photo wisdom below!
Leave a comment